Adding a glitter nail to the nail art is the easiest way to dress it up. You can wear the glitter nail designs differently by adding a little sparkle to the nail tips or a little sheen to the cuticles. Glitter nail polish might be a delightful approach to adding sparkle to beauty regimens. A little shine can make a design stand out even in simple looks.
Glitter Ombre Nails For An Elegant Two-Tone Effect
One of the greatest and easiest styles to achieve at home are ombre nails, which are appropriate for any season. The glitter ombre effect is undoubtedly one of the most adaptable options for your eye-catching manicure and looks great on short and long nails. The ombre with glitter polish enables you to achieve the finishing touch, whether for a high-end or more casual appearance.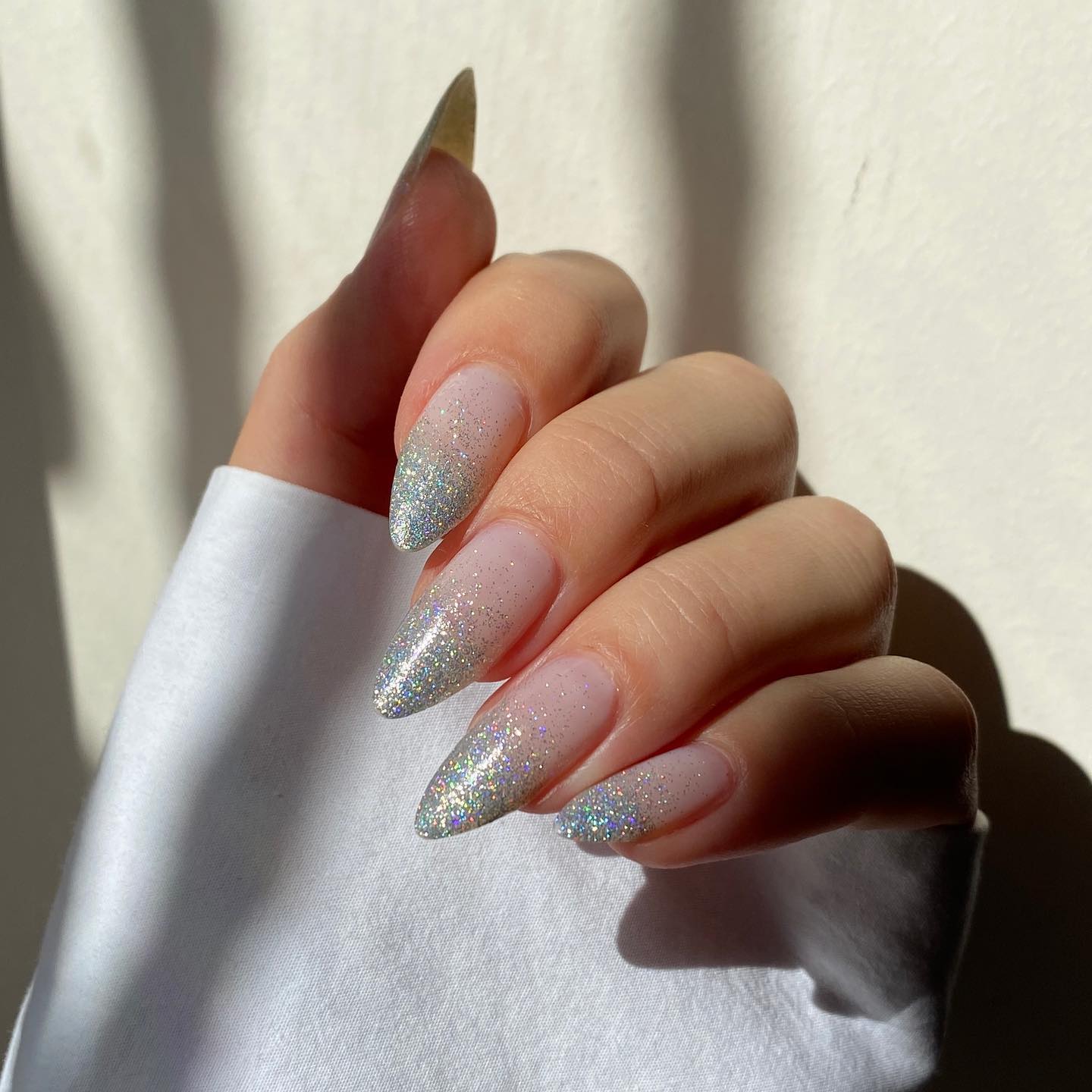 via @ojegenim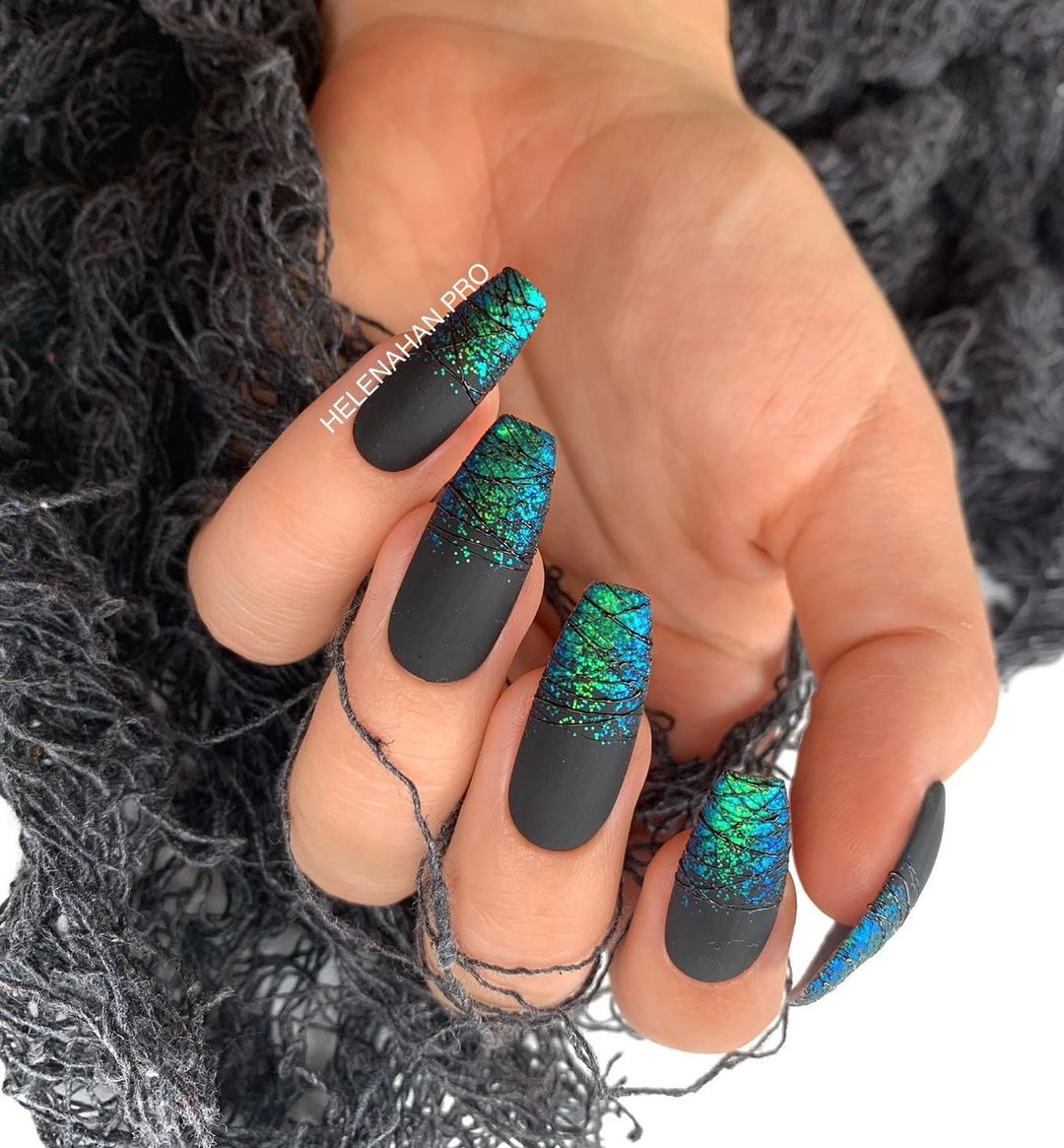 via @helenahan.pro
White Nails with Glitter For a Subtle Look
White nails with glitter designs seem smooth, elegant, and adequate to be your go-to summer nail art favorite. It gives sparkly nails since it goes with all, sparkles nicely with glitter, and is appropriate for all seasons. The color works well with nails that have sharp edges. Experimenting with white glitter makes the look more elegant.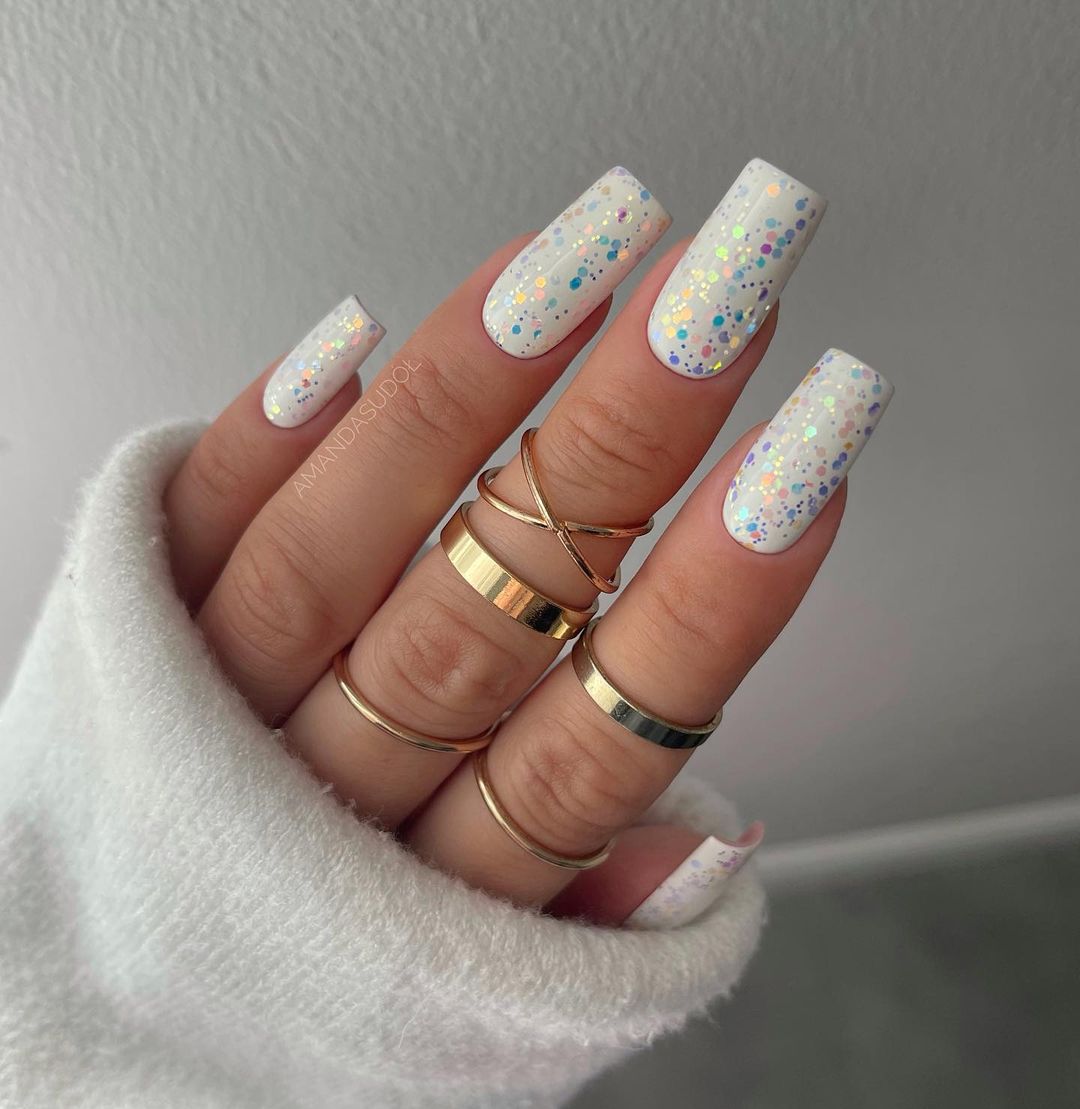 via @amanda.sudolll
The white nails with glitter on them will give your winter manicure a snowy impression. It has such a modern and elegant style.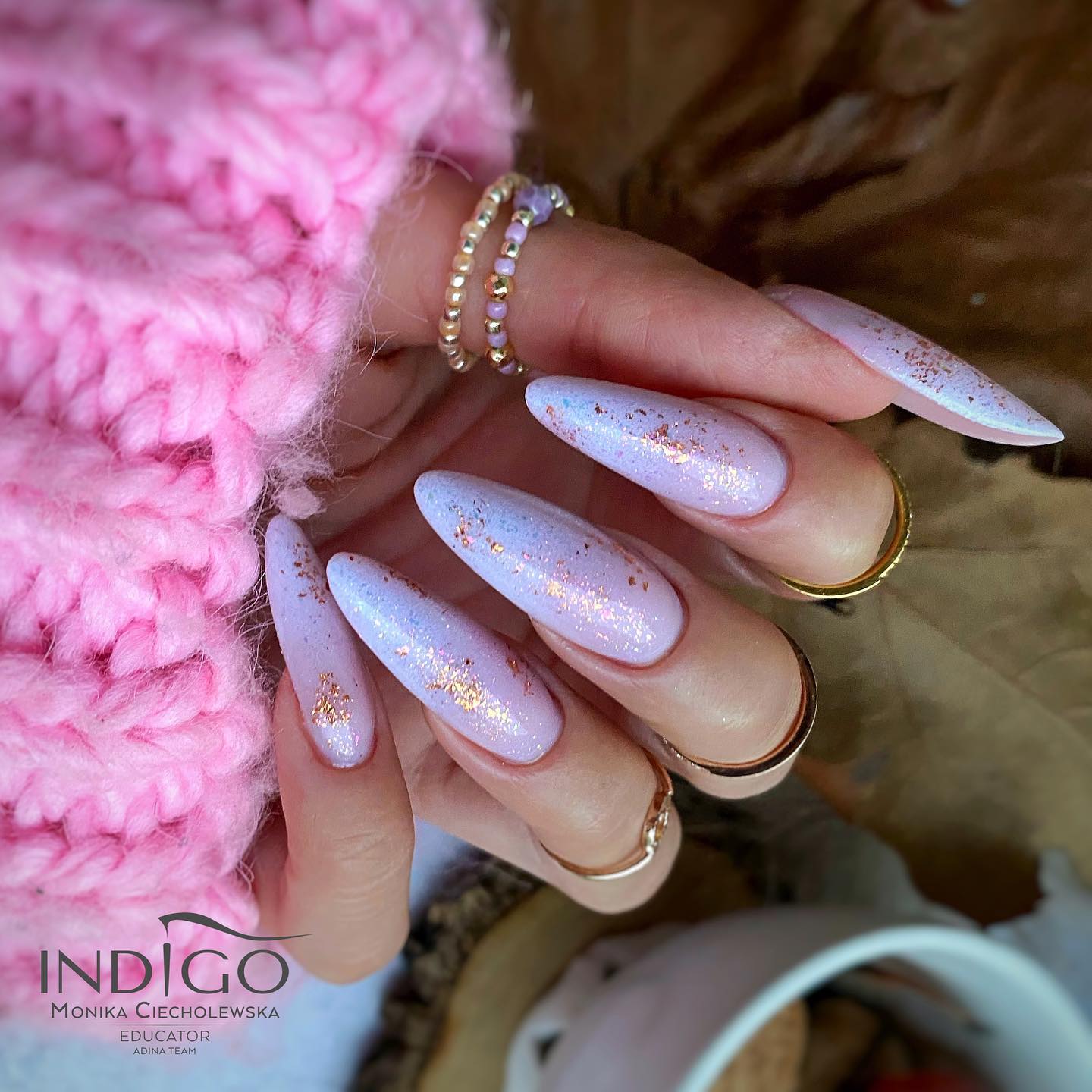 Black Glitter Nails For an Instant Touch of Beauty
Black nail designs can be the best option if you're seeking a quick approach to ramp up your acrylic nails. The versatility of the glitter nail polish makes them beautiful, and you may add gold or silver glitter and alter their sizes and forms.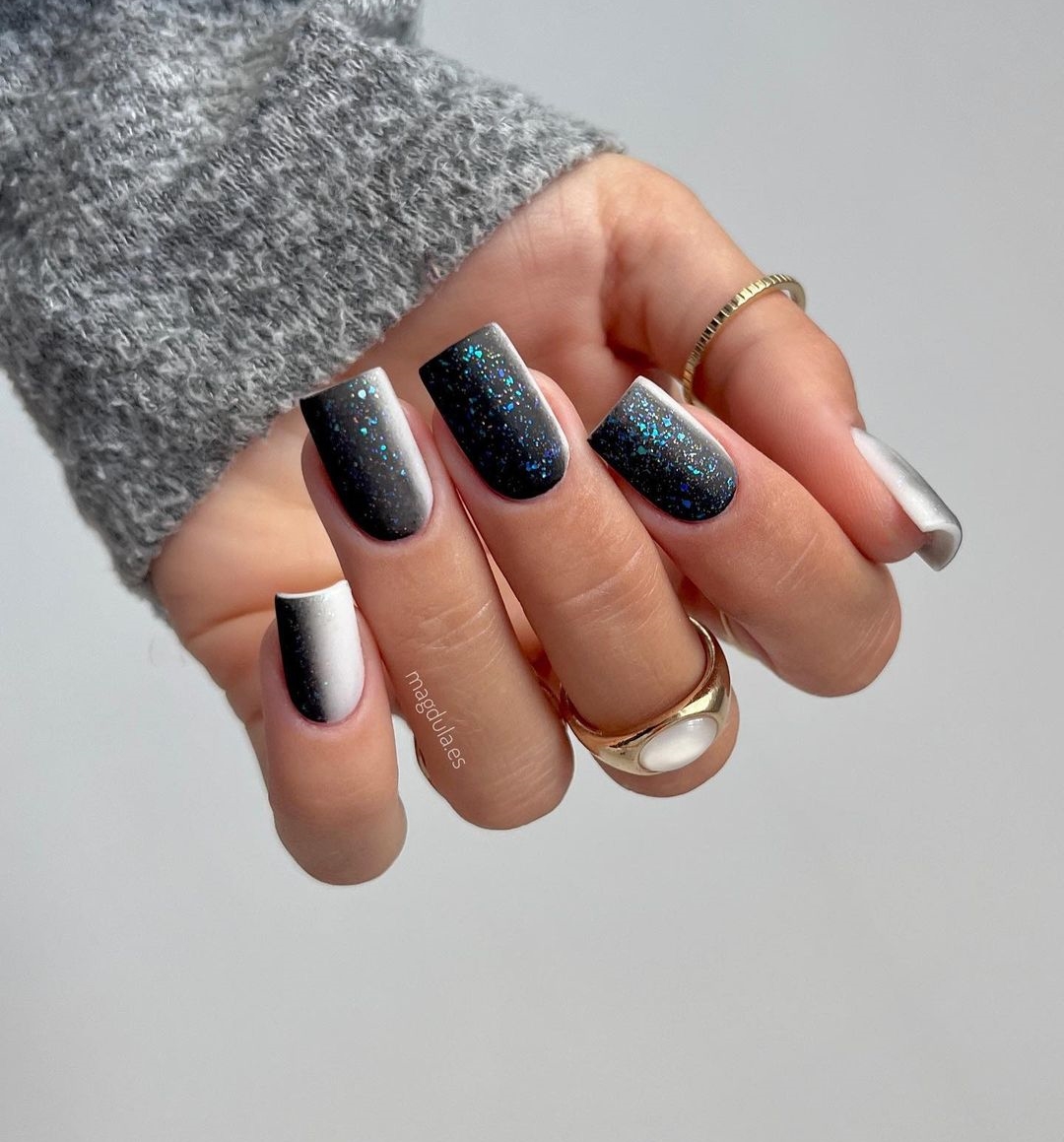 via @magdula.es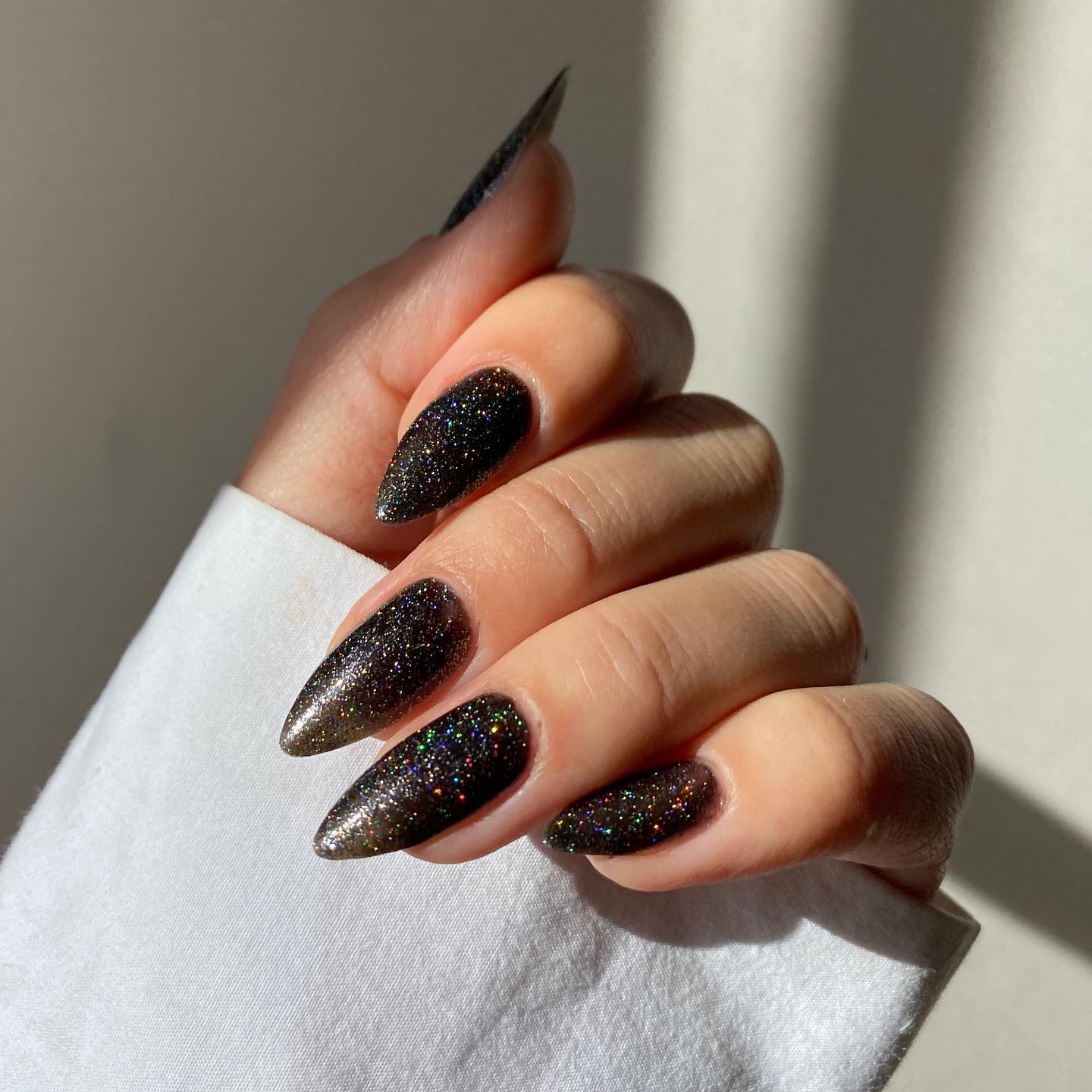 via @ojegenim
Pink Glitter Nails For a Feminine Vibe
Cute pink nails are as timeless as they come. The fact that pink glitter complements almost everything. You can experiment with your nails and make fantastic nail designs. It enables you to color your lovely nails in a variety of hues.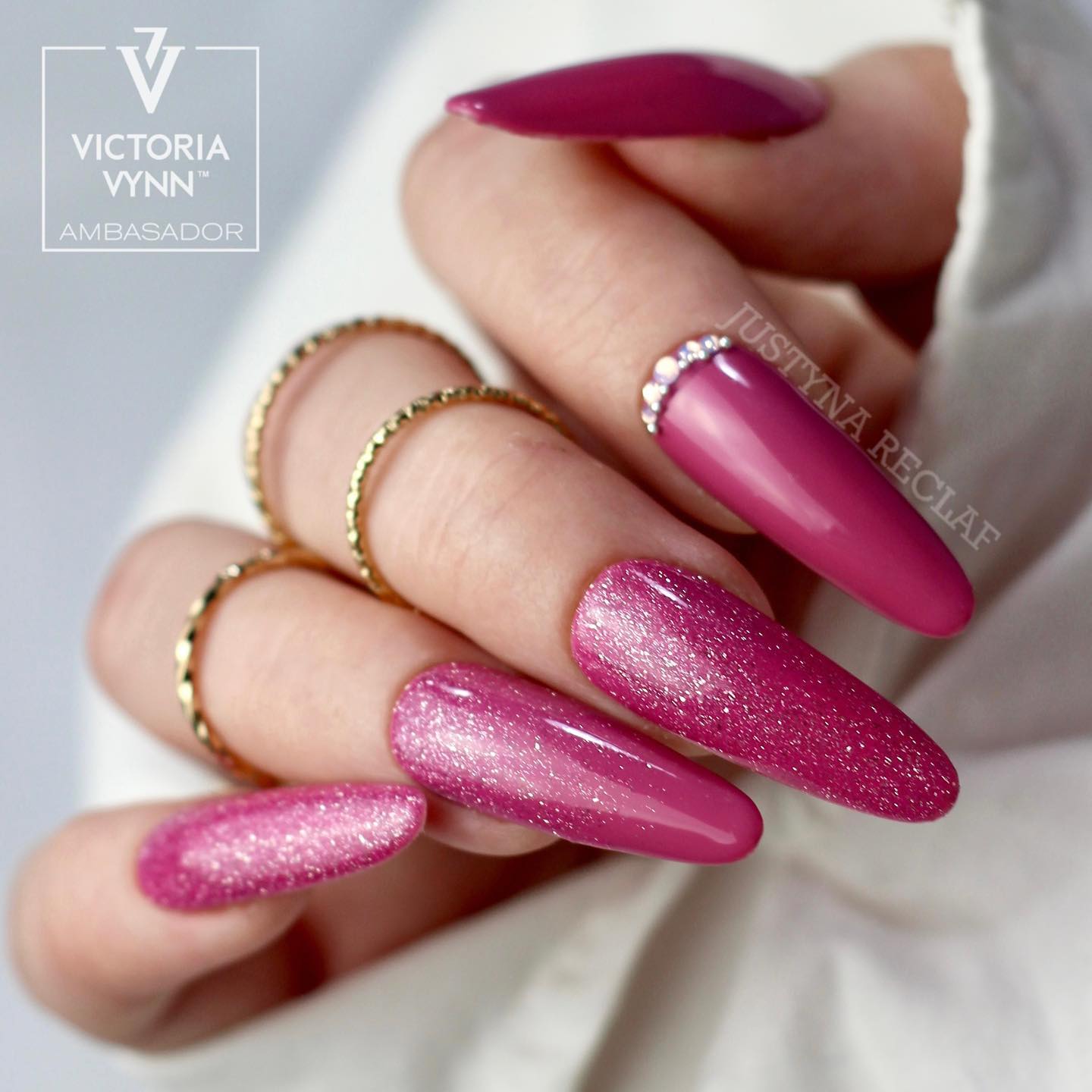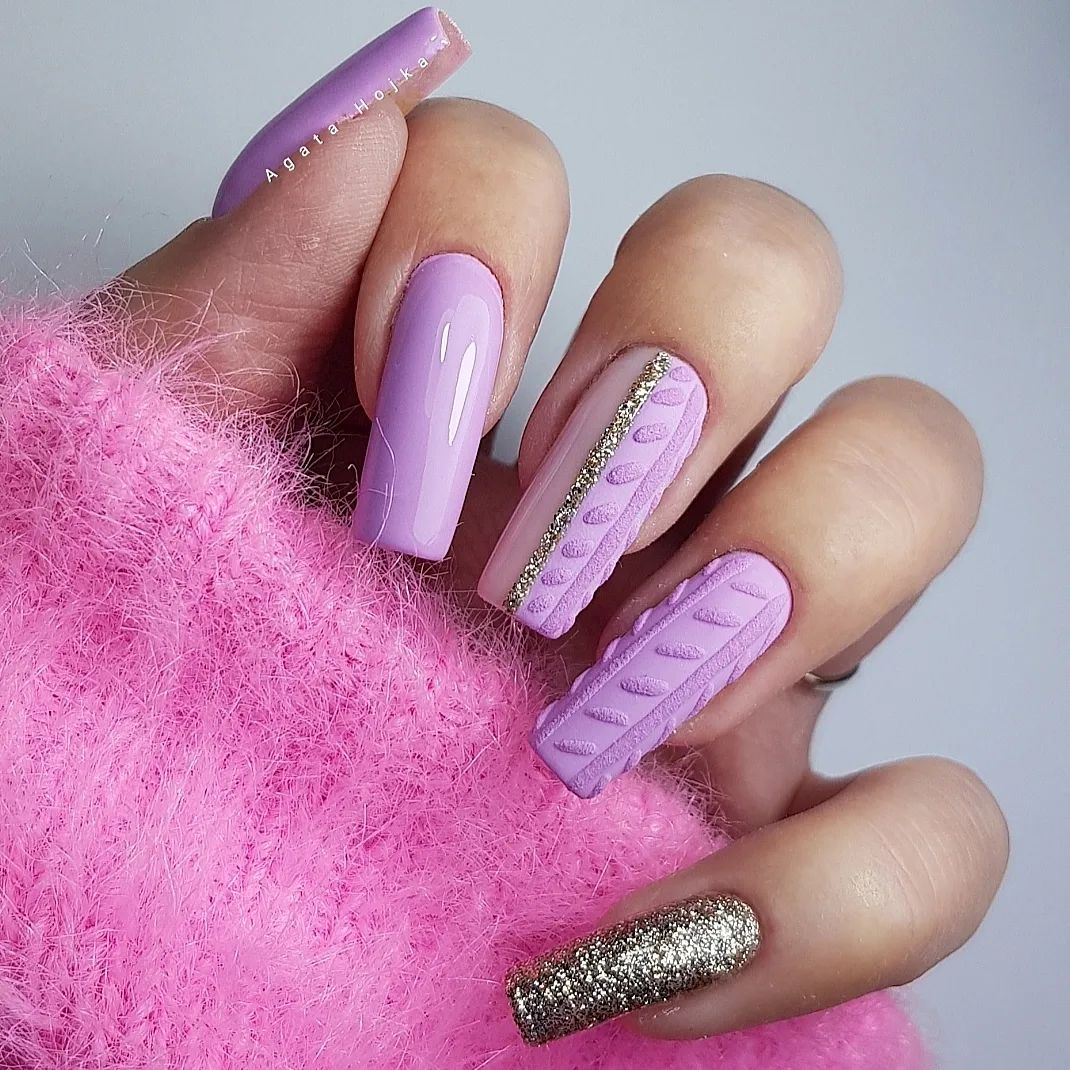 via @agata_hojka
Red Nails with Glitter For a Festive Feel
Red glitter nails are elegant and timeless as they appear. Red might be a cheeky choice if you are searching for a festive manicure. Red stands out visibly and blends in effectively with various colors. Red nails with design are stunning and can give your evening a unique flair.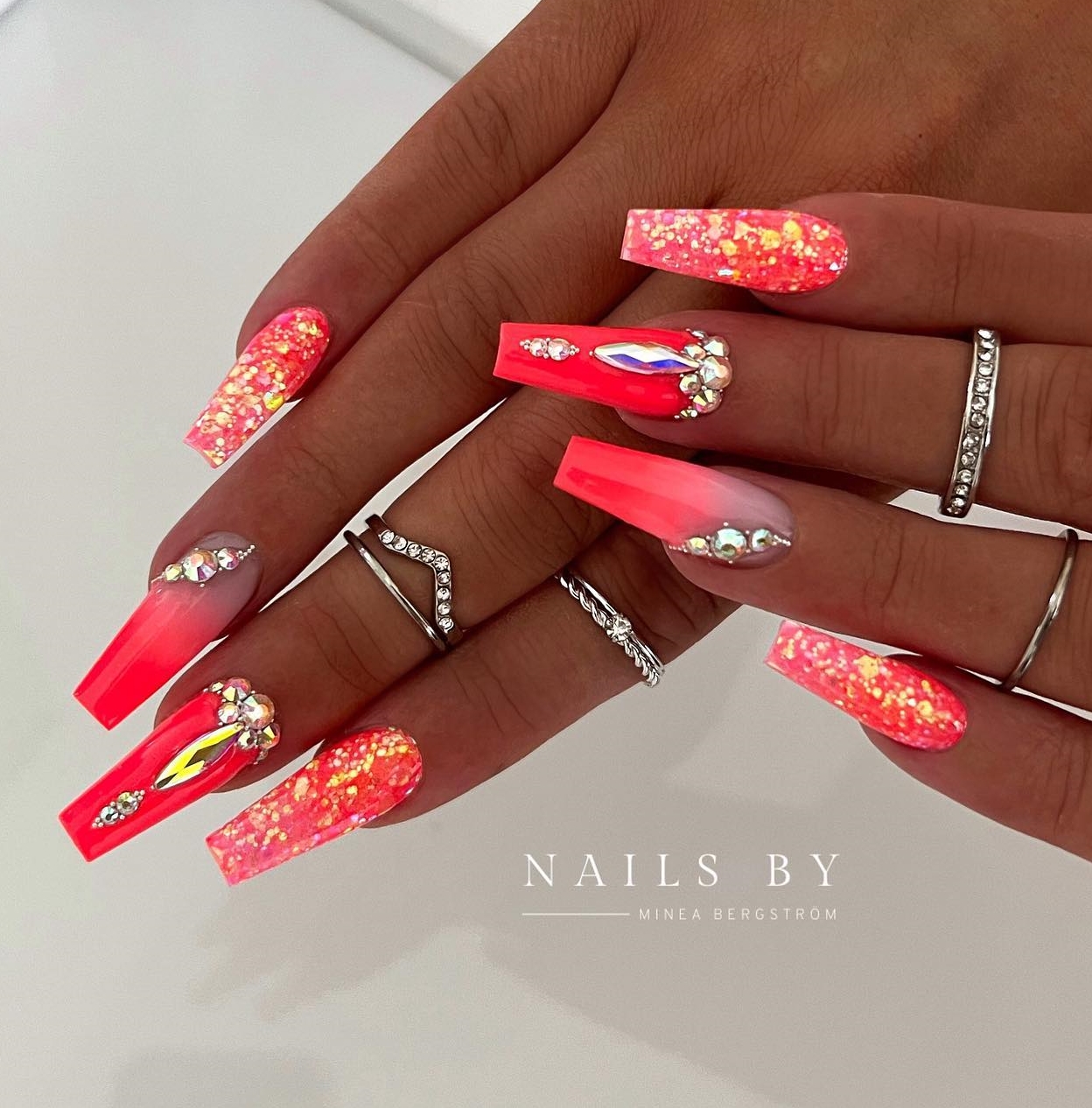 via @minea.nails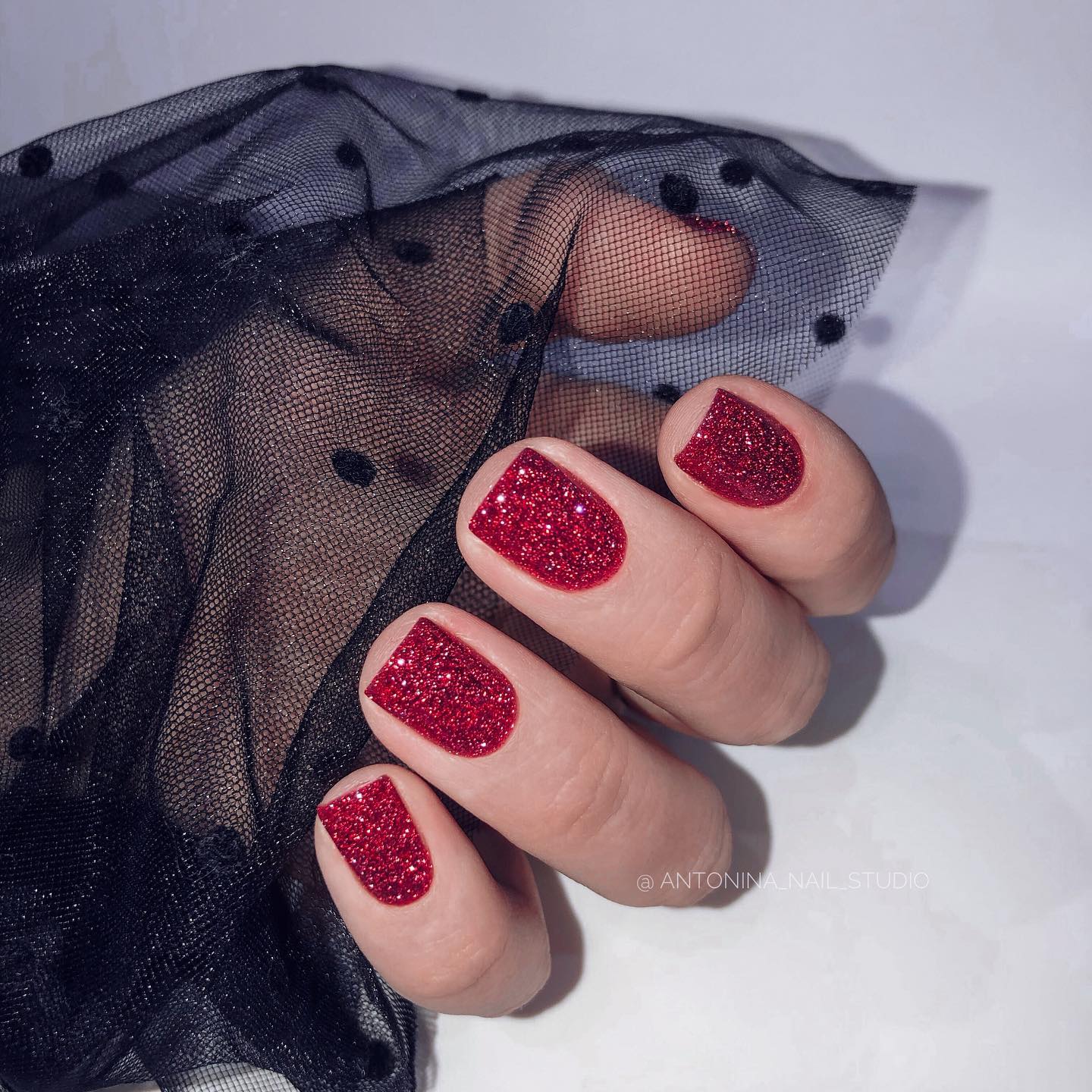 Baby Blue Nails with Glitter To Add Cuteness To Your Hands
Although worn throughout the year, cute blue nails are most popular in the spring and summer. One of the simplest ways to alter your appearance is by wearing glitter blue nails. It allows you to apply eye-catching nail designs as bold or as subdued as you like.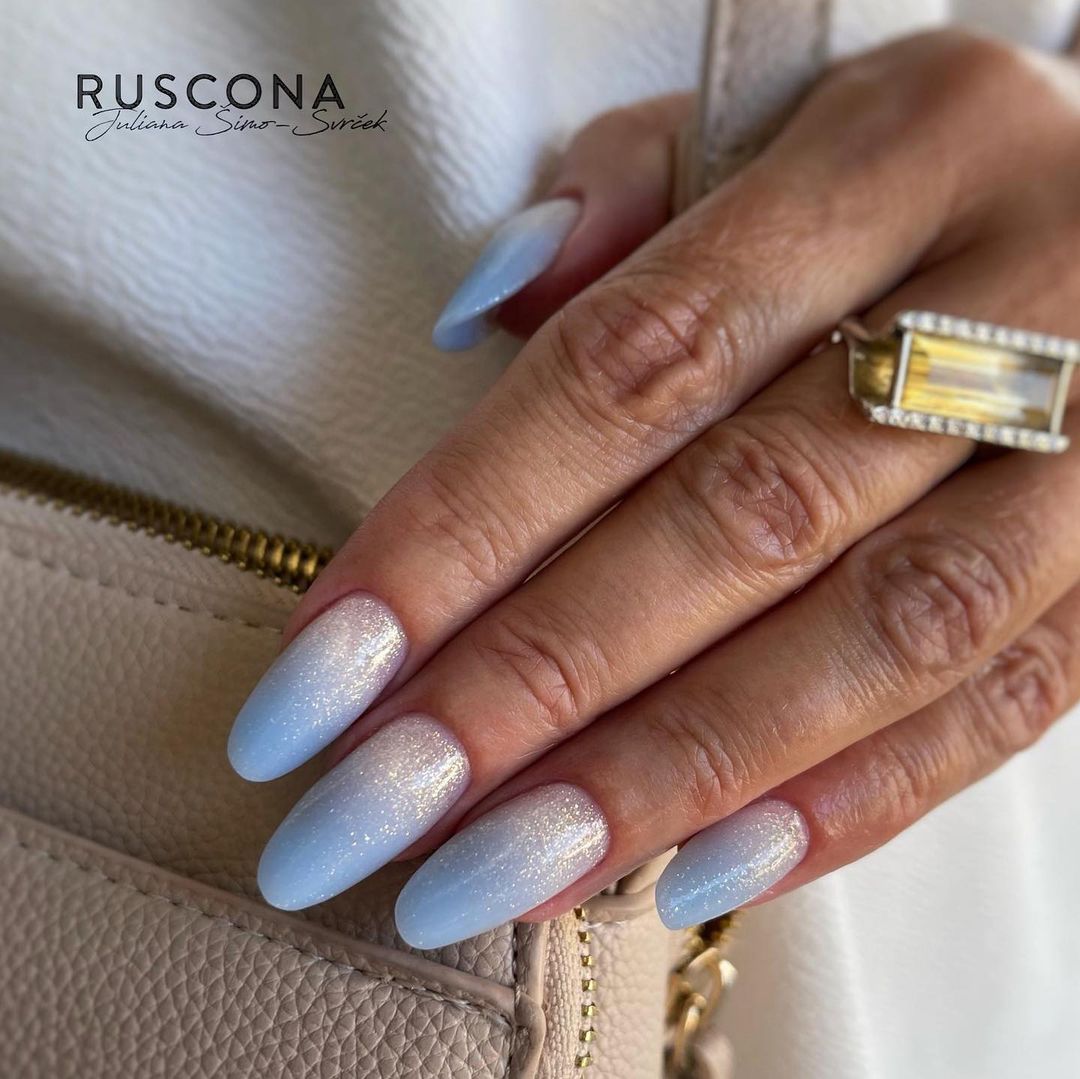 via @ruscona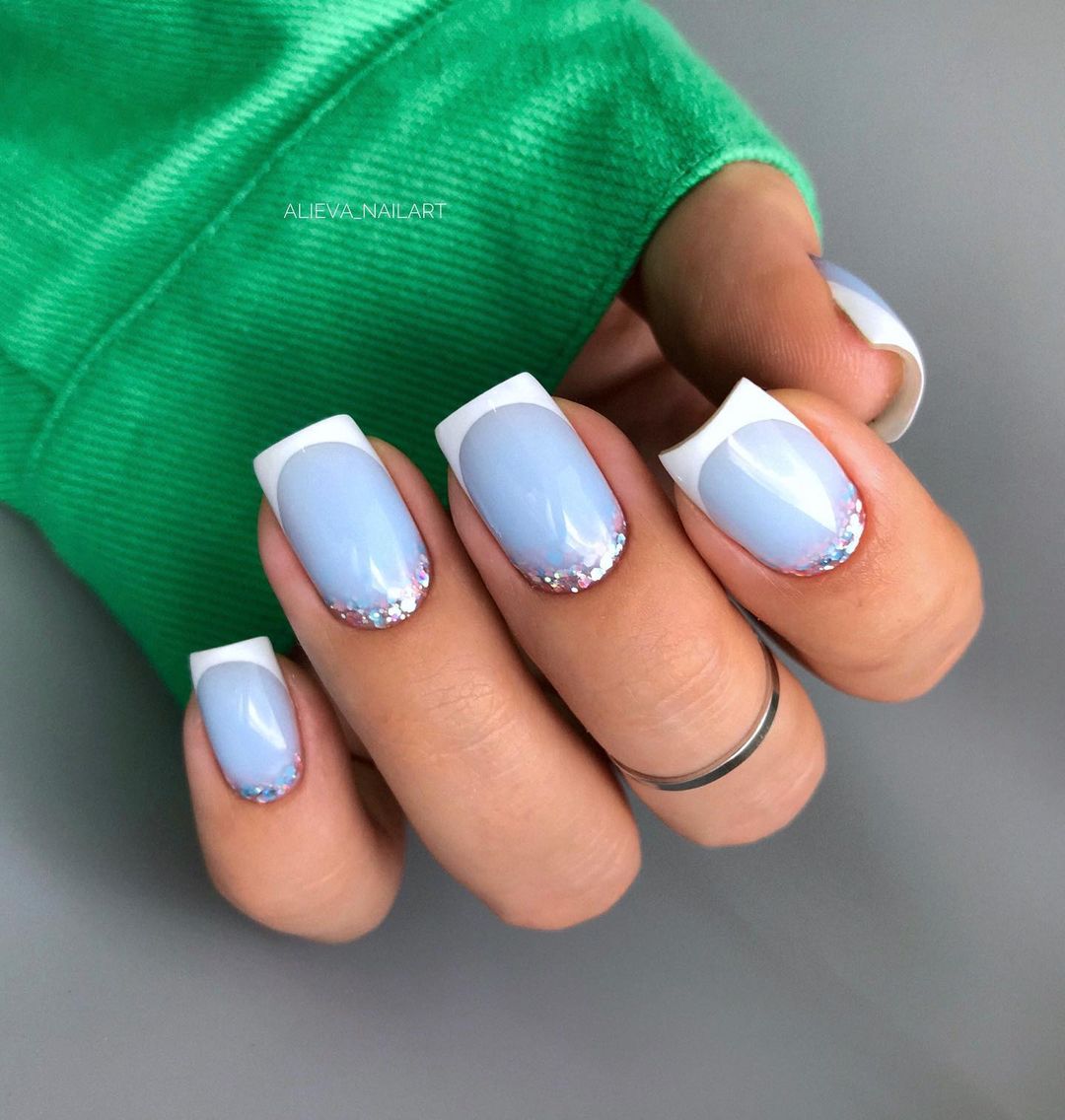 via @alieva_nailart
Glitter Acrylic Nails Always Look Fascinating
You may add sparkle right away by using new ideas for acrylic nails. Glitter acrylic nails give the best mani ideas with several pretty colors and give your nails a light gloss. Another advantage of using acrylics is experimenting with different Christmas nail designs.
via @napaznokciach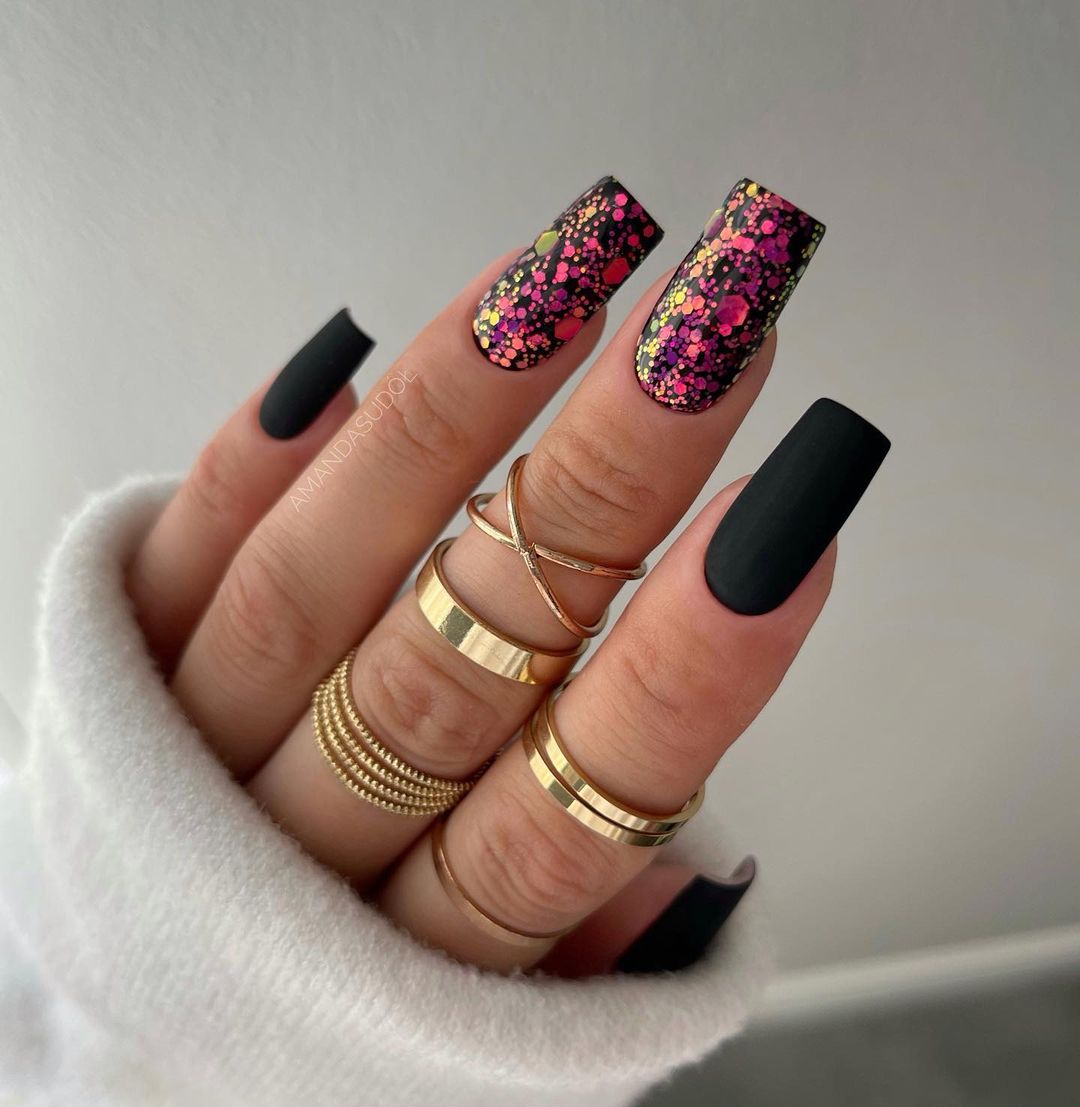 via @amanda.sudolll
Glitter Tip Nails For a Minimal Yet Charming Effect
You may use nude nail bases to give your nails the eye-catching effect you want to create. Using contrasting colors, you can decorate the square nail shape with glitter stripes. You can make your designs with french manicure ideas without putting much work or time into it.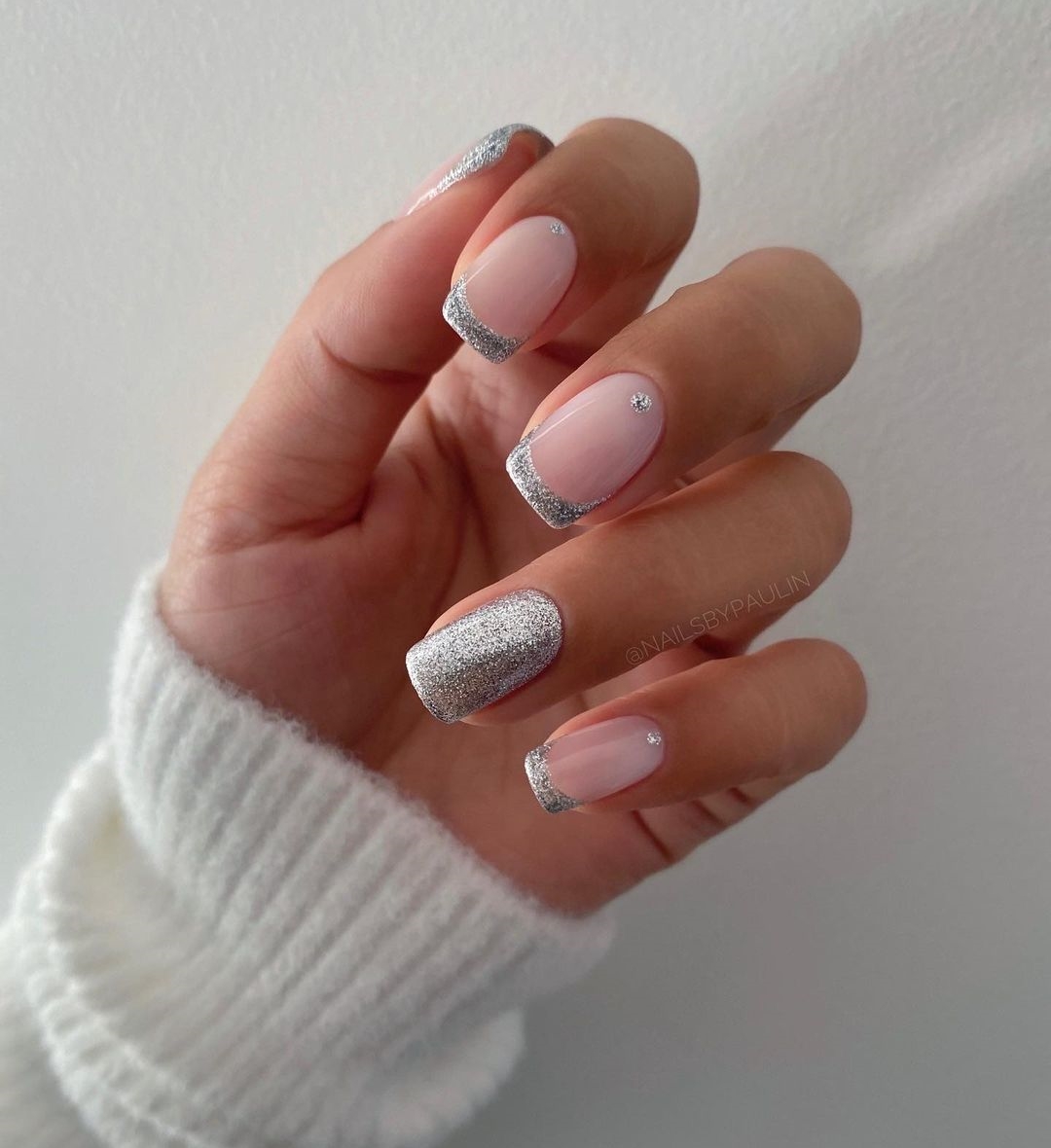 via @nailsbypaulin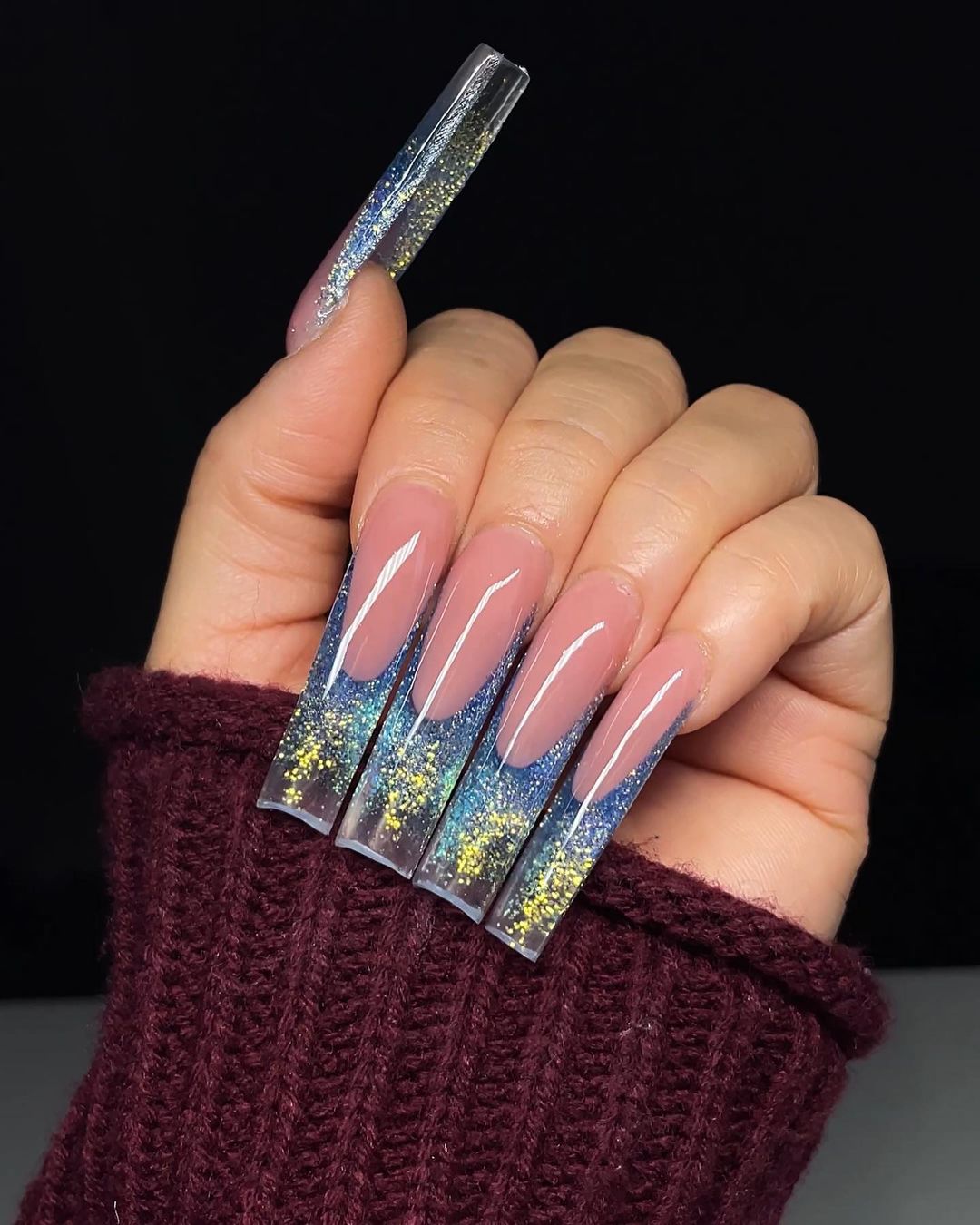 via @jerihelll
Silver Glitter Nails Never Go Out of Trend
Silver glitter on nails is one of the sexiest hues available. The classic french mani is versatile; it can be fashionable, edgy, or even aristocratic. It is a great color to experiment with on your nails and is perfect for a ring finger design. It goes on smoothly, comes off easily, and looks equally great on nude nails as it does over your beloved nail polish shade.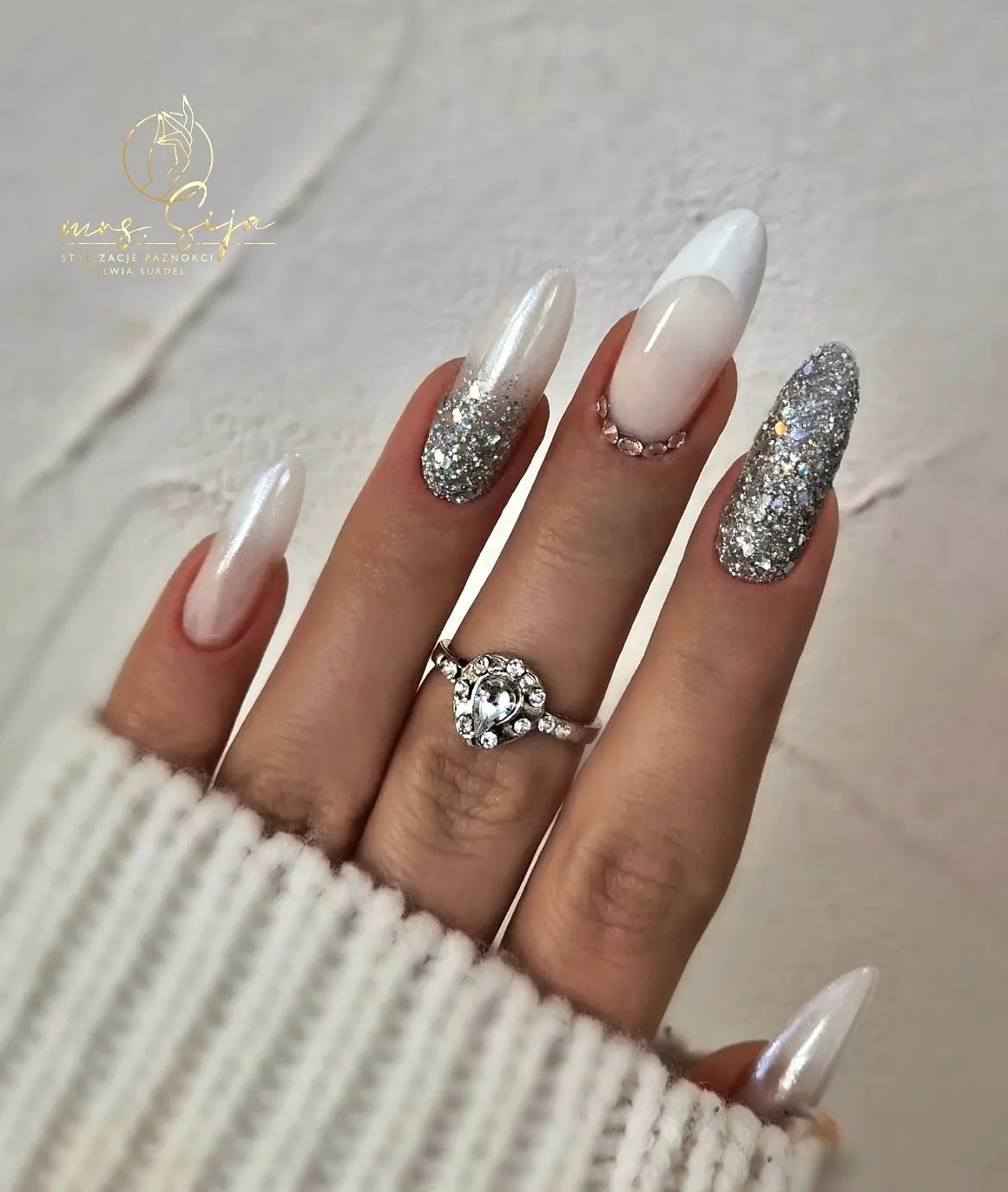 via @mrs.sijaa_nails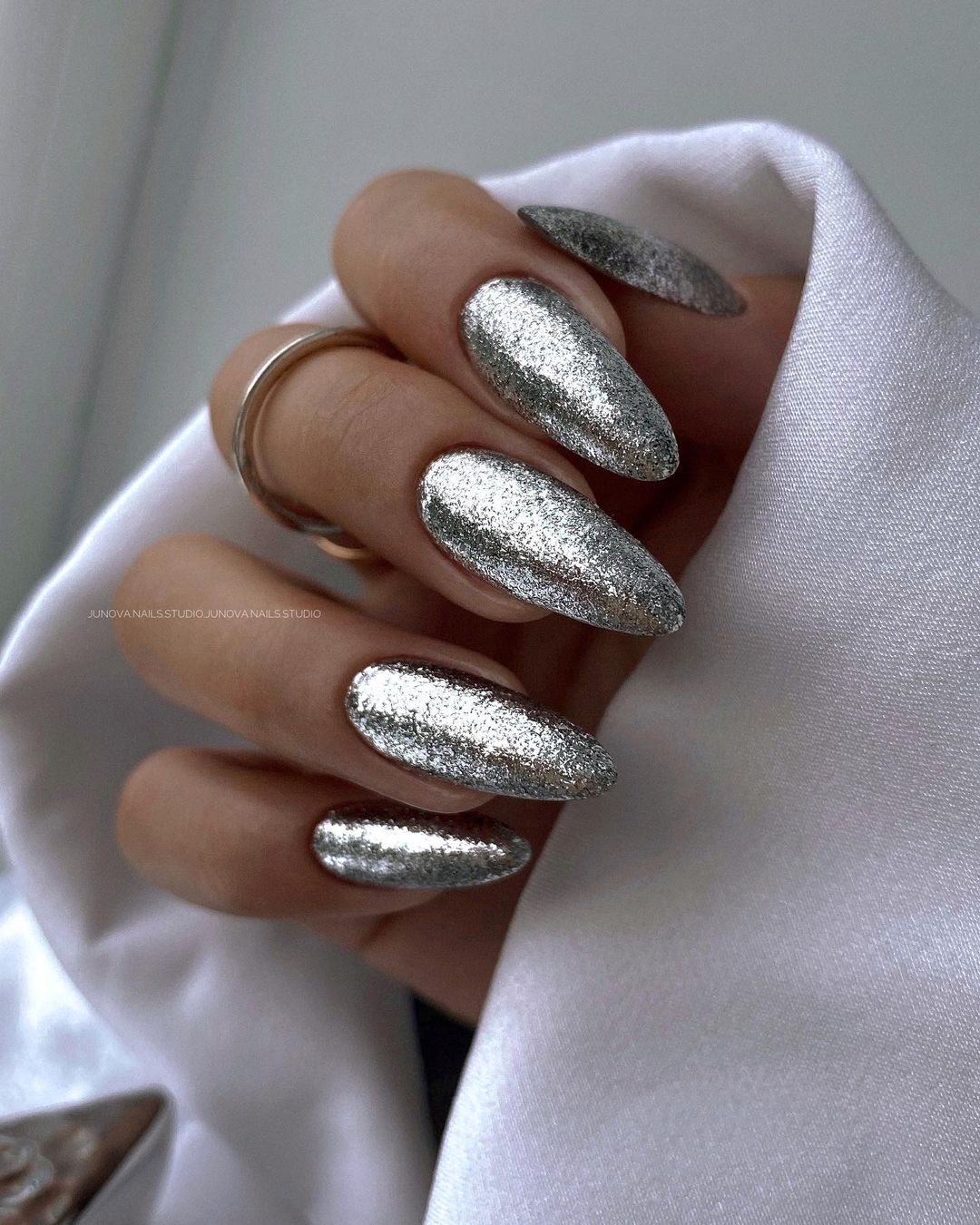 Rose Gold Ombre Glitter Nails Give You a Versatile Appeal
Rose gold glitter nails stand out dramatically against a range of colors. Pick ombre nail ideas that are lightning-black at the cuticles for a lovely finish. Getting rose gold glitter nails is the perfect choice for professional nail services to make a bold statement.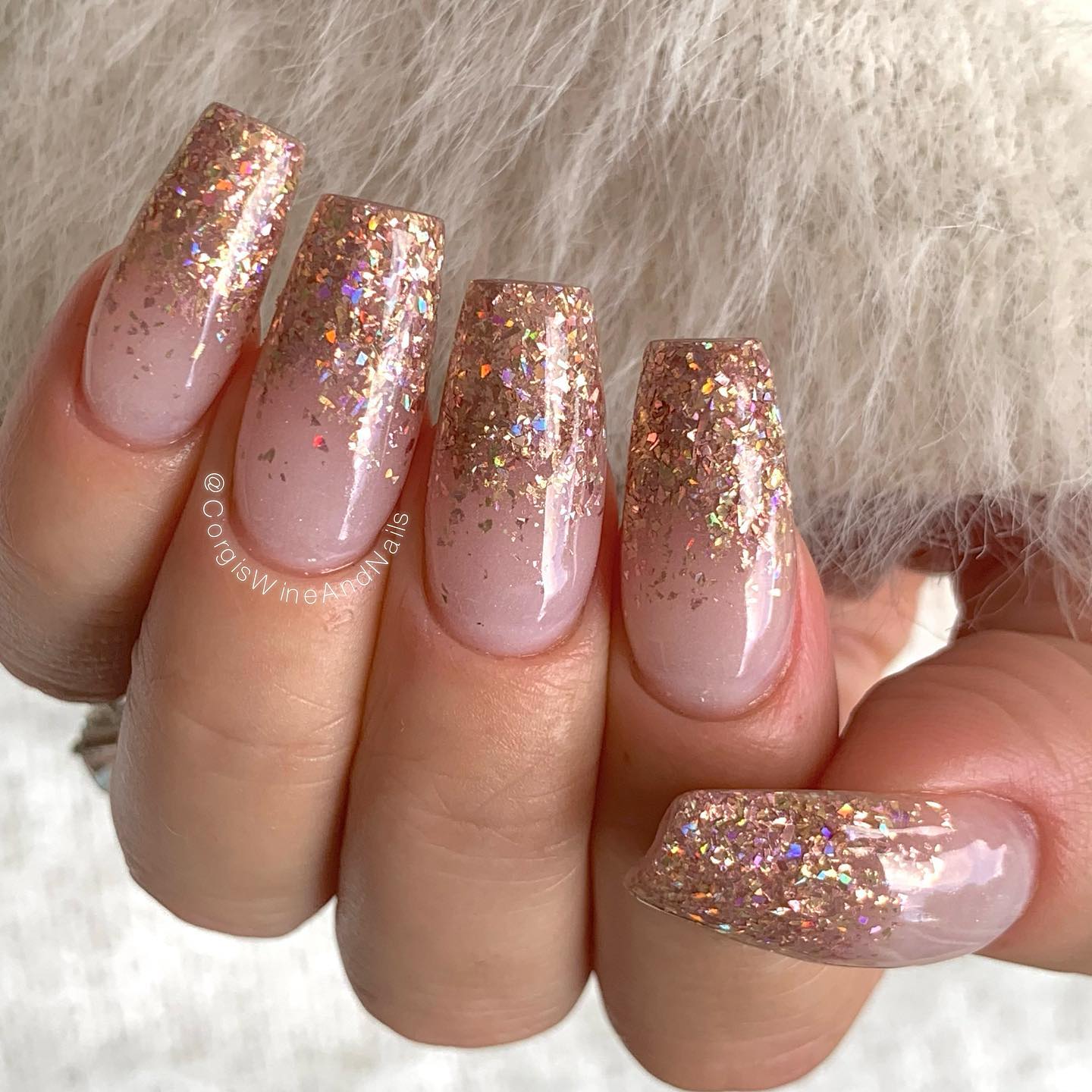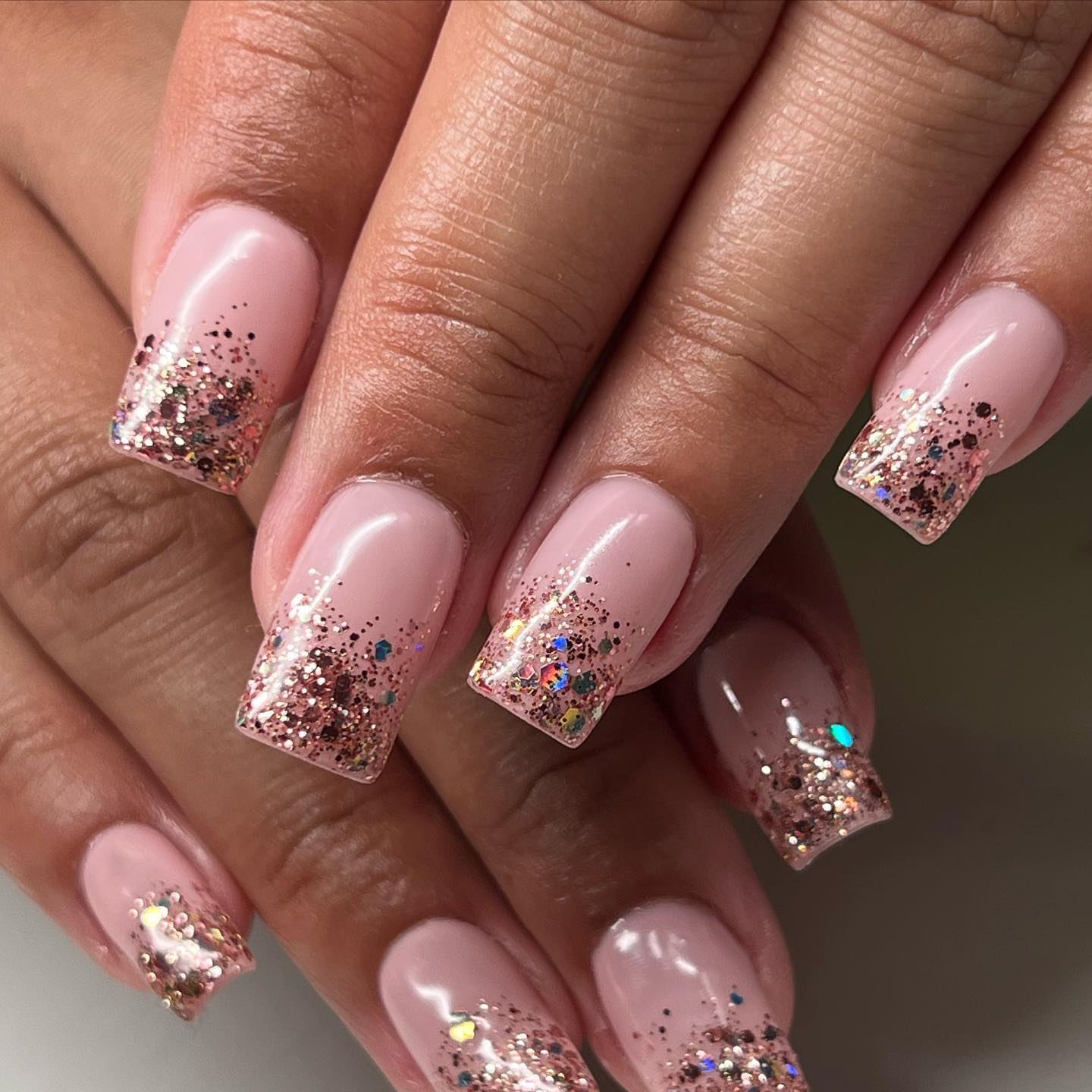 via @nailzzbymadi
Gold Glitter Nails Are Evergreen
Several colors are used with the gold glitter design on the nails for extra shine. Even though gold nail art is often associated with parties, you can add some twist to nail art and wear it all year long. Everything will depend on your styling choices! The gold will shine so wonderfully on your nails that you won't ever want to remove them.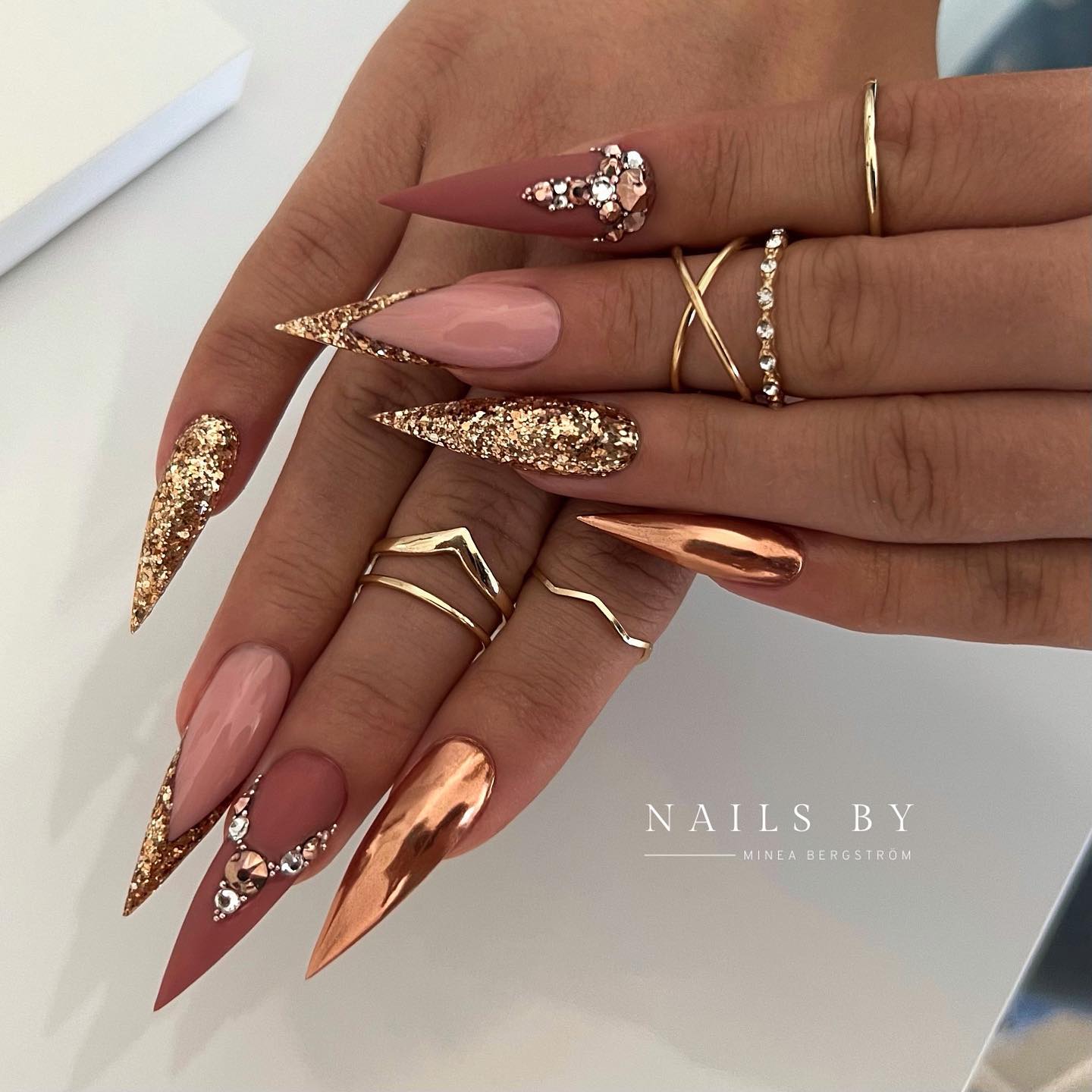 via @minea.nails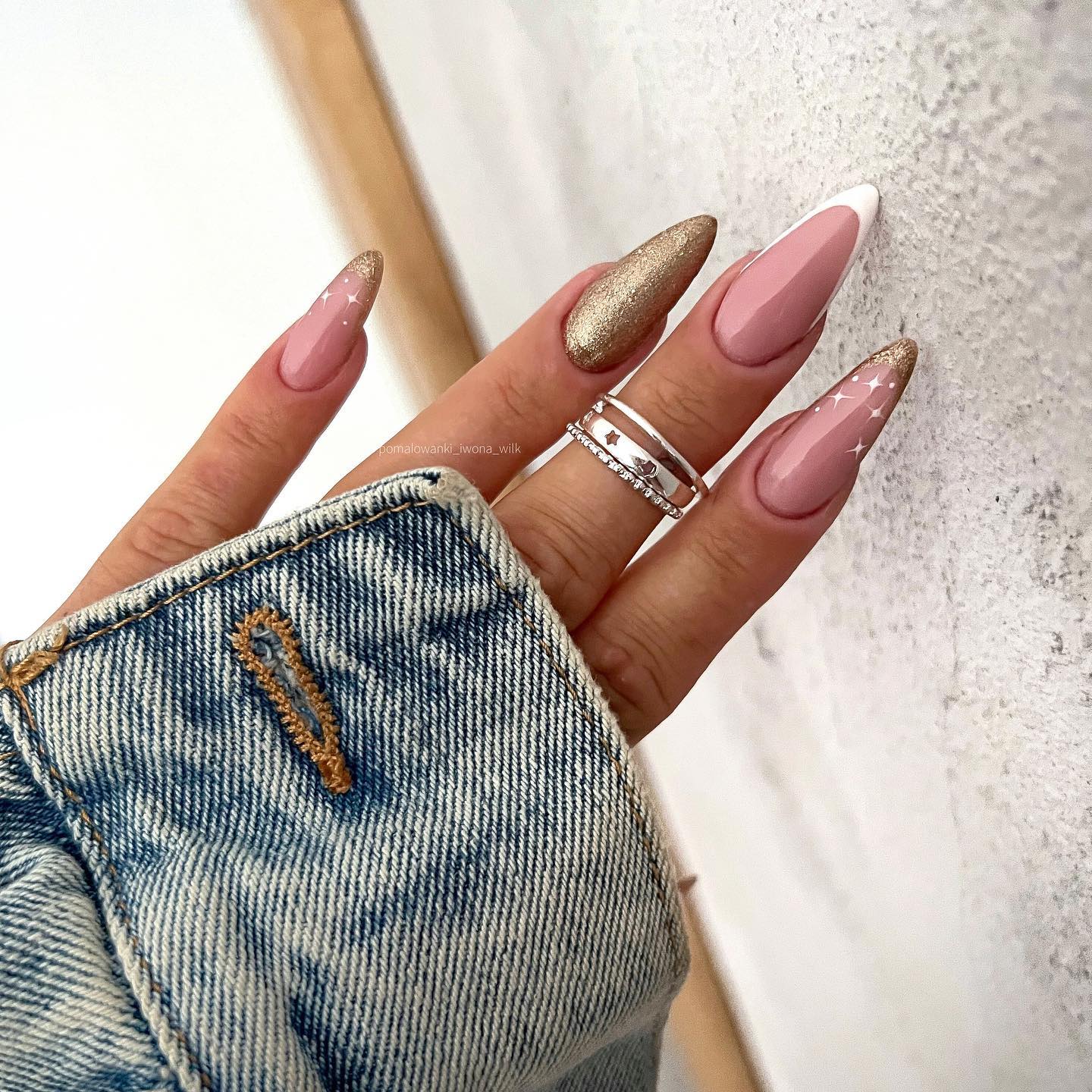 Nude Glitter Nails For Those Who Prefer Elegance More…
Nude nail art is a timeless choice and a neat manicure for any occasion, from weddings to fashion shows to casual weekends; it looks equally stylish with a formal gown as it does at the workplace.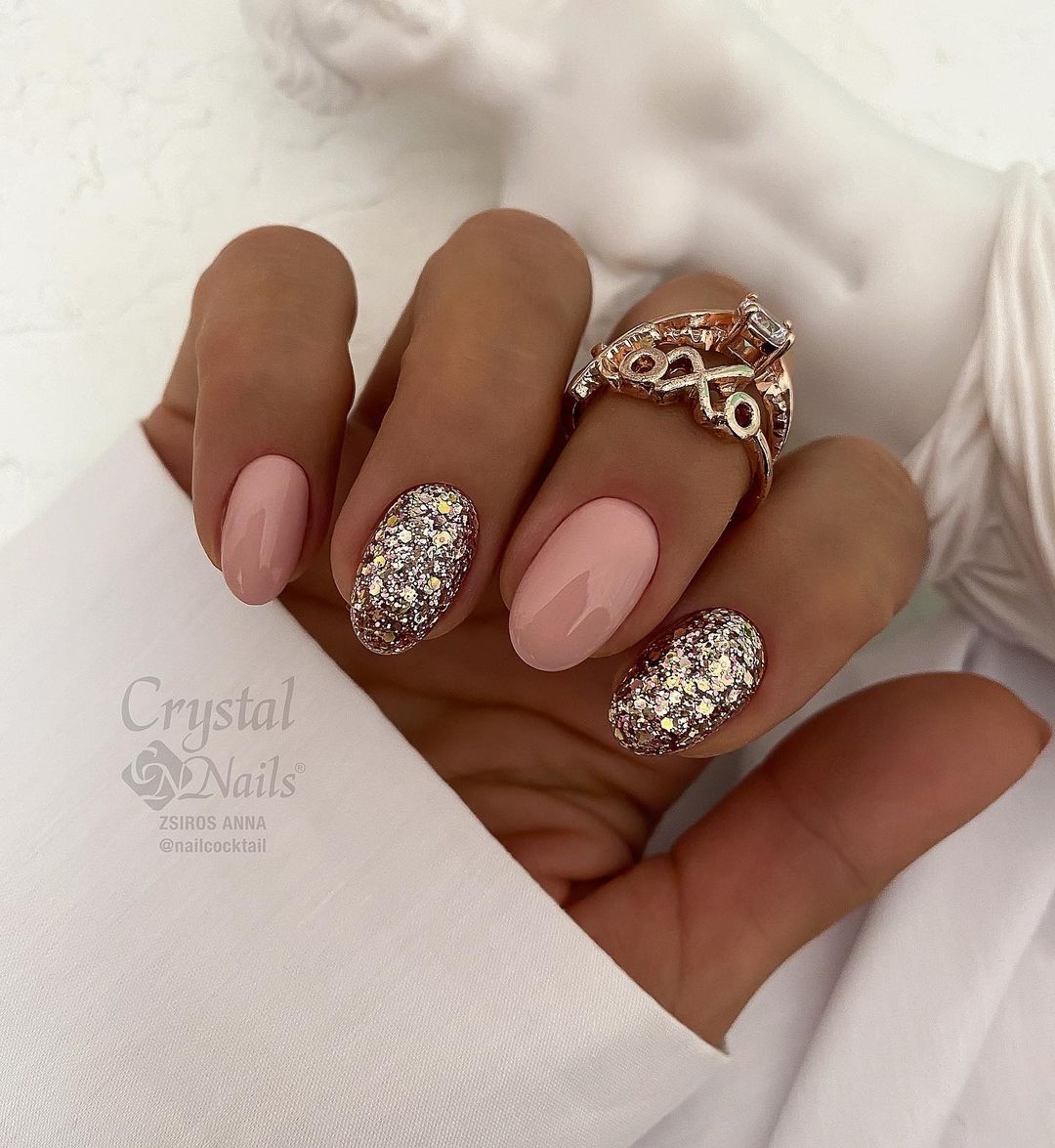 via @nailcocktail
Manicure to sparkle up your day with a tinted moisturizer on your nails. It could mean different things to different people when the polish is so closely matched to your skin tone it appears to have longer, sharper fingernails.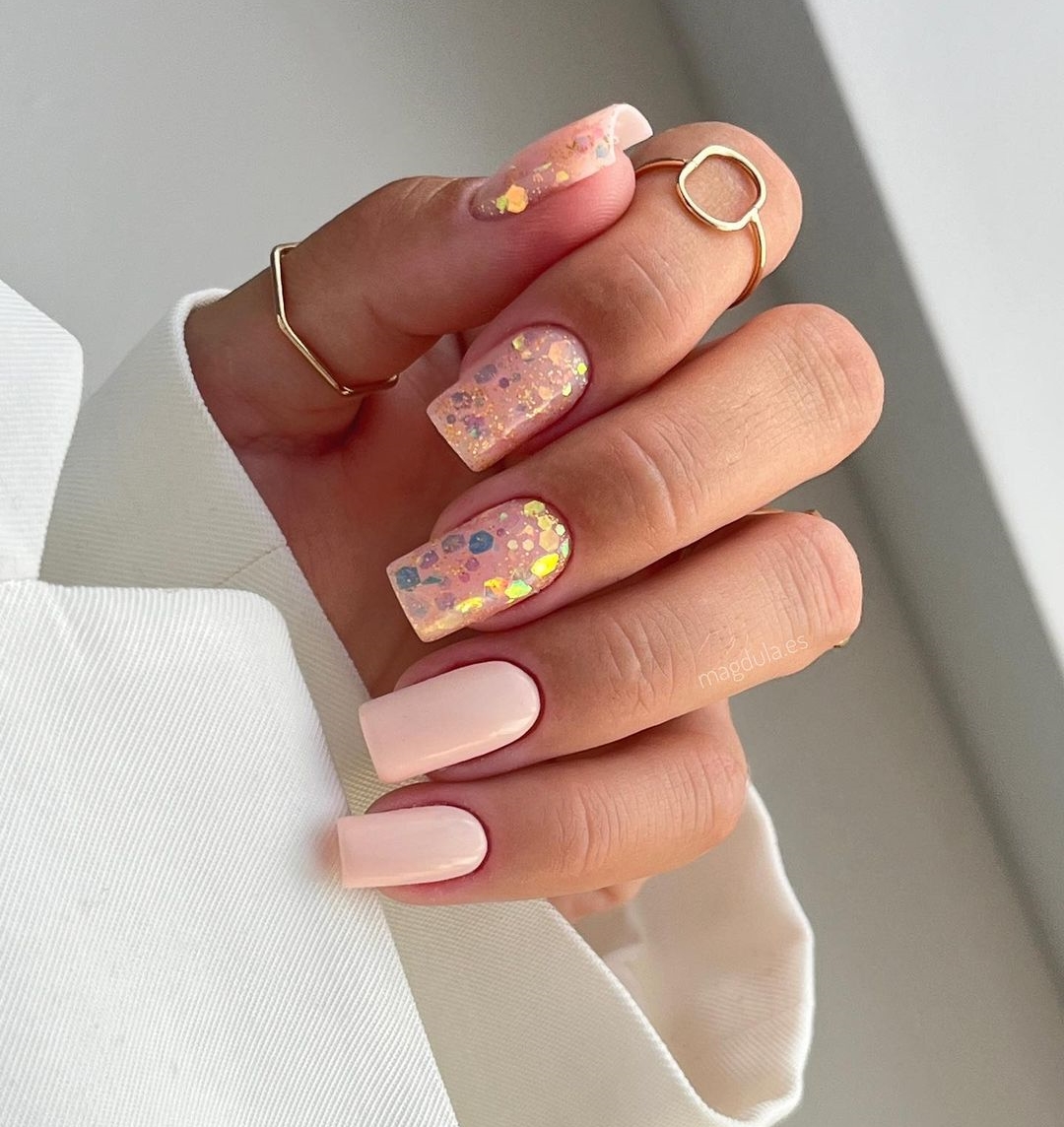 via @magdula.es
Purple Glitter Nails Showcase Your Fun Side
One of the hottest color trends in fashion over the past year is purple nail designs. Depending on your style, there are many fun ways to wear purple sparkle nails. These short nail arts have a modern, enjoyable, and slightly modern vibe.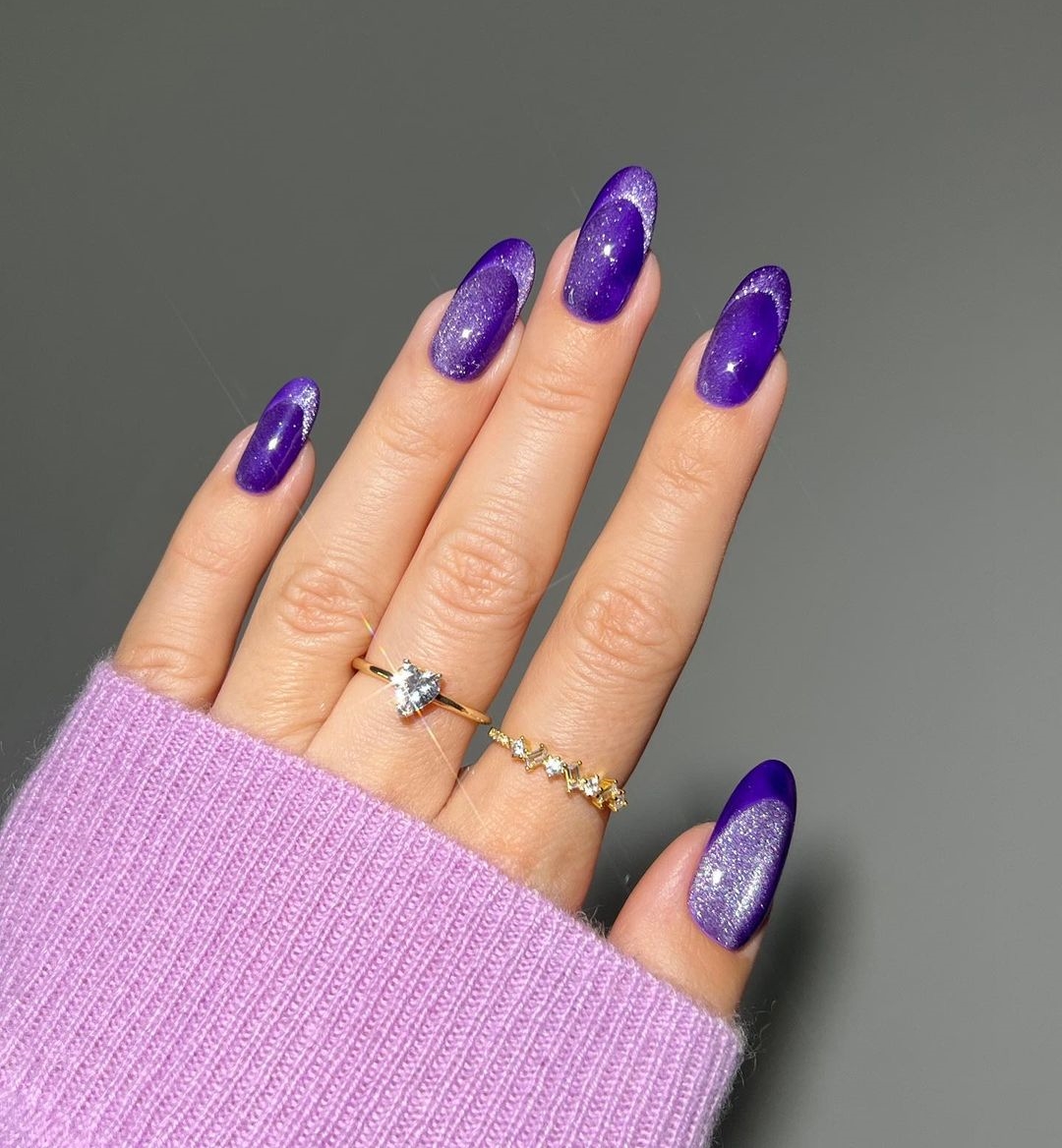 via @heygreatnails
This stylish outfit is heart and entertaining, making it ideal for any next fun event or trip. This would be lovely for prom, formal, or weddings, too.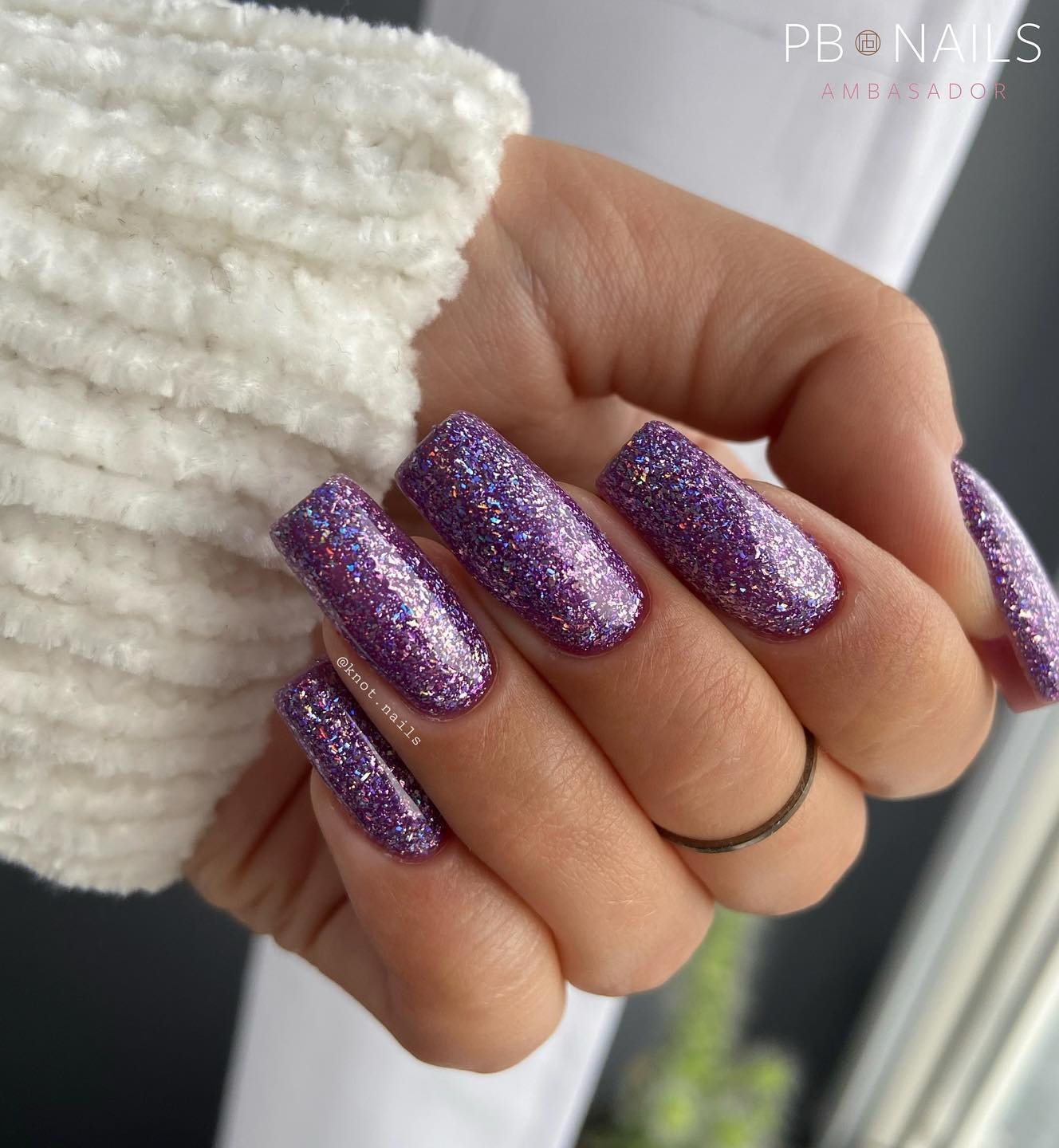 via @knot.nails
Clear Glitter Nails For a Nice Casual & Professional Look
If you love the minimalist "less is more" approach but still crave a little extra, clear nail with glitter ombre are the answer to your manicure issues. It can be an excellent method for bringing flair and style to a nude mani for any season. This classy nail art can be dressed up, dressed down, or plain and elegant, depending on the circumstance.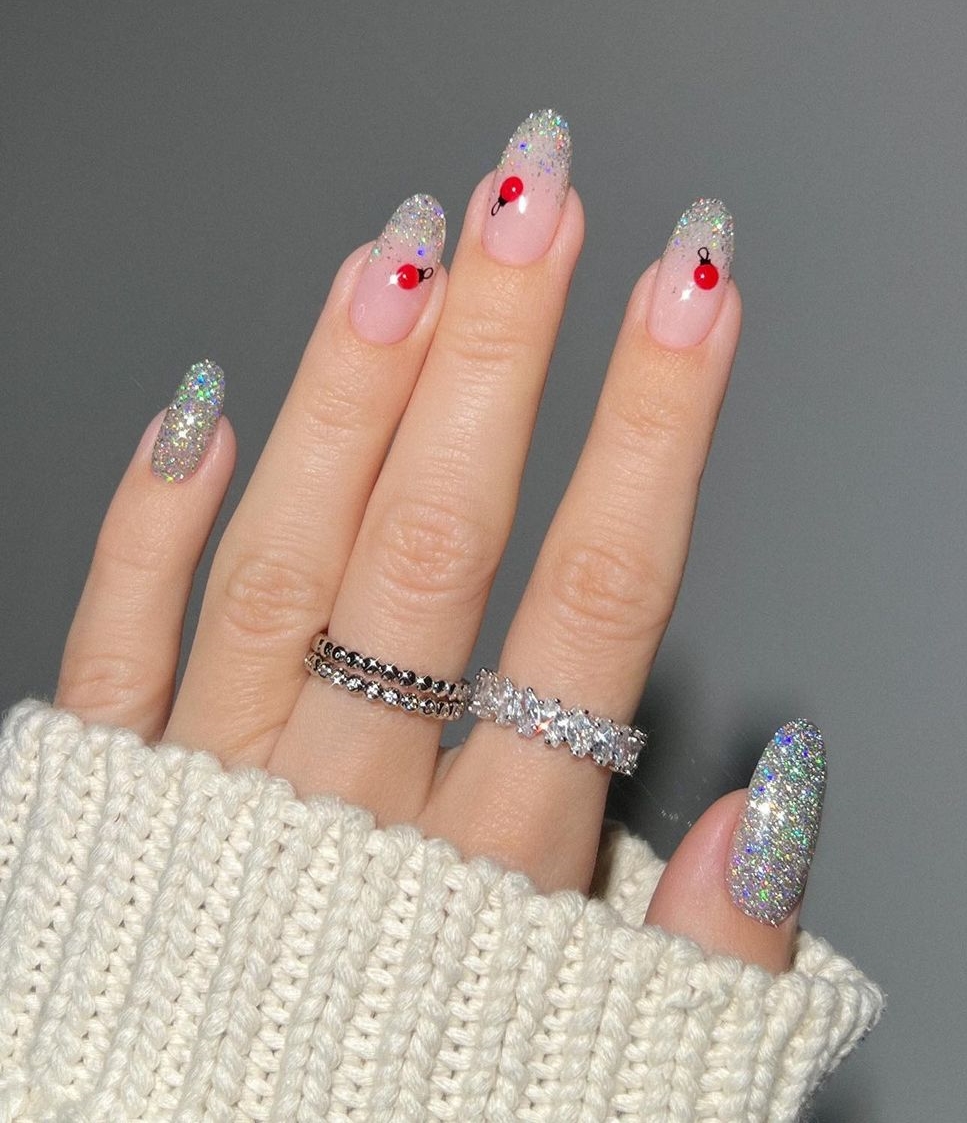 via @heygreatnails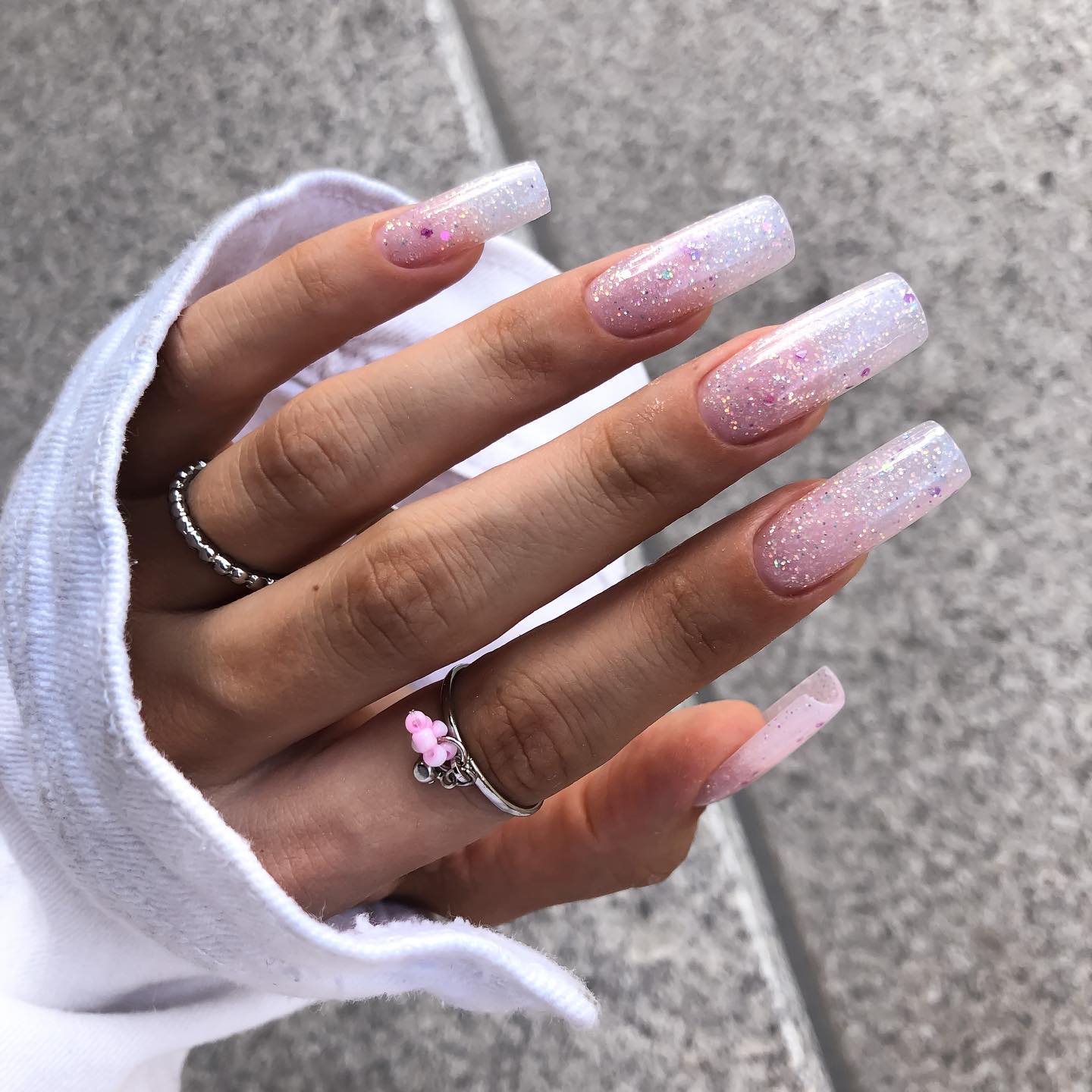 Gray Nails With Glitter Is a Must-Try for Holiday Season
Among the most popular colors for winter and fall nail ideas are gray nails with glitter. Choosing glitter polish will be easier for a wedding or holiday party. This season, accessorize your sparkling gray nails with modern nail trends. Matte gray nails look beautiful with touches of glitter and marble.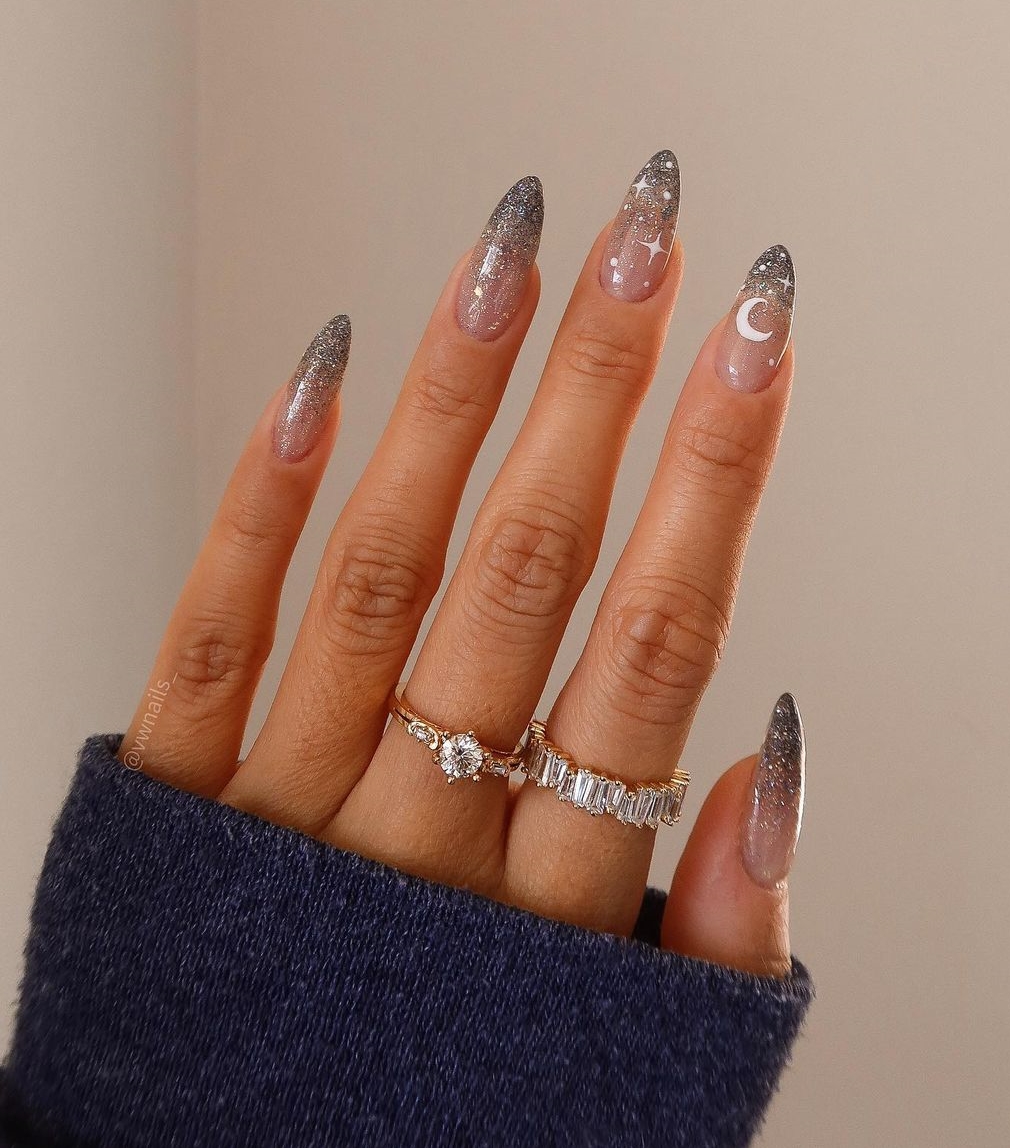 via @vwnails_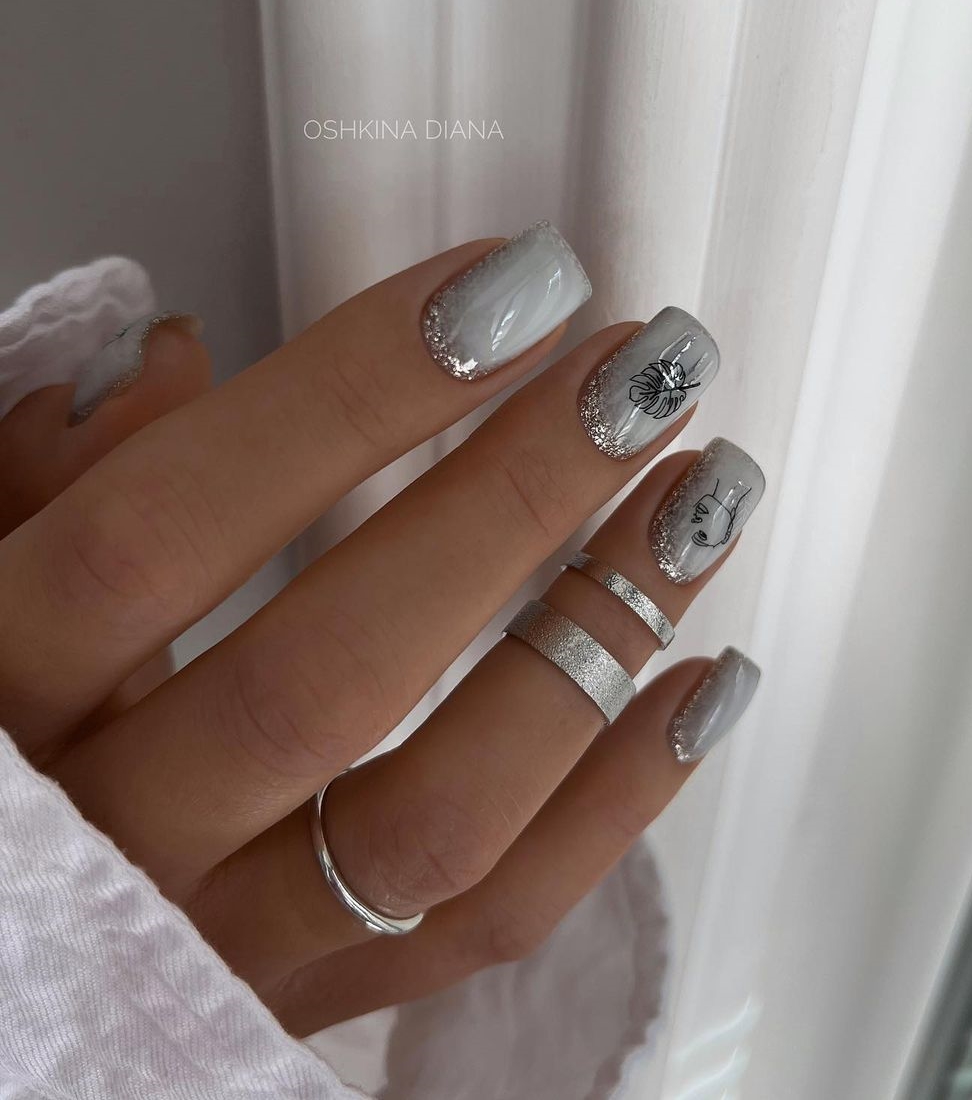 via @oshkina_diana
Glitter Yellow Acrylic Nails Add Brightness to Your Look
One of the most popular manicure fashion trends is yellow nail designs. Its adaptability enables it to be chic, seductive, fun, or even suited for work.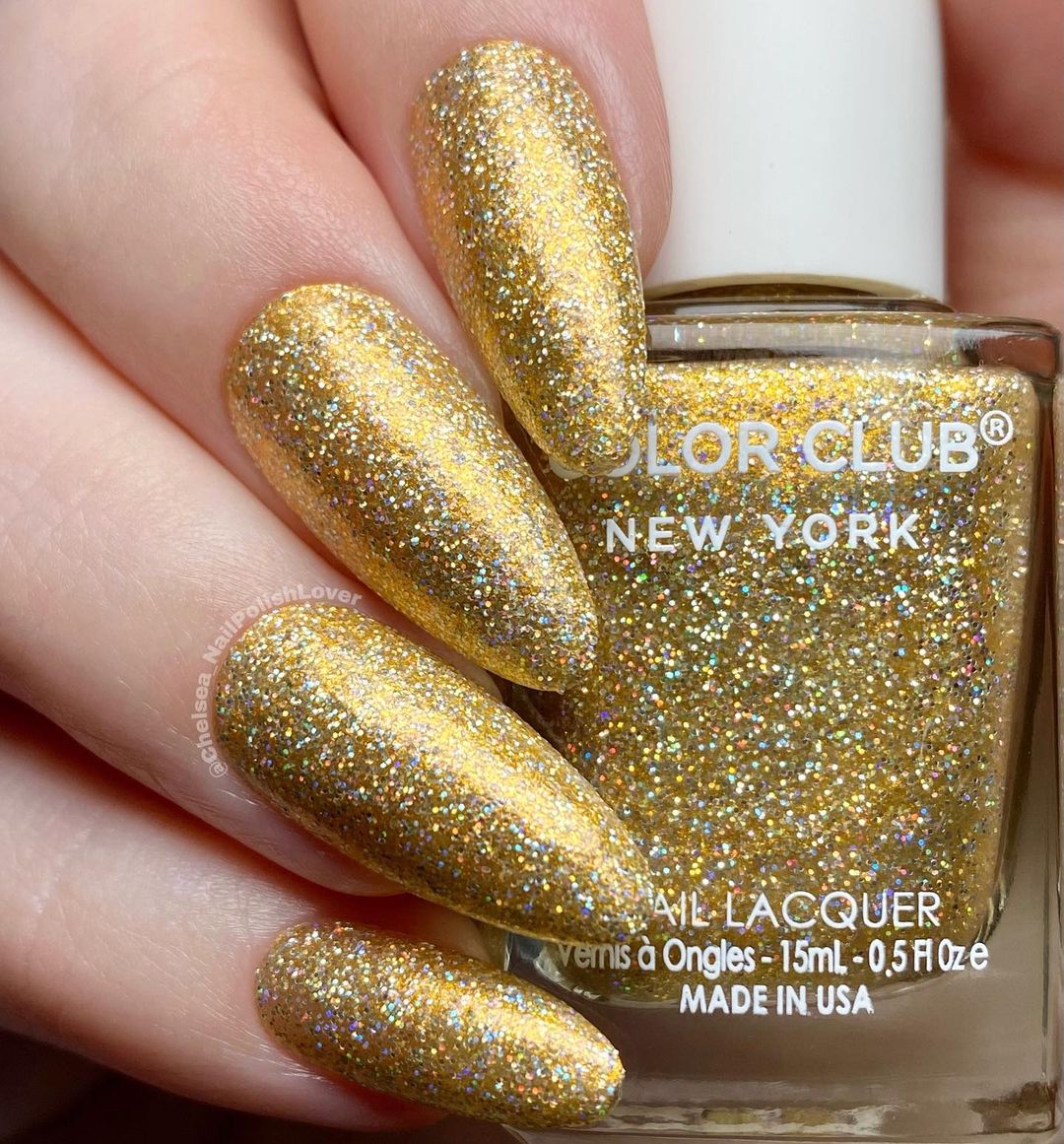 There are many ways to wear yellow, which may add a pop of color to your outfit. The design and color of your gel nails are among the best ways to display your individuality. You can participate in exciting activities without committing heavily; therefore, you can show your brave side by sporting shades of yellow nail polish.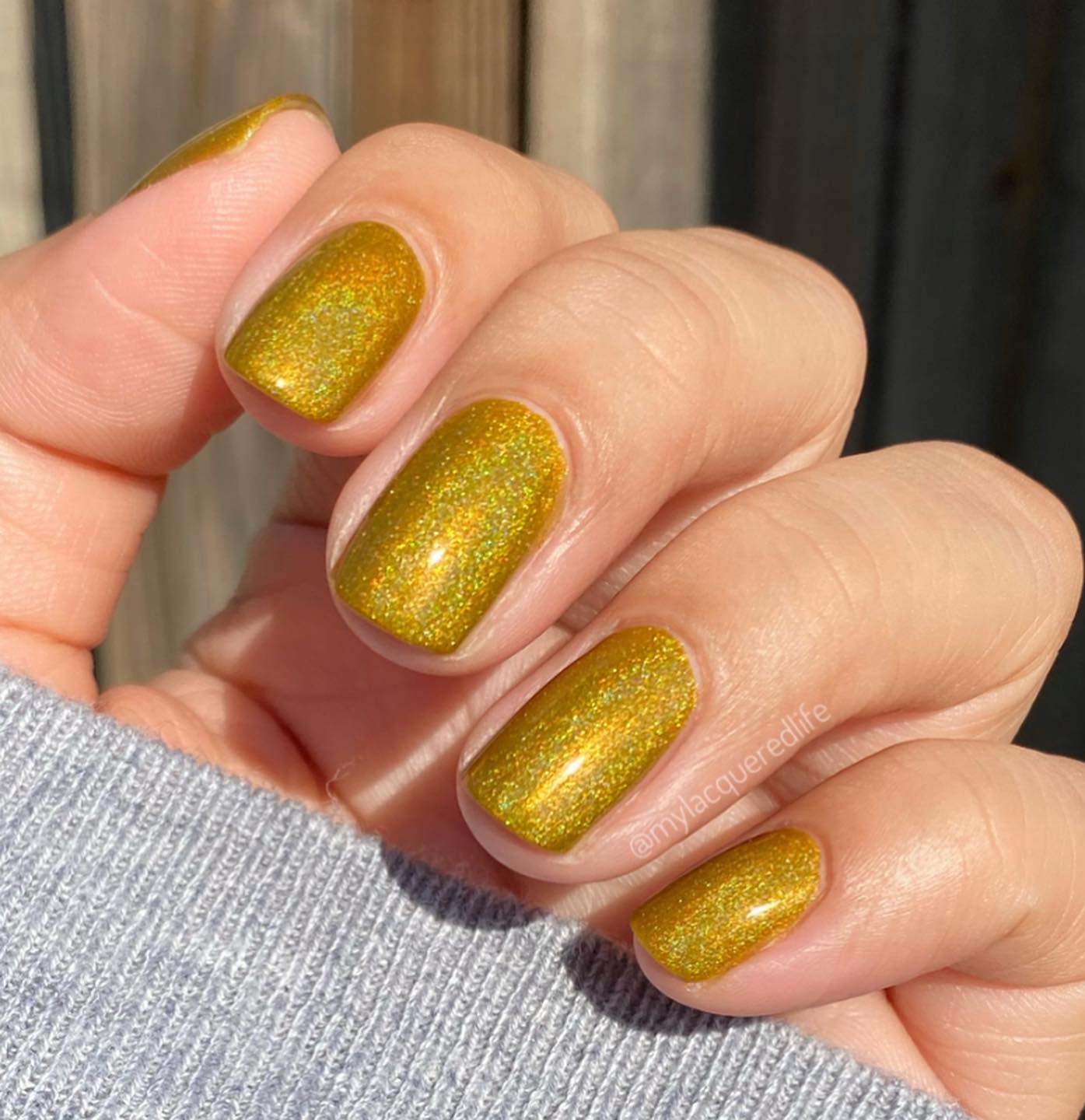 via @mylacqueredlife
Pink and White Nails with Glitter Look Stunning
Pink and white nail designs with glitter always seem fashionable. Create some stylish and even glitter nail designs using these two colors. You may glam up your overall appearance and stand out from the crowd by choosing one of our exquisite pink and white manicure designs.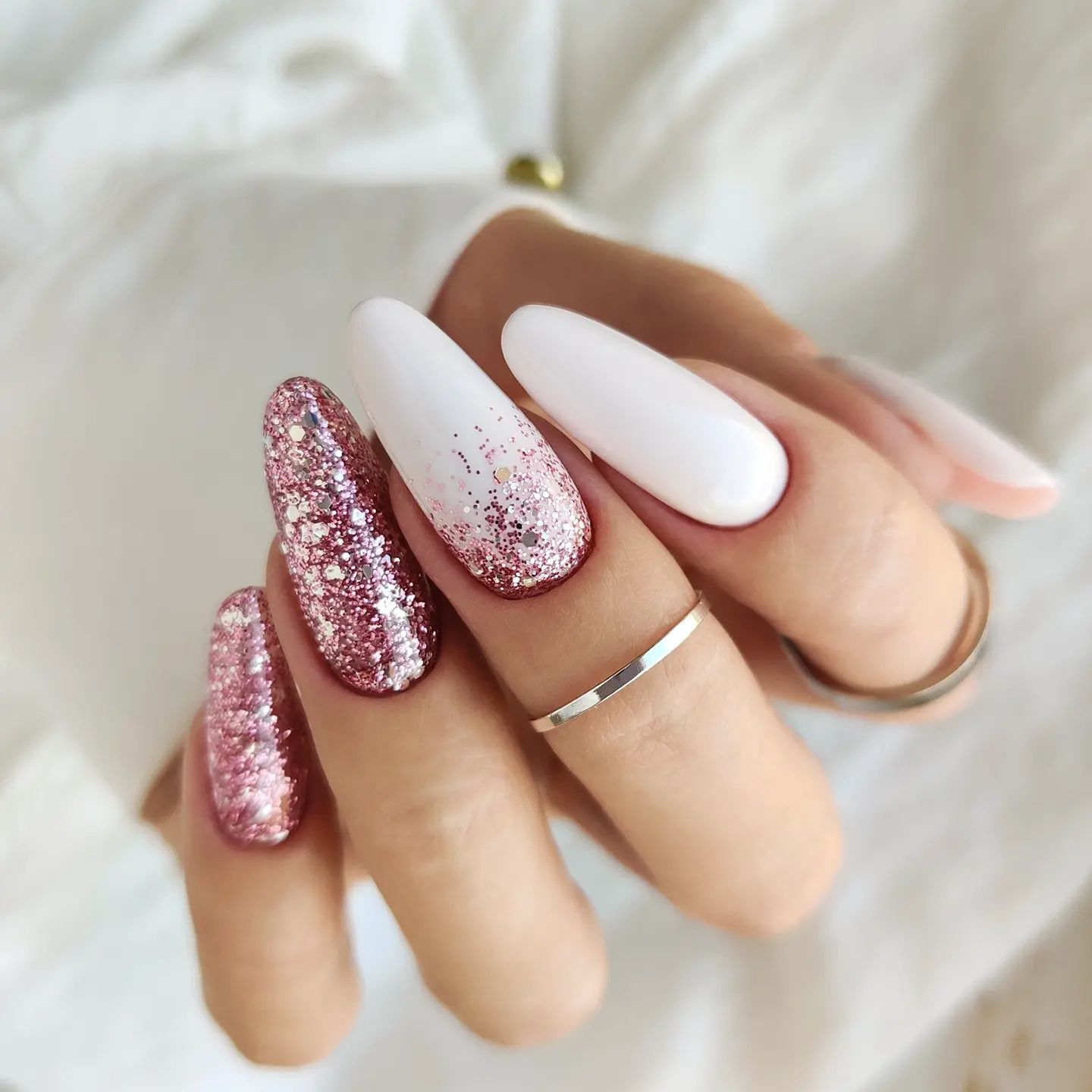 via @olootka_nailart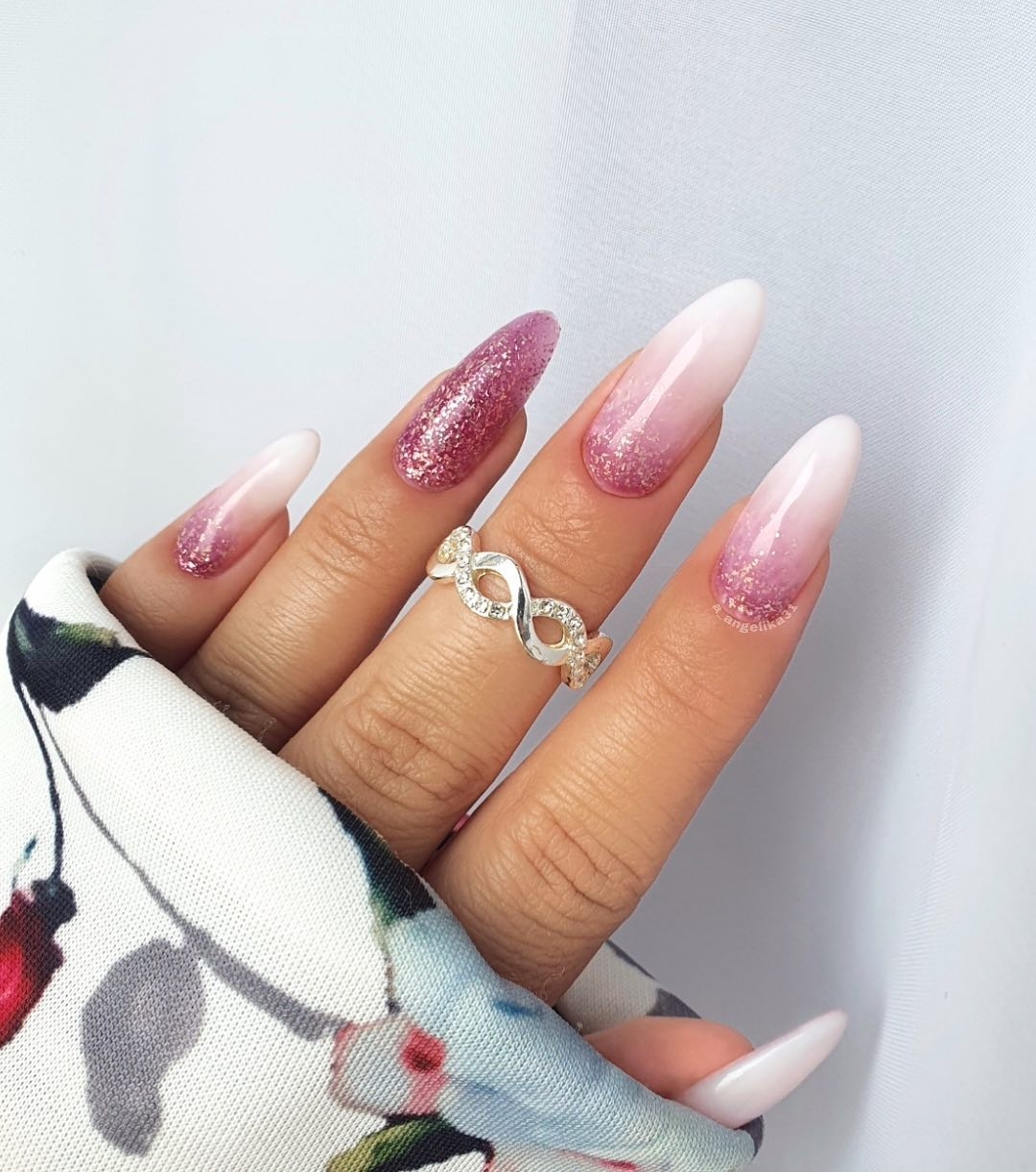 via @a_angelika31
Matte Glitter Nails for a Whimsical Appeal
Unlike before, when people attempted to create conventional nail paint using techniques, matte finish on glitter nails is now widely available. It works similarly to a glossy top coat on almond nails; after application, it may turn any color matte and gives nails a sleek, edgy appearance.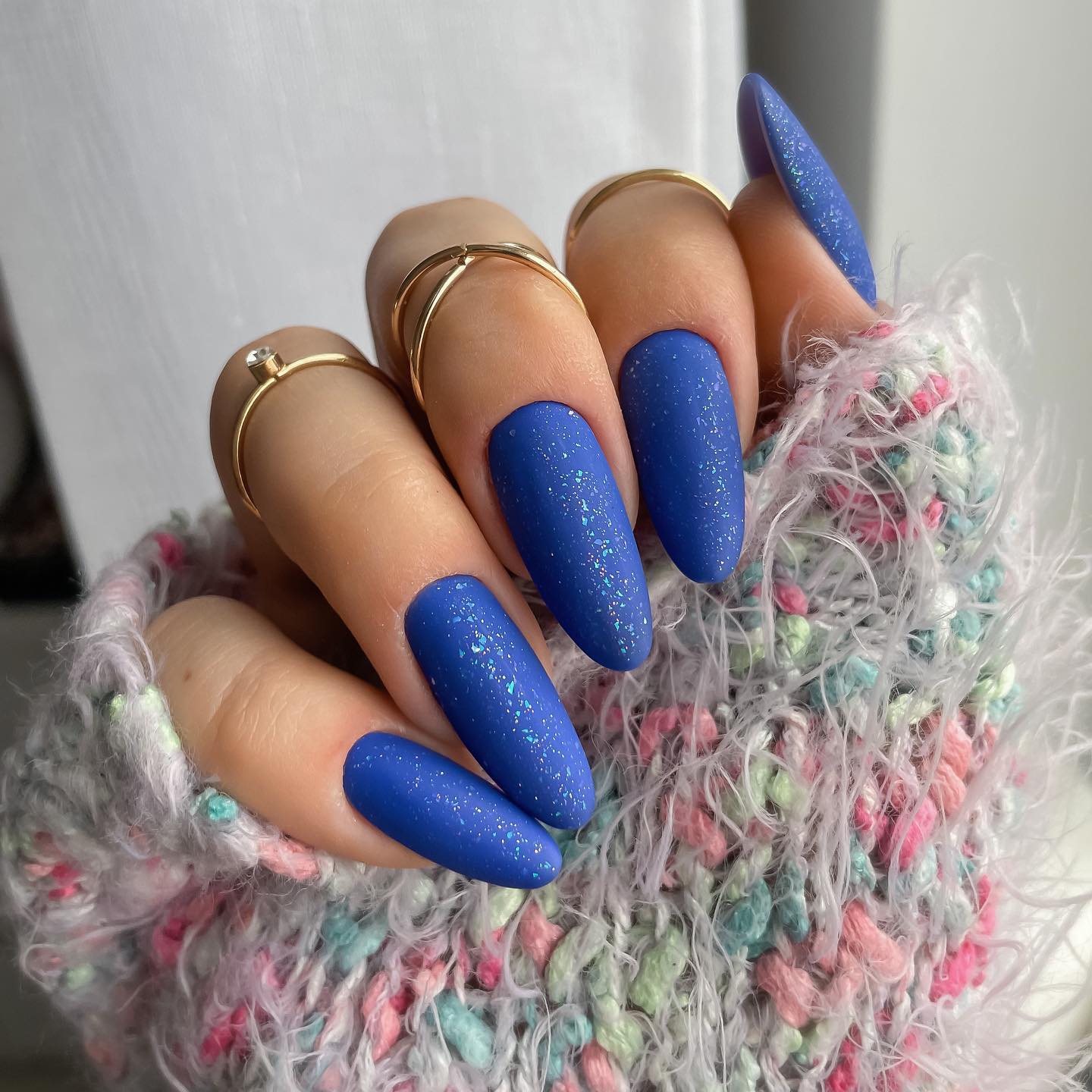 via @koci_pazur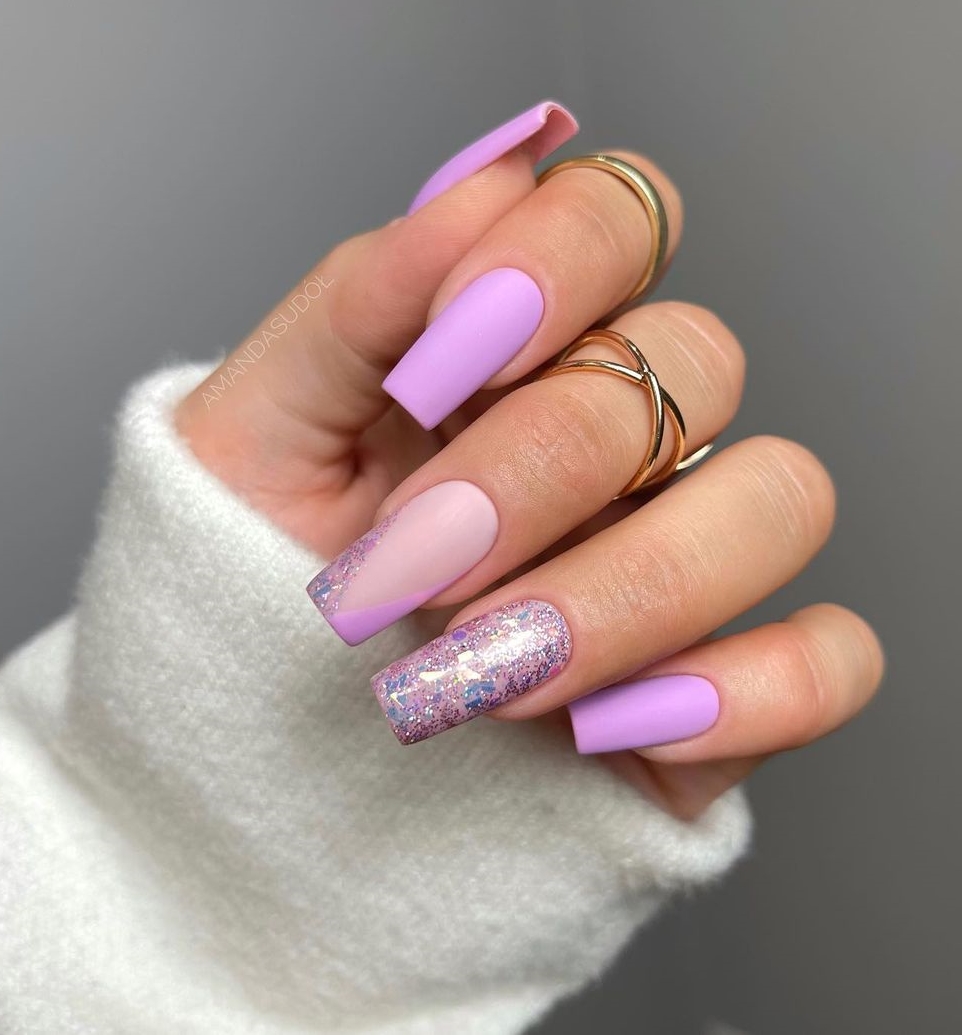 via @amanda.sudolll
Green Glitter Nails Are Perfect for Christmas Month
Green glitter nails can be exquisite or bold and dazzling, depending on the color and design. With the right shade, green nails can be surprisingly versatile. In addition to any forthcoming excursions, neon nails with glitter are perfect for the winter and spring seasons. You can make any event a little bit more cheerful.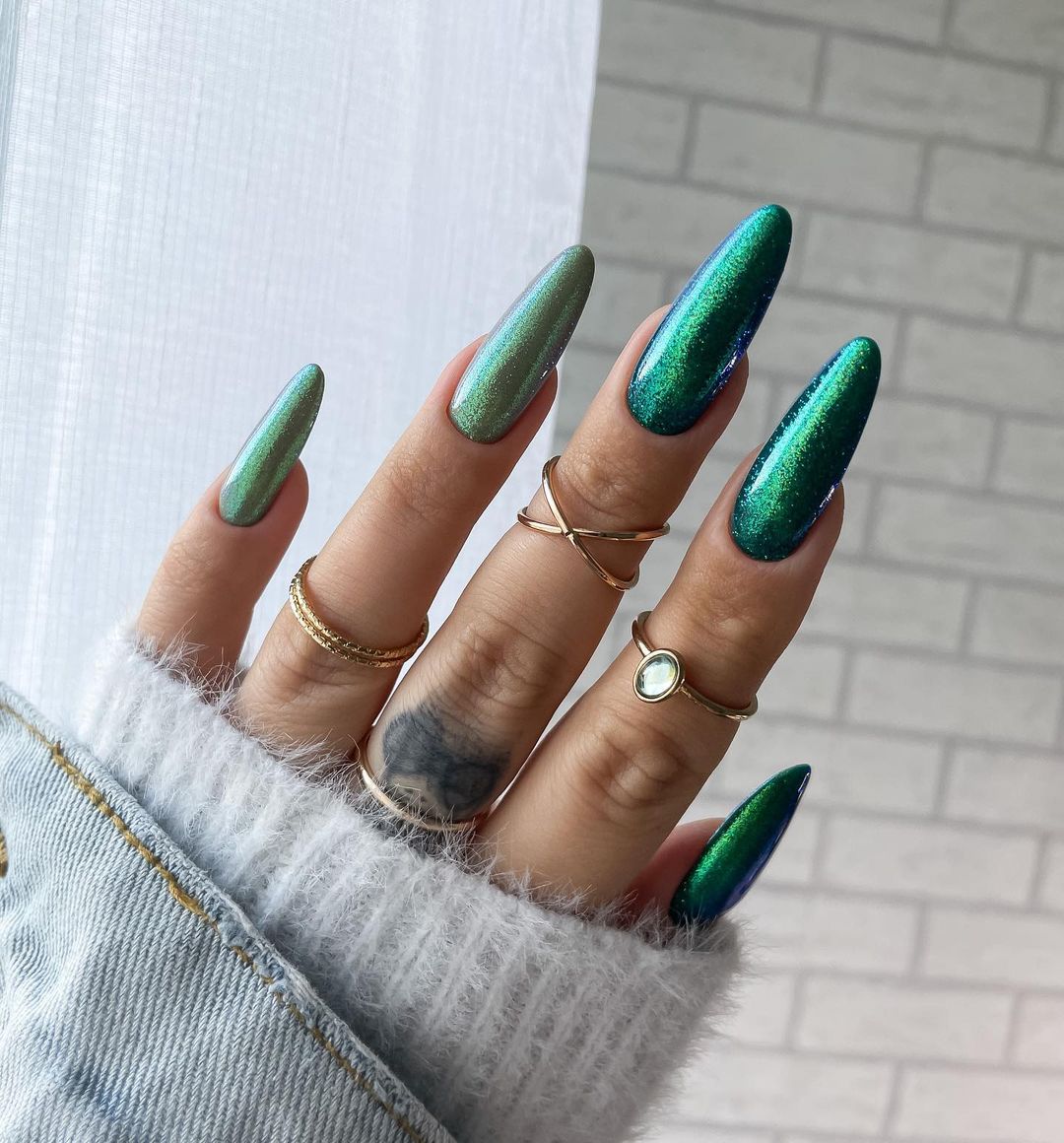 via @koci_pazur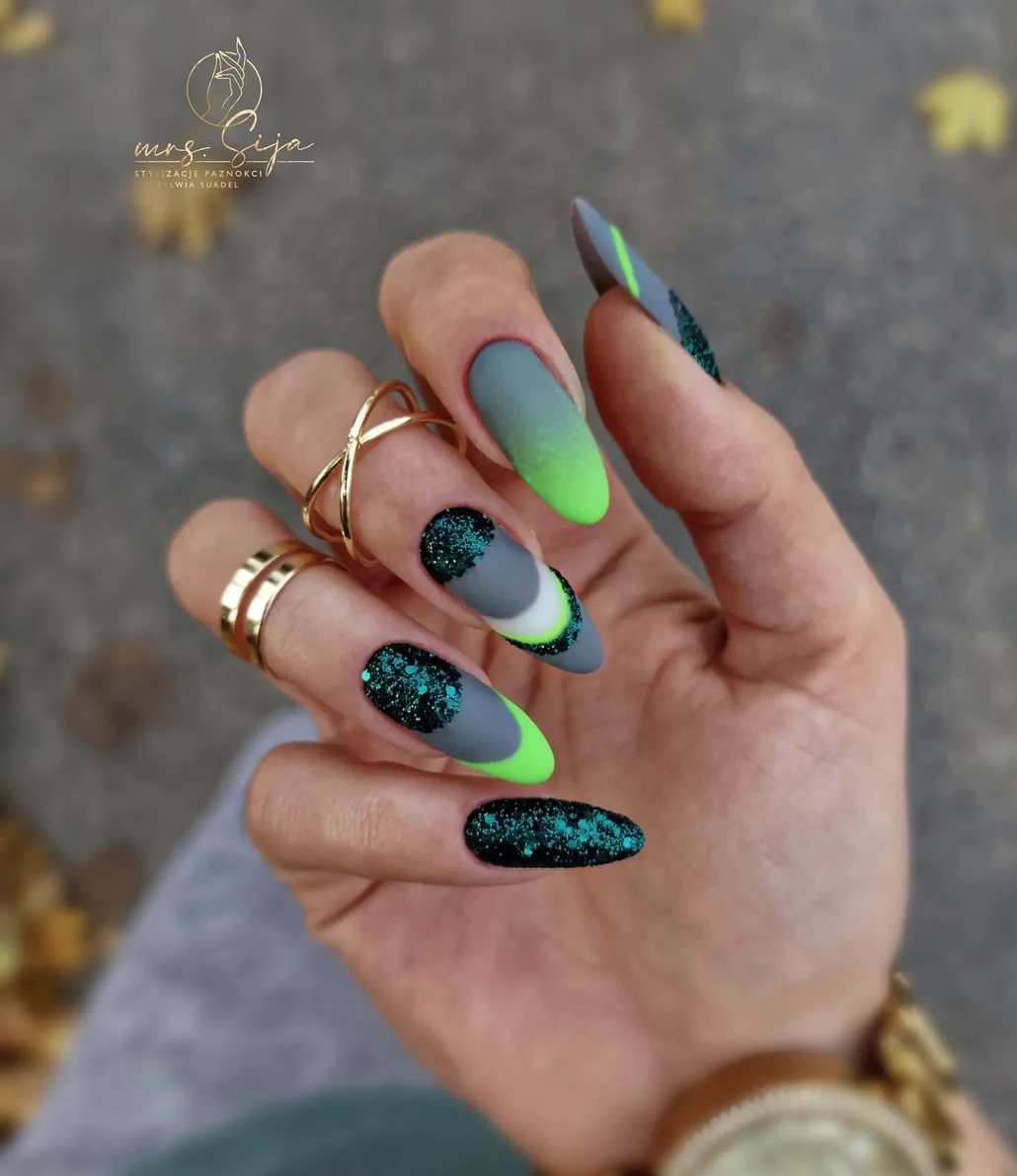 via @mrs.sijaa_nails
Sugar Glitter Mani Looks Eye-Catching
Sugar nail glitter produces a gorgeous finish that will stand out from the competition, especially when it catches any light source. Find the best Instagram nail ideas for sugar nail glitter. It is perfect for various occasions, including concerts, parties, dates, getaways, outings, and gatherings.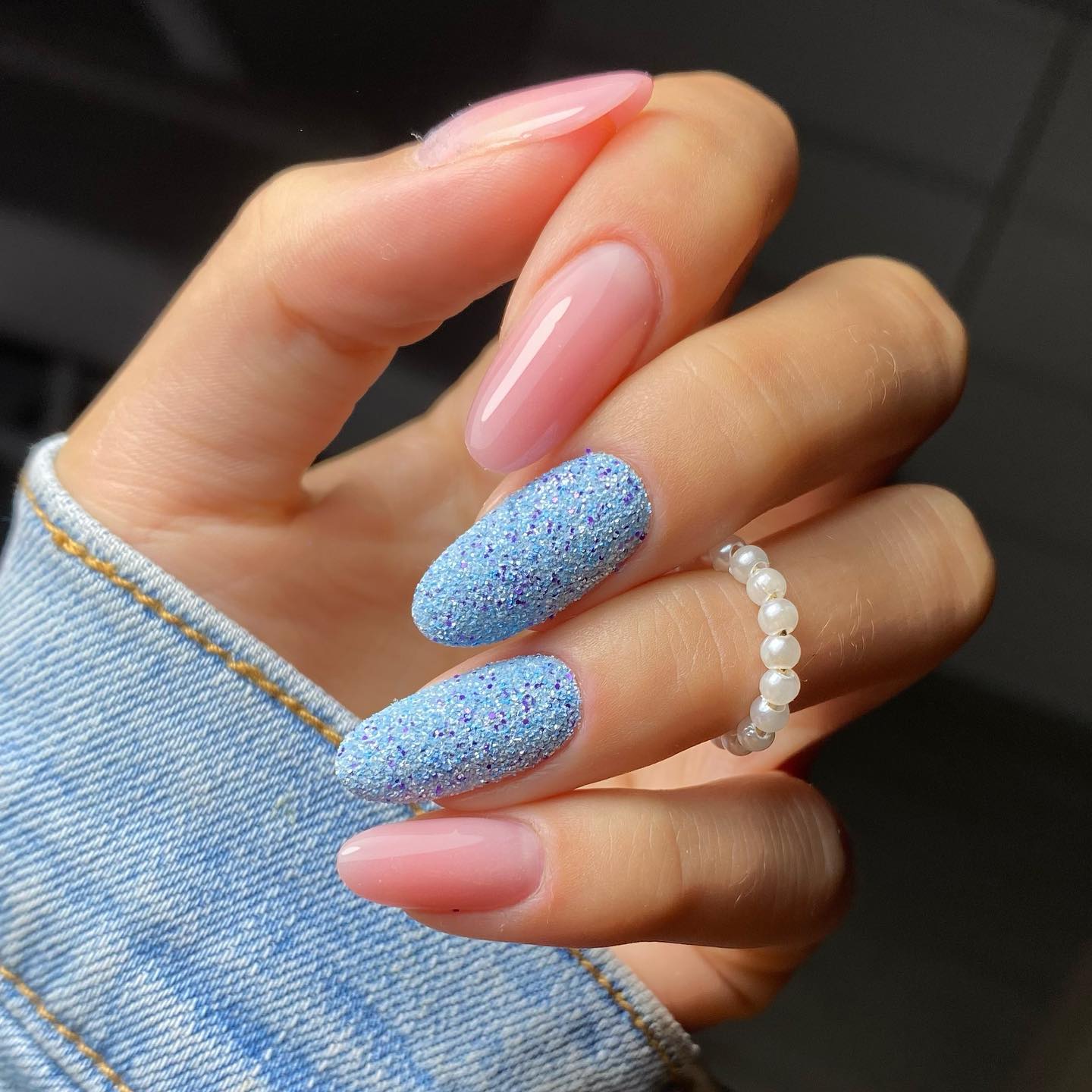 via @nailcocktail
Short Glitter Manicure Offers Perfect Style & Convenience
Short glitter nail ideas are for those who like simple, hassle-free nail care. They are extremely practical, adapt well to many environments, and are less likely to break down. You can creatively alter your sparkly nail polish to suit your requirements. You need to use contrasting colors and eye-catching accessories to grab people's attention.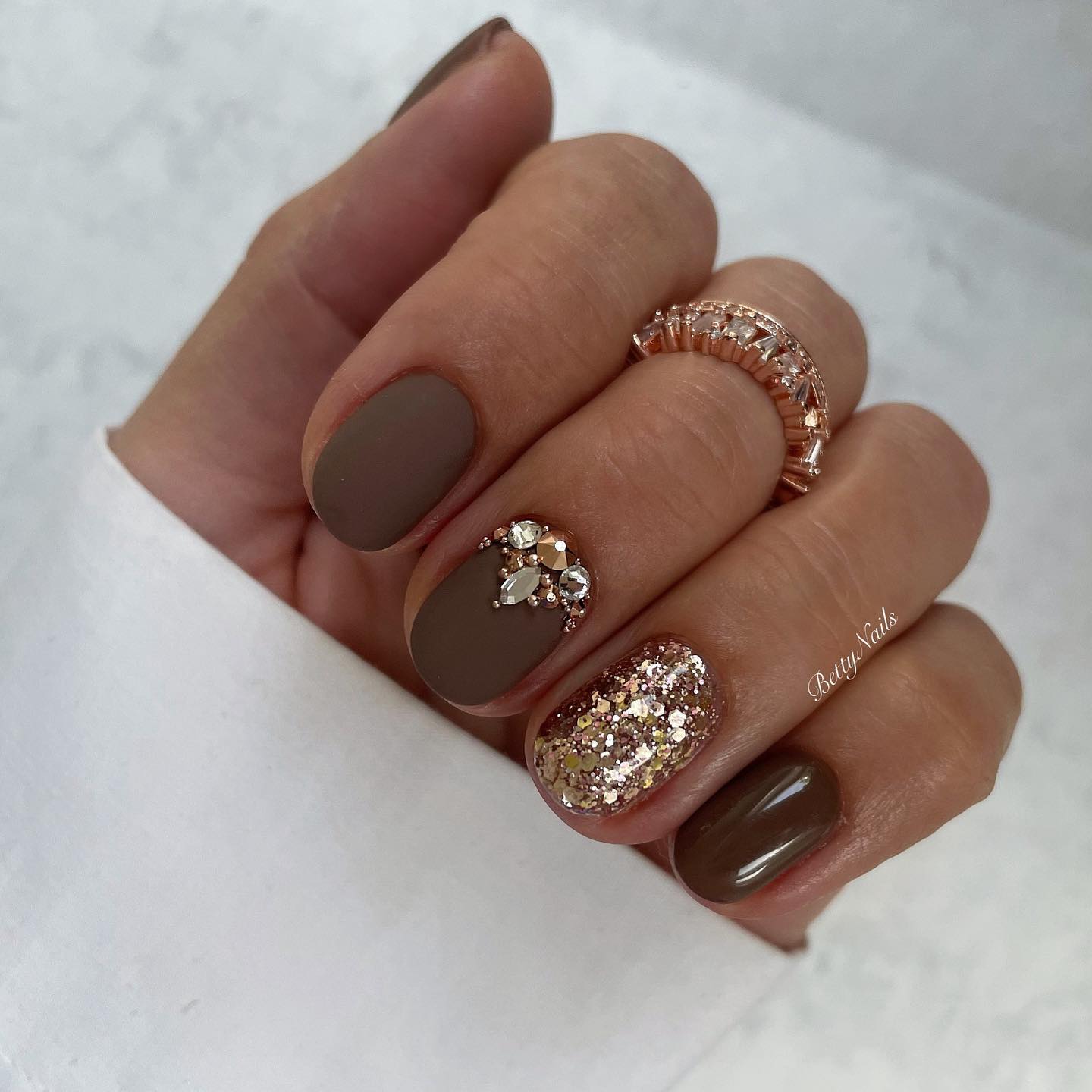 via @_bettynails_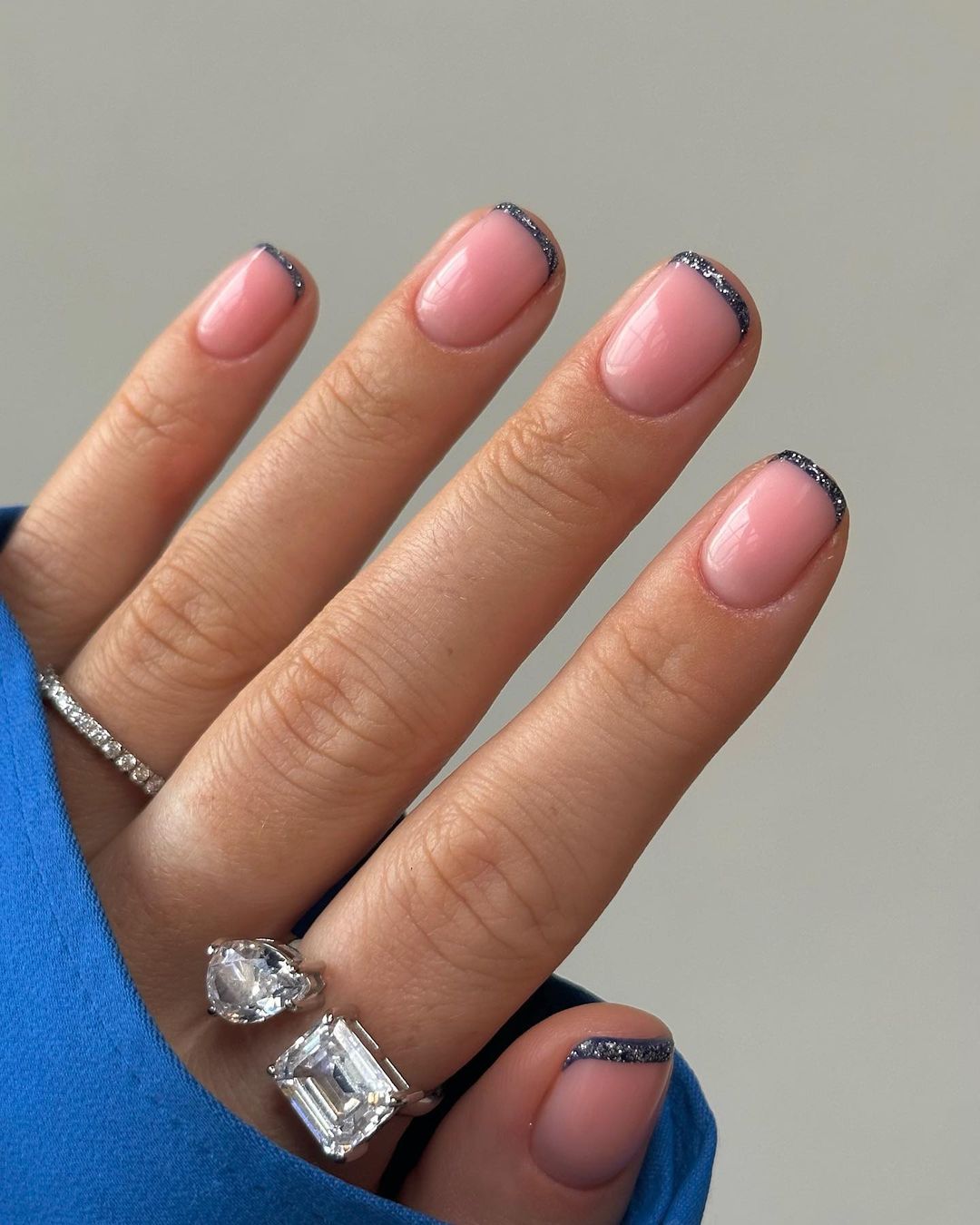 via @tori.nailedit
Burgundy Glitter Nails Are Bold Plus Beautiful
Burgundy nail color is easy to create on either short or long nails because it complements any outfit, occasion, or setting. Contrary to popular belief, burgundy nails can be a little short to look great. A fall season manicure with such a strict and elegant coating is appropriate for women of all ages and lifestyles.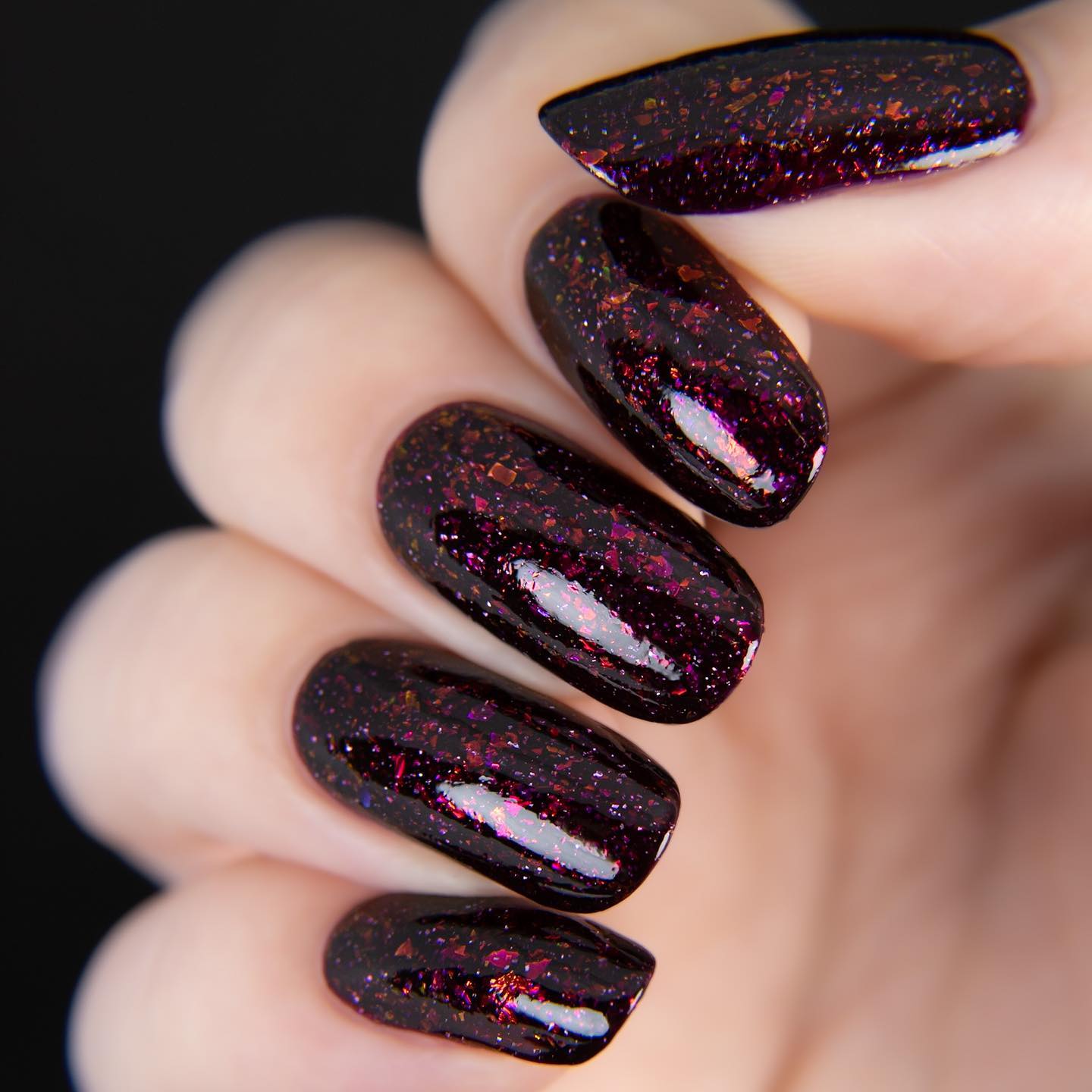 via @mypolishednailz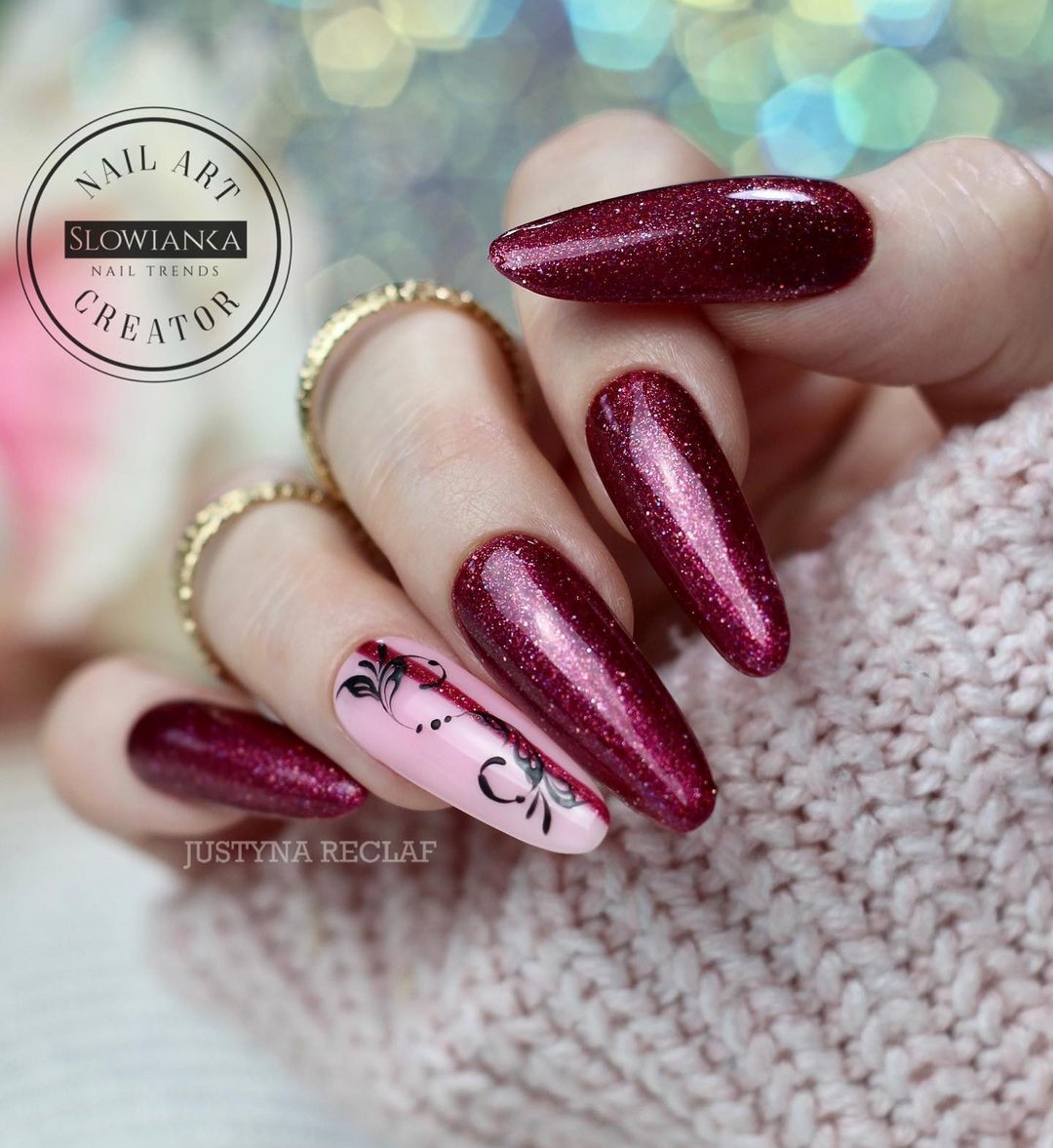 FAQ
What is the best glitter gel nail polish?
Glitter gel nail polishes include glitter flakes in the lacquer, giving your appearance an extra dash of appeal. When you apply a coat of glitter to your nicely painted nails, your nails look groomed and are less likely to chip. These are the most well-liked nail paints that are provocative.