Black nail art can be pretty striking and full of cuteness when done the right way. Perfect for all occasions, black is the color that suits any nail shape and length. When going out in your all-time favorite black dress, or skirt, adorn your nails with black. Here are some brilliant nail ideas for this season:
Black French Tip Nails for an Interesting Make-over
This season instead of the typical French manicure featuring a natural base and stuffed white tips, experiment a little. An adventurous black nail design covers your nail base with matte black and tops it with a bright pinky glittery polish. Looks good on a square and almond nail shape.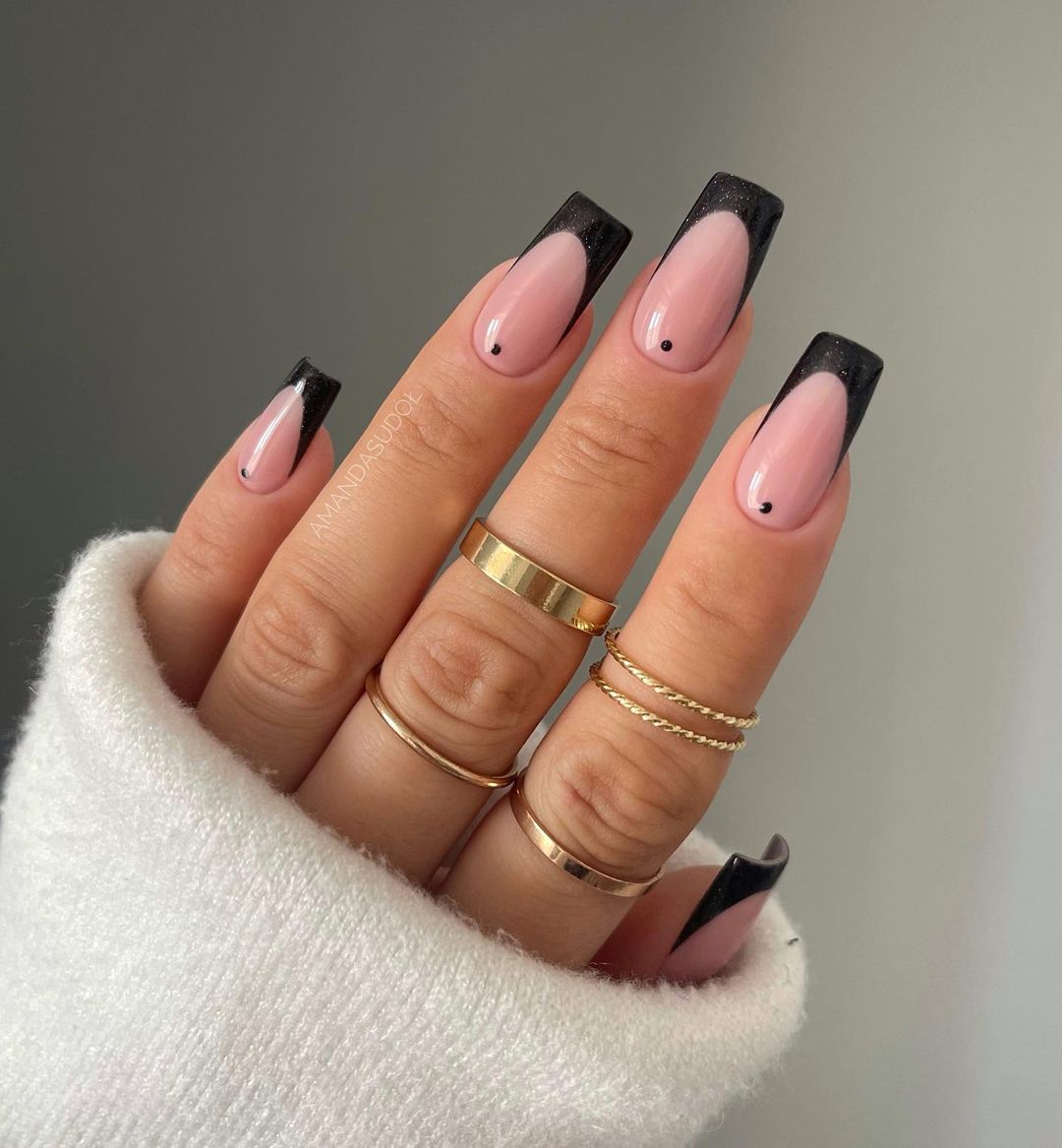 via @amanda.sudolll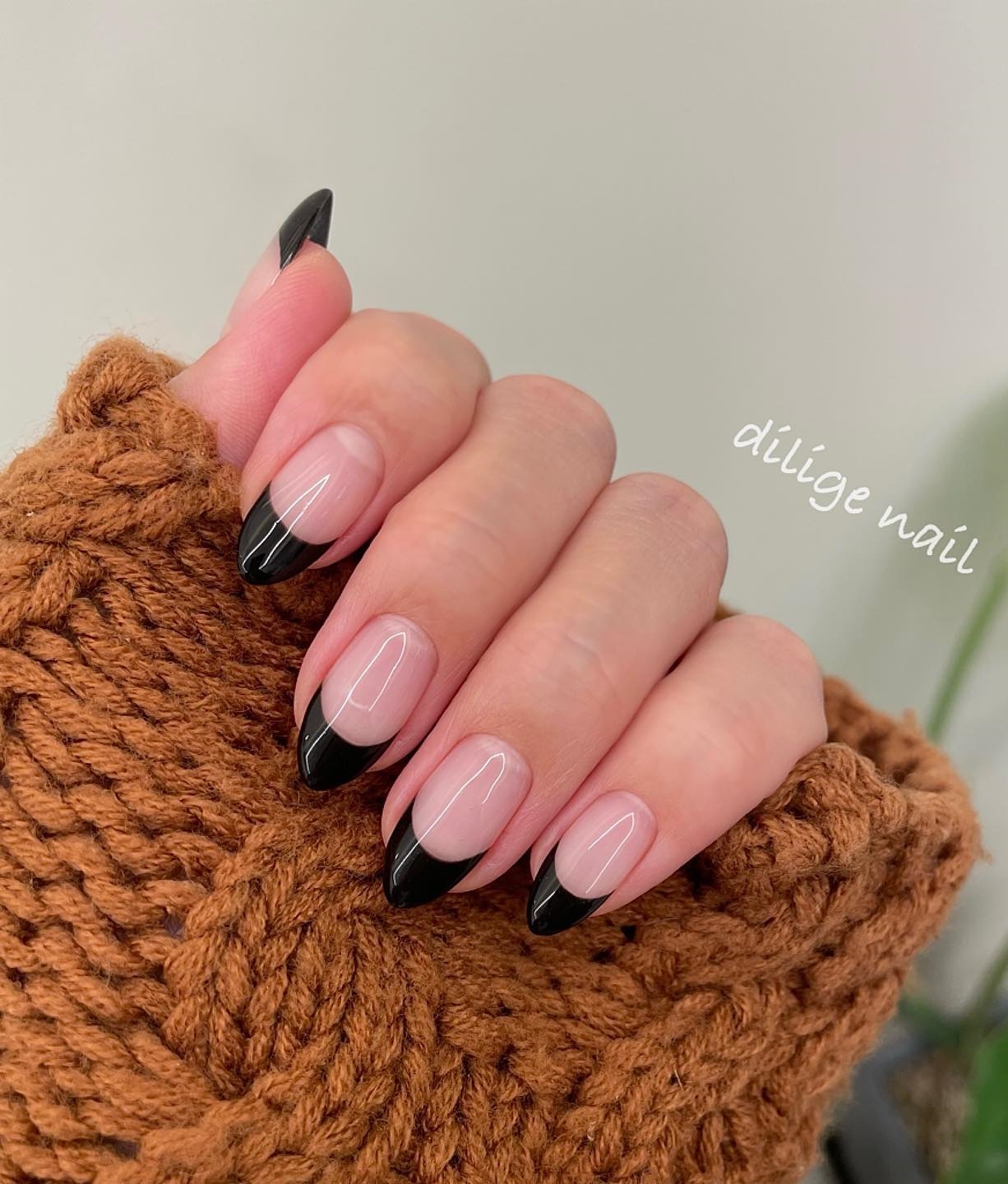 via @dilige_nail
Black and White Nail Designs for Perfect Geometry
Black and white nails look fantastic and are a must-try style for all fashionistas. You can go ahead with the classic look or get bold with geometric patterns and designs. How to do this? Your glossy black nails on eight fingers and white on two fingernails. Then sketch a modernist art line on a few of the nails.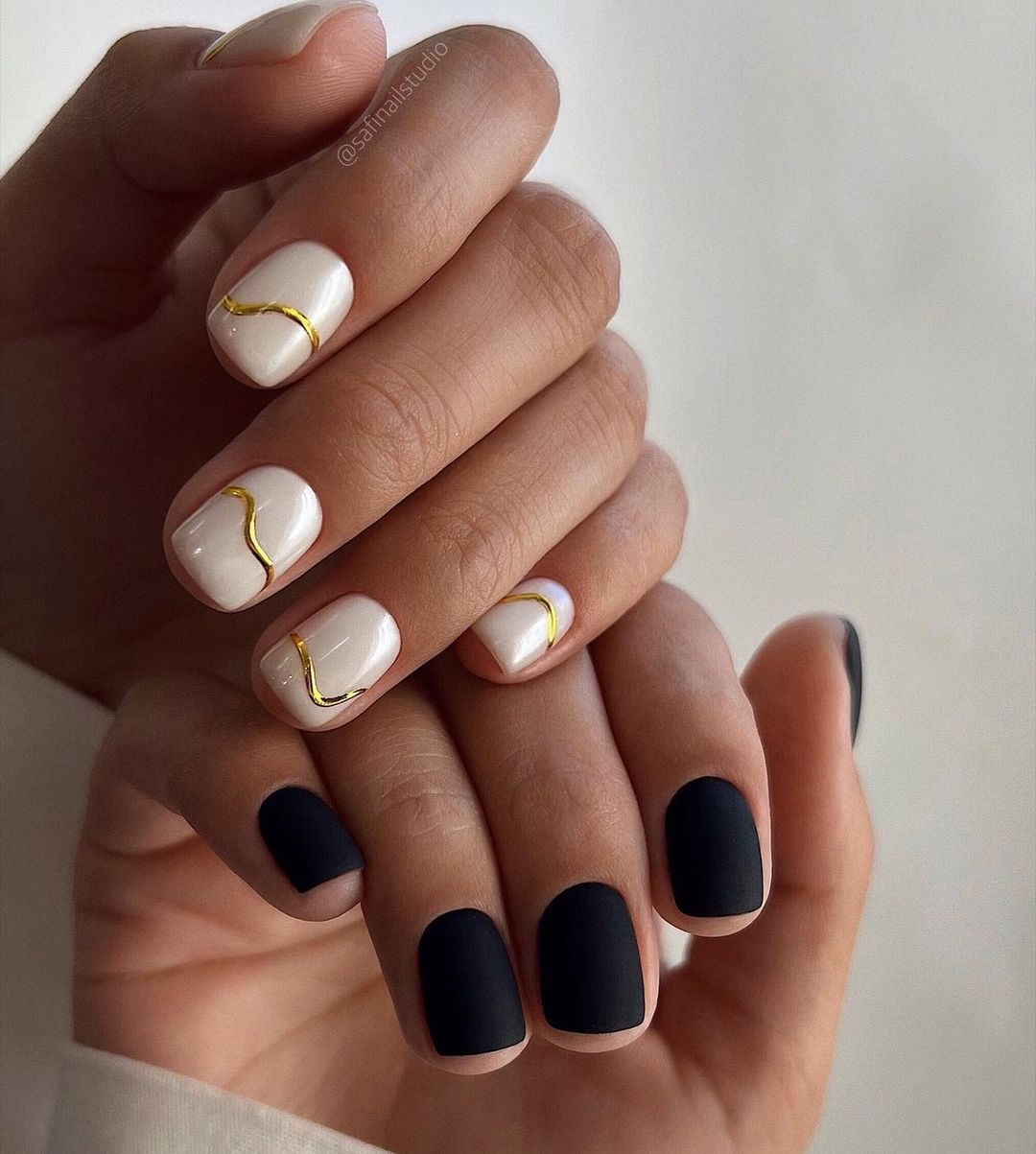 via @safinailstudio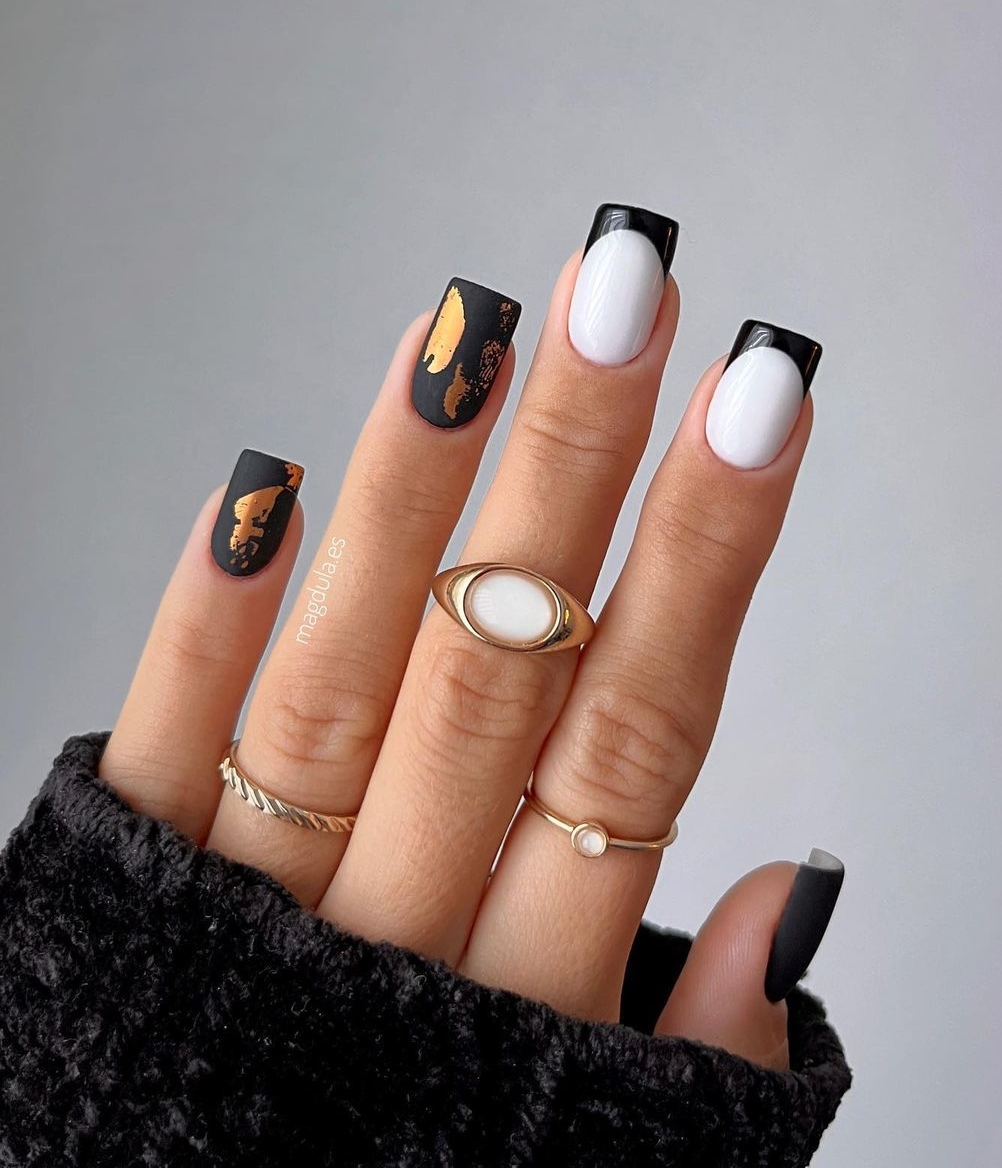 via @magdula.es
Black and Gold Nails for a Rich Elegant Look
Accentuate your black manicure with tiny tiara-like gold beads at the edge. Even though a minimalist design, the matte black nails look stunning. Another style you must try is the butterfly effect with sparkly gold glitter. How to achieve this? On a shiny black base, use golden trapezoid shapes.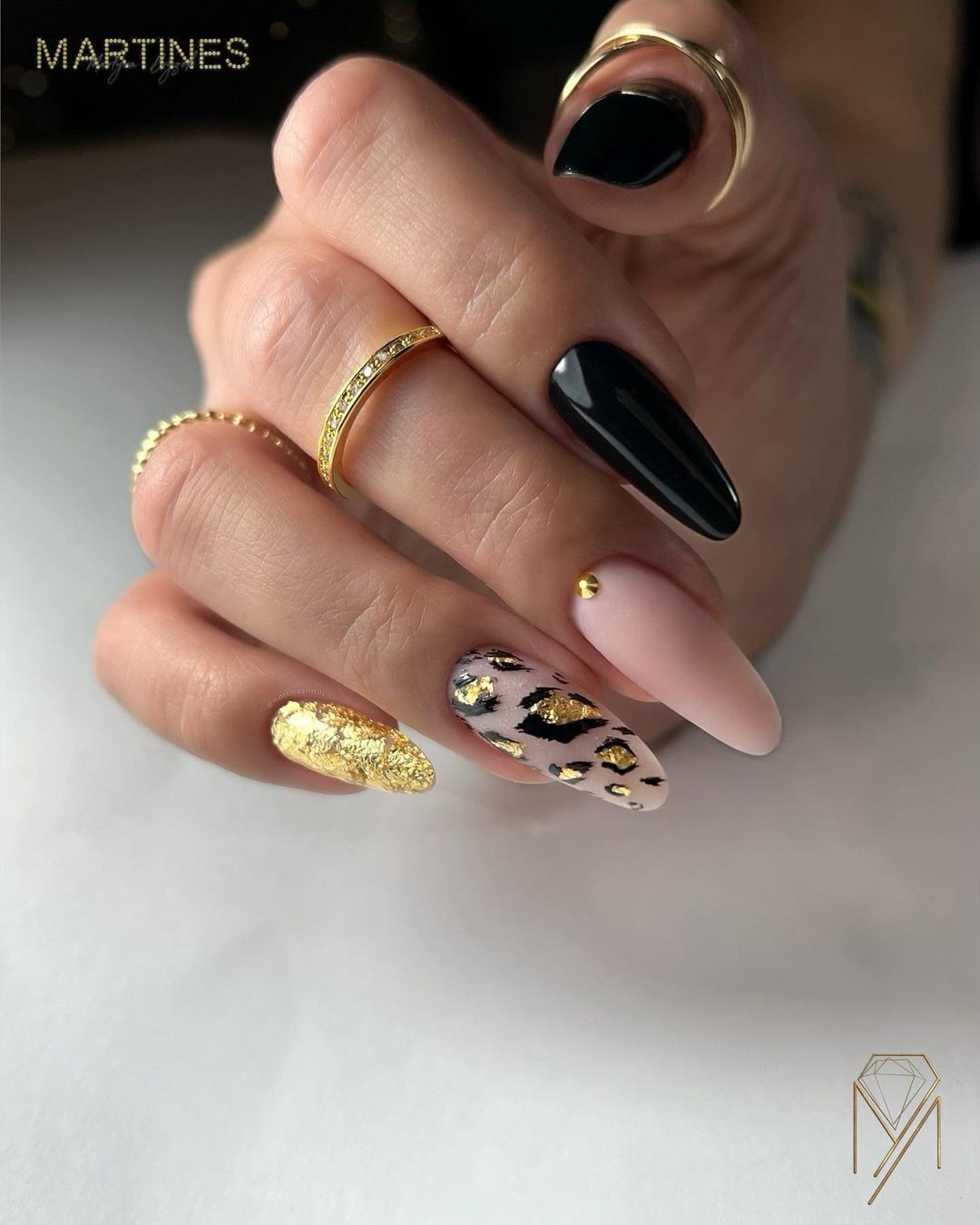 via @martinesnails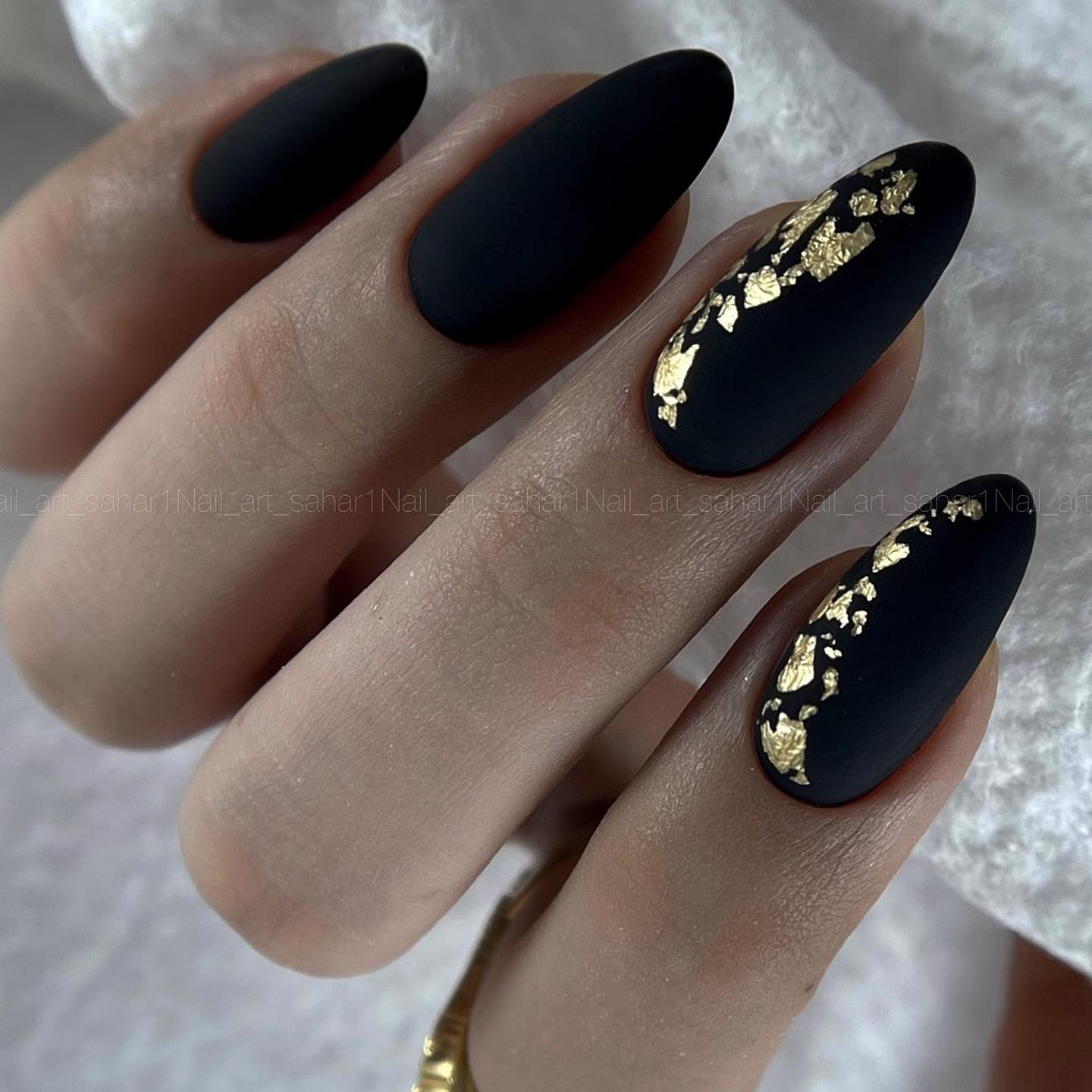 via @nail_art_sahar1
Matte Black Nails Interesting Combos
The matte black base on all your fingernails is a show-stopper, indeed! Even without any design, the look achieved is wow. Combos with black acrylic nails, like the twirling silver or a shimmery pink essence at the cuticle, look good too. Black nail polish with a matte finish and pink glitters on the tip is incredible too.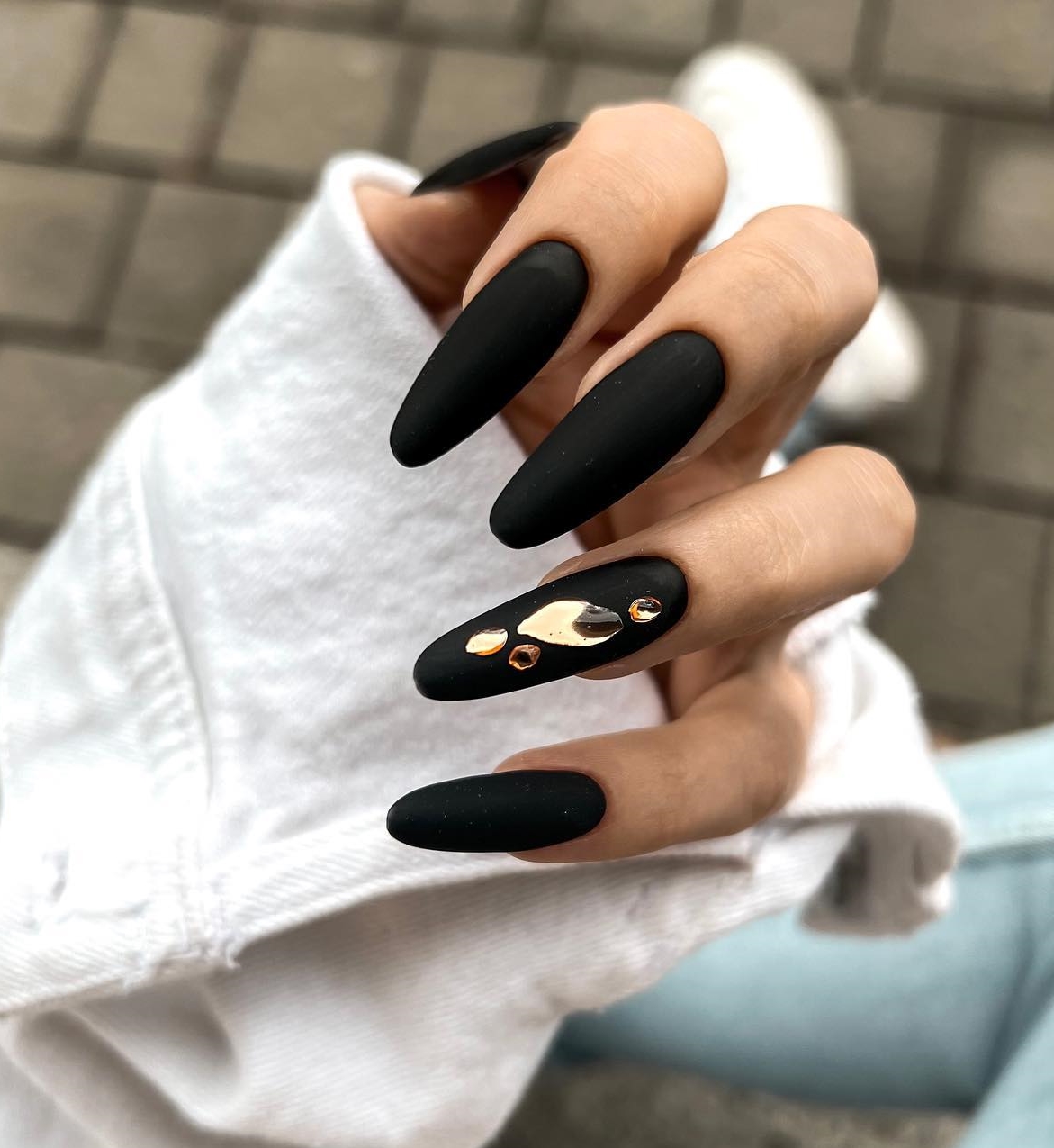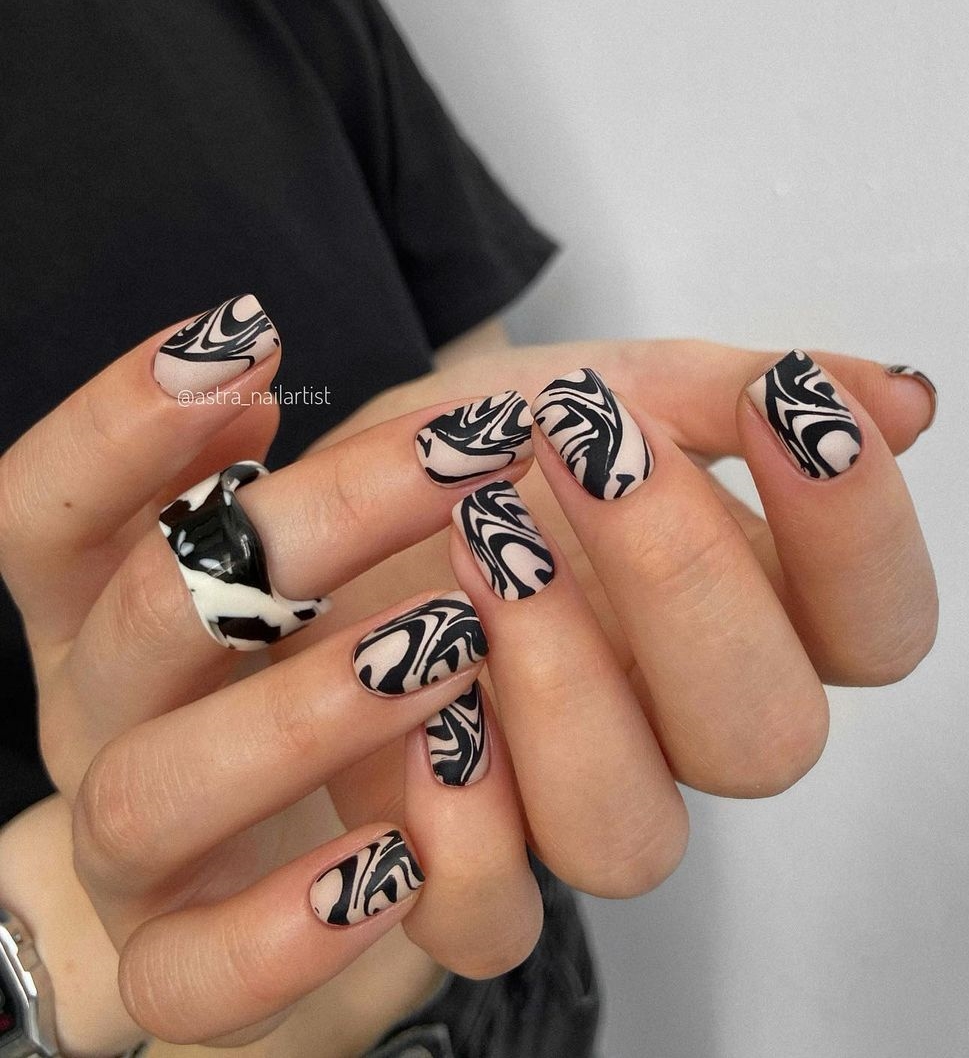 Red and Black Nail Designs to Complement Your Dress
Red and black nail designs are unique and look sophisticated. Especially if you are planning to wear a black and red dress, go in for classy fall manicure ideas with these two colors. After applying matte black nail polish color, use traditional floral designs in red to create a charming effect.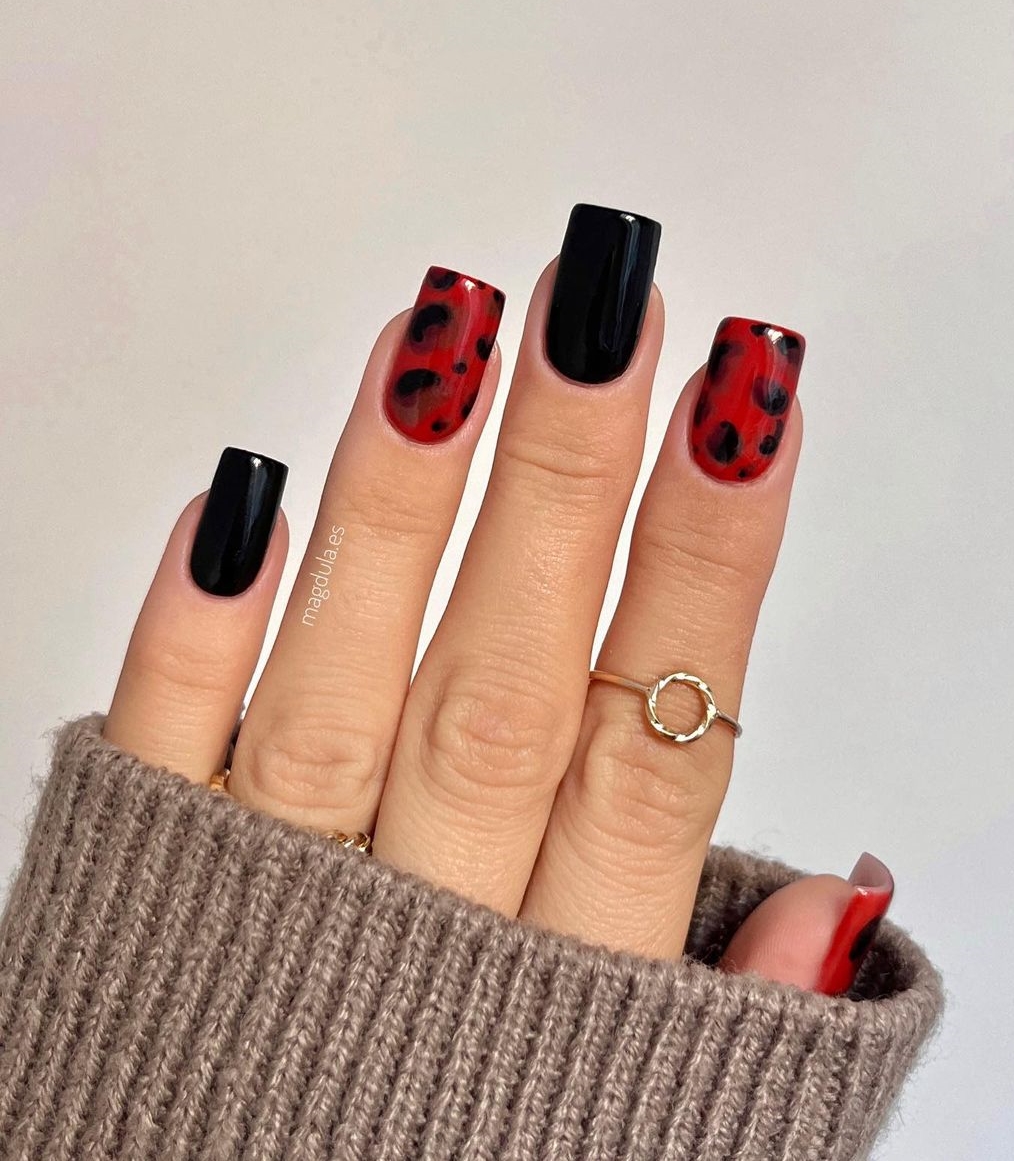 via @magdula.es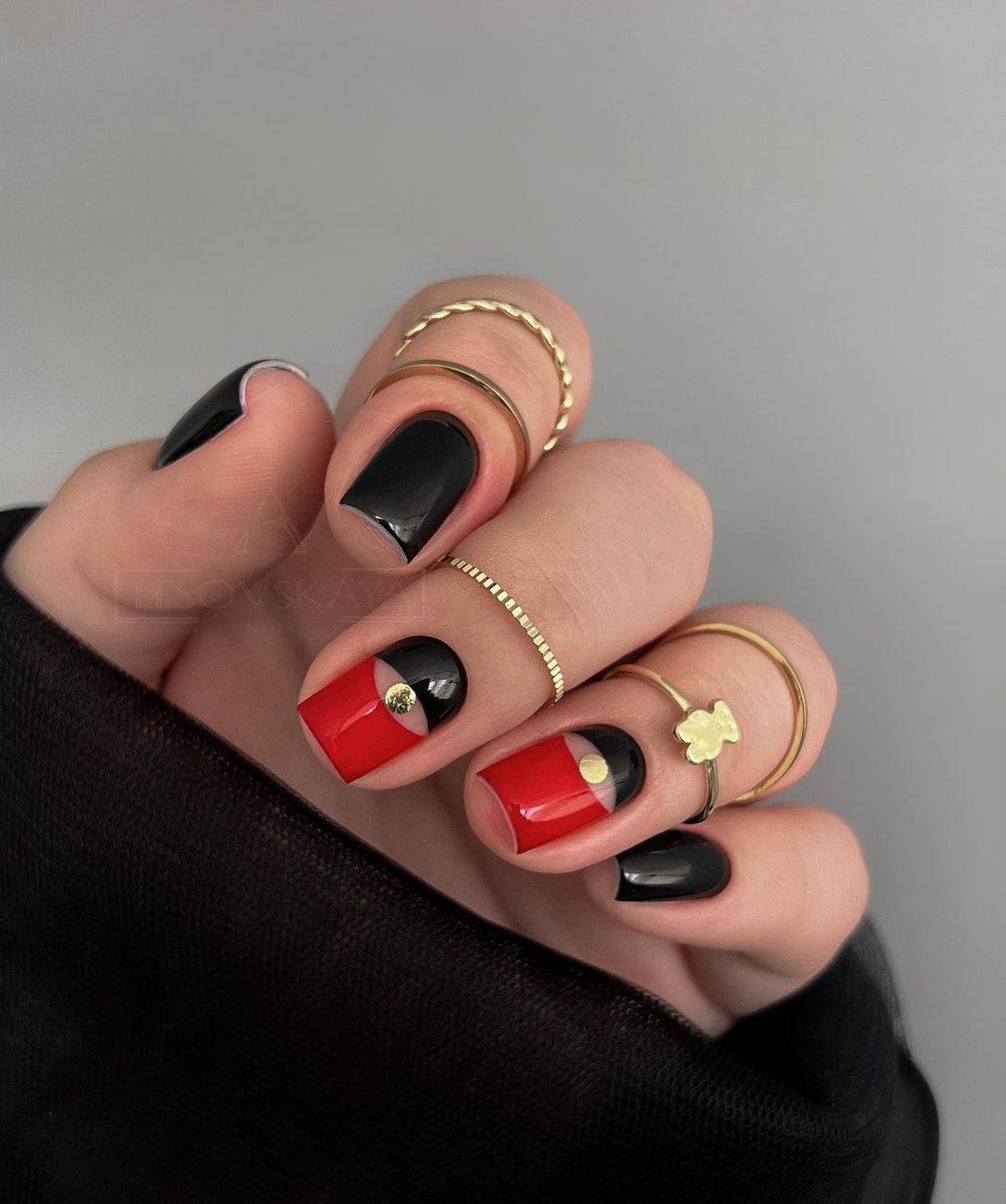 Black Ombre Nails for a Trendier You
Ombre nails are as popular today as ombre hair. Some mind-blowing ombre nail ideas include nude to black ombre nails. A black ombre French manicure is good to try too. Create a dramatic look with black tips, and then add a line of sparkle along the middle for shiny black nails.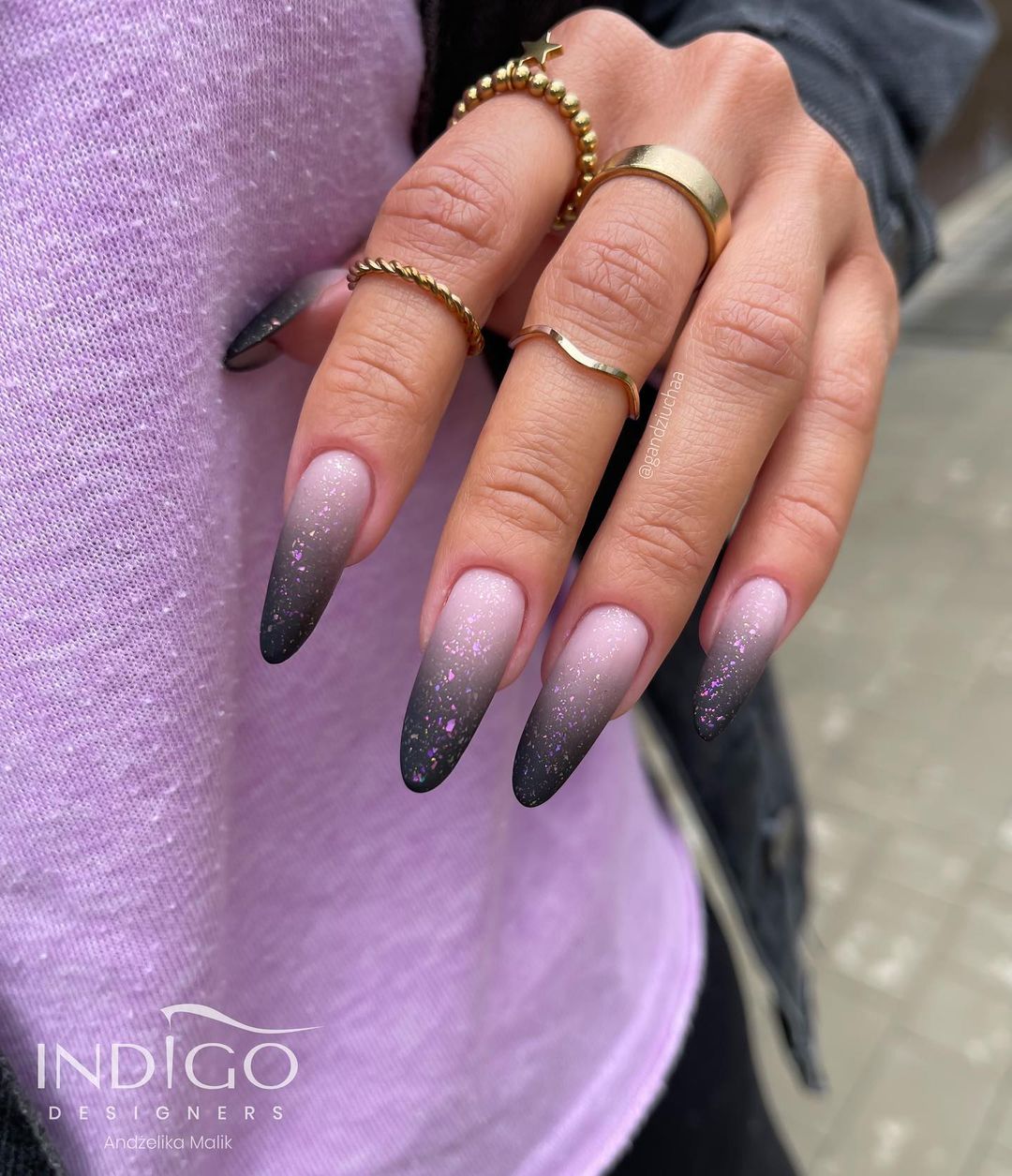 via @gandziuchaa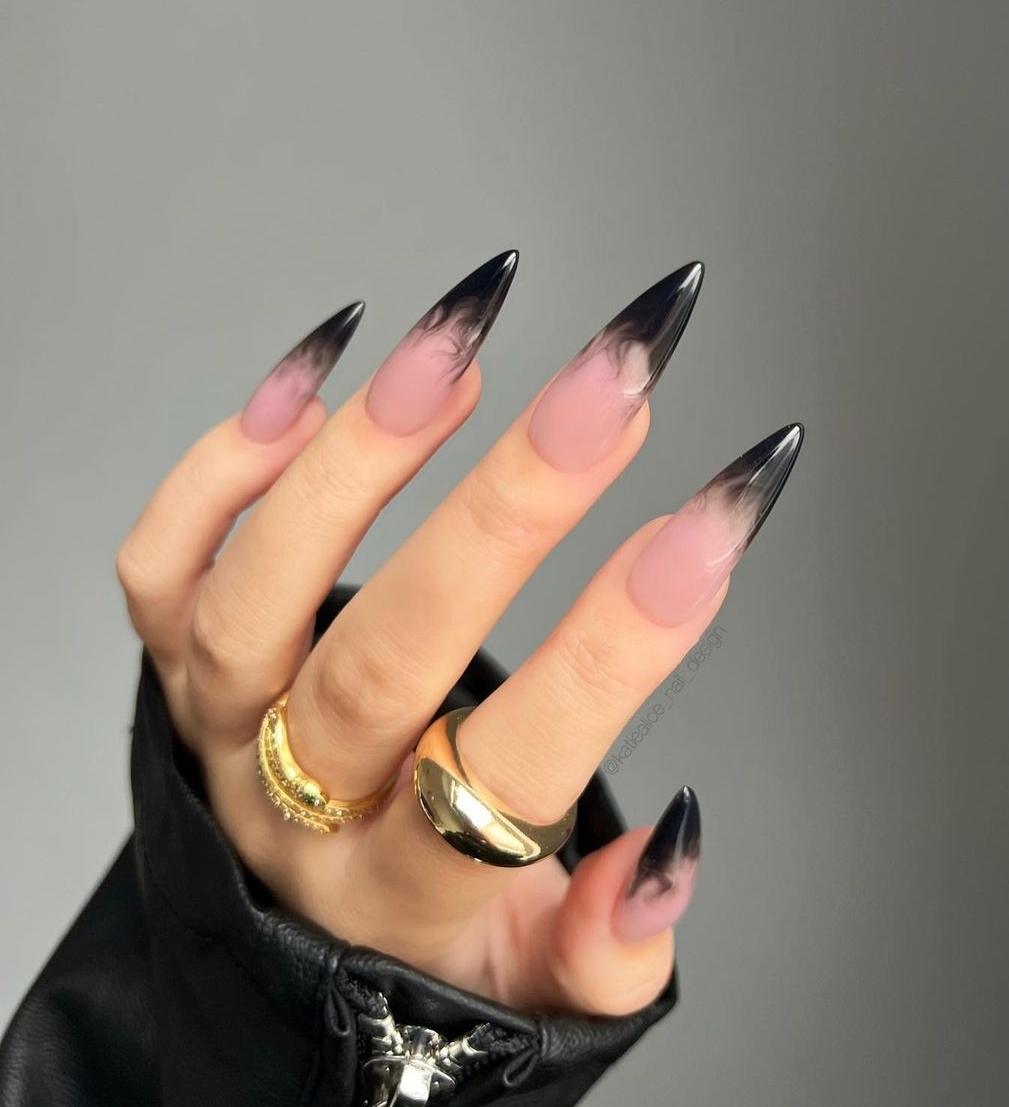 Sleek Coffin Black Nails
For those dramatic black nails, go in for ombre nails with black tips; your coffin-shaped nails can look much more elegant. The classical monochrome look is not bad at all. The classic winter mani with glitters and shiny sparkles leaves an unmatched impression behind.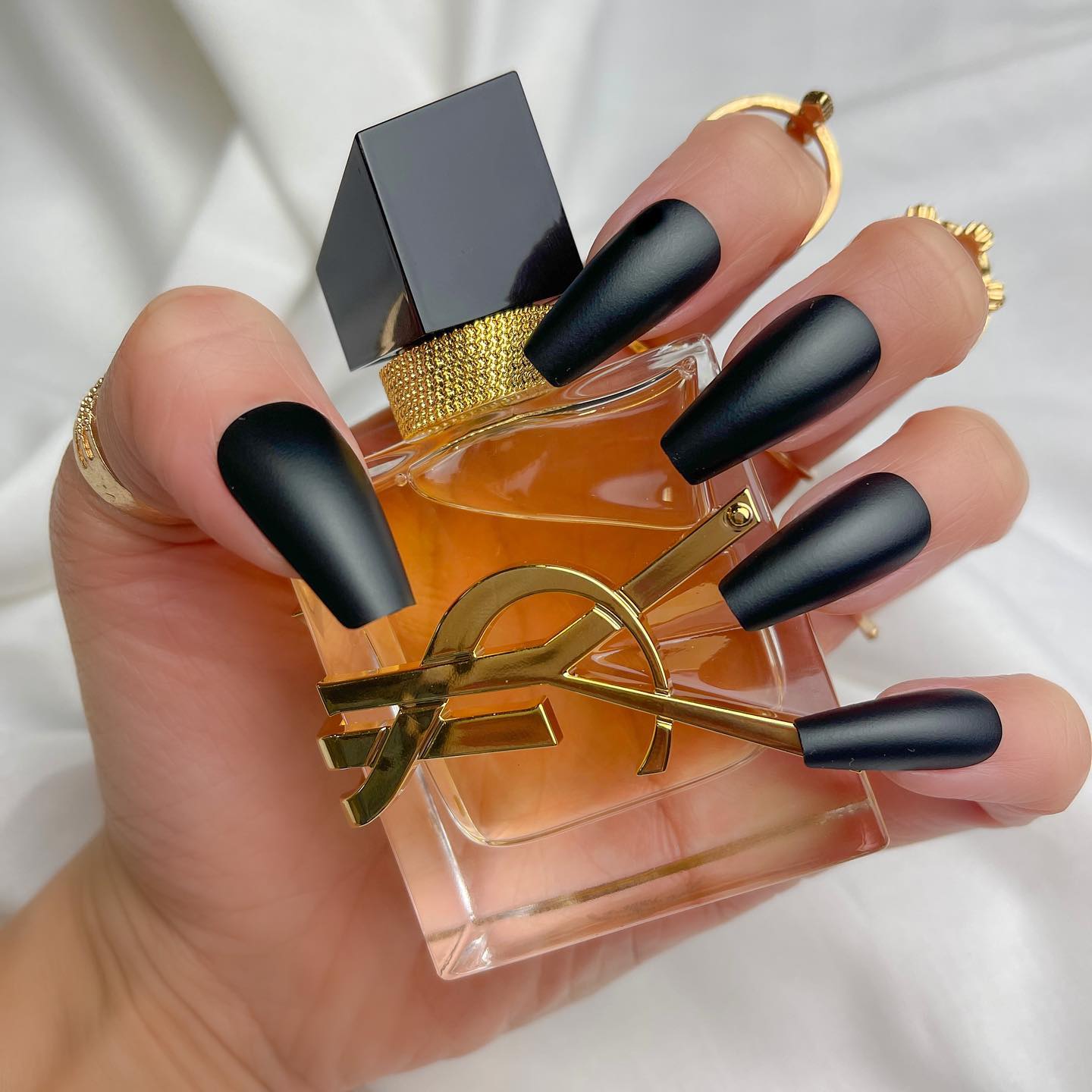 via @luxxinails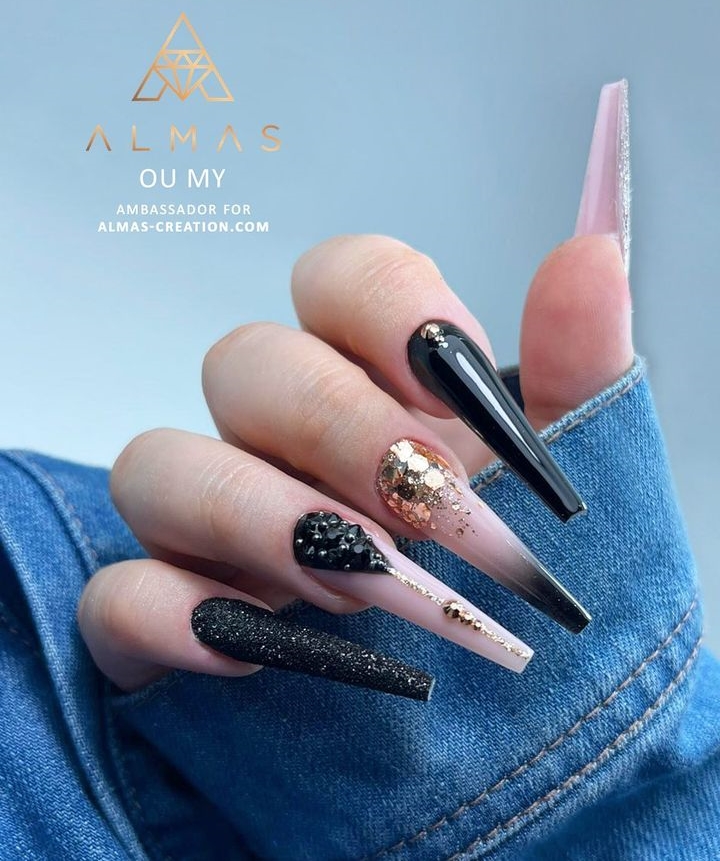 via @_almascreation_
Aspirational Black Stiletto Nails
For your long nails, you can go in for pointy black nails because matte black polish can be magical anytime. Top it up with red or silver to create a beautiful effect of acrylic stiletto nails. You can also add white accents or write the name of your beloved in cursive writing for your matte nail design to take off really well.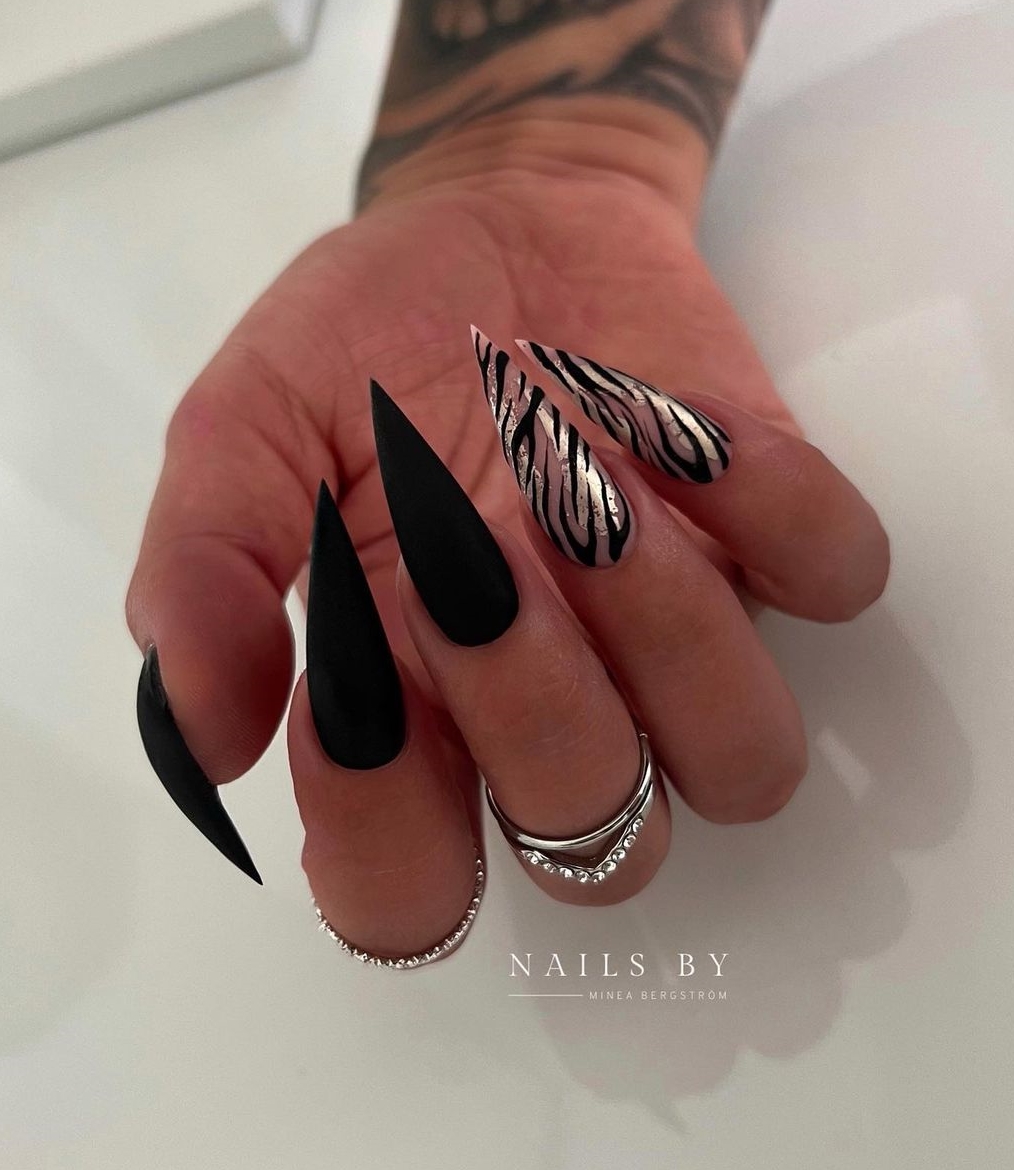 via @minea.nails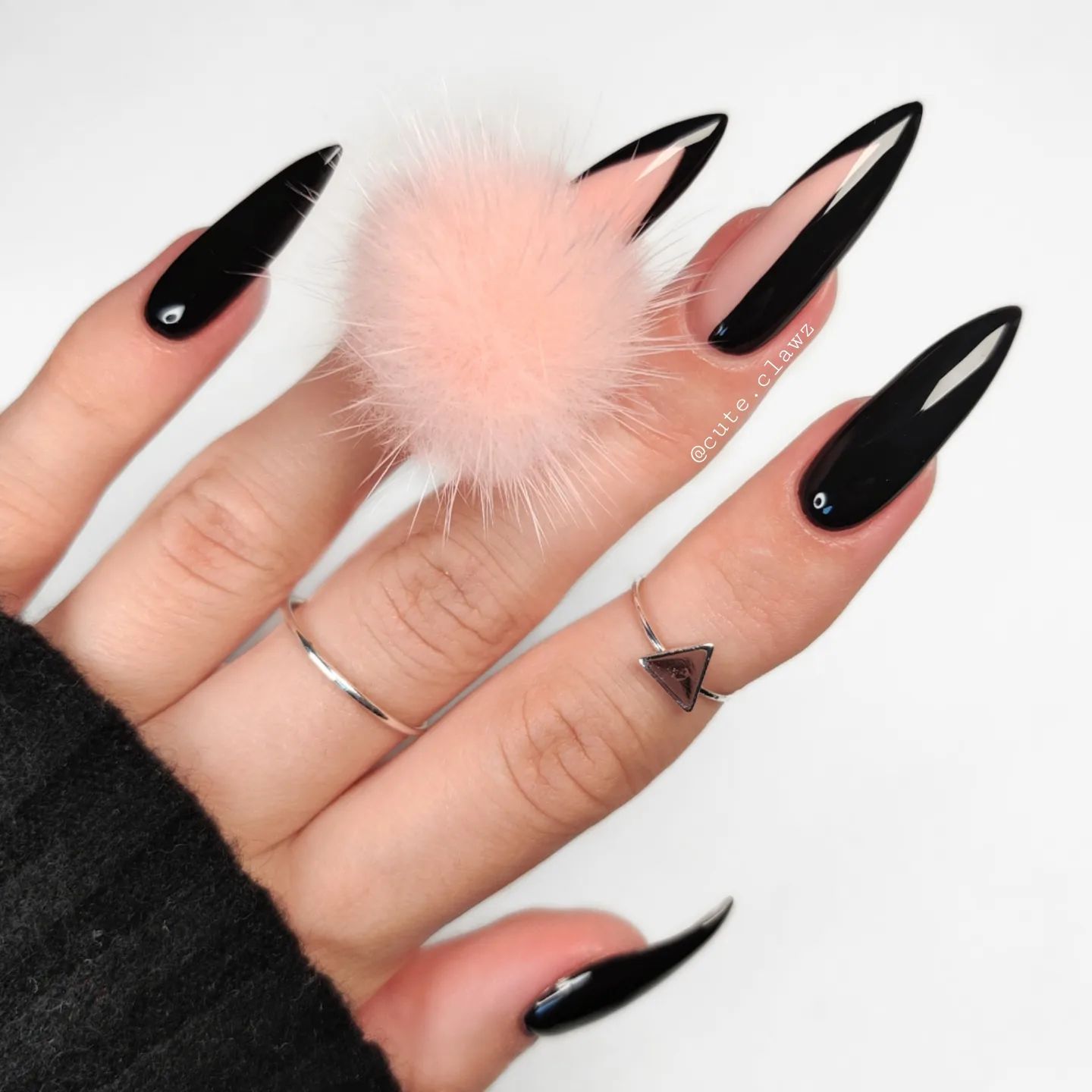 via @cute.clawz
Glamorous Black and Silver Nails
Silver and black are an envious combination. Accent your black nails with silver glitter and create the most incredible look possible. You can keep a few of the fingernails solid black for more drama.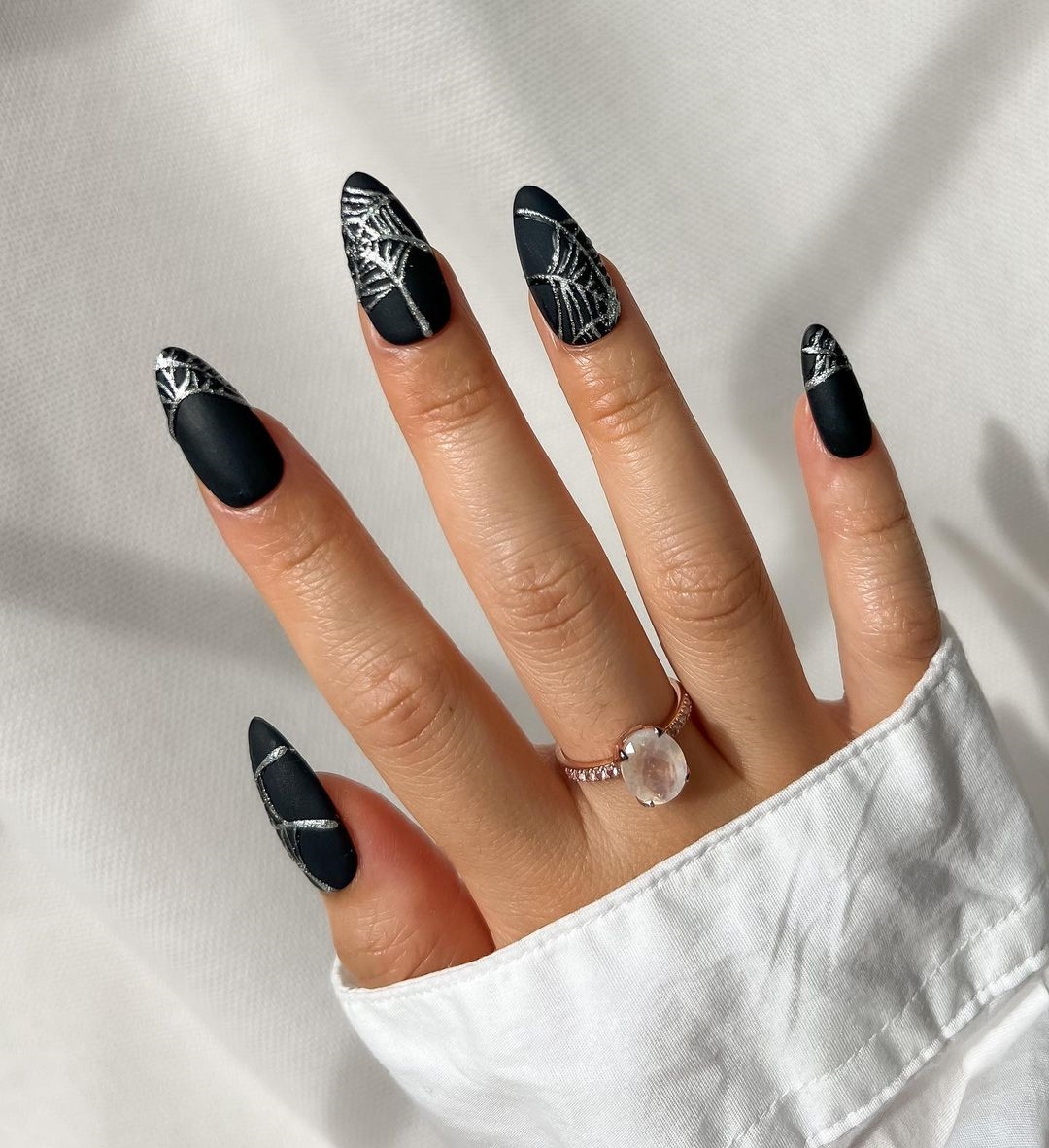 via @mydumbnails
For a cute mani for the cold season, introduce white alongside. You can also create your style with some flamboyant creativity.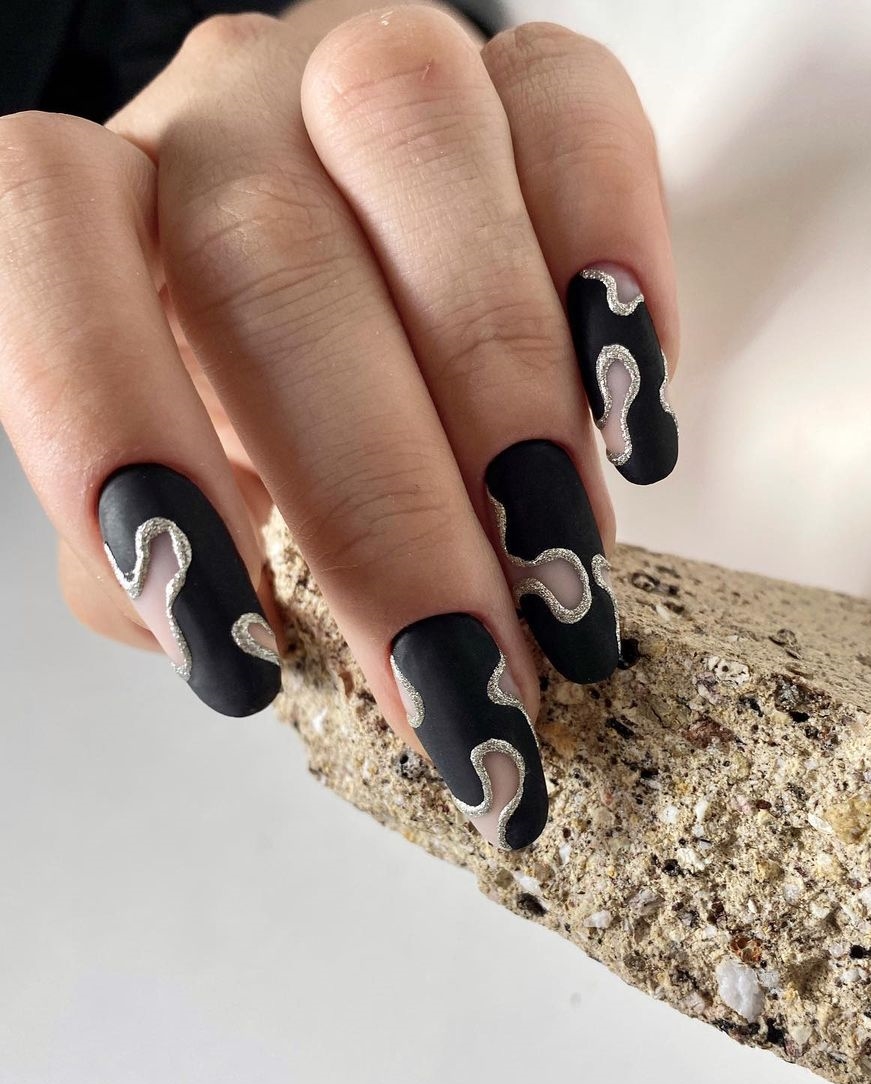 via @trutaroxana
Elevate the Look of Your Fingernails with Black Lines on the Nails
Striped nail art is also becoming fashionable these days. An excellent nail design with black lines is to draw geometric straight lines on a softer base. Try swirled black acrylic nail designs for a stunner mani. Use pearly studs on a nude base to create a sophisticated accented look.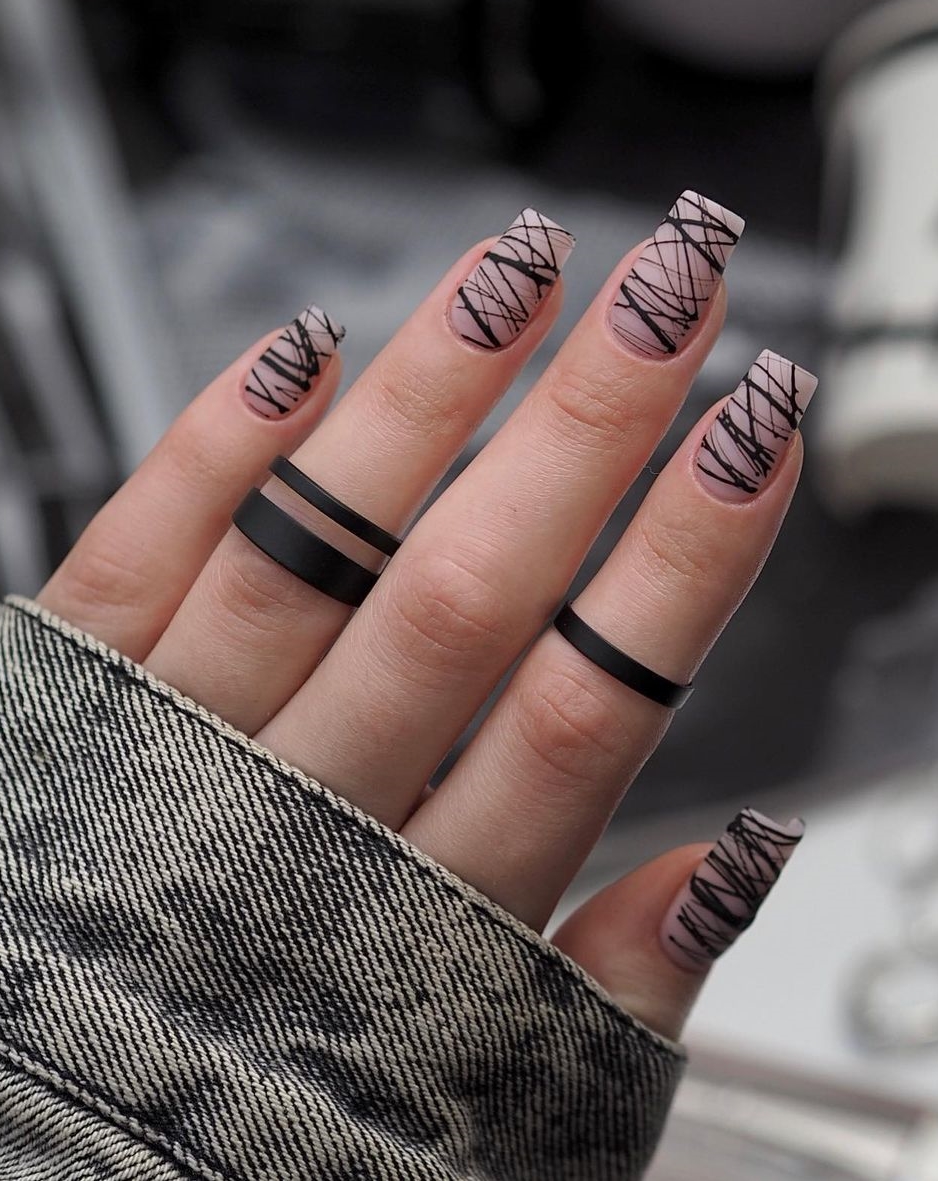 via @napaznokciach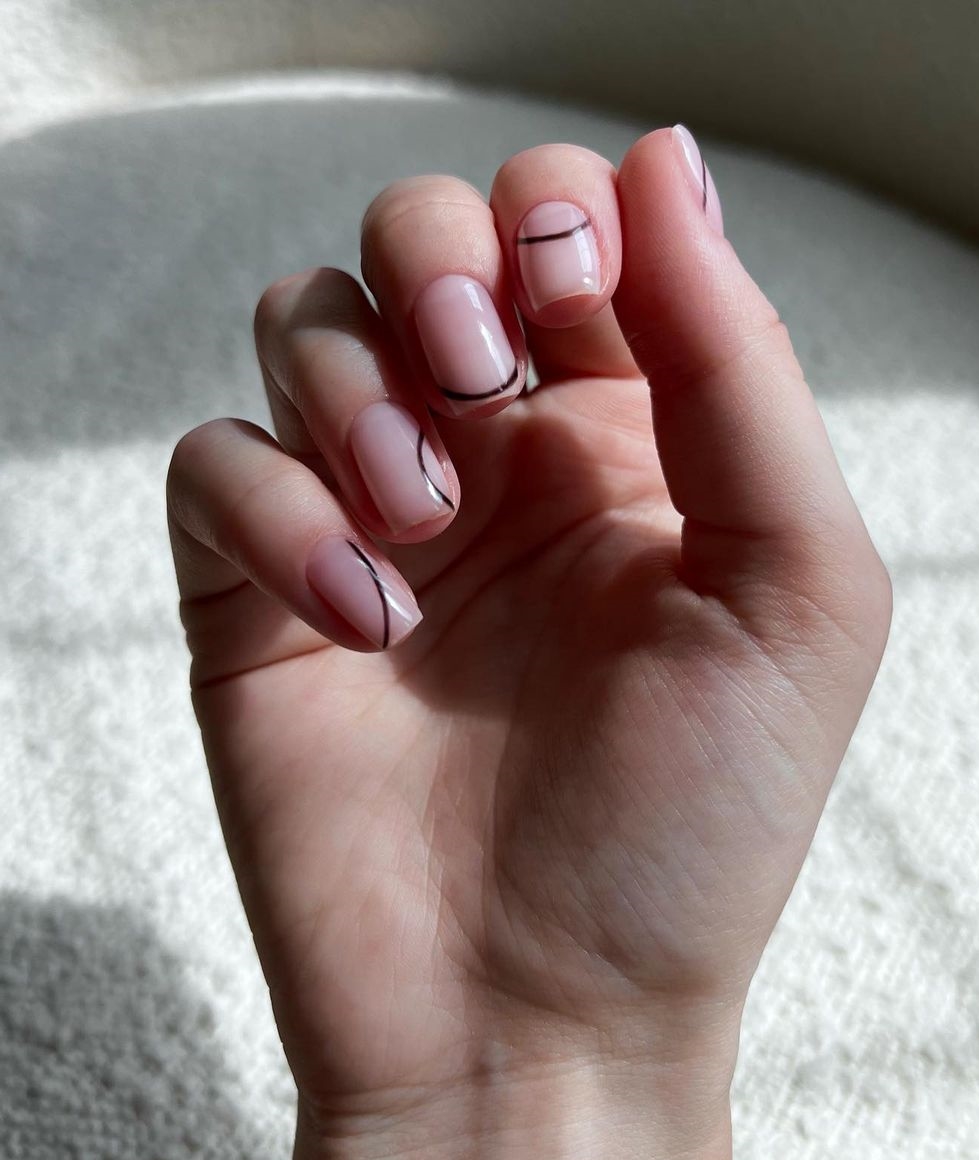 via @iramshelton
Black and Pink Nails for the Princess Feel
Go in for hot pink nails, use the dark bold pink color on the base and top it up with black edges. Add pink glitter on nails polished with black for a daring look. For classy pink and black nails, go in for a sheer pink base with black lines. You can also try black polka dots on a pink base.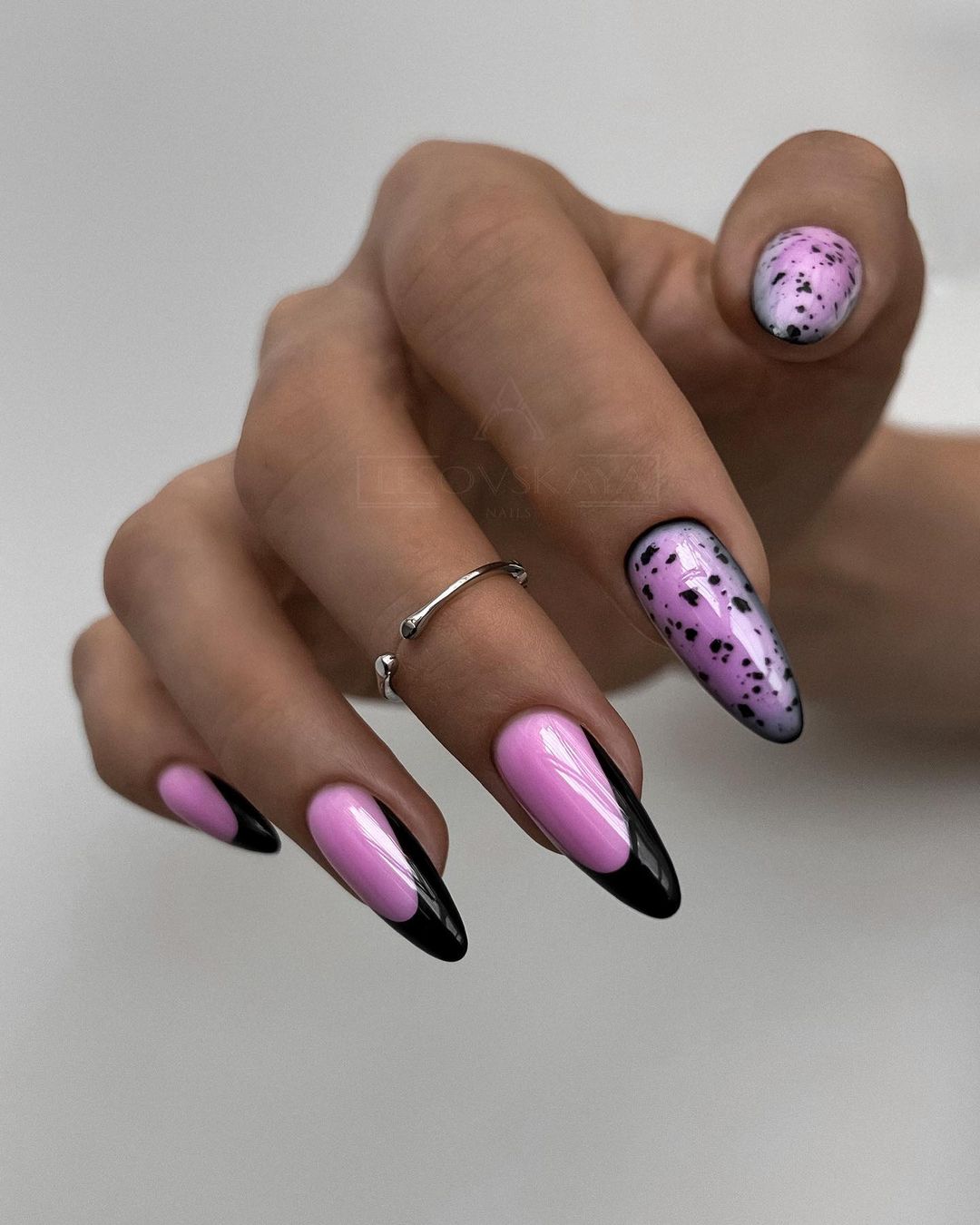 via @esovskaya.nails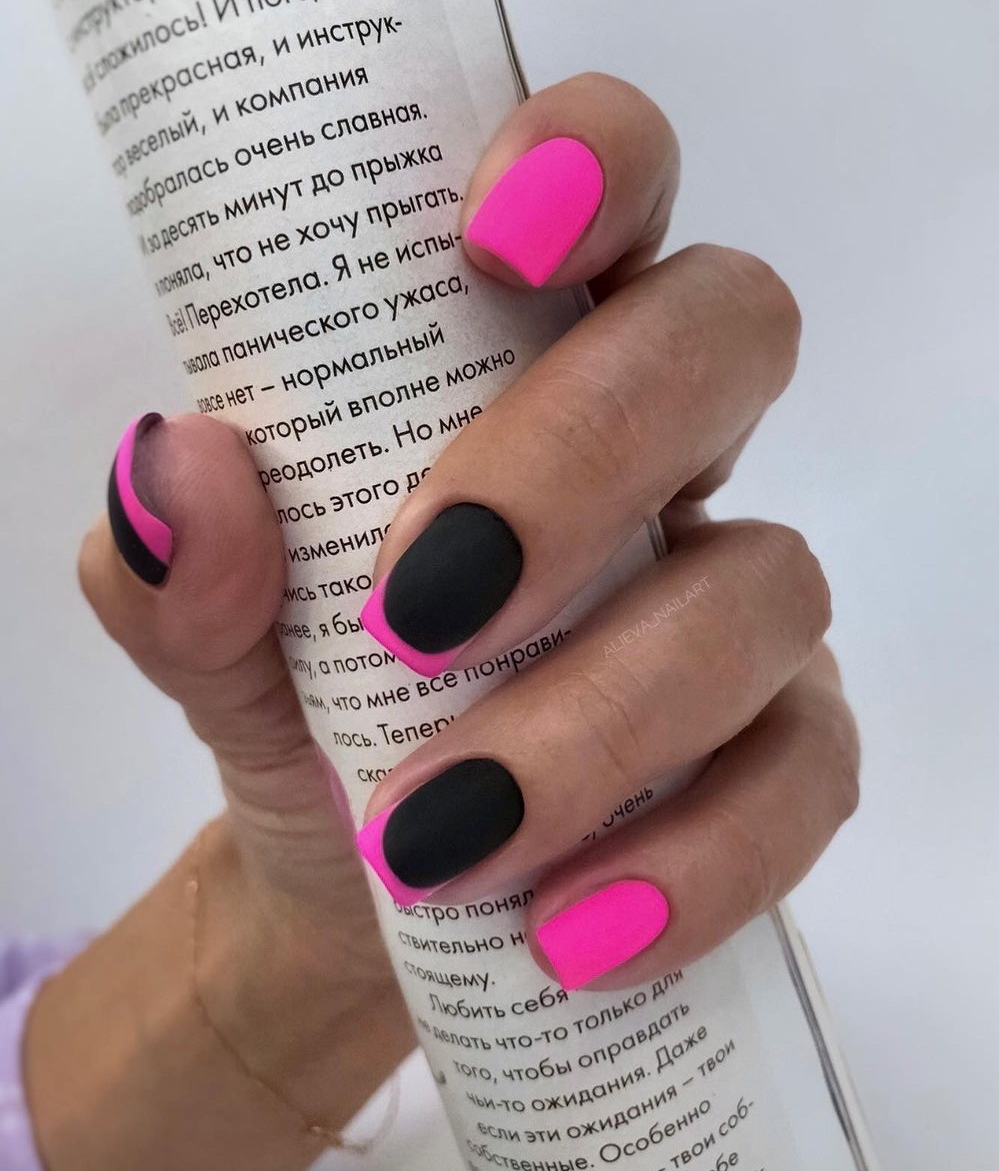 via @alieva_nailart
Eternally Beautiful: Black Glitter Nails
If you carry the dark shade, your nails can glam your looks phenomenally. Silver glitter nails are pretty common, resembling the galaxy. Use chrome accents on almond, black nails to stand out. With the golden hue, you can achieve sparkly nails even more effectively.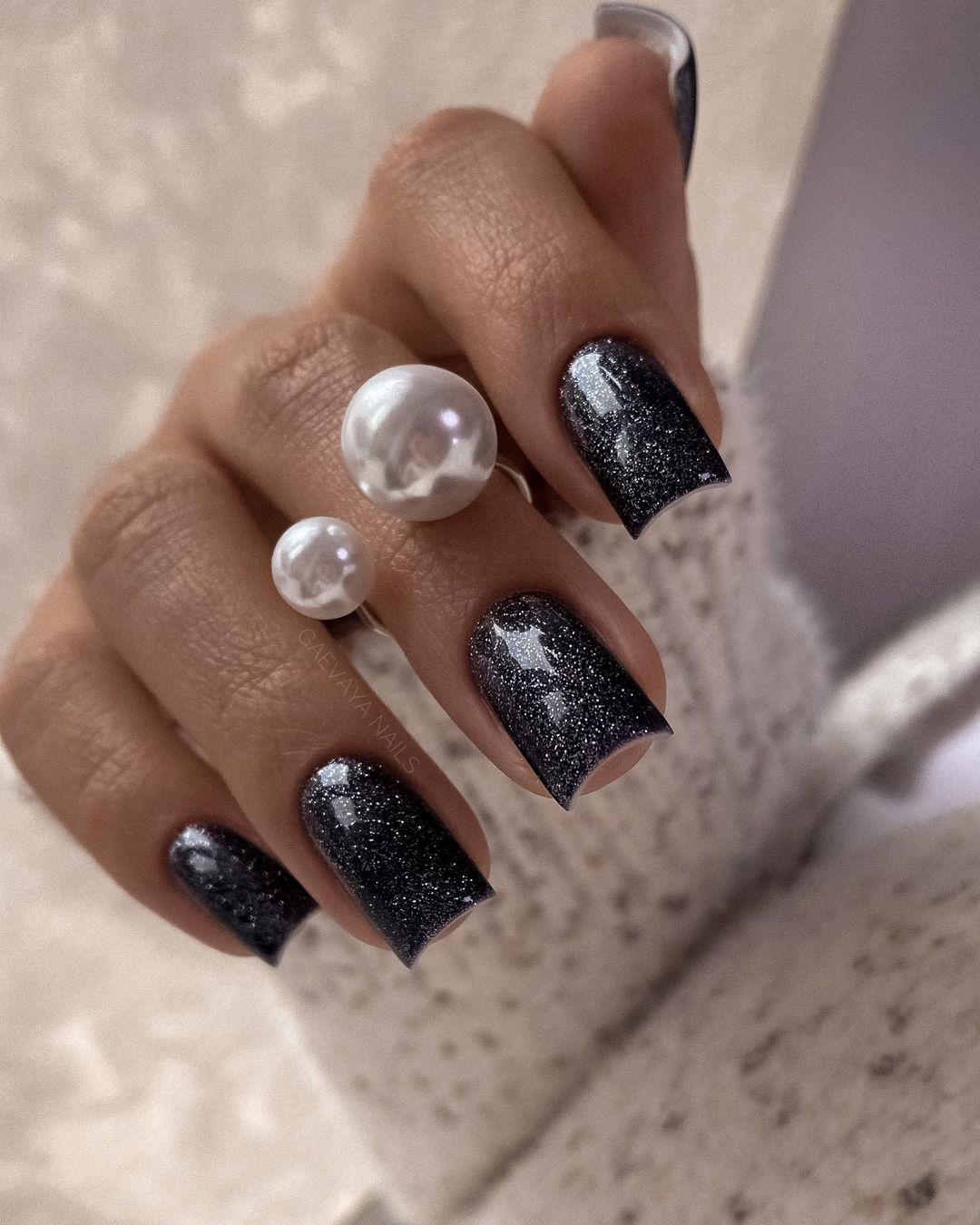 via @gaevaya_nails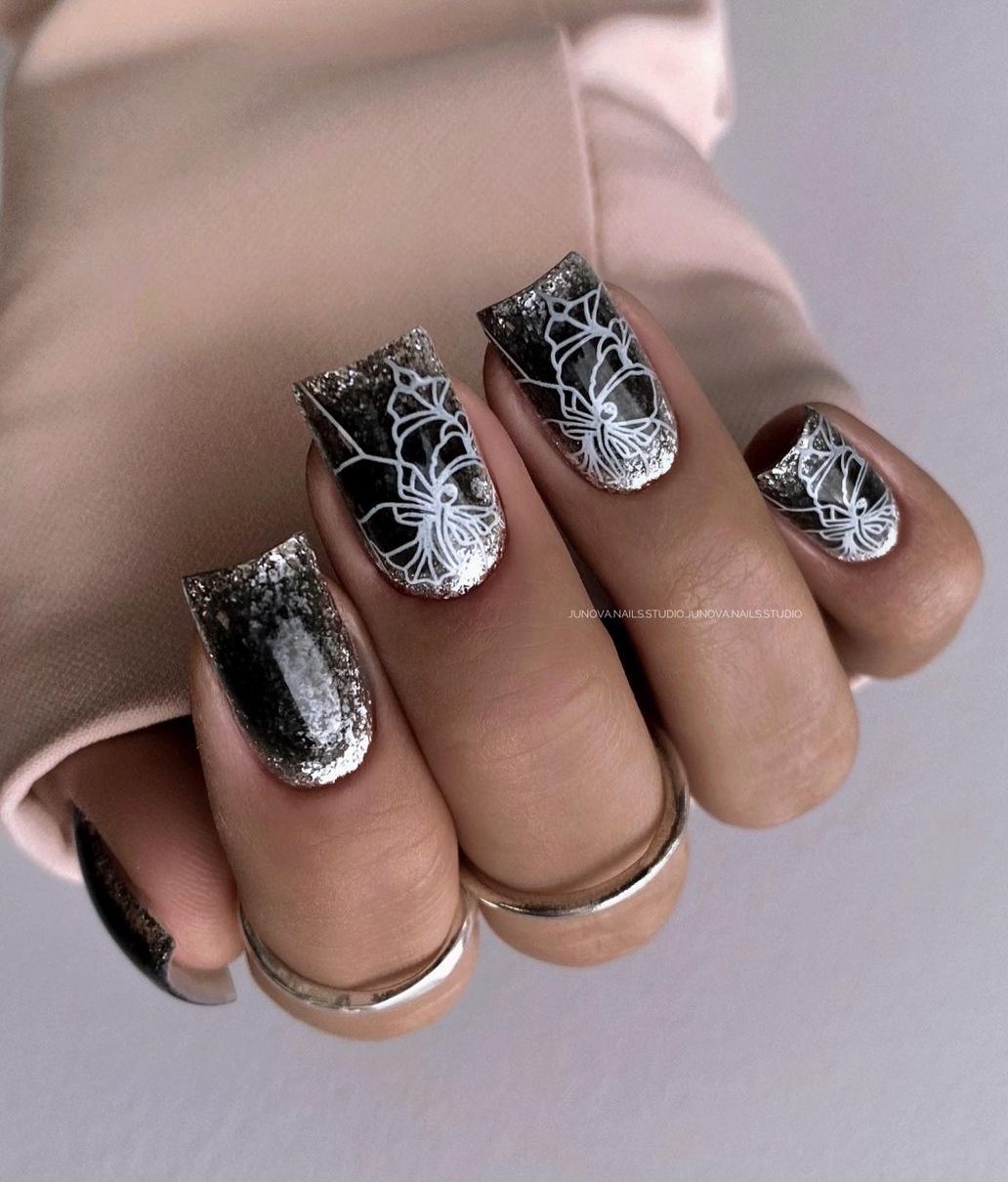 Black and Purple Nails for a Rich Texture
Purple is such a lovely color. From softer lavender nail designs to deep wine-purple nails, the universe is there for you to try. Embrace royalty and boldness with the acrylic black and purple nails, and make it your everyday style. Whether for a date or a day at the office, this is for yours to stay.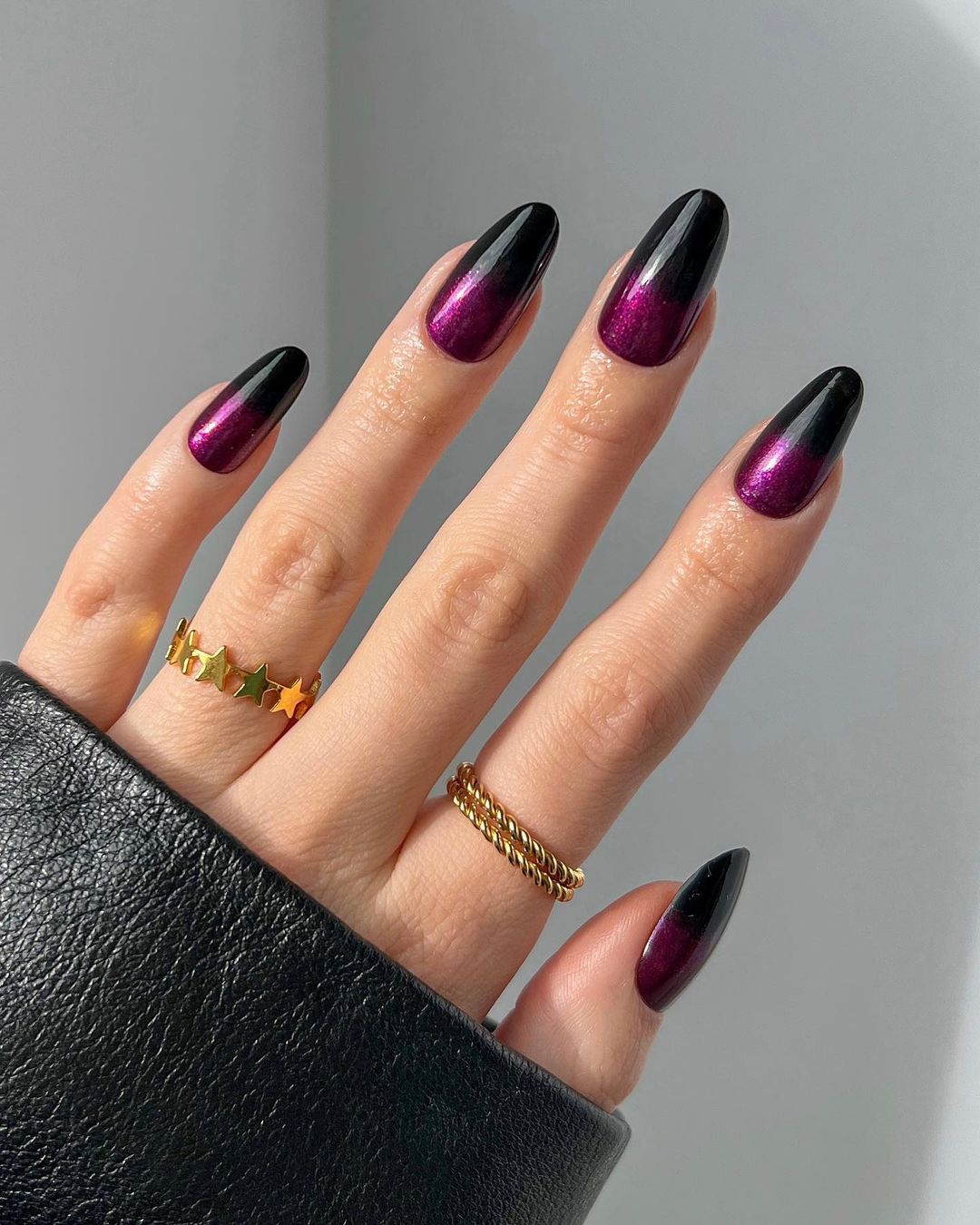 via @lightslacquer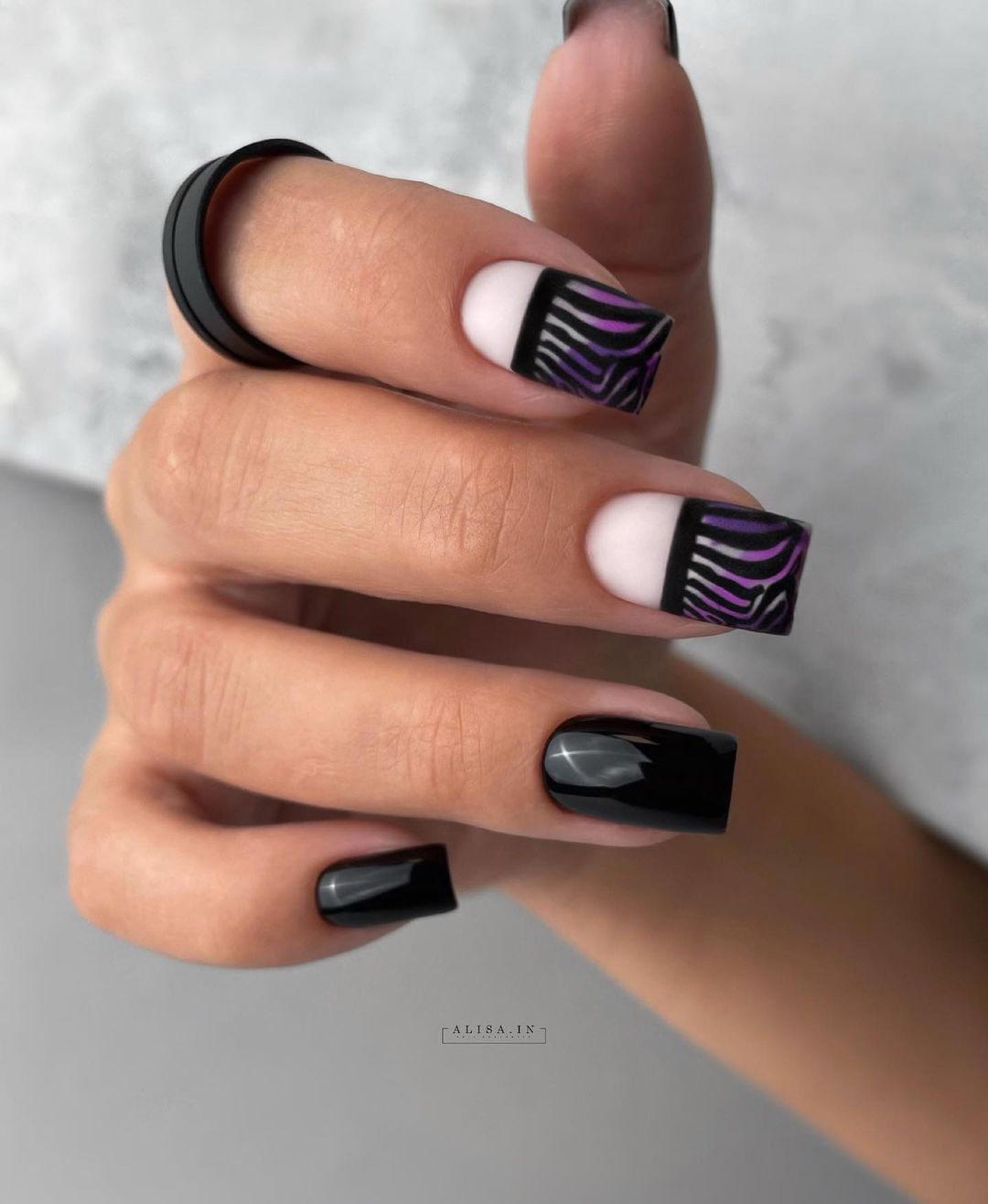 via @alisa.in_
Inspirational Short Black Nail Designs
Plain black nails for your short nails are definitely inspirational. Black nail designs give you a more innovative and chic look and suit your daily life seamlessly. Cute short nails with a rich matte base, glittery nails on a nude base, or alternate black-colored nails with floral patterns are all interesting options.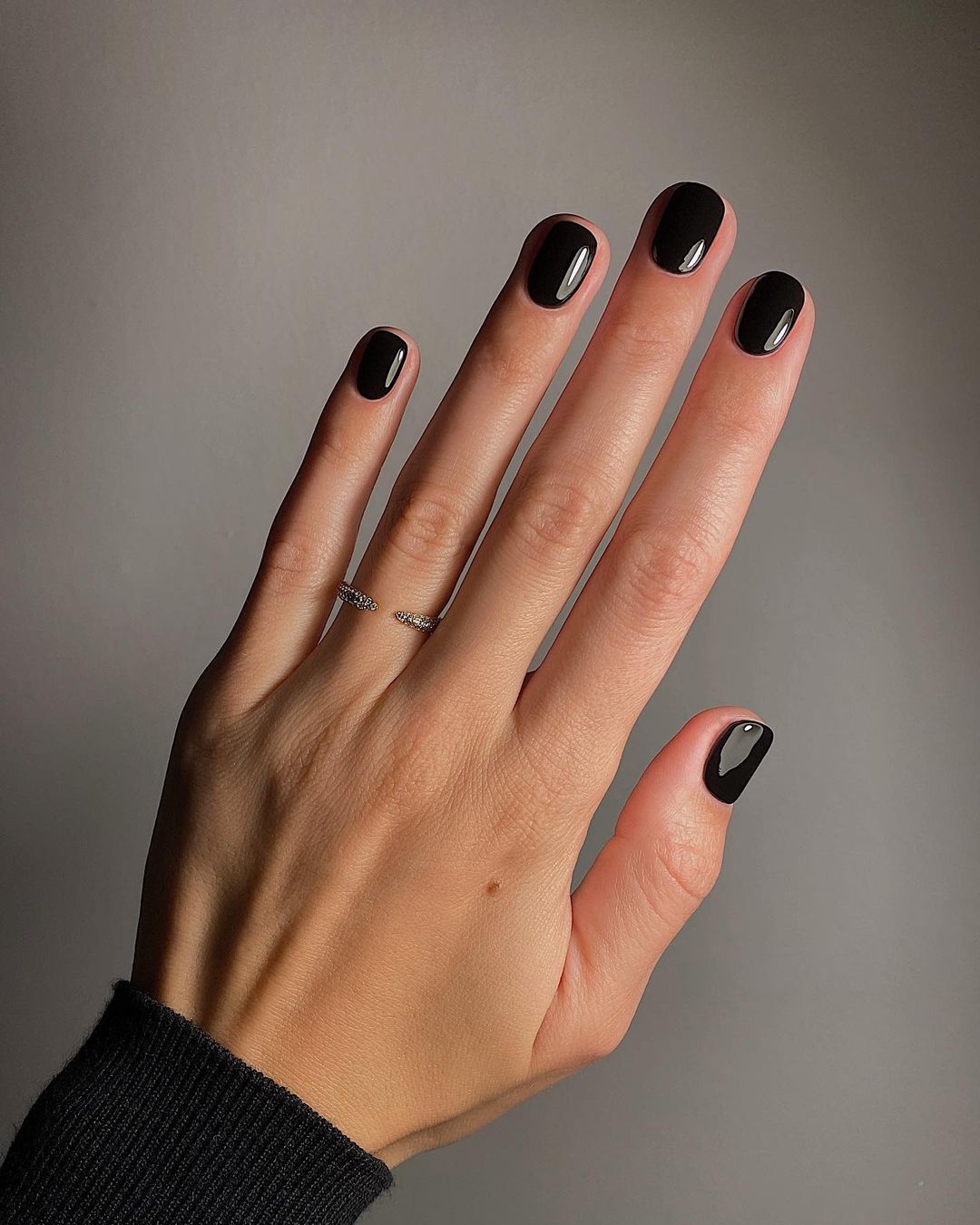 via @emenstudio_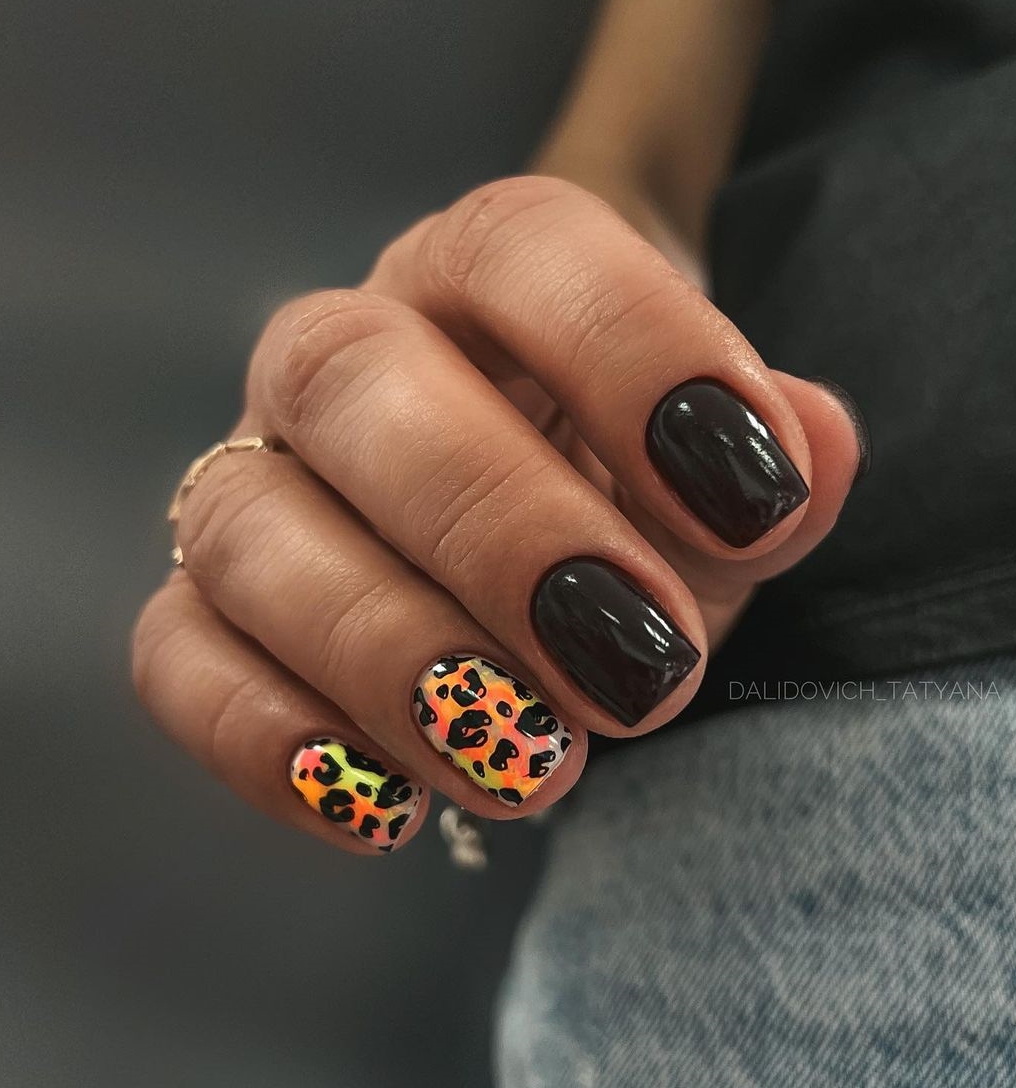 Cute Black and Green Nails for the Fall
Green chrome nails look stunning solo too. But when combined with black, the effect is incredible. Try some creative black nail designs on your shorter and longer nails. There's a breath of freshness everywhere with the green and black ambiance.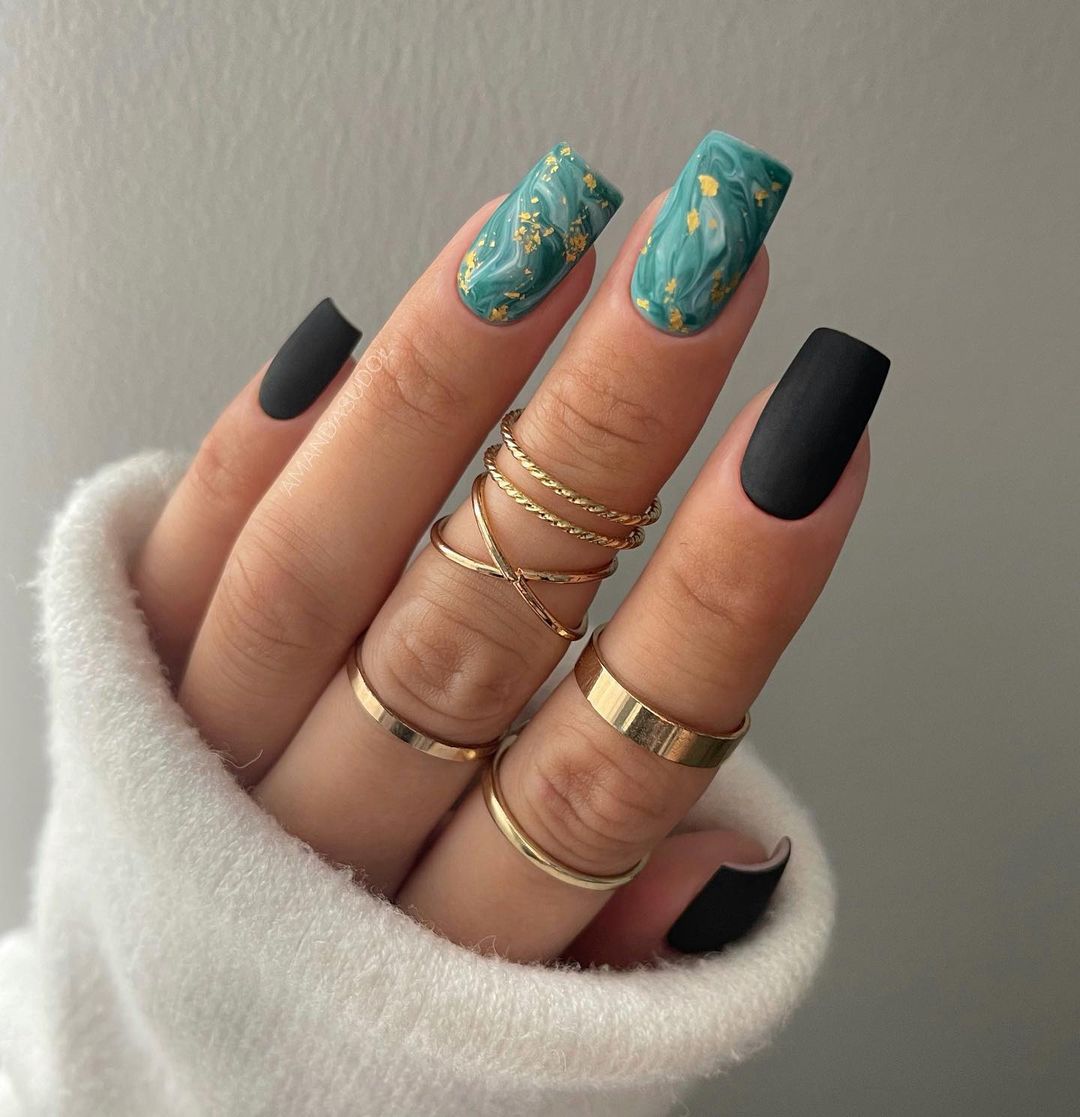 via @amanda.sudolll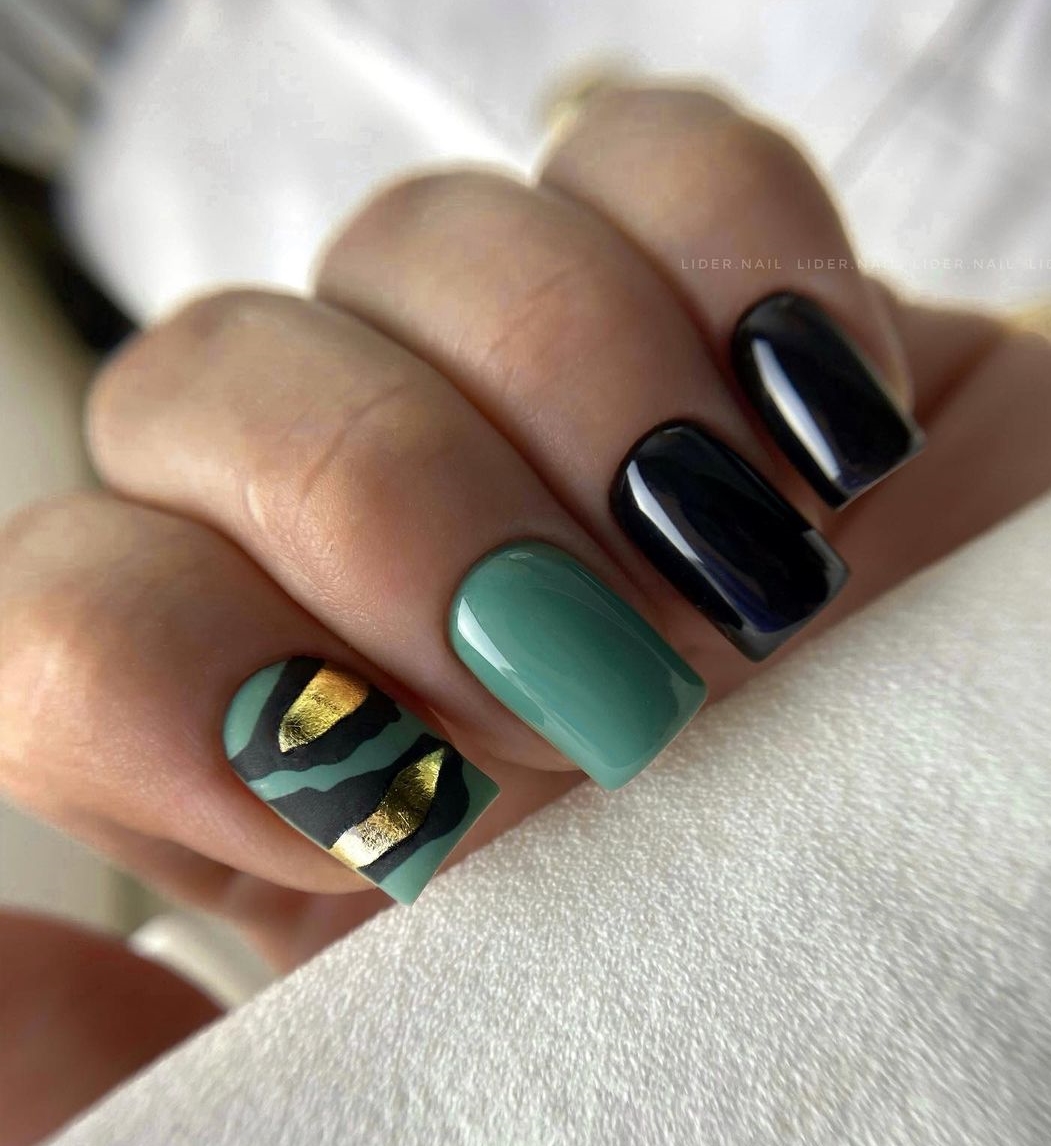 via @lider.nail
Black Christmas Nails for the Festive Season
Rhinestones are so much about the x-mas feel. A black mani with rhinestones viably spices up your look. For a glam pep-up, use the silver rhinestones for a gorgeous feeling.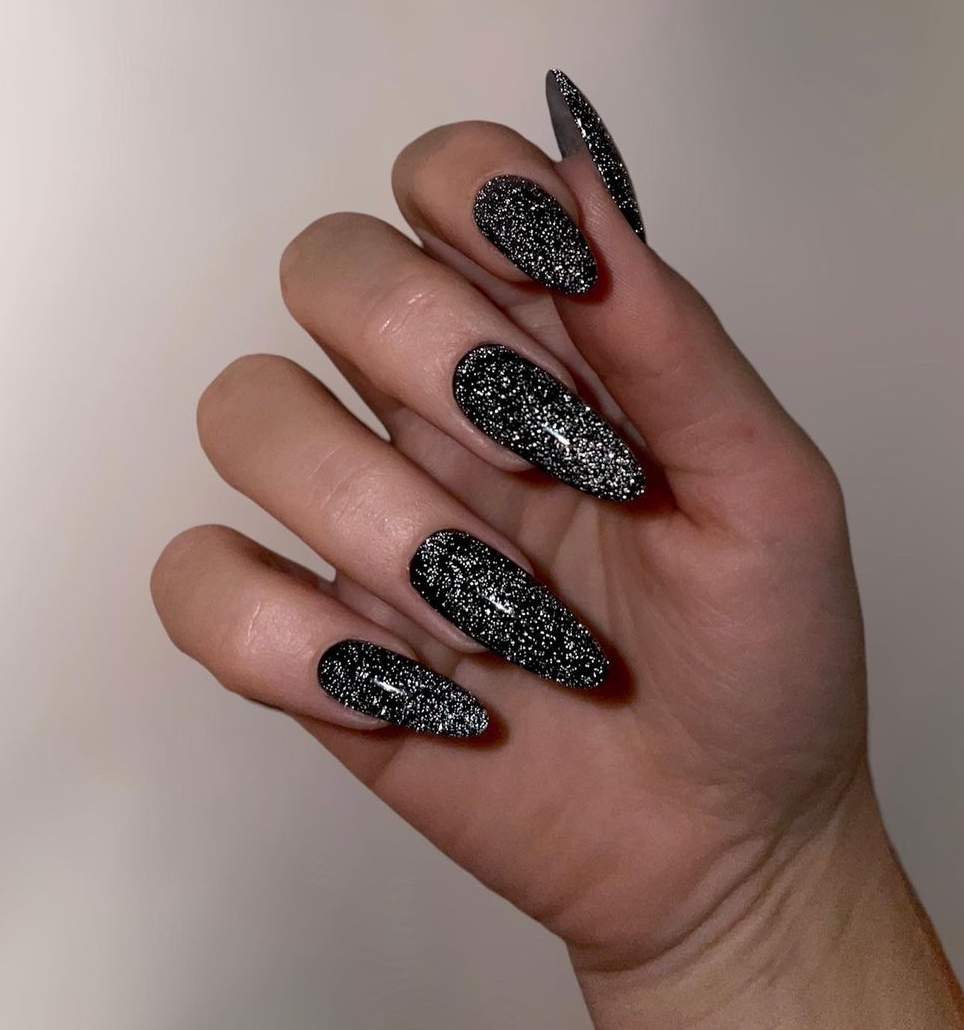 via @_ongle_by_me_
Ombre black nails can be amped up with silver rhinestones. These are some great ways to make your nails for the holiday season.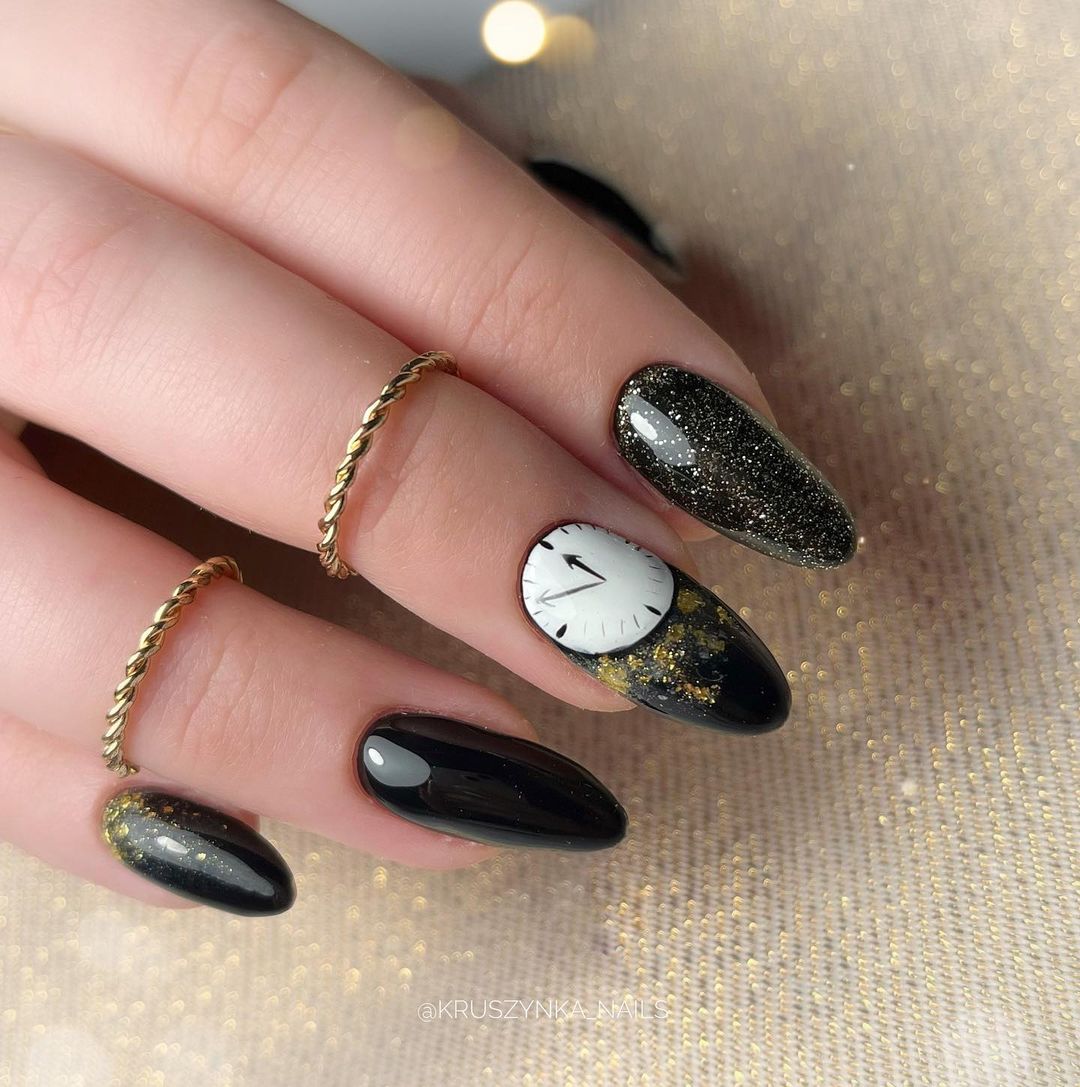 via @kruszynka_nails
Black and Nude Charms Everyone
The black and nude nail trend is so fresh and cool. The ambient effect of nude to black fingernails is versatile and can be flamboyantly showcased in every aspect of life. Accent nails are here to stay. Why not try some crazy black and nude shades while the trend stays?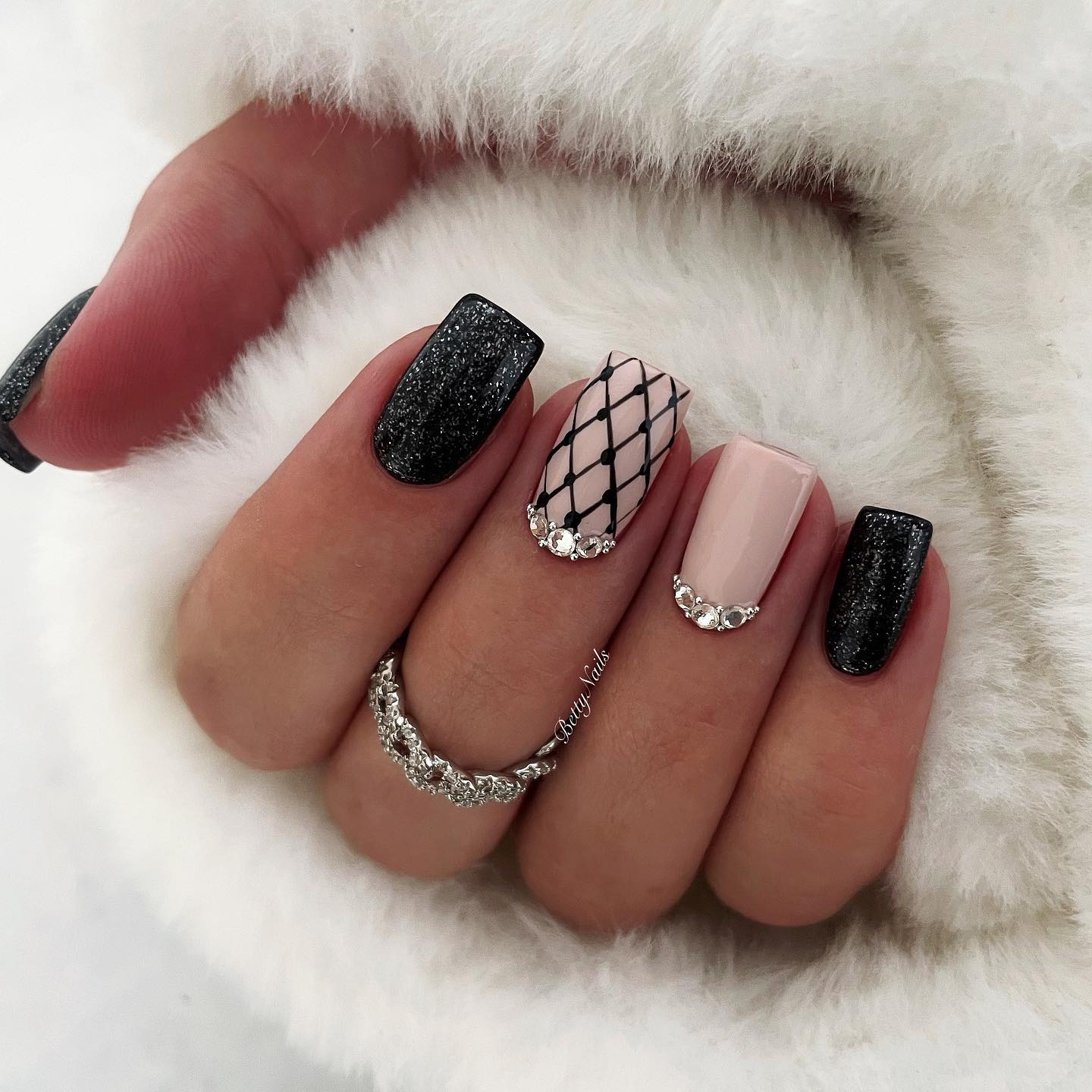 via @_bettynails_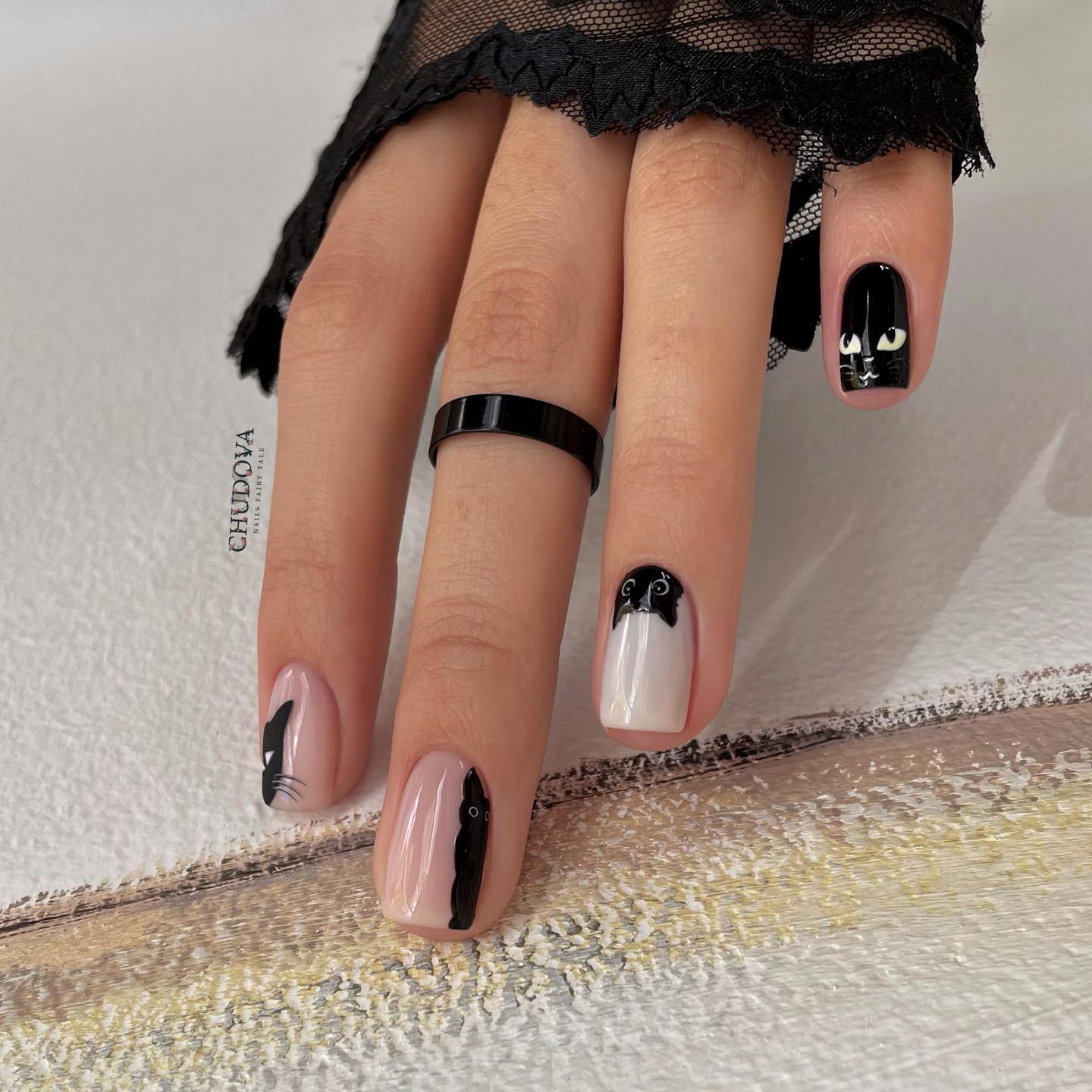 via @chudova_nailart
Nature-Inspired Black Marble Design
Marble trends have been around for quite some time now. Black marble nails are the most natural looking. And the best part is that you can DIY the designs on your own. The stone look can be replicated with remarkable fluency on your glossy black nails.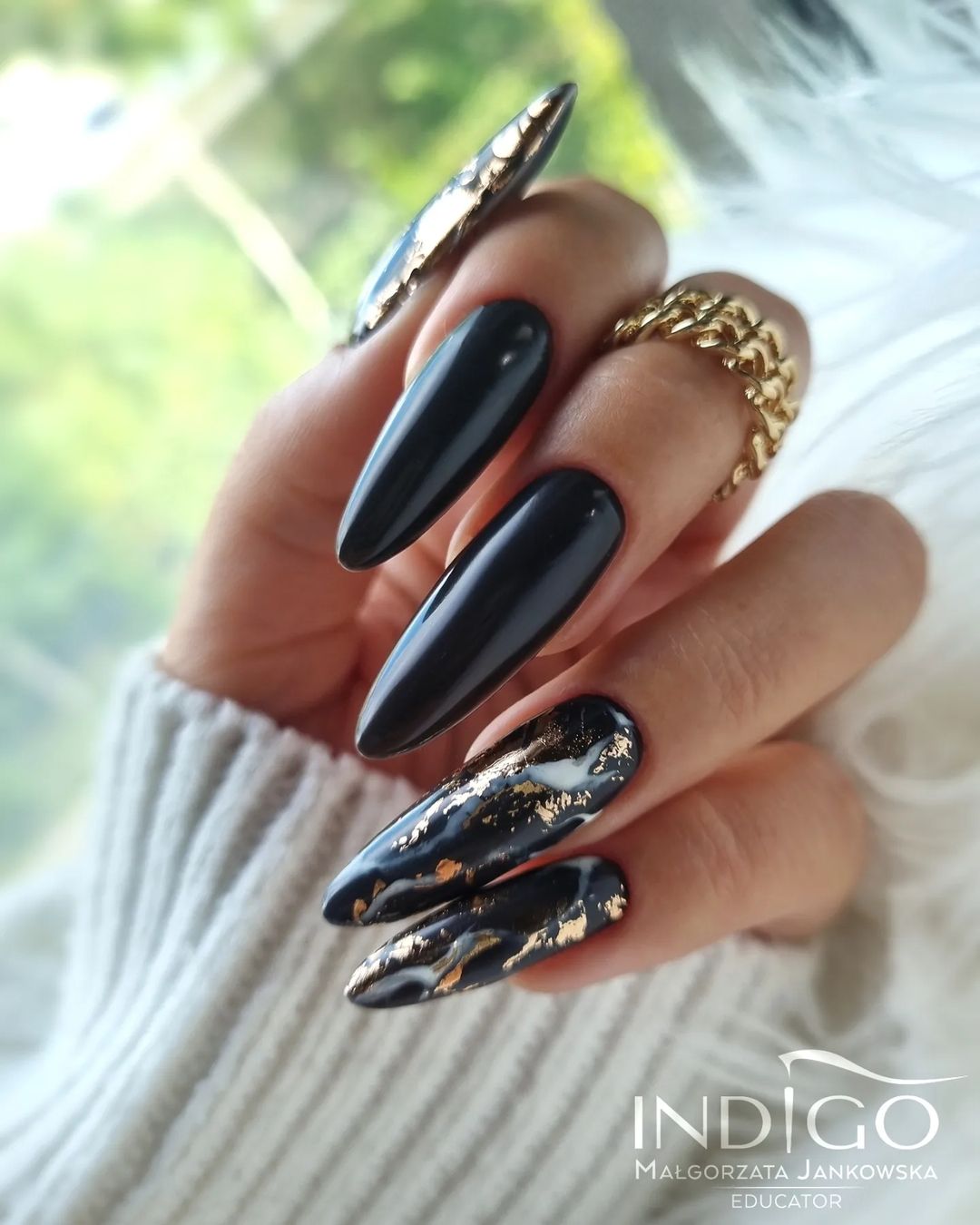 via @malgorzata_jankowska_indigo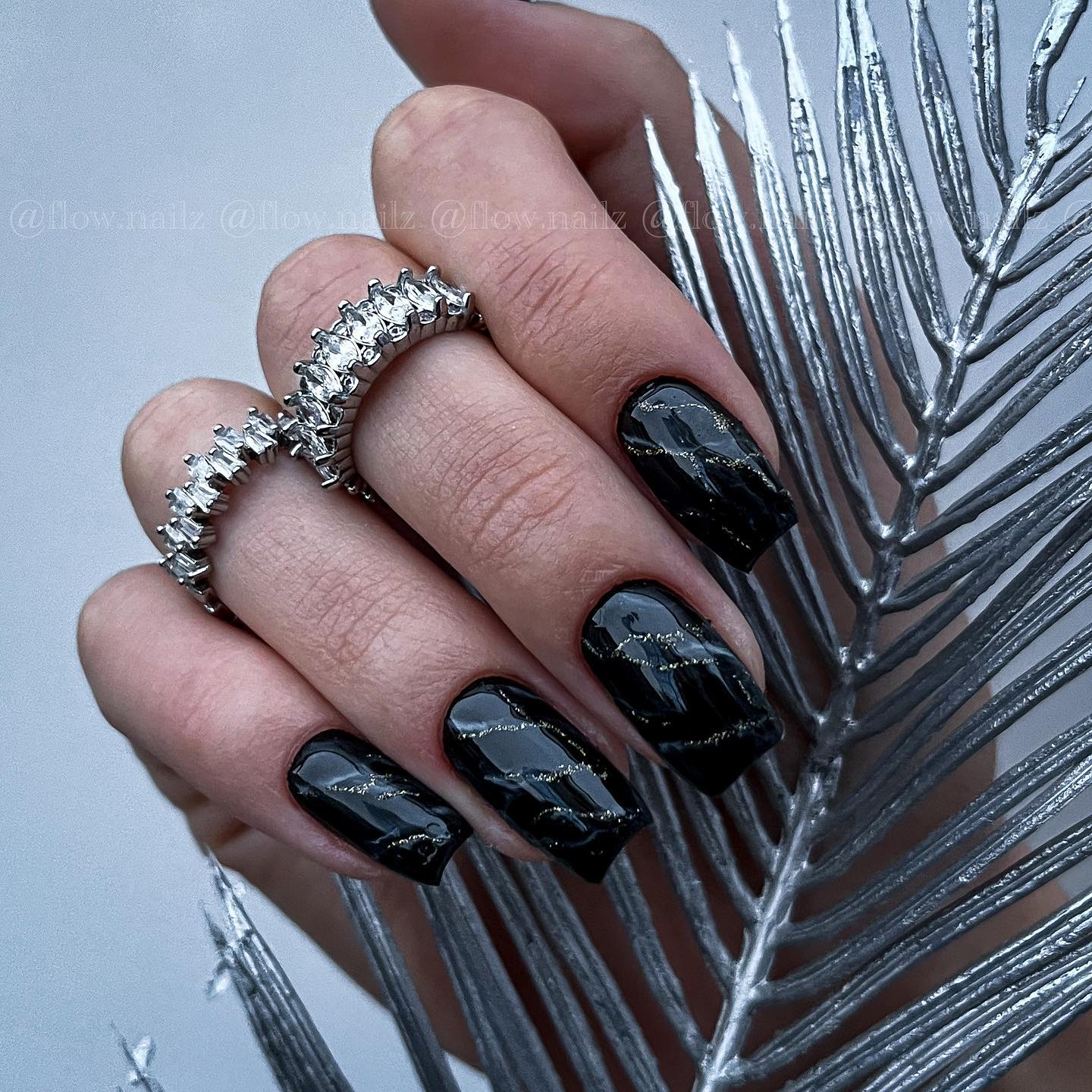 via @flow.nailz
One of the Fastest-Growing Trends: Black Flame Nails
Flame designs on nails are growing pretty fast, and it's time that you indulge in this new-age look too. On French mani, flames are drawn at the tips. With black, the effect created is even sharper. These look pretty on coffin shapes and short black nails.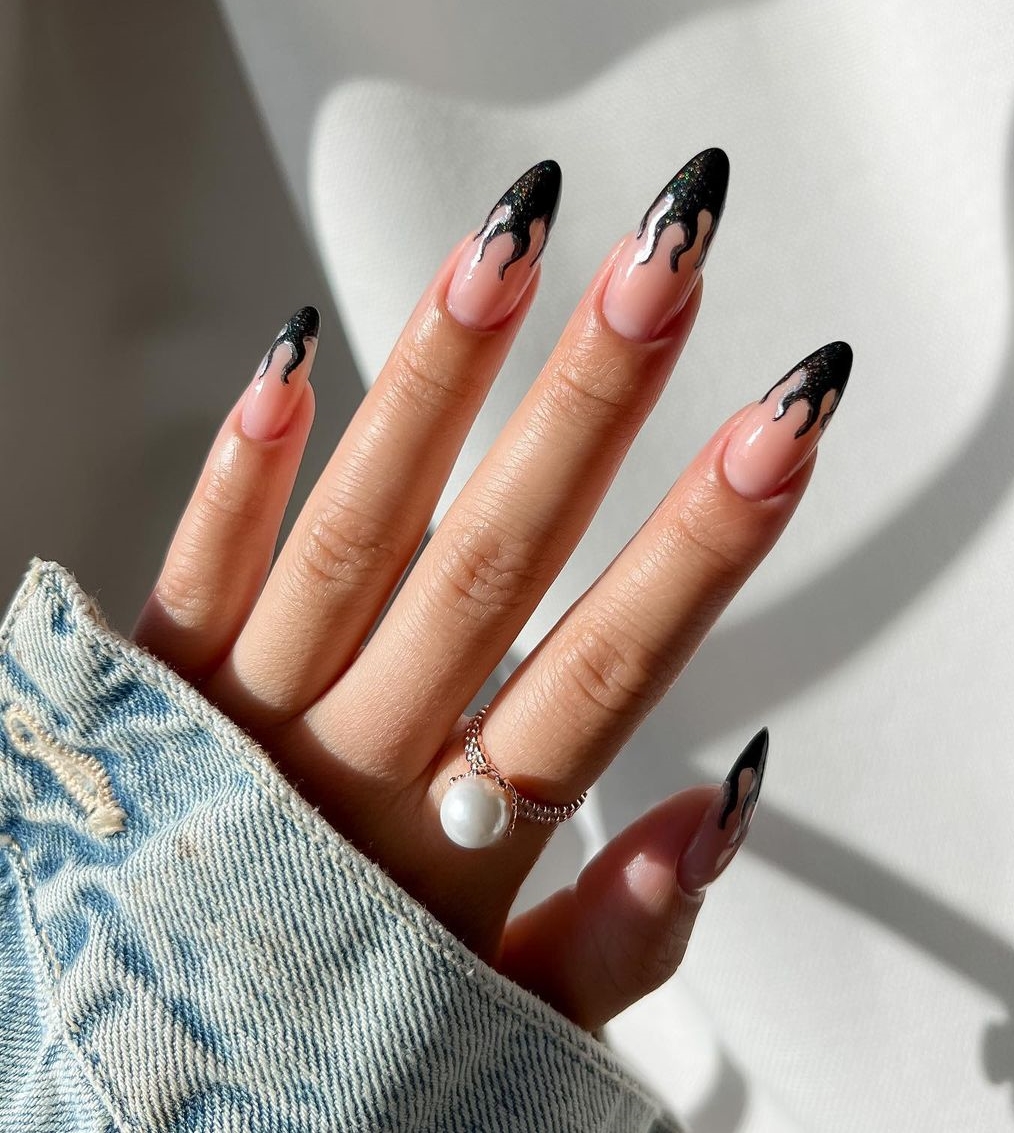 via @mydumbnails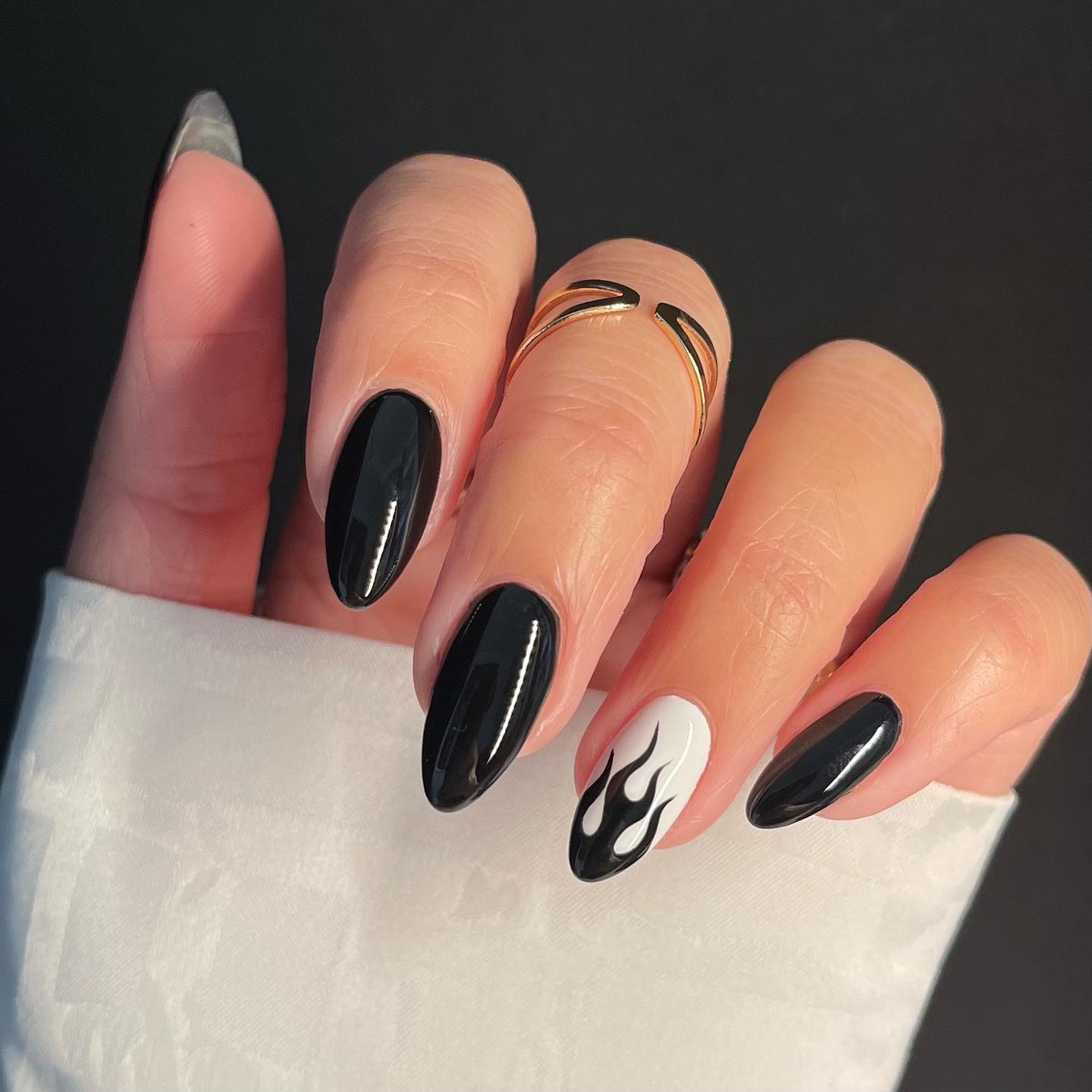 via @nailswithaby
Gold and Black Designs Give You an Incredible Look
You can embrace the glitter and gold on black ombre nails to amp up the excitement levels. Gold nails can be used simply on the edges or as an outline. Here's a manicure idea for a smart outfit – gold-flecked nails. Black French nails with gold confetti are pretty incredible too.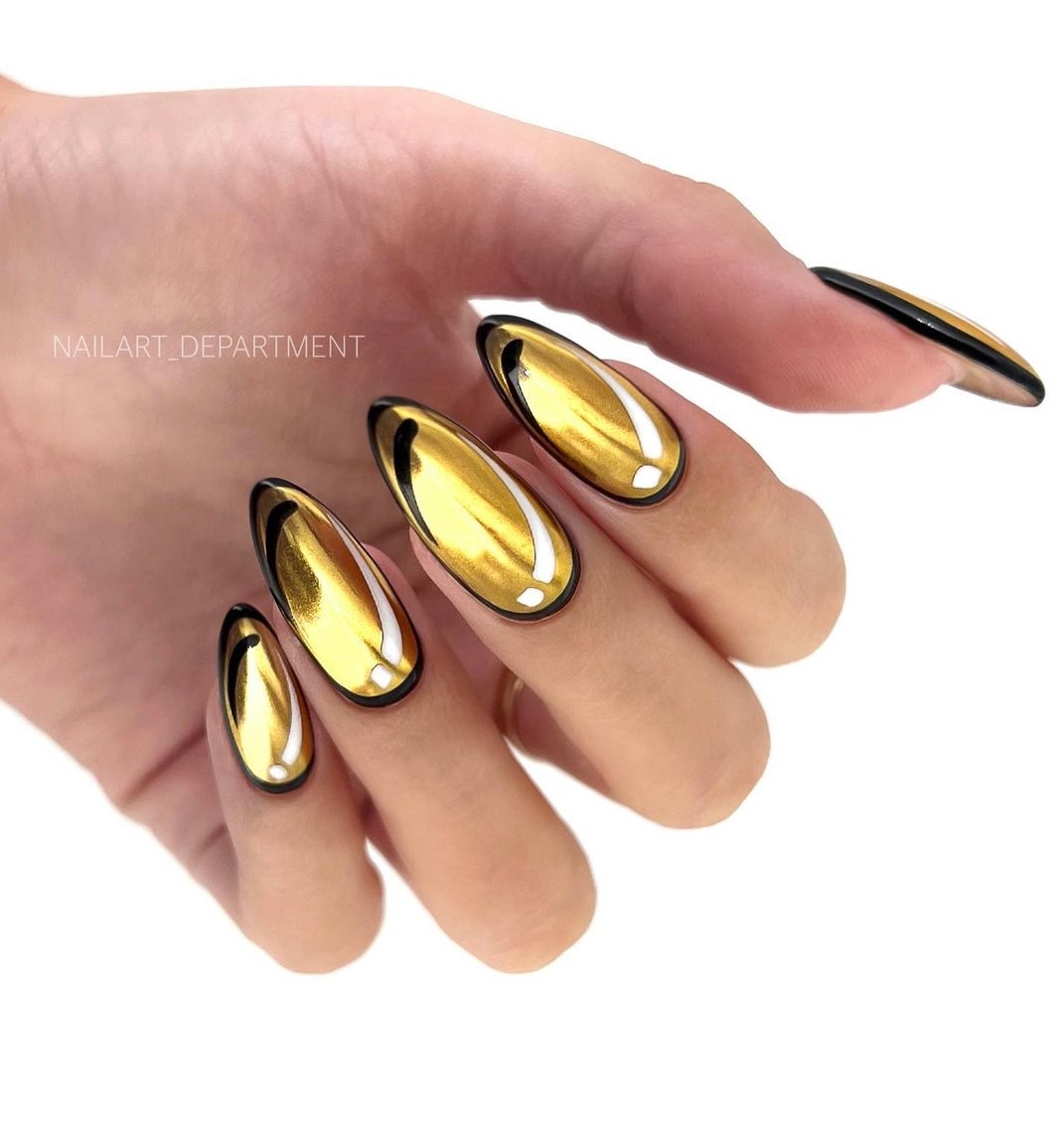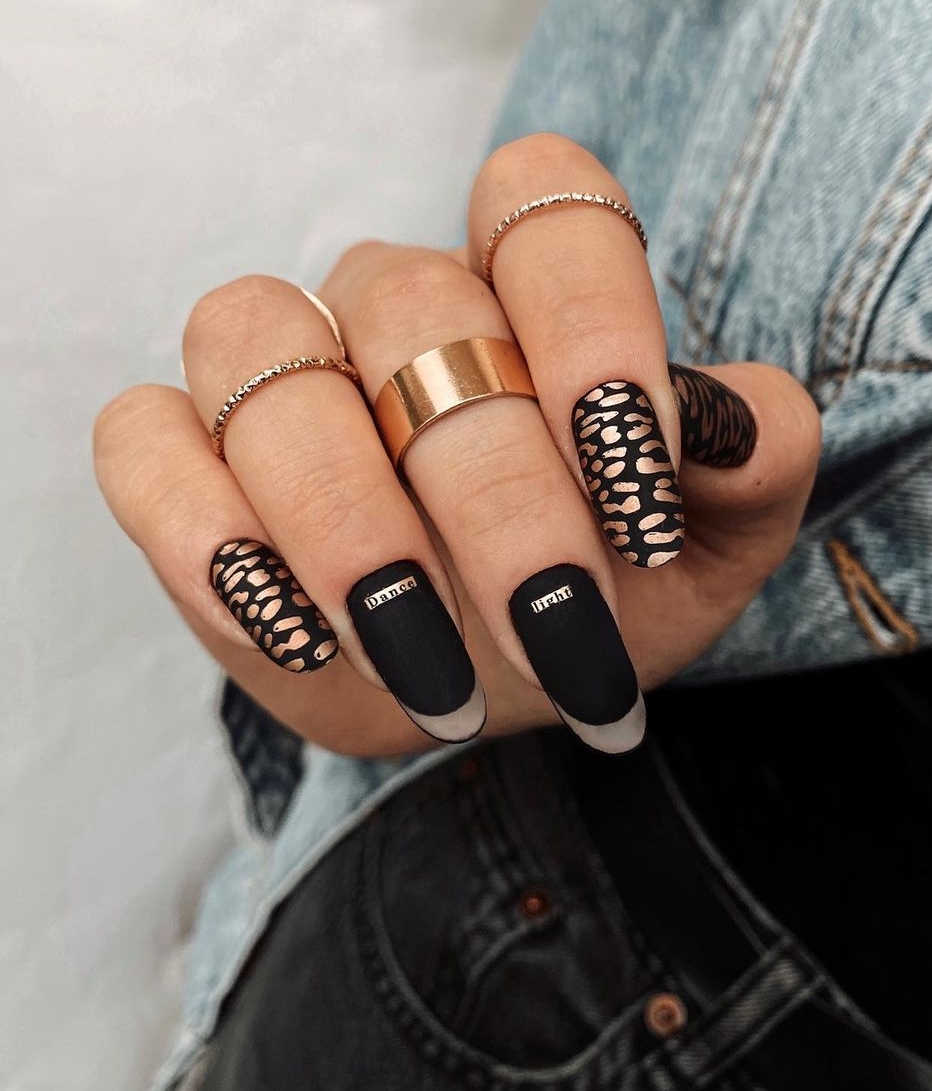 via @trutaroxana
Fun Designs with Black and Blue Nails
Baby blue nail designs complement all types of looks and suit all occasions. Go Bohemian with a dark blue mani and pair it with midis, maxi skirts, or jeans. Replicate the nude base with blue for an ombre nail design, and to make the ombre effect deep, use black nail polish.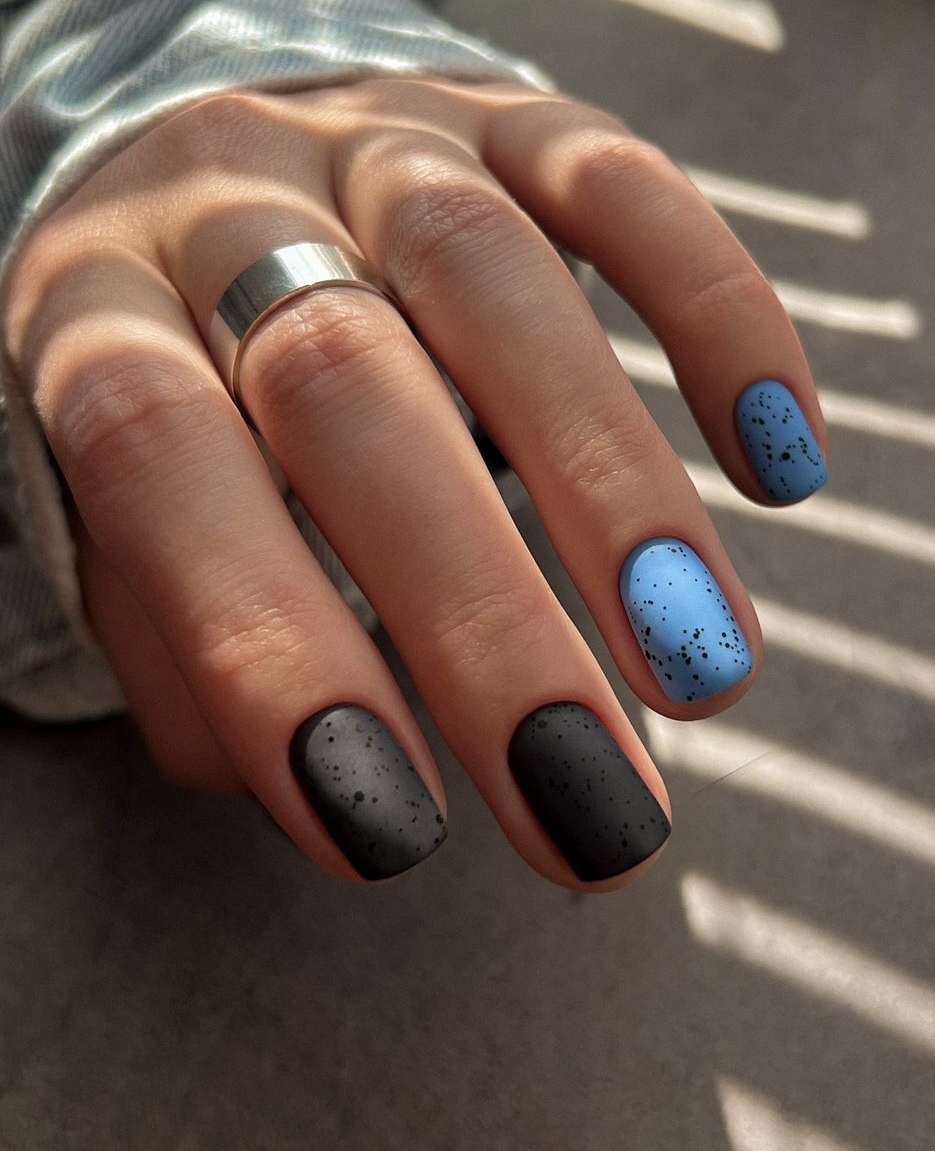 via @yana_chumicheva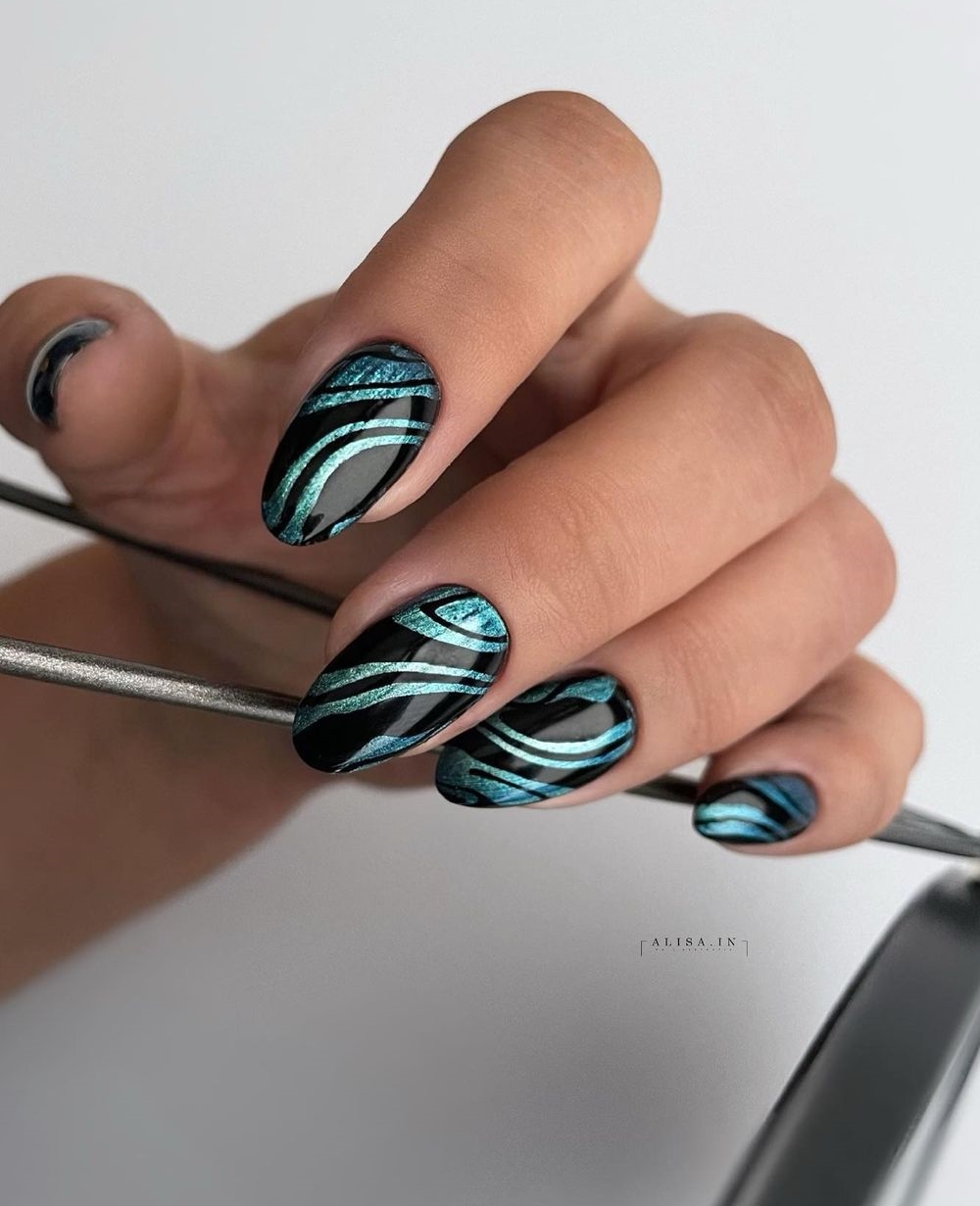 via @alisa.in_
Fiery Orange and Black Nails
Try some amazing black and orange nails from here. The black and orange nail polish combination is for trendsetters. One, try hand-painted papayas. Three tiny ghosts in orange, orange French nail tips, abstract fingernails with black and orange, geometric nails, Beetlejuice stripes, etc., are some brilliant ideas.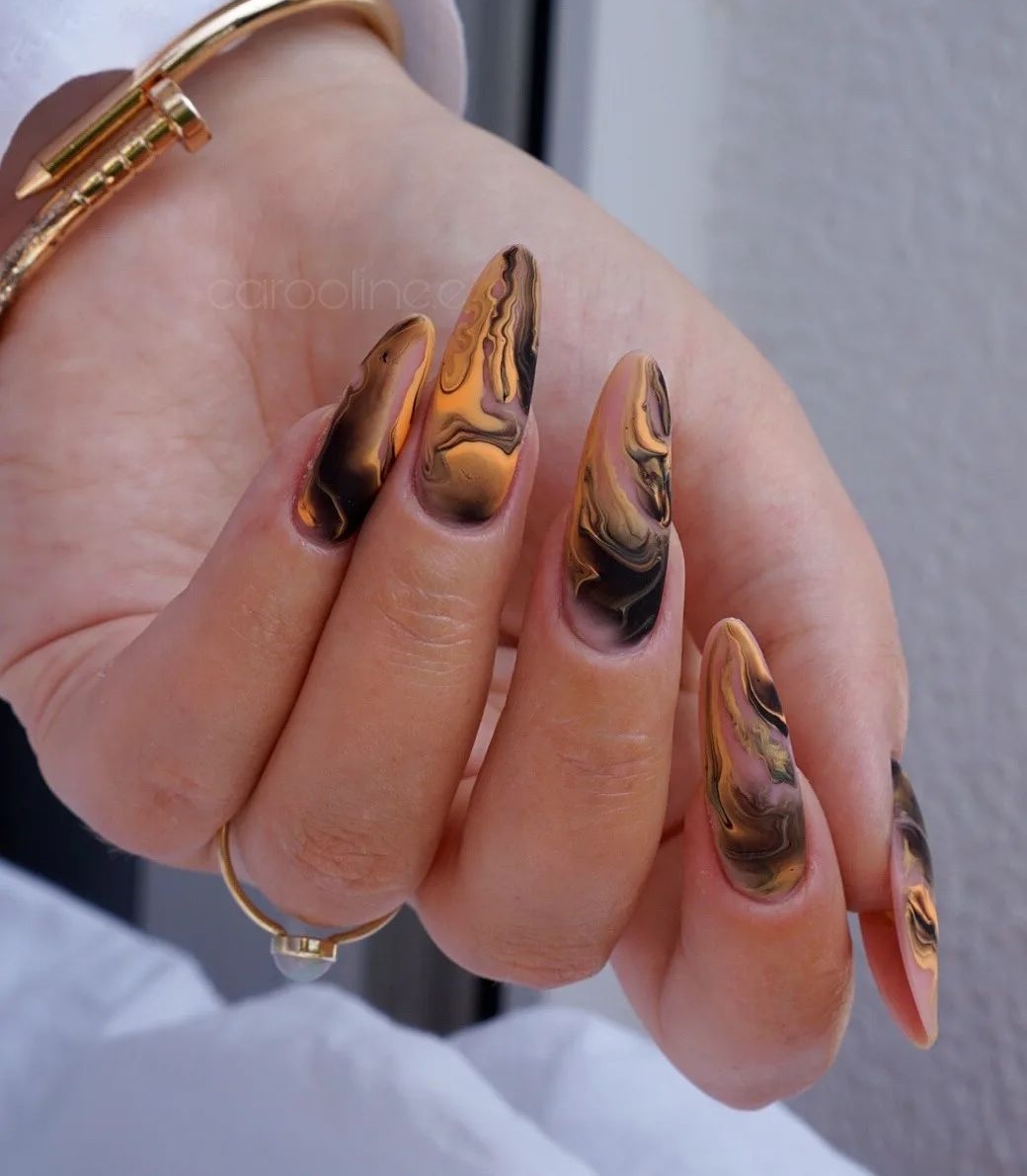 via @carooline.e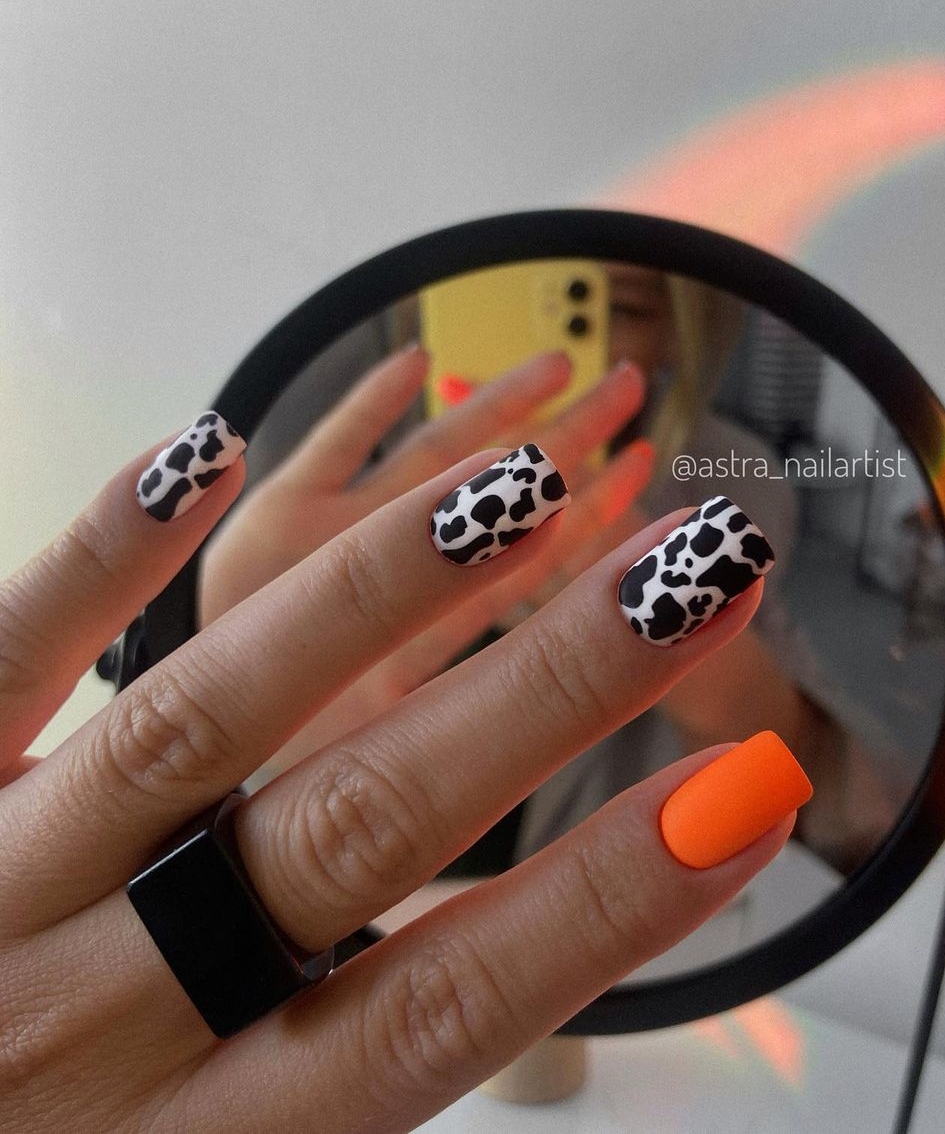 Get Vivid with Black Leopard Print
Leopard print nails or animal print nail art is the new rage amongst girls and youngsters. Paint your nail with the leopard print on a matte finish in sync with your fashionable leopard dresses. Create a unique style statement with the cool designs of leopard prints in black and multiple colors.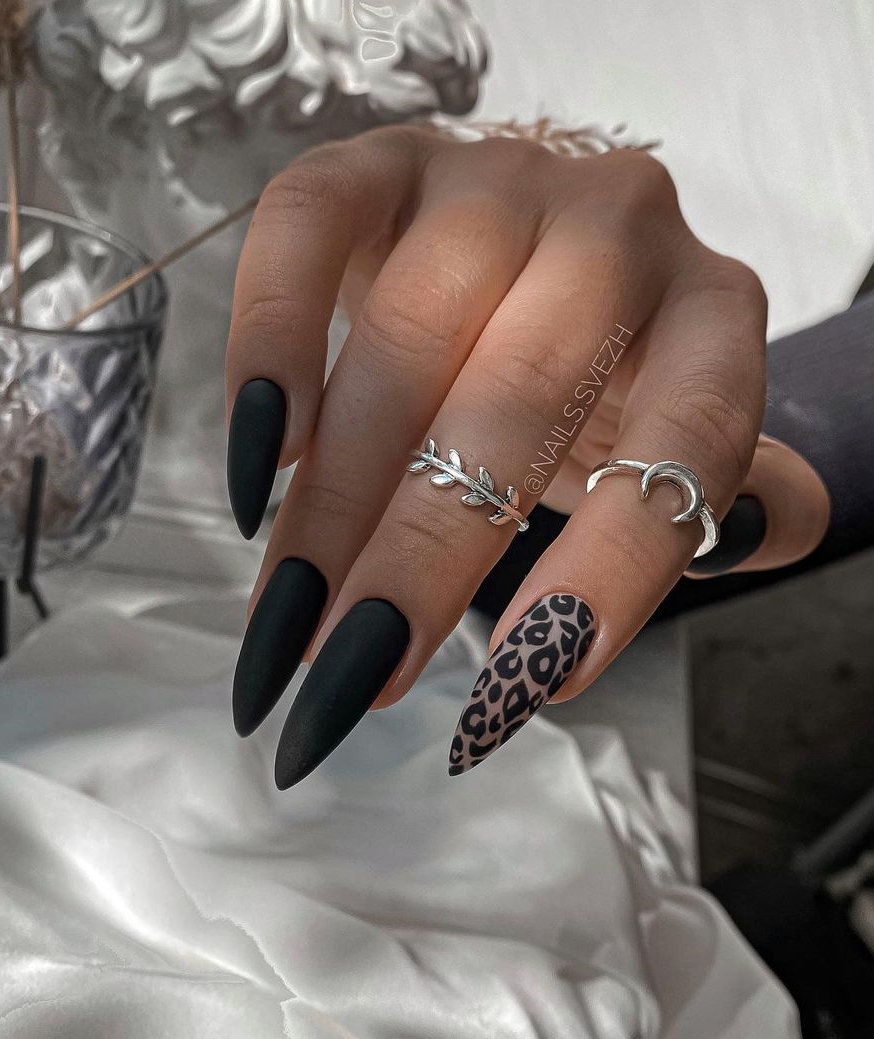 via @nails.svezh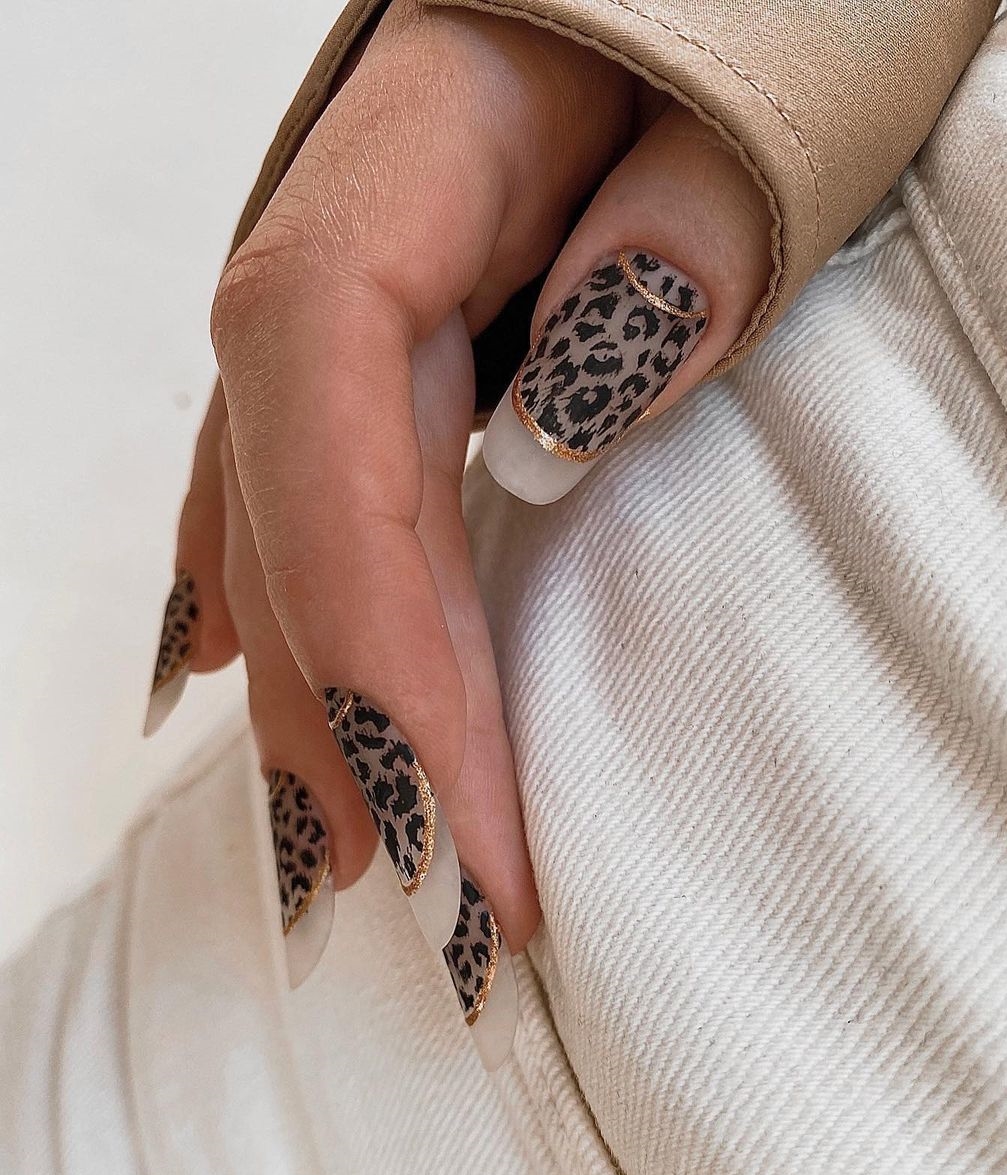 via @trutaroxana
Vibrant Black And Yellow Nails
One of the popular nail trends today is yellow and black nail art. Both colors are vibrant, and they can be fire when together. Black and yellow manicures are eye-catching in any form and pattern.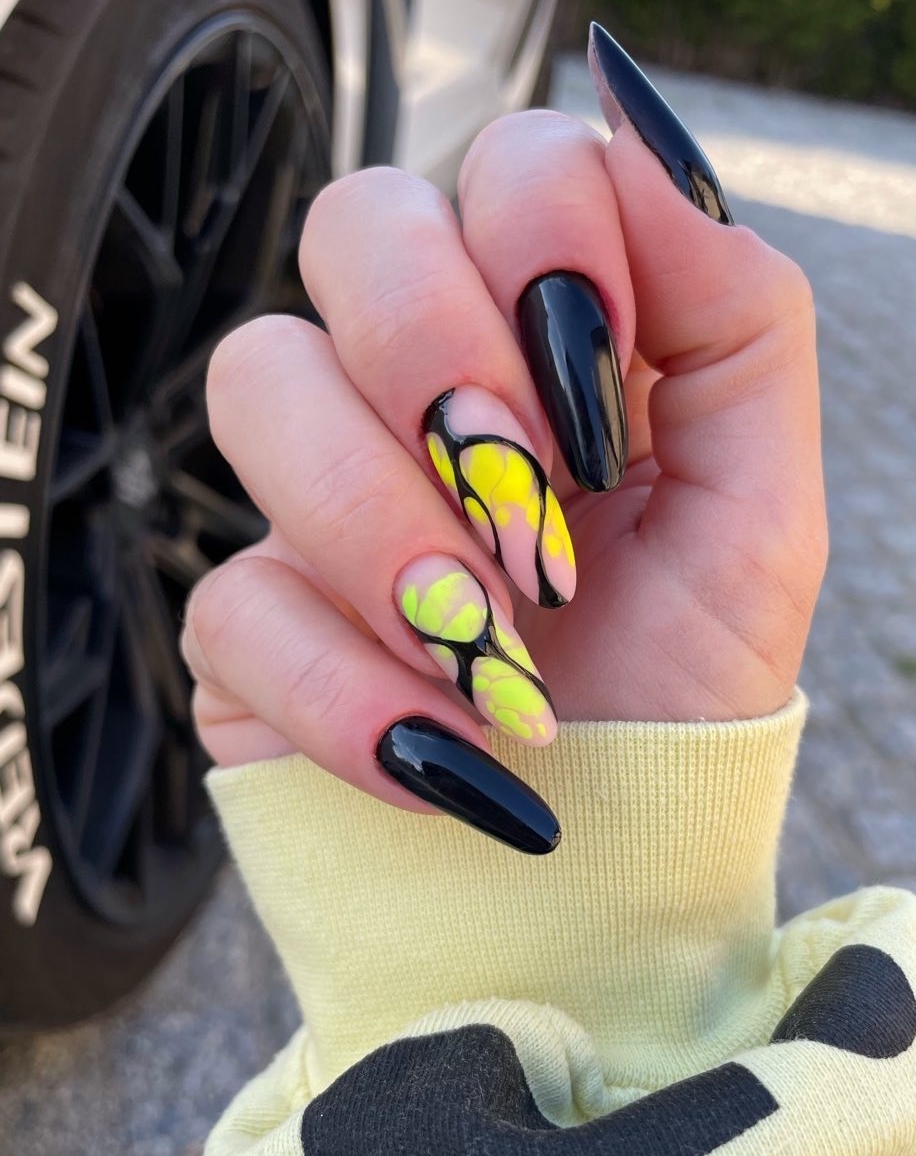 via @black_pazy
To keep it subtle, alternate between black and yellow on your fingernails. Go for sunflower nails or animal prints to keep it dynamic and bright.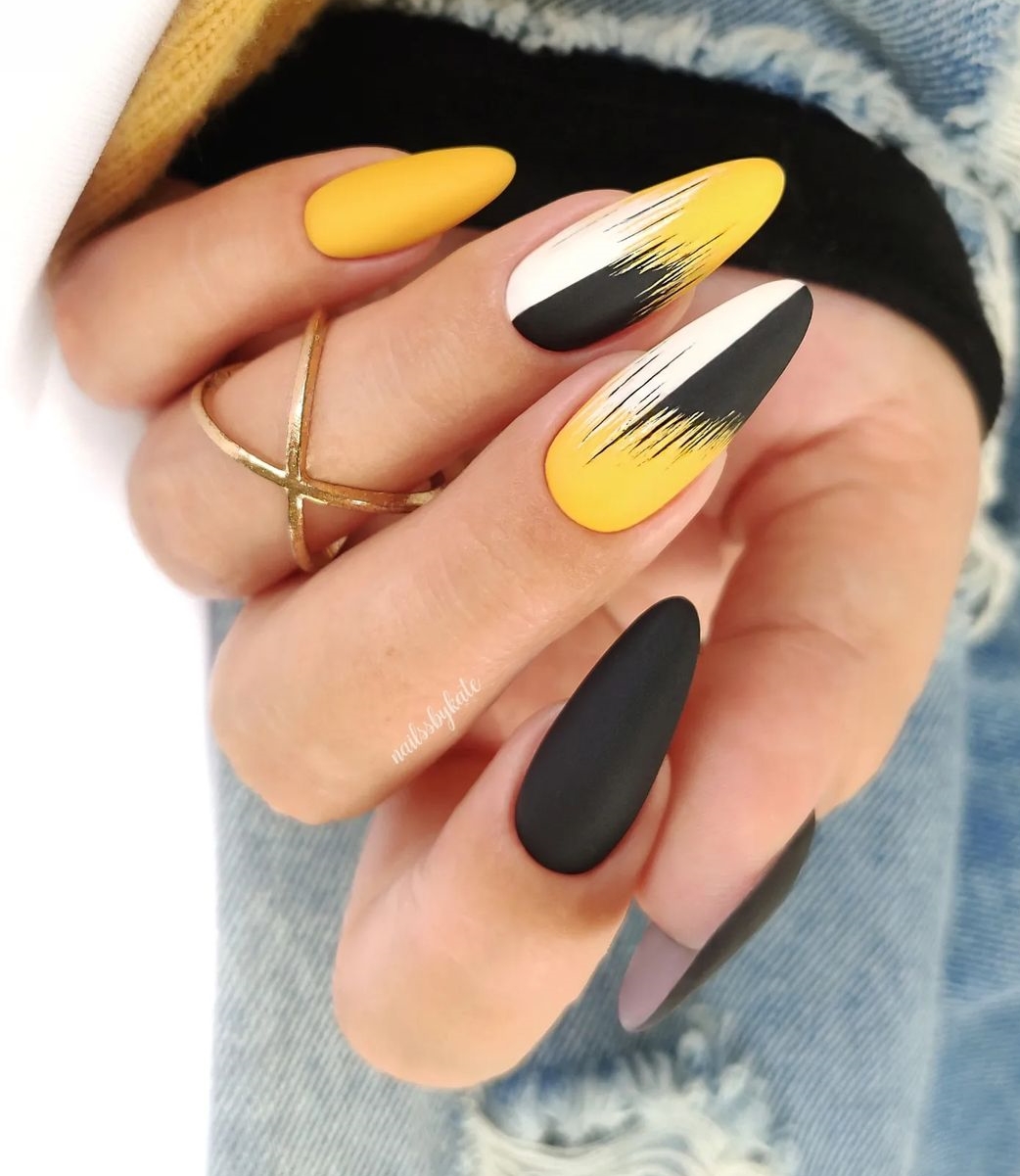 via @nailssbykate
Black Chrome Nails for a Metallic Look
Black and silver nails are the ultimate fashion trend – some dynamic energy flows between the two colors, and you can sense the same instantly. Use chrome nail polish colors like lime yellow, rose gold, and more for a deeper metallic essence.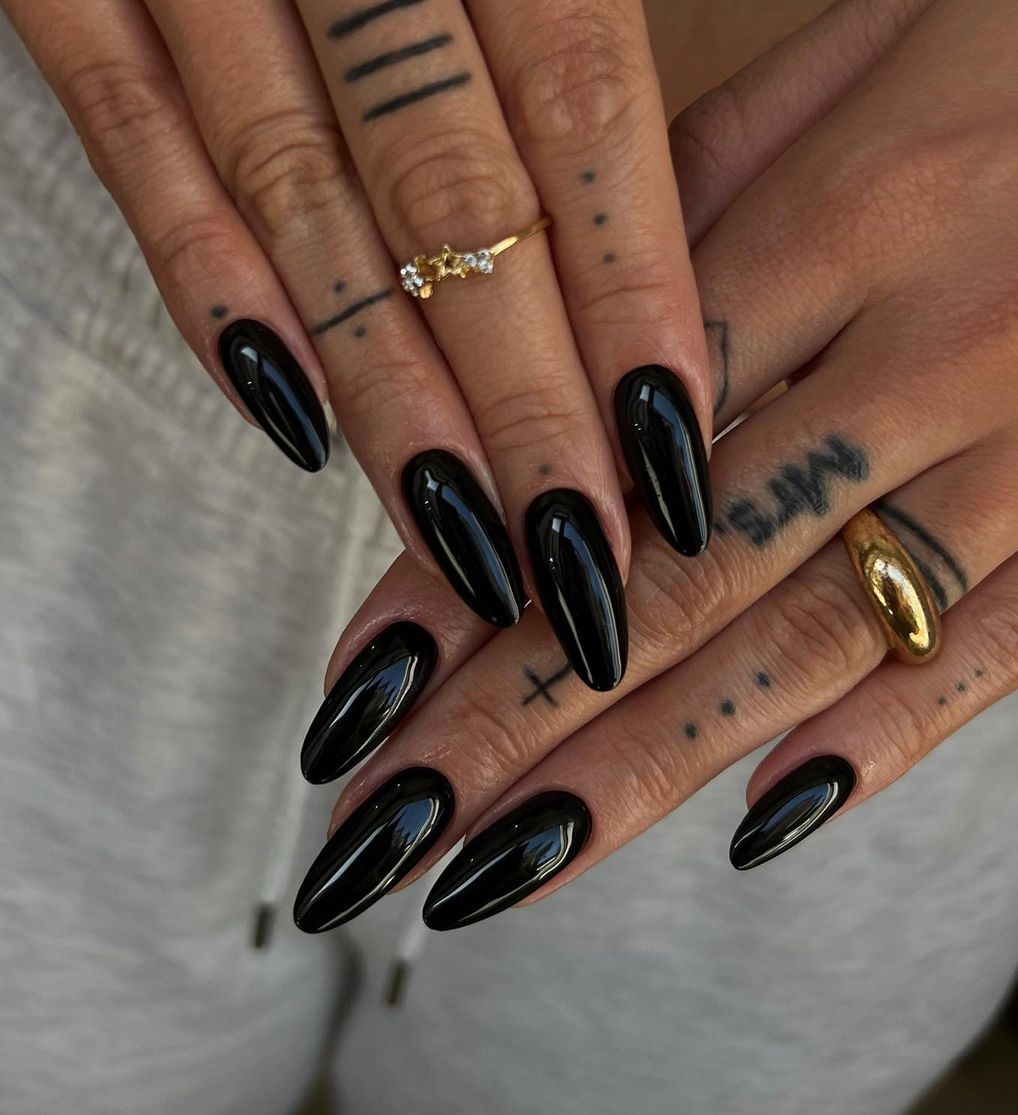 via @md_ongles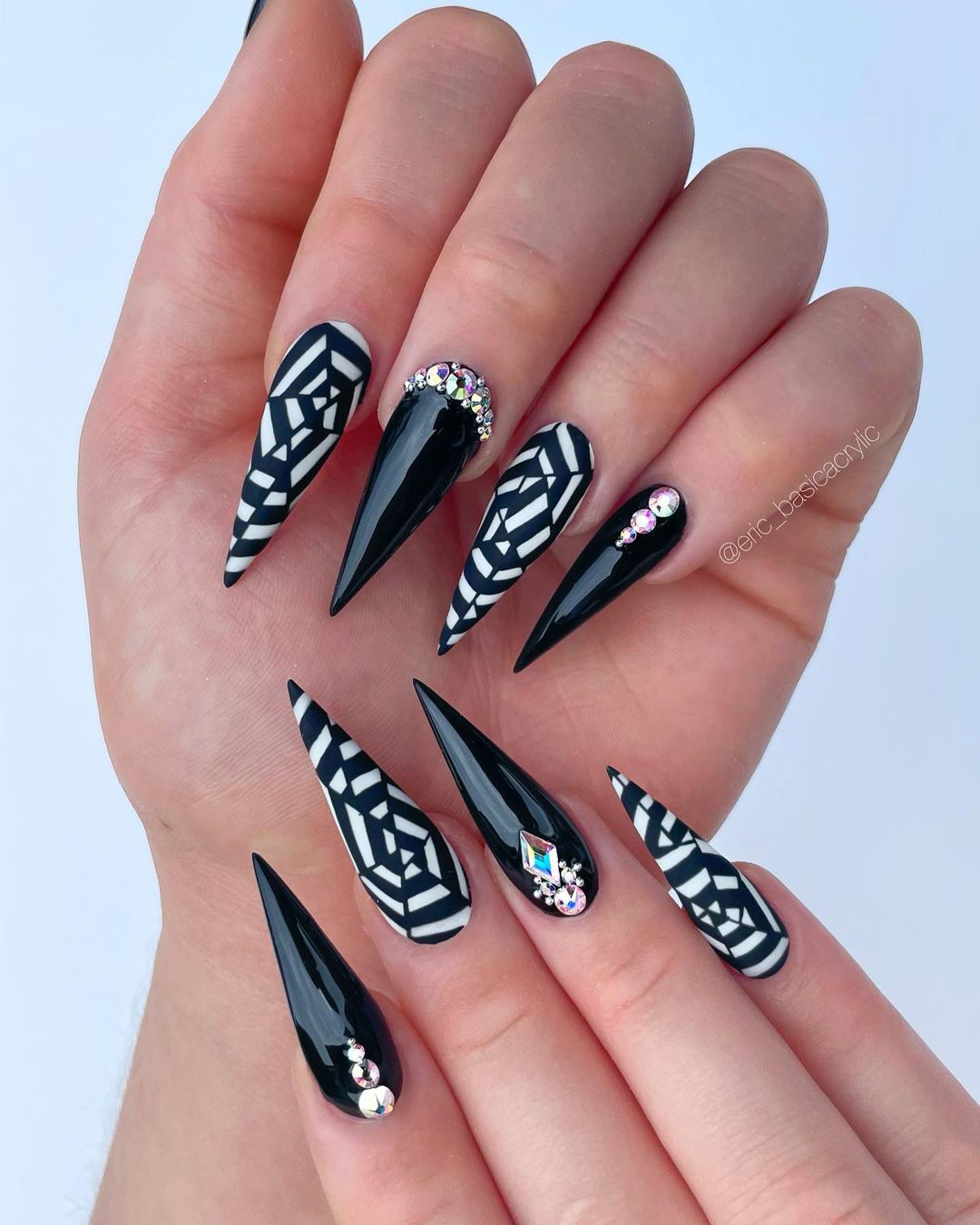 Lovely Black Butterfly Nails
Add butterfly nail designs on a black or a nude-black background and see the results for yourself! The colorful beings of nature look innocent playing on your fingernails. This is a loved nail art for coffin black nail designs, as the longer nails offer the space for more creativity and design.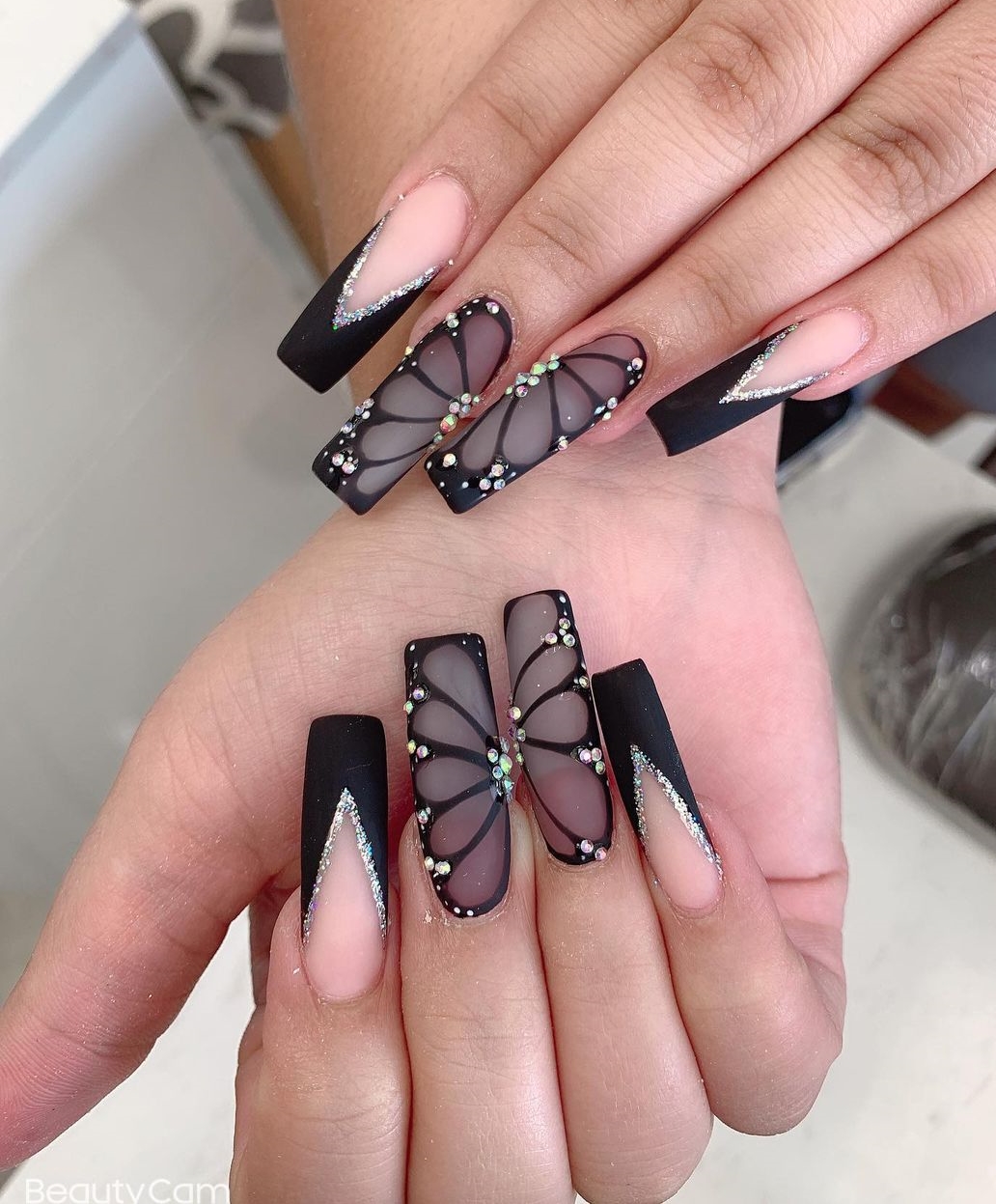 via @thenailloft909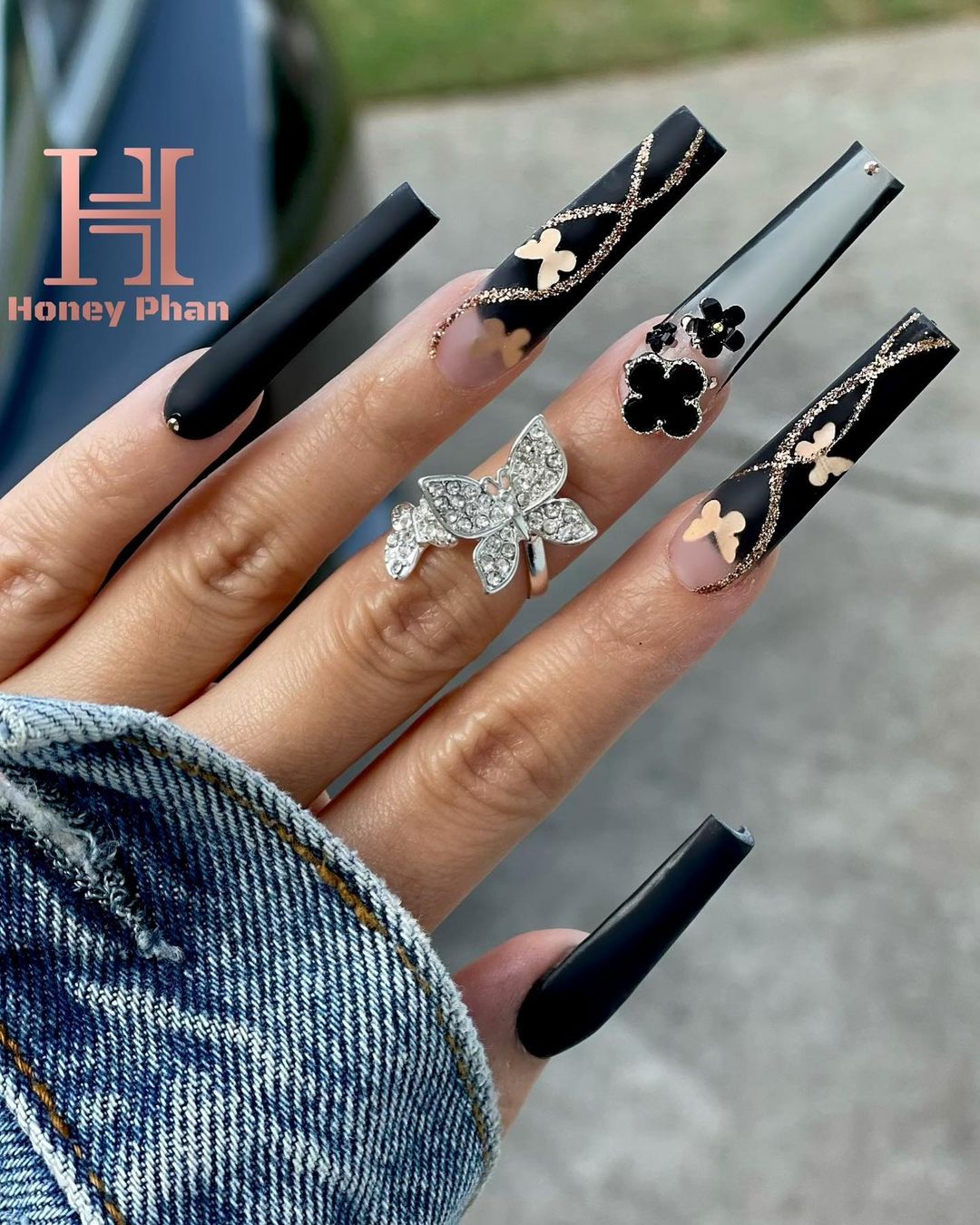 via @hnnailsbyhoney
Black Swirl Nails for the X-Factor
Black swirl nails on a nude base or different colored swirls on a black base – the impact is incredible. Gift yourself this new aspect of black nails. With many swirled products available in the market, it is easy to achieve the desired look even when DIYing. Black and gold swirl nails look stupendous.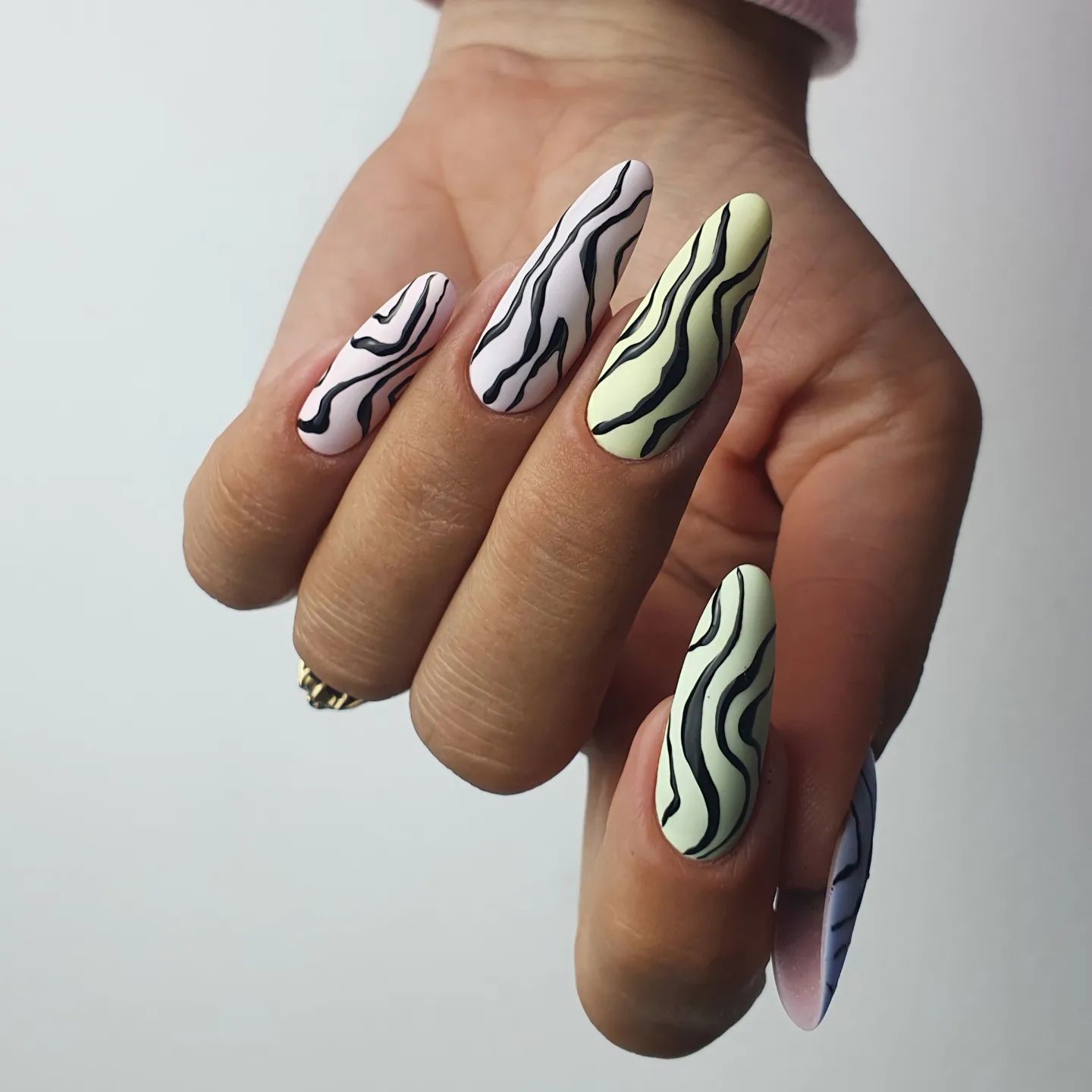 via @iwannadonails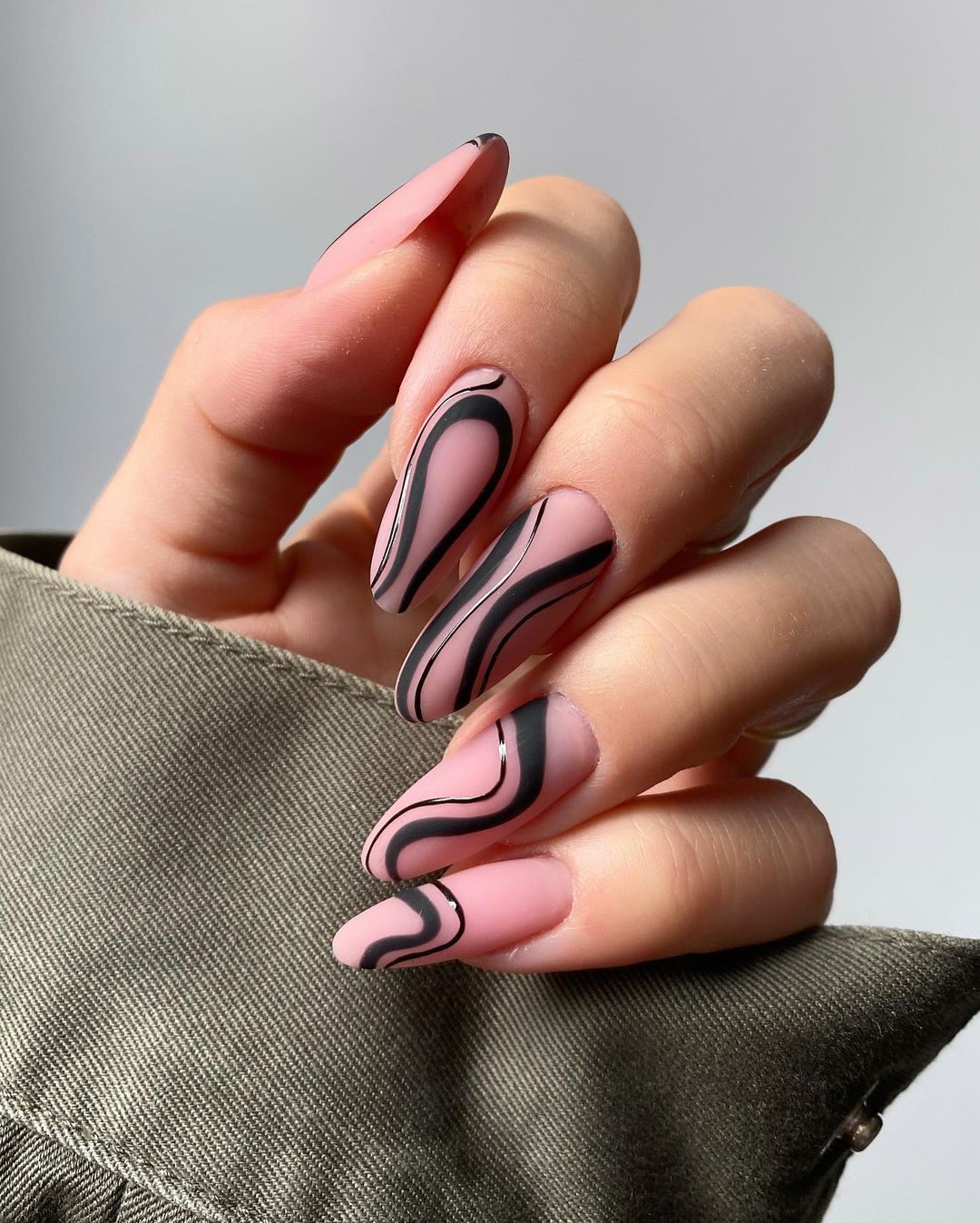 via @anetaujwary
Black and Grey Nail Design for All Occasions
On black nails, grey contours can give an extraordinary look. Whole grey nails are no less dramatic, but when mixed with black – whether you mix before applying or after for a designed effect, this is for every day and all occasions. The cute black nail look reaffirms your lively spirits.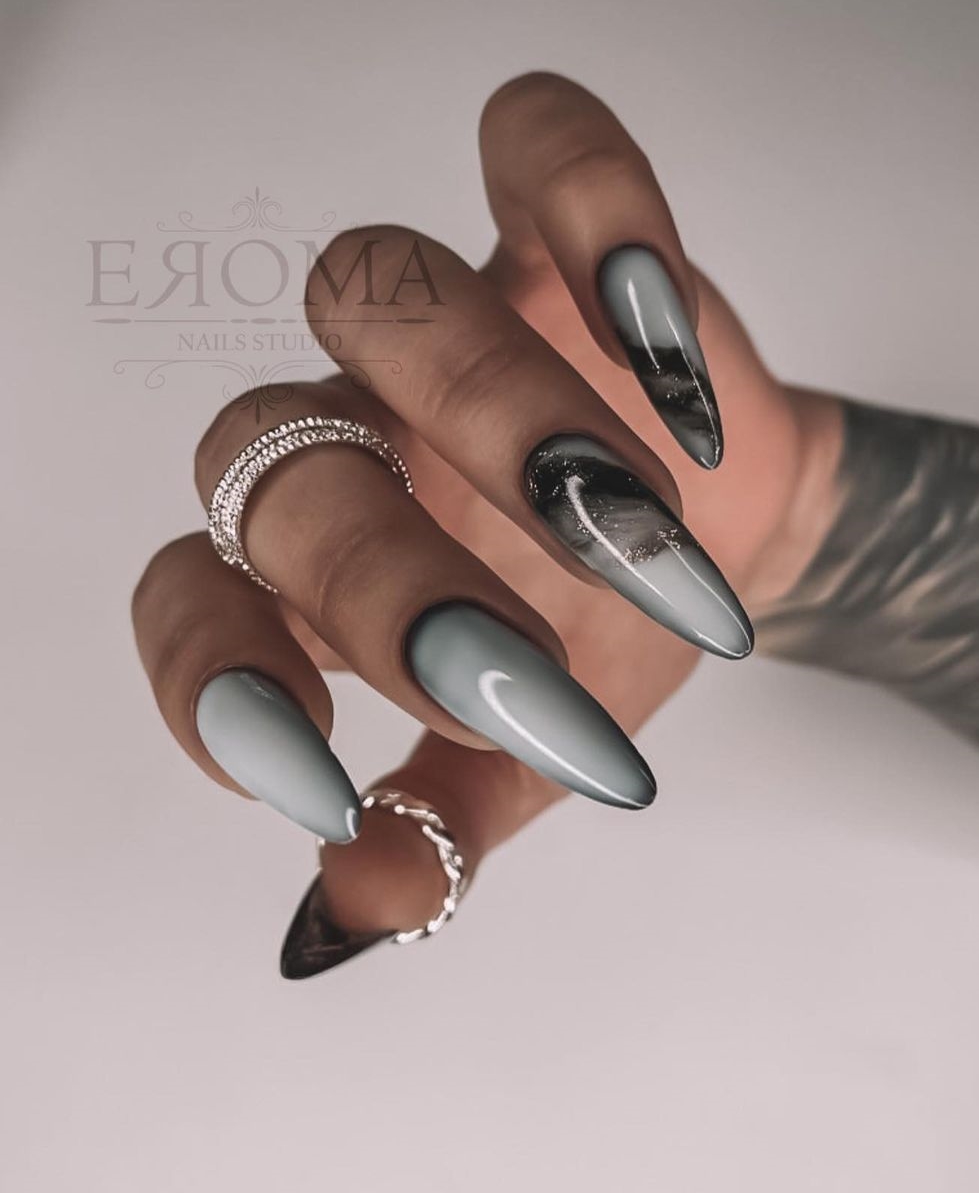 via @eroma_nails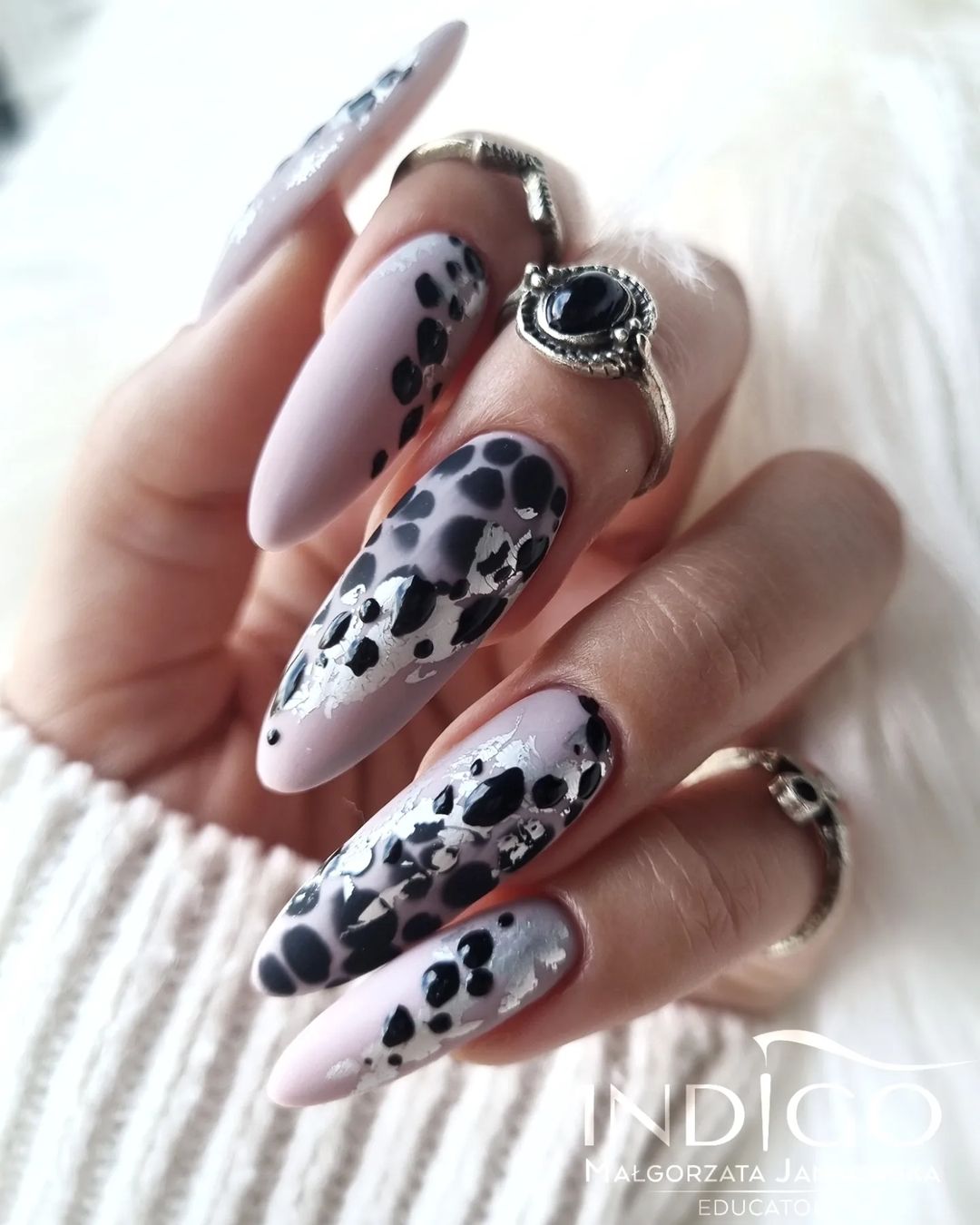 via @malgorzata_jankowska_indigo
Earthly Black and Beige Nails
The sandy fawn color bordered with black or vice versa is another trend in modern times. Beige nail designs can be tastefully done at home or in the nail salon. Try geometric patterns, edged borders, floral designs, and butterfly effects, or use your imagination power for harmonious manicure ideas for a cold season.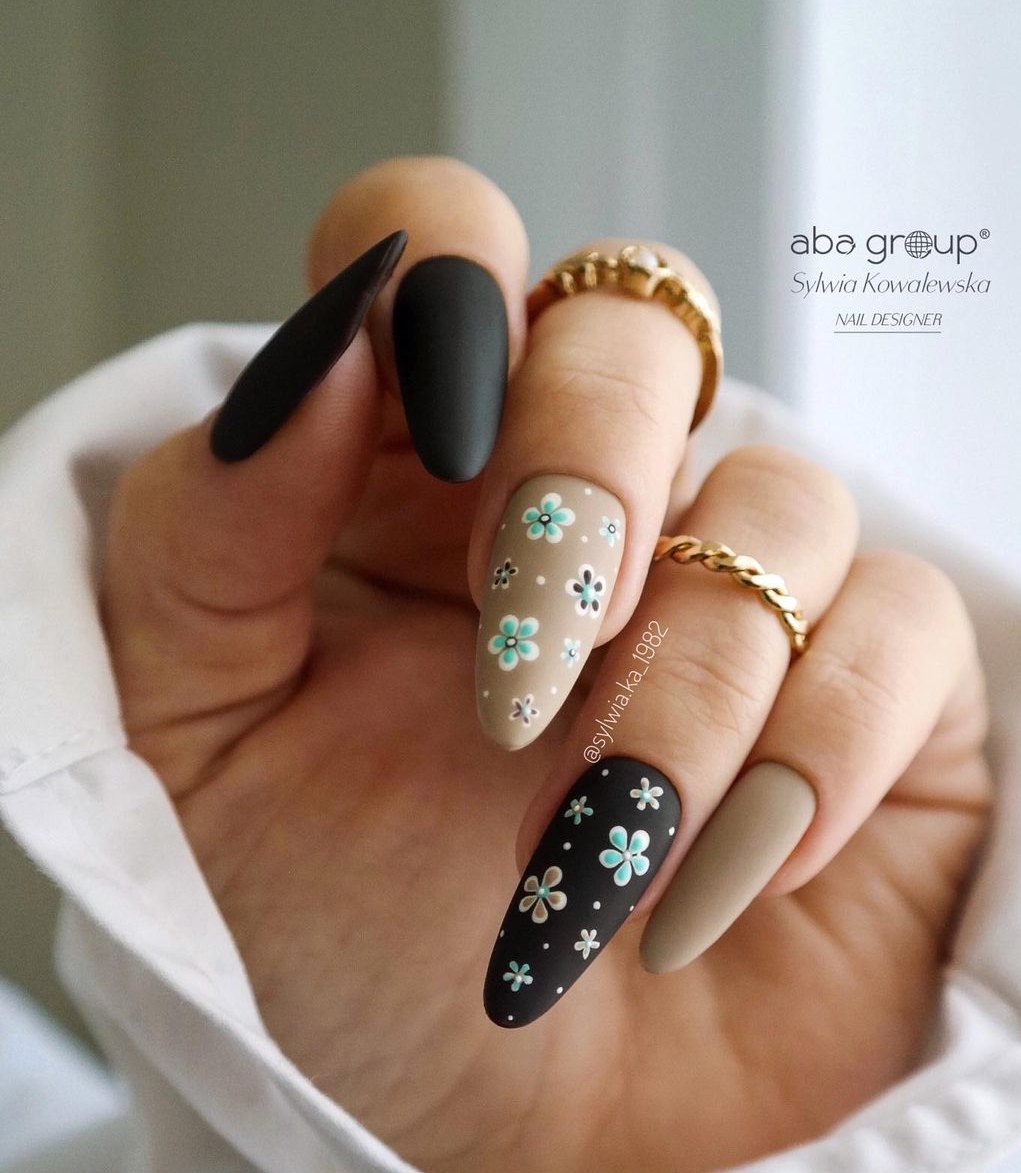 via @sylwia.ka_1982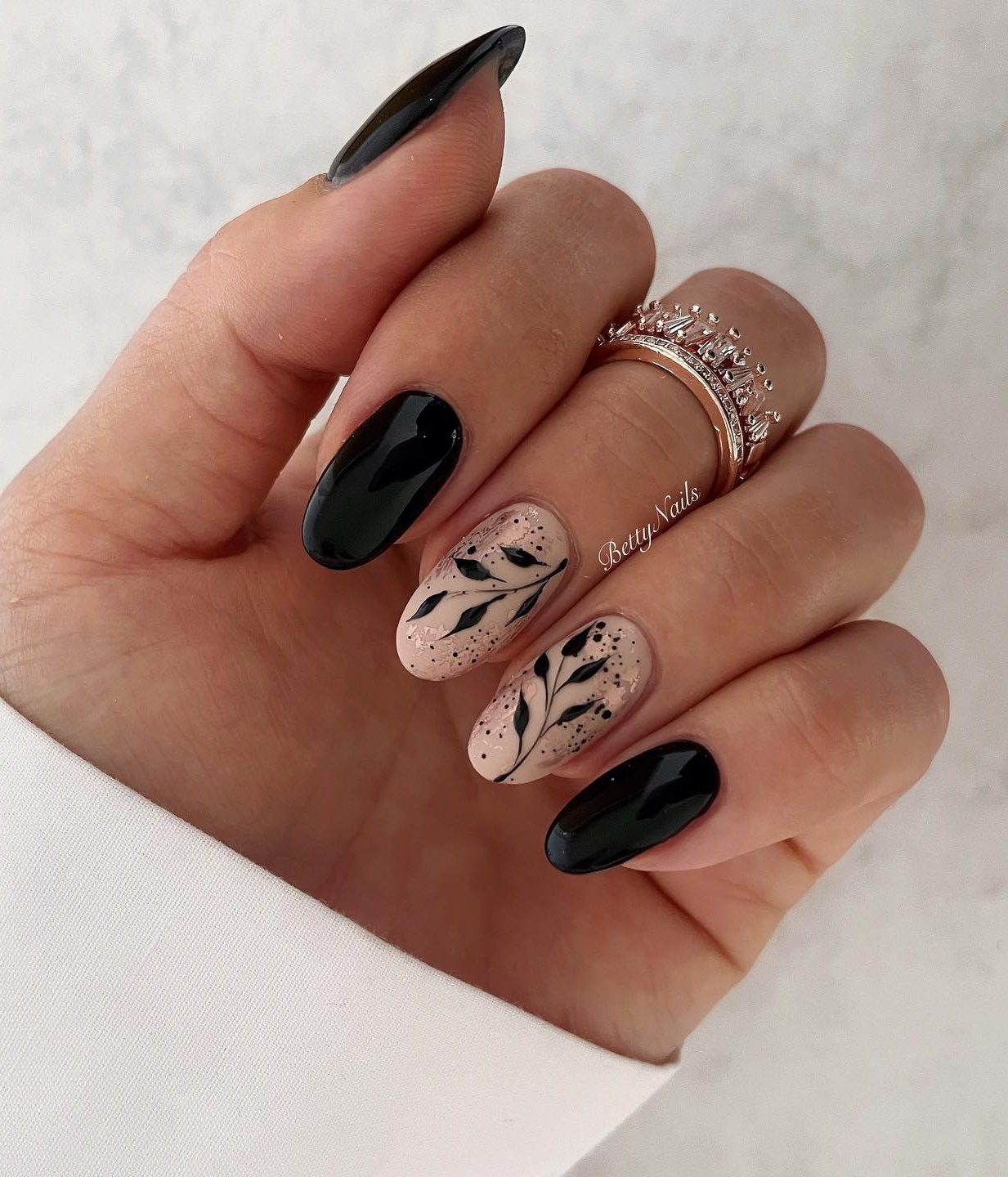 via @_bettynails_
Exciting Black Cat Eye Nails
Cat eye nail designs are doing the rounds on the internet these days. Cat eyes involve drawing a line diagonally across the nails in the center. It can be straight or curved.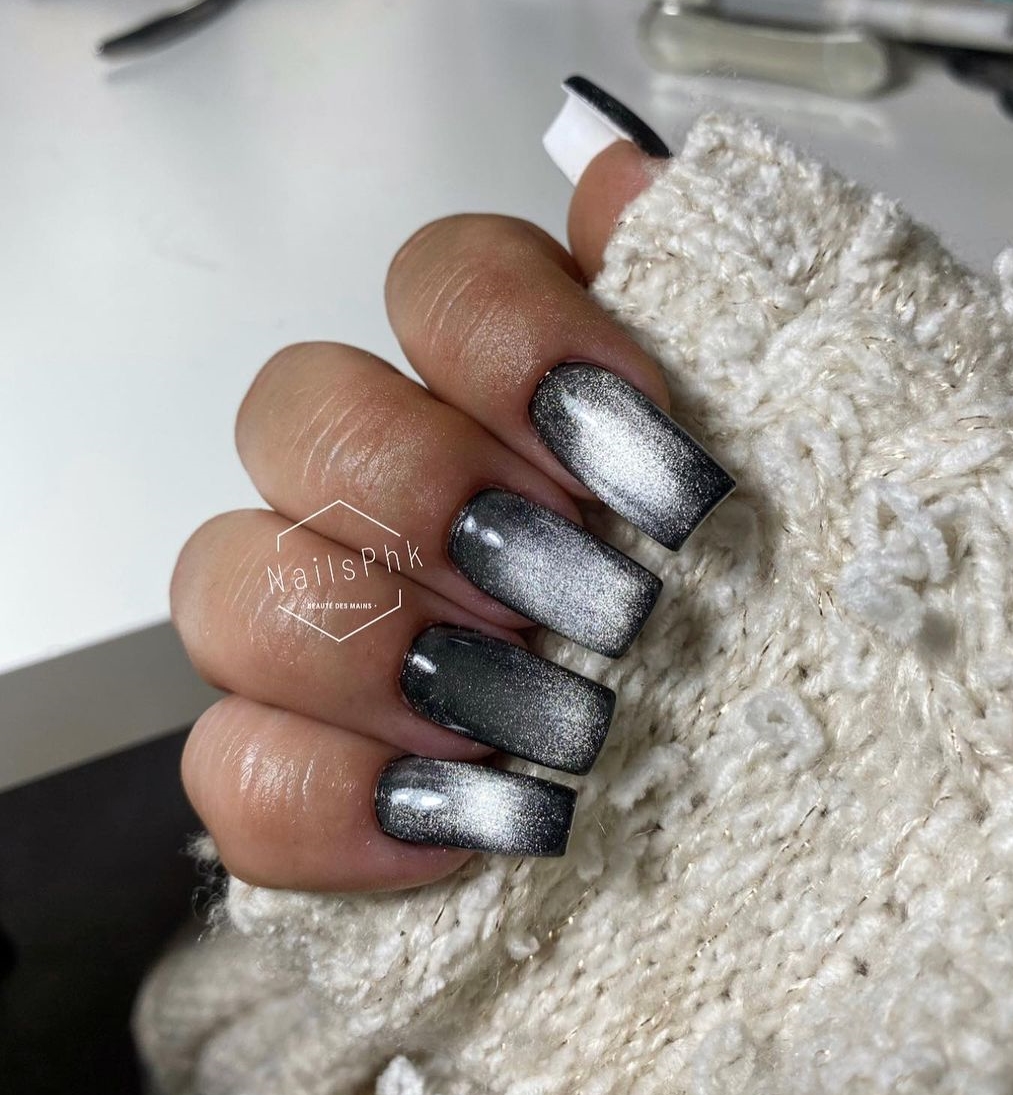 via @nailsphk
Can you do eye nail polish at home? Of course, yes. It is a fun manicure because there's no right or wrong here. So, be open to experimenting! For sparkly nails, add silver or golden glittery nail art designs.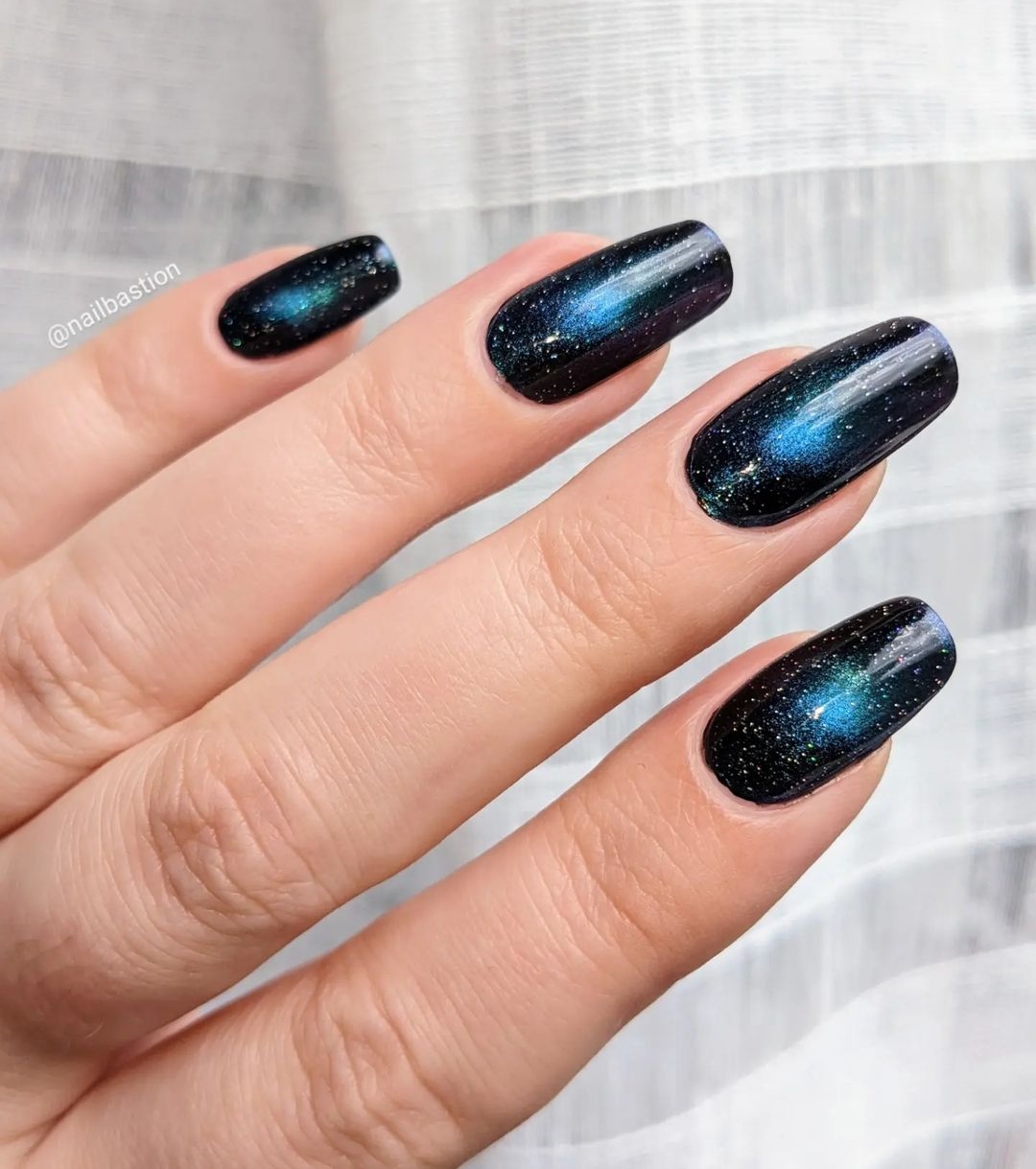 via @nailbastion
FAQ
How can I protect my hands and nails in winter?
Use a moisturizer or hand lotion on your fingernails and hands pretty often, especially after washing your hands, because they tend to get dry.
Use a hydrating soap when washing your hands and nails. Drink a lot of water – at least eight glasses of water – to keep the body hydrated. Apply cuticle oil and massage it into the nails. Visit a nail salon regularly, and keep your hands covered with gloves for extra protection.