One of the indisputable trends of recent years is almond shaped nails. This form is considered the golden mean between a laconic classy manicure and such provocative views as a stiletto or a coffin.
What are the best almond nail designs from stylists in 2022-2023? Let's see how you can diversify the usual manicure!
Almond vs. Oval Nails
Oval and almond-shaped are considered classic nail look. They are comfortable, versatile, and suitable for all girls. In this case, the length of the nails does not matter; the desired shape can be both short and long.
When is it better to choose oval nails? Pay attention to the shape of the cuticle. Experts recommend giving the nail plates a mirror look.
Oval and long almond nails are in harmony with the oval and triangular cuticle bases. The differences between them are in the shape of the tips. In almond-shaped nails, they are slightly narrowed and pointed.
Short Almond Nails
If you prefer short nail designs, this classic manicure will surely become your favorite.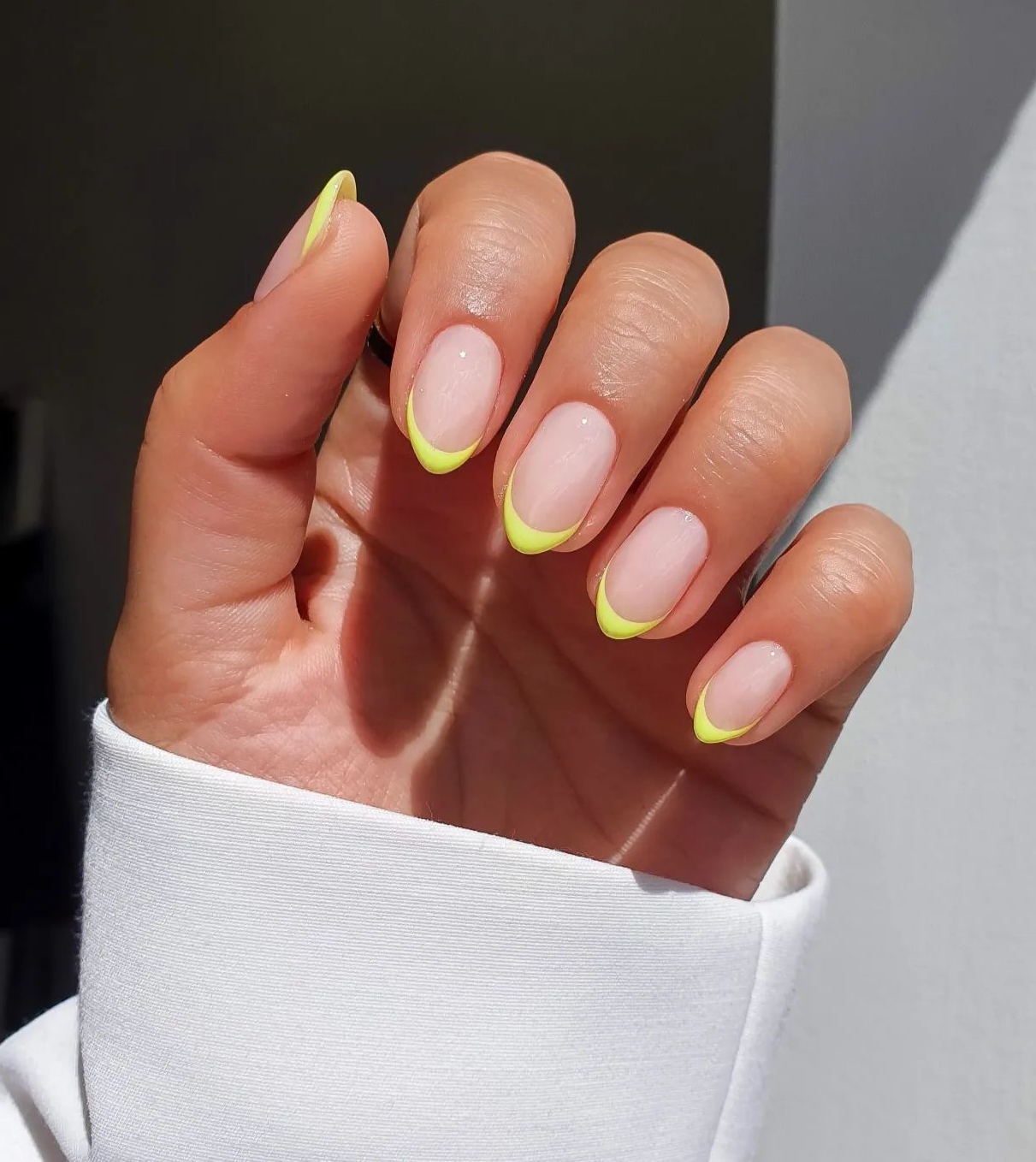 via @nailsbyravi_
The almond shape visually lengthens the nail plates, making the brush more elegant. It allows you to use a coating of any color and experiment with decor.
Do you want to create a delicate look with an almond nail shape? Choose a French manicure or a solid pastel shade.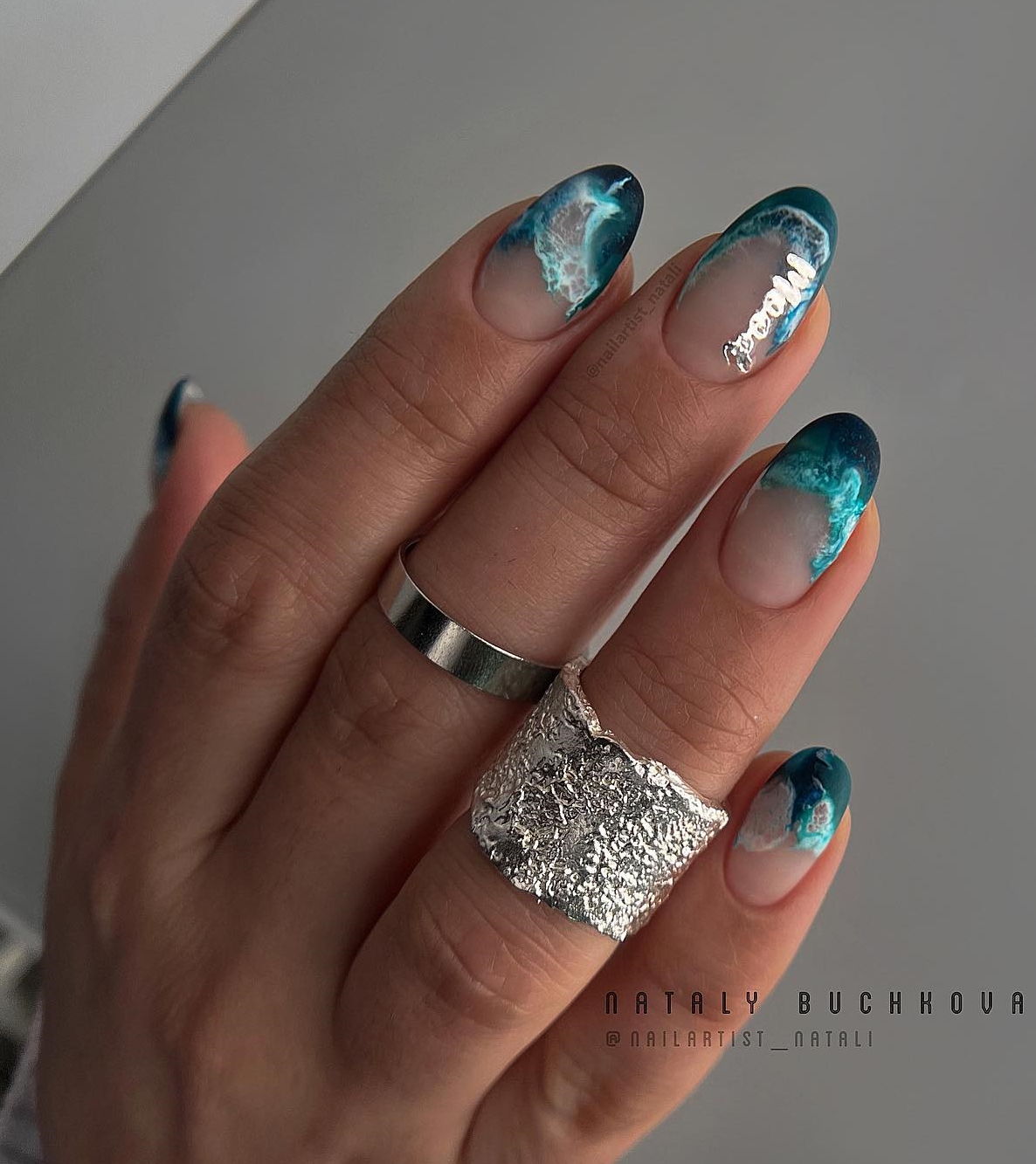 Almond Acrylic Nails
For many years, acrylic nails have not lost popularity. They attract beauties because they are perfect for any design.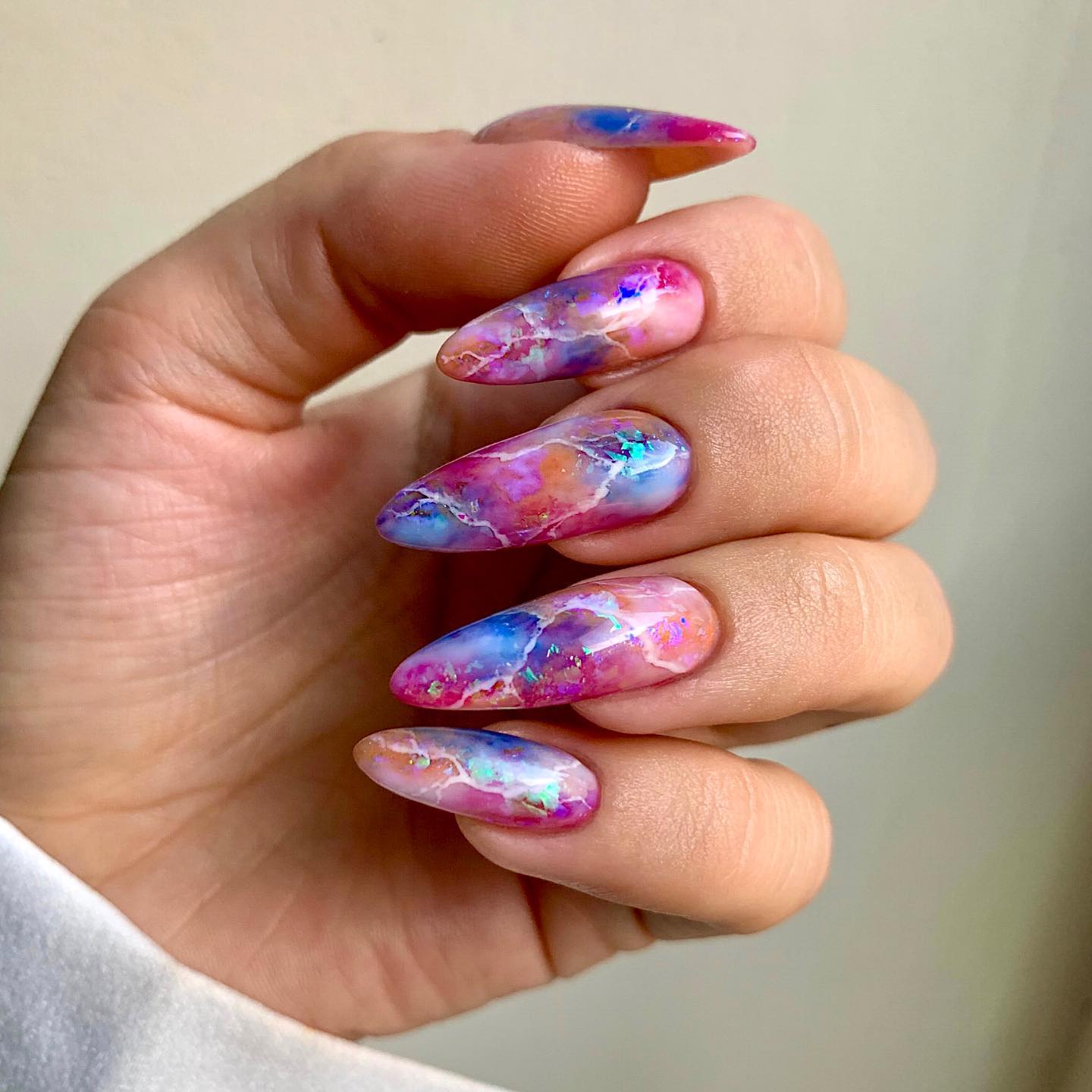 via @nails.by.oda
Another important advantage of almond shaped longer nails is durability. They are much stronger than square ones, coffins, and stilettos. This form is as close to natural as possible and is devoid of corners and pointed areas that are easy to break.
Nail masters offer a very wide color palette for acrylic almond nails. It is up to you to decide which shade to choose.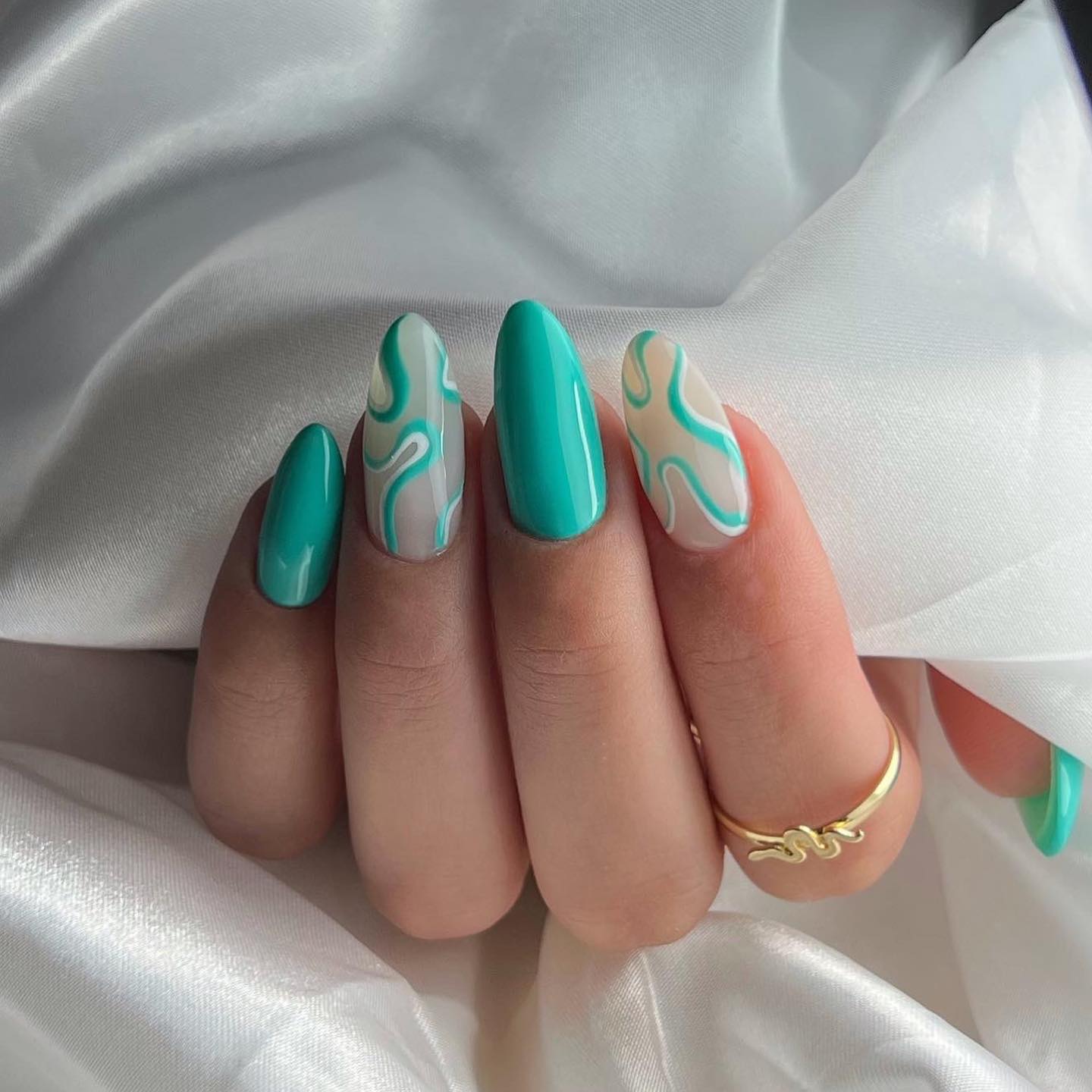 via @myleeil
Black Almond Nails
Black almond nail designs are the choice of self-confident girls. If you choose between them and a classy manicure in light colors, don't hesitate for a long time!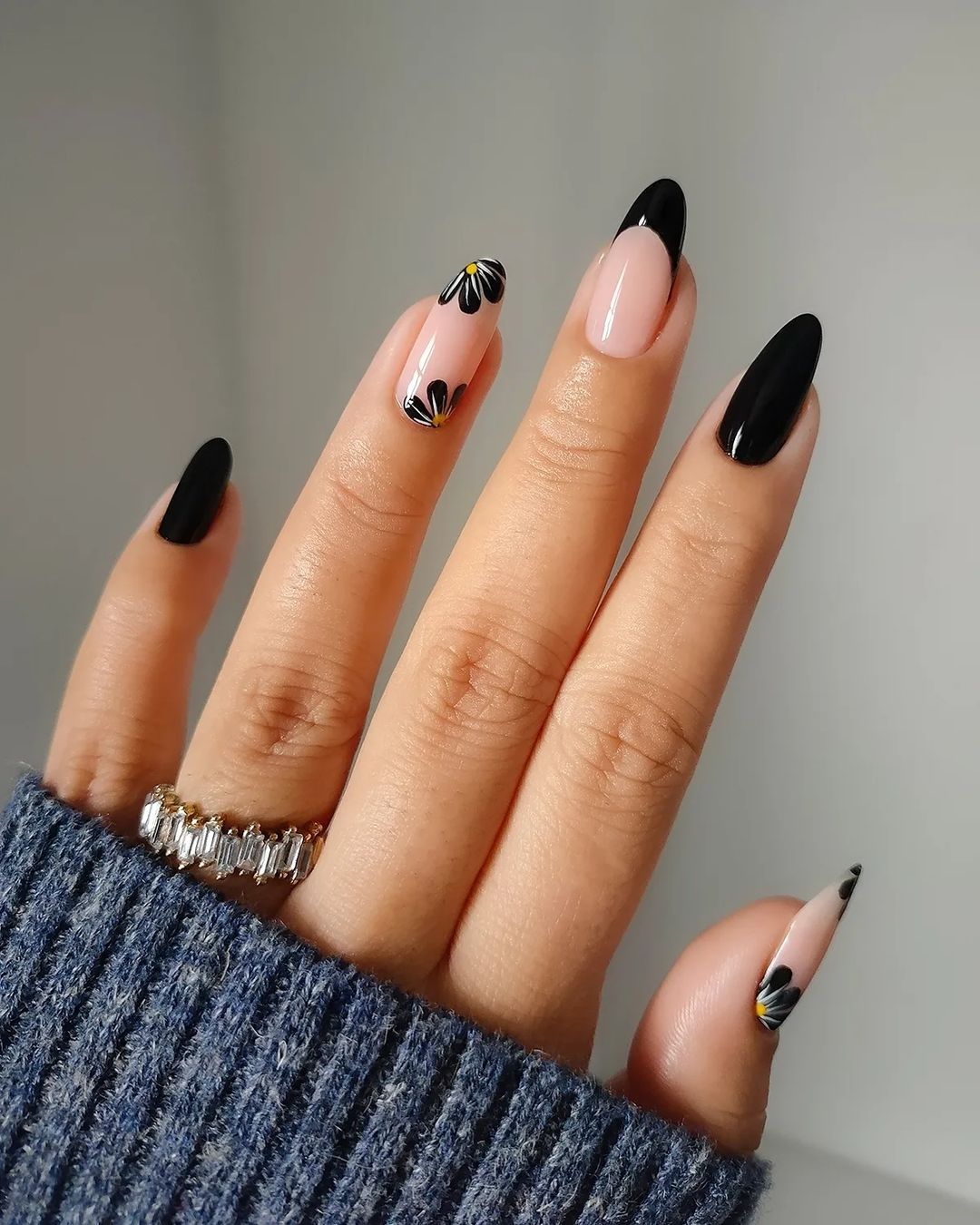 via @ingridraiana_
On a black coating, different types of decor look spectacular, from sequins to cobwebs, stamping, and patterns. Another way to give this manicure a luxurious look is to use a matte topcoat.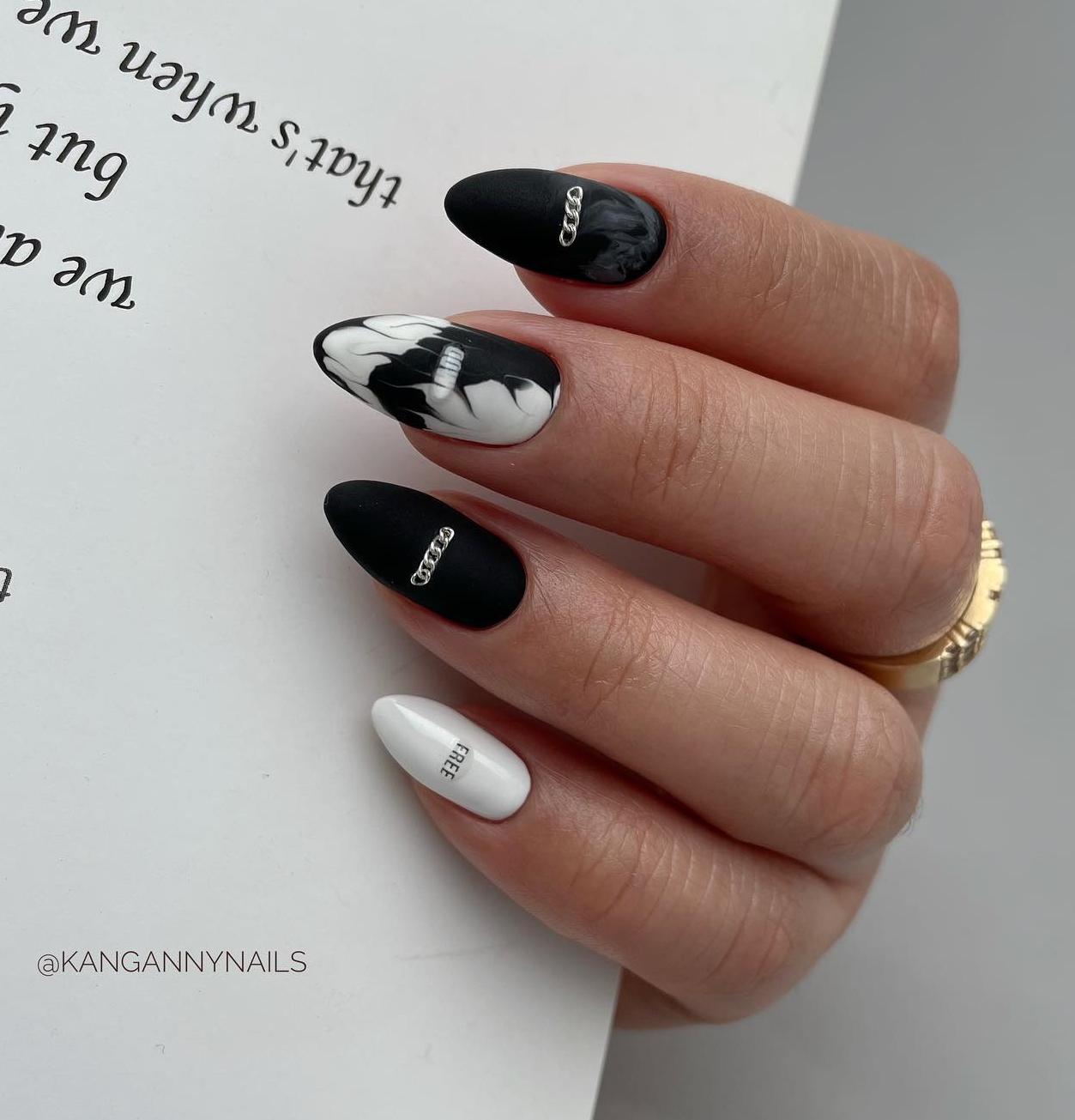 via @kangannynails
White Almond Nails
What is the best manicure for any occasion? Of course, white!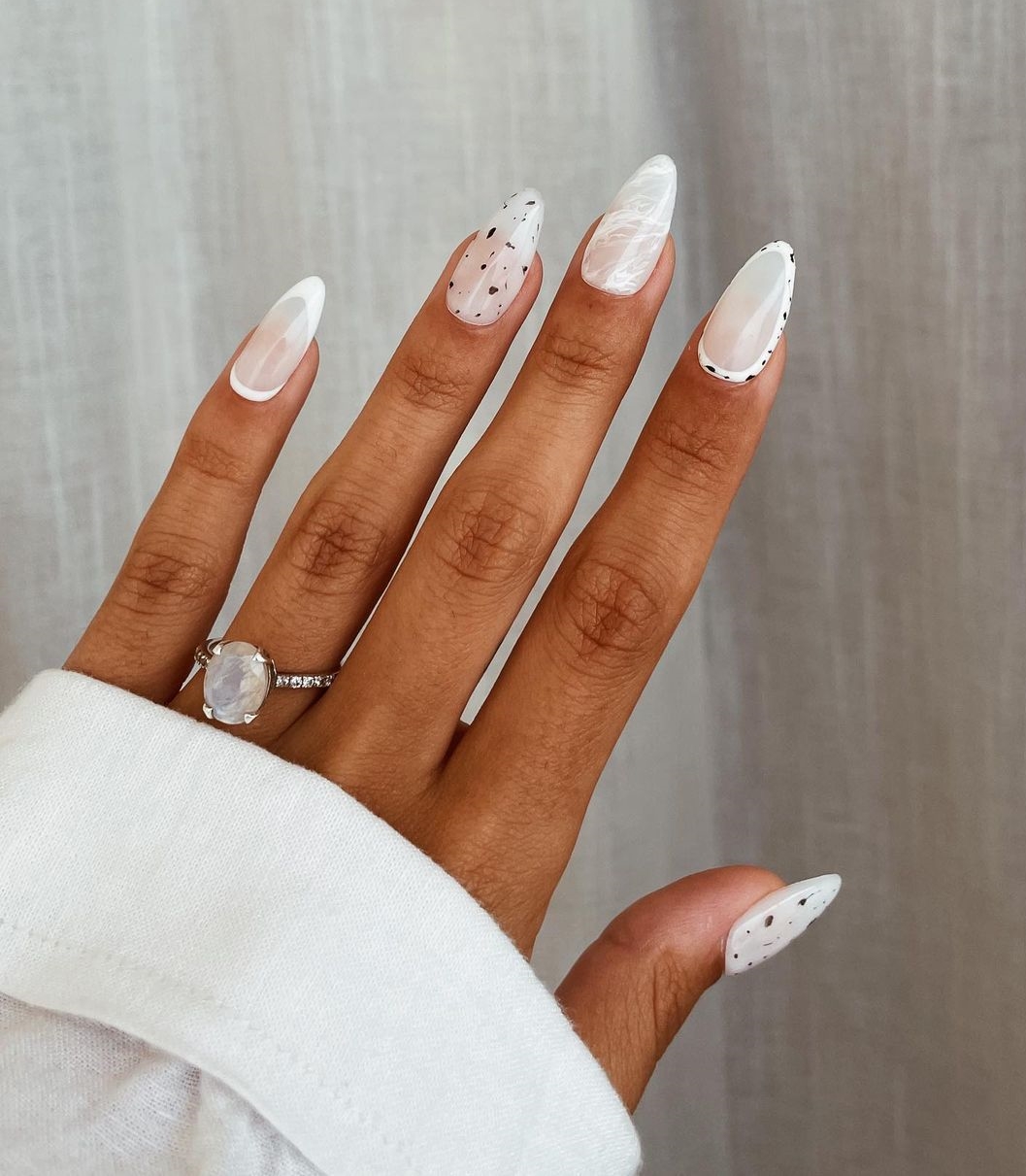 Nails of this color look simple and stylish at the same time. Do not forget that a monochromatic coating can be supplemented with various elements. For example, nail art with white polish includes contrasting fingers, dark tips, abstract drawings, or stickers.
This refreshing manicure is perfect for spring and summer. Short and long white almond shaped nails will be a real magic wand for any situation.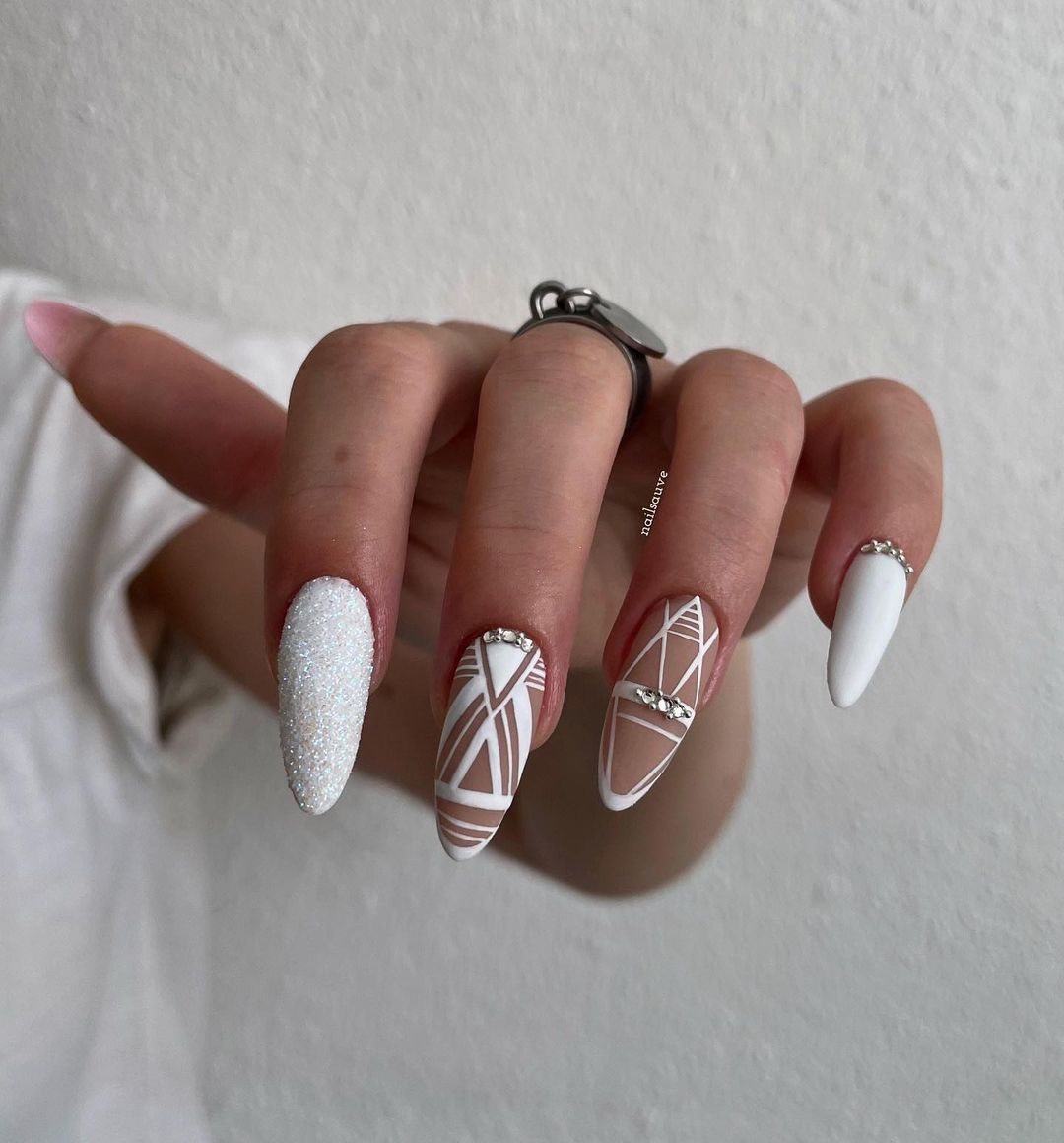 via @nailsauve
Long Almond Nails
Many beauties dream of longer nails with a perfect almond shape. They can embody any creative ideas.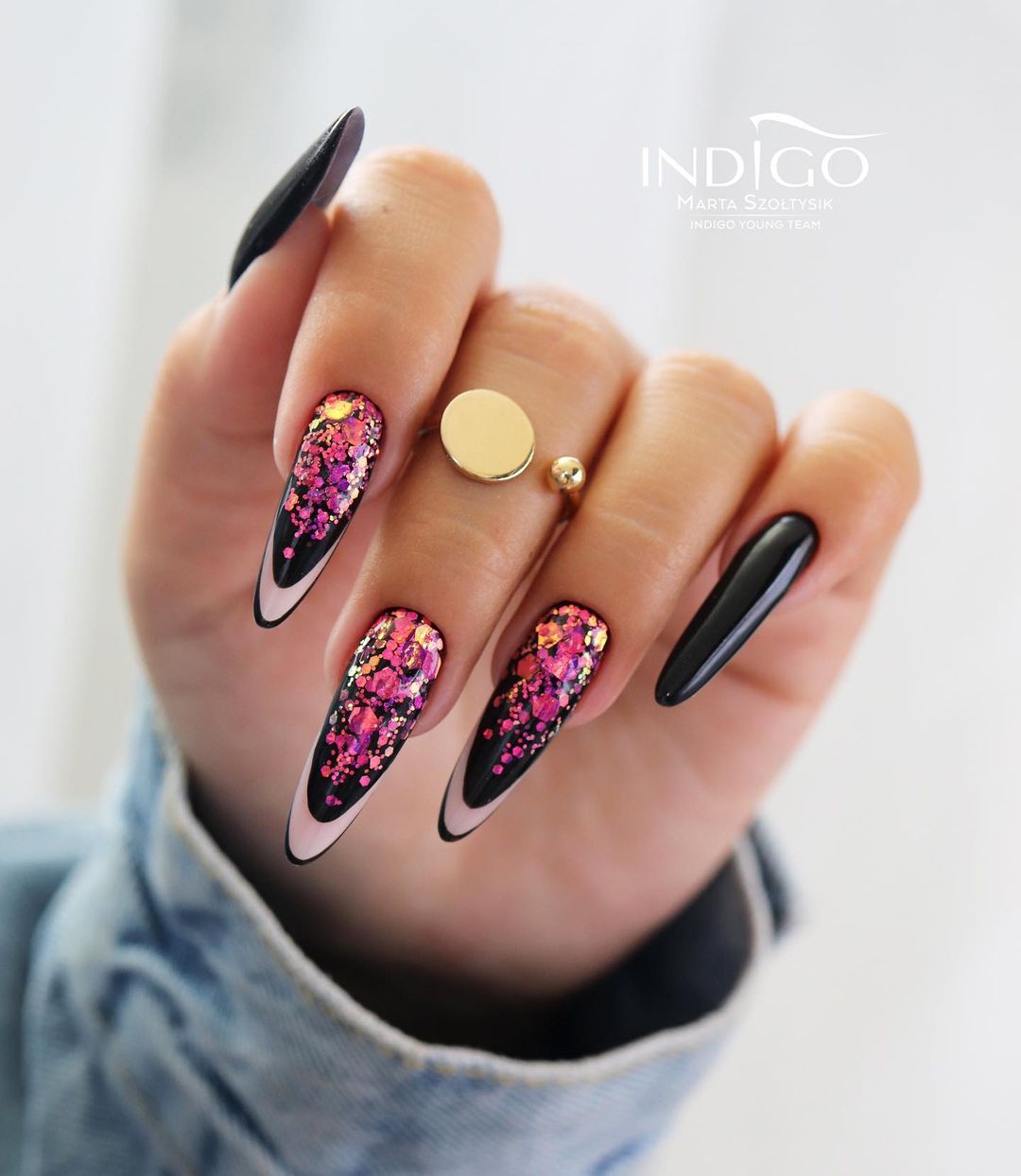 via @marcipazur
You can use transparent and colored gel polish on almond nails, do amazing french manicures, and constantly choose different designs.
Ombre looks especially beautiful on long nails of this form. See for yourself by making a manicure in saturated colors, for example, burgundy, blue, and purple.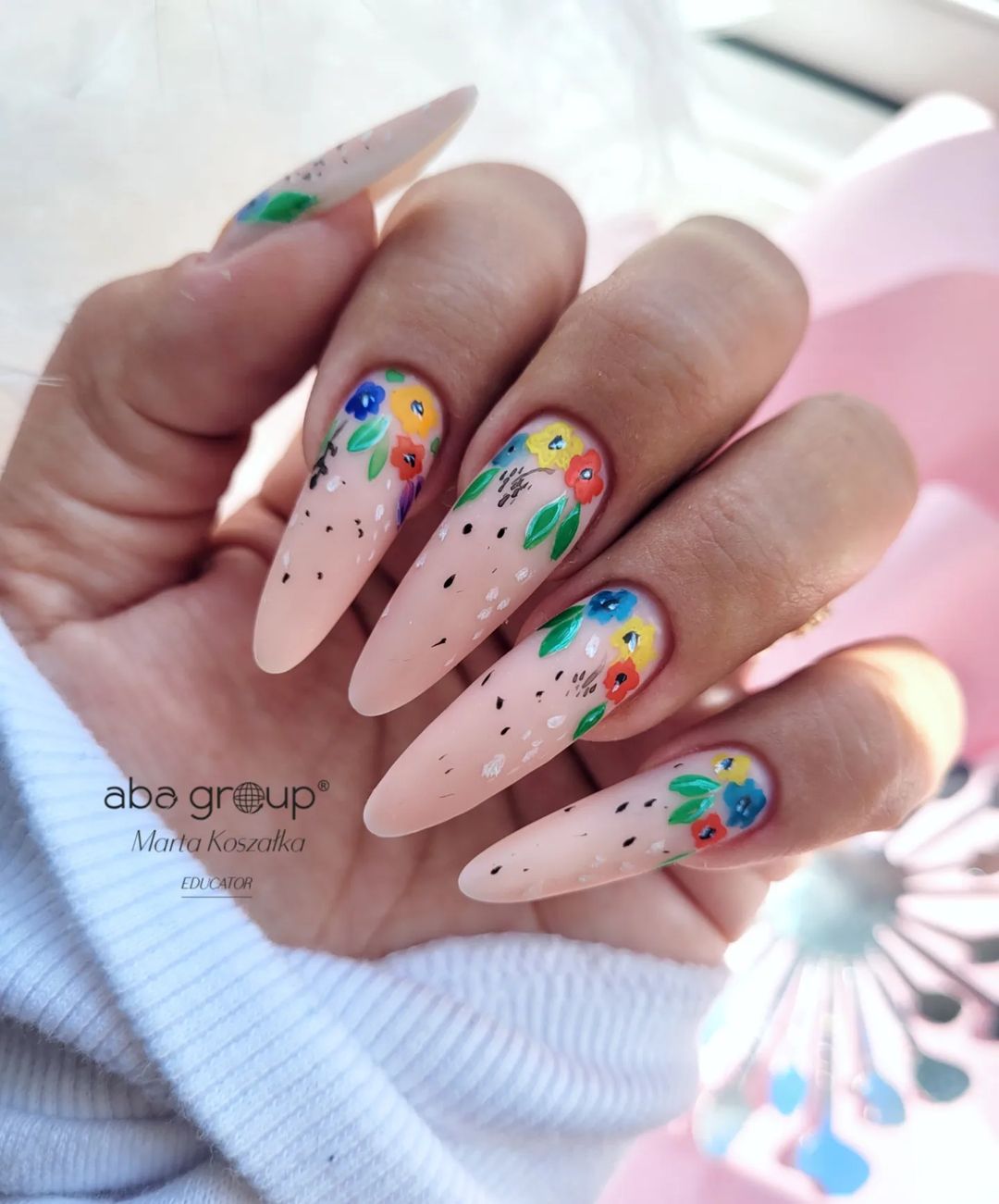 French Tips on Almond Nails
One of the frequent requests to the masters is almond french nails. They look as natural as possible and are especially popular among girls who prefer a business style.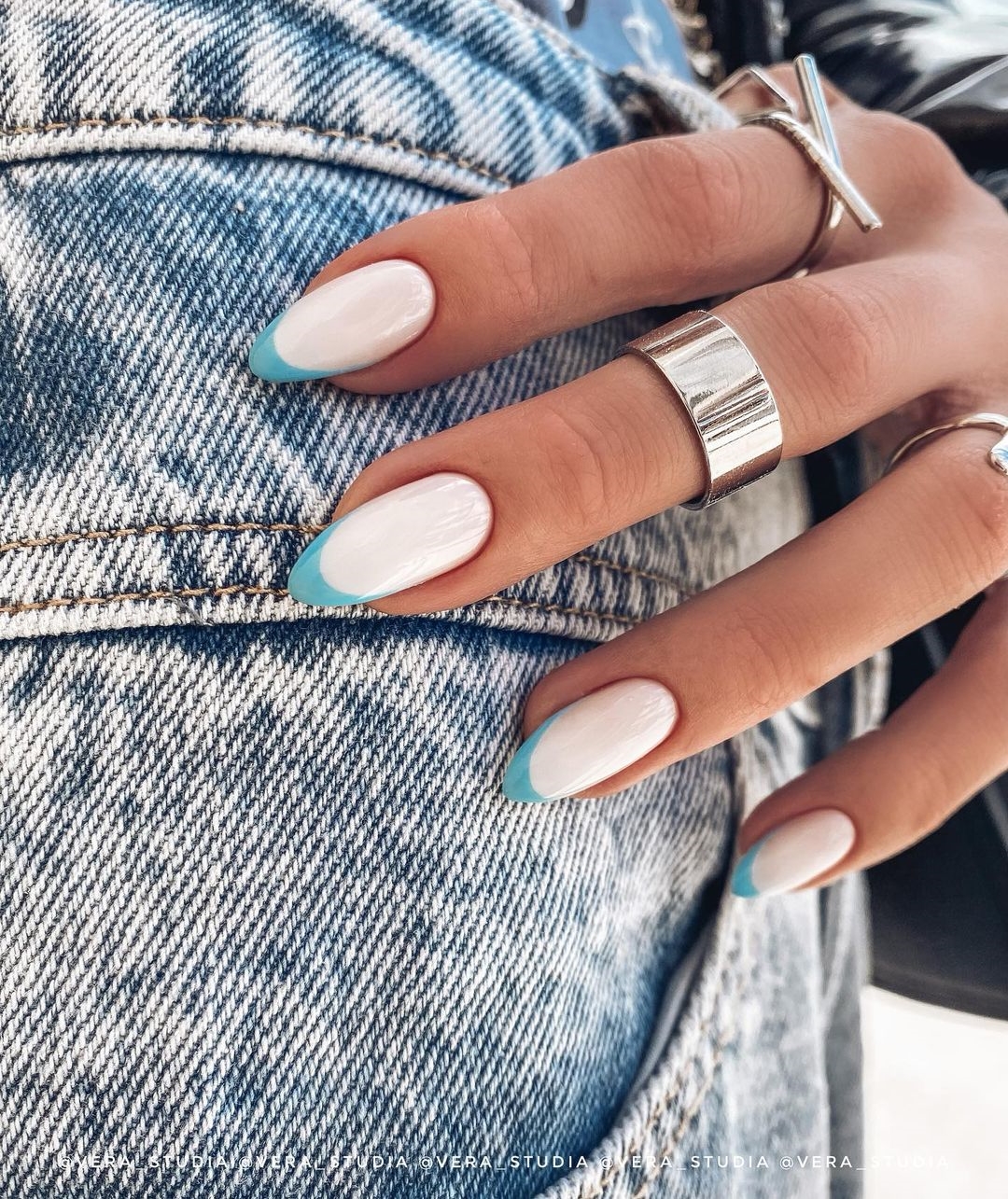 via @vera_studia
Classic french mani on almond nails have a clear, beige, or pink base and white tips. But this is far from the only option!
Do you want to stand out from the crowd? Make contrasting french tip almond nails. They are not as bright as a solid color coating, but they add an accent to the image. A sophisticated and rather bold option is the black french tip almond nails.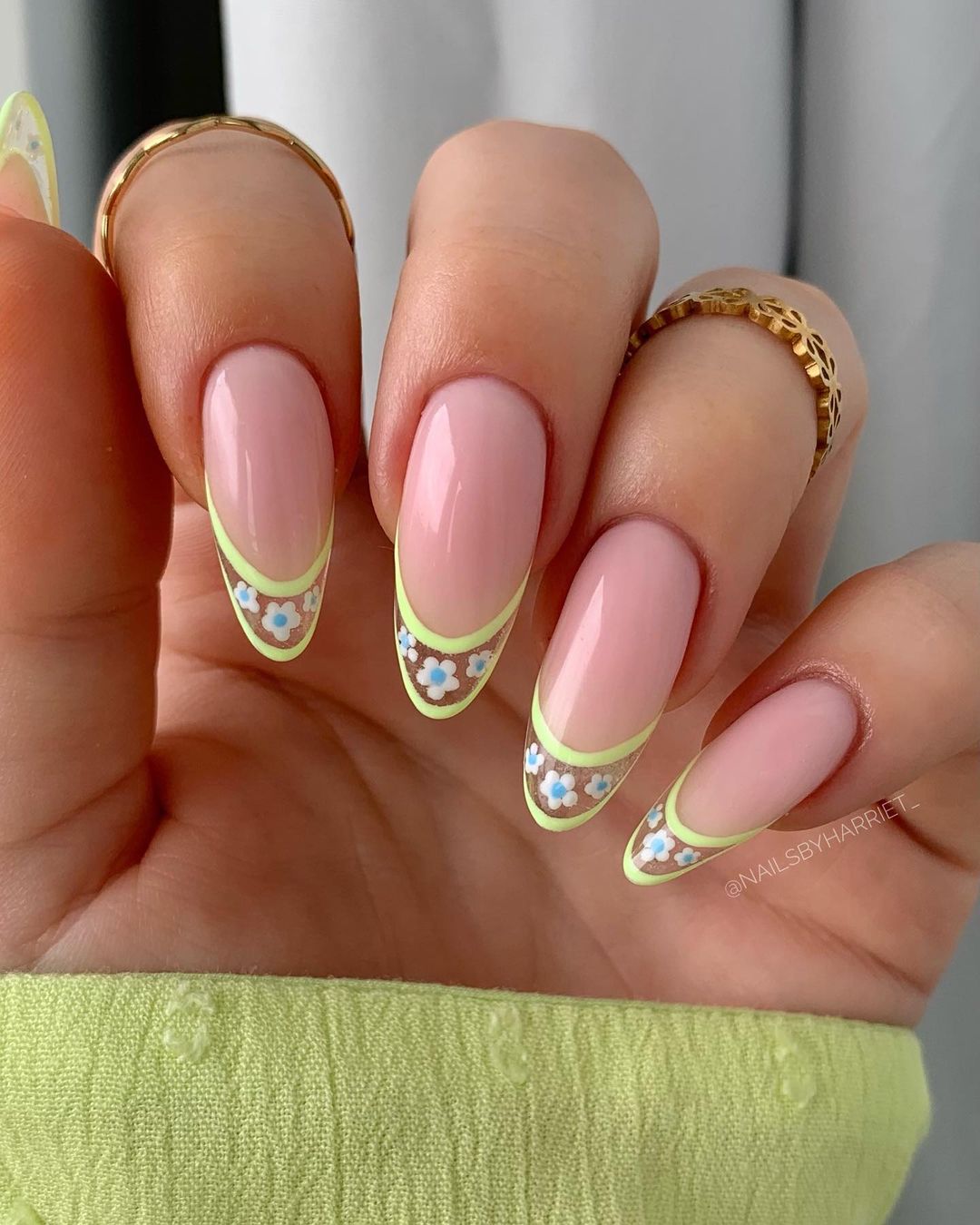 via @nailsbyharriet_
Nude Almond Nails
Looking for the classic look of your next manicure? Stop at pastel color nail polish.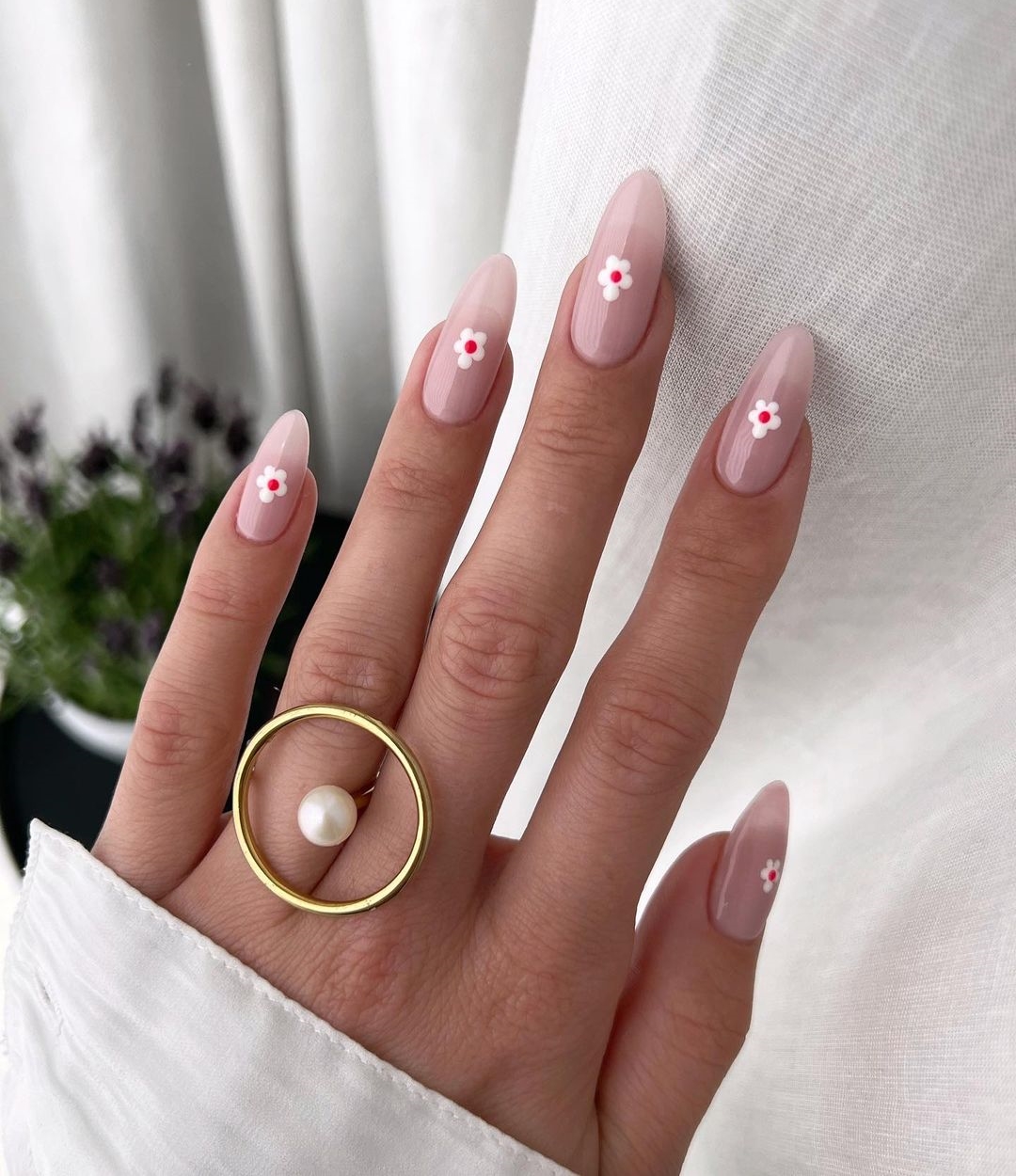 via @majamarkowicz
Minimalistic natural design is perfect for university, office, and celebrations. In addition, concise nude nails without decor can be done very quickly.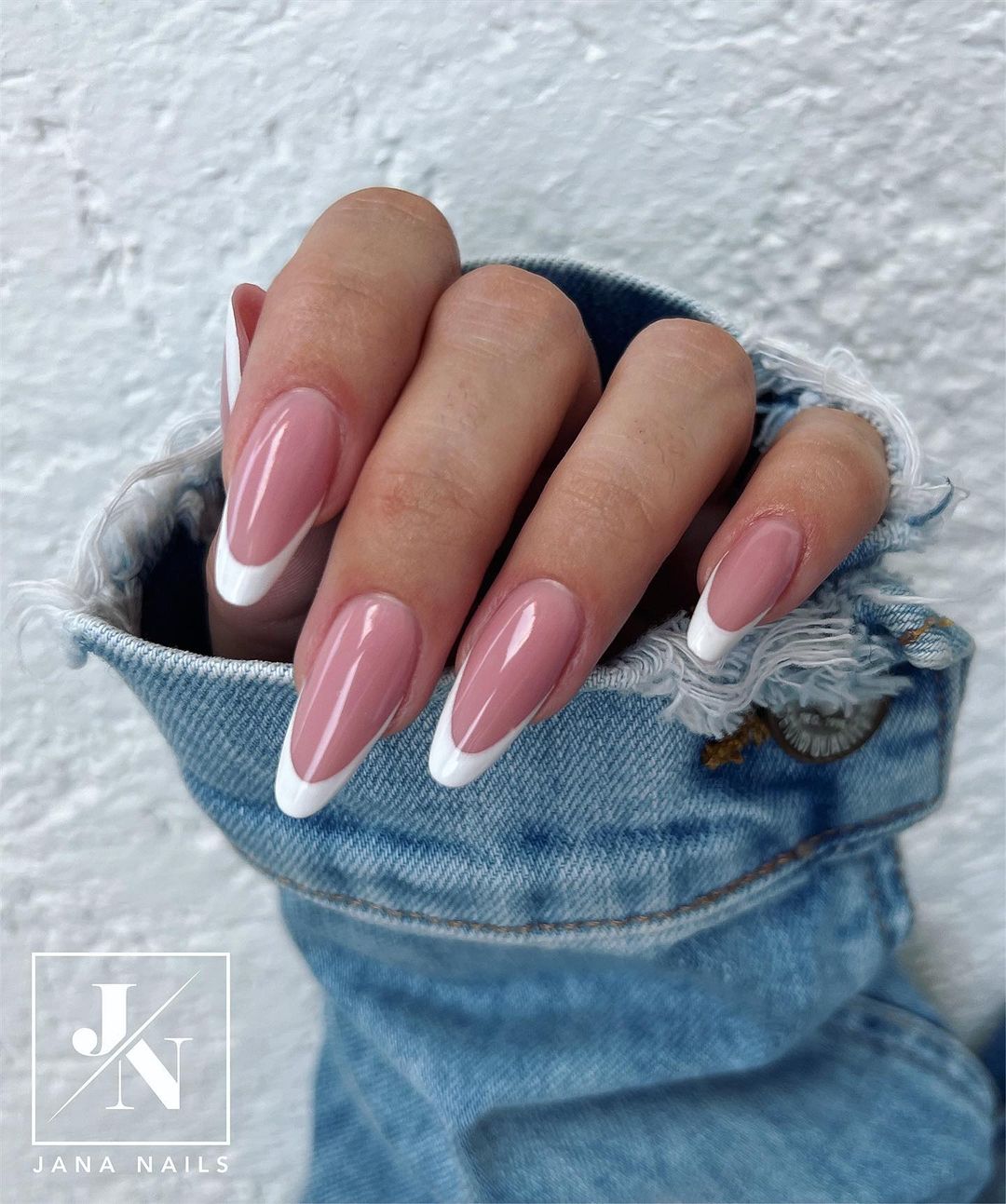 Pink Almond Nails
Do you like to feel like the center of attention? Then don't miss the chance to make long nails with pink polish.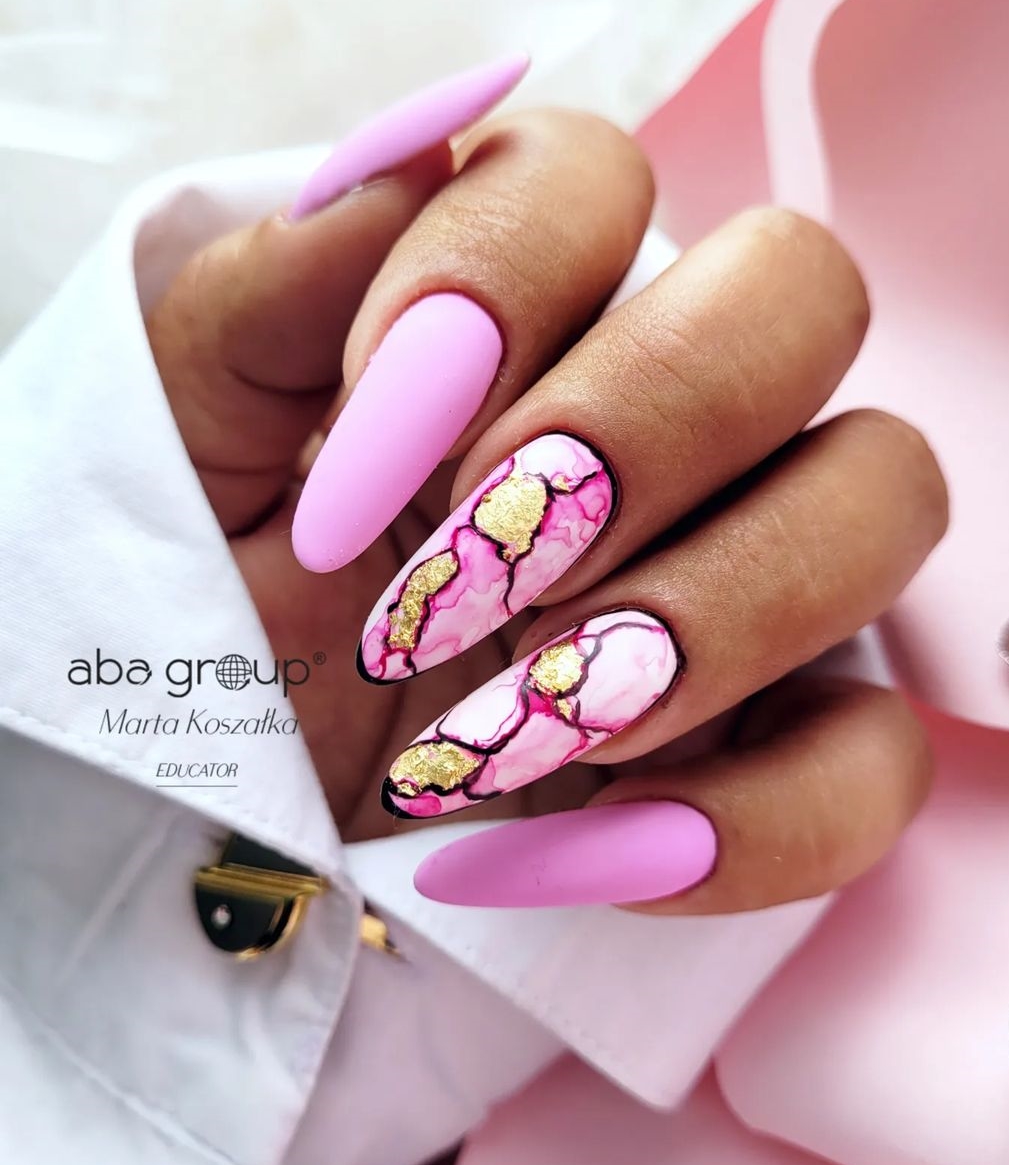 Such a manicure belongs to the trends of 2022. Remember that almond pink nails can be done in different shades. For a bold and vibrant look, opt for a rich raspberry or fuchsia finish. To emphasize femininity and airiness, ask the master to make light pink almond nails.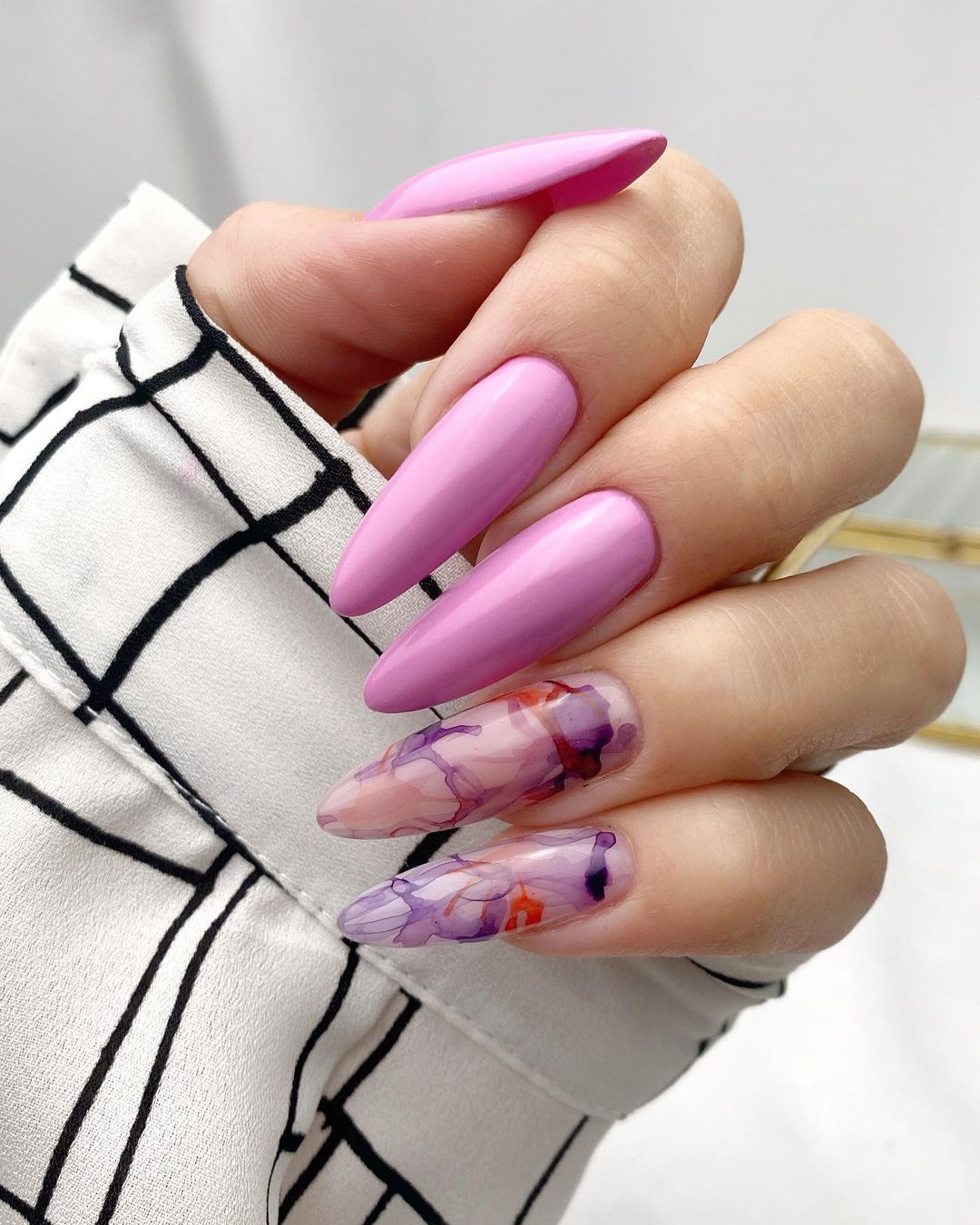 via @anetaujwary
Summer Almond Nails
What are the differences in summer manicures? They are contrasting and refreshing. Any design will look attractive on almond shaped nails!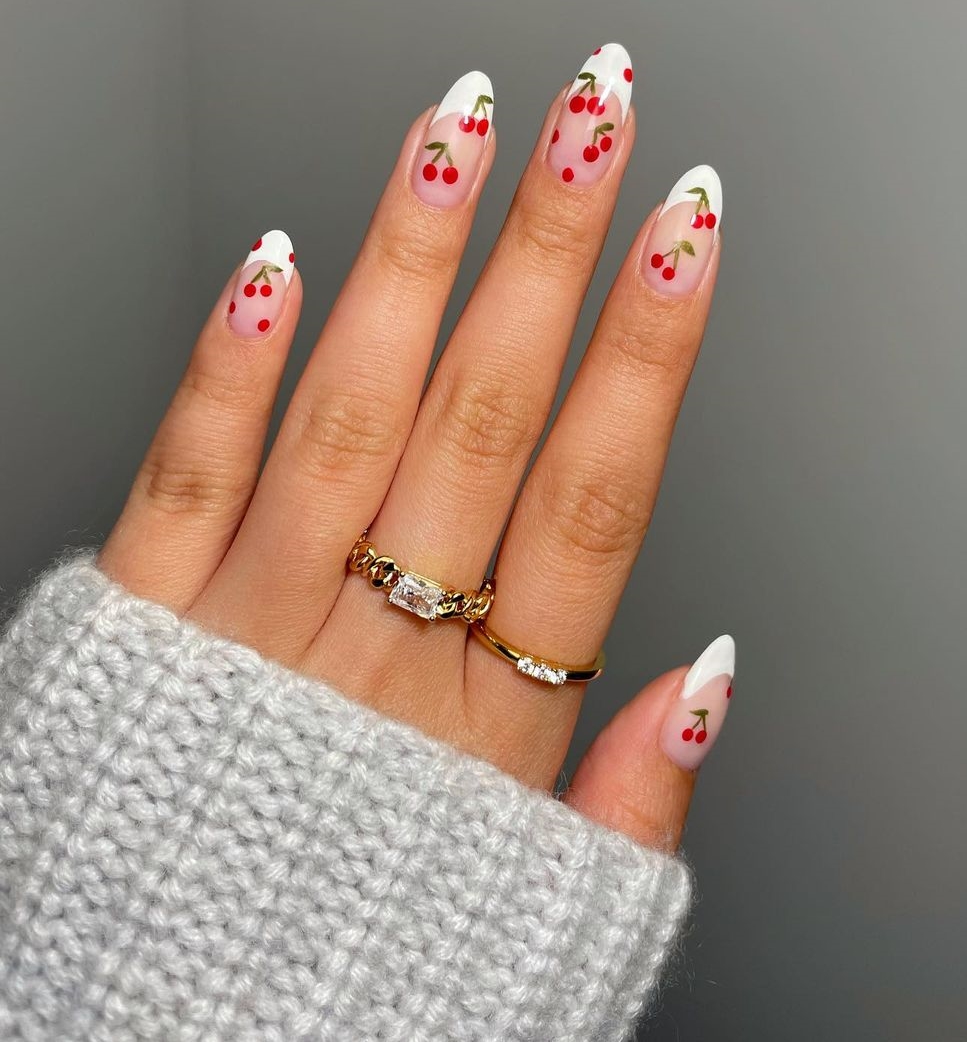 via @bycheznails
How are stylists and nail technicians ready to surprise in the summer season? On the top are bright nails of yellow, pink, green, blue, and lilac colors. They can be both plain and decorated with different elements.
The simplest designs include almond nails with glitter. This coating is easy to apply, and it bewitchingly shimmers in the sun.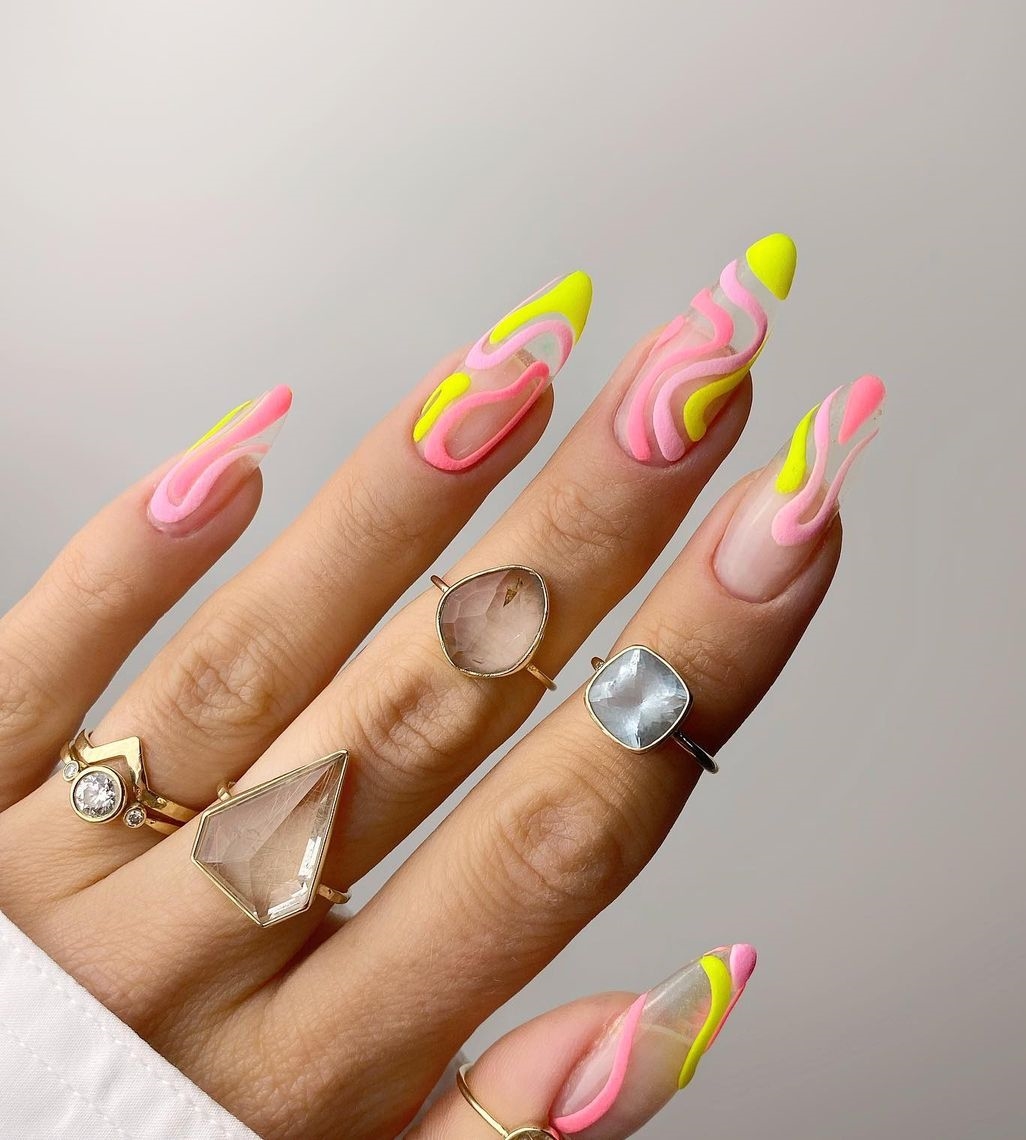 via @anetaujwary
Red Almond Nails
Love red nail designs? The almond shape allows you to experiment with this vibrant color in different ways!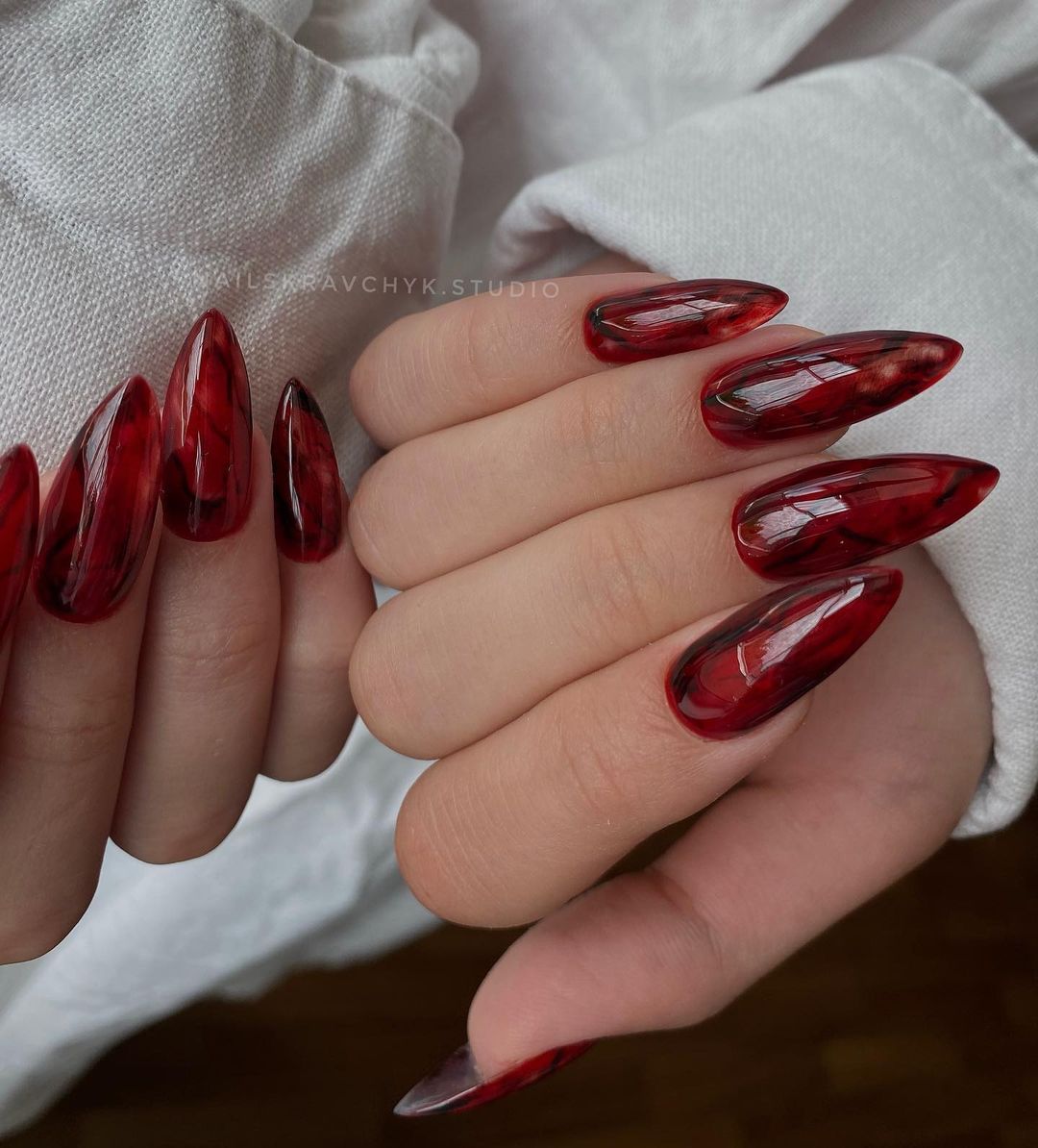 Classic bloody or scarlet tones will perfectly complement the image of a fatal beauty. For everyday life, you can choose more calm shades of almond red nails.
Try French manicure color variations. You can add pastel classy almond nails with red tips.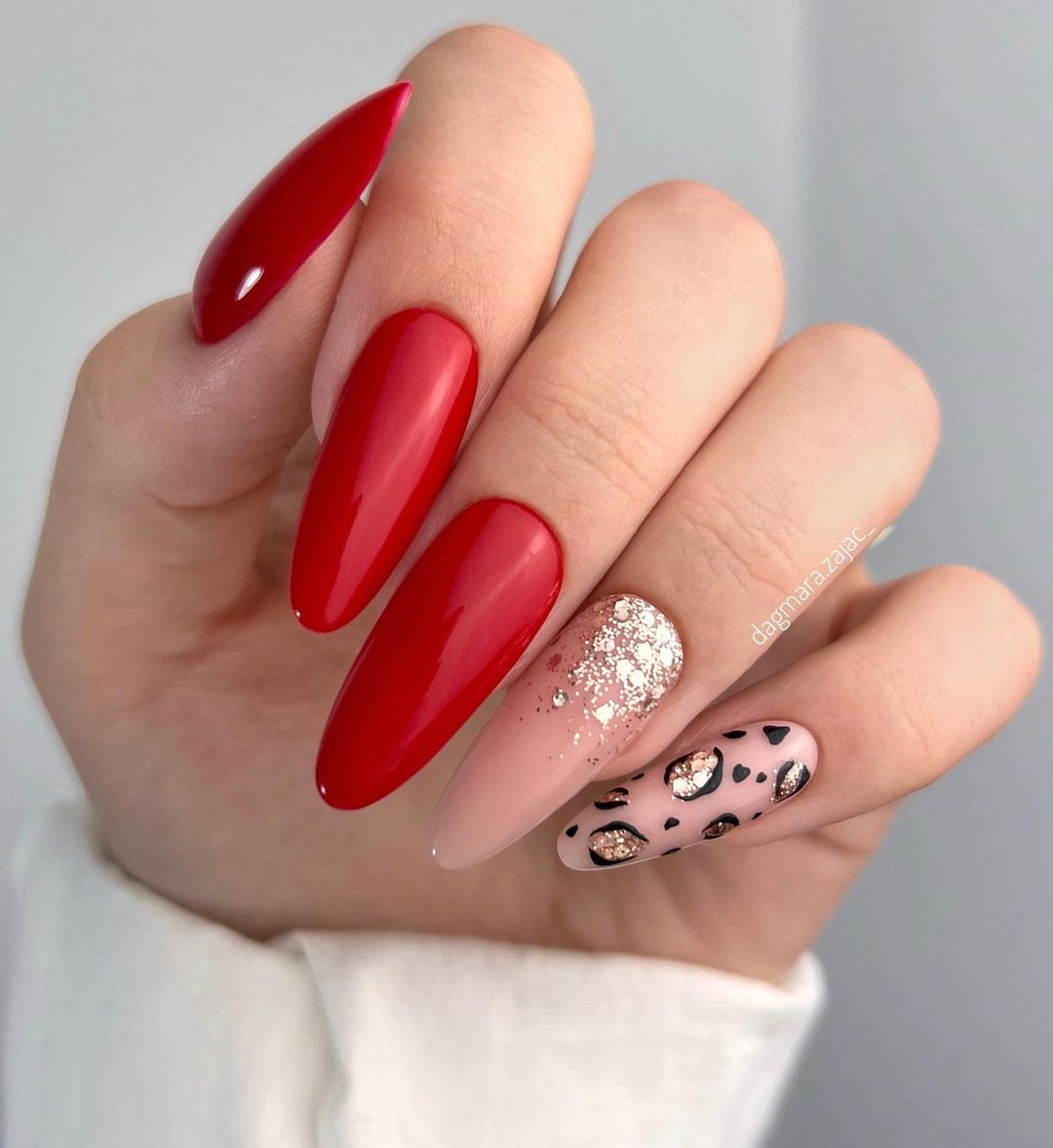 via @dagmara.zajac_
Ombre Almond Nails
Created by a professional, two tone ombre almond nails are a harmonious addition to an elegant look. The smoothness of the transition between shades fascinates everyone.
via @bycheznails
What classic ombre nail ideas remain the leaders this season? Pastel designs, deep shades of blue and purple, and neon colors are all the rage. Another versatile type is almond nails french ombre.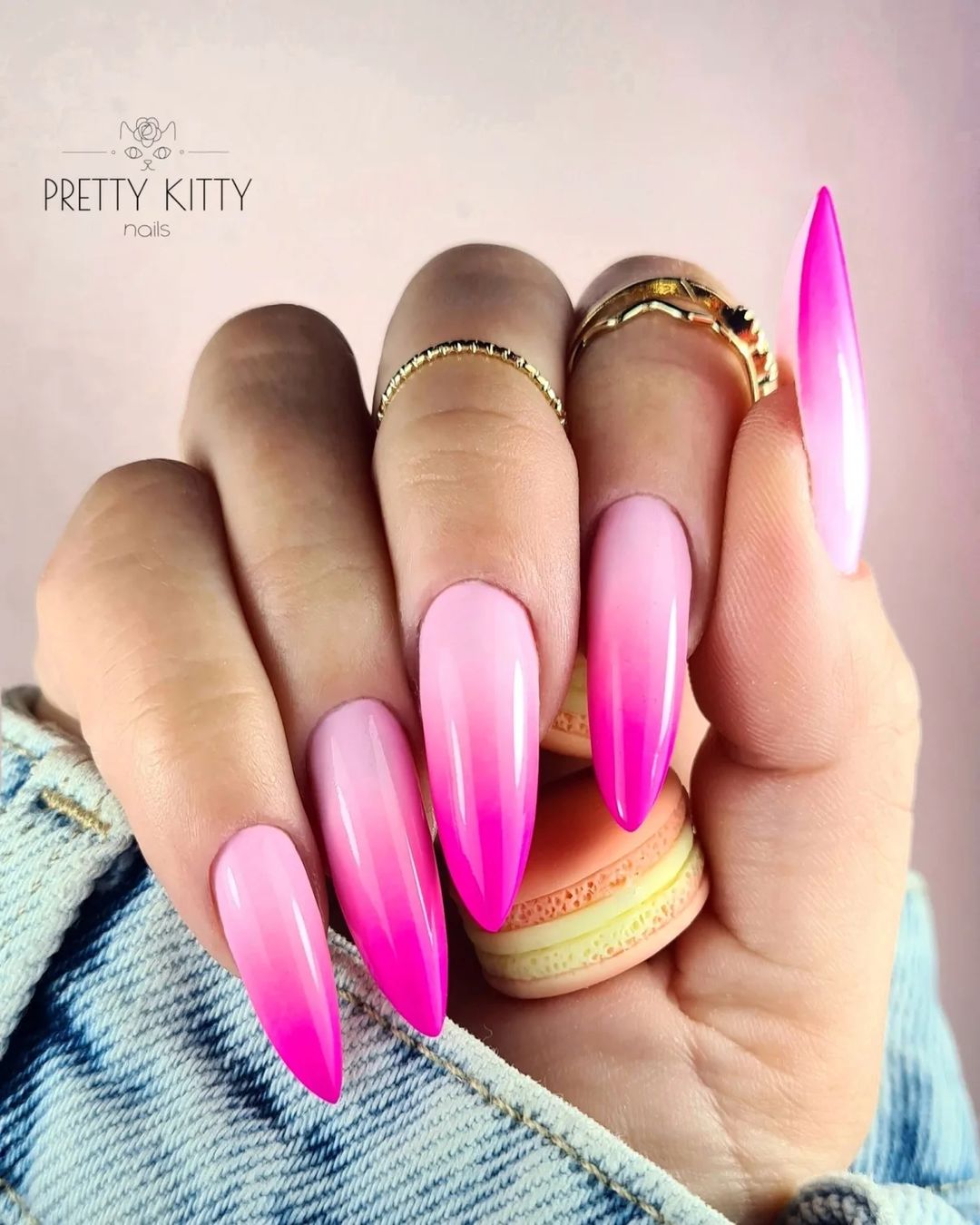 Fall Almond Nails
What is the best way to decorate natural nails in the coming autumn season? We suggest you choose classic shades for this time of year — burgundy, brown, orange, dark green, wine, and purple.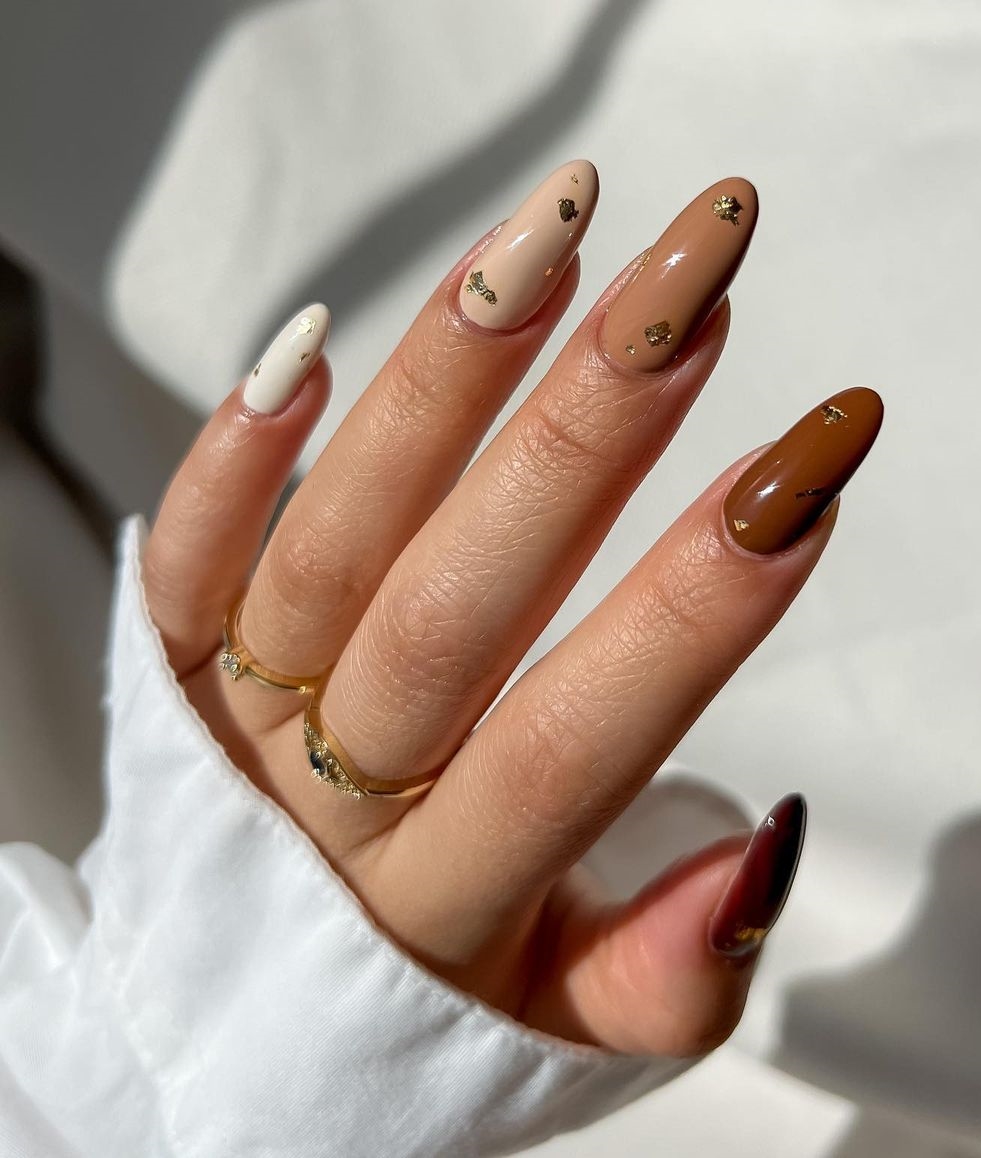 via @mydumbnails
Such warming fall almond nails look spectacular both with a plain coating and with decor. Combine colors with each other and add sparkles, abstract ornaments, and themed images. So, fall nail designs often include leaves, pumpkins, and animal prints.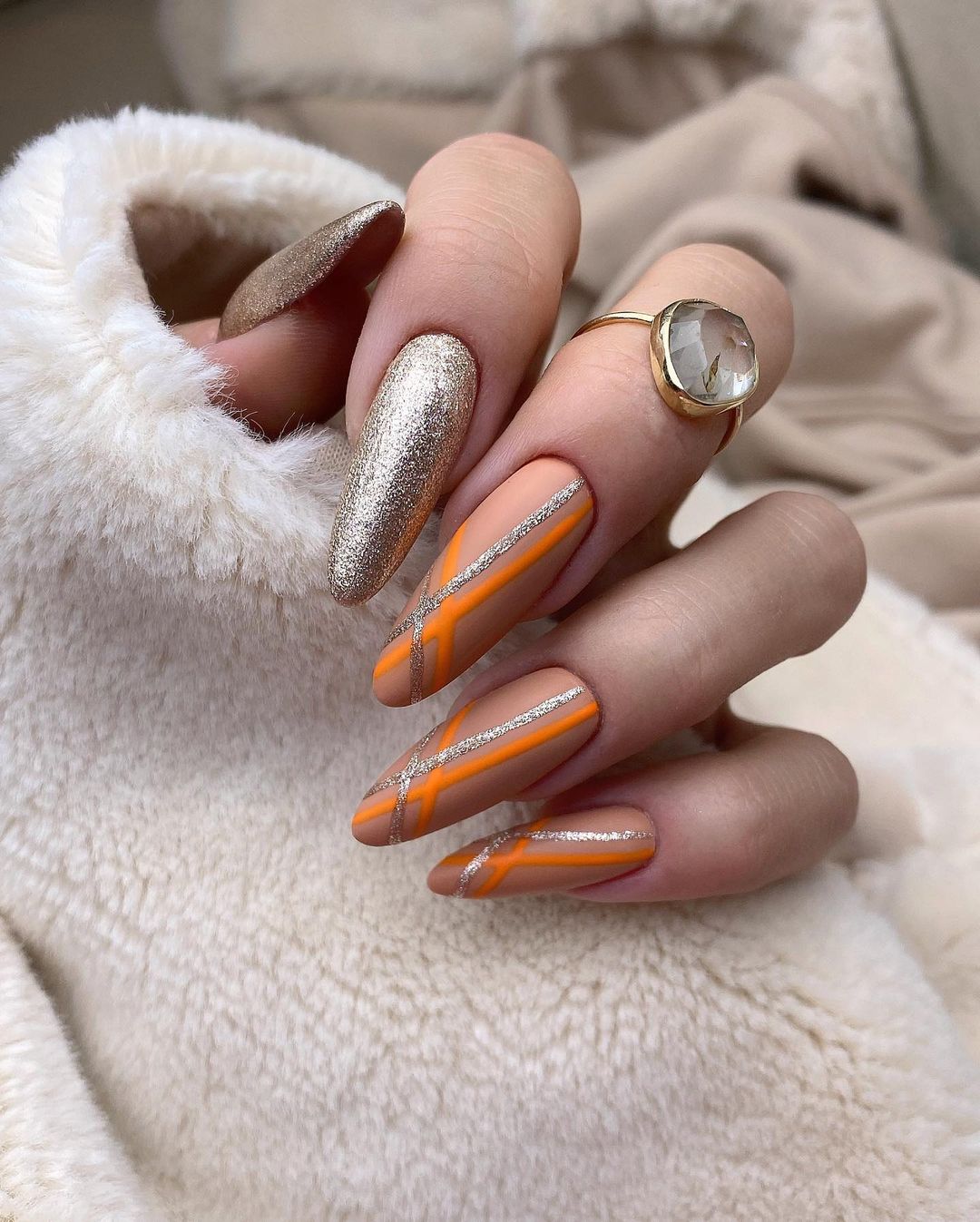 via @anetaujwary
Medium Length Almond Nails
Prefer medium almond nails? This is a great base for different designs depending on the time of year and events!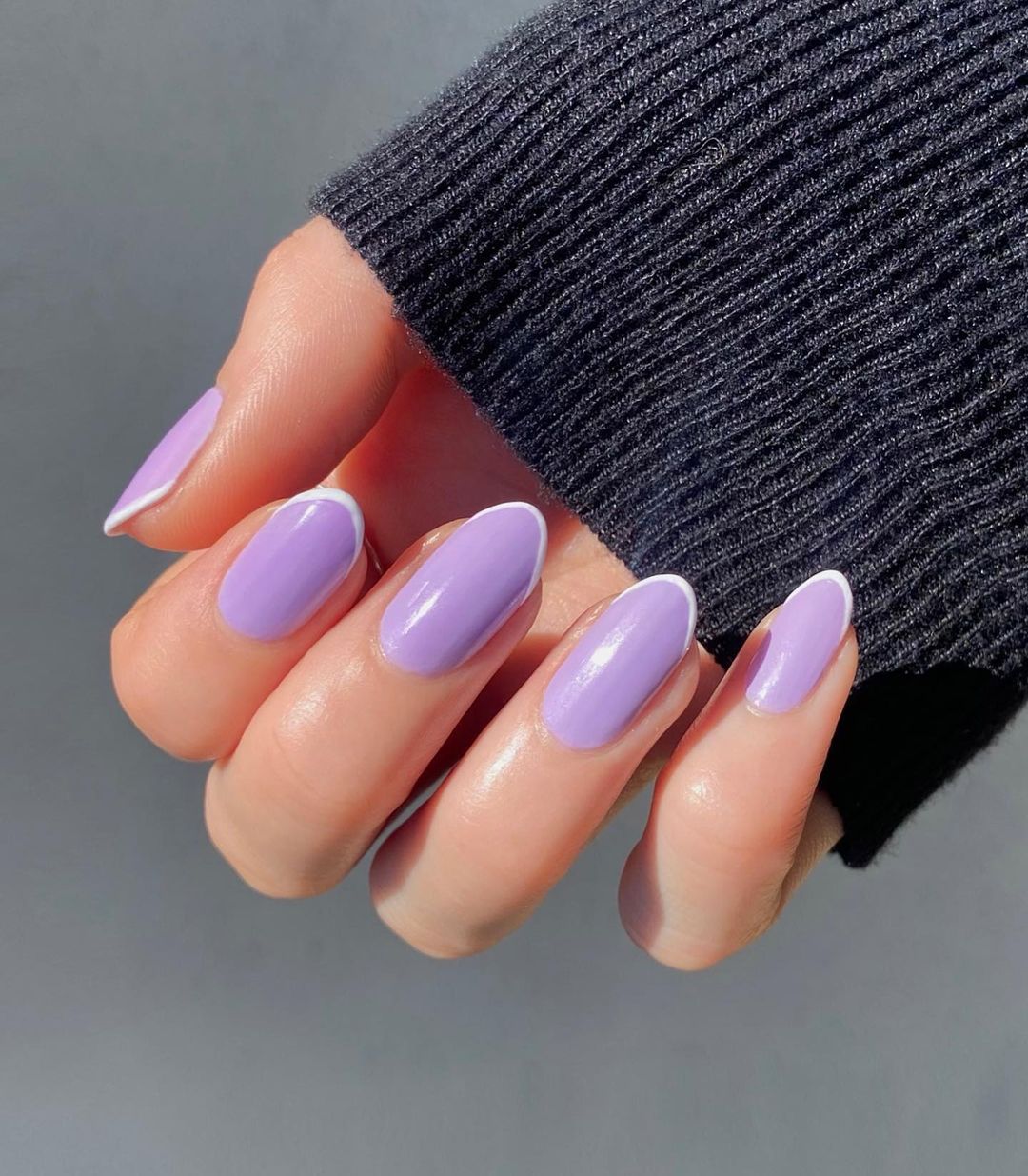 via @melly.k.nails
Pastel classy almond manicure looks stylish on medium length in everyday life, at business meetings, and celebrations.
For parties, you can choose colors and decor brighter. Eye catching almond nail designs will add femininity to the look and 100% will not be left without attention.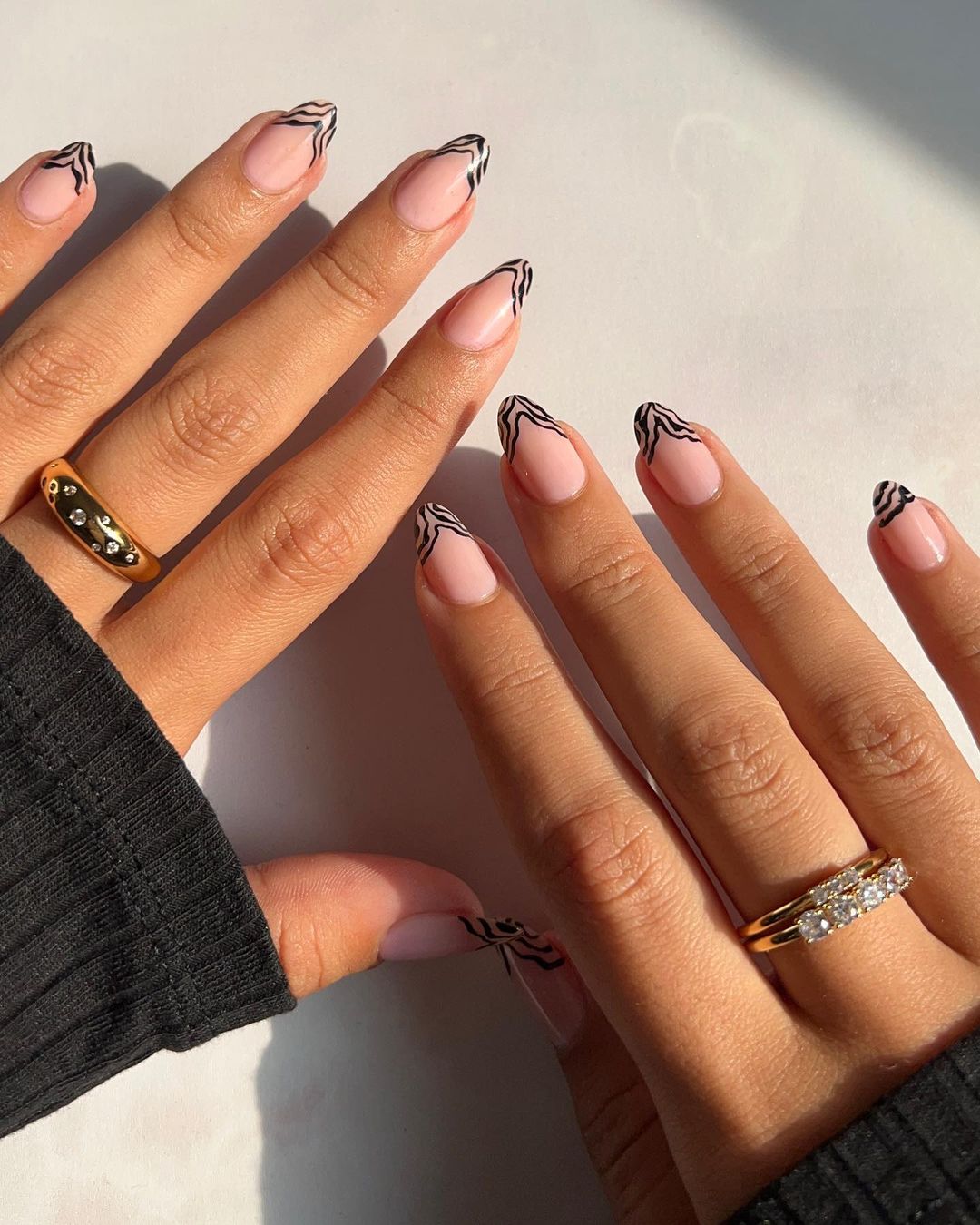 via @samrosenails
Almond Press on Nails
One of the most common ways to get a professional manicure at home is to press on nails. You can choose any length and shape to feel confident.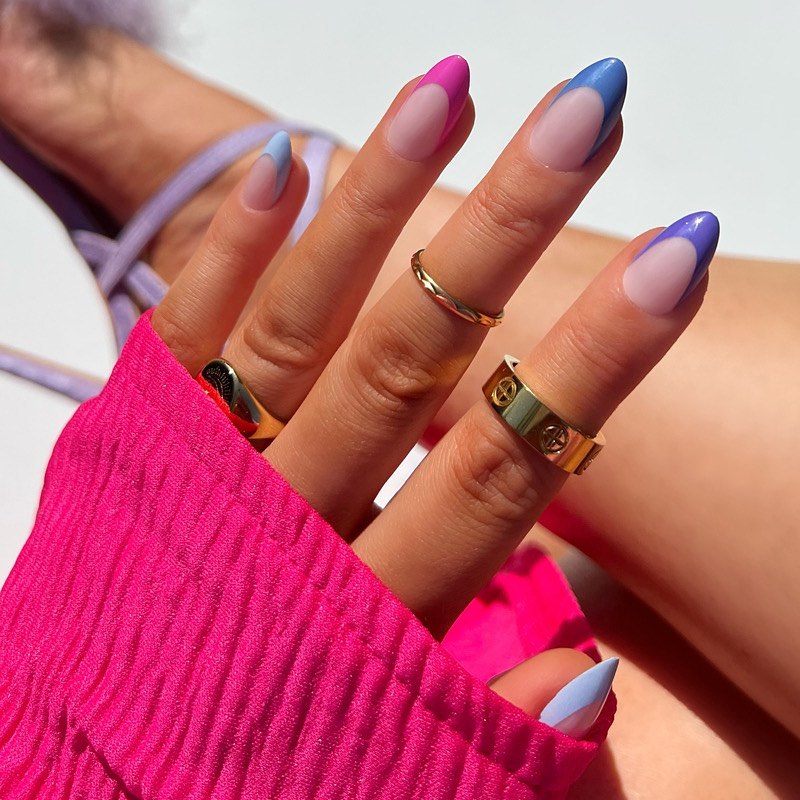 via @kiaraskynails
Durable almond-shaped acrylic nails are not only plain. There are many ways to decorate the surface and emphasize individuality. It can be either a press on the accent nail or the decor of all fingers.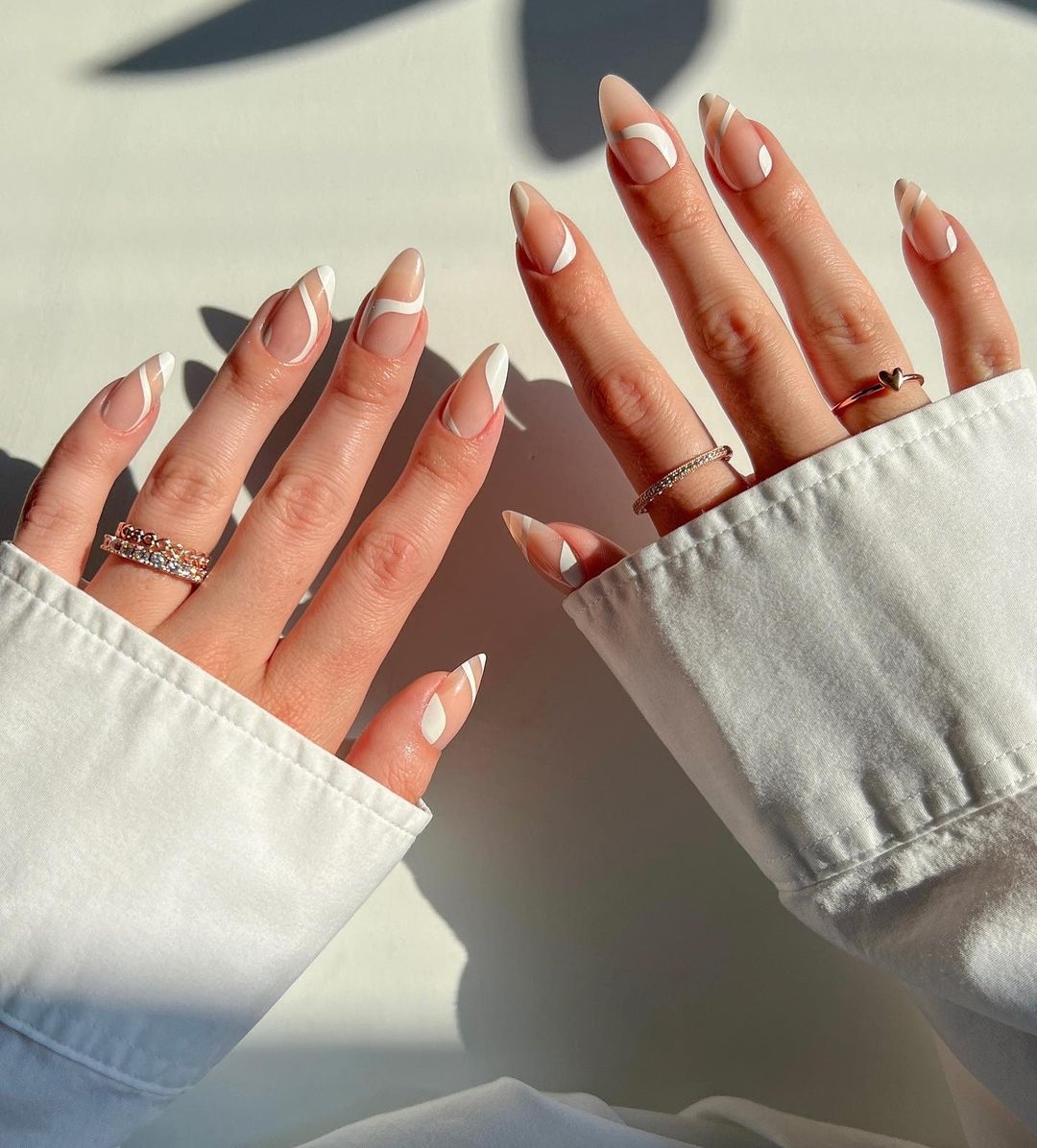 via @pop_polished
Brown Almond Nails
Do you want something unusual? Try brown nails.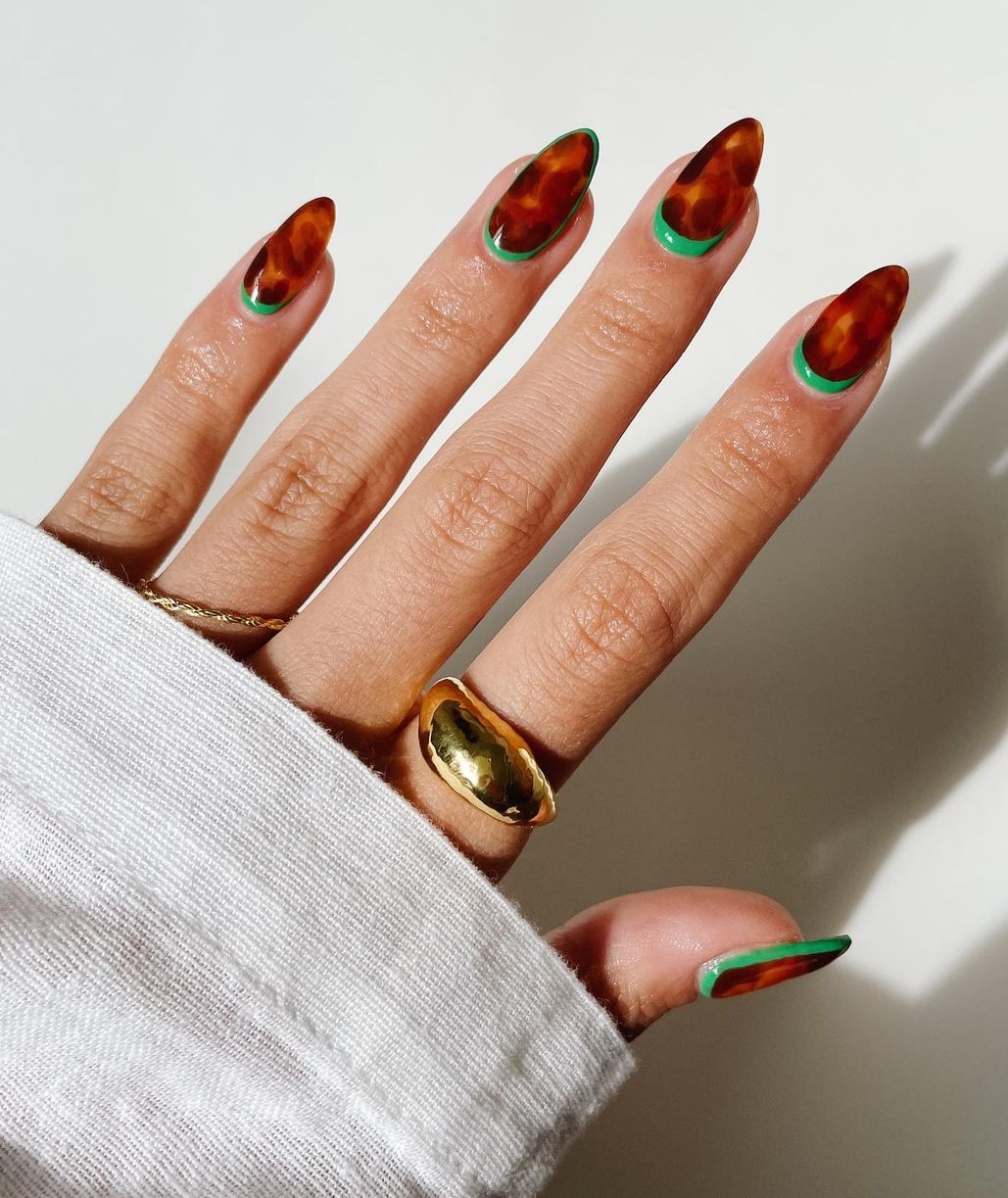 Among a large number of warm and cold shades, you will definitely choose the right one. An interesting design for almond shaped nails is a delicate coffee color that adds coziness in autumn and winter.
Is it possible to experiment with brown manicures of different lengths? Yes. Such shades are suitable for long and short almond nails.
via @nailsby_tracy
Natural Almond Nails
The simple but sophisticated look of your mani is natural short almond nails.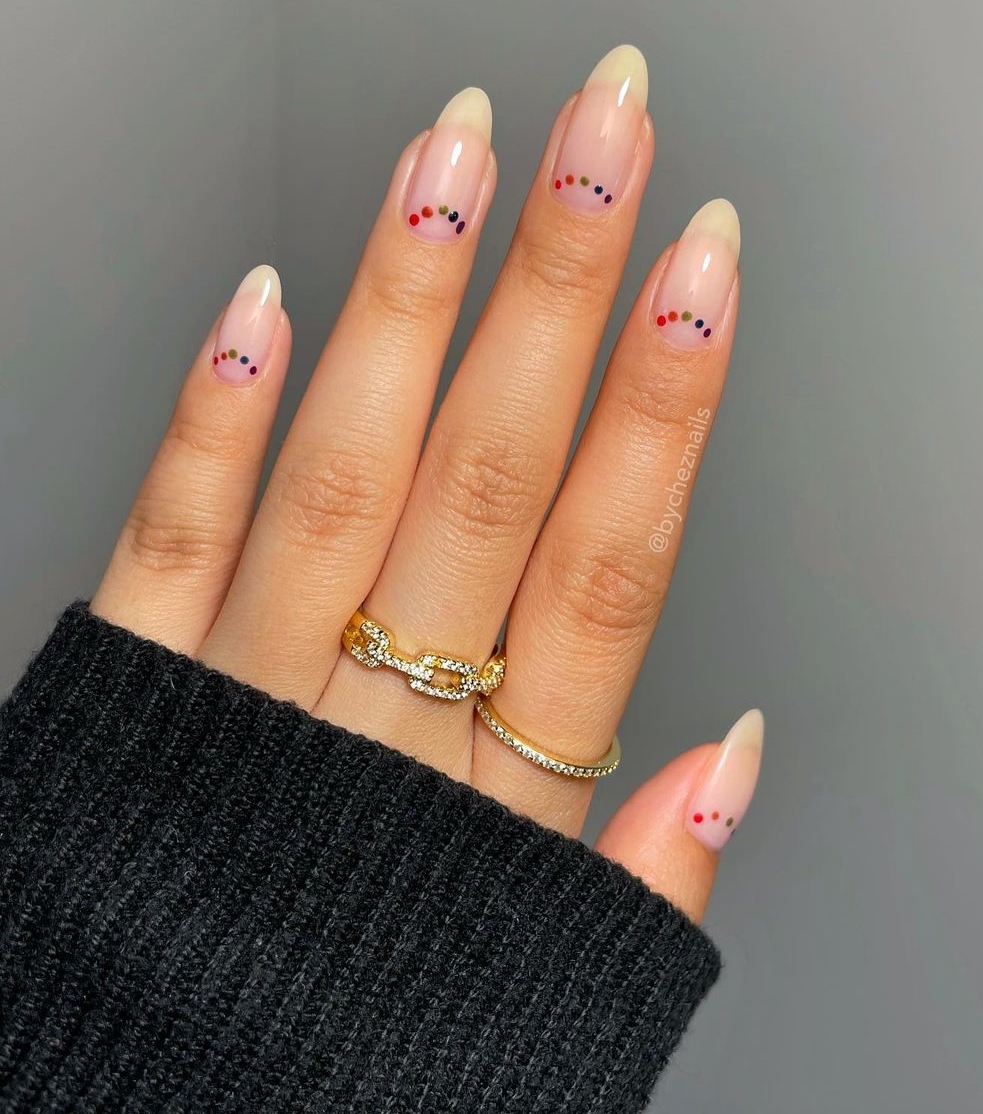 via @bycheznails
A neat shape with a transparent or light base looks appropriate in any setting. Are laconic accents allowed? Then, you should consider modern nail designs. This category includes minimalistic dots, thin lines, and small sparkles.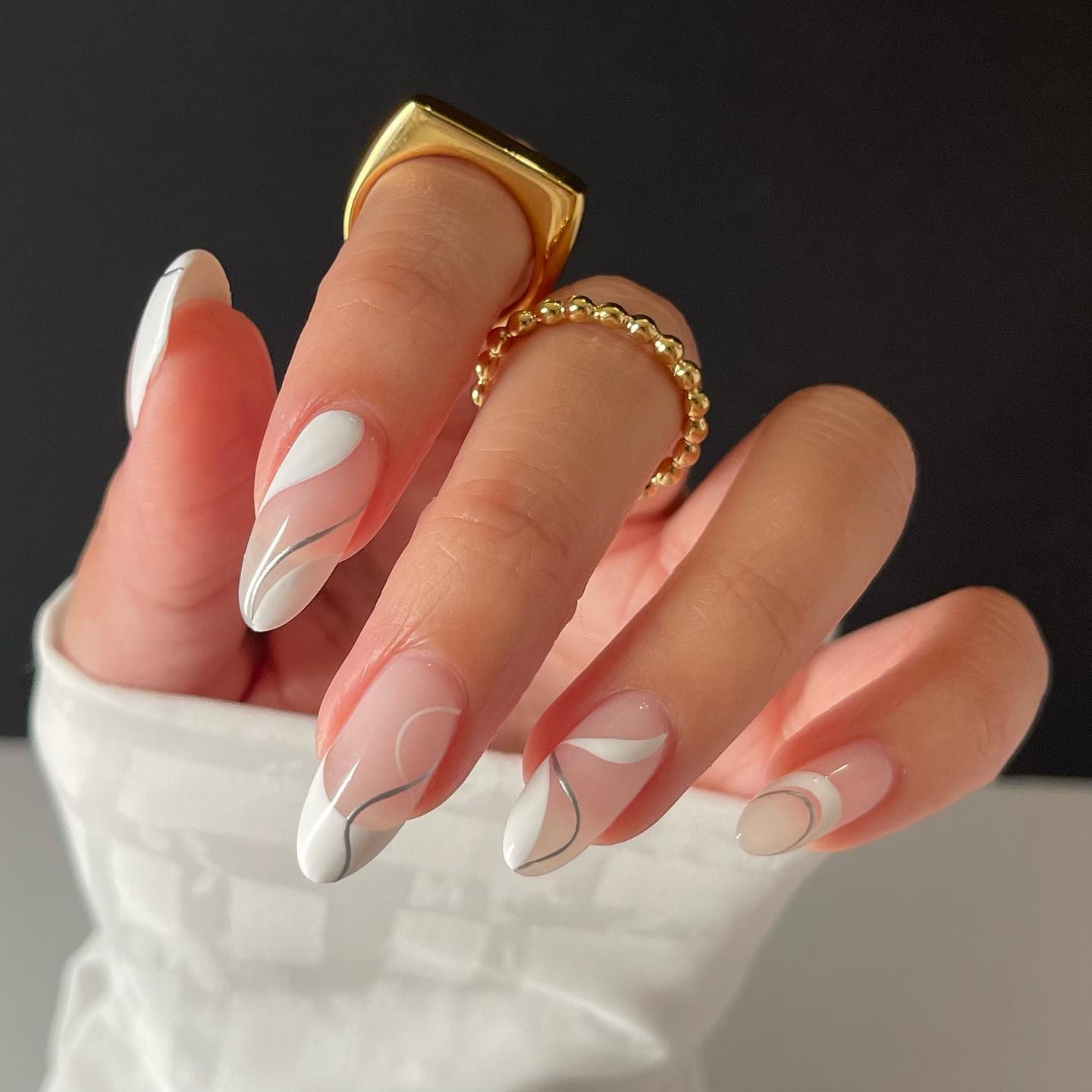 via @nailswithaby
Blue Almond-Shaped Nails
Daring beauties will not pass by trendy almond nail designs with blue polish! Do you want to surprise others? Choose a rich blue fluorescent manicure.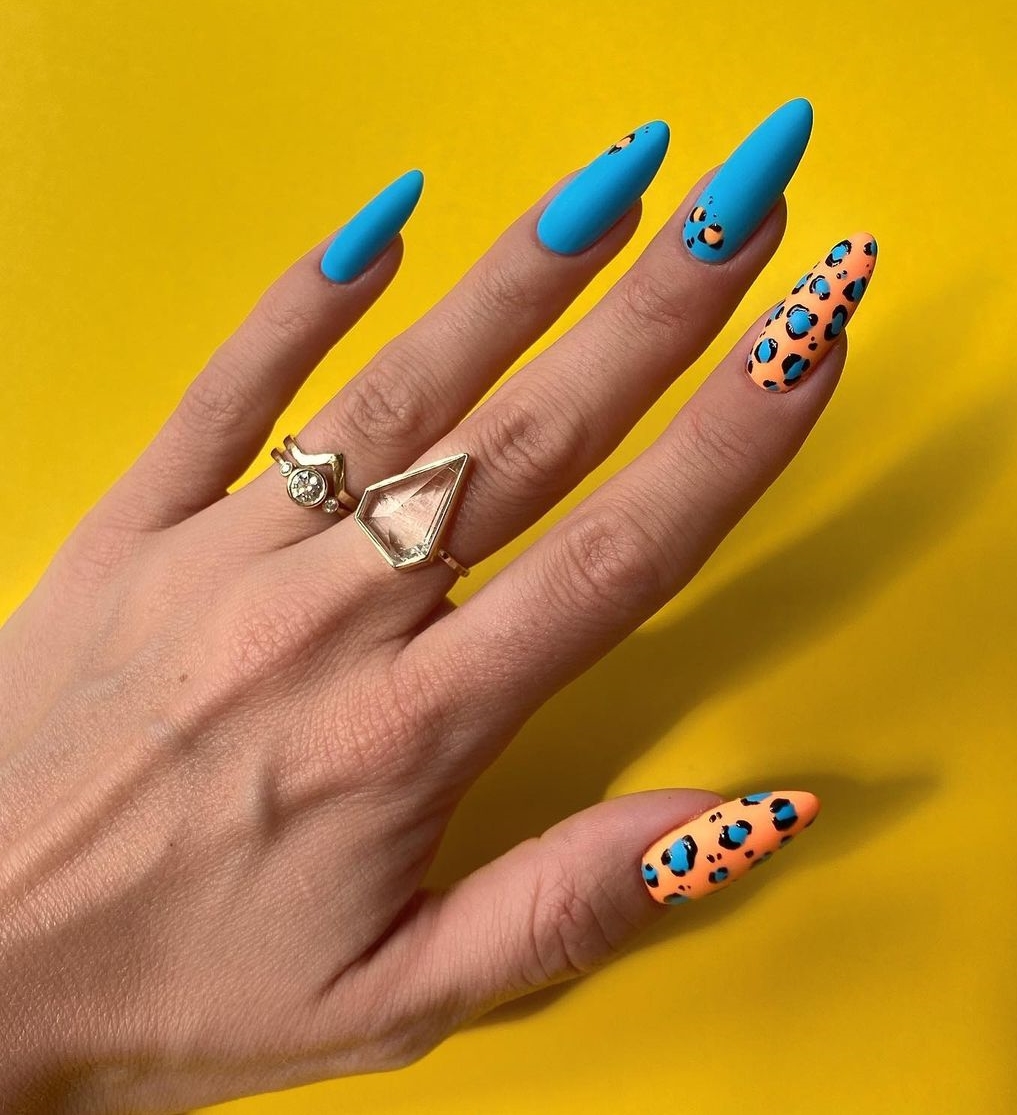 via @anetaujwary
To create calmer designs, light and muted shades are used, as well as the ombre technique. Gentle overflows allow you to achieve a cute almond manicure with any nail length.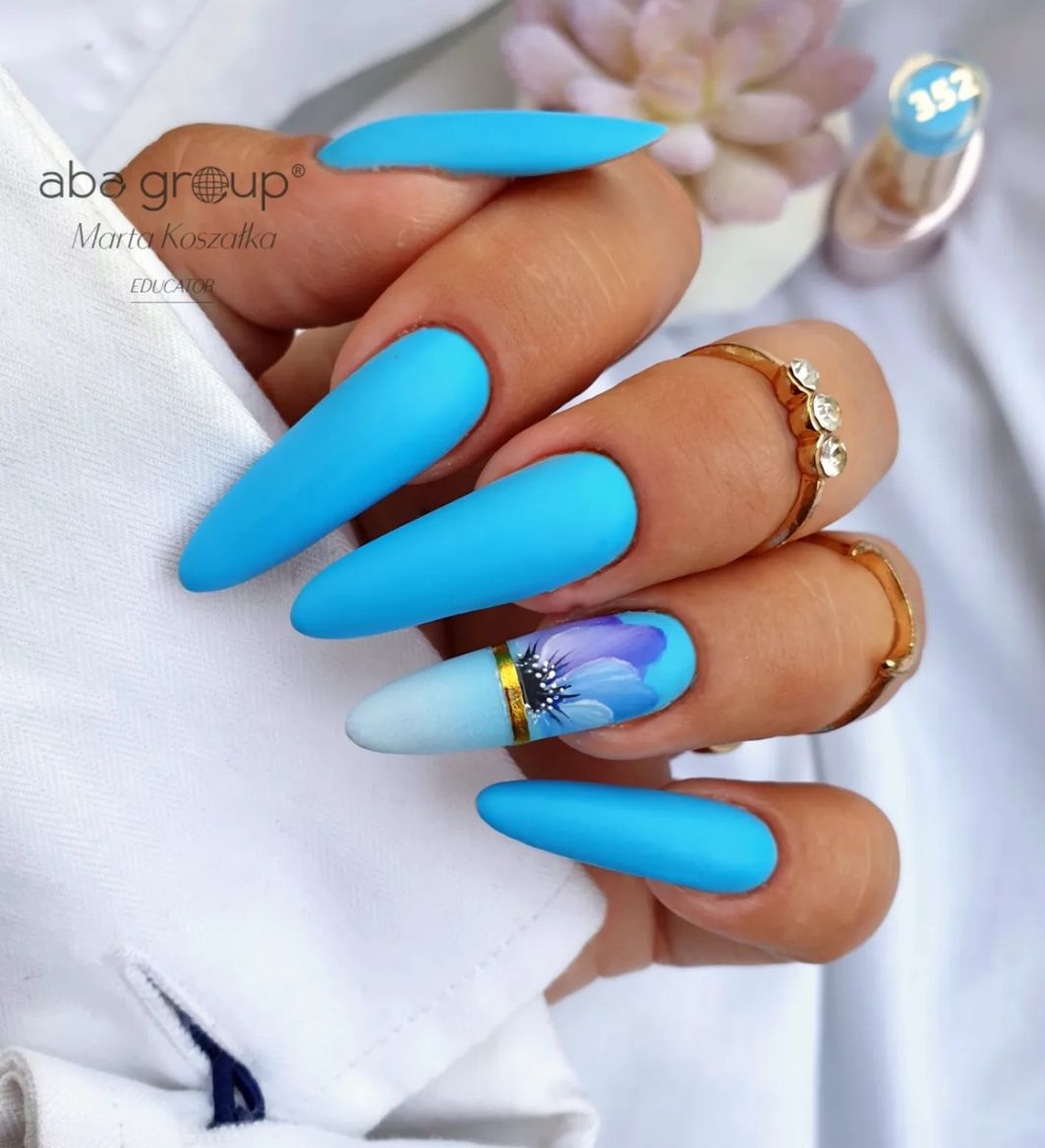 Green Almond Mani
How to feel like a princess or a forest witch? Choose green almond nails with a unique design!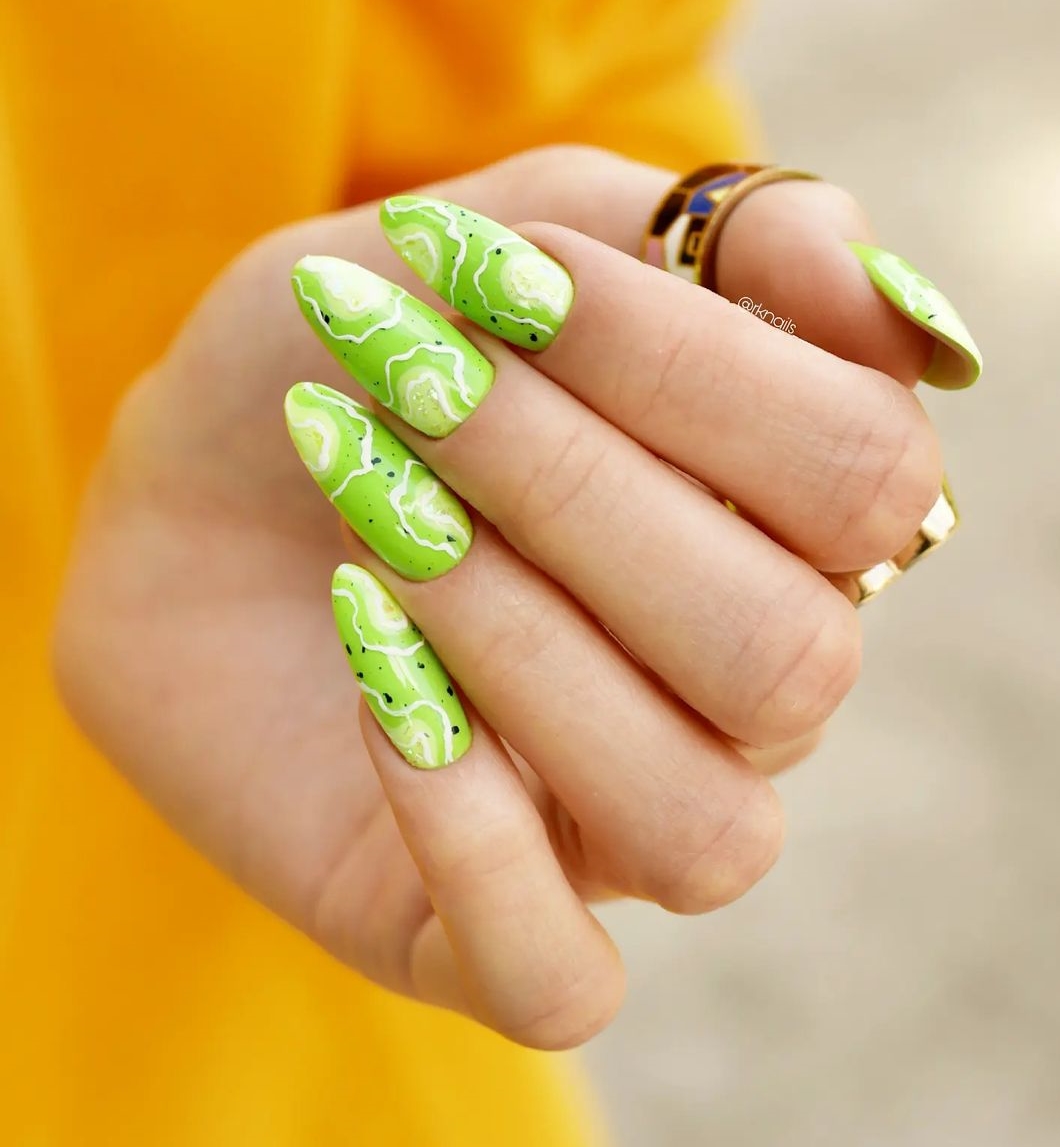 via @rknails___
The royal emerald hue leaves no one indifferent. Such a green nail polish with a glossy finish can drive more than one prince crazy! You can see more acrylic nail ideas for 2022-2023in the stylists' collections.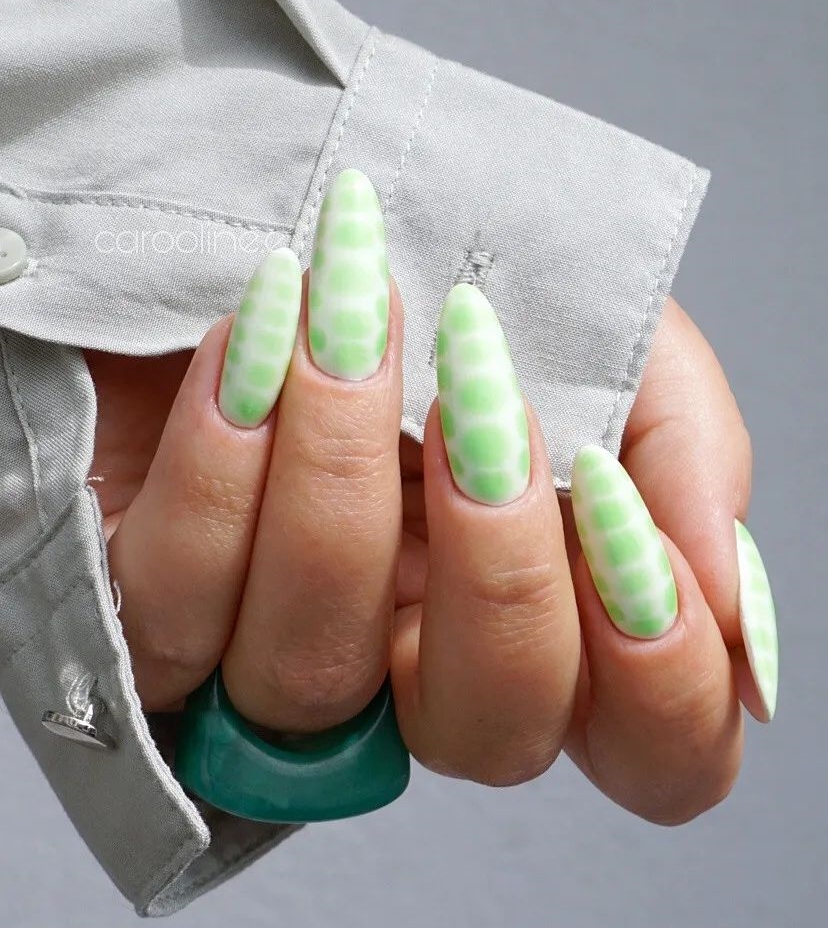 via @carooline.e
Matte Almond Nails
A win-win addition to the image is a manicure with a matte finish. Feel free to choose any color for the almond shape in this design!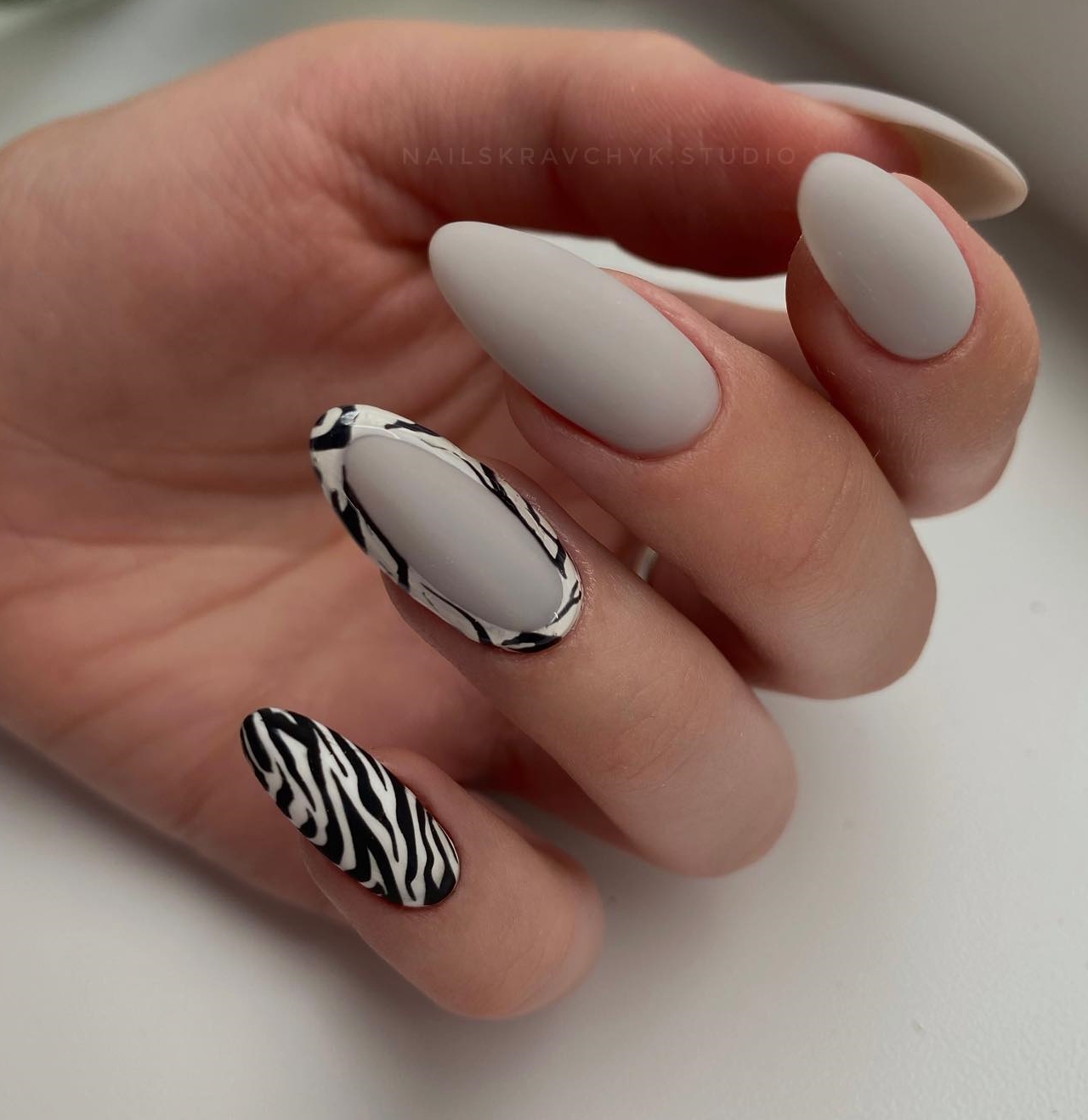 Pastel shades will become almost invisible, which is a priority for business women or doctors. For fans of bright designs, we can recommend matte black almond nails. You will definitely like the effect of velour coating!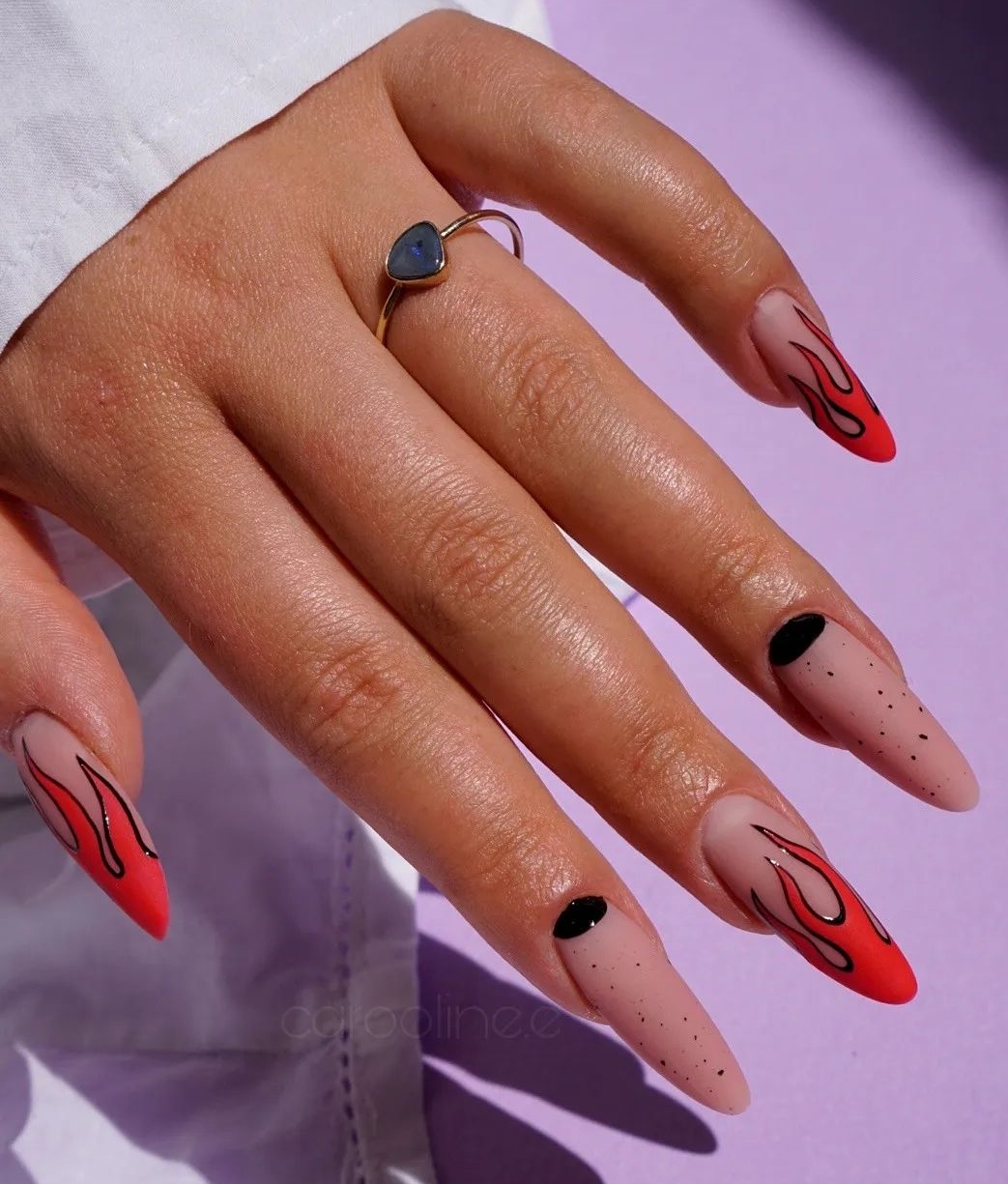 via @carooline.e
Purple Almond Nails
Choosing almond shape nails, you cannot resist bright colors. Are you ready to impress your colleagues and friends? On your next visit to the master, make purple nails!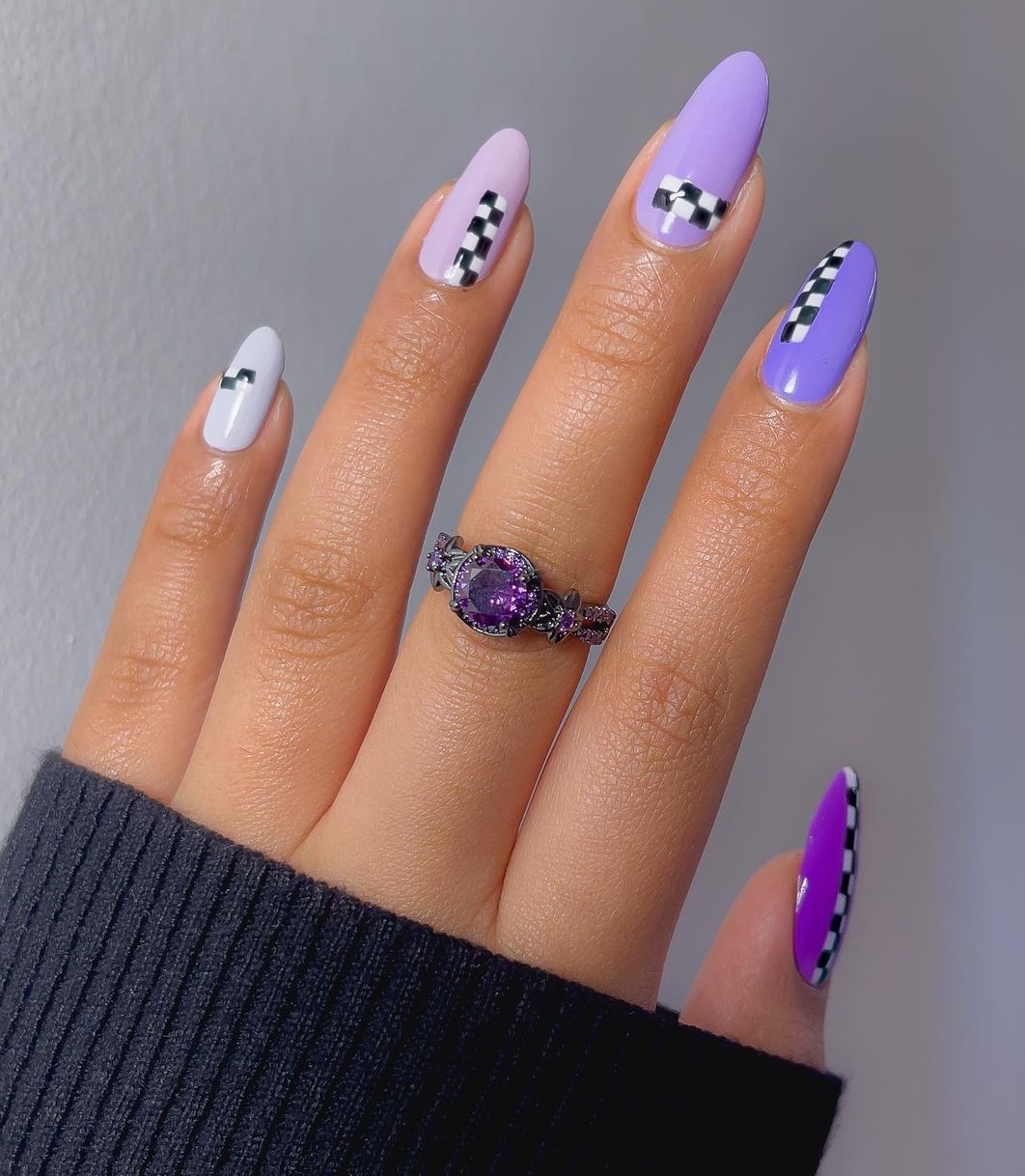 via @raixnails
Plum, lavender, eggplant, purple, lilac — these and many other shades can transform your appearance. If you are afraid that they are too bright, use them for accent fingers. They will definitely find a place on short or longer almond nails with a design.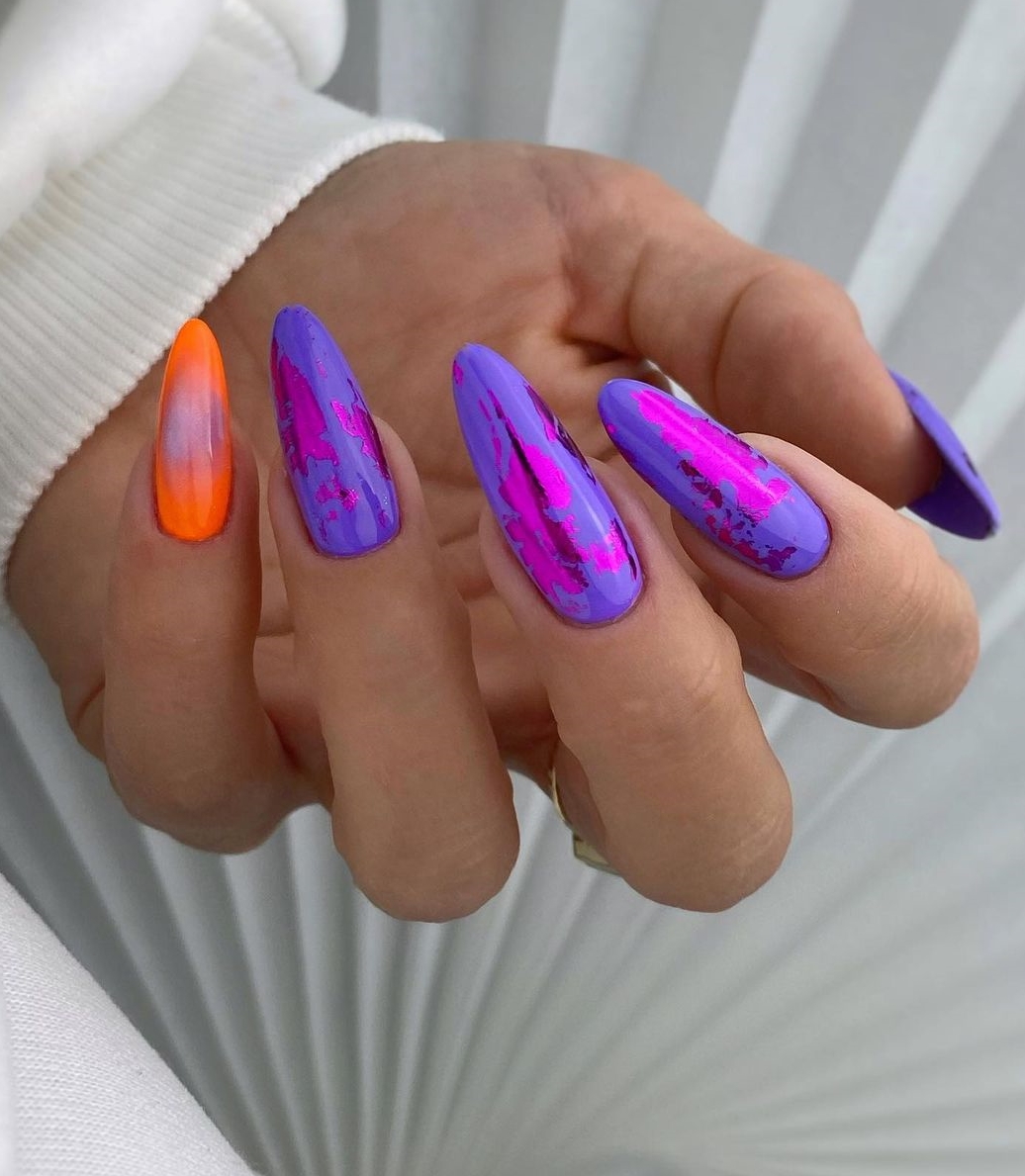 via @anetaujwary
Almond Gel Nails
Why are gel nails so popular? They attract girls with a variety of shades, durability, and a fairly fast coating.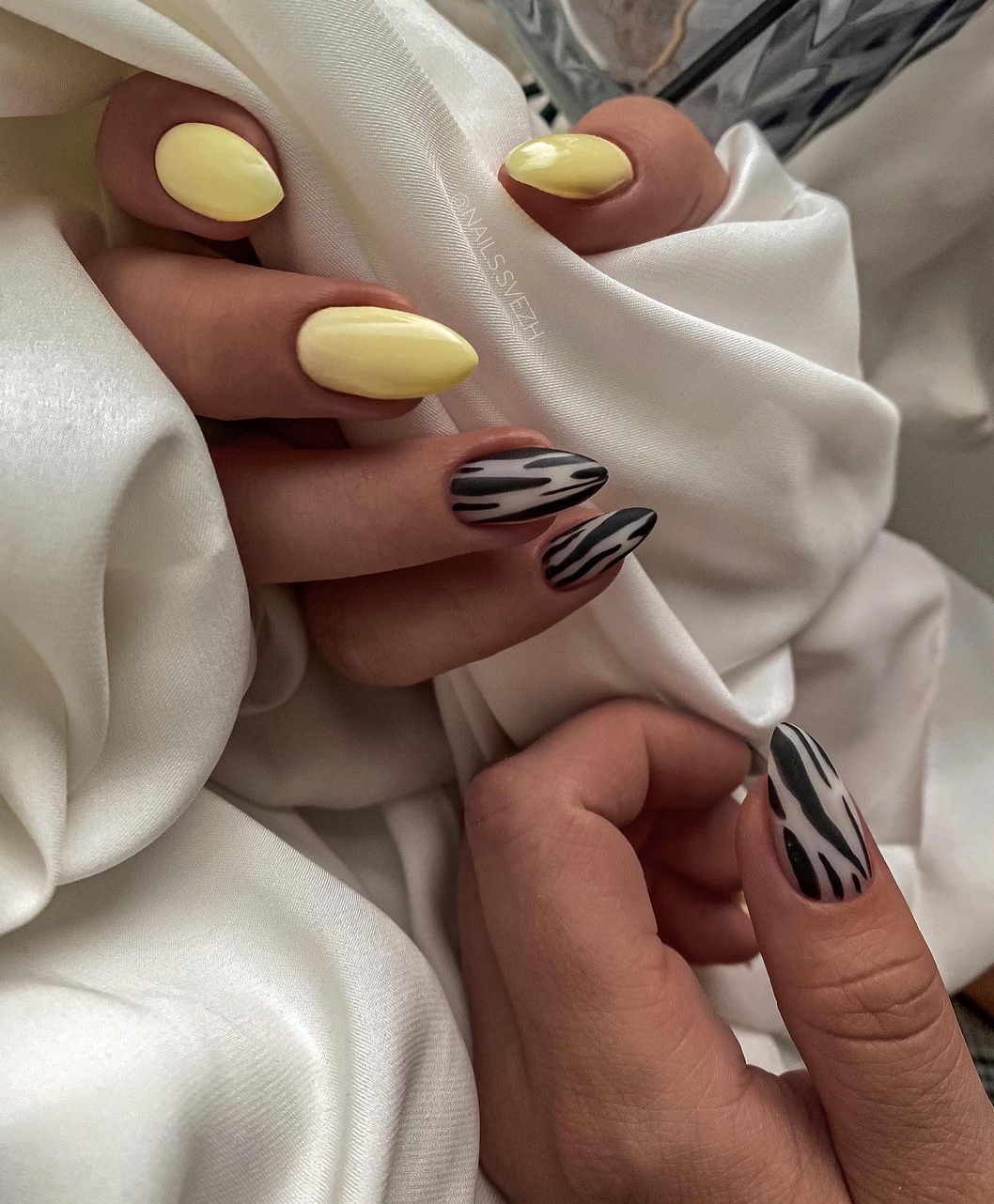 via @remine__blog
If you are looking for a way to get stronger nails, the gel polish will definitely help you. At the same time, you can easily find your favorite pastels and bright colors or bold ones.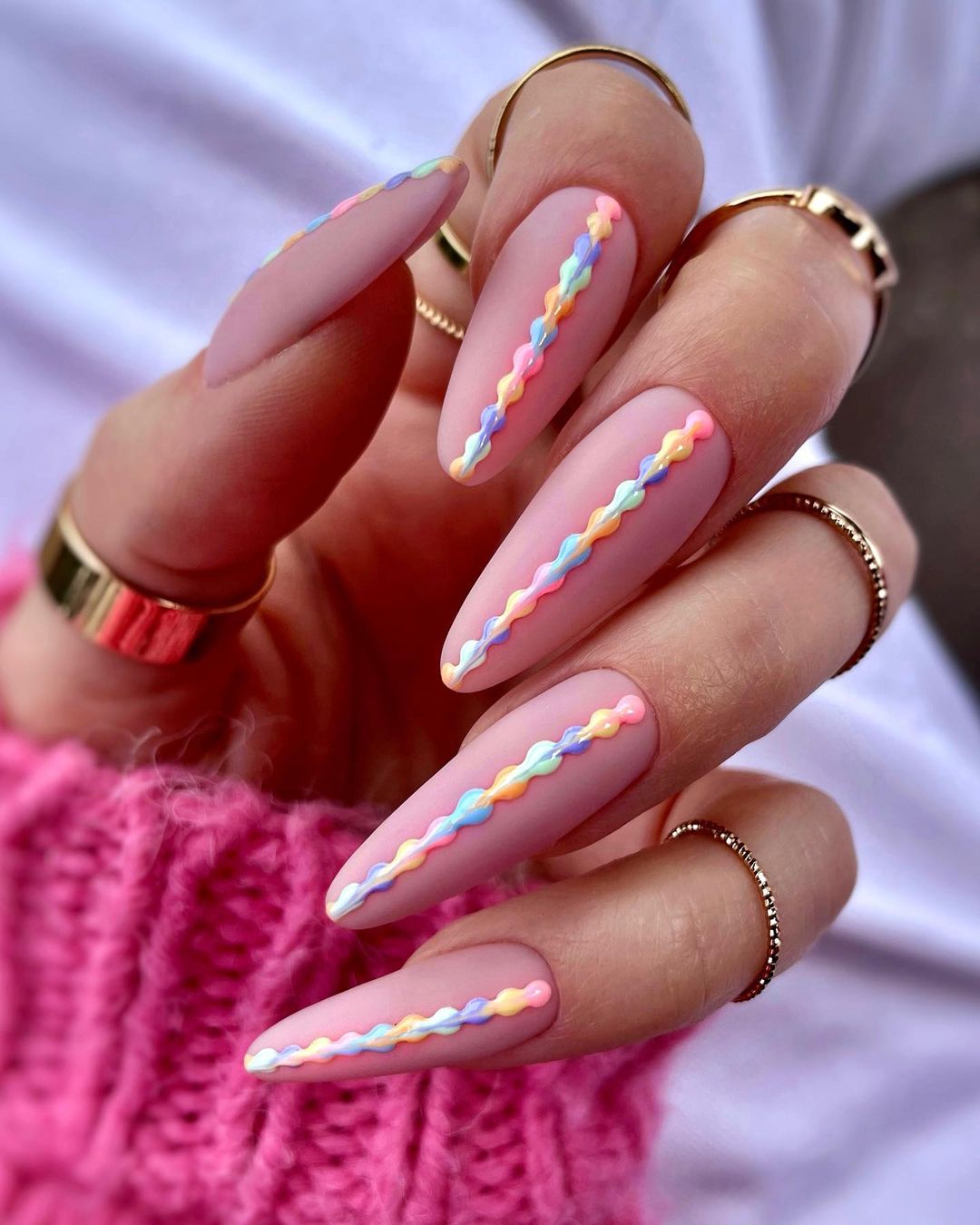 Pointy Almond Nails
One of the unusual nail shapes that confidently win hearts. It differs from the classic look by a large narrowing and the presence of a rounded point on the top.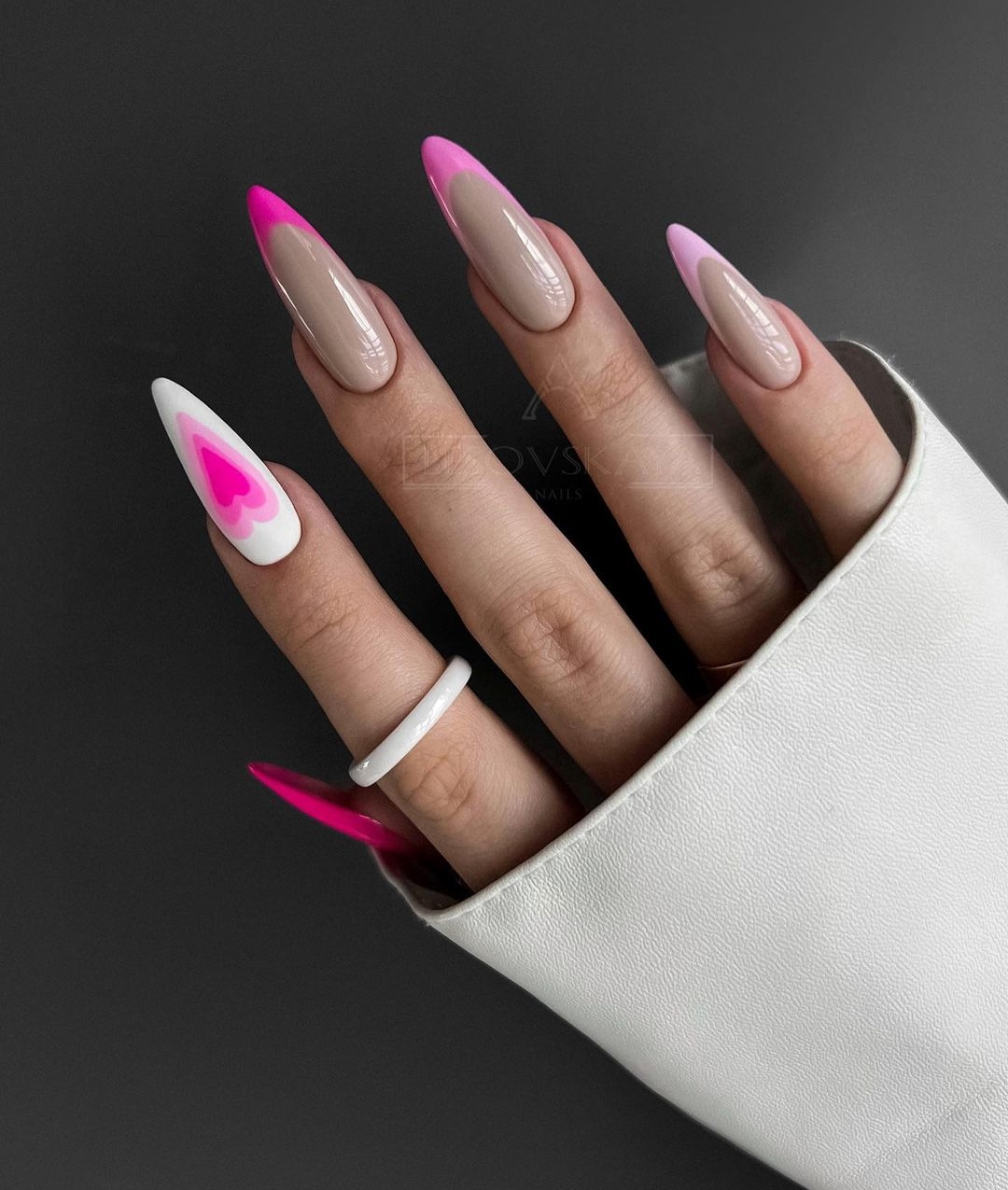 This type of almond shape allows you to emphasize the french tip manicure. For this, masters, in addition to white, apply an additional line of a contrasting color, for example, black.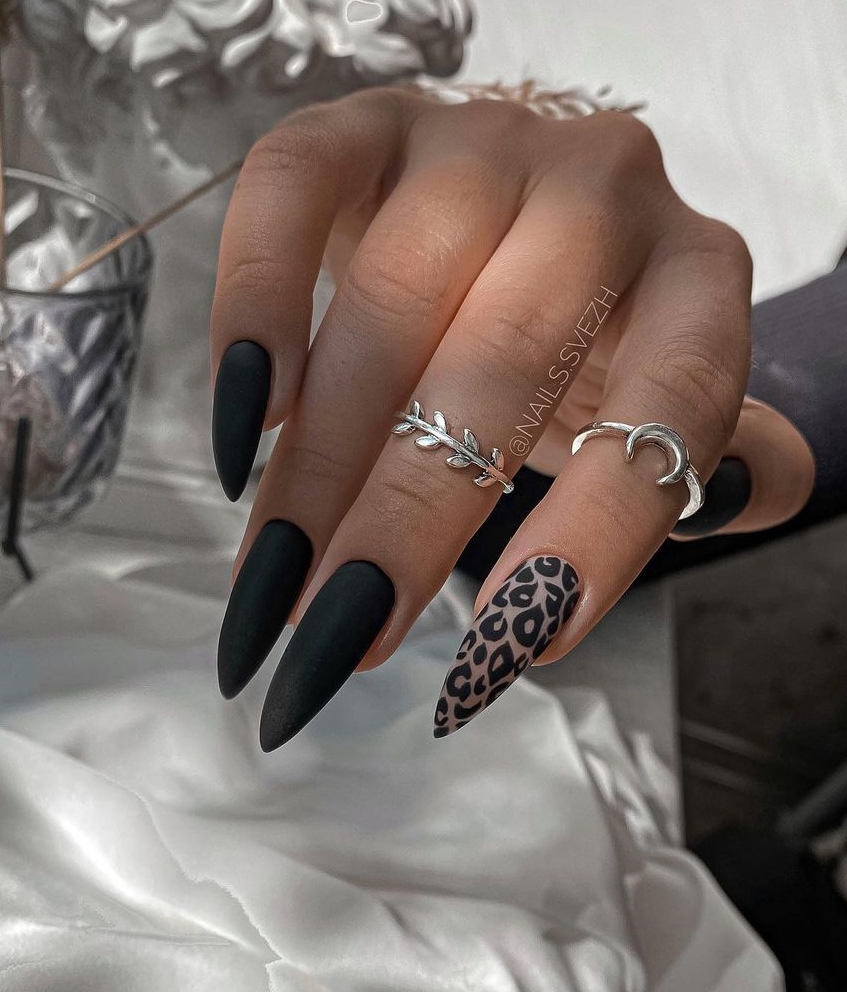 via @nails.svezh
Almond Wedding Nails
Among the numerous wedding manicure ideas, almond-shaped elegant nails occupy a special place.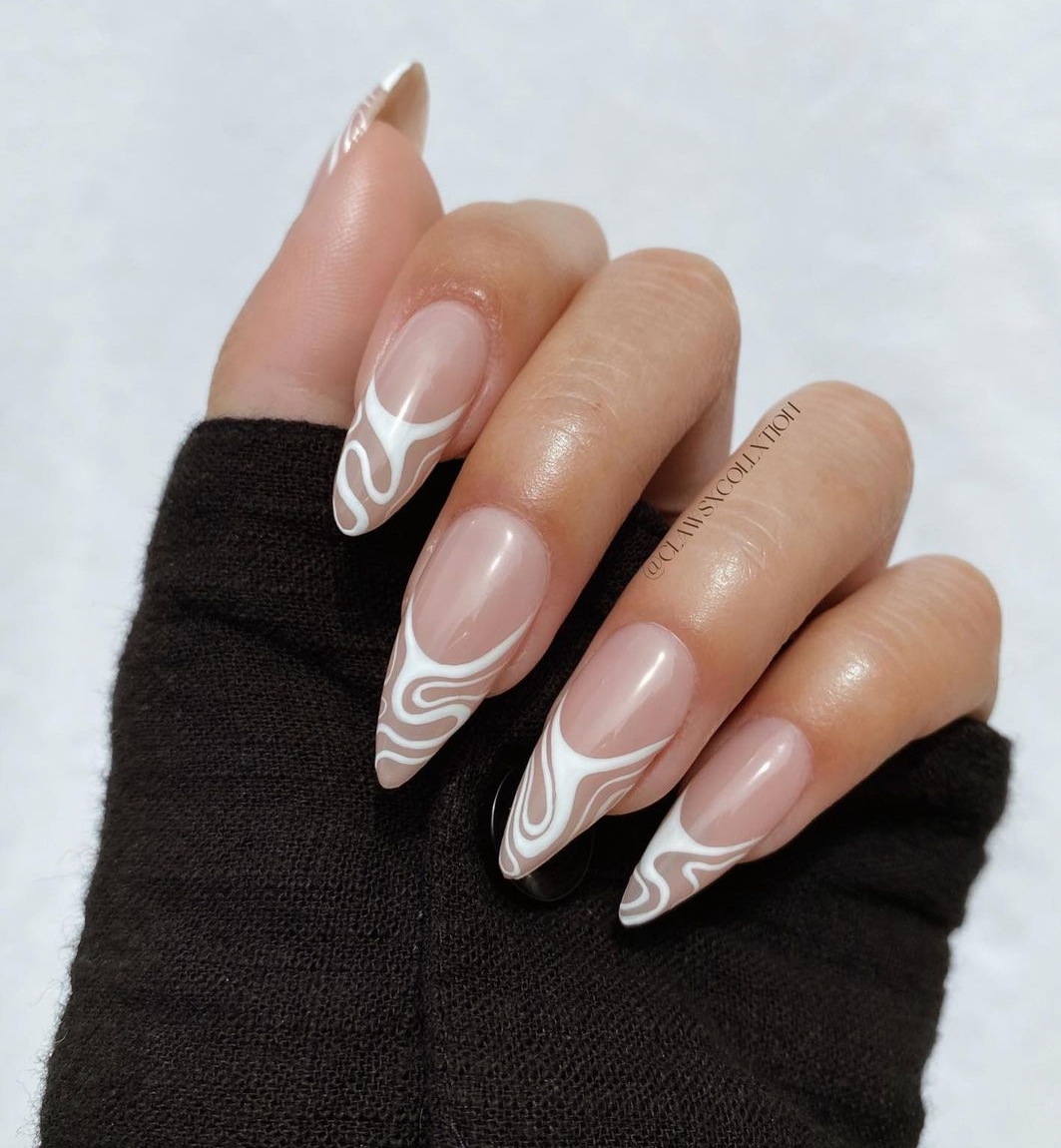 via @clawsxcollxtion
They are a real personification of femininity and tenderness. Classic nail shape will suit not only the bride but also her girlfriends and mother.
If we talk about design, wedding manicure is not necessarily only French. You can use various pastel shades and complement them with decor. For this purpose, mainly sequins, rhinestones, and minimalist ornaments are used.
via @nailssbykate
Spring Almond Nail Designs
An integral part of the spring look is the floral design on nails. Neat leaves and compositions with lavender and other wildflowers look unobtrusive and stylish.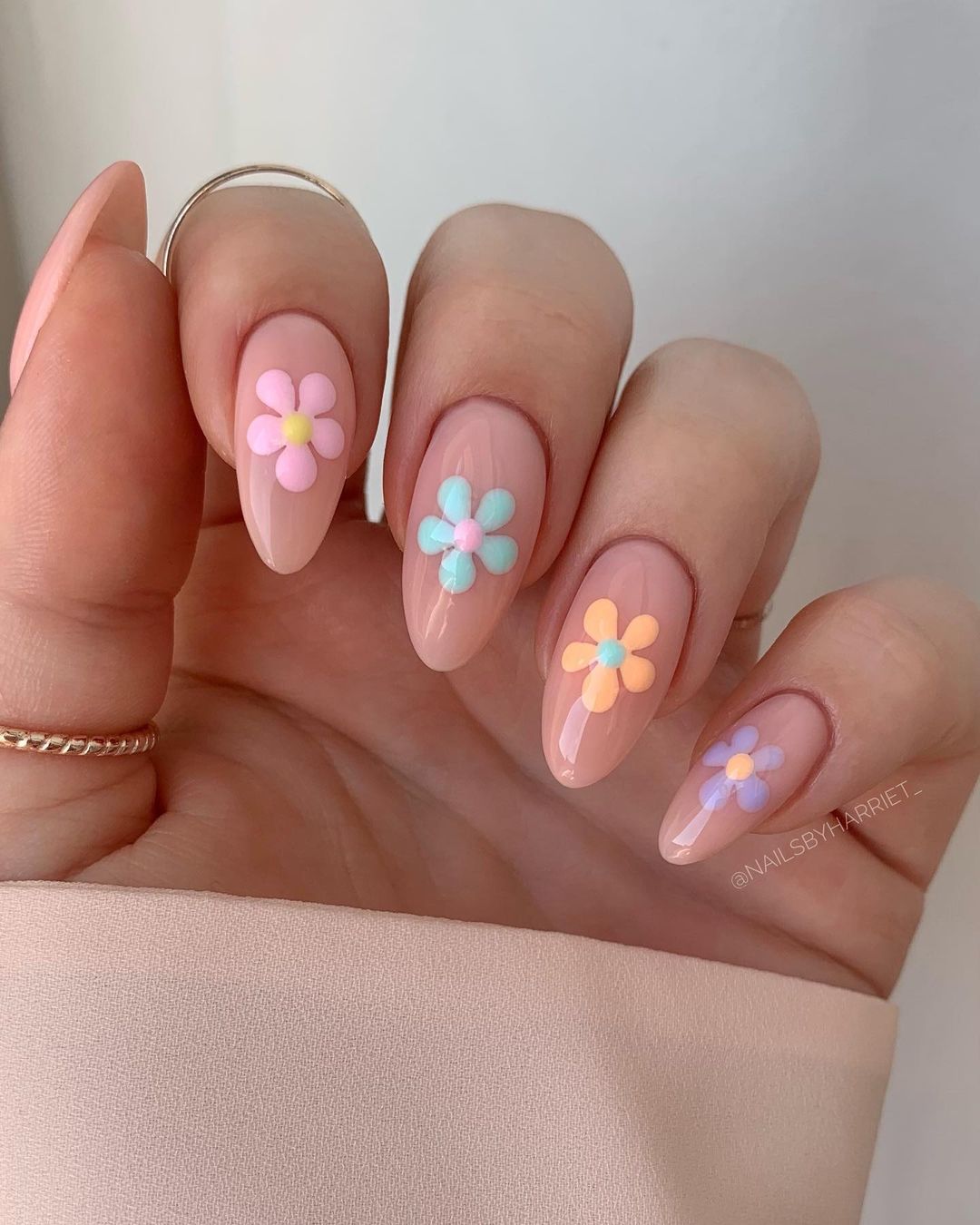 via @nailsbyharriet_
What bright nail colors are used for spring manicure? As a rule, these are refreshing light shades of pink, yellow, green, and blue. If you want more shine, opt for spring nails with glitter.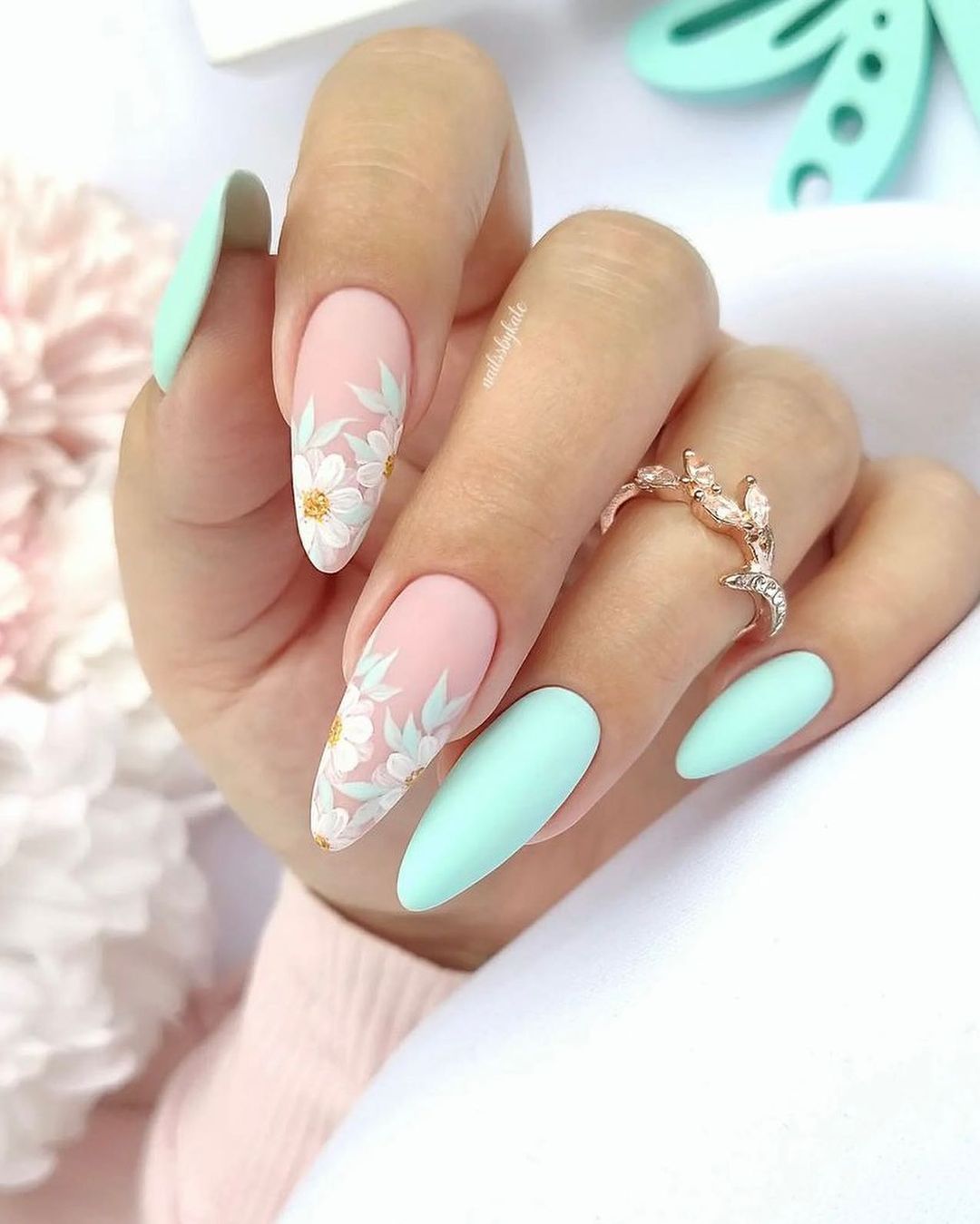 Black Almond Nails with Glitter
Prefer black nail designs? In this case, do not miss the opportunity to make them even more luxurious and sparkling. The sparkly design of your next manicure will help you feel like a real queen!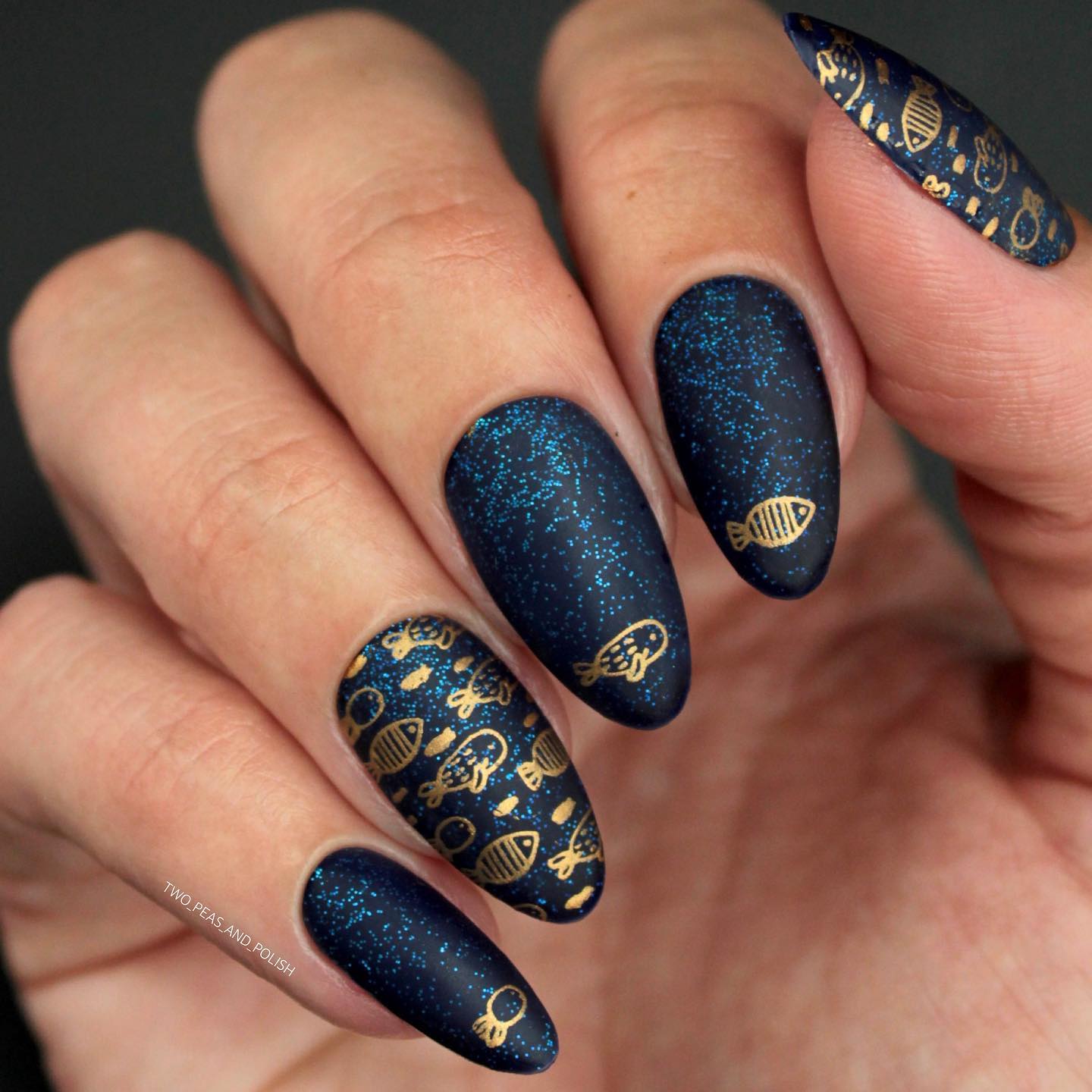 There are many ways to add brilliance and originality. You can use a top with a shimmer, create accents with sparkling gel polishes, or attach rhinestones. Shiny elements can be placed over the entire surface or limited to glitter nail tips.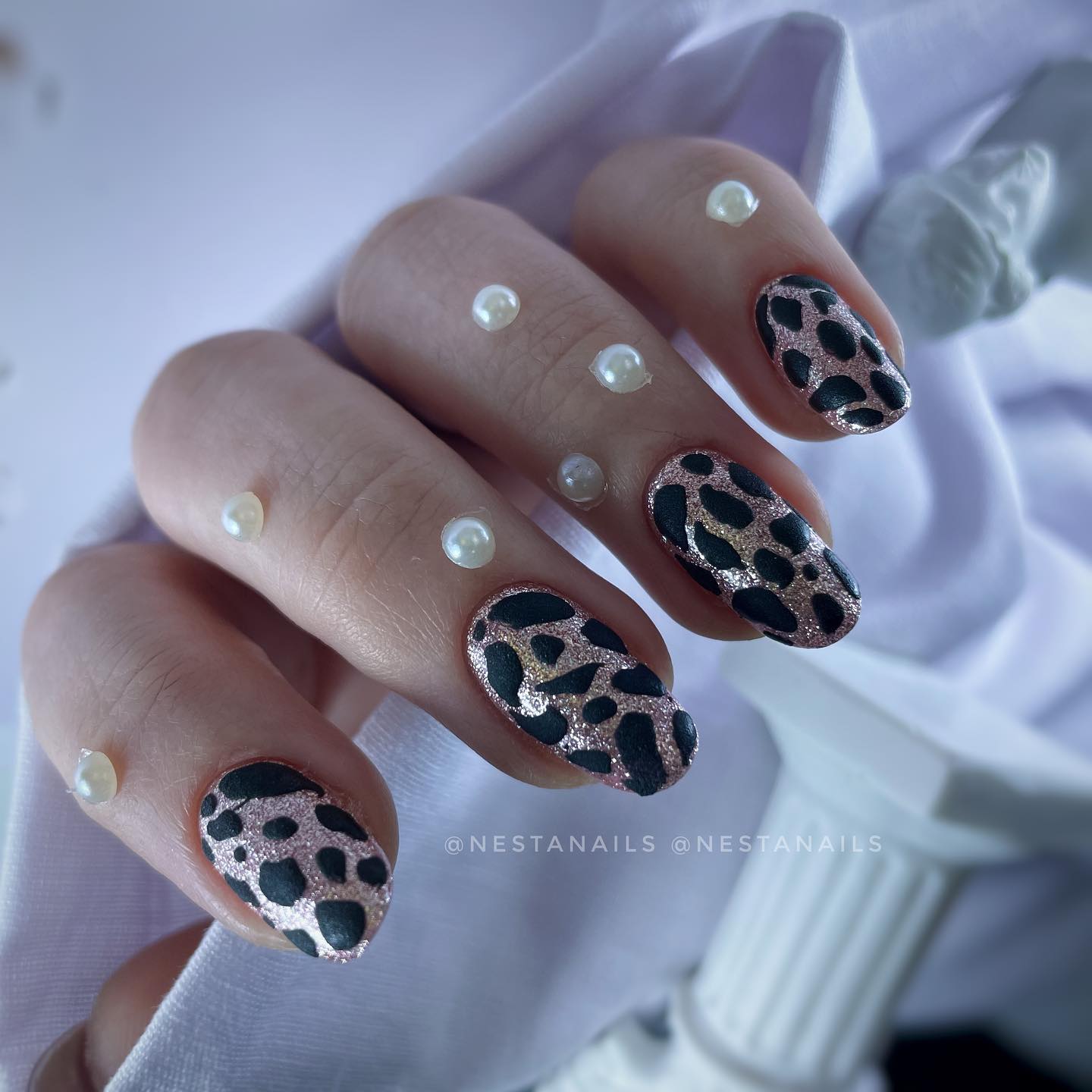 via @nestanails
Simple Almond Nail Designs
Naturally looking nails will never go out of style. However, despite the seeming simplicity, such a manicure also requires considerable effort and professionalism from the master!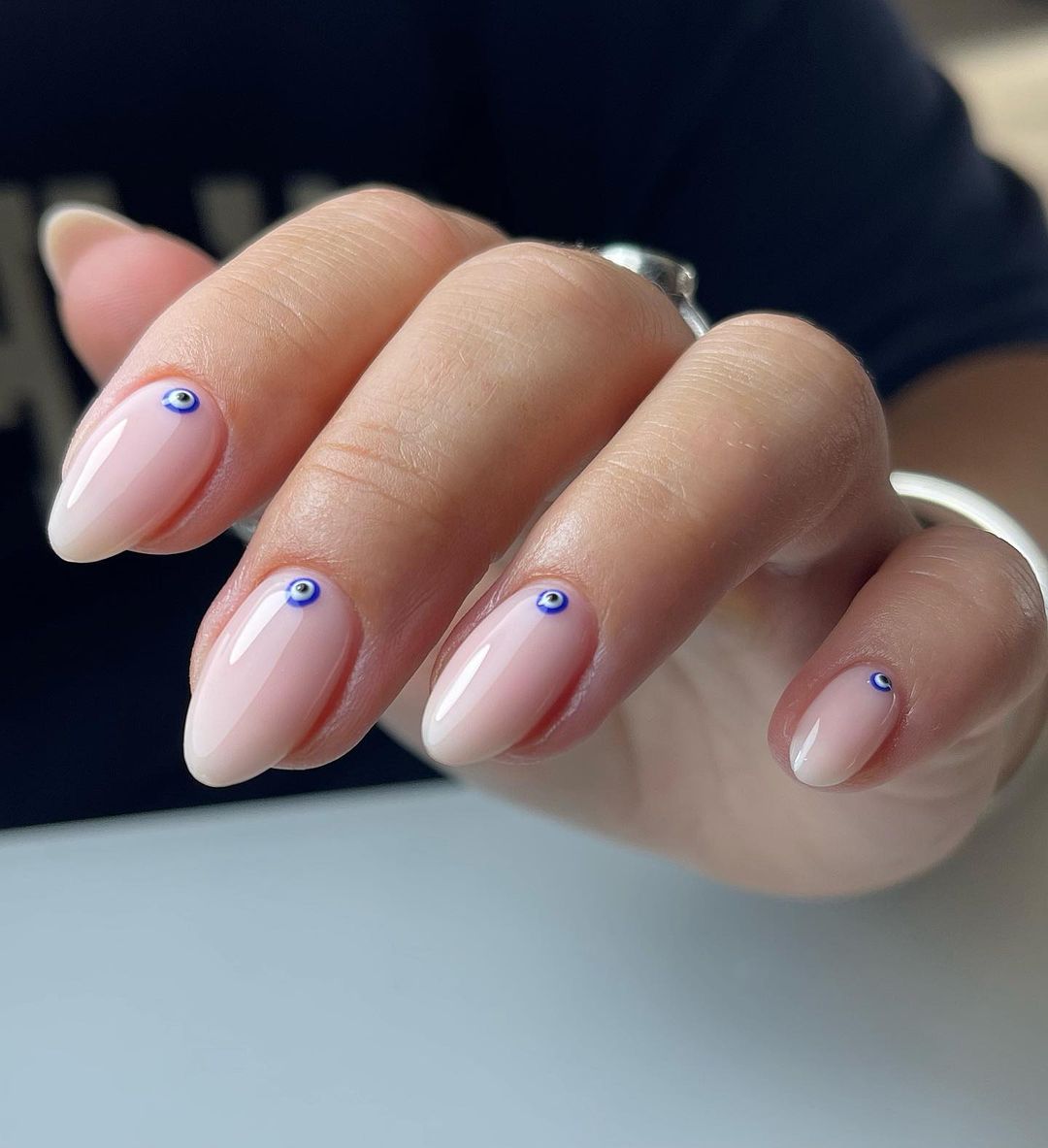 To make it flawless, you need to responsibly approach the creation of an almond shape and length correction and use high-quality materials for coating. Only in this case, the manicure will have a lengthening effect and add elegance to the image.
Do you want to make short almond nails as natural as possible? Use a transparent base. Light shades of beige or pink are also allowed, which should match your color type.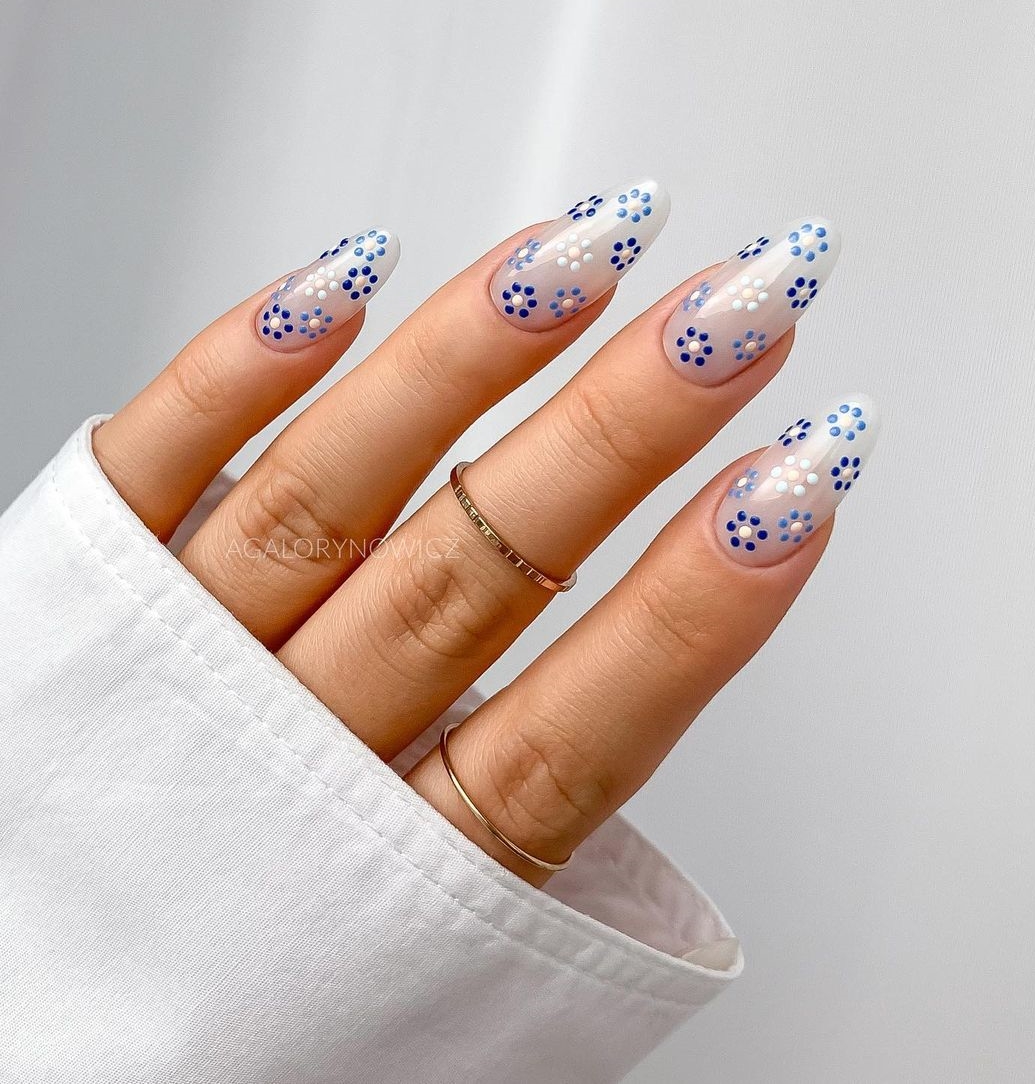 via @agalorynowicz
Yellow Almond Nails
Need a cute manicure idea for a special occasion? Try bright yellow almond nails with rhinestones!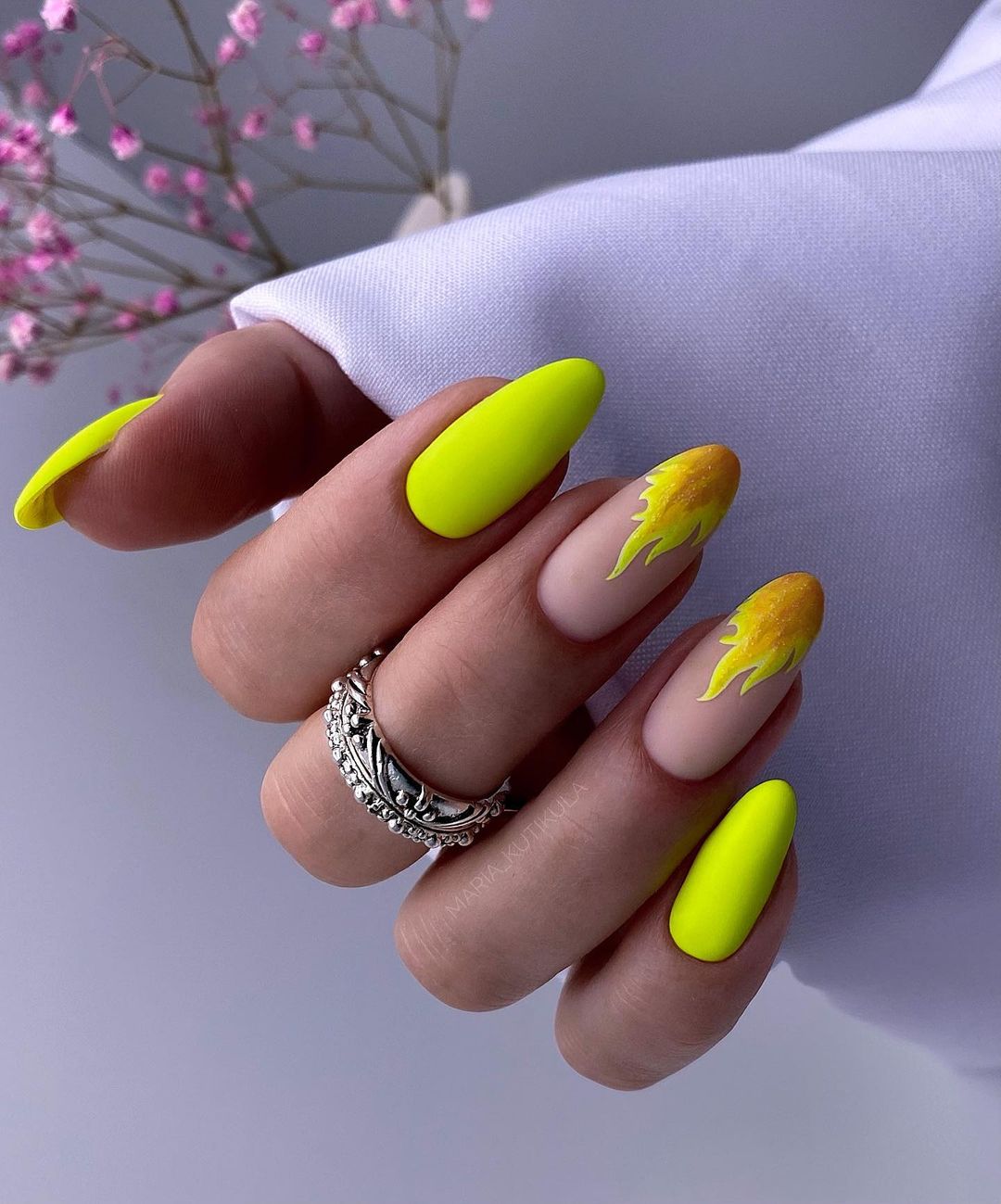 via @maria_kutikula
Sunny color is the best for spring and summer. Thanks to numerous shades, you can choose a gel polish to embody any idea.
Do you dream of an almost imperceptible but cheerful manicure? Try a plain light yellow finish with a shimmer or subtle abstraction. If you're looking for more colorful summer nail ideas, a sunny yellow with a hint of orange is the way to go.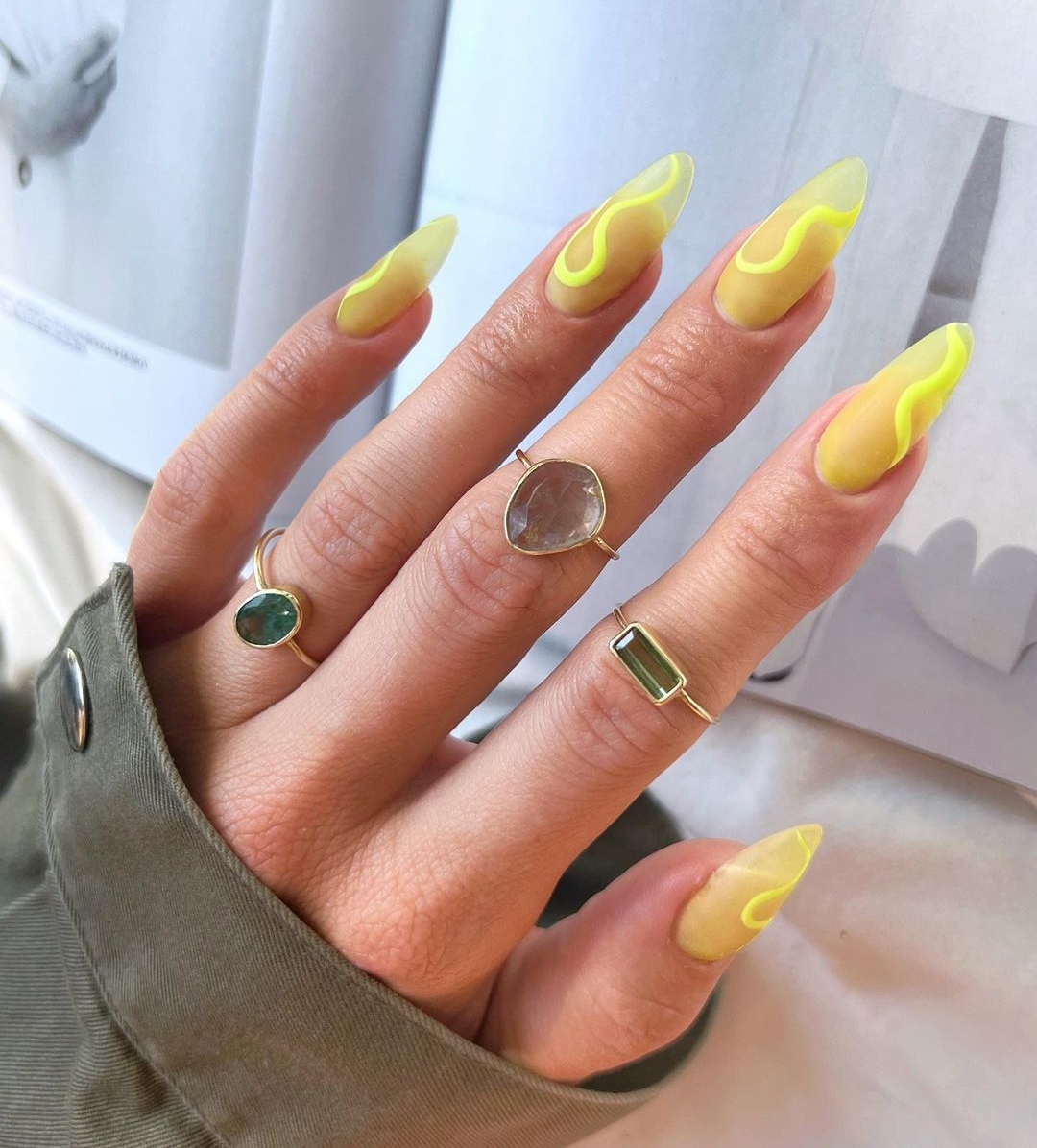 via @majamarkowicz
Neon Almond Nail
Among the bright nail ideas for trendy women, one cannot fail to note neon designs. Yes, they attract the eyes of others, but that's exactly what you need!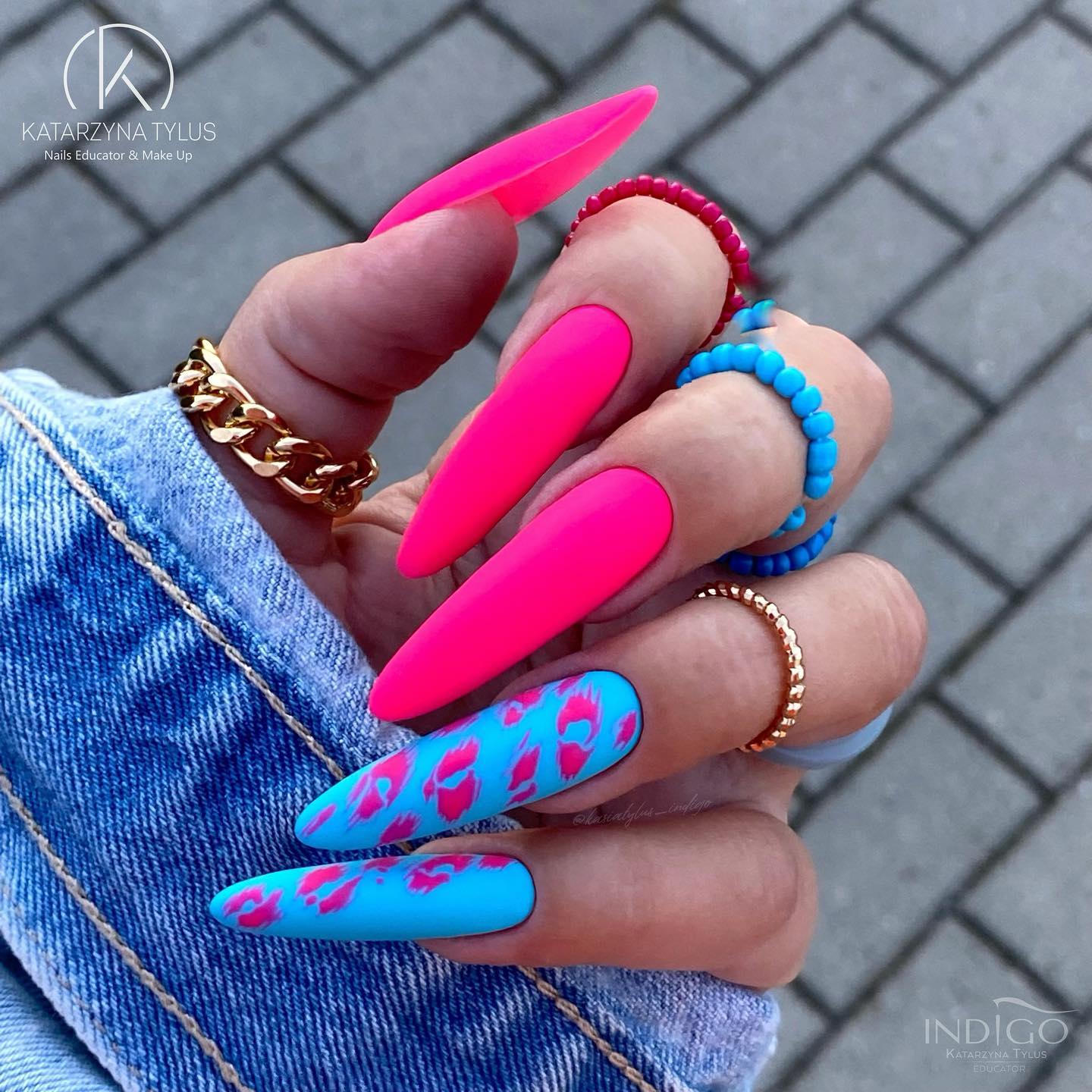 Orange or green neon nails are the trend of the last few years. Thanks to the fluorite contained in the gel polish, the coating glows in the dark under ultraviolet rays.
Neon manicure with a matte or gloss finish is a perfect solution for a party. If you want to outshine everyone, feel free to tell the nail master about it. Please note: you can do both a practically neutral manicure in soothing colors and various truly crazy designs!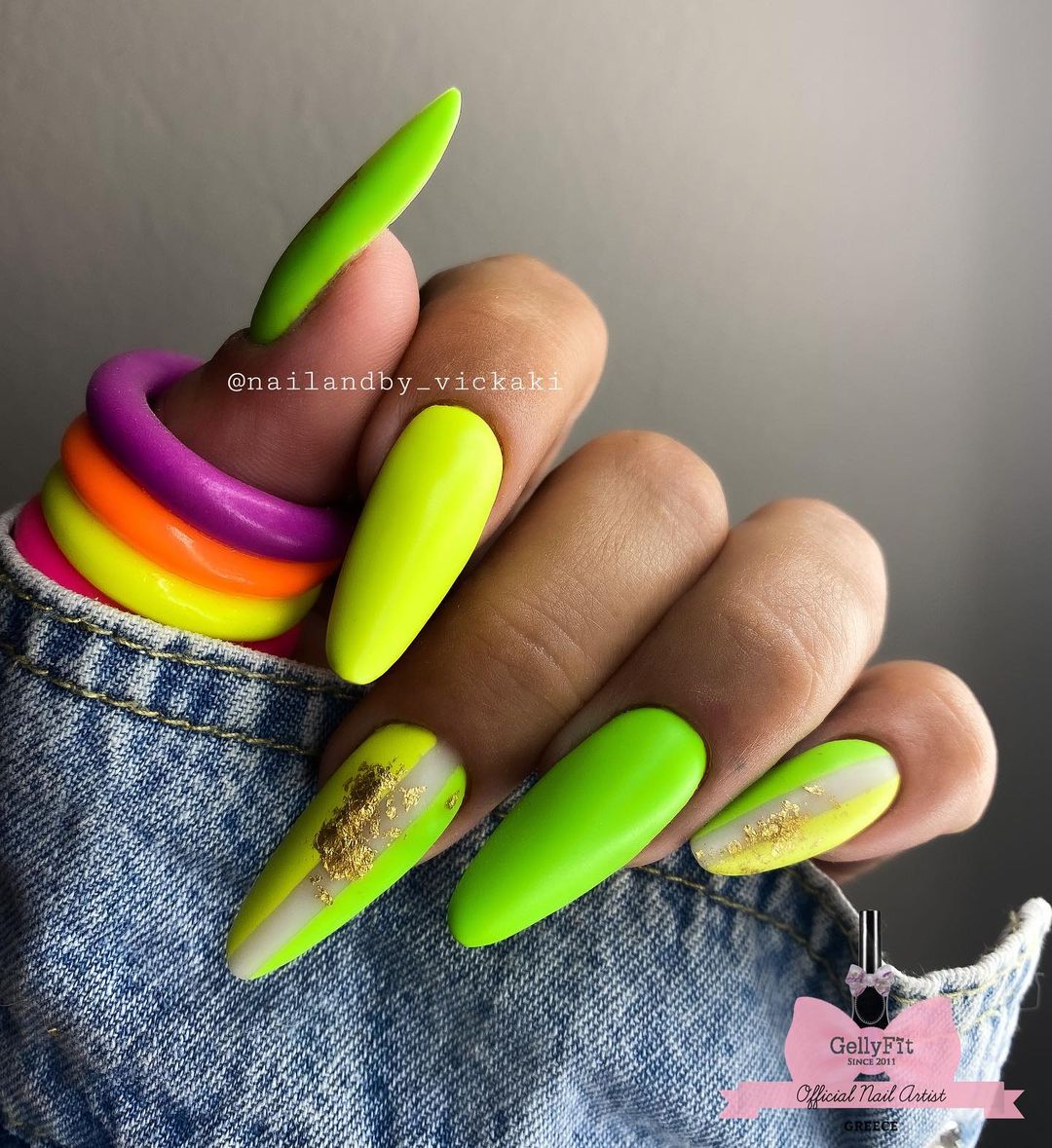 Lavender Almond Nails
What cute almond nail ideas do not depend on the season? There are many of them, but one of the most common is a lavender manicure.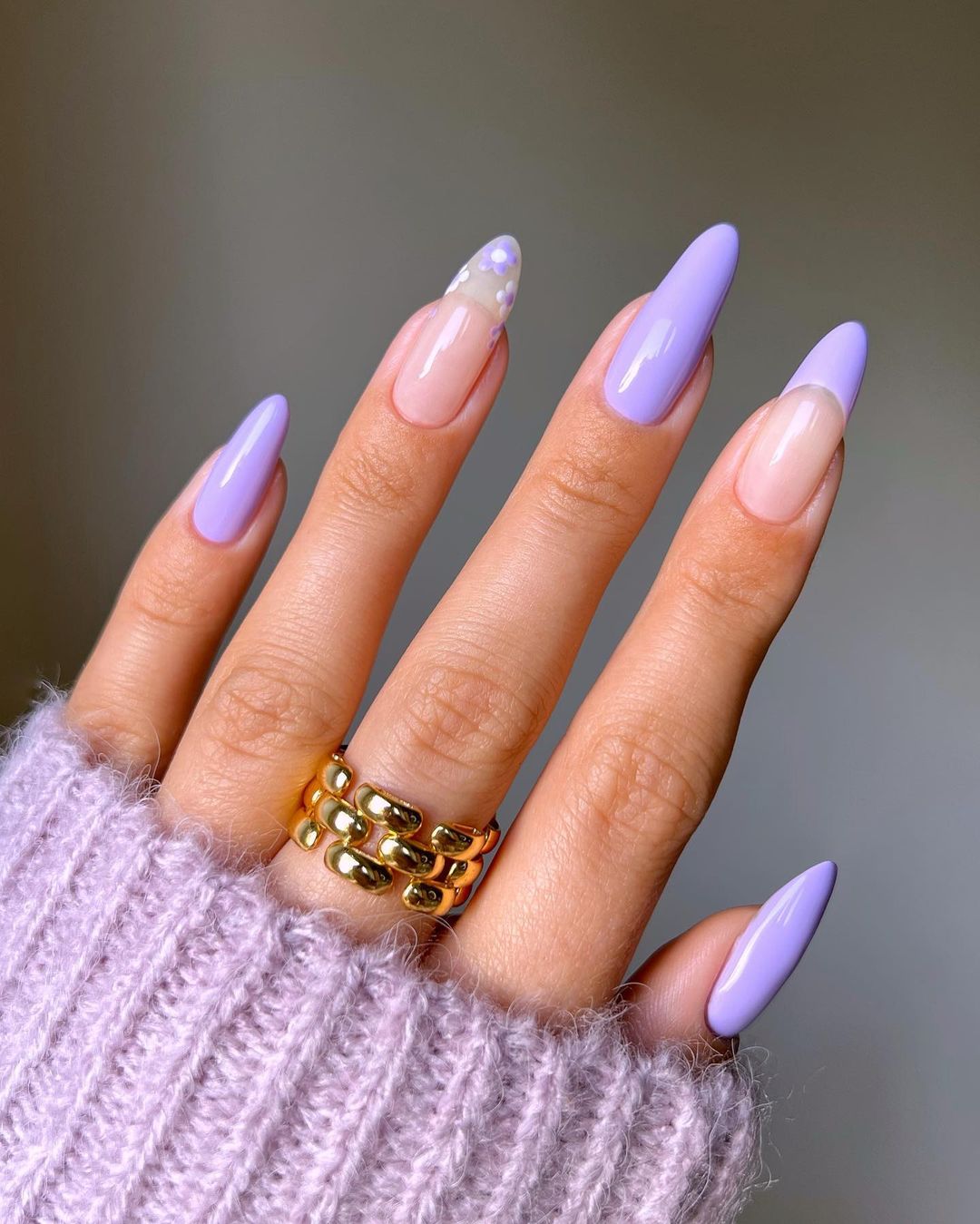 A delicate lilac shade is best for girls of the winter color type. The simplest version of such a manicure is plain lavender nails. The coating can be an alternative to the classic colorless or beige design.
A more interesting variety is lavender ombre on almond nails. A spectacular gradient will decorate medium and long lengths. If you wish, you can add bright elements to the design — rhinestones, stamping, or foil.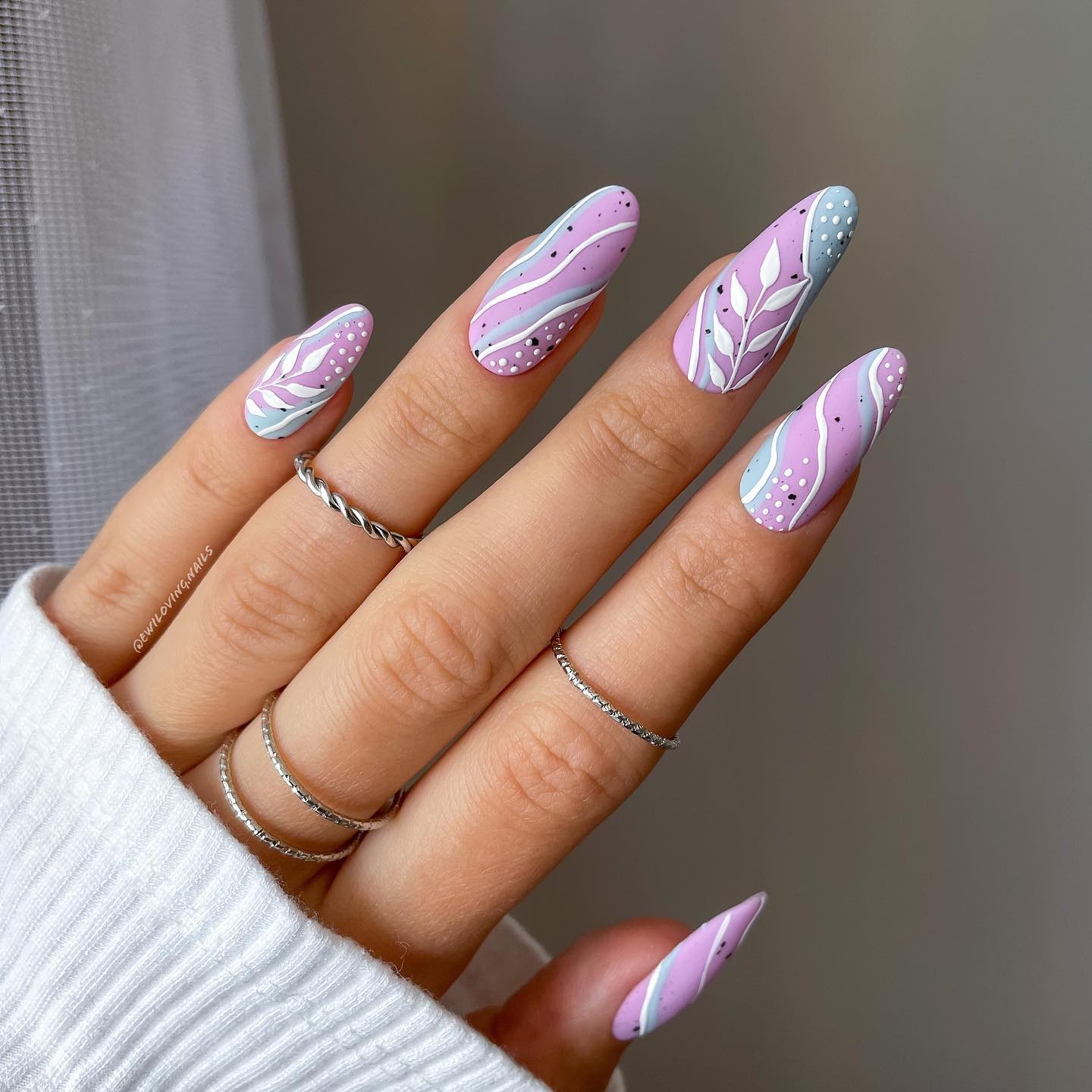 via @ewiloving.nails
Burgundy Almond Nails
A mandatory attribute of a lady who knows her worth is dark red almond nails. This shade is classic and looks appropriate in different situations.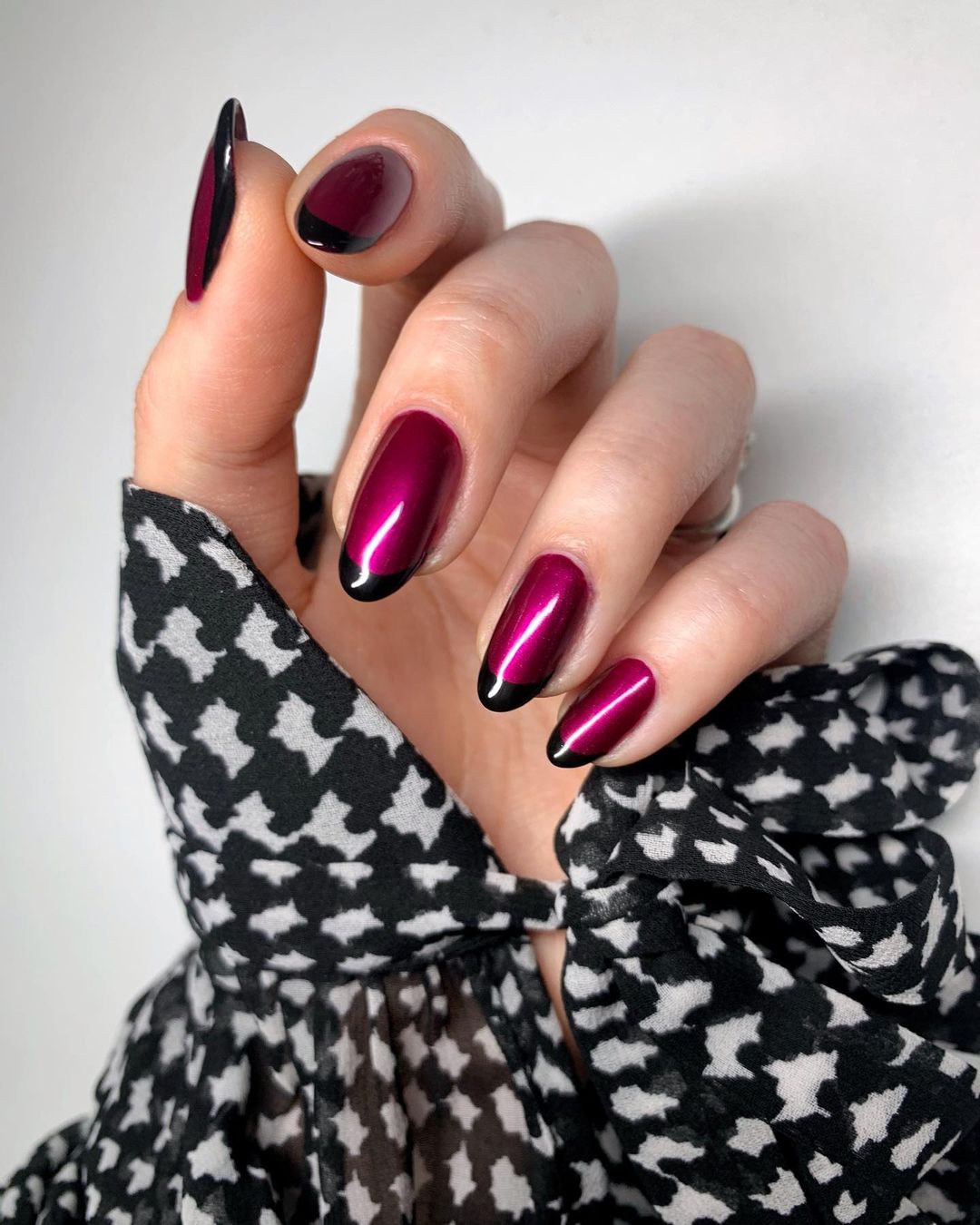 via @sammismanis
Wine, burgundy, and other dark reds are often used as the basis for fall nail designs. They harmonize perfectly with other autumn shades and are used to apply additional themed decor.
How to add solemnity to a manicure? Use gold accents on burgundy nails. The combination looks especially stylish with a matte top.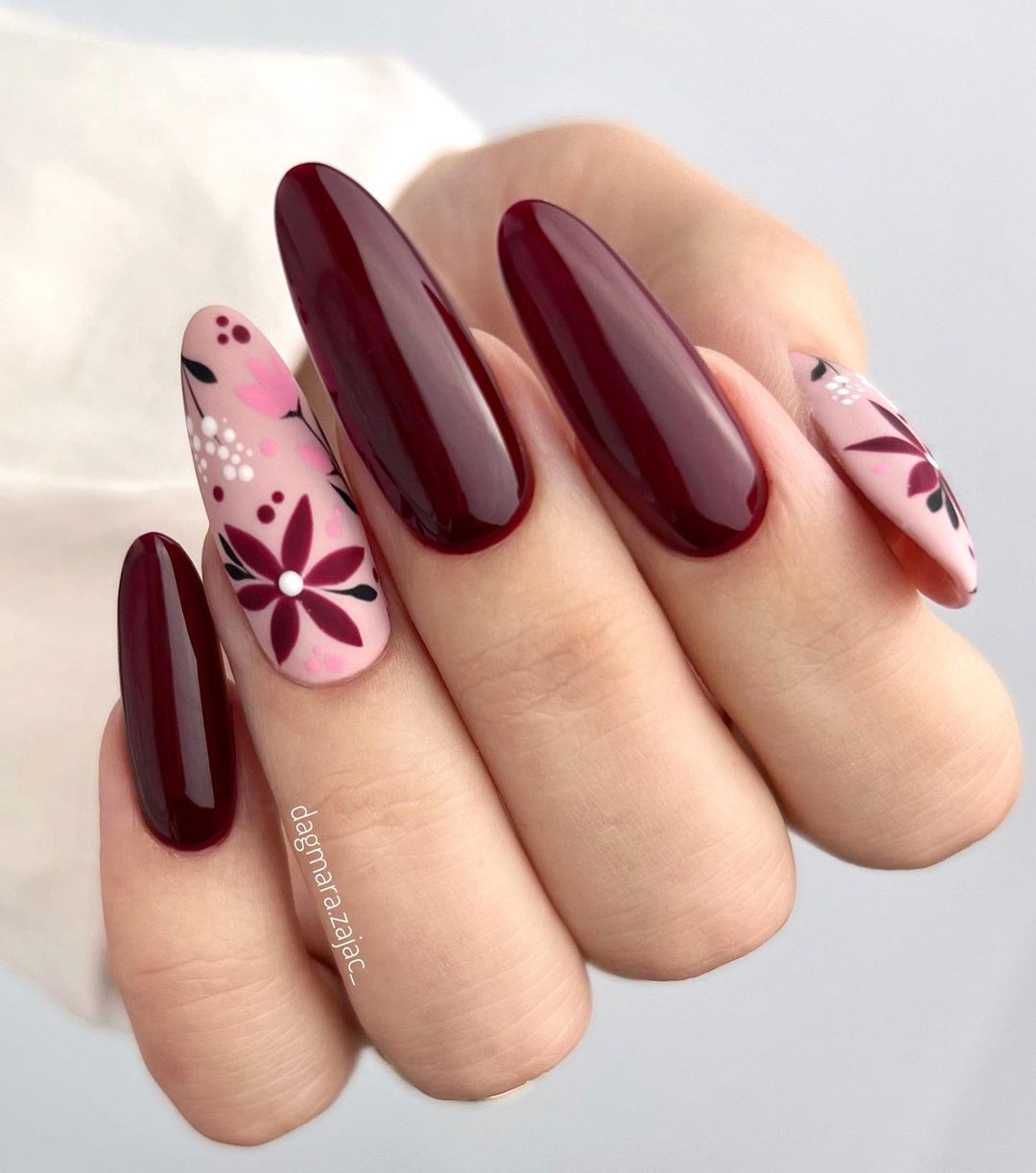 via @dagmara.zajac_
FAQ
How to shape almond nails?
Almond-shaped nails are among the most popular this season. Outwardly, they resemble the nut of the same name.
Such nails are as close as possible to the oval shape but differ from it in a slightly pointed tip. Due to the lengthening effect, they will suit every girl and make the brush more refined and elegant.
To achieve a flawless almond shape, it is better to contact a professional nail master. An experienced specialist, taking into account the characteristics of the base of the cuticle, will give the nail plates an ideal look.
At home, it is more convenient to maintain the shape originally created by a professional and periodically make corrections with her. So, you can avoid the appearance of breaking off corners and admire smooth symmetrical lines for a long time.