The variety of nail designs is now incredible, and each manicure is truly unique. You can find numerous ideas, and some of them have remained on top of trends for many years.
Modern nail artists now create stunning designs. While some prefer just plain neutral colors, others pick intricate designs or even paintings on their fingers. And, of course, every woman knows the feeling when it's impossible to choose her mani design.
Geometric Nail Art to Take Your Breath Away
Geometric nail art is considered one of the most popular options among numerous modern fashionistas. And here you can turn on your imagination and go on since the selection is enormous. Ask your nail technician to proceed with a unique geometric pattern, which will please you for at least several weeks.
On this page, each woman can learn more about the hottest nail art trends in 2022, allowing their owner to attract a lot of attention and receive hundreds of compliments.
Black and White Geometric Nail Art
Black and white are the classic colors, and there is hardly any woman who has never used them in her manicure. However, just plain nails are often quite boring for ladies, so they prefer to make an interesting design. For instance, black nail polish with white stripes always looks elegant and strict. This idea is perfect for formal meetings and suits any office dress code. Those who like wearing bright clothes will get an impressive contrast.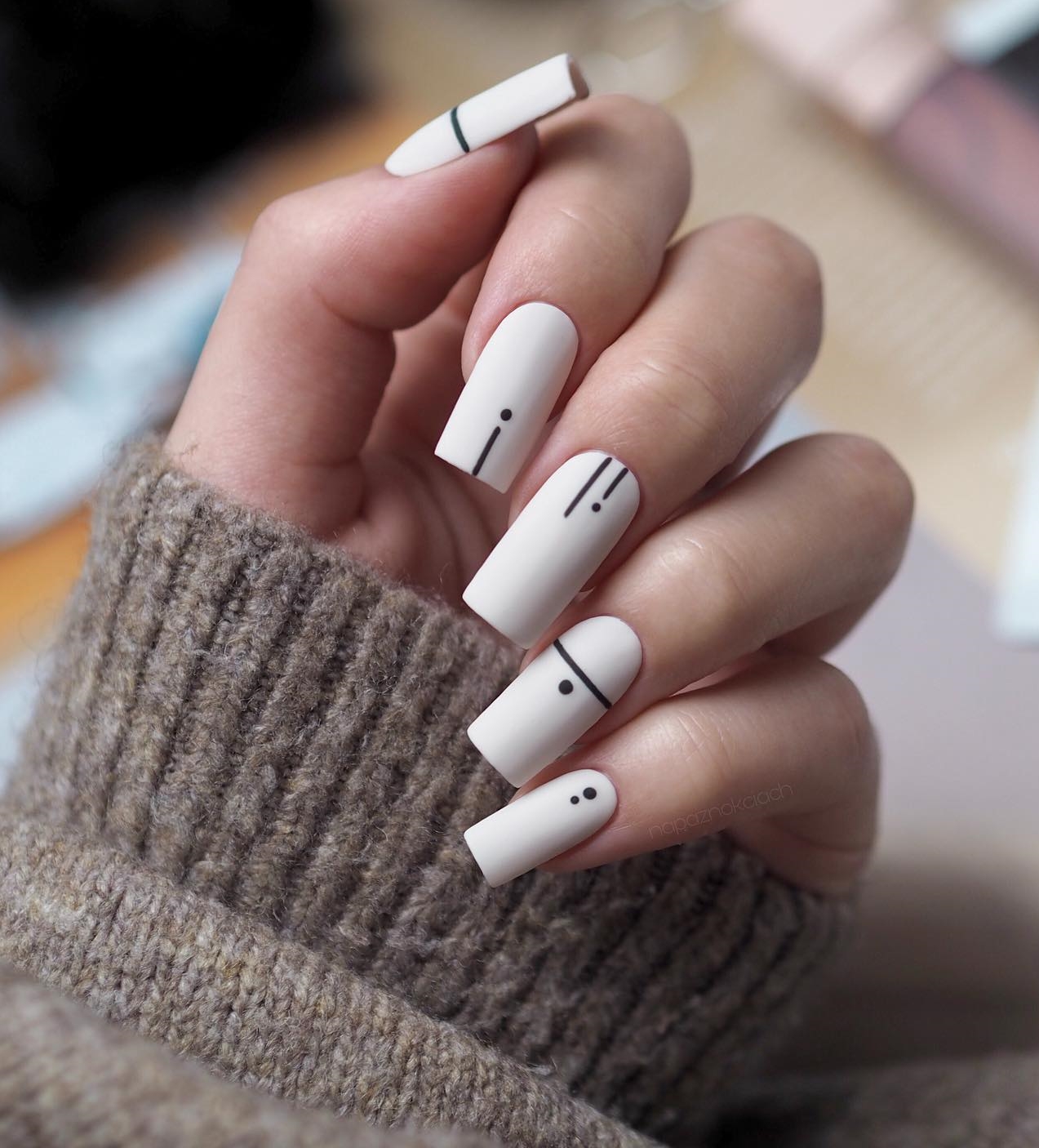 via @napaznokciach
Black lines on a white base are also a great idea, often selected during warm seasons. Women usually prefer to get a dark mani in autumn and winter, when everybody mostly wears deep colors. On the other hand, white can also be greatly combined with any other shade, so such a design is universal.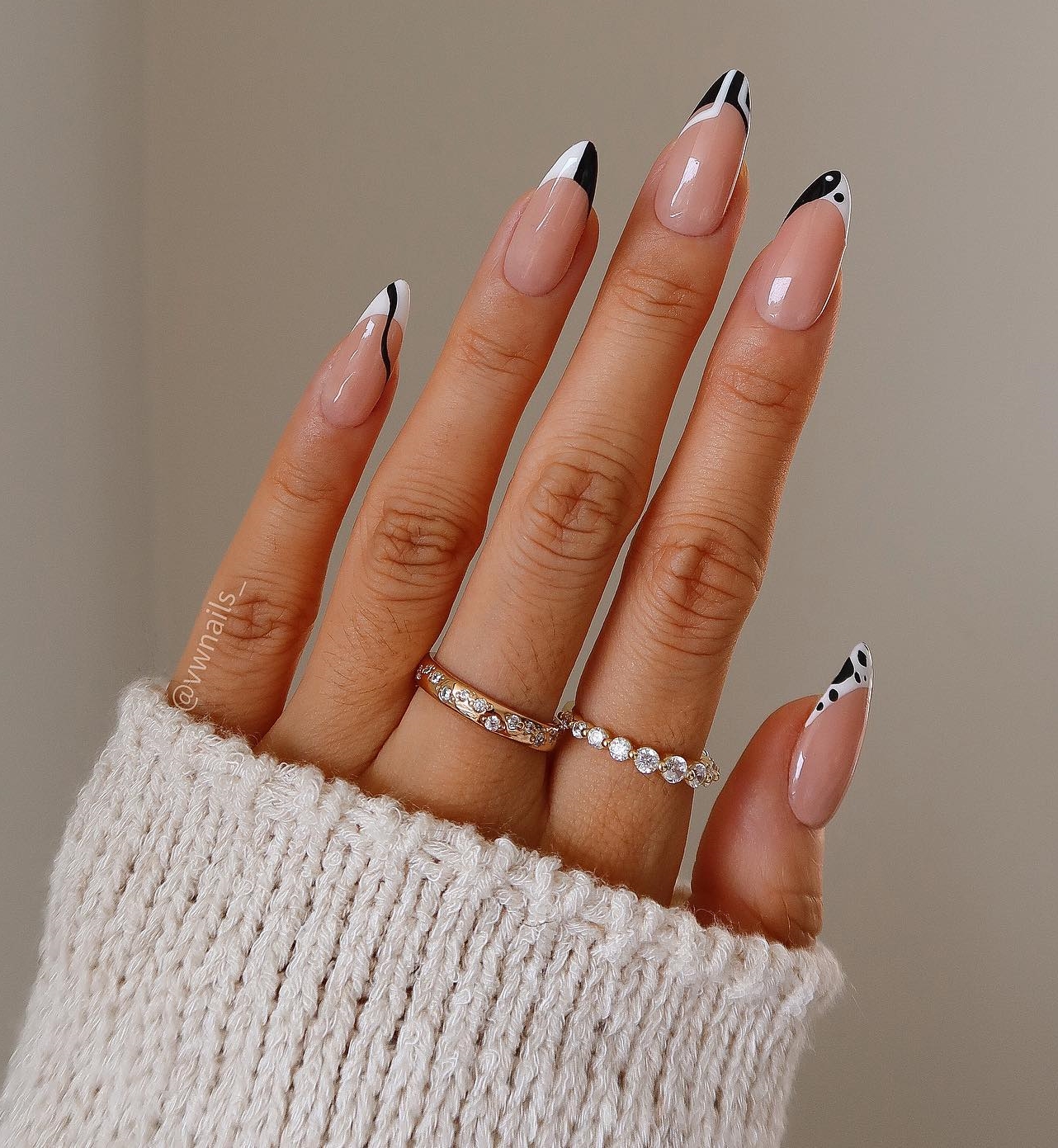 via @vwnails_
Both black and white colors look amazing on different nail shapes and skin tones. And an exciting design adds uniqueness to your image, allowing you to make an accent. Each geometric design is truly exclusive, and no one can repeat it.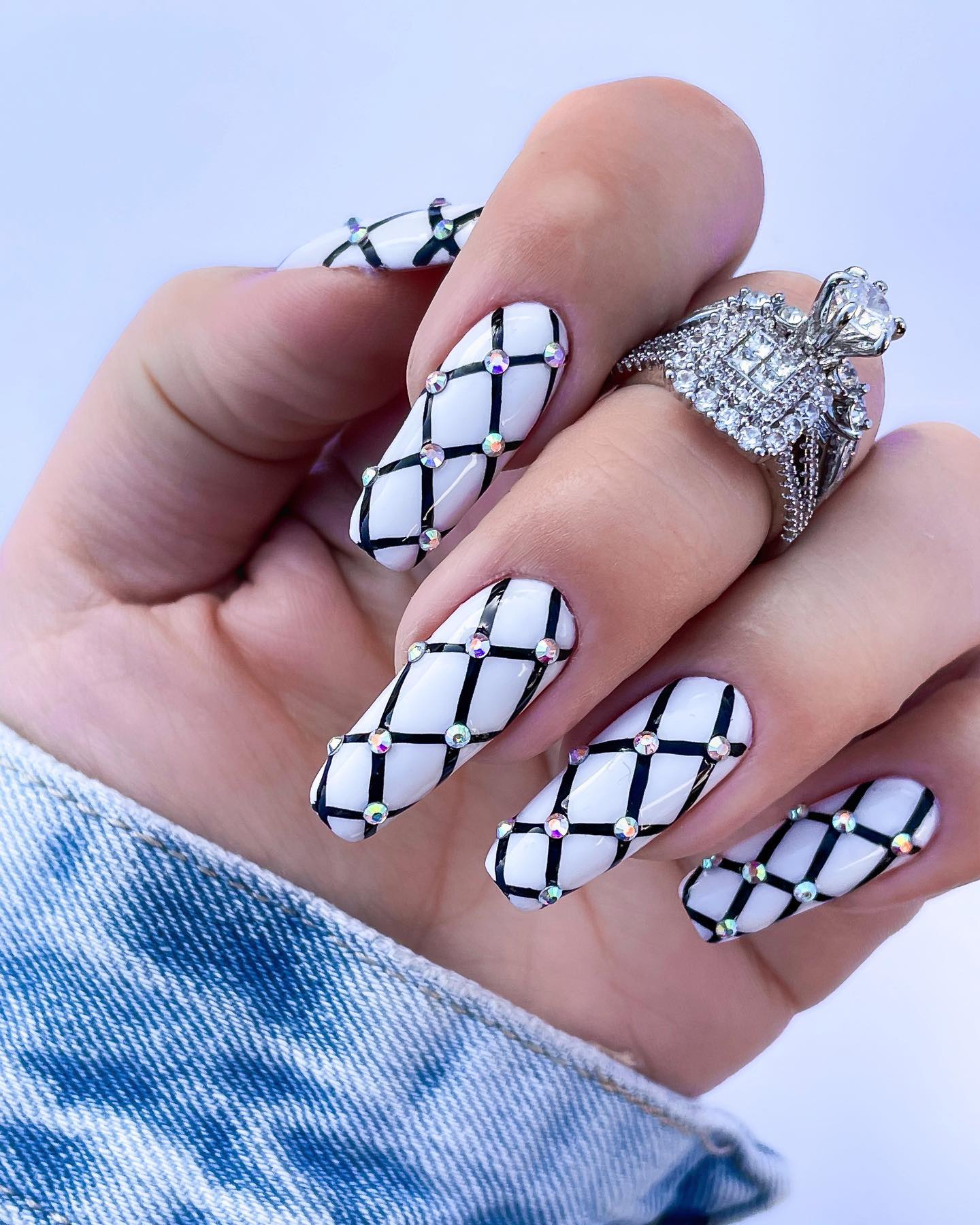 via @koloranki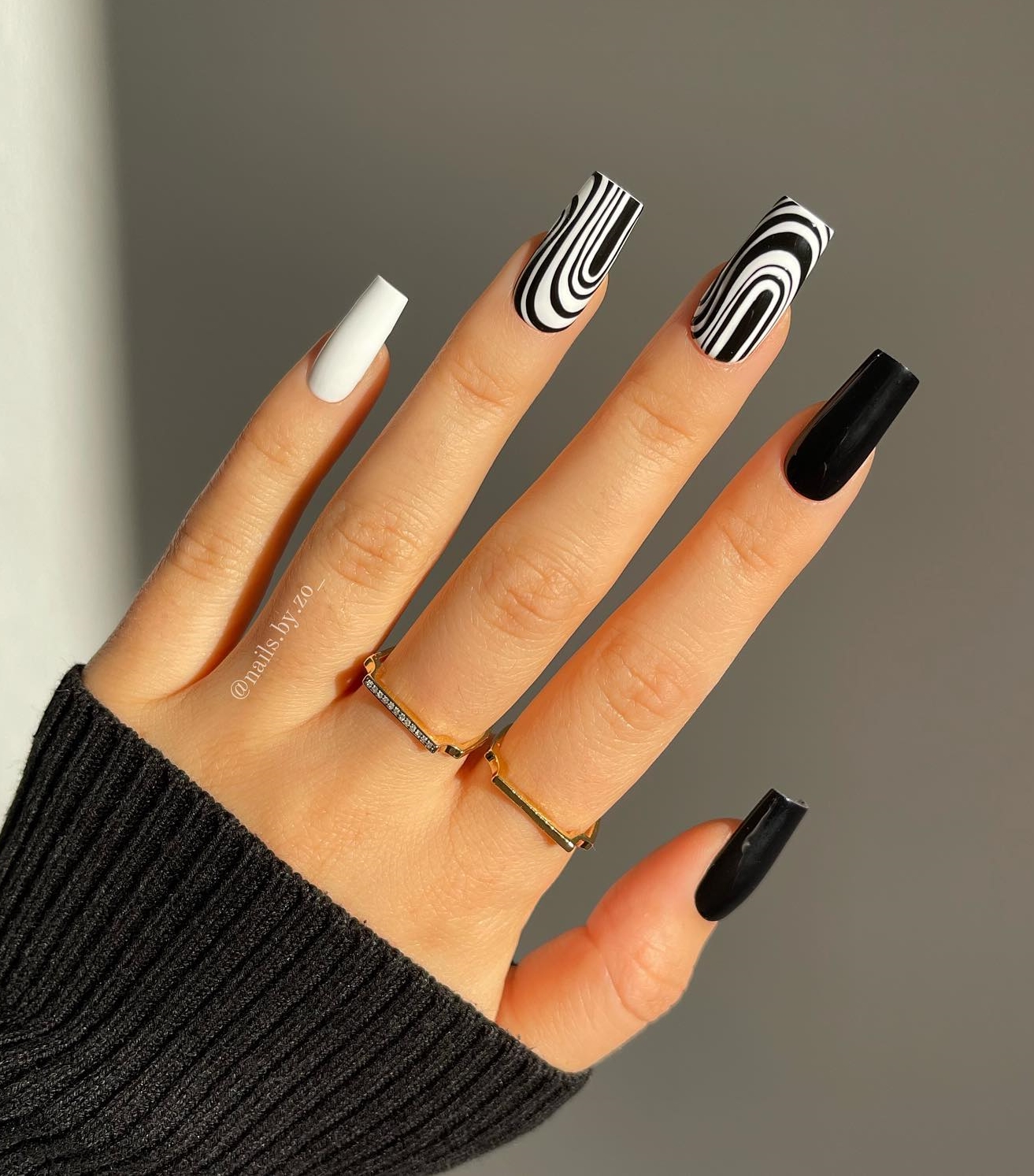 via @nails.by.zo_
Colorful Geometry on Your Fingertips
Many ladies prefer bright colors to make their image more attractive and stylish. If you are not in the mood to choose too flashy shades, consider yellow and nude colors with unusual patterns or several rhinestones.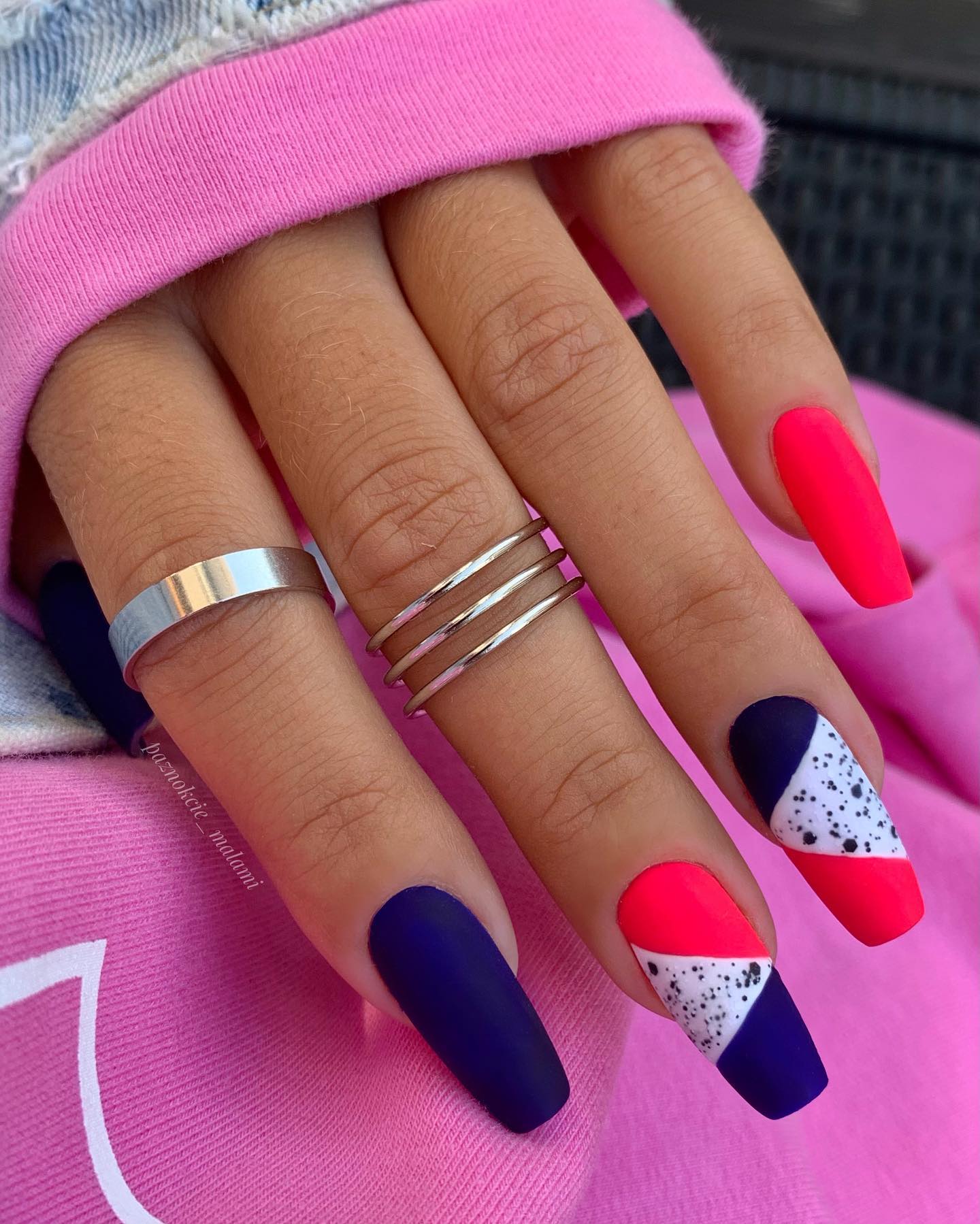 Women often select eye-catching geometric nails with contrasting colors, for instance, orange and green or red and blue. Such a mani is perfect for summer when most people prefer wearing bright clothes and have a sunny mood. To avoid making a colorful design, you can pick one plain shade and make an accent nail with a geometric pattern.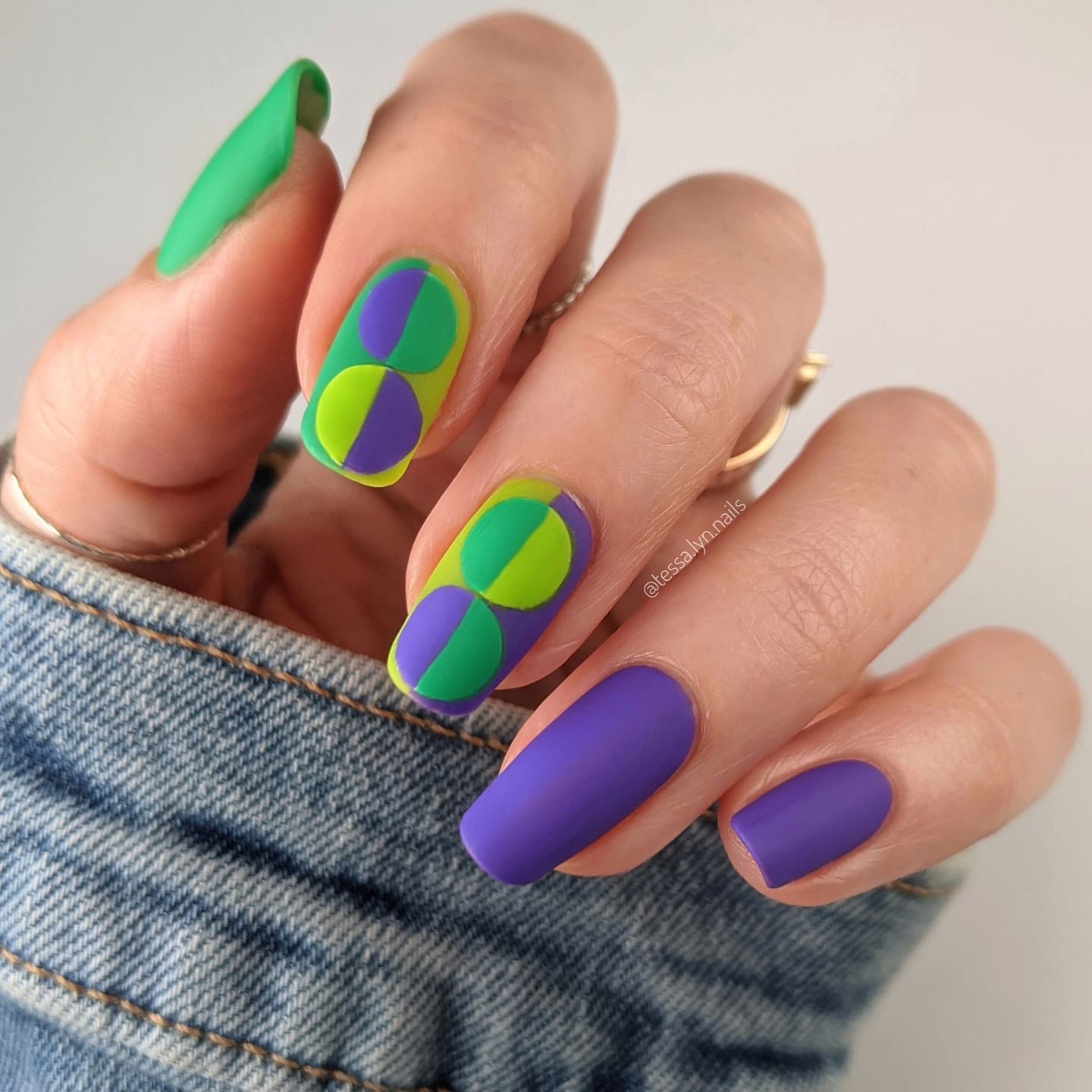 via @tessa.lyn.nails
Bright nail polish will always remain in trend, and the main concern is to select the desired color in all this diversity. Many women think that such shades are suitable only for long nails, but this is far from the case. You can make a fashionable bright geometric manicure even on very short nails.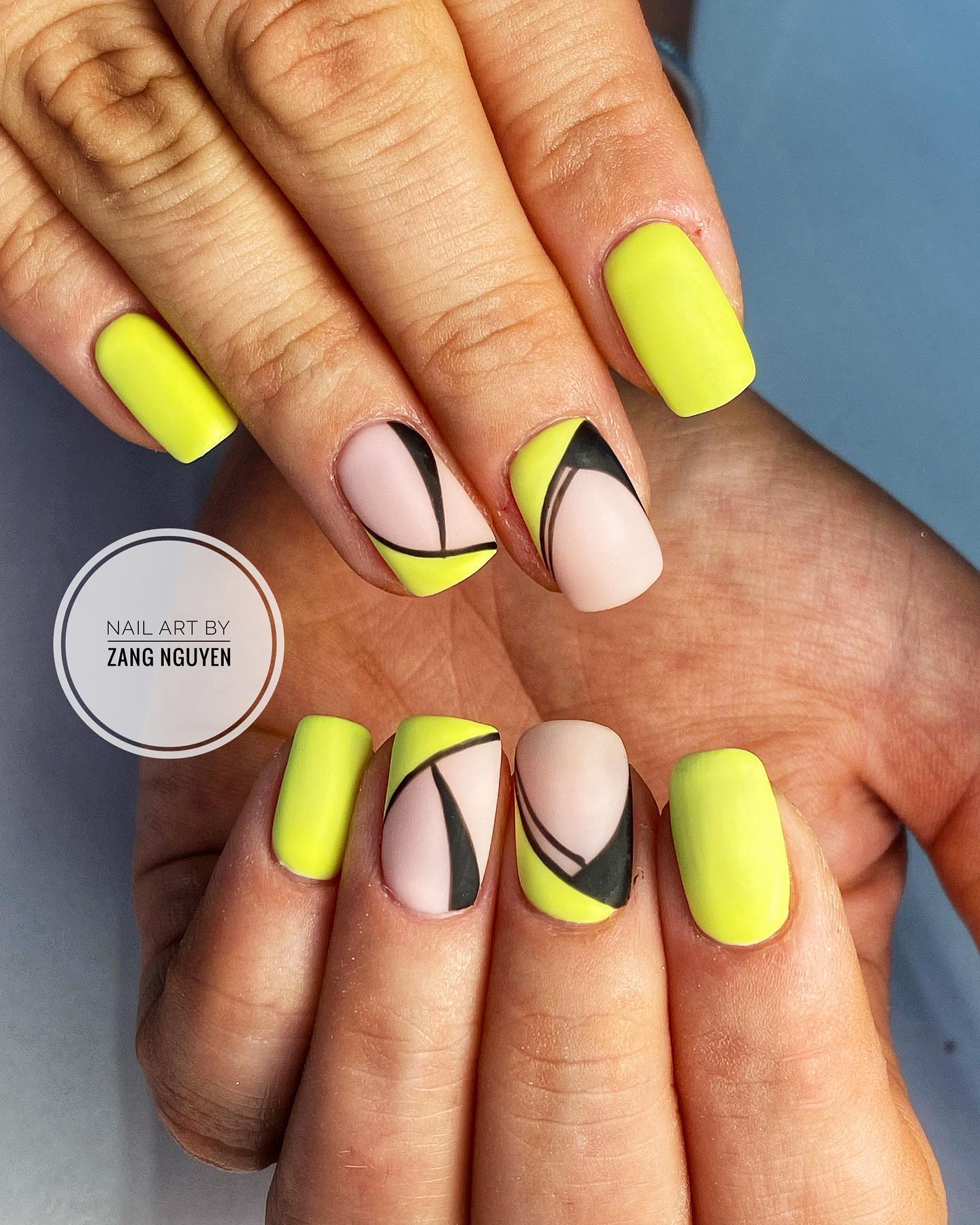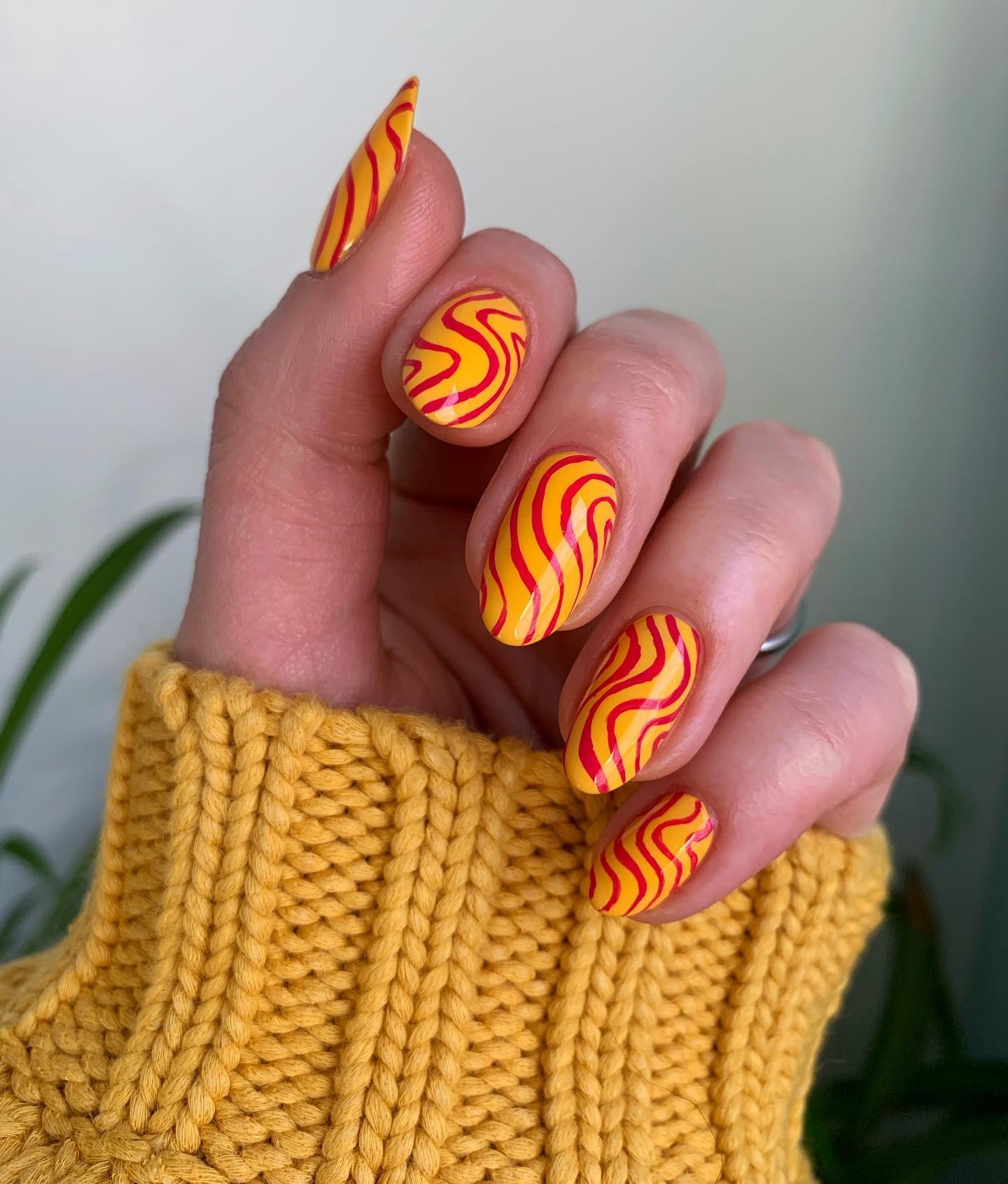 via @sammismanis
Unusual French: Unique Geometric Designs
Despite many opinions that the classic French manicure is not trendy anymore, millions of women still adore it. The reason is that such a design is elegant and laconic, which suits any occasion. However, those who want to make a more exclusive and interesting mani often choose colorful french tips instead of classic ones. And here, it's up to your imagination since you can pick any shade and line length.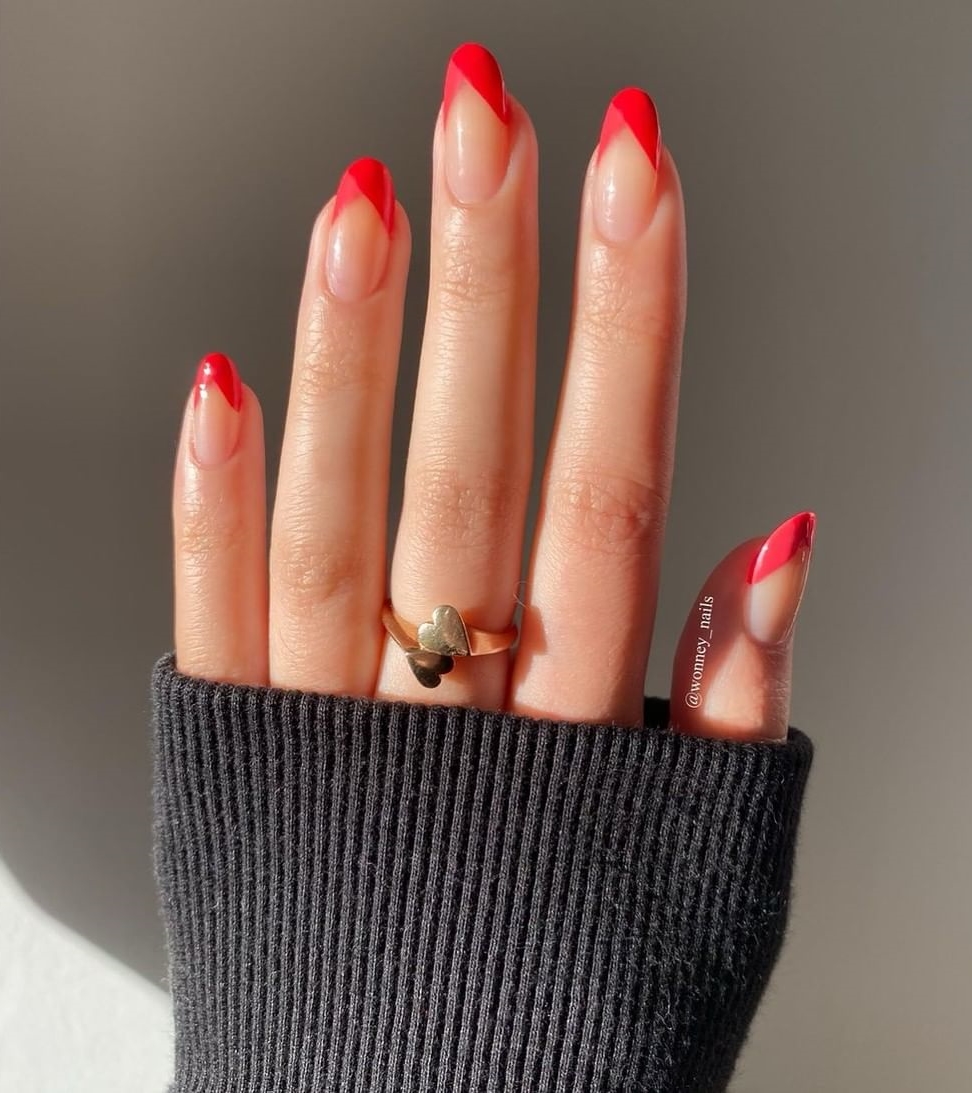 via @wonney_nails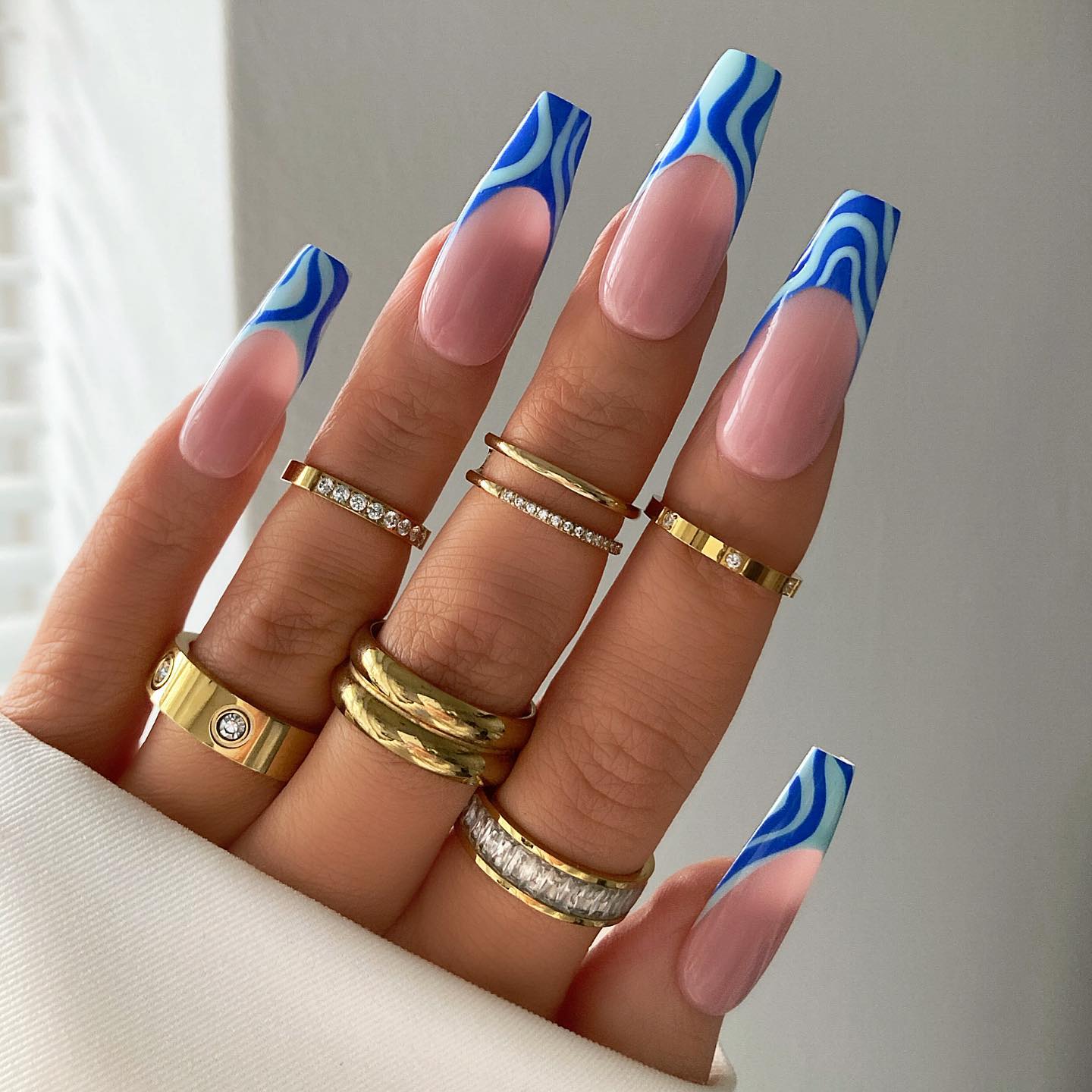 French manicure can also be complemented by crystals or additional geometric lines, which create a unique nail design for each lady. You can pick a classic transparent base coat or choose something brighter, for instance, beige or pink. If you feel confused about the selection in the beauty salon, consult your nail tech, and they will recommend you the most demanded and trendy polish colors.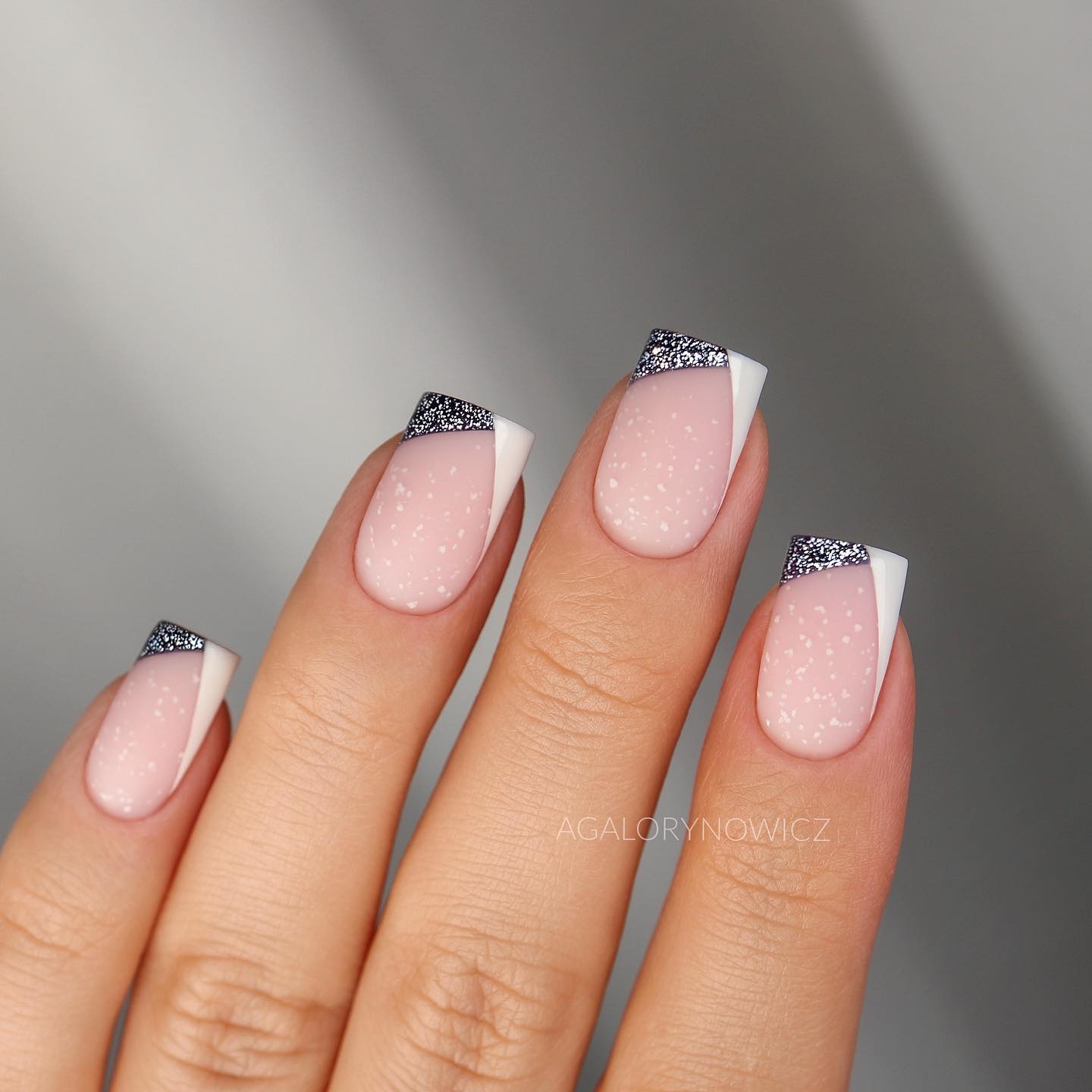 via @agalorynowicz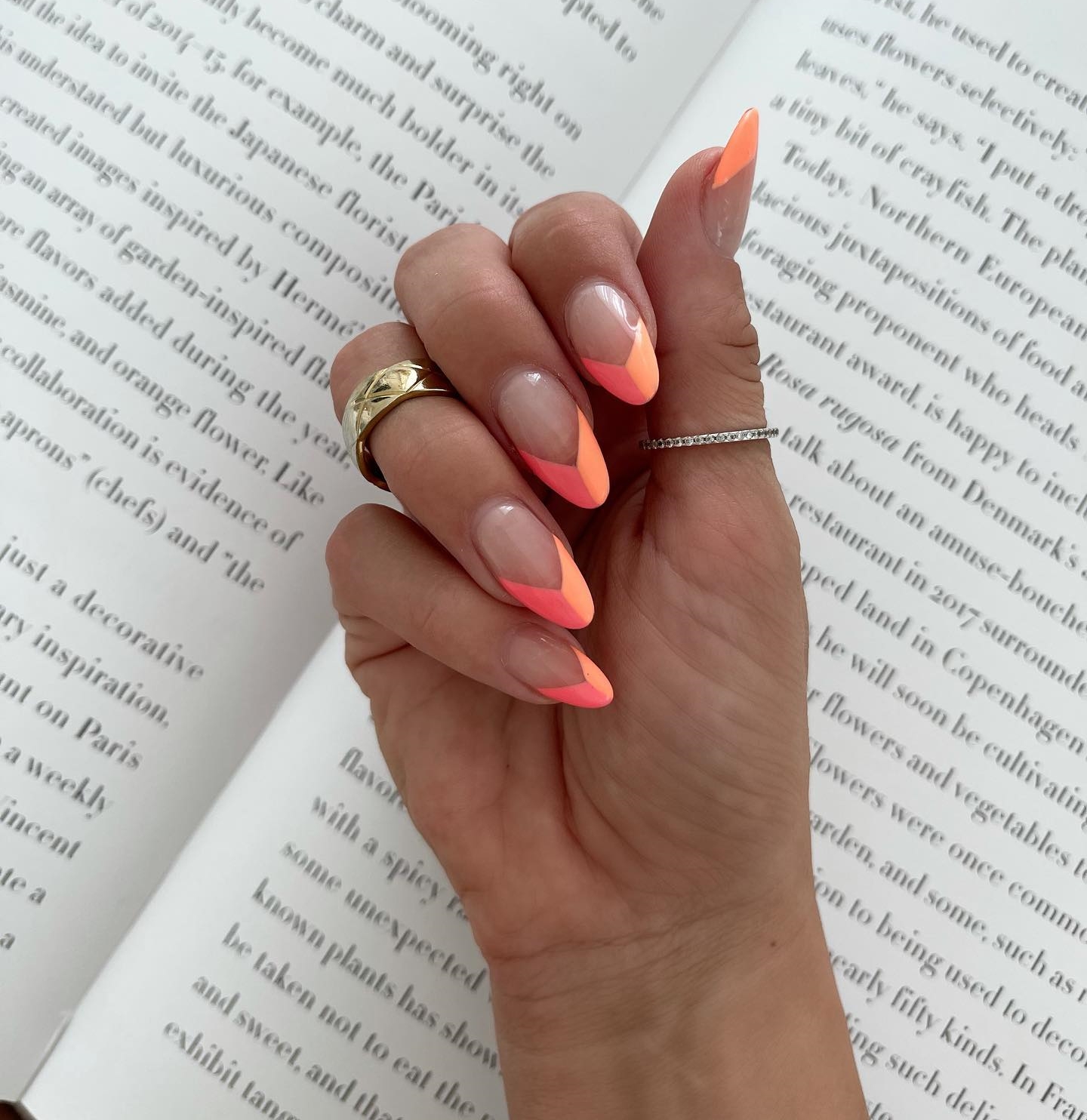 Foil Geometry for Bright Personalities
The fashion of the 90s is now at the peak of popularity, and this could avoid affecting the manicure trends: glitter, crystals, and everyone's favorite foil are back in trend. Nail foil is one of the simplest ways to make a perfect design, and it is easy to handle. It all depends on your imagination and the skills of your nails master.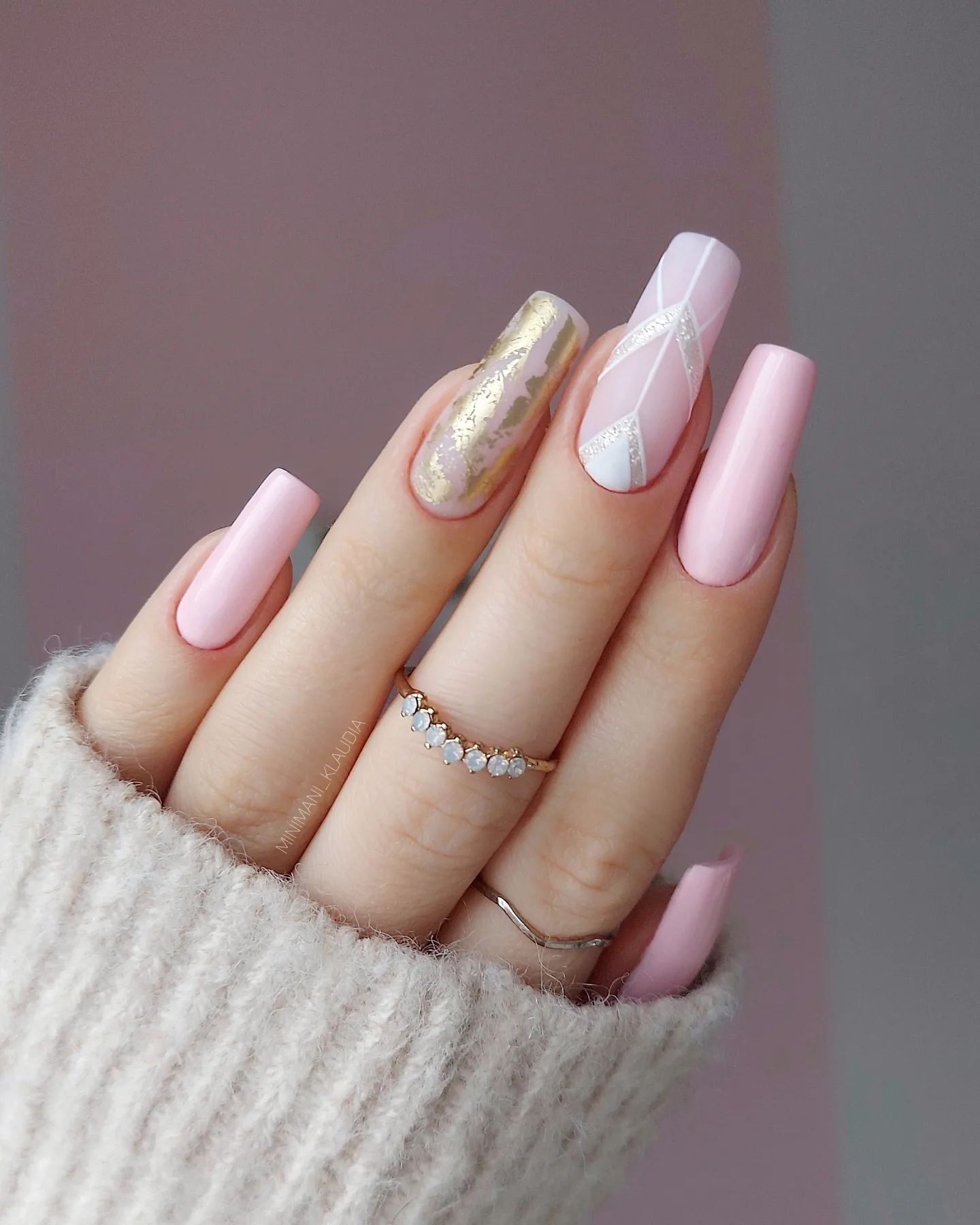 Foil is frequently used in nails designs since it looks laconic and stylish. The most common option to make an elegant design is to apply some foil stripes on your nails. If you usually prefer plain manicures but want to add some accent detail making a design only on the ring finger is a great idea.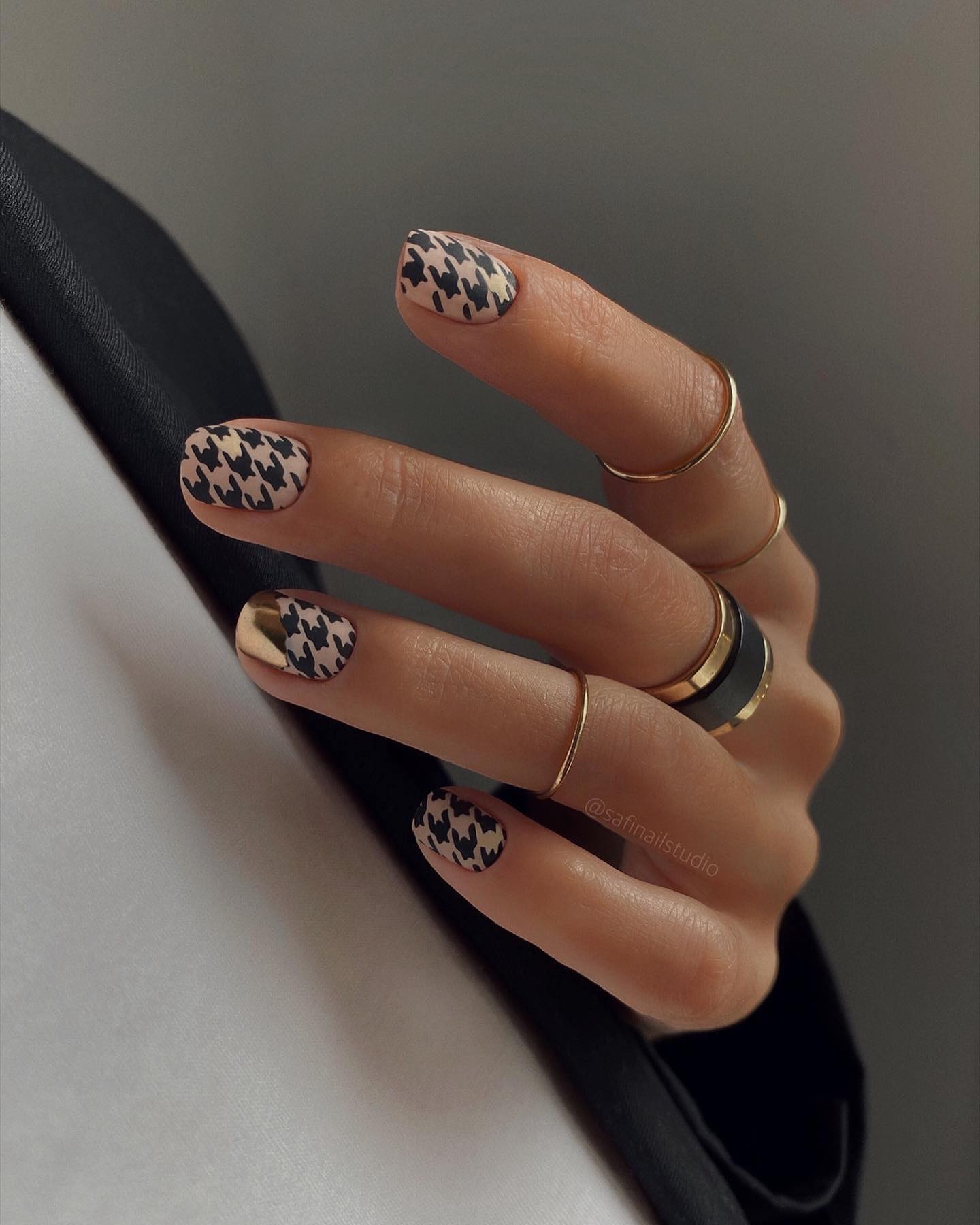 via @safinailstudio
You can ask your nail master to make foil triangles, circles, or squares, a wonderful minimalist nails design. Foil is a universal instrument for an attractive manicure. The most common options are golden and silver material, but you can also meet those in different colors.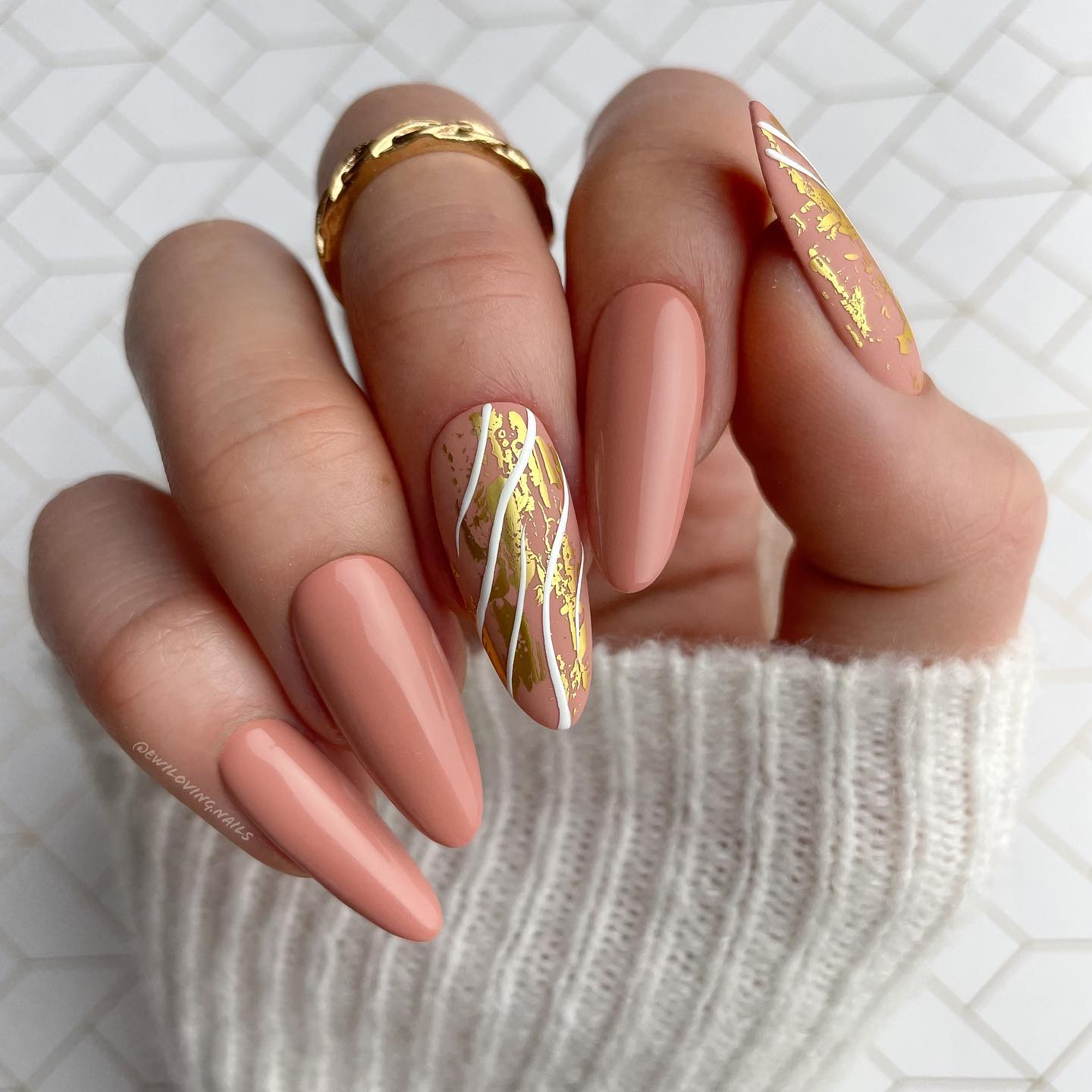 via @ewiloving.nails
The "broken glass" design is also common among modern fashionistas. It implies glueing different-colored foil all over the nail, which looks spectacular in the sun. Moreover, you can ask your nail tech to add some lines or tiny patterns with a small brush to make your manicure even more unique.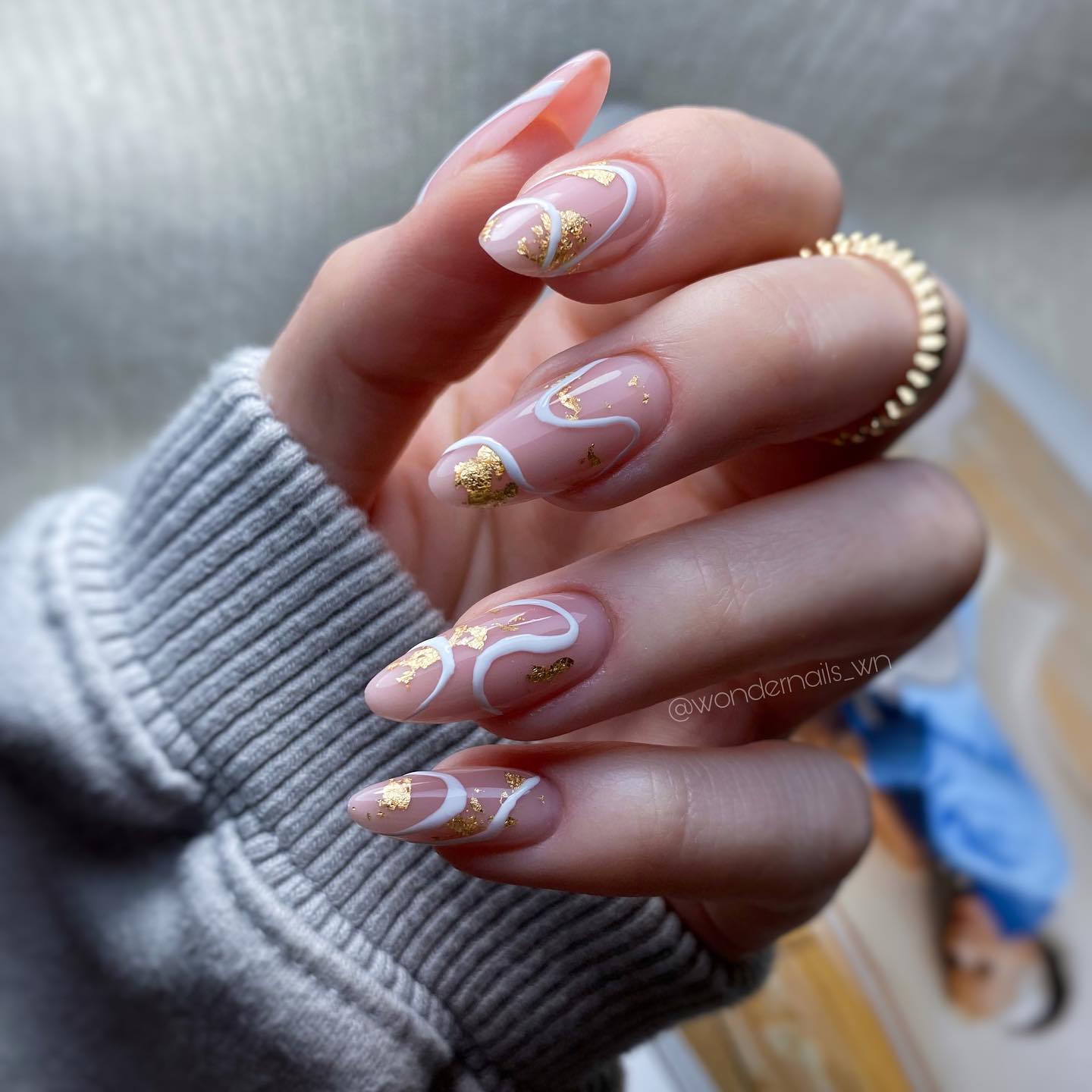 via @wondernails_wn
Best Minimalistic Nail Art Ideas
You can now find numerous geometric nail art ideas, suiting all tastes and preferences. If you prefer conservative and laconic manicures but are tired of boring plain design, this option is exactly for you. It's up to you to decide whether you would like a single line on one nail, triangles, squares, or other patterns. Turn on your imagination when visiting your nail salon, and enjoy an exclusive mani in a couple of hours!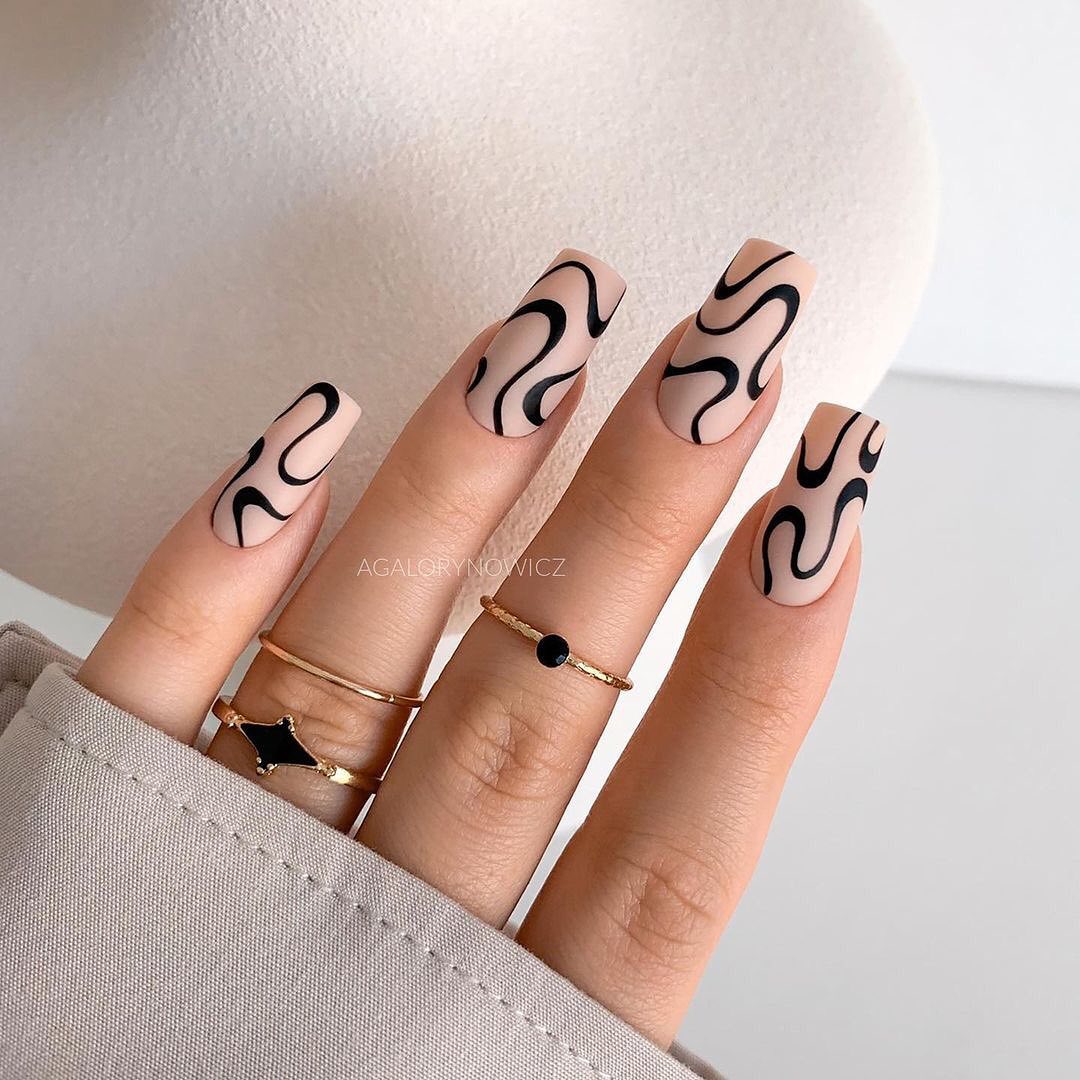 Minimalistic design is now in trend, so you will always look stylish and relevant to any occasion with such a manicure. Search for exciting nails ideas and save the ones you like most to show your master during the next appointment. Or just get inspired by pictures to come up with your unique drawing without repeating after anyone.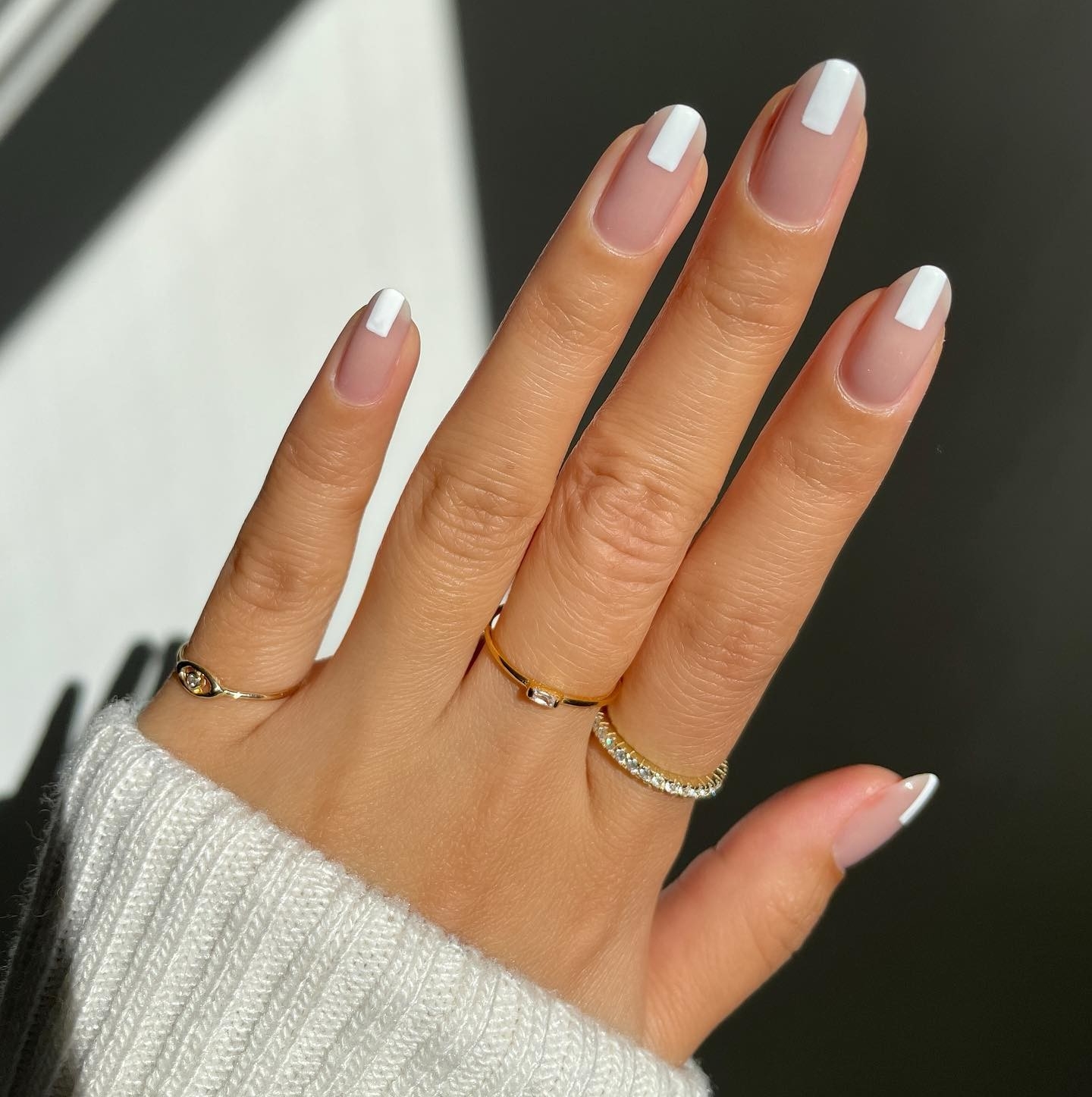 via @amyytran
Most women prefer one color nail polish and an exciting and capturing design on the ring finger. This manicure is suitable for daily routine since it's laconic and won't attract extra attention. Such design is a great idea both for long and short nails, and in the latter instance, small geometric shapes will look amazing.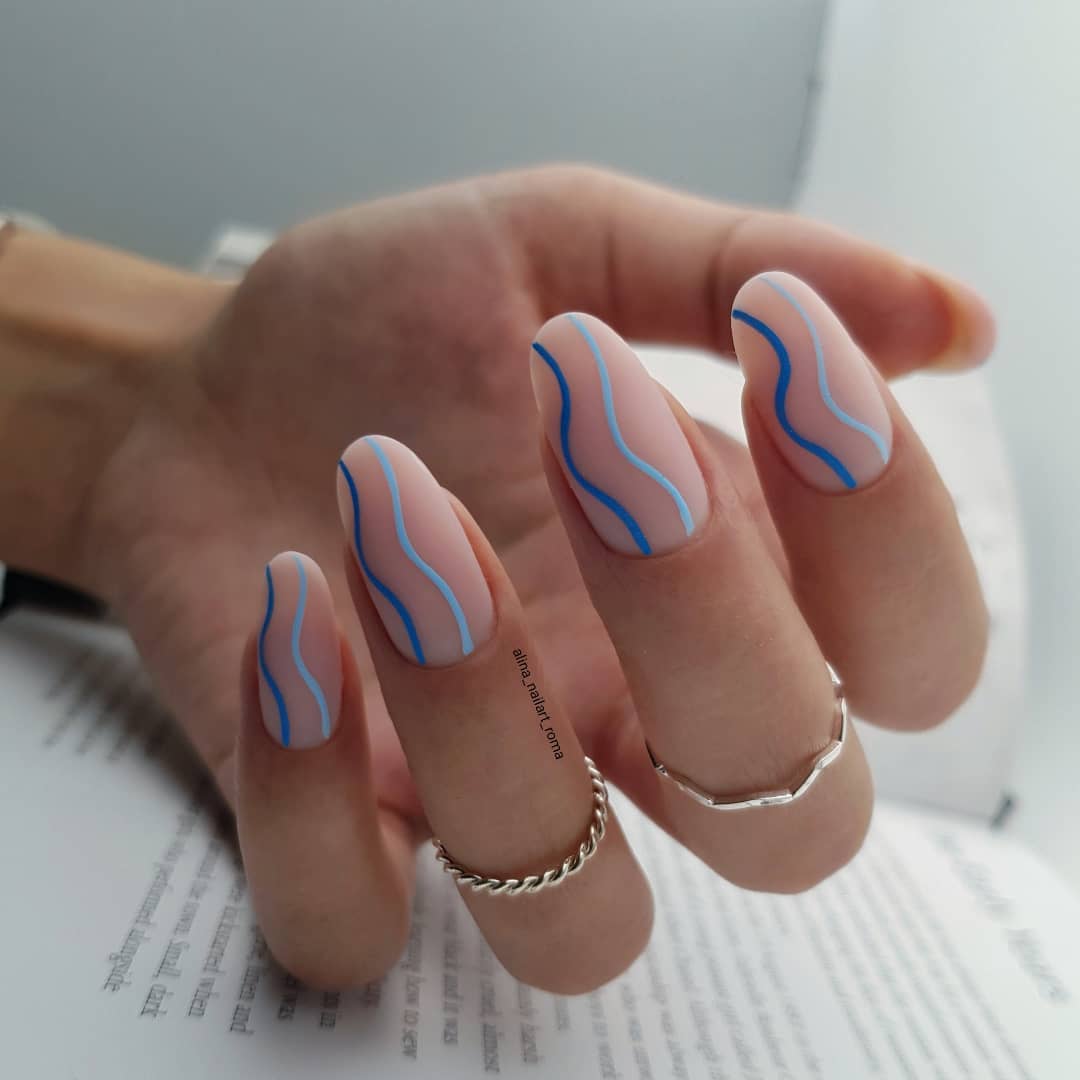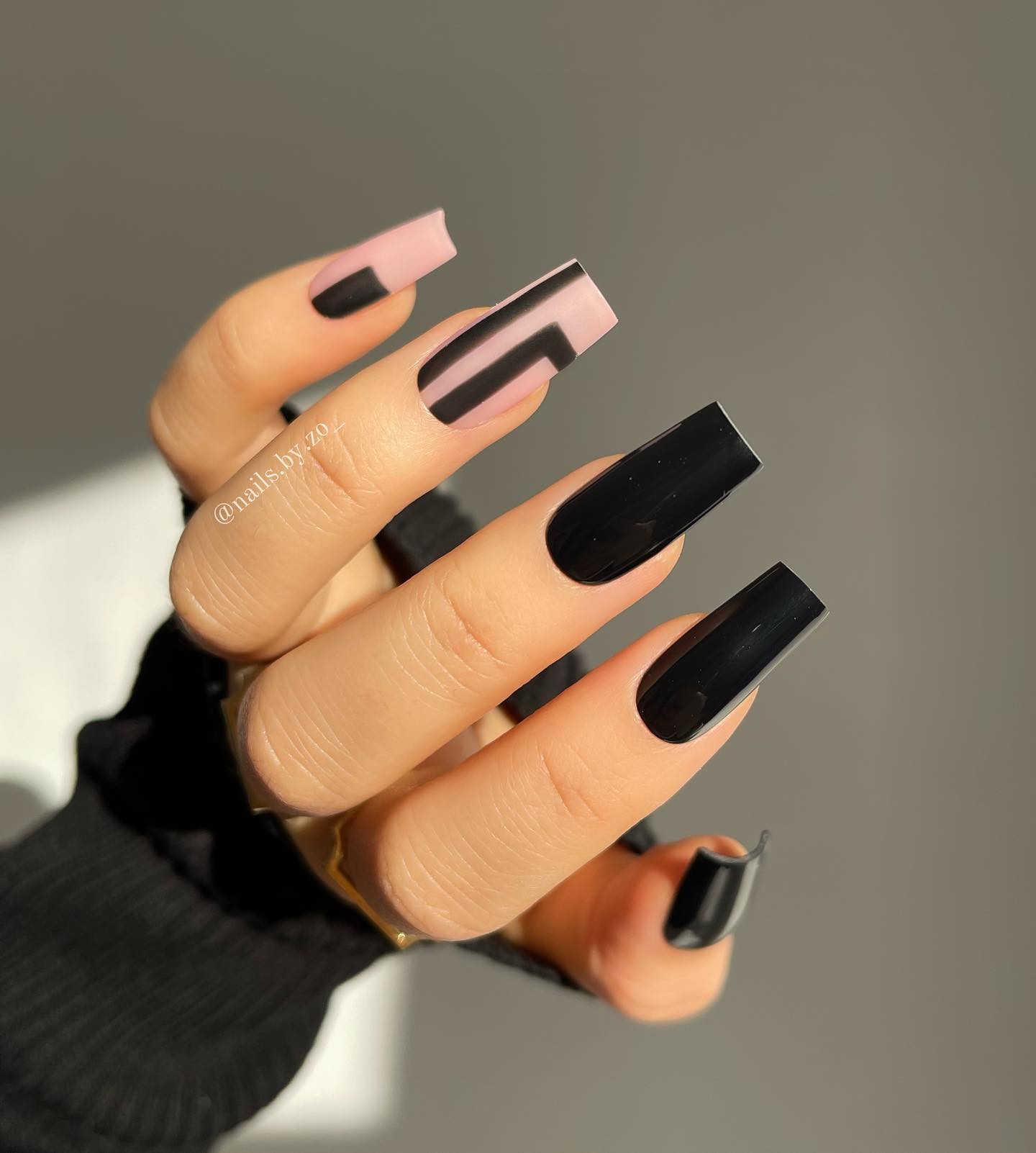 via @nails.by.zo_
A Unique Mani with Abstract Lines
Numerous modern trendsetters choose this design since it's quite simple but attractive at the same time. Geometric patterns on nails are a great option for ladies of all ages. One of the most interesting benefits of this mani is that you shouldn't obligatorily visit a beauty salon since it can be easily done at home. Choose the main color and draw vertical stripes to get a unique and trendy design.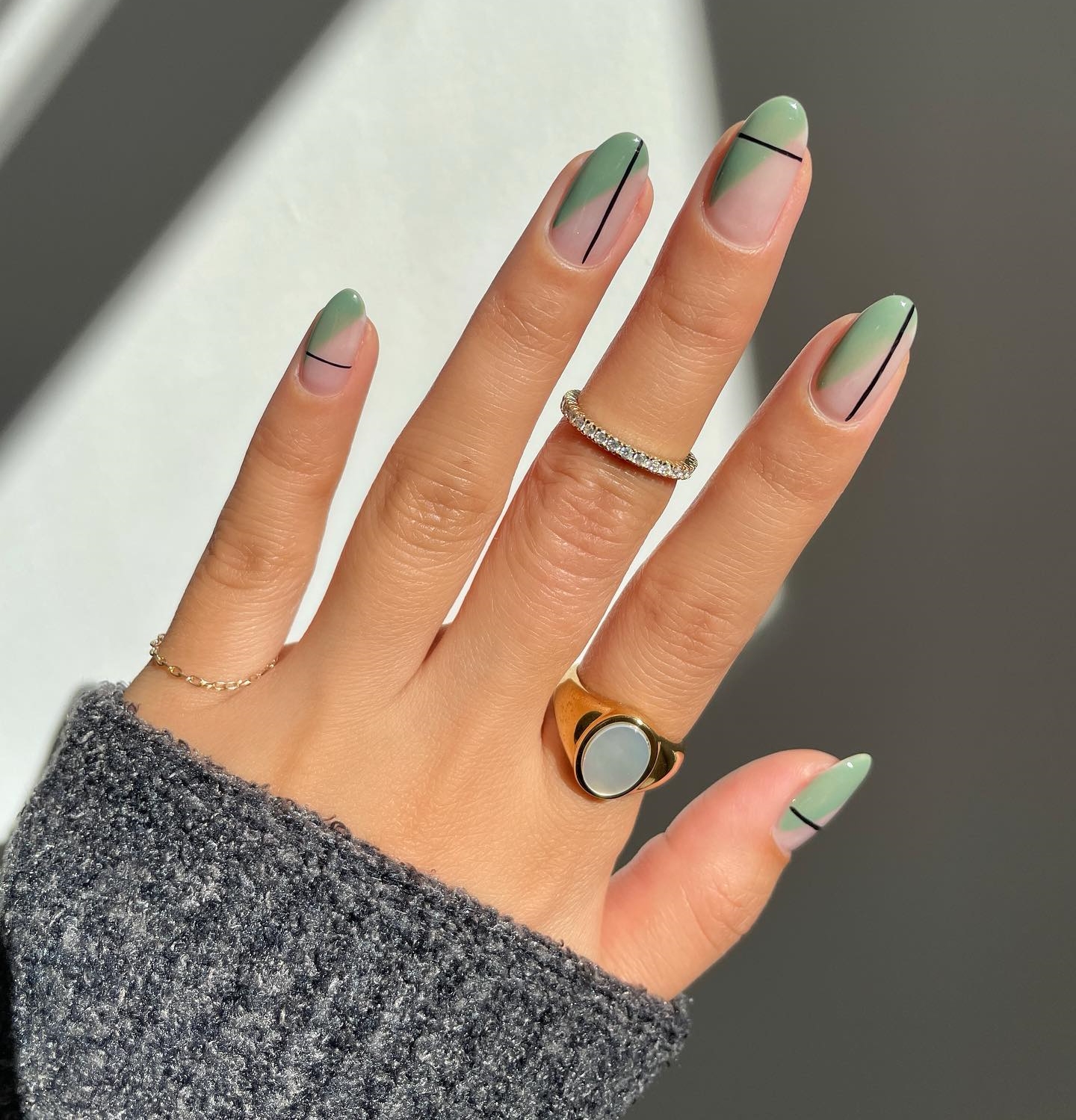 via @amyytran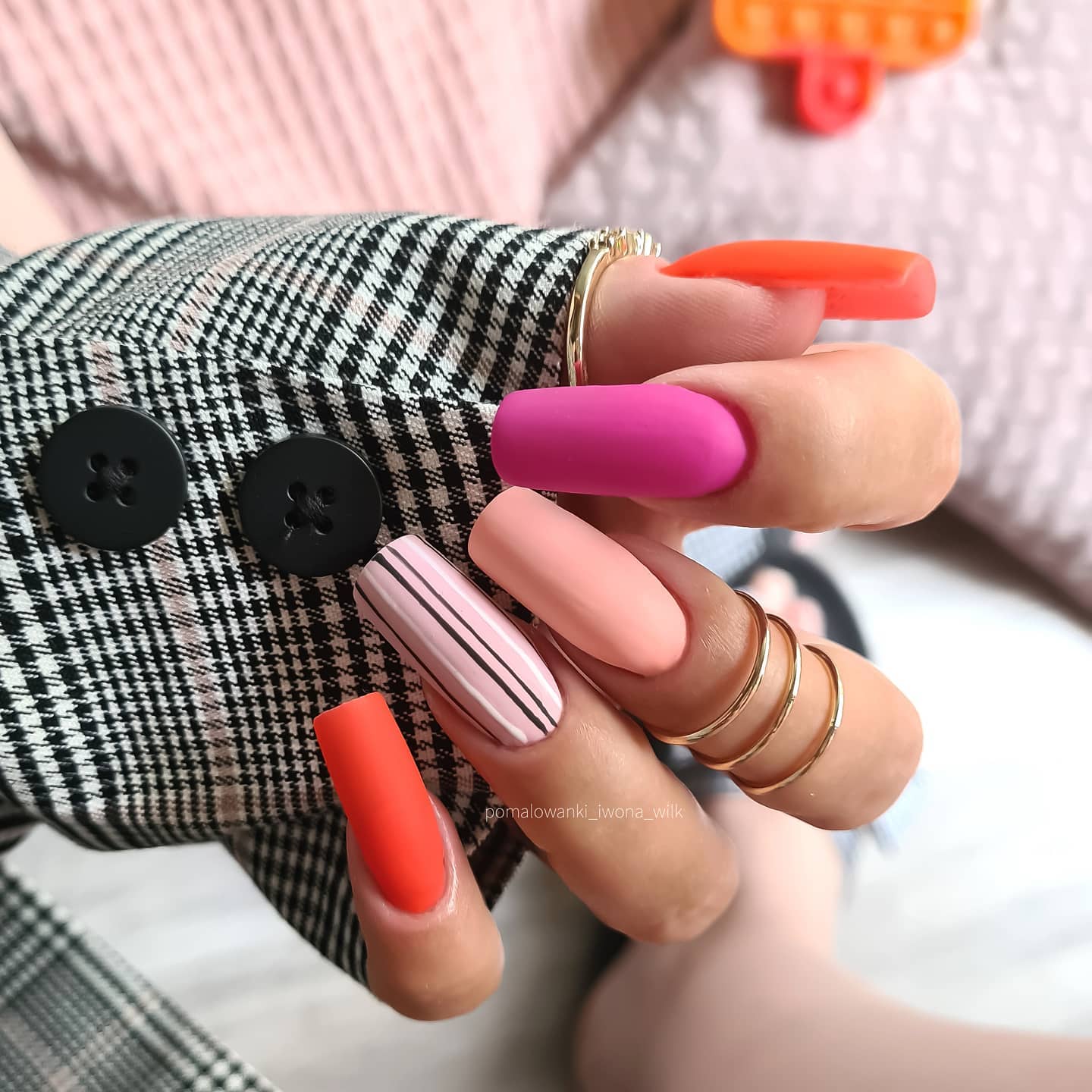 A mani with parallel lines is also an excellent idea for those who prefer strict and laconic nail designs. It suits all dress codes perfectly, and it doesn't matter which clothes style you prefer. You can also add lines randomly, creating your design that no one else can repeat. Your nail tech can even draw something resembling a web as if nature itself painted your manicure.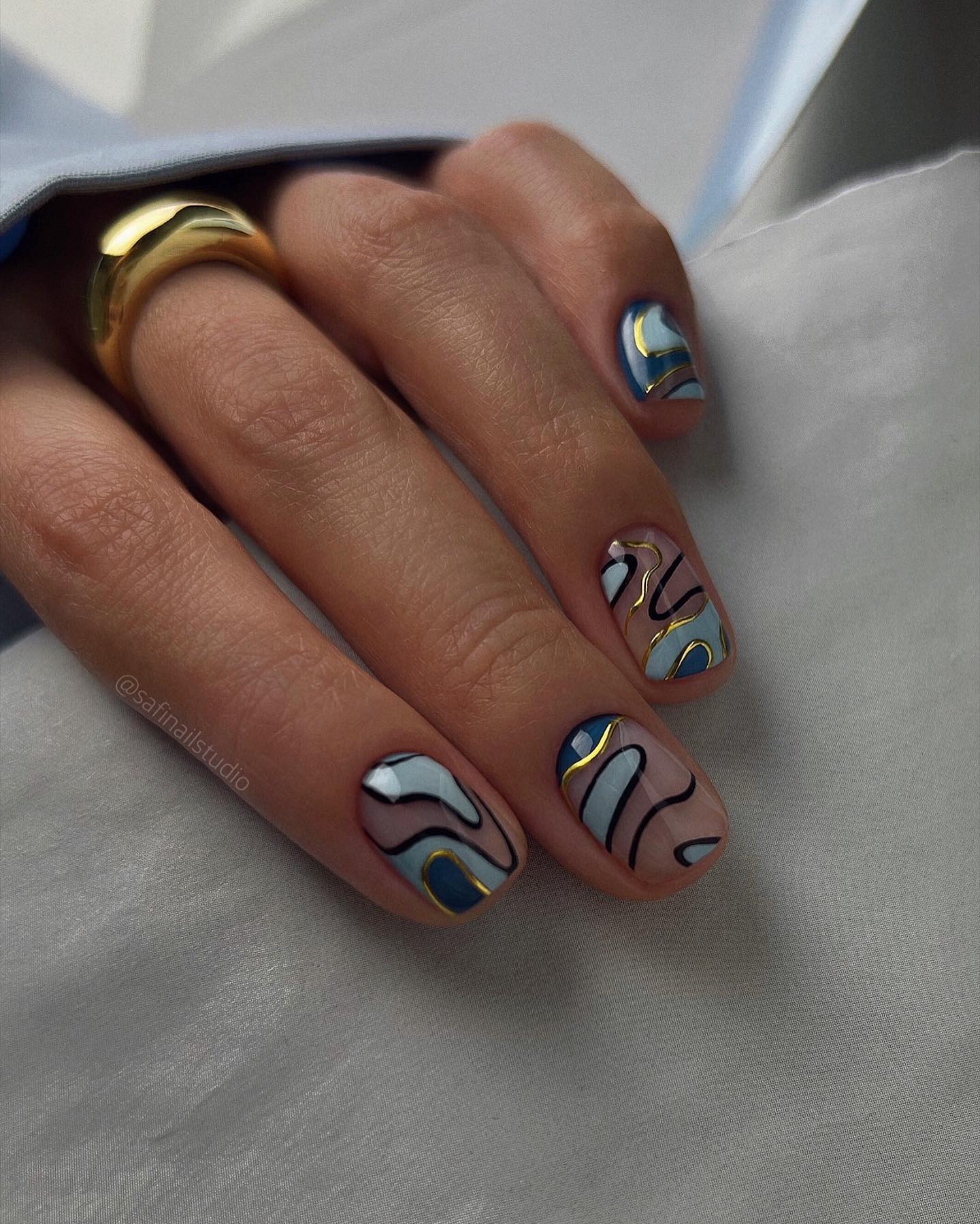 via @safinailstudio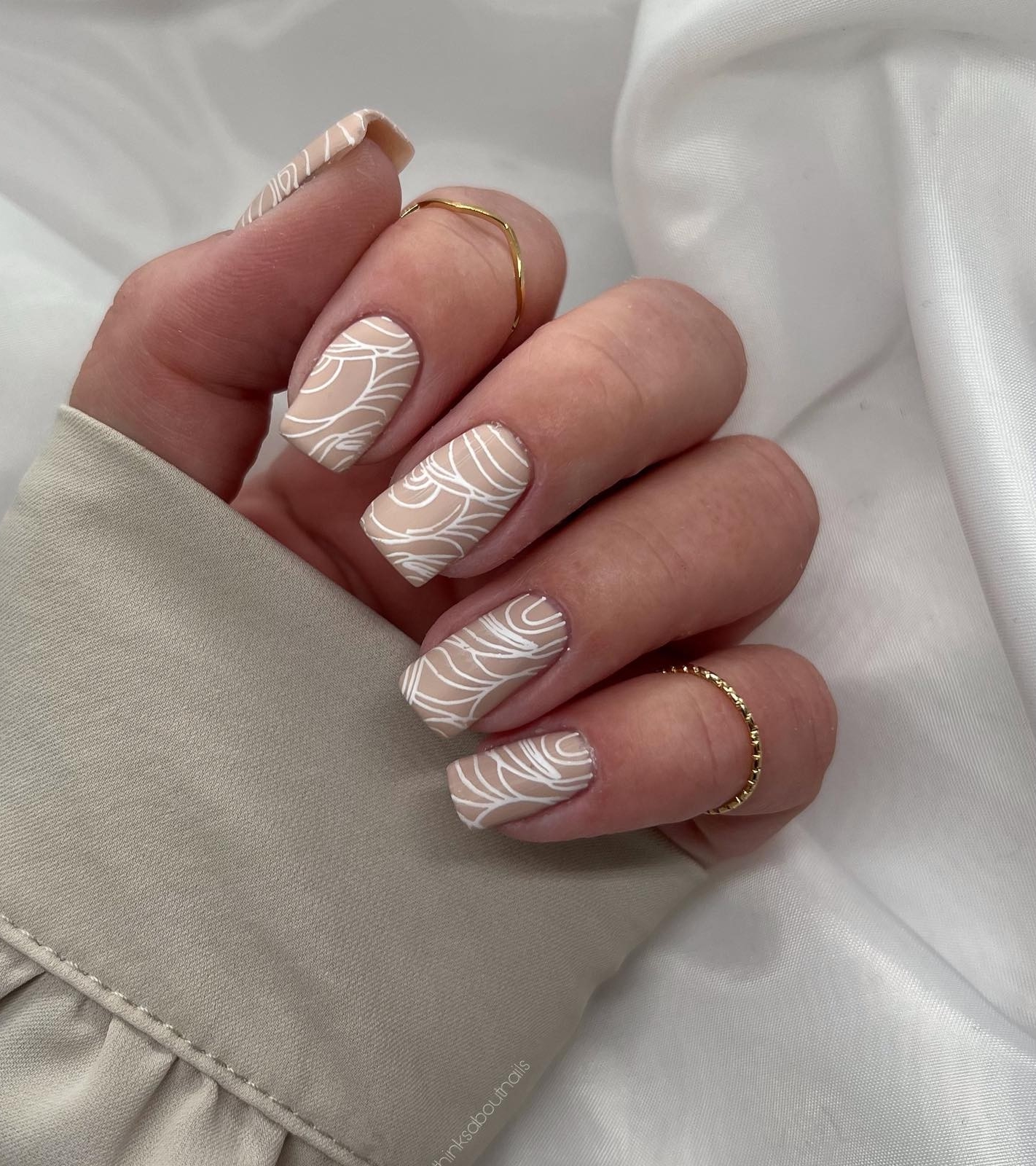 Create Geometry with a Matte Top
Nails with matte finish are one of the hottest trends of recent years. If you want to get a unique manicure, use it as a second coat and enjoy the most astonishing manicure. As well as with the usual glossy top, you can choose any geometric print that you like, whether figures or just straight lines.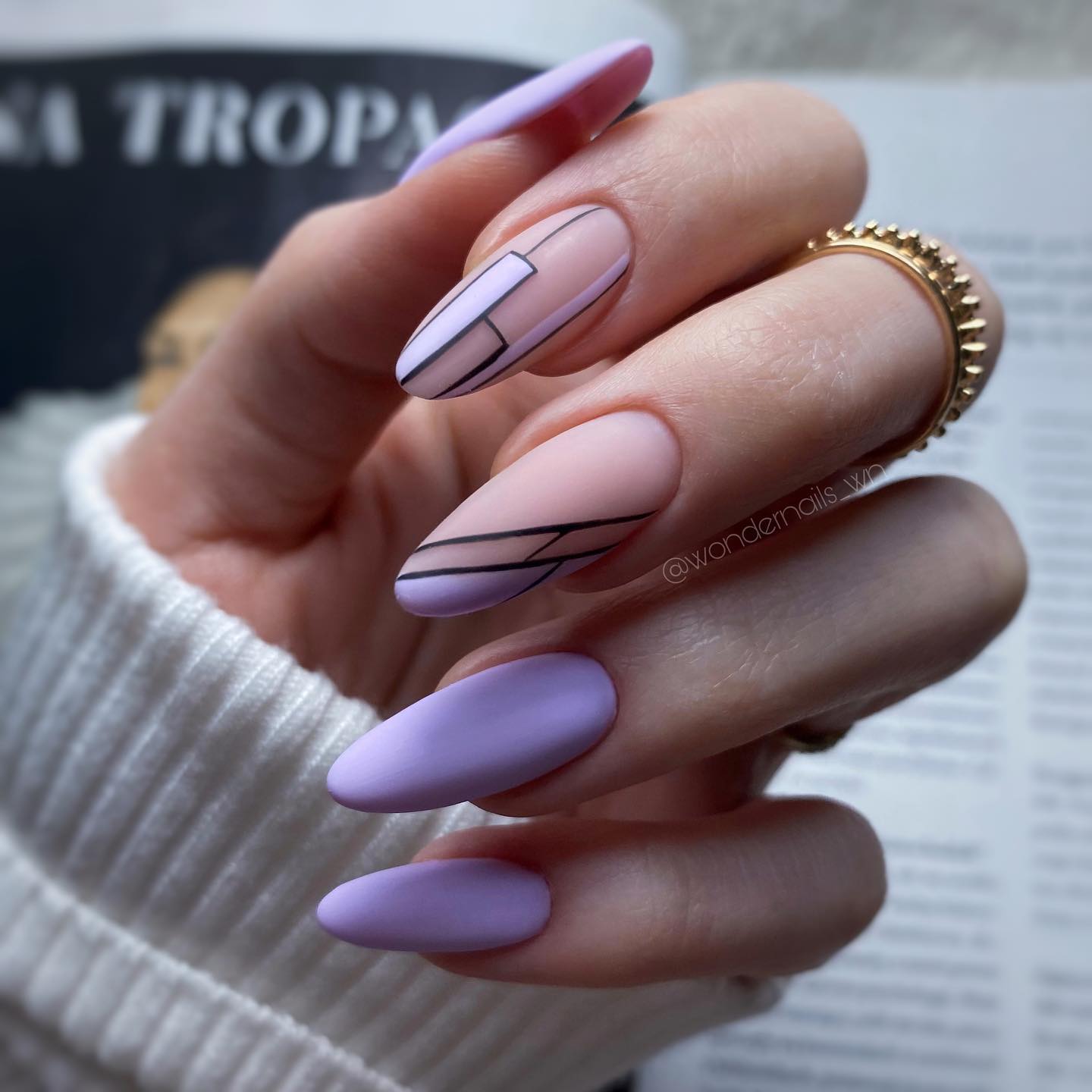 via @wondernails_wn
You can also pick any color, but remember that each shade will look a bit muted with a matte top. For instance, a solid purple polish will not be as bright as if you use a glossy coat. One more thing to consider is that some polishes, especially light ones, can look dirty and darken after about a week of wearing. However, it all depends on the products' quality, so don't forget to consult your nails technician.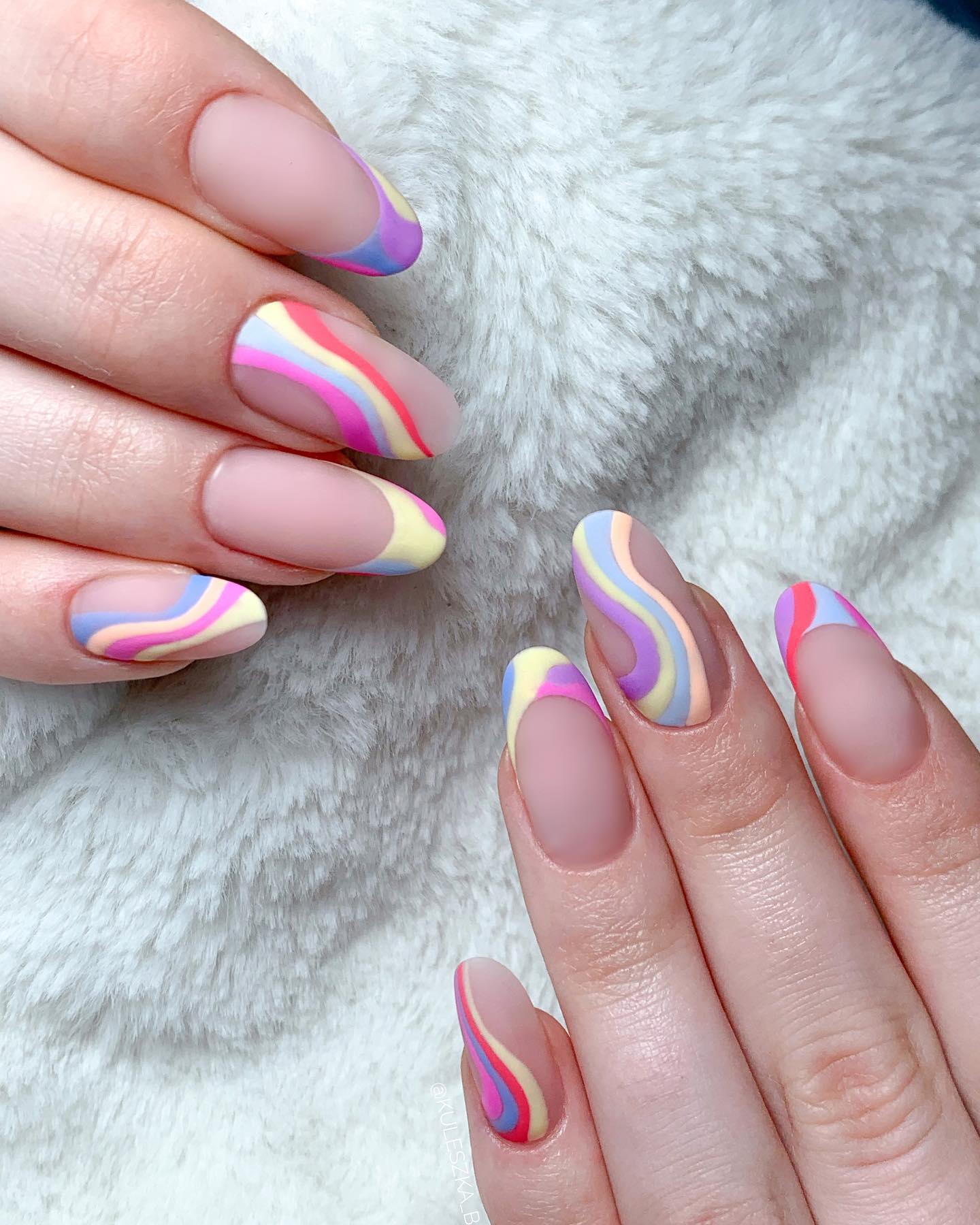 via @kuleszka_beauty
If you have a special occasion or just want to make your manicure brighter, using some silver glitter is a great idea. If you feel it would be better not to add it on all nails, choose several ones and apply a bit. In this way, your mani will look more festive, making it perfect for some holidays.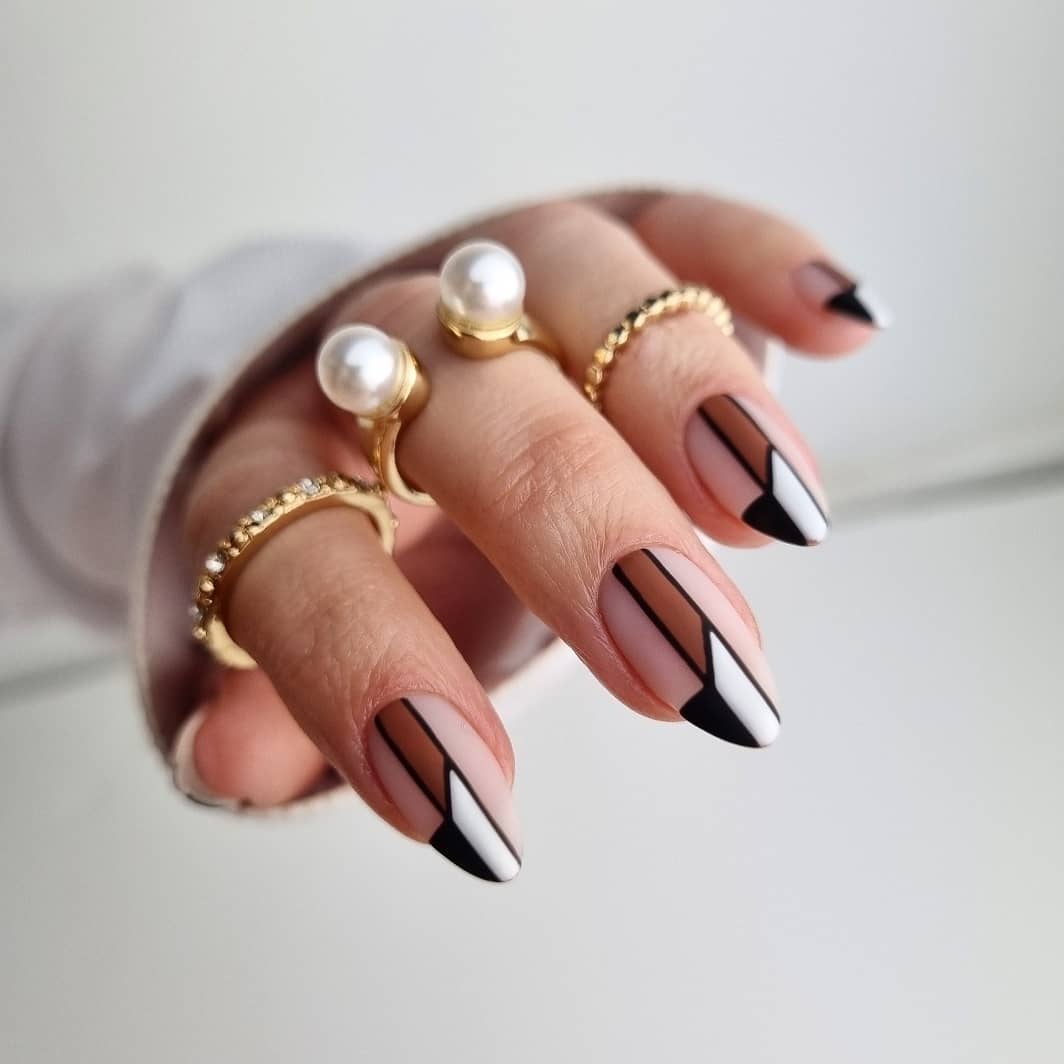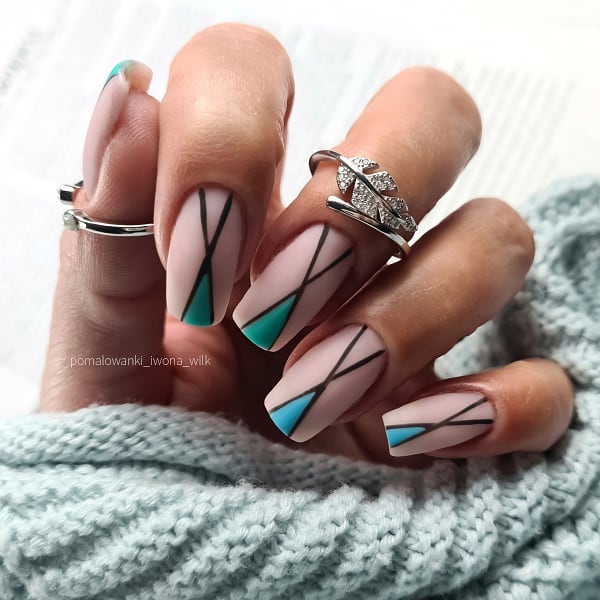 Geometry for Those Who Can't Pick One Color
To get a bright exclusive manicure, consider two-color geometric nails, a timeless trend among numerous fashionistas. It can be made with any shades of your choice, which fully depends on your preferences and wardrobe. Many women prefer to pick the two colors for their mani according to the clothes they wear.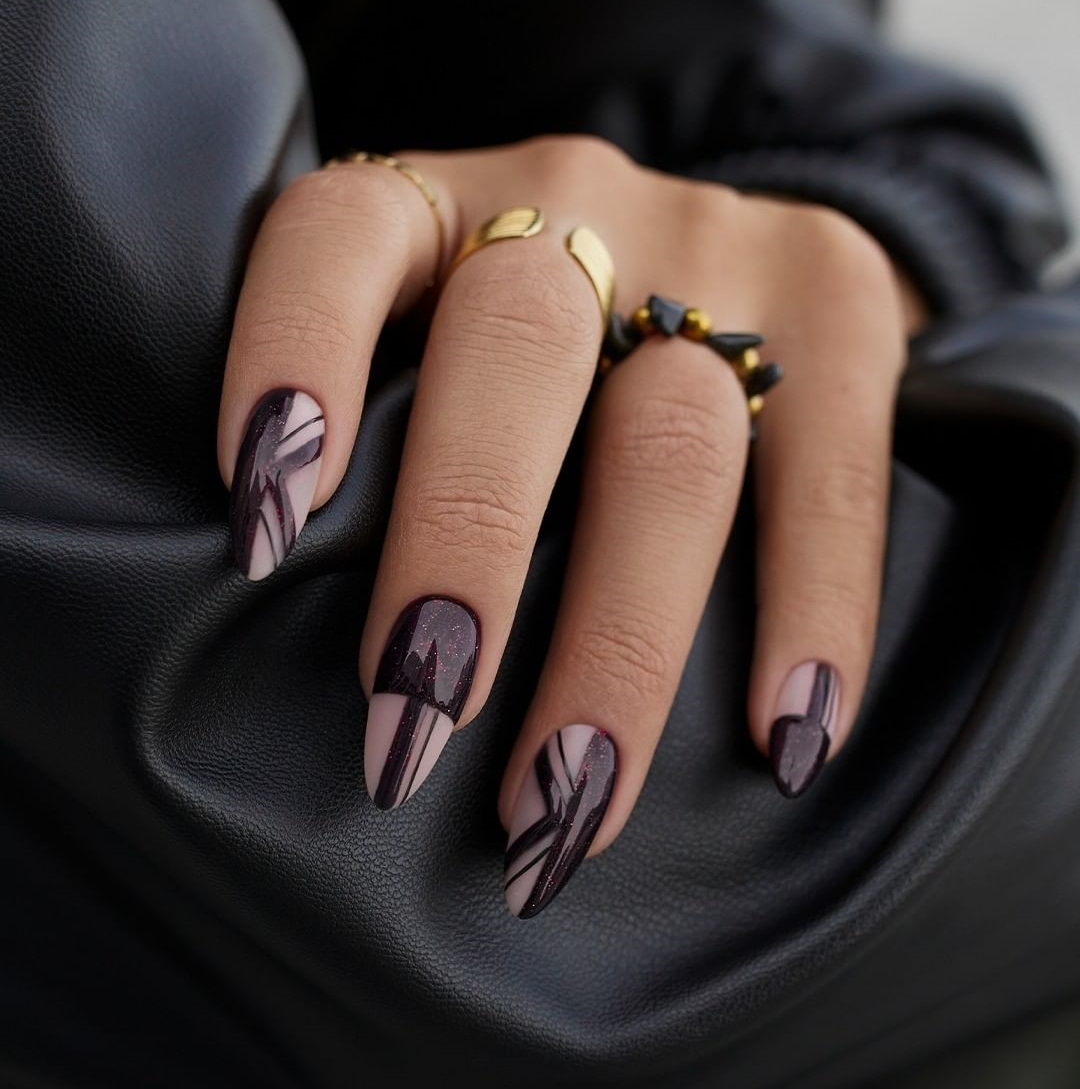 via @indigonails
The geometric nail design is so versatile that it fits at any time of the year and literally under any outfit, whether an evening dress, a business suit or a youth clothing style. Different shades of nail polish are now available so that each lady can choose something suitable for herself. The trendiest shades in 2022 are violet, deep blue, yellow, and bubblegum. And you can combine them all in your new manicure!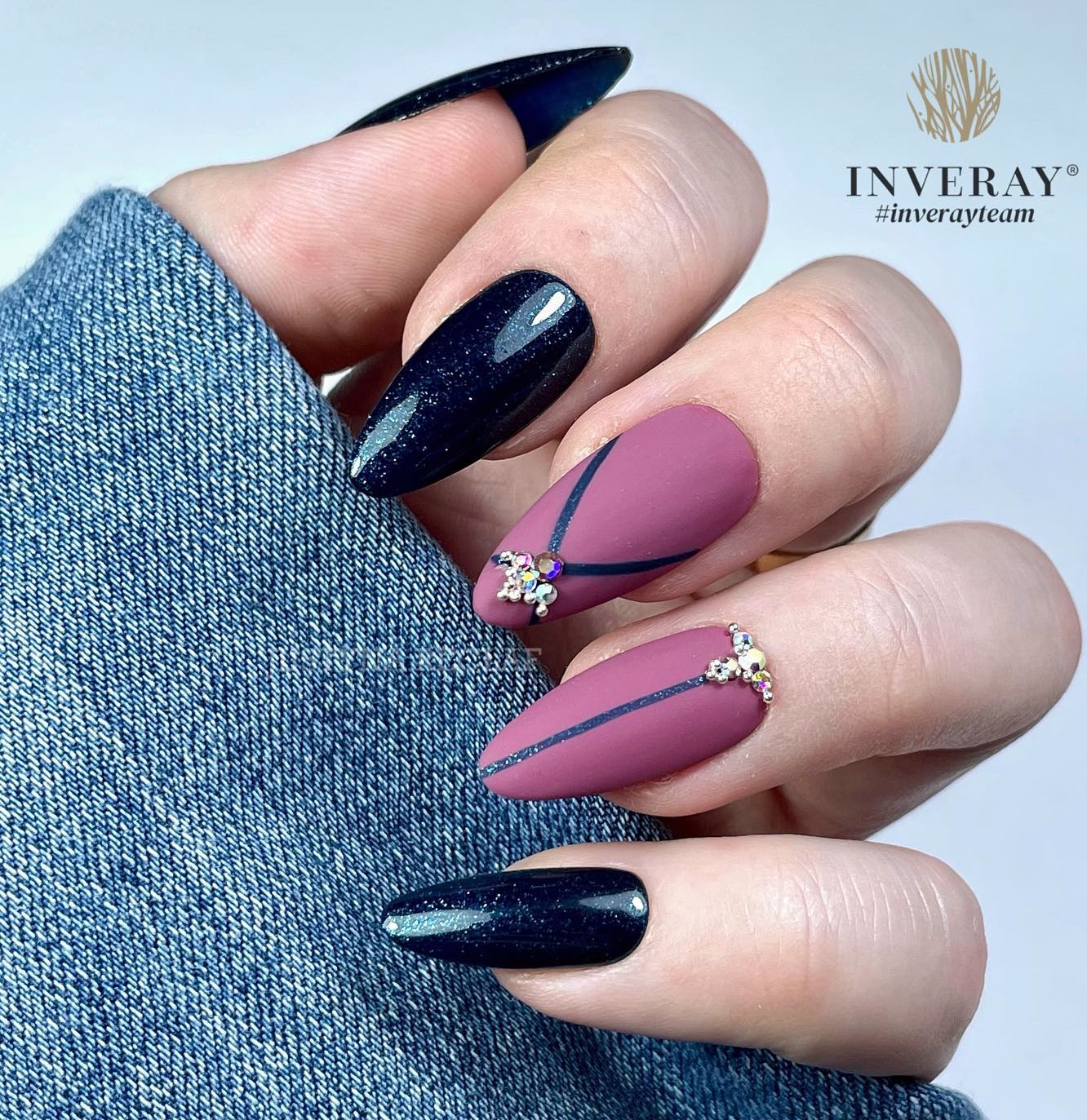 For a nice classic design, you can put a base coat and add a geometric pattern only on one finger, which will also look very attractive and interesting. Adding some crystals is also a great solution since this has long been not just a festive manicure but an element for every day.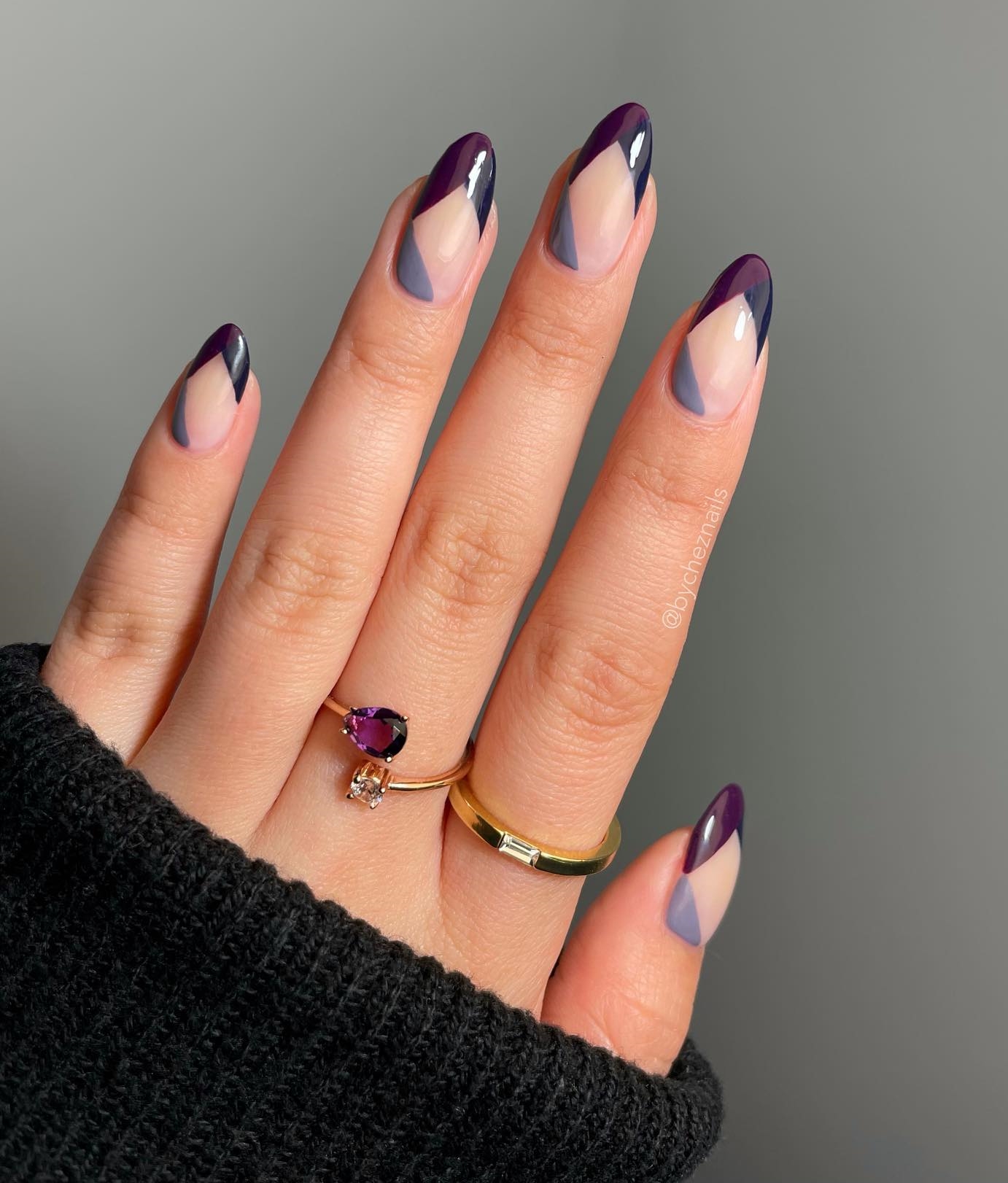 via @bycheznails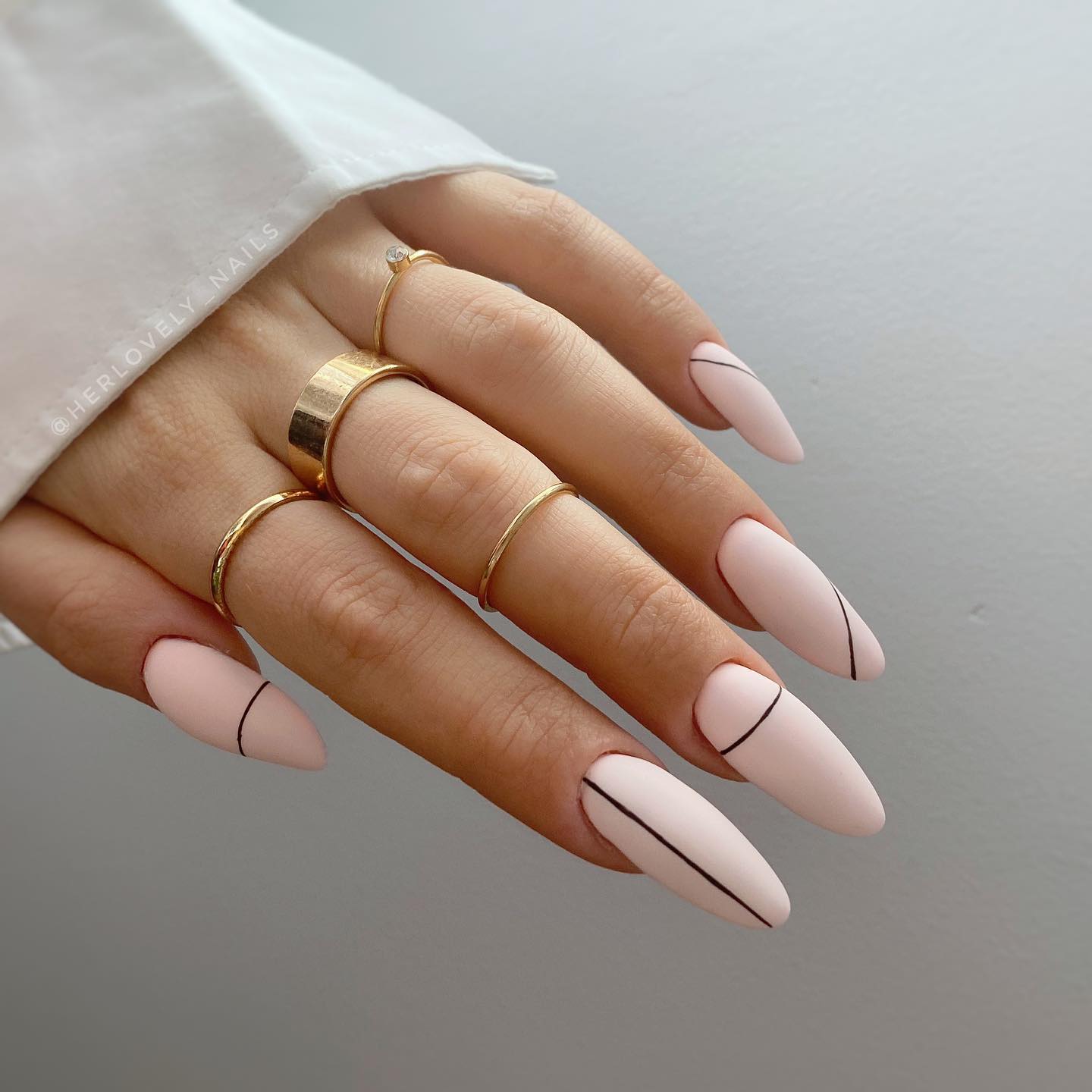 via @herlovely_nails
Sparkle Every Day: Geometric Mani with Glitter
Glitter is nowadays one of the most popular elements for nails design, and ladies use it daily. However, there is one important rule. First, make sure that a bright mani suits your dress code and your nails design will look suitable at work. If you are free to do it, think over the colors and design! Moreover, it's essential not to apply too much glitter.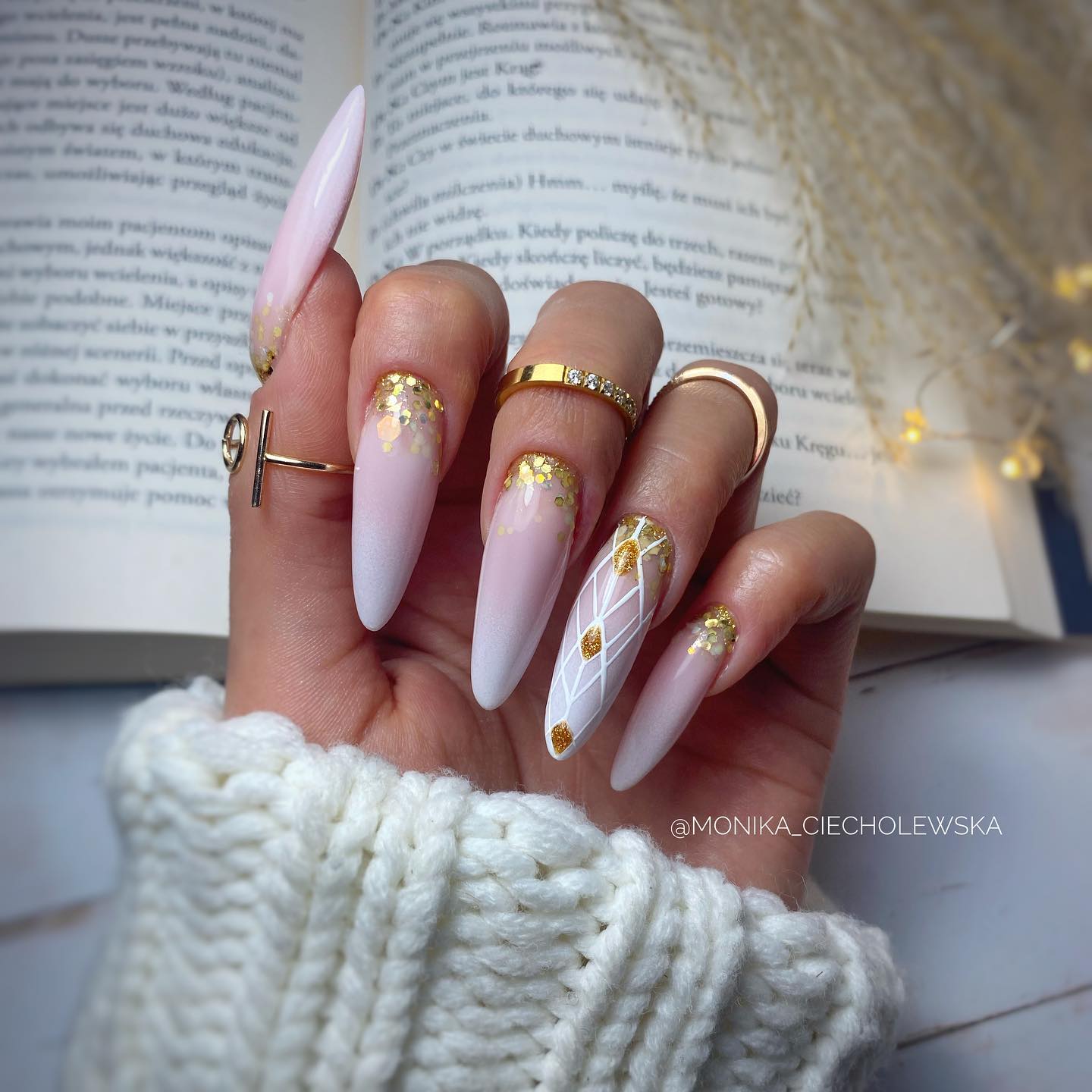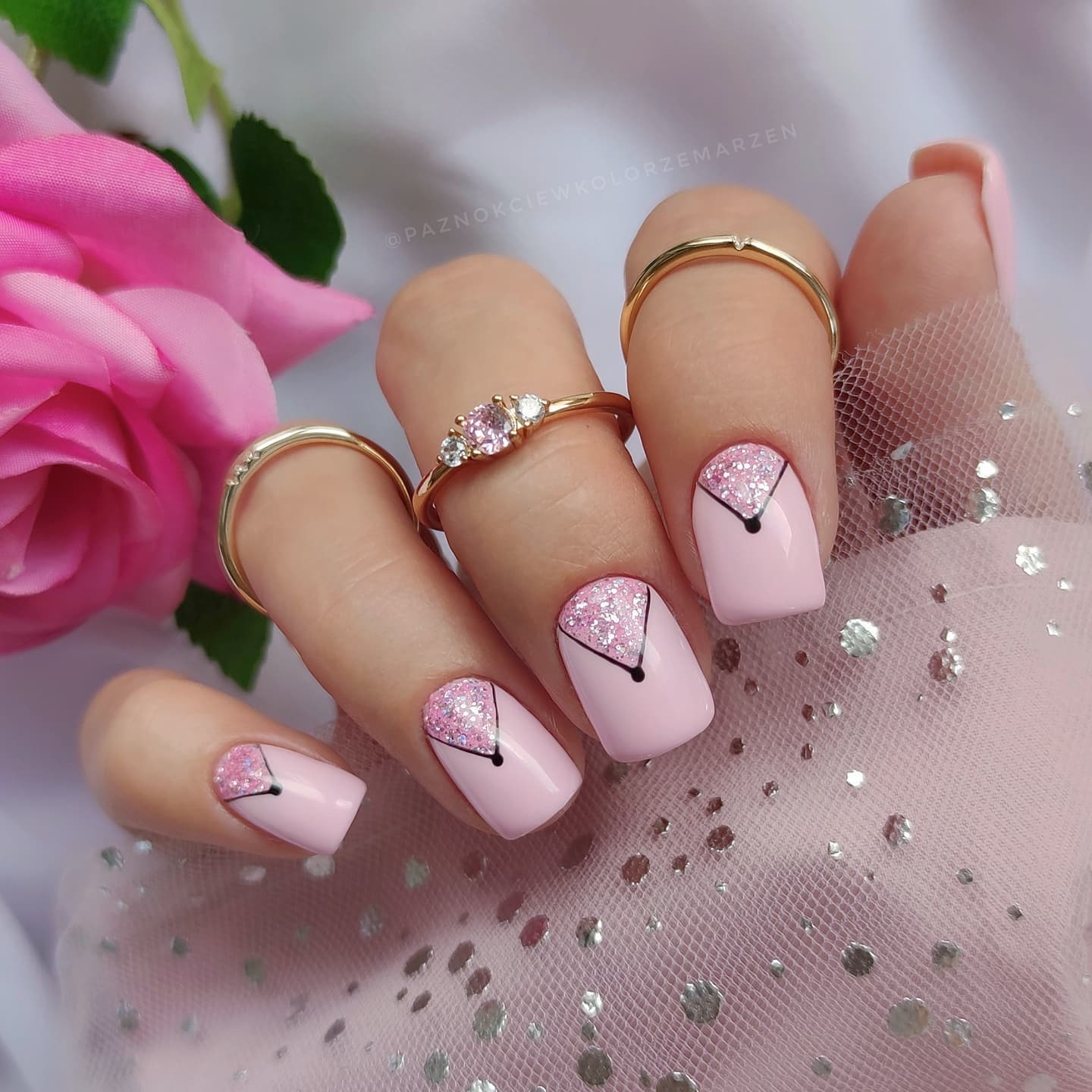 You can make one accent nail if you don't like the design on all fingers and prefer a more conservative mani. Pick some light colors and add sparkles on one finger for such a manicure. Those who would like to make a geometric design should pay attention to the manicure with all kinds of figures. For example, you can draw a small triangle and fill it with glitter, which will look stylish and unusual. Nobody will be able to repeat your manicure, and you will receive tons of compliments! You should also consider cute nails with vertical or horizontal stripes, where half of the nail is filled with glitter.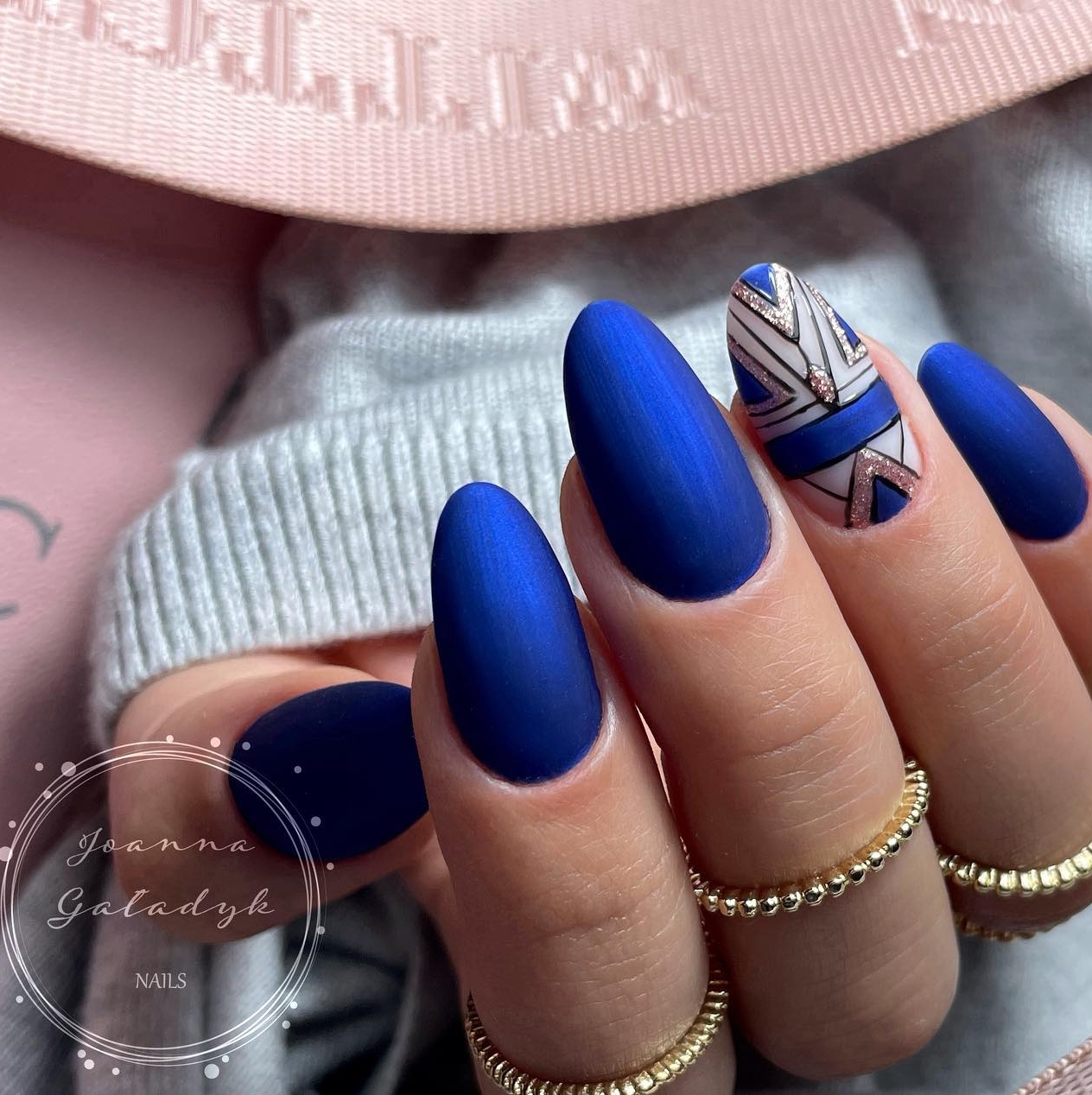 via @asia_galadyk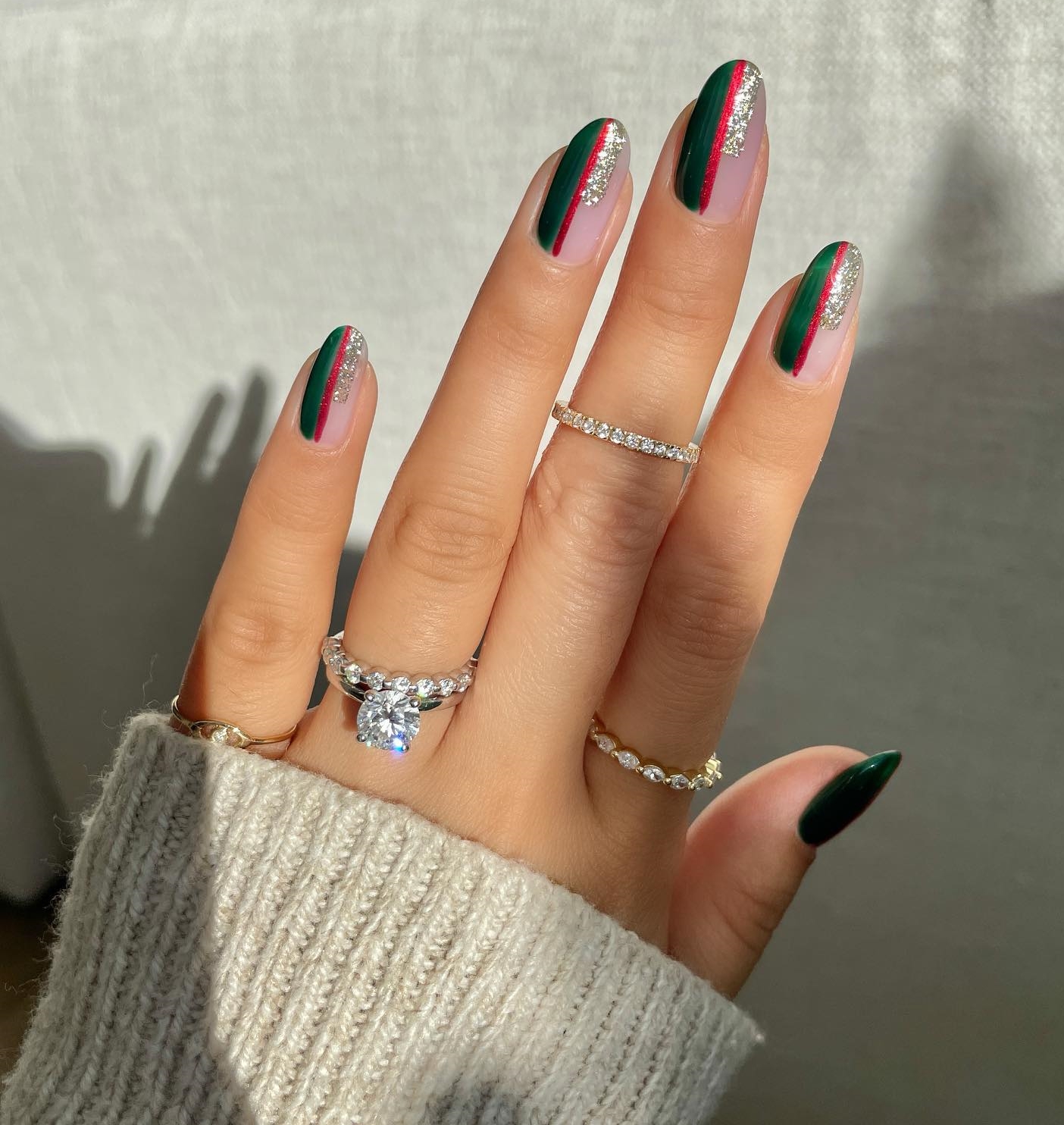 via @amyytran
Stripes Ideas: Classic or New Trend?
A striped manicure is banal and old-fashioned for many ladies, but you will be surprised about how unusual and stylish it can be! It is worth noting that you shouldn't obligatorily make horizontal or vertical stripes since the number of ideas is enormous. First, choose the colors you would like to use in your mani. The most common option is using two shades, but you can choose more.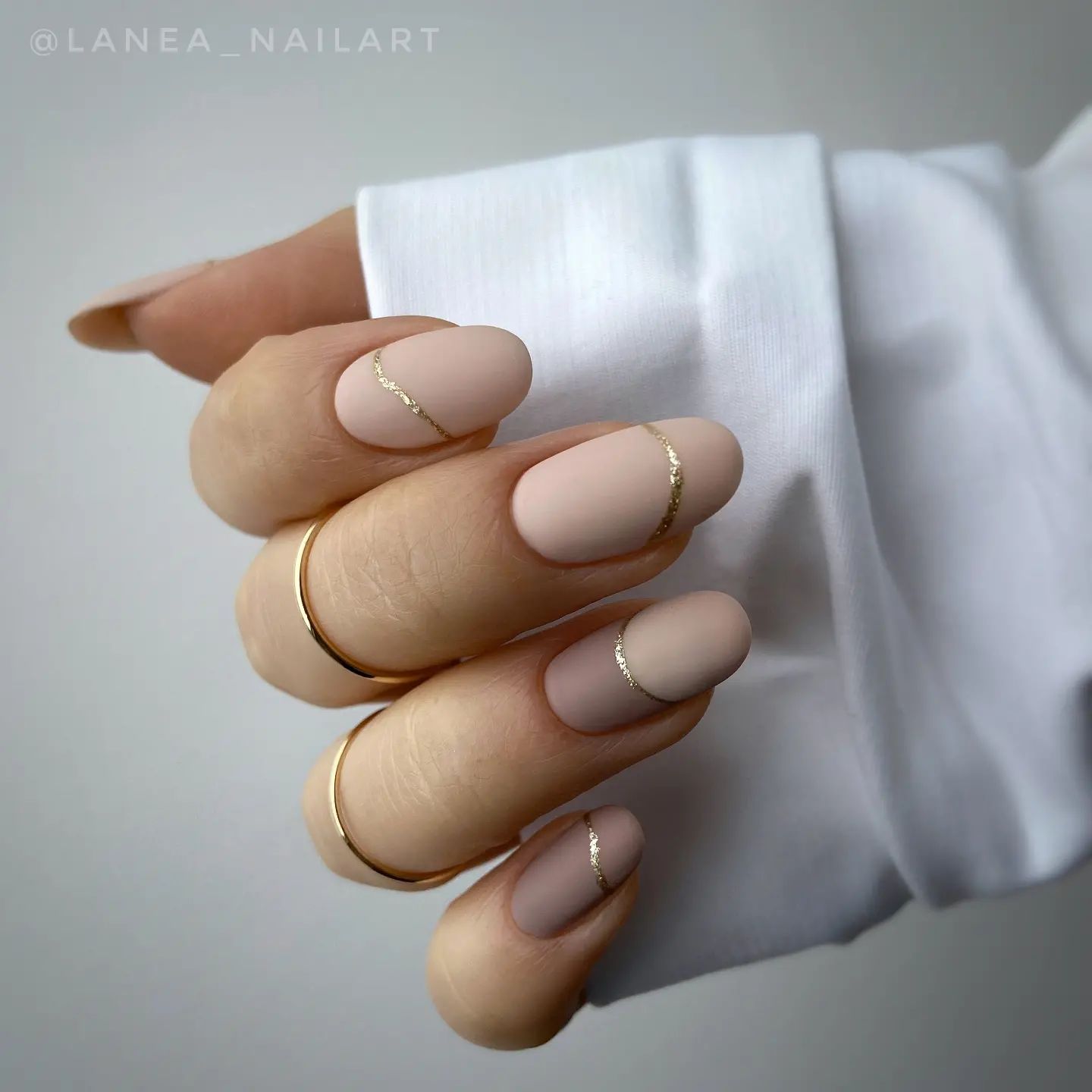 via @lanea_nailart
One of the most significant advantages of this geometric design is that you can make it yourself without visiting a beauty salon. If you are not confident that you can draw it smoothly, use striping tape to get a perfectly straight line.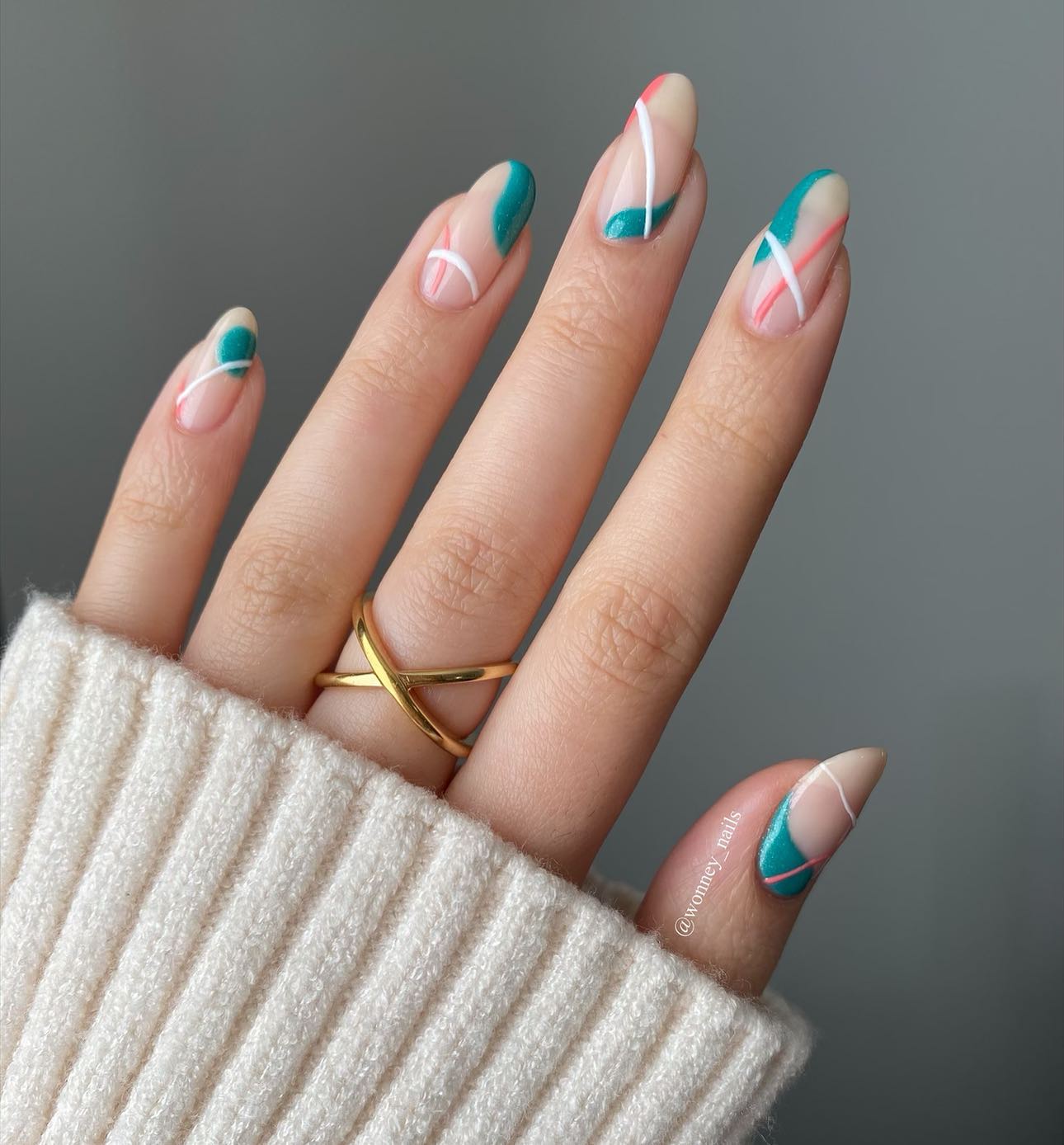 via @wonney_nails
Those who don't like drawing can choose silver or gold lines made of foil. They can be simply glued to the nail, which won't take more than several seconds. However, consider that this manicure can last less since these lines sometimes just peel off at the most inopportune moment. But it is worth noting that they look chic. You can try adding an extra topcoat layer to extend the life of your manicure.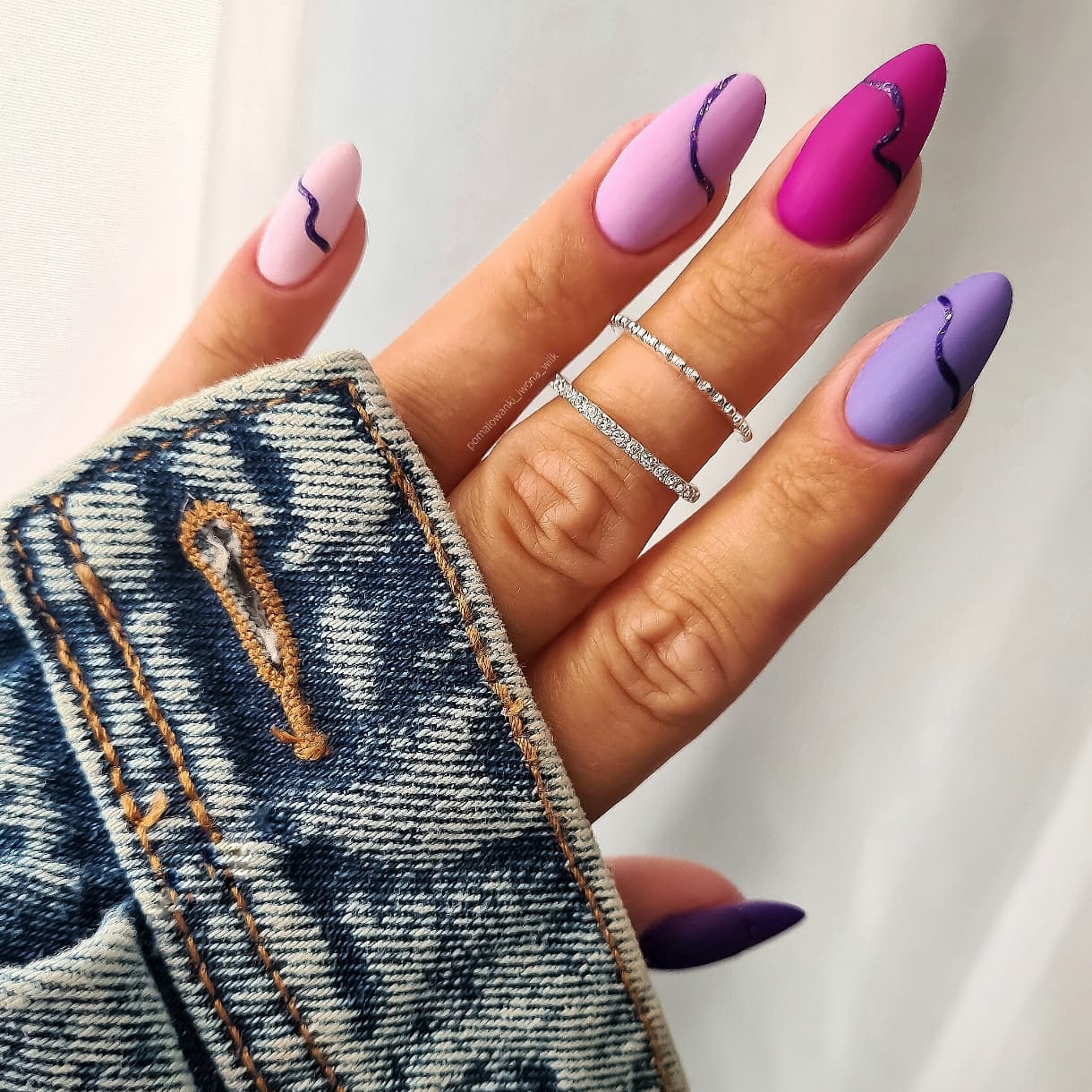 Cute geometric nail art is easy, and everything depends on your imagination. You can choose any colors that you like and make multiple additions such as glitter, foil, and crystals. The main thing to remember is that it is important not to overdo the amount of decor to always look elegant and attractive.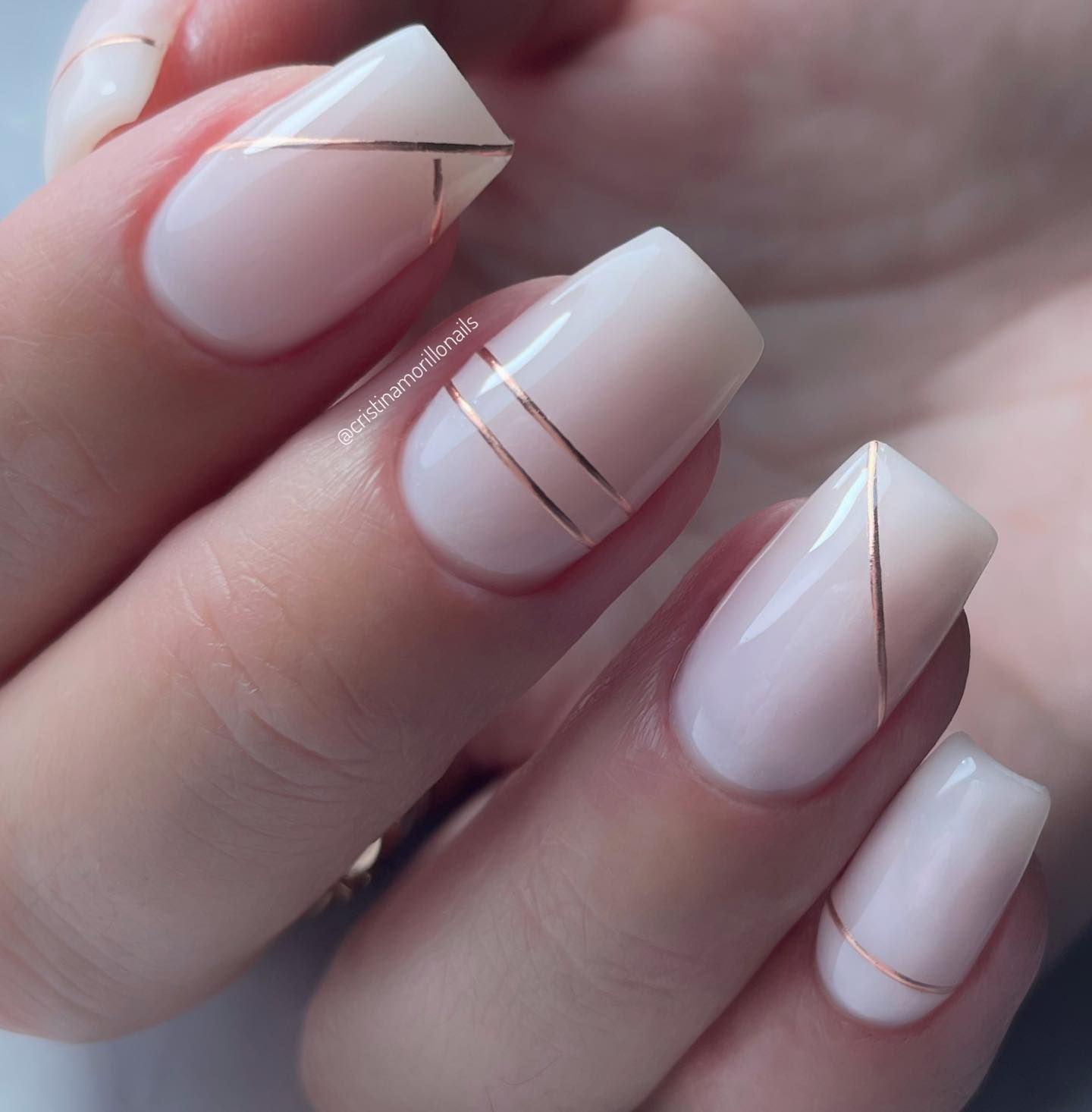 Top Trendiest Nail Colors in 2022 Suiting All Ladies
Each woman has faced a situation when the color palette in a beauty salon is huge, and nothing is suitable. Of course, in such a variety, the eyes run wide. Many ladies have been in a situation where they went to the salon with the clear intention of doing a red manicure – and left with a green one. And also added a sticker or glitter.
The problem of choosing the nail polish color will always be relevant for all women – that's who we are. However, trends in manicures, as well as in clothes, are changing quite often. And we all want to be stylish and follow the most fashionable ideas. So, let's look at the most relevant nails shades in 2022.
According to the Pantone Institute, lavender is the color of the year. Therefore, these manicures will be the most fashionable in 2022. If you can't find a nail polish shade that matches the picture from the Pantone website, don't be discouraged. Lilac and lavender also look very cool.
Deep blue also remains at the top of trends for many years and is not going to give up its position. It can be perfectly combined with numerous colors, allowing women to come up with some great manicure ideas. Moreover, dark blue looks spectacular with some silver or gold glitter, adding nobility and elegance to the image.
Of course, nothing can even replace red shades in nail designs trends. No matter how mysterious and original the girl is, she still makes a red manicure from time to time. Many women prefer just a single color, while others enjoy a wide range of designs. The geometric print looks wonderful in all shades, and red is not an exception!
A couple of decades ago, dark gel nail polishes were rarely used since the color was considered gloomy. In modern nail art, you can create stylish, fashionable, and elegant designs with black. Those who don't like dark colors should consider making some designs. For instance, black lines on white or red nails look truly fantastic.
The classic Barbie color, the shade of bubble gum, or cotton candy attract almost all ladies. All the options for pink will be in trend in 2022. If you want to highlight your style and shine every day, then be sure to get such a manicure. Light shades are for more conservative ladies, and bright ones are for those who used to get tons of attention.
Do you prefer classic? Then consider the white color, which is perfect for any season: in winter, it blends beautifully with the snowy landscape around, and in summer, it just emphasizes your tan perfectly. You can be confident that such shades won't lose their relevance for long!
Of course, the selection of colors and variety of designs is nowadays really insane. Make sure to analyze your wardrobe to get a manicure that will look suitable and cool. Geometric designs are truly universal and suit any occasion. For many, every visit to the salon turns into a torment of choice. Don't be afraid and experiment!