It's that wonderful time of year again! As you prepare for your upcoming holiday parties, you may be thinking about all sorts of things you might need, but did you also think about makeup? To help you get ready we've gathered 37 best Christmas makeup ideas that are sure to impress everyone this season!
1. Icy-cold Christmas Eye Makeup
Mrs. Frost, the ice queen of winter is here to stay! She's so cold that her breath crystallizes on contact with any warmer air around her – and you can't escape this frozen stare. This is the kind of vibe this makeup radiates. Consider this sky blue eye makeup decorated with pretty little snowflakes to recreate the look of the cutest snow princess in town.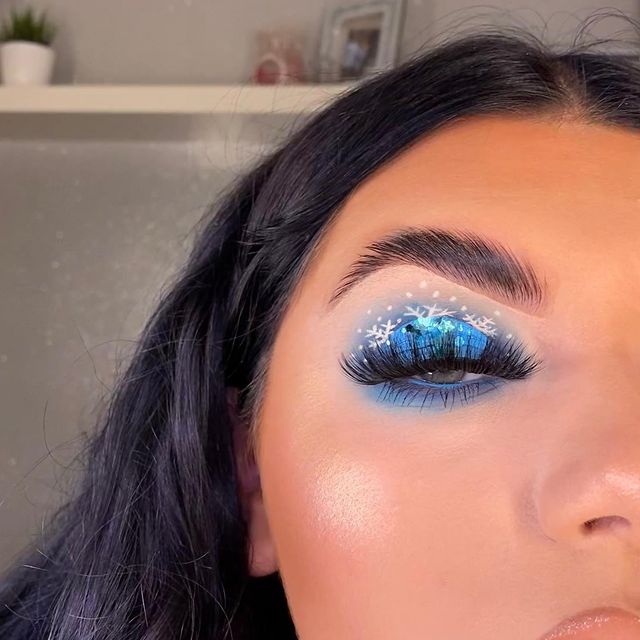 via @leahmaeneville
2. Adorable Christmas Elf Look
Whether it's the elf topper or candy cane liner, we simply can't get enough of these festive designs. You have to make the white lines nice and thick so they actually resemble everyone's favorite Christmas candy! No need to worry about what color clothes you are going to wear. This makeup is already a statement.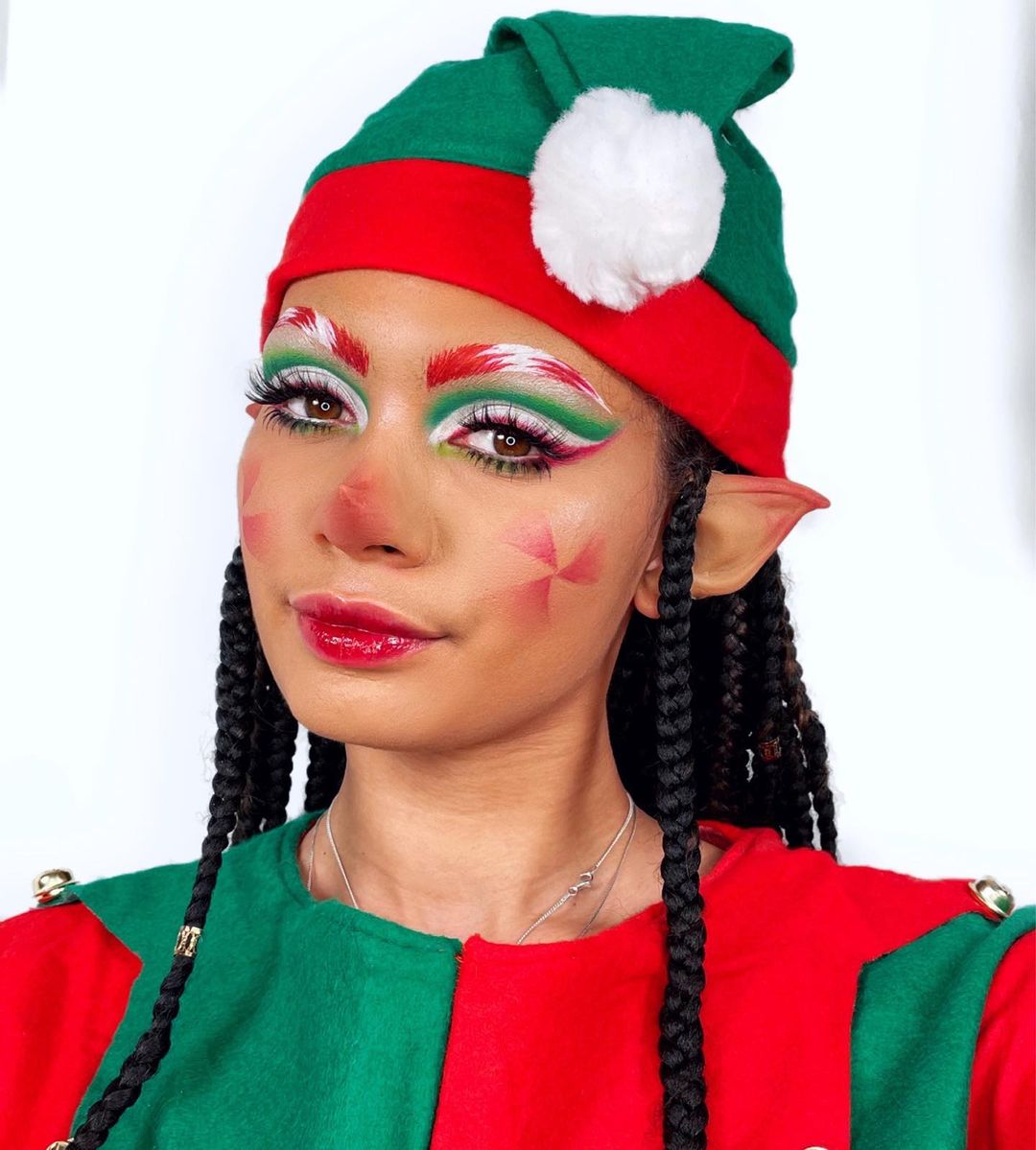 via @amberpitkin
3. Cute Christmas Makeup in Traditional Colors
You can't have a list of Christmas makeup ideas without an eye-catching design incorporating the all time classic – red and green! This specific makeup is all about a nicely put mix of eyeshadows and bushy faux lashes as a special accent on top. You'll be sure to get all eyes on you when wearing this one. It's perfect for having fun looking amazing during the Christmas party.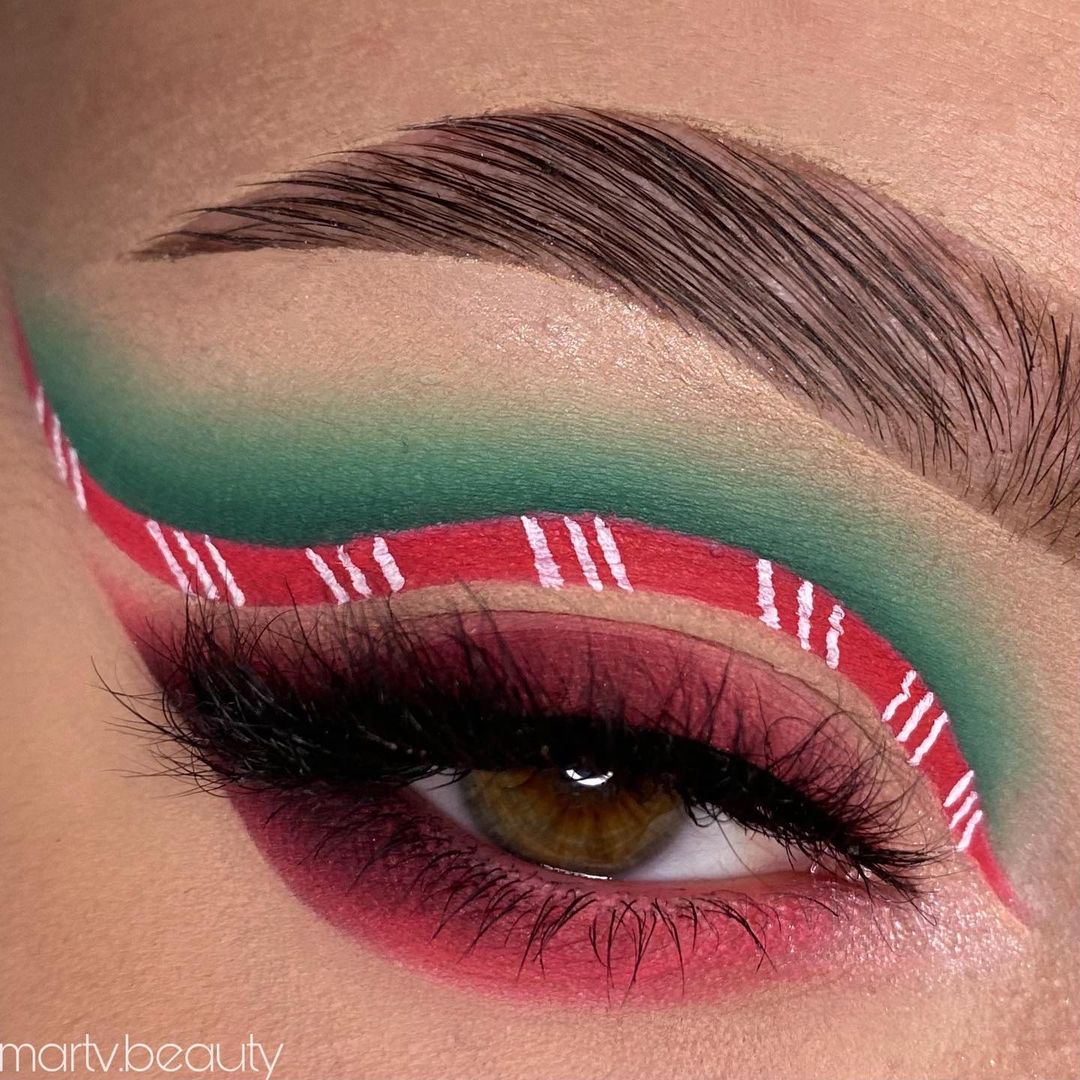 via @martv.beauty
4. Full-on Glam for Christmas
Put on your bright lipstick and shiny eye makeup to make yourself feel like a holiday Barbie. You know, the ones with sparkly lips who are always getting compliments? The shimmery eyeshadow and some faux lashes to become the center of attention while you're out celebrating Christmas in style!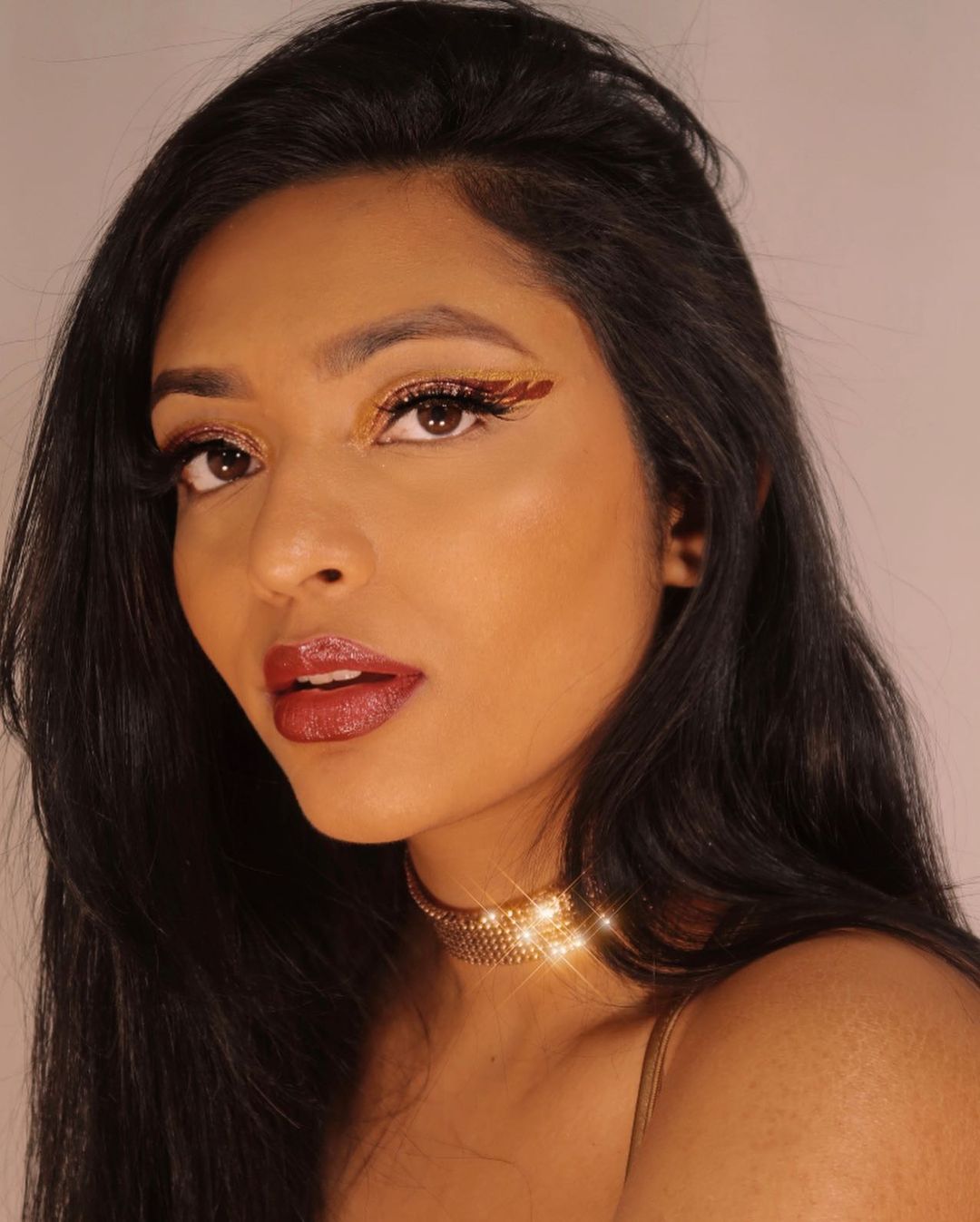 via @facebykatmatxx
5. Christmas Lights on Your Eyes
This makeup look will take some painting skills but if you can bring out your inner Picasso, go ahead! Line your eyes in black to create the outline of a string. Add colorful balls on top – as if they were lights. Contour these little guys some more using cool-toned bronzer so it looks more 3D and you're done with this beautiful makeup art for Christmas! We promise Santa will be proud too 🙂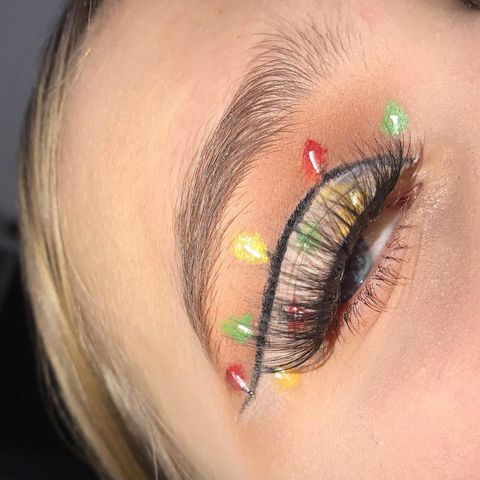 6. Chic Christmas Makeup in Gold
Add a touch of holiday sparkle with gold for your office Christmas party or after-work drinks. You can do it in an instant by adding some highlighter, but shimmery eyeshadow also gives you that extra bit needed to finish off any look! It's so simple, easy to do, and perfect for a festive makeup update.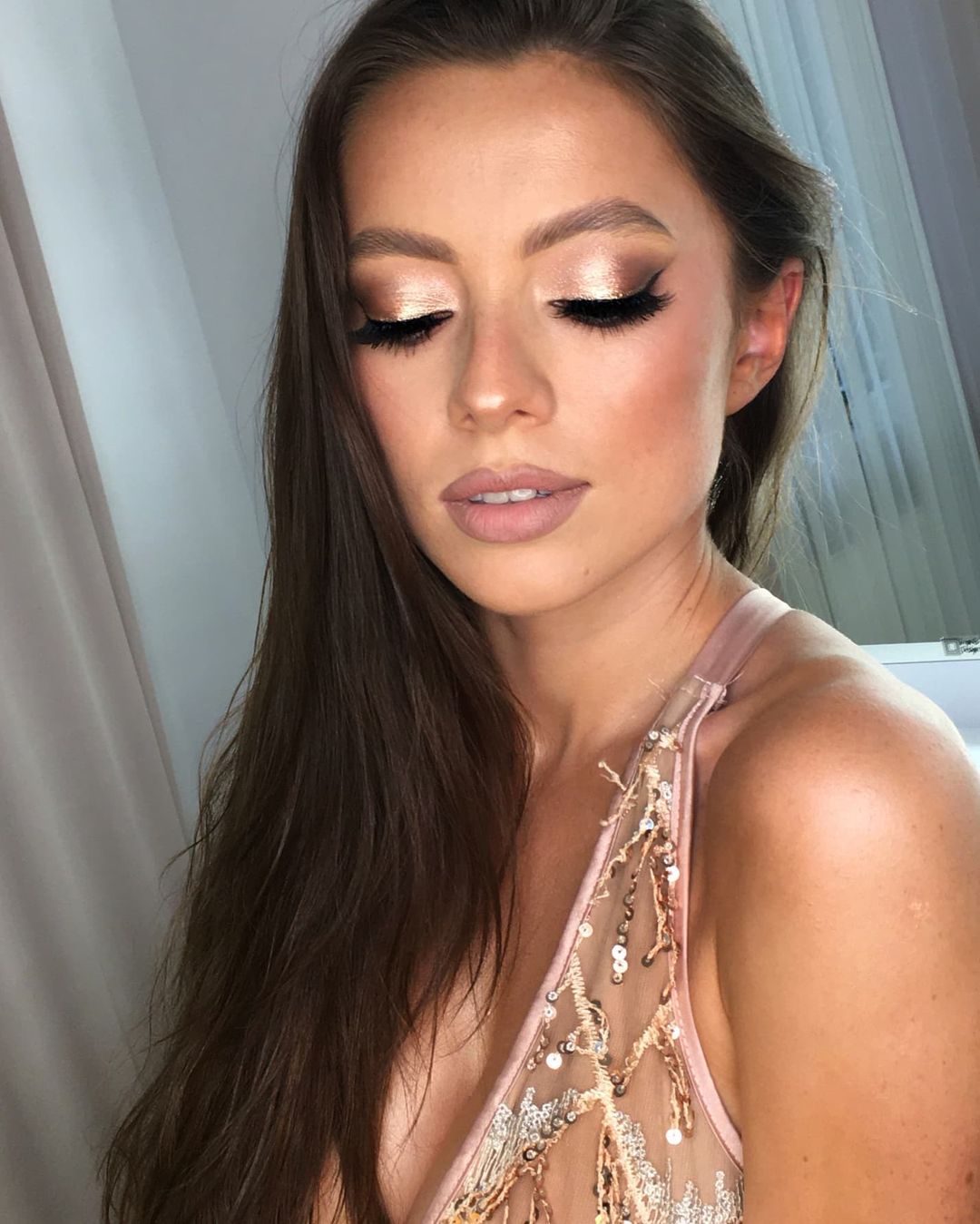 via @nataliapietras.makeupstudio
7. Red Candy Cane Eyeliner Look
Beat the winter blues by dressing up your eyes like a Christmas candy cane. Using less shadow and more liner, you can create the perfect accent that lights up any party or event with its beautiful sparkle! This idea is just one of many and you can watch lots of tutorials on YouTube for simpler or more elevated versions of it.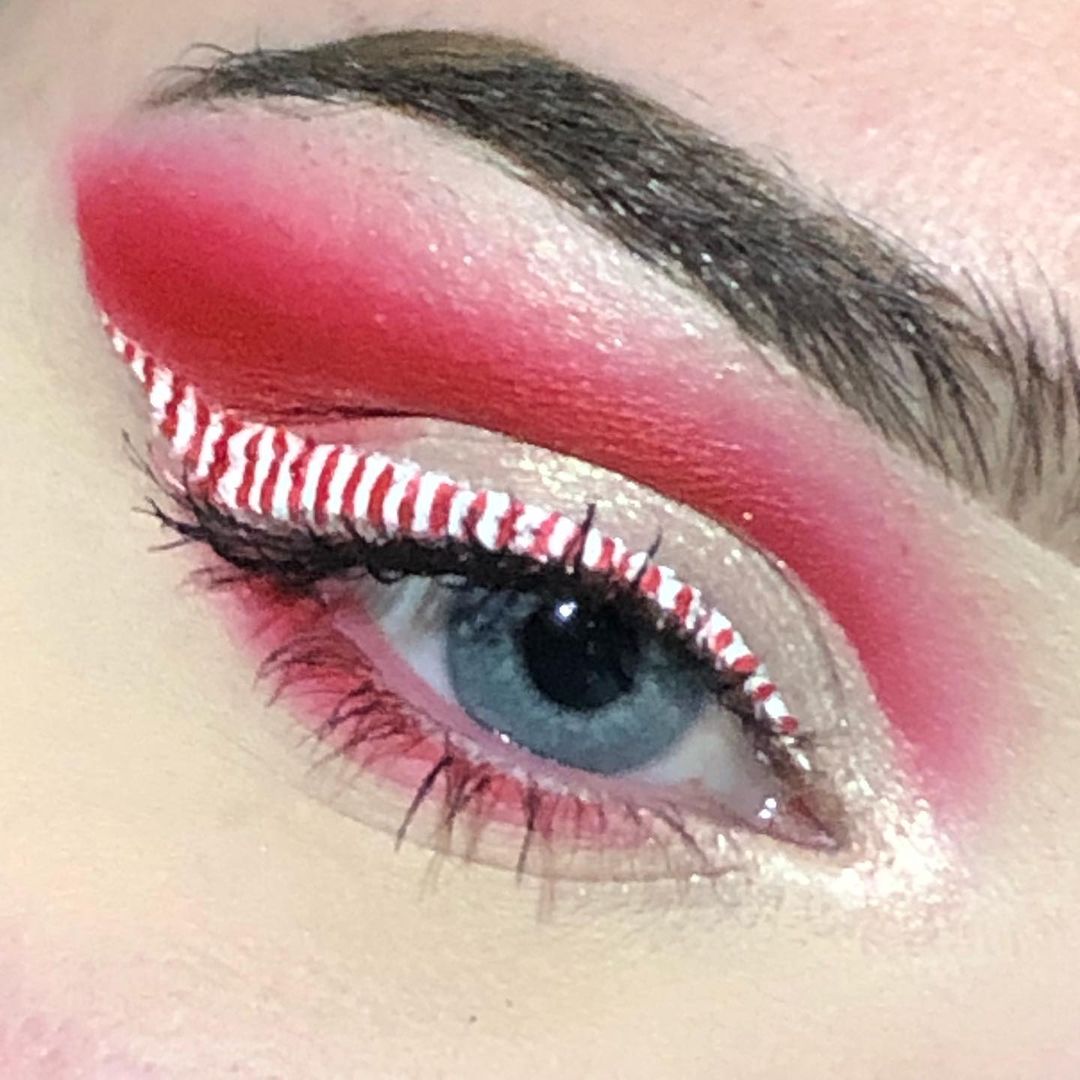 via @makeupby_stefi
8. Old Hollywood-themed Red Lips
Who doesn't love a good, traditional red lip? At Christmas time you can really embrace the festive color and channel your inner classic movie star. There are many ways you can adjust this party look to yourself but one detail should remain constant. It is that stunning red lipstick color is perfect on everyone (provided that you know what tone complements your skin).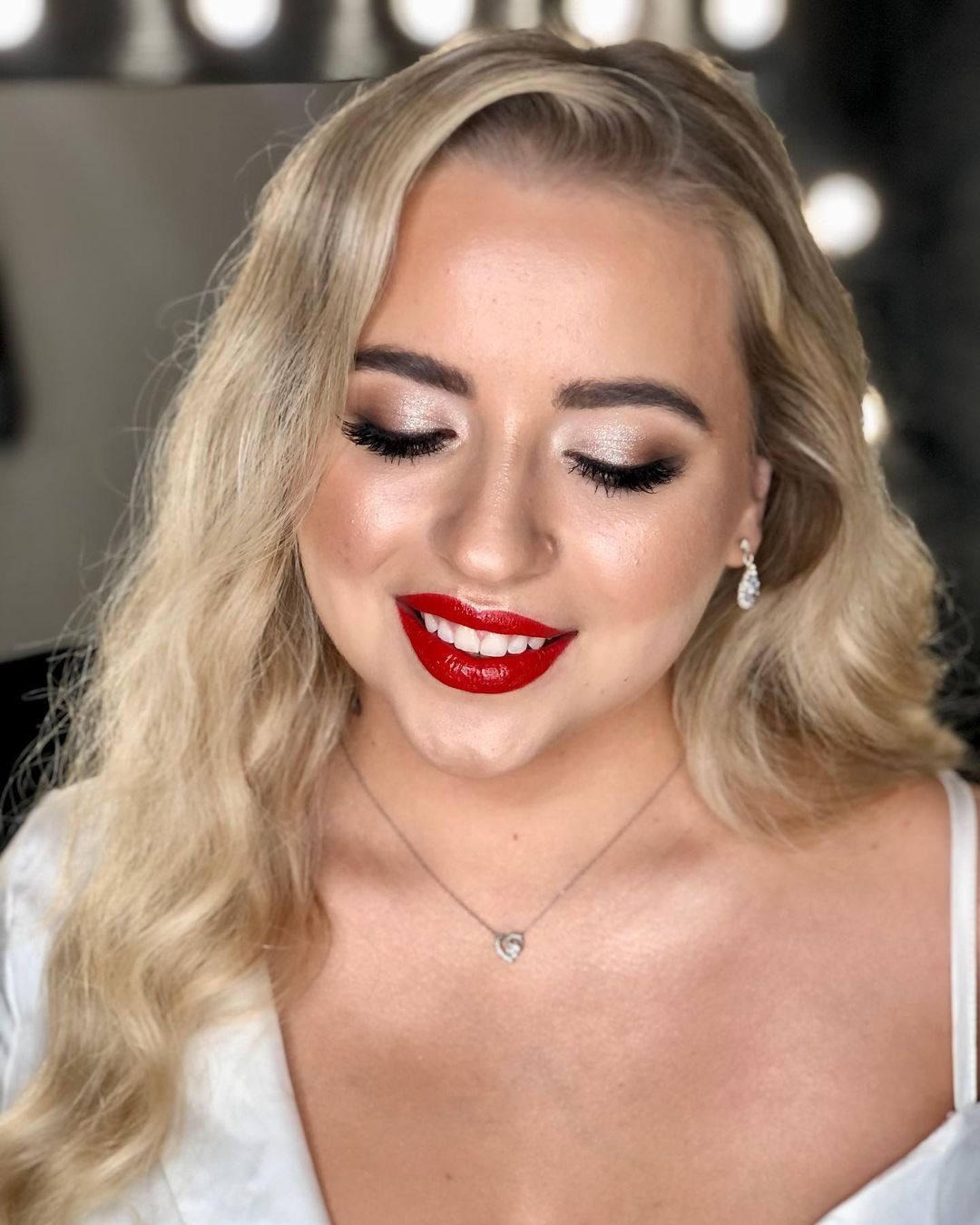 via @studio_makijaze_magdaleny
9. Shimmery Makeup with Blush
The beauty of a bold color is that it can be used to liven up an otherwise basic and dull looking makeup routine. Whether you're going for something more natural or adding some extra sparkle, there are plenty of blush options available in both powder form as well as creams which will make any complexion shine like never before! And you can use it not just for the apples of your cheeks (think eyelids).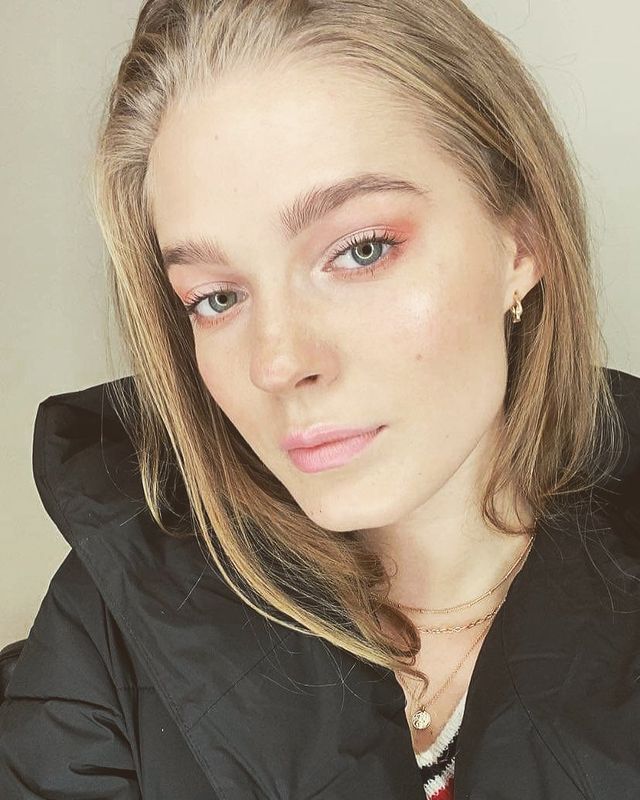 via @eel_beauty
10. Sweet Makeup with Rose Eyeshadow
The latest trend in makeup is rose gold. This look can be tailored for any complexion because, at its essence, the combination blends cool colors with warm hues to give an appearance that's both natural and elegant. Add some extra shine on your eyes by using a highlighter in the inner corners to make them pop even more! Top it all off with cute hair accessories such as those cute decorated reindeer antlers.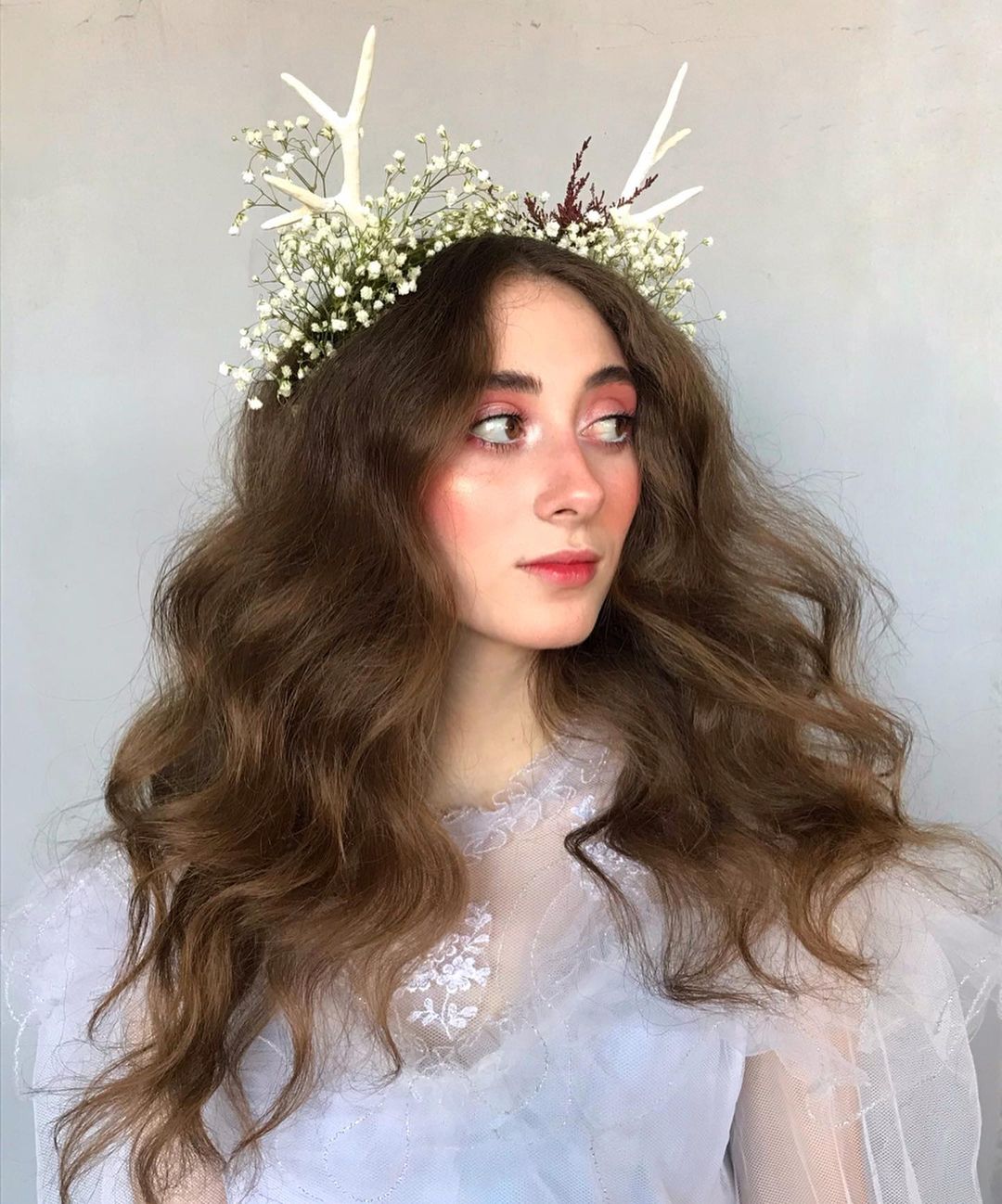 via @mariiapoppova
11. Smokey Eyes in the Shades of Blue
You don't need to be afraid of blue eye shadow anymore. Just blend different shades of deep navy and turquoise for a bold, but not overdone smokey look that will make your eyes pop! To get the most from this experiment, mix one color with another on top so as not to have any harsh lines or edges when applying them together for an unforgettable effect.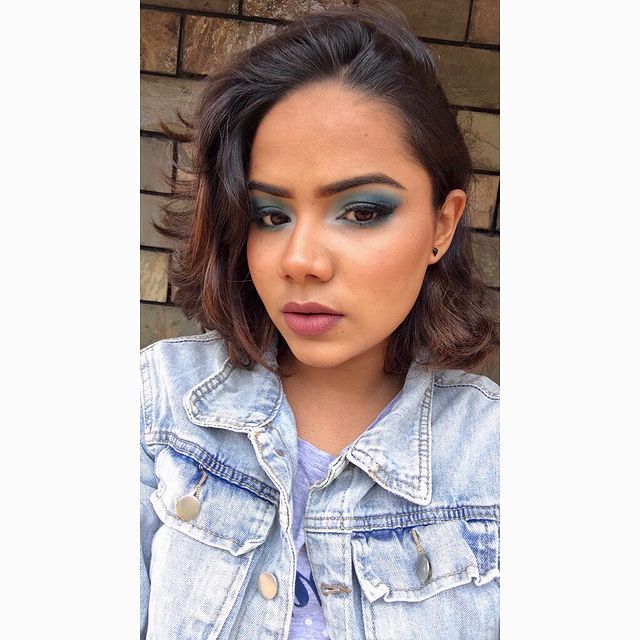 12. Dramatic Christmas Makeup with Glitter
For those who are looking to go the extra mile and make a splash, this dramatic makeup is perfect. It is literally drenched in glitter with thick eyeliner for that I-can't-even look of perfection. No wonder why so many women love putting on party faces! Now you know how incredible your dramatic Christmas eyes can really turn out if done right.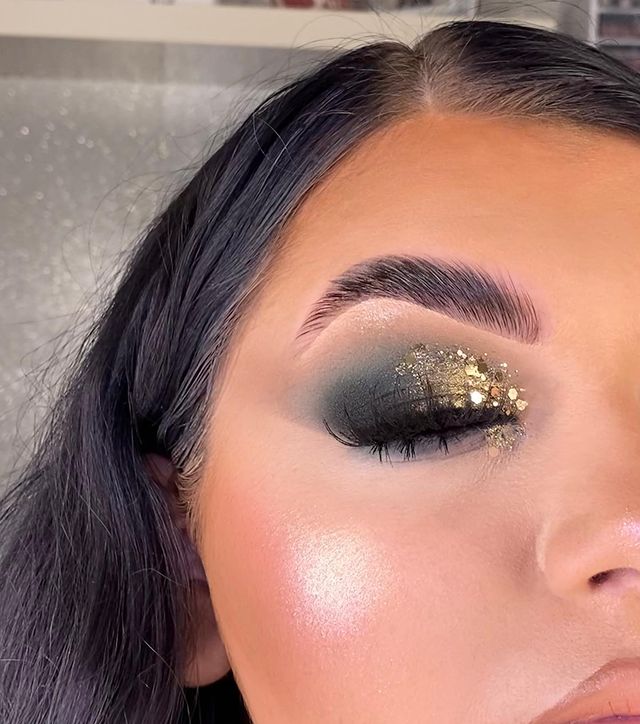 via @leahmaeneville
13. Natural Christmas Makeup Look
The key to wearing neutral makeup during the holidays is not giving up your favorite looks. You just need some warmer neutrals like deep browns and beiges for a more natural look that will stand out! It's also easy because you can mix them with brighter colors if desired, which makes this perfect as an everyday routine too. You'll love how it makes all those tired eyes shine bright.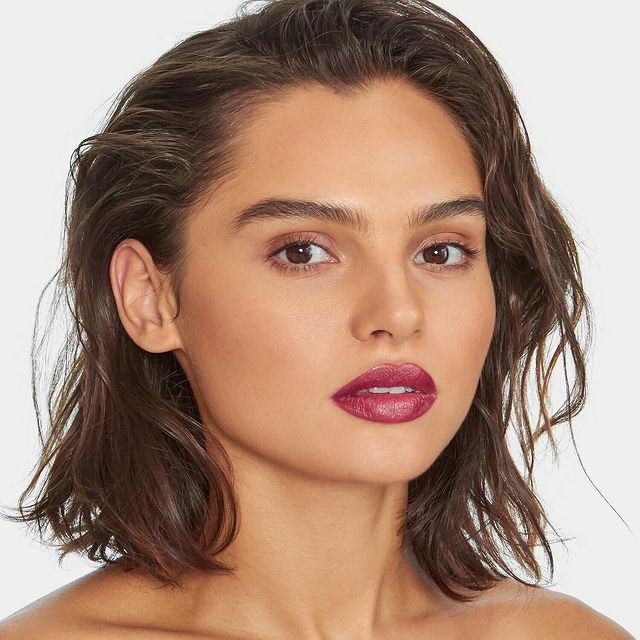 via @tamingchen
14. Full-face Makeup for Christmas Party
It's all or nothing with this artistic makeup, which covers your entire face. You will definitely be in the limelight this Christmas thanks to the combination of red and green shadow in a stunning cat-eye shape and a big decorative piece of art on your cheek. Just imagine how gorgeous you'll look! It's time to not only celebrate but also indulge yourself during these holidays.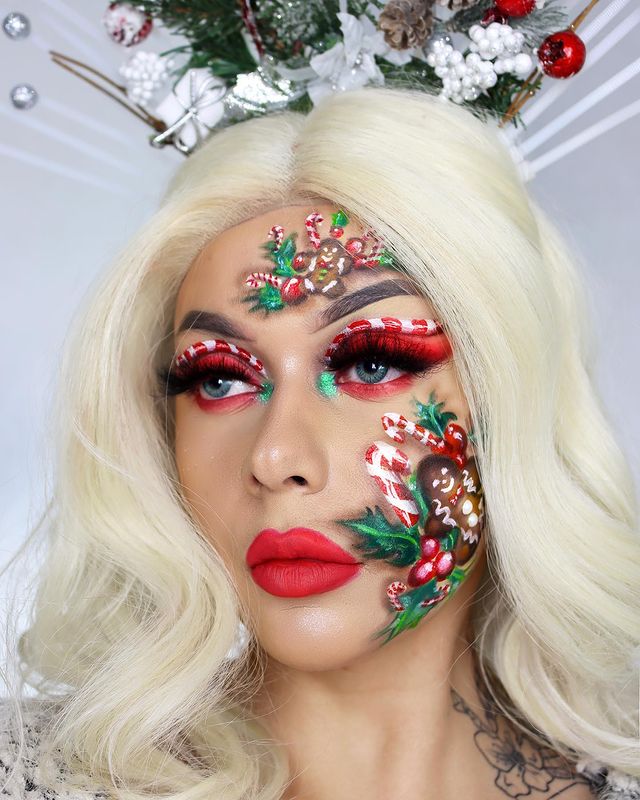 via @gemini.yinn
15. Christmas Tree Element in Your Makeup
Christmas without a snowman and a fir tree would not be the same, would it? You can have your favorite decorations with you. Plus, when these little ones are painted with makeup on your beautiful eyes, you don't have to worry about them melting or dropping their needles! Use a combination of dark eyeshadows and light eyeliner to recreate holiday imagery.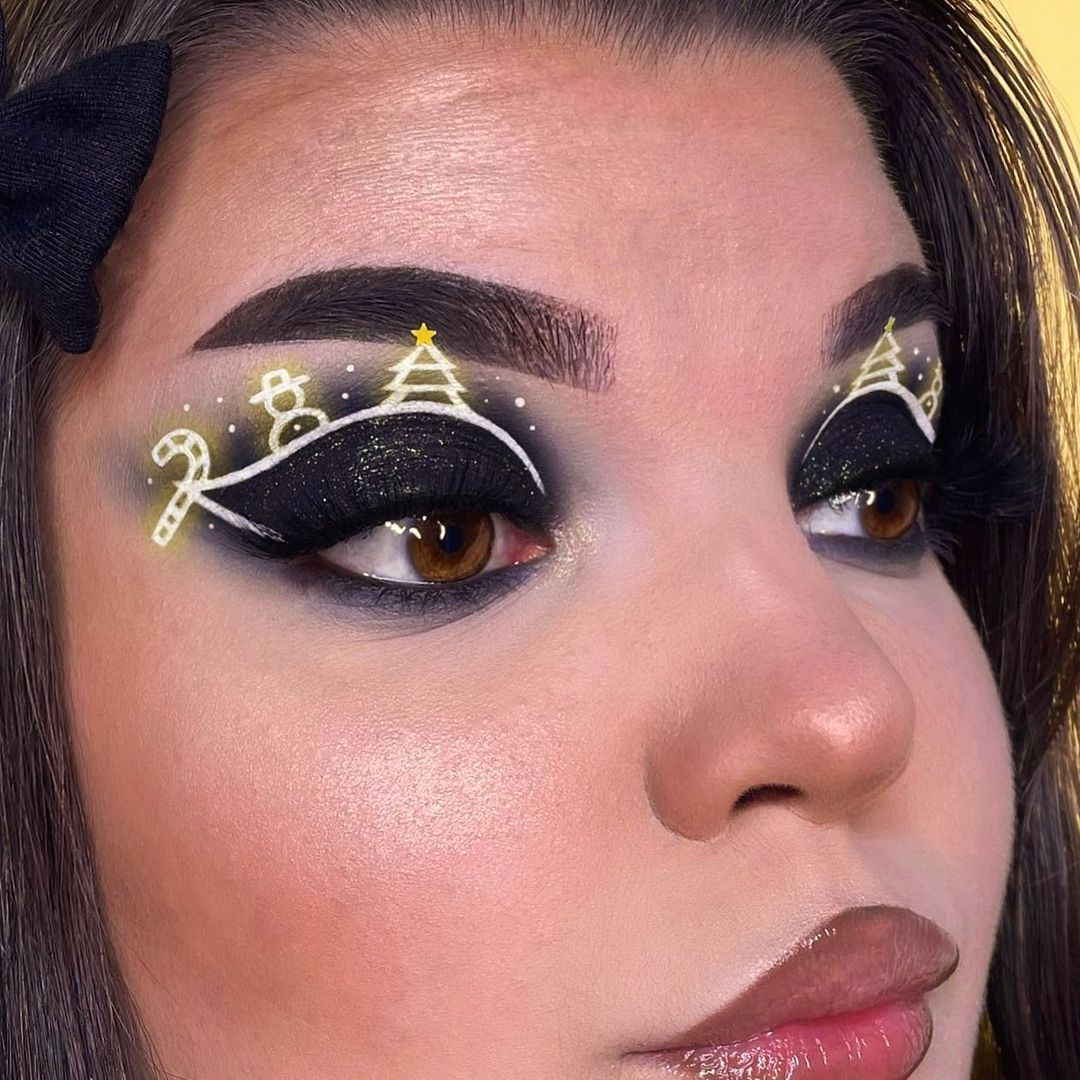 via @loreenmussard
16. Creative Christmas Reindeer Look
Have you been invited to a costume party? Then this cute and interesting reindeer makeup is a must-have for this winter's holiday. With its charming and delicate design it will make you feel warm even on your coldest day! The hairstyle with two pretty buns will also bring back memories of winter's past, making this look nostalgic yet modern at the same time.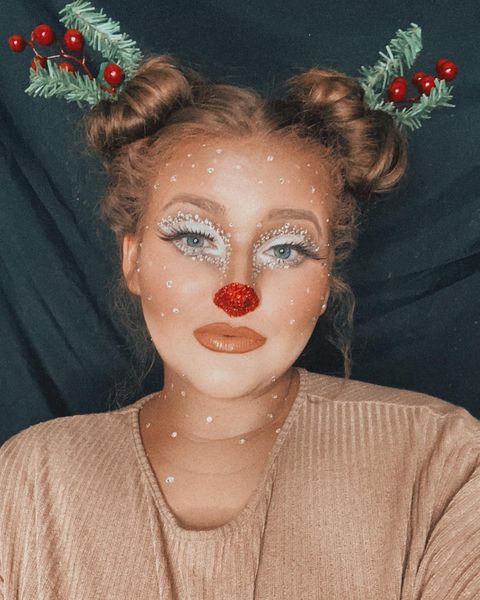 via @itssavvyatkins
17. Neon-green Christmas Makeup
This winter, consider dipping into richer tones like sapphire, emerald, and amethyst. Use a daring combination of pastel green and bright yellow on your eyelids to shift the accent to your eyes. Add a pair of extra-long lashes on top, and finalize the look with a bright red lip. Otherwise, keep the rest of your look neutral to really emphasize your gaze.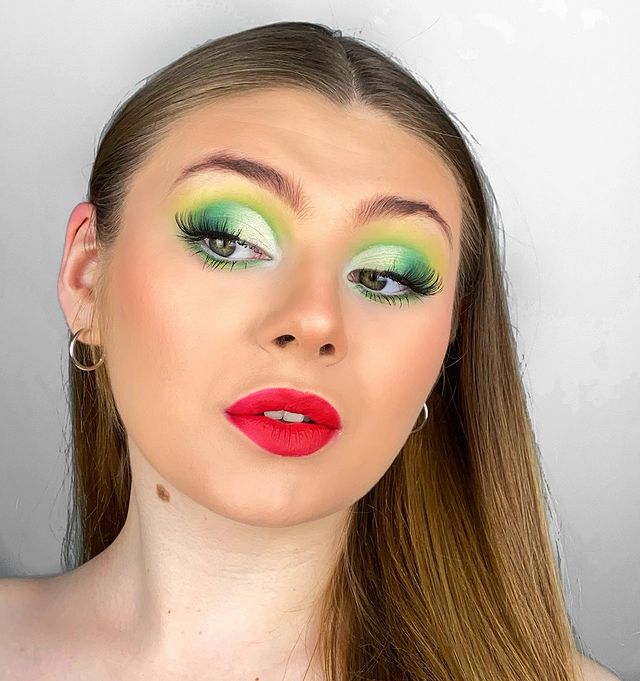 via @brookecaitlynn_
18. Snowy White Christmas Look
Though white eyeshadow may seem like an underwhelming choice for your next Christmas look, it is actually the perfect way to make a statement. There's no need to reach for harsh eyeliner and small flick when you can create that elusive "winged" eye with just one sweep of some beautiful creamy color onto lids in place of traditional black wingtips!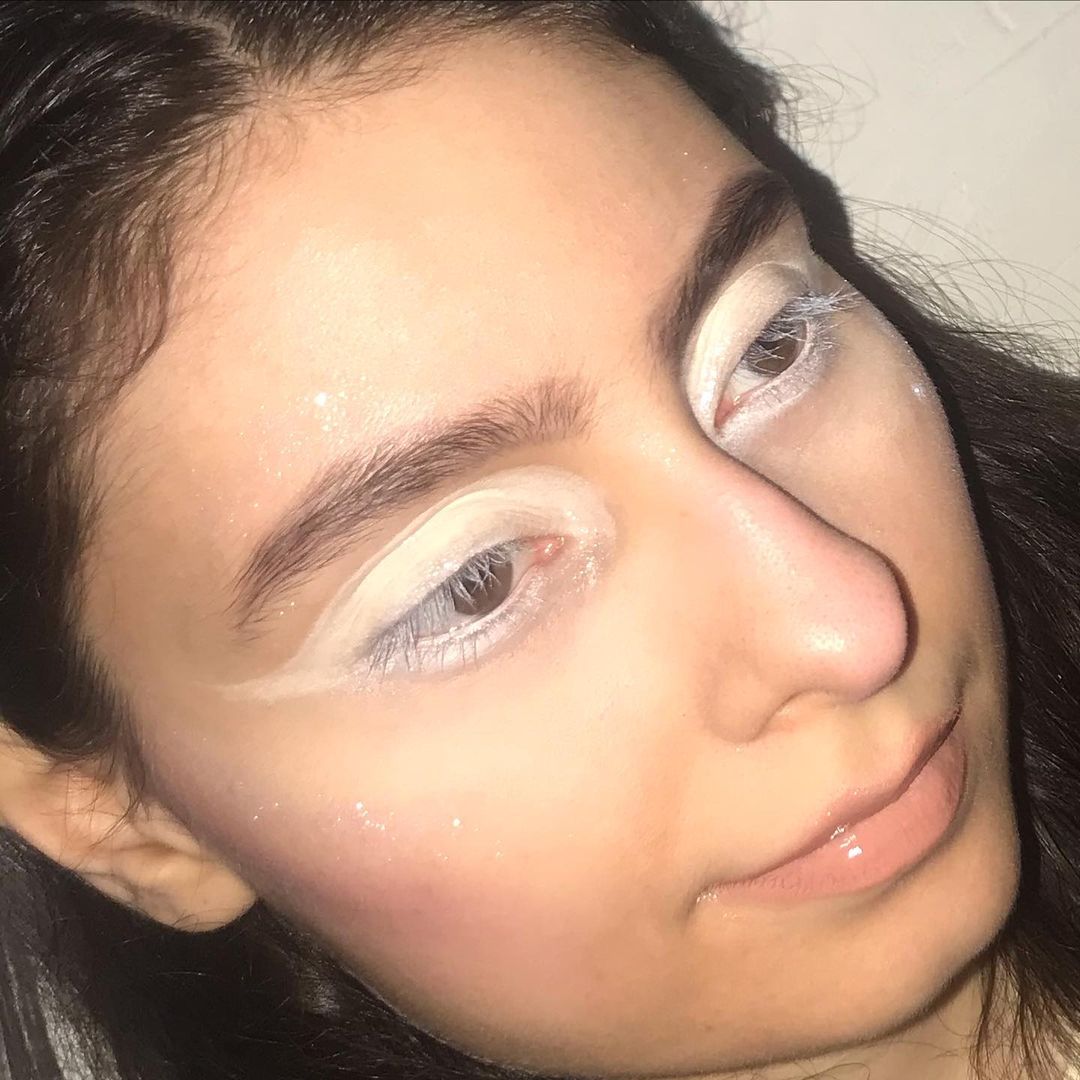 via @natyourusual
19. Costume Party Reindeer Makeup
Here's another variation of cute makeup for a costume party. Who says you can only wear Christmas sweaters on your torso? We can draw it on your face as well 🙂 It clearly is not for everyone and will only look appropriate in certain situations. But if you are feeling adventurous, go ahead! Be the center of attention on that gathering.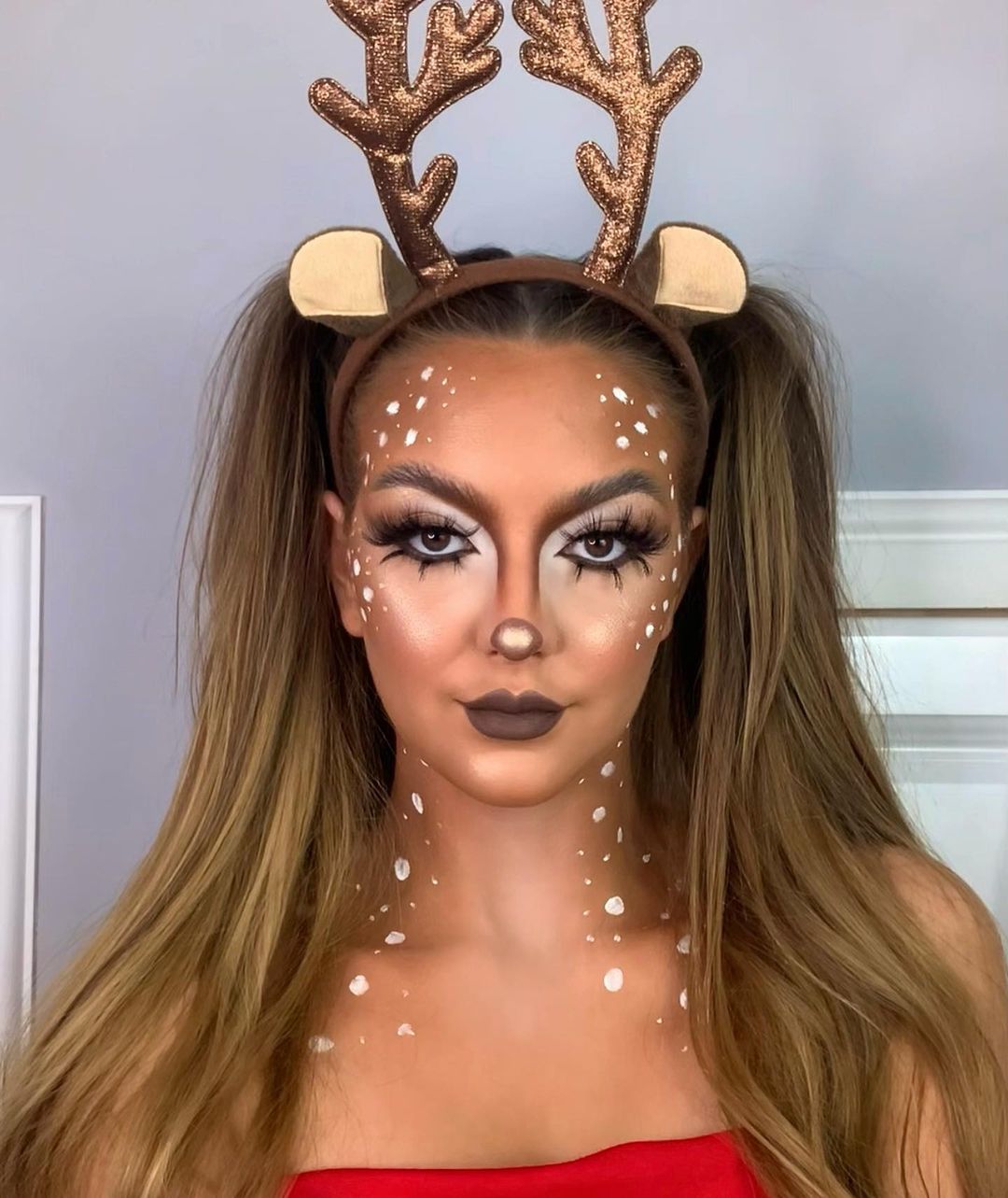 20. Full-face Christmas Lights Makeup
If you aren't into animal-themed looks, here's one more idea for a costume party. Get dressed like a Christmas light! This is rather tricky makeup, but if you've got the patience for watching YouTube tutorials and putting in some detailed work after, then it will be worth your time. Also, this mismatched red and green eyeshadow design is quite striking!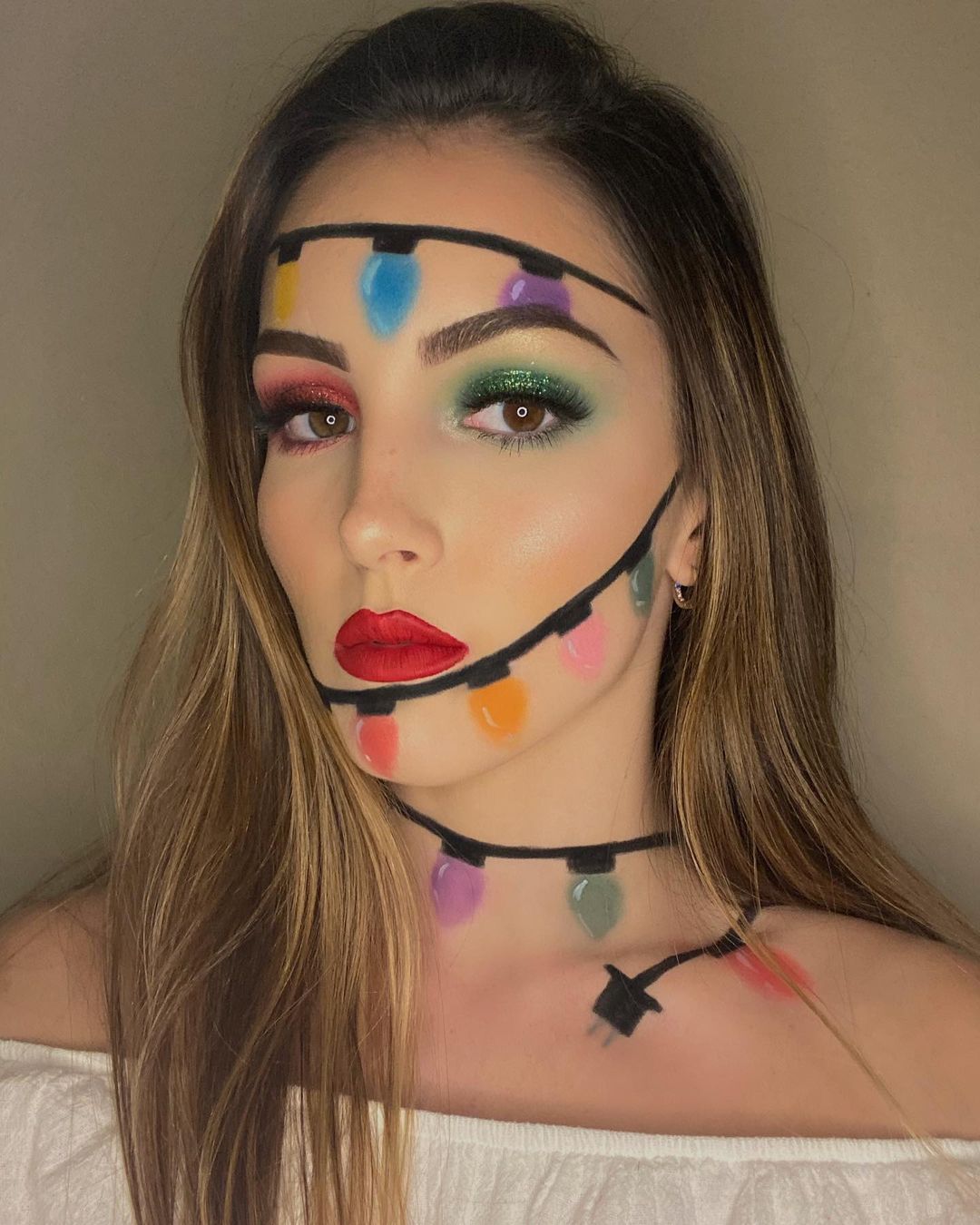 via @makeupbyvdlt
21. Easy Christmas Makeup for Any Party
Brown shadows and red lipstick are a girl's best friend, no matter the occasion. Add in some highlighter for an extra illuminating effect. Put on some faux lashes that will have you looking radiant this season or any other time of year that calls for it without fail. They're so easy to style but their dramatic flair is always perfect, no matter what you celebrate.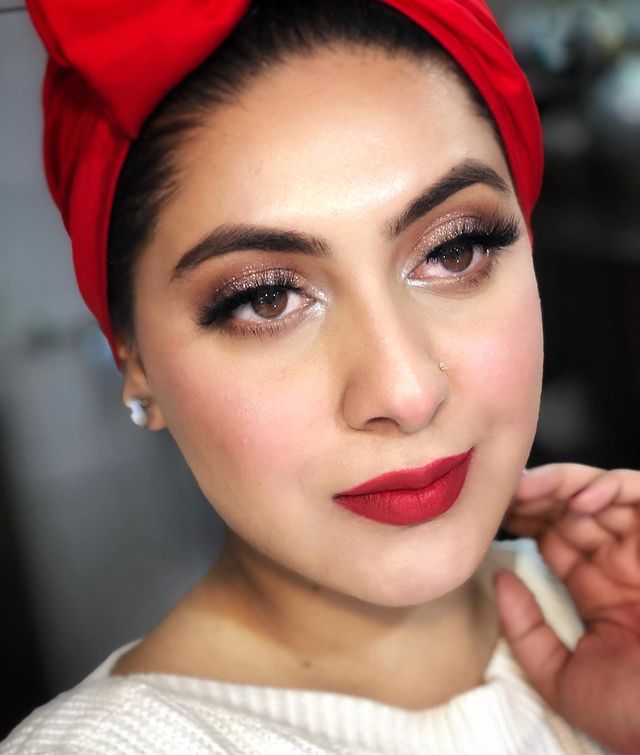 22. Makeup with Glitter Eyeliner
For a bold, yet classic look that never goes overboard and is perfect for every occasion, this holiday season try doing the cat-eye makeup using liquid eyeliner. For an interesting spin to it, use glitter instead of black or brown in your winged liner technique. You will shine like no other!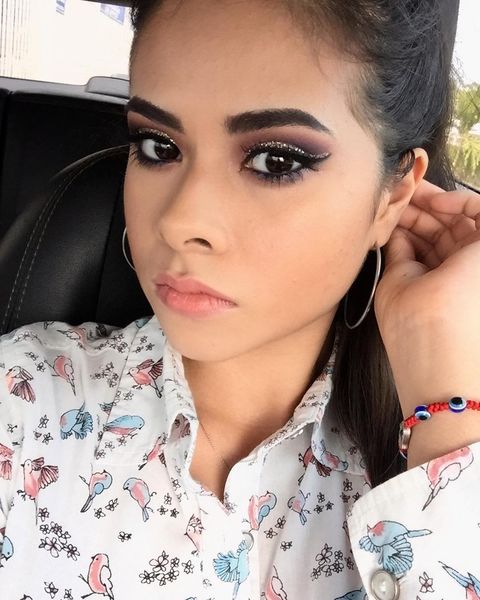 23. Goth-themed Christmas Makeup
Dressing in a risqué, fetishistic manner is an engaging project for many. Some may carry on this trend daily while others indulge only in private clubs and parties. But all have something about them that makes their look distinctive from any other person walking down the street or sitting at home watching TV. Here's one of those impressive Gothic ensembles for inspiration.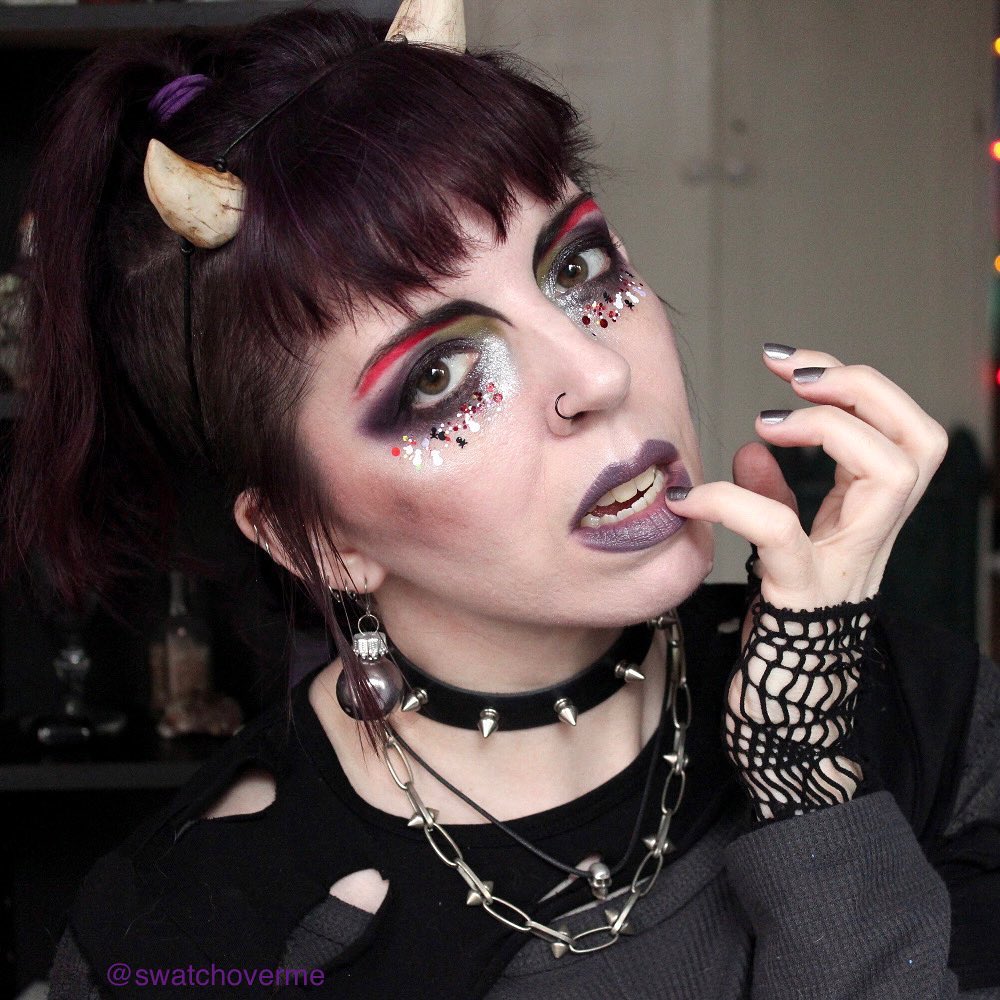 via @swatchoverme
24. Sexy Christmas Party Makeup Look
This example checks off all the boxes for a classic makeup look, with deep shaded crease on otherwise lightly-shadowed lids and black liquid liner to create an elegant yet sexy eyes effect. Fluttery lashes finish off this fiery arrangement perfectly while rosy cheeks add just enough natural color that you can't go wrong when it comes the time for celebration!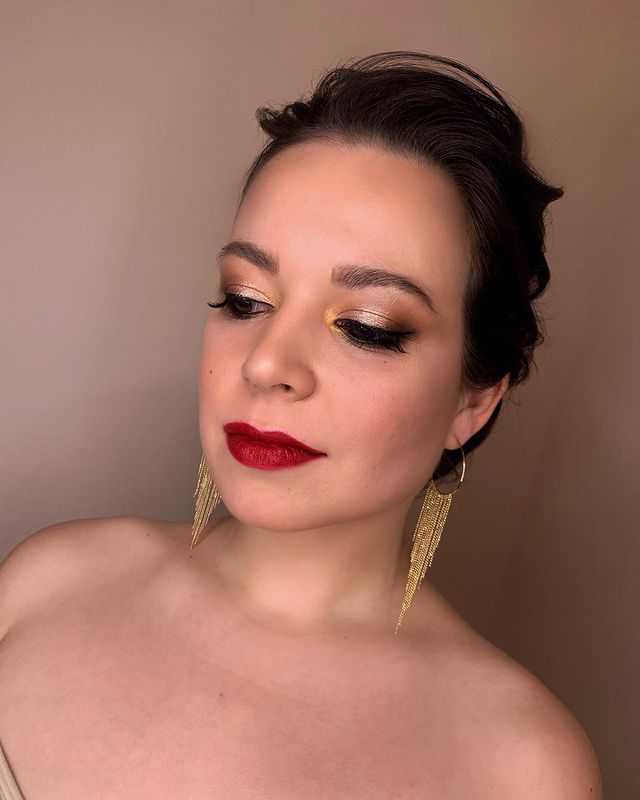 25. Classic and Simple Christmas Makeup
This next type of makeup is probably perfect for you if your style isn't very fancy or too distinctive. It's just like the dramatic eye shadow, bright red lips and sharp wing-shaped eyeliner that we all know from classic holiday movies! Looks very cool (and it is also pretty easy to recreate).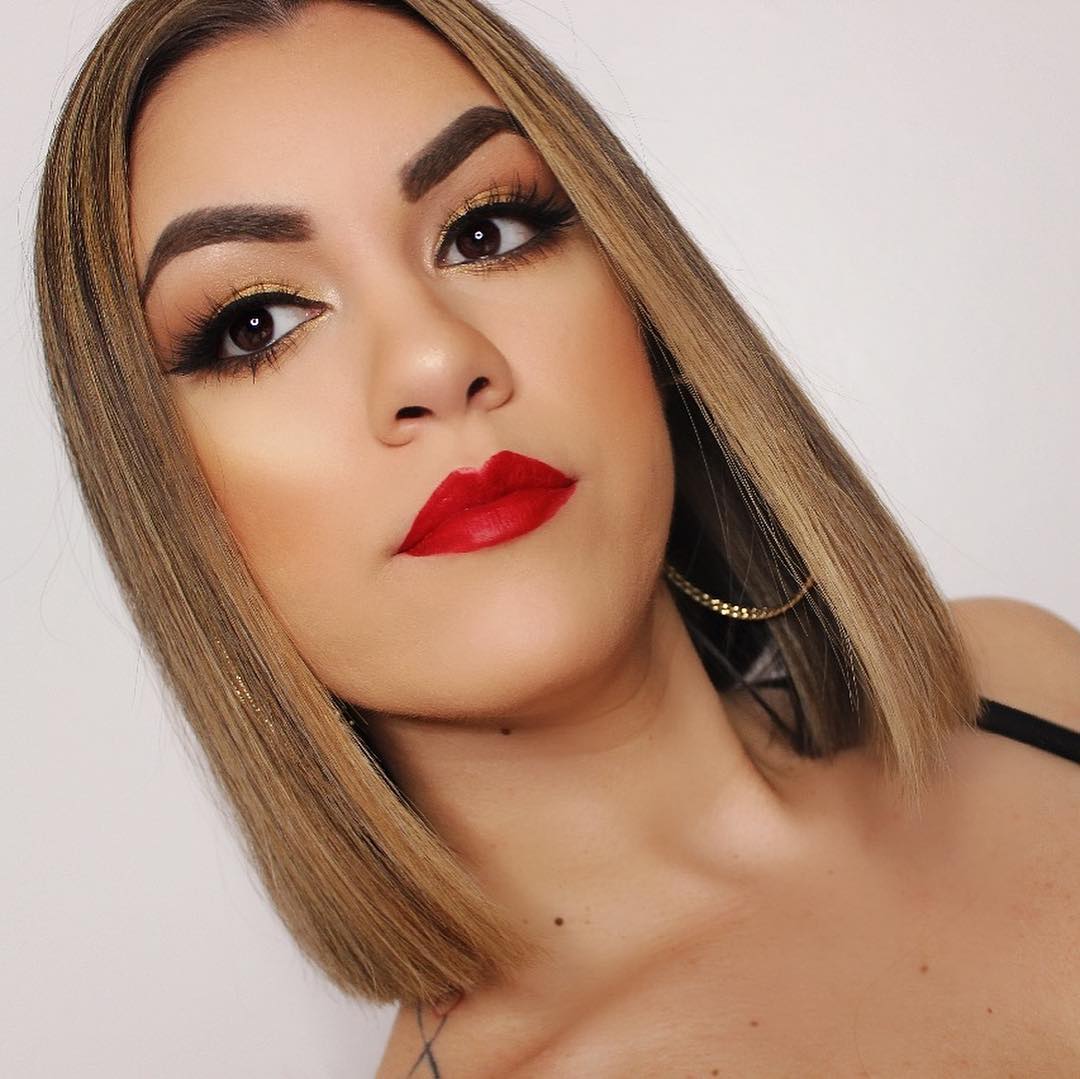 via @janethjbeauty
26. Kylie Jenner Inspired Christmas Makeup
True dat, Kylie Jenner has been the ultimate holiday makeup inspiration for years. From her neon pink eyes and bold lips, to smoky eye looks in gold tones with matching lip color, there's no style she can't pull off. This makeup we have here is in gold tones with matching eyes and lips. And we simply love it!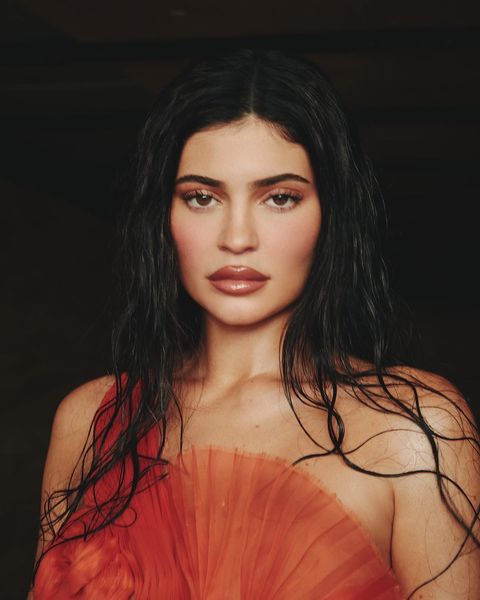 via @kyliejenner
27. Ocean-blue Smokey Eyes Makeup
Dark blue smokey eye makeup is a signature look to have in your cosmetic arsenal, especially at Christmas when you want to make an impact. It can also be used for other holidays like Halloween and Valentine's! A deep smokey eye like this has all the classic sultry qualities with just enough sparkle – perfect to go with festive looks and sparkling party dresses.
28. Bold and Festive Glitter Eyes
The winter season is all about slowing down and appreciating the simple things, so why not add some festive flair to your Christmas party? The glitter makeup for this occasion embraces a starry night in its most elegant form – with shimmering sapphire shades. It will still make you feel like stars are twinkling above your head!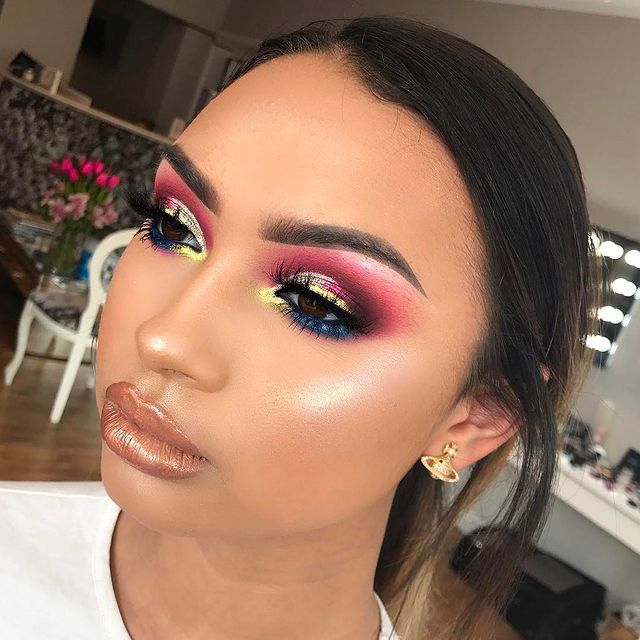 via @mmmmitchell
29. Glamorous Rose Gold Glitter on Your Eyes
This year, get a glamorous makeover for your eyes with the perfect party makeup. This rose gold glitter eye look will embrace allure from pink and shine from metallics to create an illuminating Christmas Eve-ready ensemble that is sure to not disappoint this December 25th! Not only does it have these accents in its color scheme but also uses some shiny jewels for an extra spark.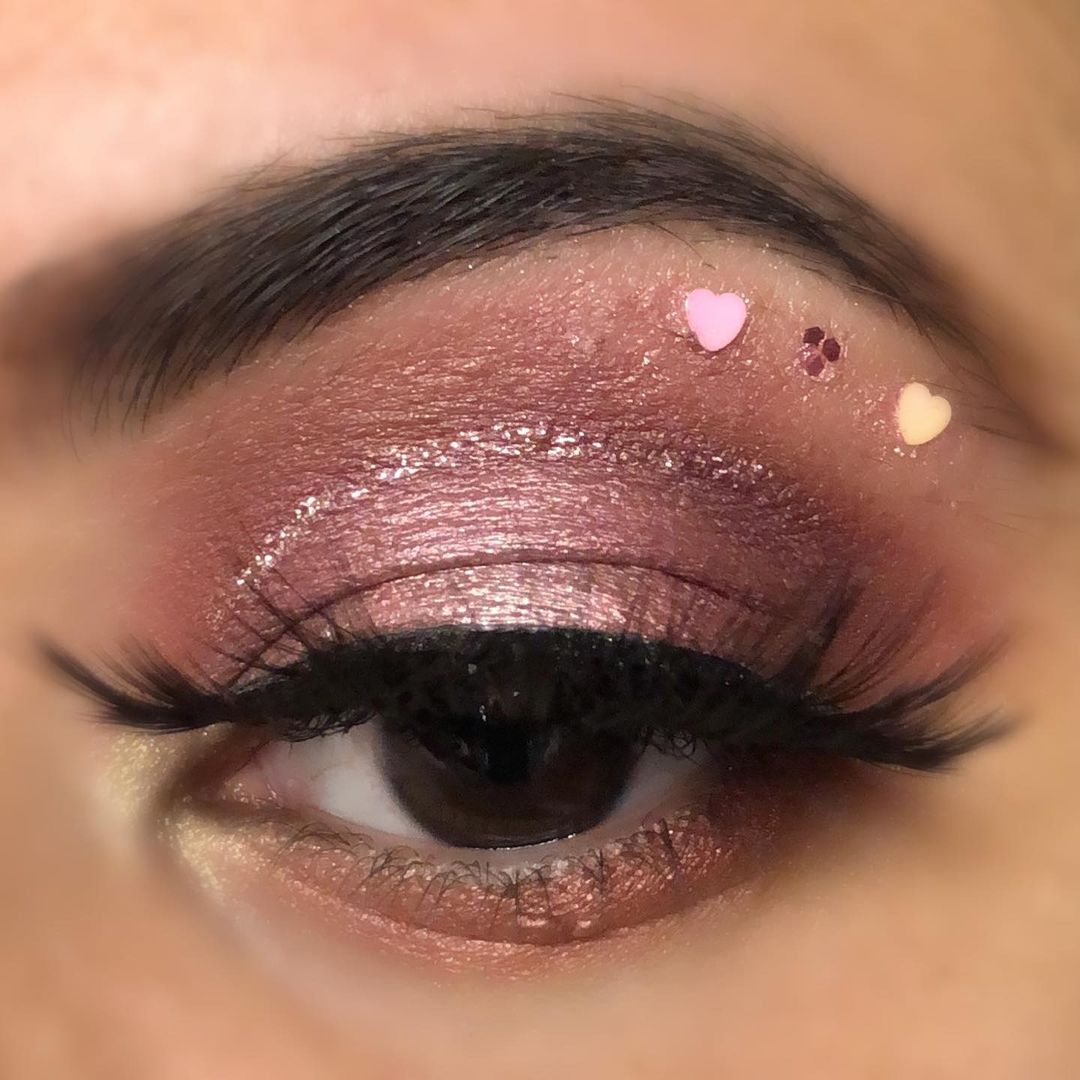 via @anikaandryan
30. Classic Chanel Inspired Holiday Makeup
If you are into the classic makeup looks that will never get old, this Chanel-inspired soft glam is exactly what you need. Put on the shimmery gold eyeshadow on your lids and emphasize the corners with a darker tone. Have your lips covered in red and apply some highlighter as a finishing touch.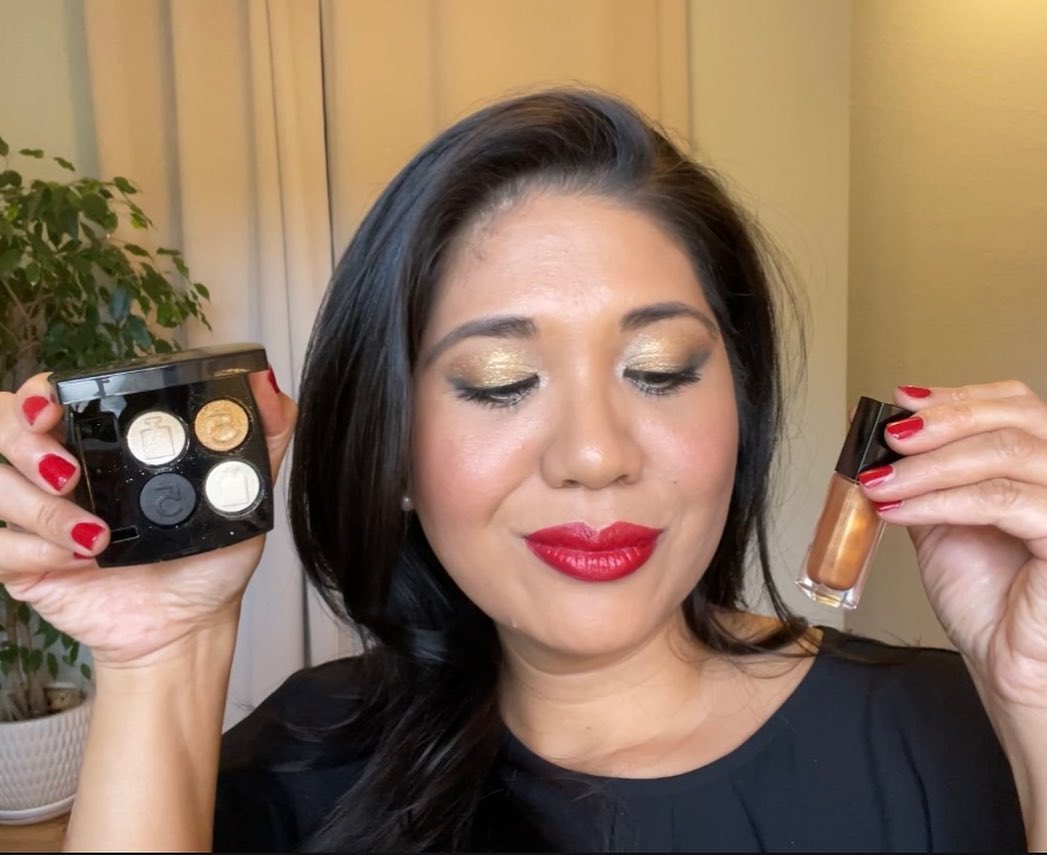 via @mikicarrbeauty
31. Feminine Dior-themed Holiday Makeup
Bring some tenderness and feminine energy to your Christmas party with this Dior-inspired makeup look. Soft gold eyeshadows and pink glossy lips with a bit of rosy blush on the cheeks are going to look especially flattering on blondes. If you don't want anything extravagant or fancy, this look is the way to go.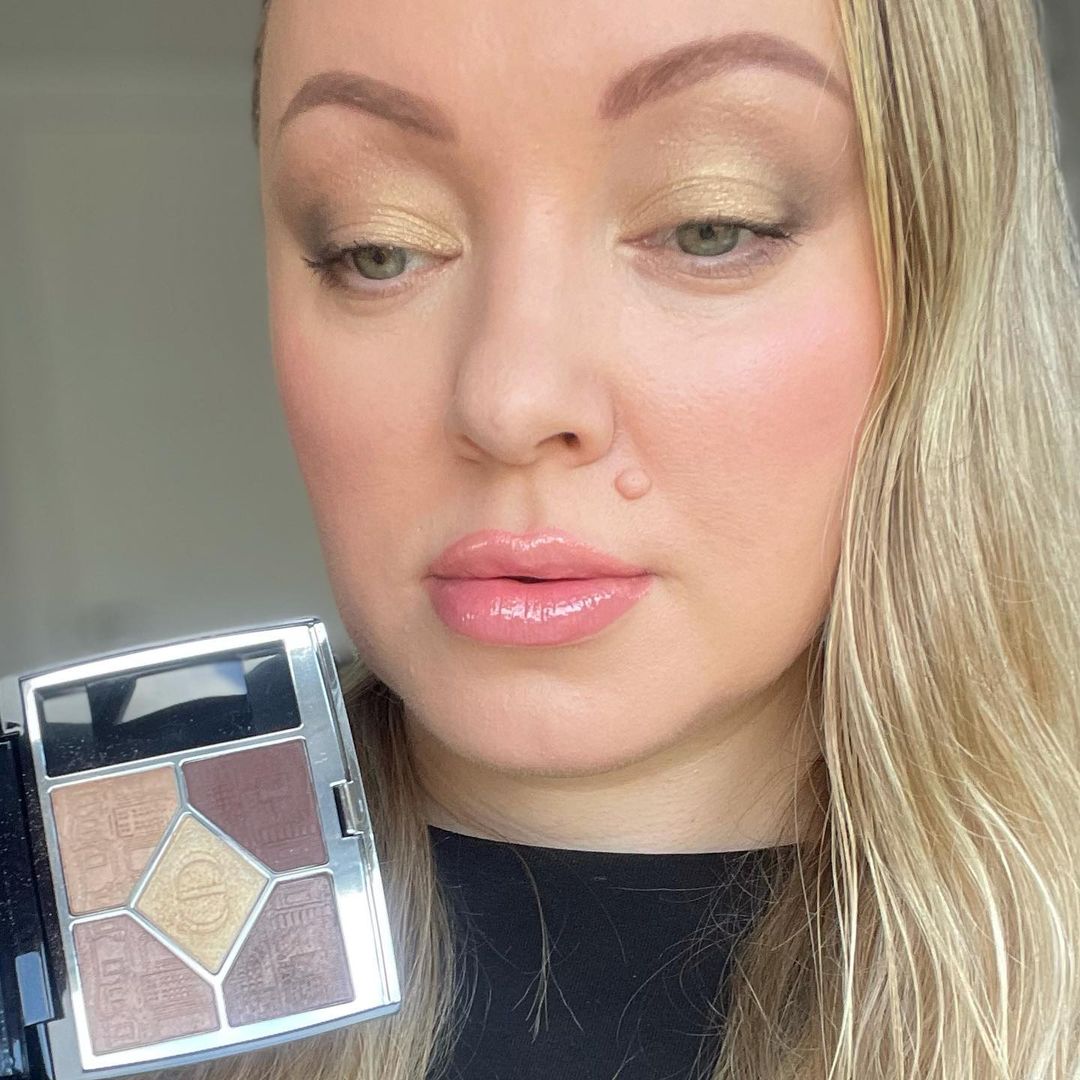 32. The Look with "Bejeweled Eyes" by Charlotte Tilbury
Does a palette even exist if it does not include at least one rose-gold shade? This Charlotte Tilbury set doesn't just have one. It has the whole gradient from champagne to a shimmery rose. "Bejeweled Eyes" is the perfect combination of rose gold eyeshadows. Such makeup will make you look more delicate and beautiful almost instantly.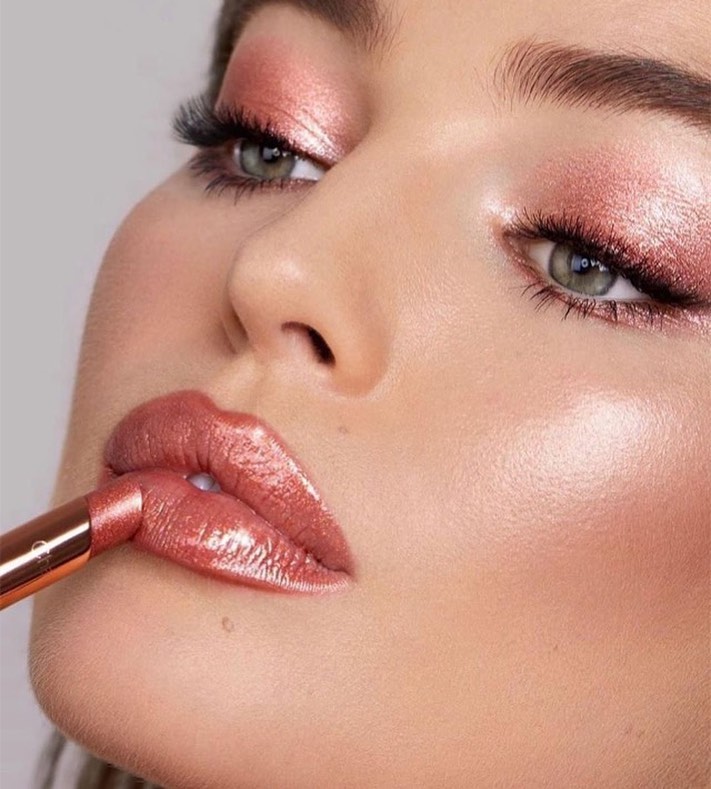 33. Iconic and Chic Prada Makeup
Fierce and elegant are the perfect words for this Prada inspired makeup look. Dark eyes with well-defined eyebrows and curly lashes combined with matte peachy lips are sure to make you the queen of the evening. And depending on what you wear, you can either neutralize your look or elevate it. Love, love, love it!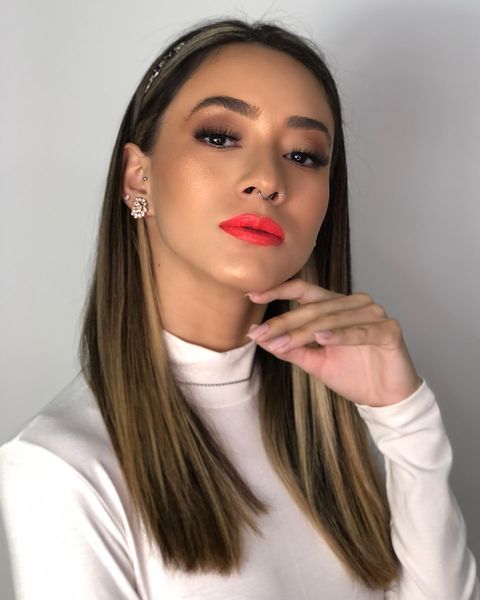 via @lucasduzi
34. Statement Makeup Look with a Pink Flush
When you think of the word "pink," what comes to mind? A little girl in pigtails trying on her new Barbie's pink dress or maybe some soft Chinese silk. But this color doesn't just work for girls! Pink is a universally flattering shade and can be used across all ages. This look is a great illustration of that. It creates a perfect balance of natural and sexy.
via @danessa_myricks
35. Intriguing Berry Blush
It's time to bring out your blushes! The holiday season is the best occasion for using more dramatic shades like berries. They will make you look absolutely stunning on those party nights. What girl doesn't love that? These deeper hued tones also work well with darker skin types so enjoy them while they last because this trend may not repeat itself again anytime soon.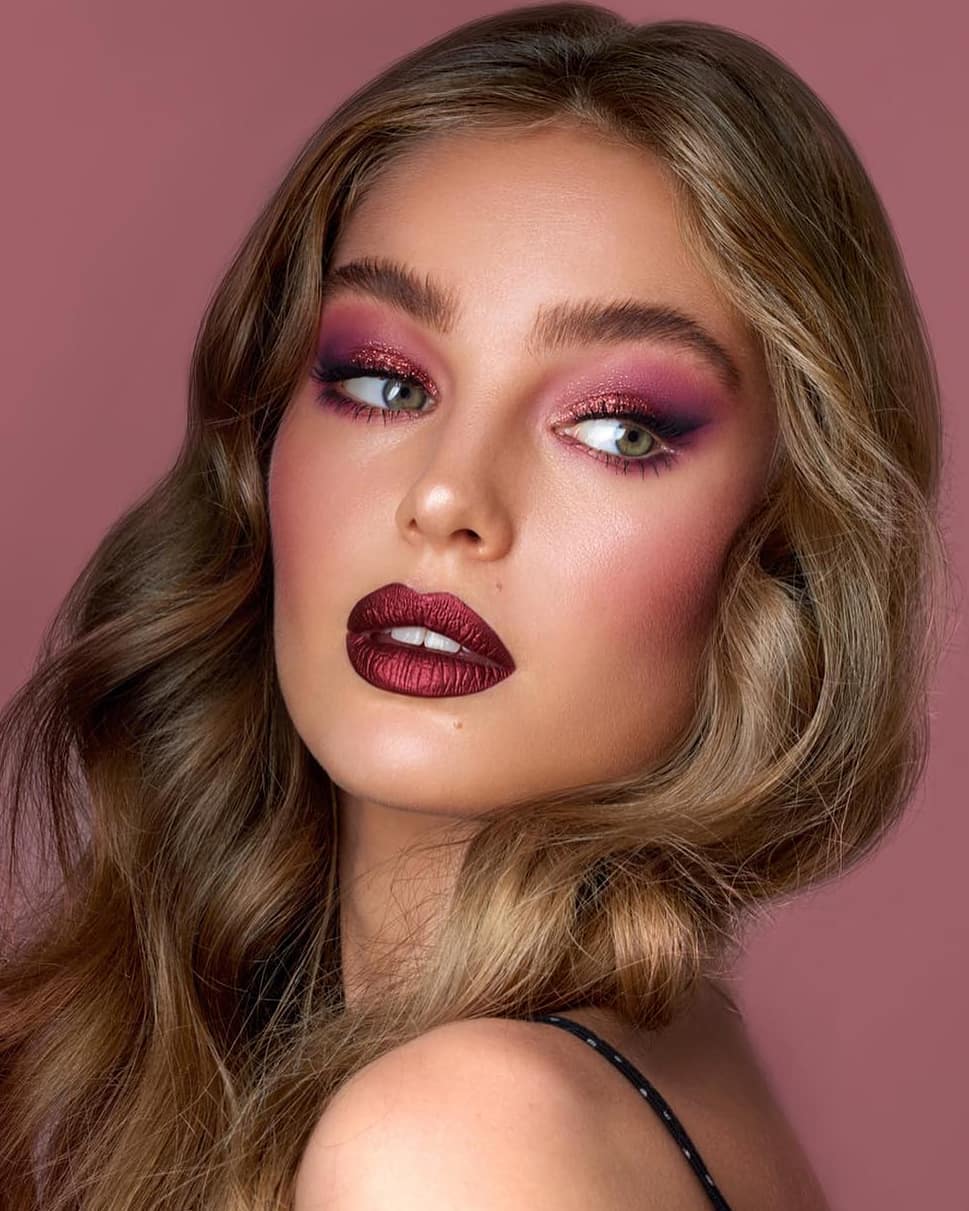 via @nablacosmetics
36. Gorgeous Berry Eyes
Deep red is a fantastic color for eyelids because it's rich and vibrant. When applied artfully, you can create the perfect smoky eye or dramatic liner look! Try using complementary colors to fill in your entire eyelid with not just one shade of berry; this will make sure that every other part stays clean without looking washed out.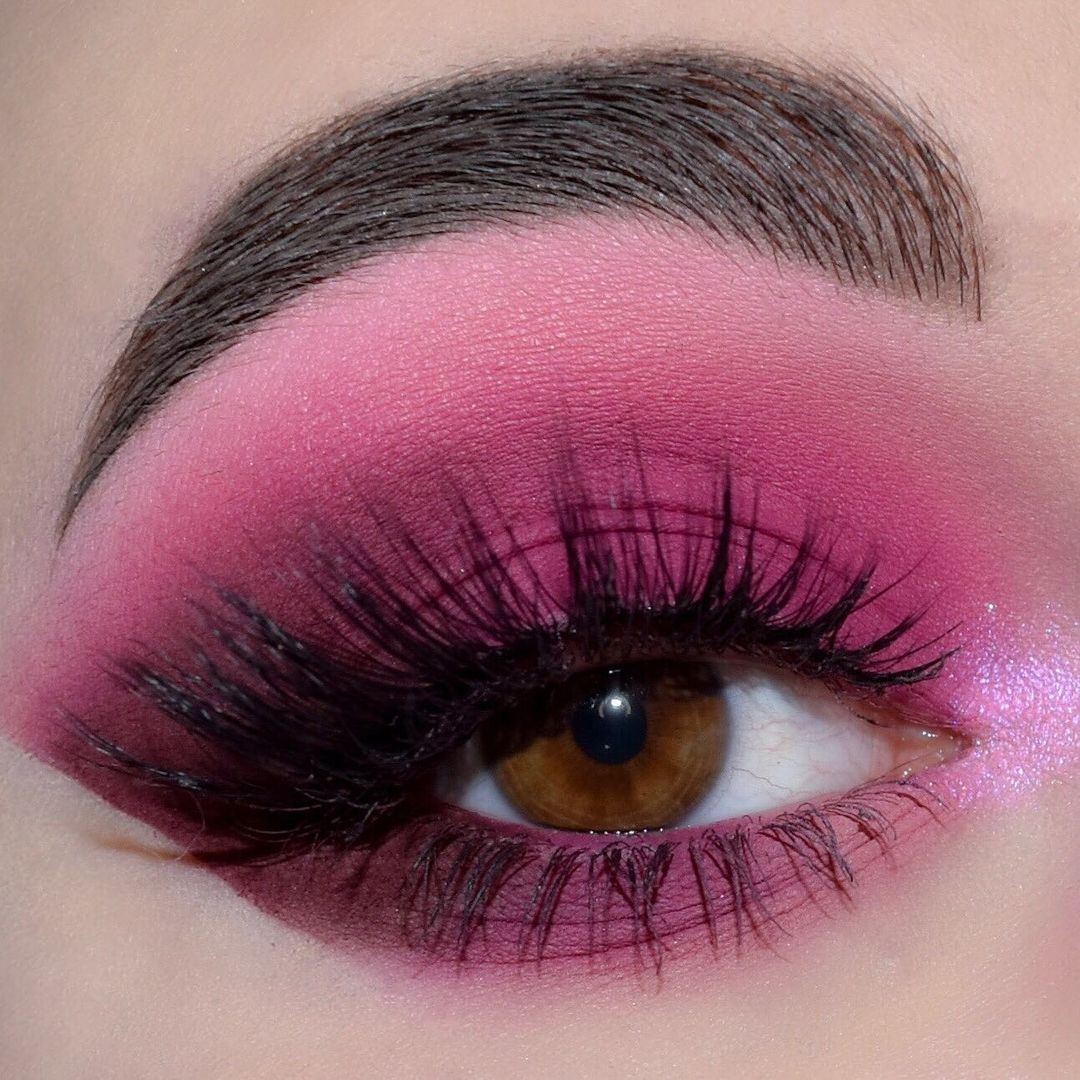 via @maja_the_beeee
37. Tender and Sweet Retro Eyes
This '60s-inspired eye look is still insanely glamorous, without a sparkle in sight.
The perfect way to make your holiday party extra special this year! Use lilac tones and light colors on the lid with brown or black eyeliner to add some depth. Then continue adding definition by using a liner at the top lash line as well as along inner corners. You'll have those famous retro eyes perfected before dinner has even been served.