Many women think about having a tattoo but still, feel confused about having a pattern for their whole life or cannot decide what to choose. And a temporary waterproof tattoo is a great solution! They can be easily applied to the skin and are not harmful to health, which is important for most people. Moreover, you can make different designs to decide whether you would like to have a real tattoo in time.
Nowadays, tattoo technicians can proceed with a wide range of tattoo designs, so it's up to your imagination. Temporary tattoos are super easy to apply, and it will take you several minutes to get the desired design. They also have numerous advantages, which are the reason why women adore them. Here is a list of the most significant points:
they are harmless for health;
everybody can easily make them;
these tattoos are cheap and affordable for anyone;
they look exactly like real tattoos and can stay on your skin for up to three weeks;
the color palette and the variety of patterns impress.
It is worth noting that such stickers are in no way inferior to real tattoos, especially if you get those of high quality. Only a person with a professional look can see the difference between them. Temporary tattoos are a great idea for those who love being trendy and changing.
If you are not brave enough to make a constant tattoo for your whole life, this article is for you. We have gathered the best ideas of the most common tattoo designs at the peak of their popularity that suit all tastes and preferences.
Extremely Stylish Abstract Tattoo Designs
Abstract patterns are increasingly common since every person can create their design, and nobody will be able to repeat it. For instance, you can make abstract swirls, chaotic lines, or geometric figures, which can be done in different shades. Of course, there are no restrictions concerning color schemes, and you can pick those you like most.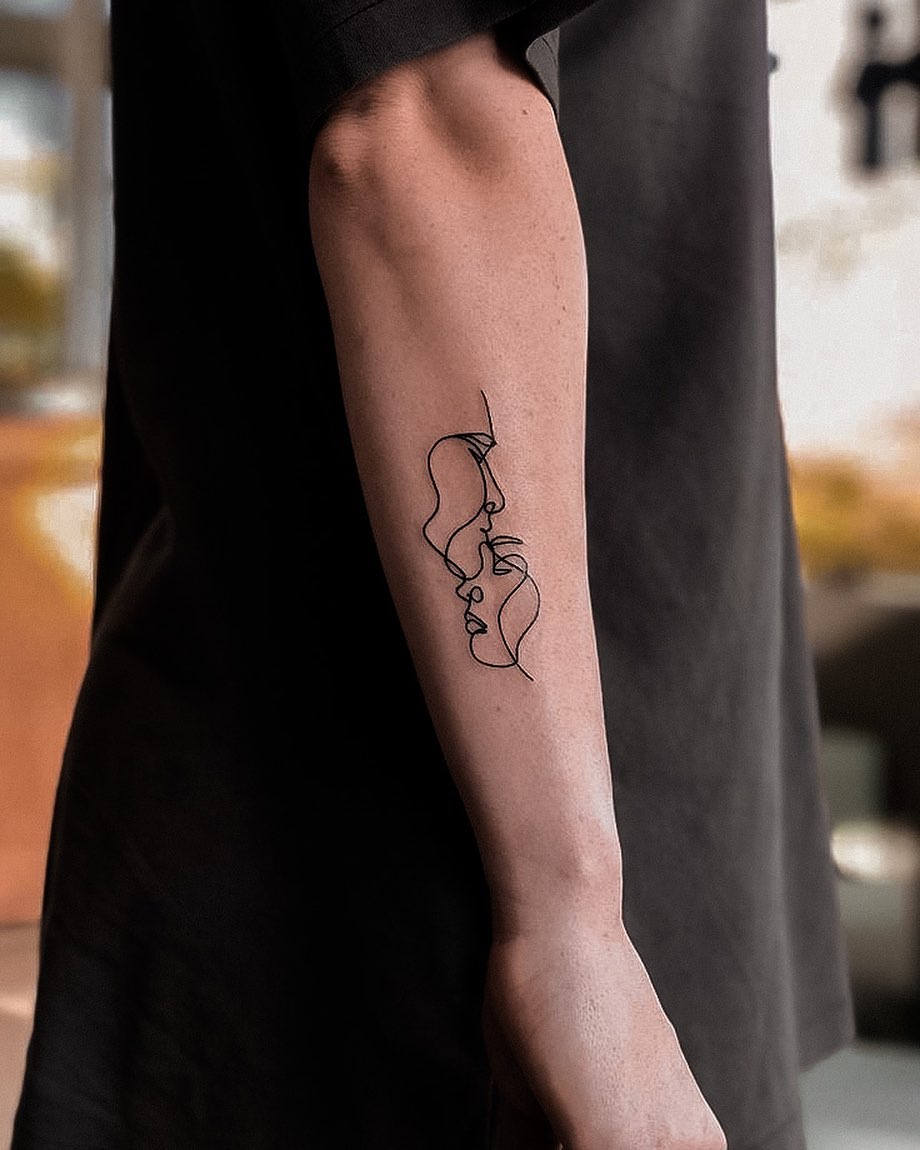 The most common option is to buy ready-made stickers applied to the skin. Here, you cannot make your designs and should choose among the available pictures. However, if you have a pattern you would like to make, you can always order temporary tattoo designs according to your sketch.
via @momentaryink
You will eventually receive real-looking tattoos, highlighting your personality and providing you with numerous admiring glances. There's no need to visit a professional master since you can make the procedure at home.
Tiny Temporary Tattoos as a Minimalistic Accent
Mini tattoos are at the top of all trends since minimalism is in fashion. Many people prefer making tiny patterns or symbols on their bodies and enjoy these small pictures. In most cases, it's an excellent solution for those dreaming about having a tattoo but don't want to attract a lot of attention.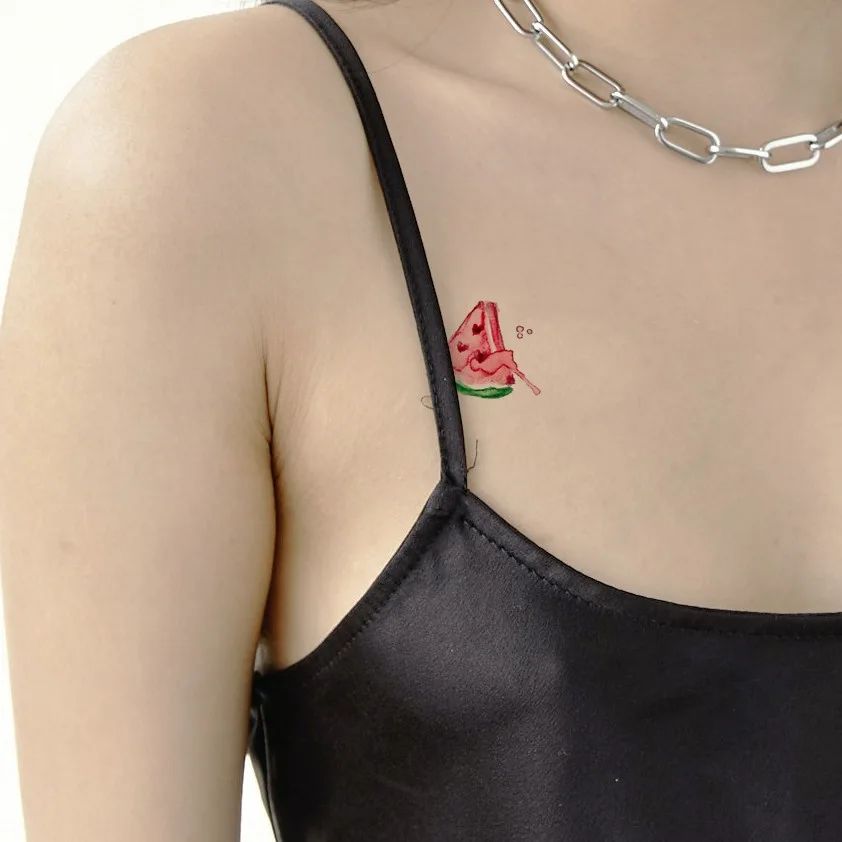 via @tattoooie_ph
Temporary realistic tattoos are pretty tricky to distinguish from the real ones so that nobody will know your little secret. However, one of the most significant benefits of temporary pictures is the possibility of changing them often according to your mood.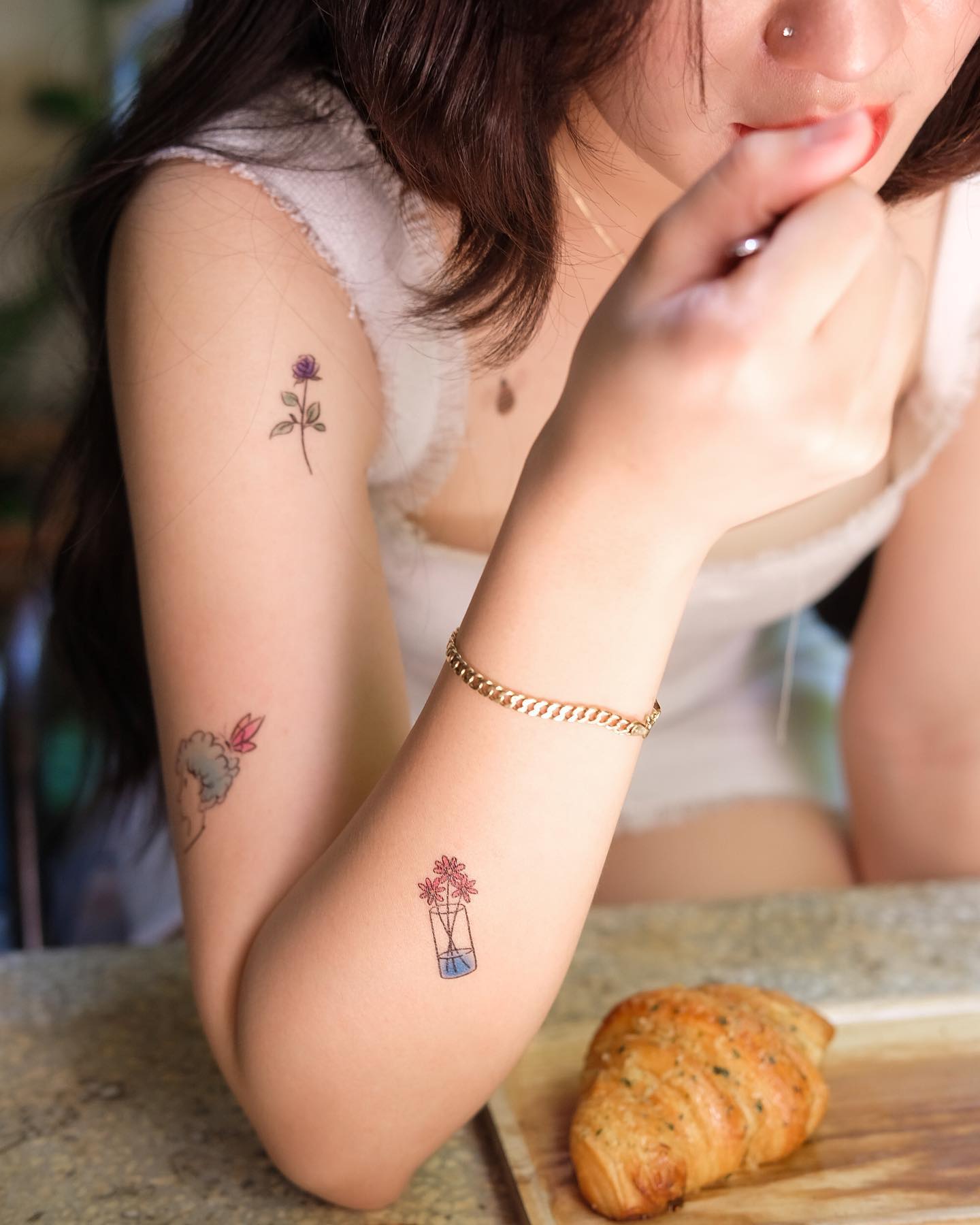 Tiny tattoos are often used to make a couple of pictures or to use the same tattoo designs for friends to show feelings to each other. This looks heartwarming and cute. Moreover, such things are usually waterproof tattoos, making it an excellent idea for a vacation.
Drawing Flowers Is Always a Good Idea
Women adore flowers temporary tattoos, and it seems that they will never lose their relevance. These are probably the most frequently used temporary tattoos, so the demand is always quite high. For many, it's a possibility to try the design and understand whether they would like to make a permanent tattoo.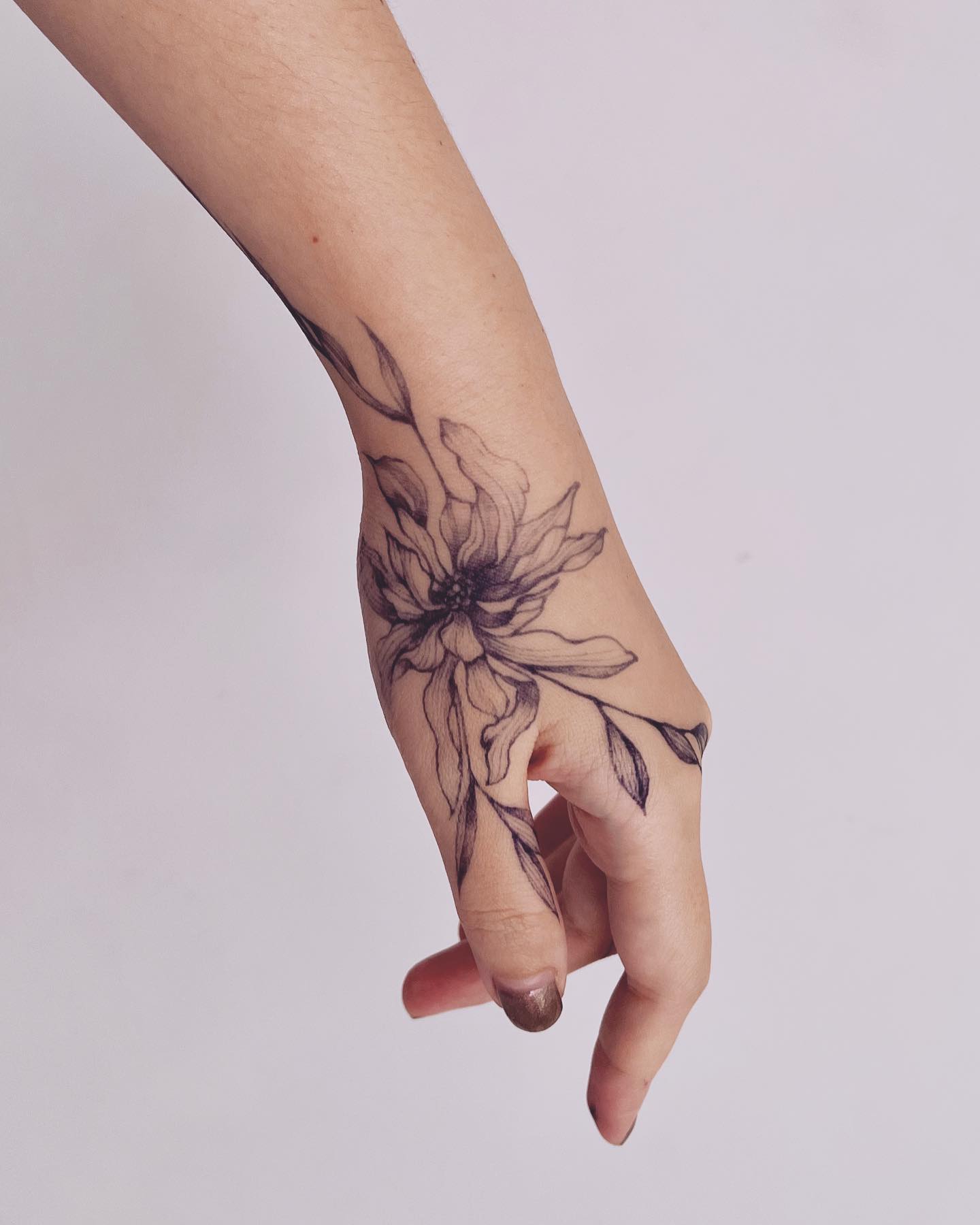 via @jynk_ink
A floral tattoo design can be made in different colors and styles, so everyone will find something suiting their tastes and preferences. The best point concerning such temporary pictures is that you won't feel tired of them since they last several weeks.
via @dead_im_sure
When buying temporary tattoos, ensure they are of good quality and will last for at least several days or even weeks. The most significant part of such products is now waterproof, perfect for summer and vacation.
Impressive Tiny Finger Tattoo Designs
Applying small patterns on fingers is a stylish and unusual small tattoo idea. Such pictures are easy to apply and will last from several days to three weeks. Of course, the best option is to choose small minimalistic patterns that will attract attention but look terse and elegant.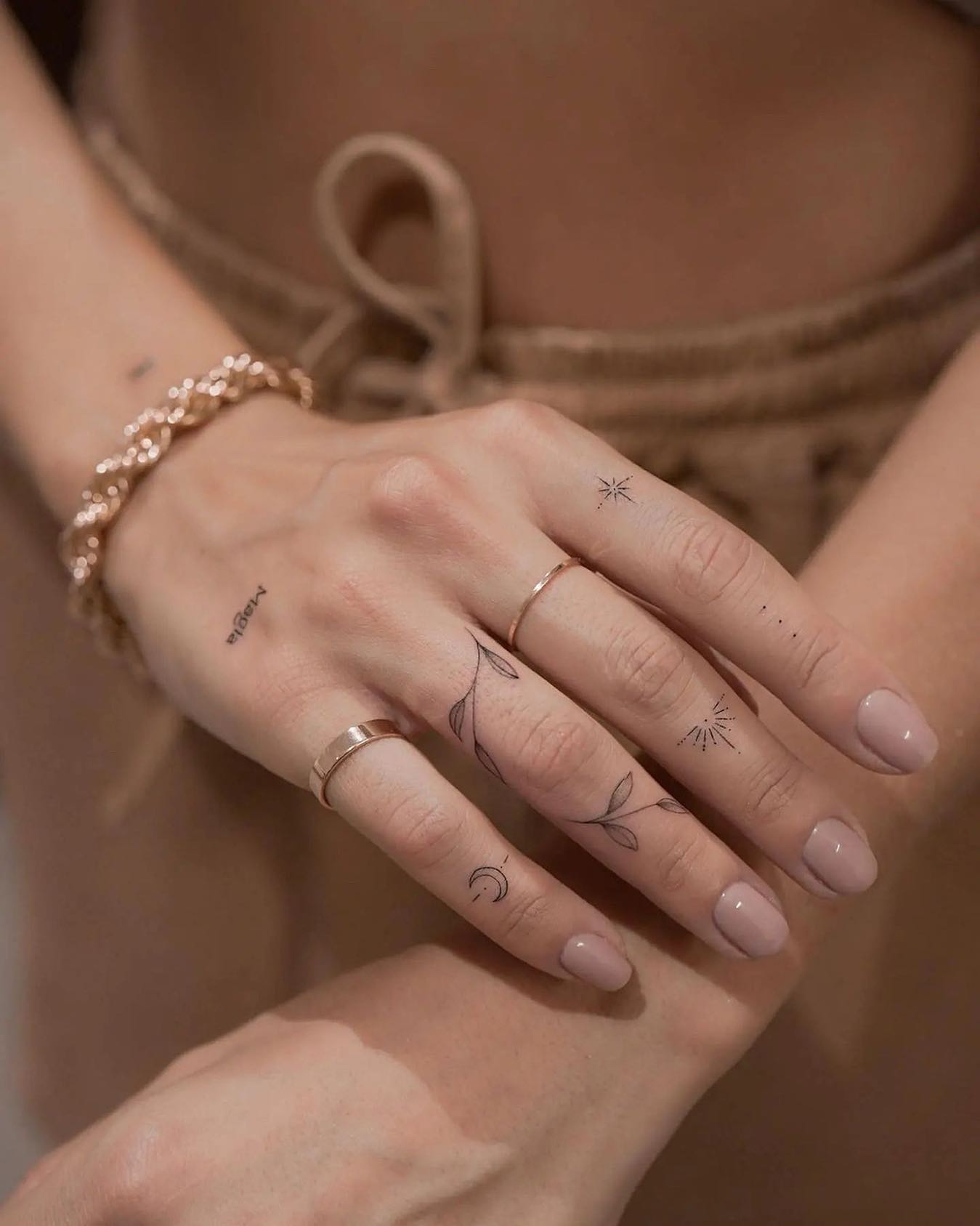 via @tinytattooinc
Temporary tattoos that last for weeks allow you to understand whether you would like to have a permanent pattern. Tattoo stickers are an excellent alternative for those who love experiments and changes in their appearance since it's possible to apply new pictures weekly and be different.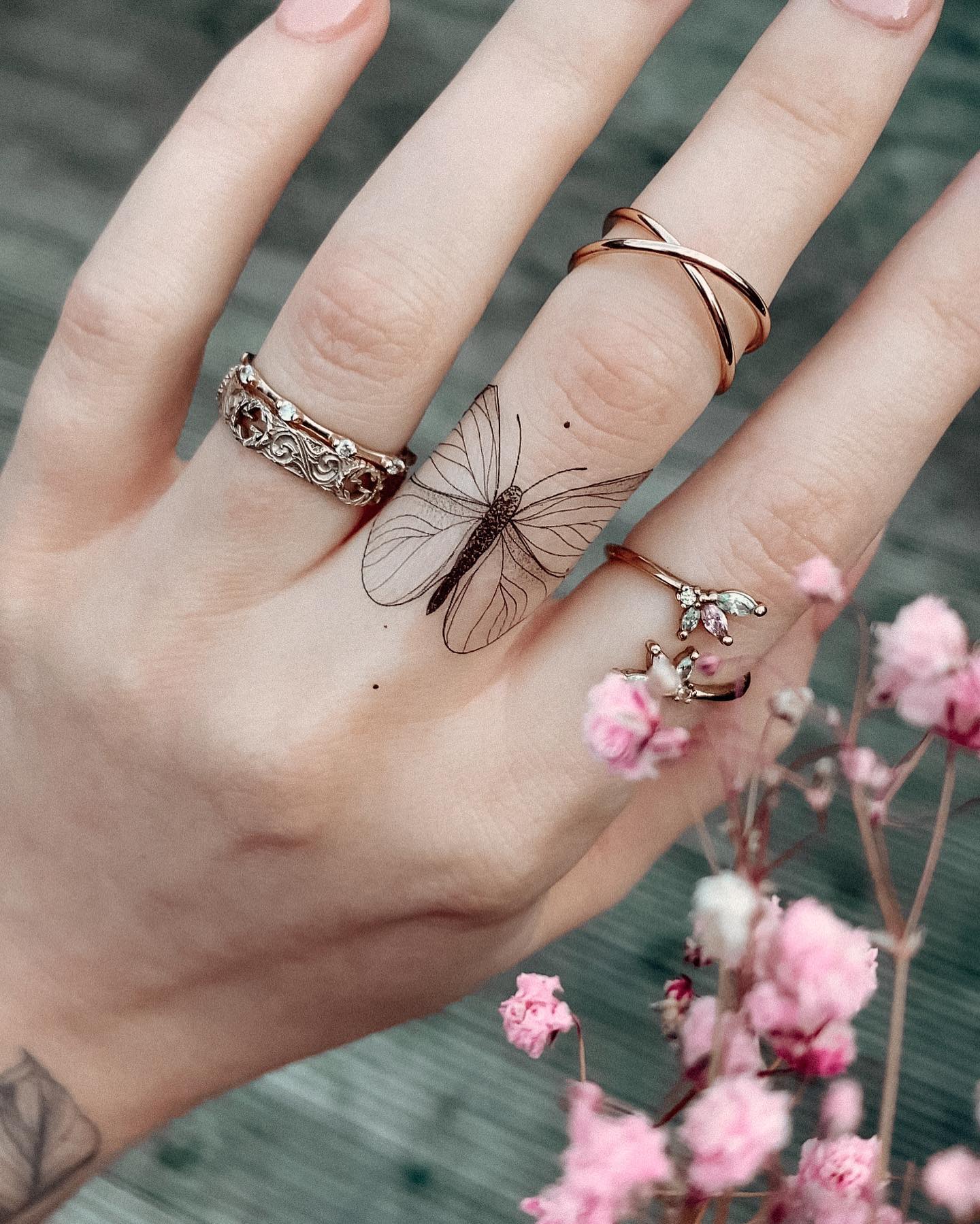 via @bunami.ink
Best Body Art in Vintage Colors
Retro style now returns to trends, so some vintage tattoo ideas will come in handy for those searching for new designs. First, it's worth mentioning floral designs that constantly remain at the peak of popularity. Consider color tattoos to create impressive, unusual pictures and be ready to receive dozens of compliments.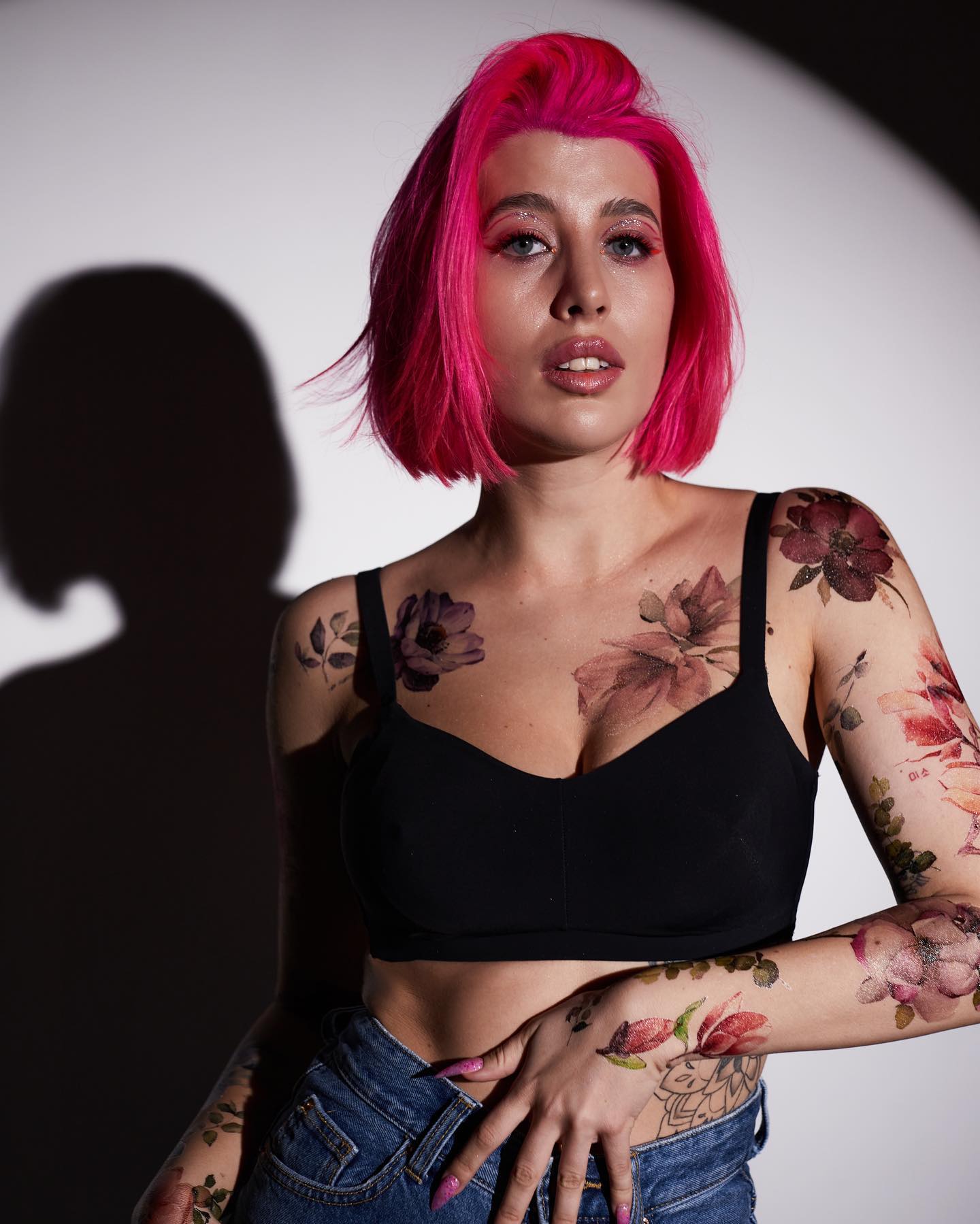 via @arleysign
Find the most colorful and interesting retro patterns to make unique tattoo stickers that will help their owner look outstanding. You can use them for any occasion, even as wedding decor if the dress code allows it. They will last for several weeks, and you can always have new ones when they wash off.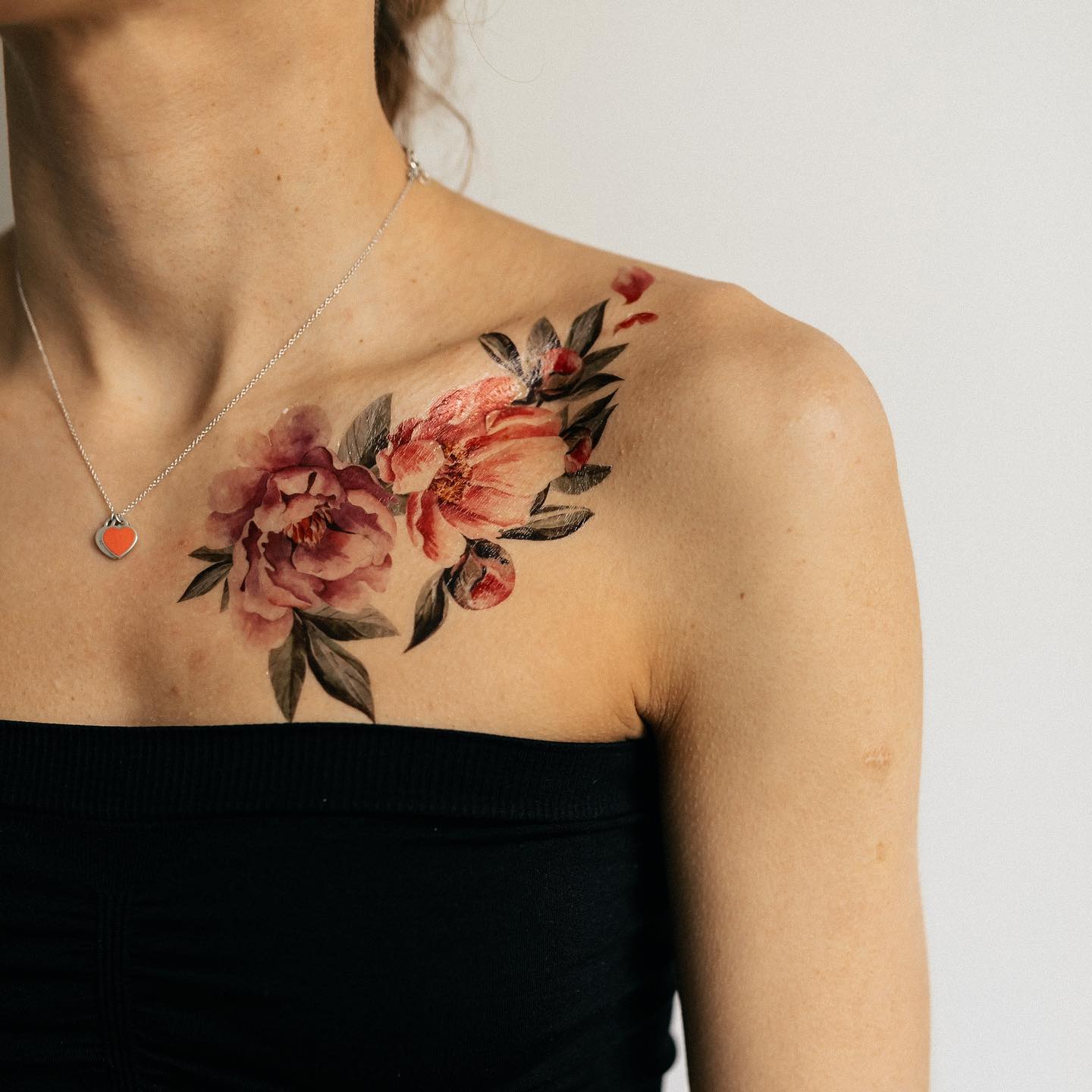 via @tattooshka_ua
Customize Your Best Tattoo Idea
One of the most exciting benefits of temporary body pictures is that you can create the design yourself without using common sketches. Tattoos are a fun way to express yourself and demonstrate your skills in drawing. Of course, it's not obligatory to draw it yourself since you can always order the desired pattern.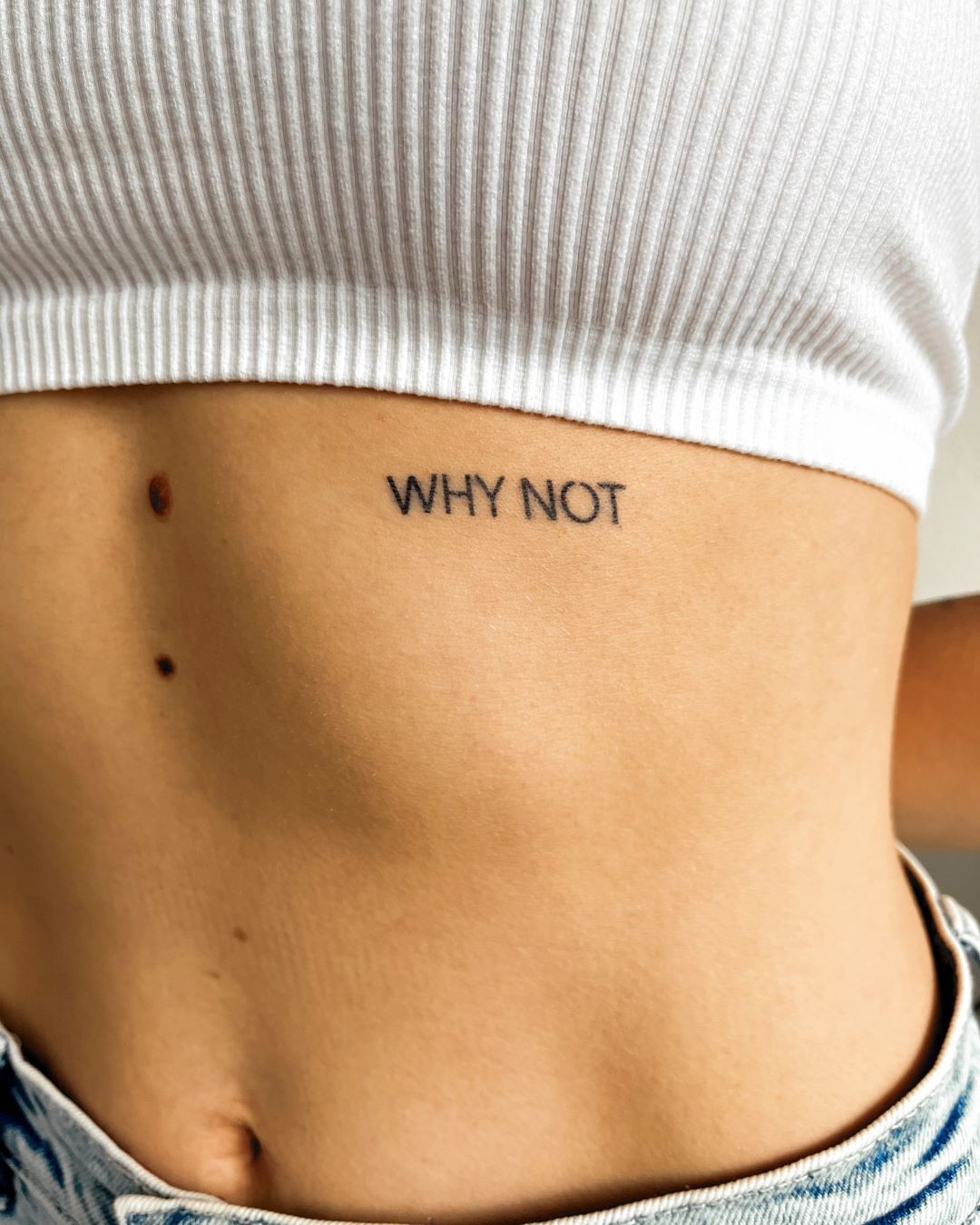 via @inkster
Using custom temporary tattoos, you can get perfect decor for any occasion and shine bright, attracting admiring glances. Such temporary pictures on your body make a bright accent to your look. You can be confident that such stickers are skin safe since allergists and cosmetologists test them before their appearance on the shelves.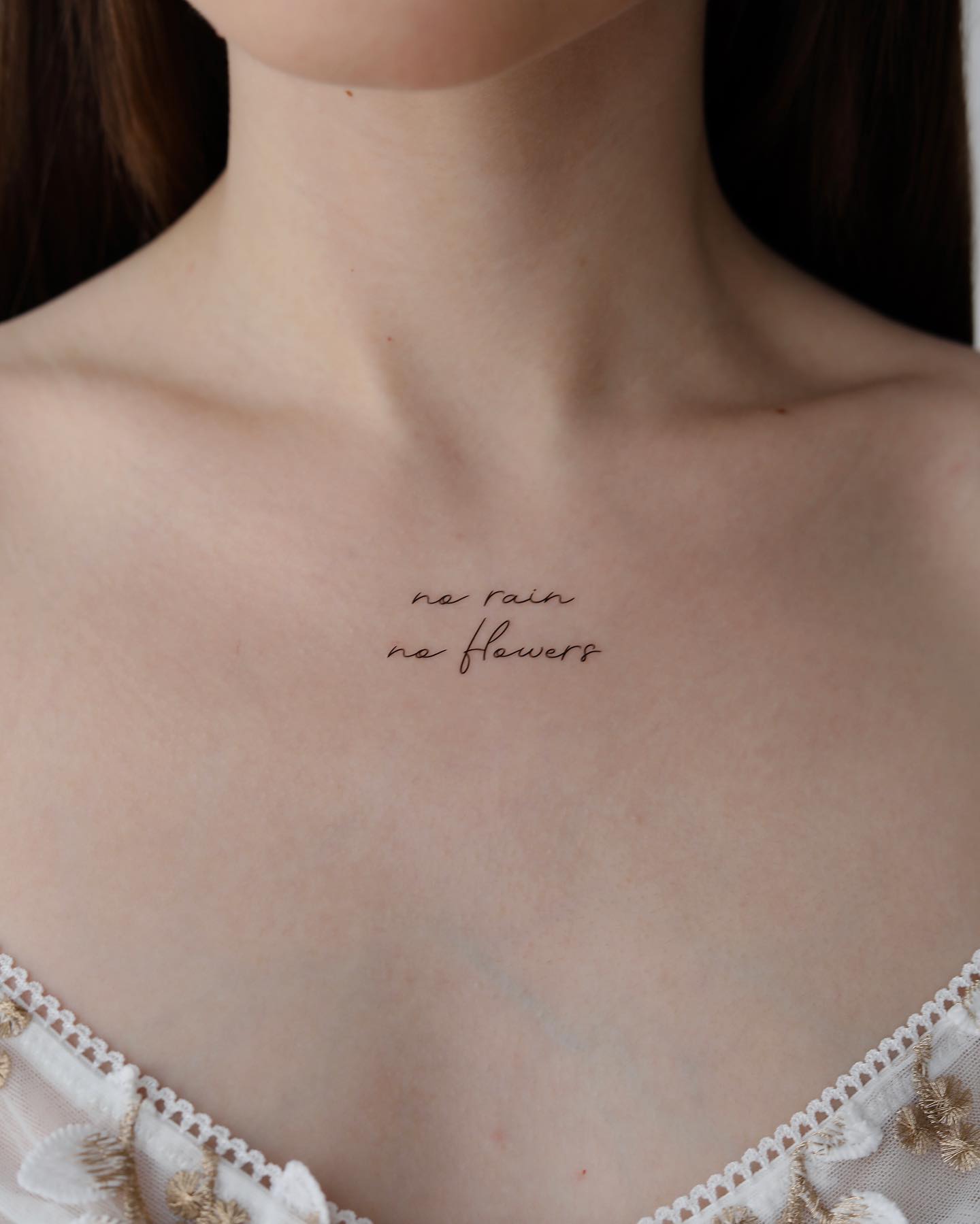 via @ze.lines
One more brilliant idea is the word tattoo. Many people prefer to add some phrases or words significant to them. It looks extremely stylish and minimalistic, which is on top of all trends now. Customize your tattoo right now and get a unique design!
Stylish and Feminine Butterfly Tattoos
Butterfly patterns have been one of the most popular tattoo options for ladies. They are usually colorful and bright, attracting a lot of attention. Modern technicians will gladly help you to make a real-looking tattoo, and it will seem like a butterfly landed on your skin. Of course, it's not obligatory to make a permanent sketch since you can take advantage of temporary patterns.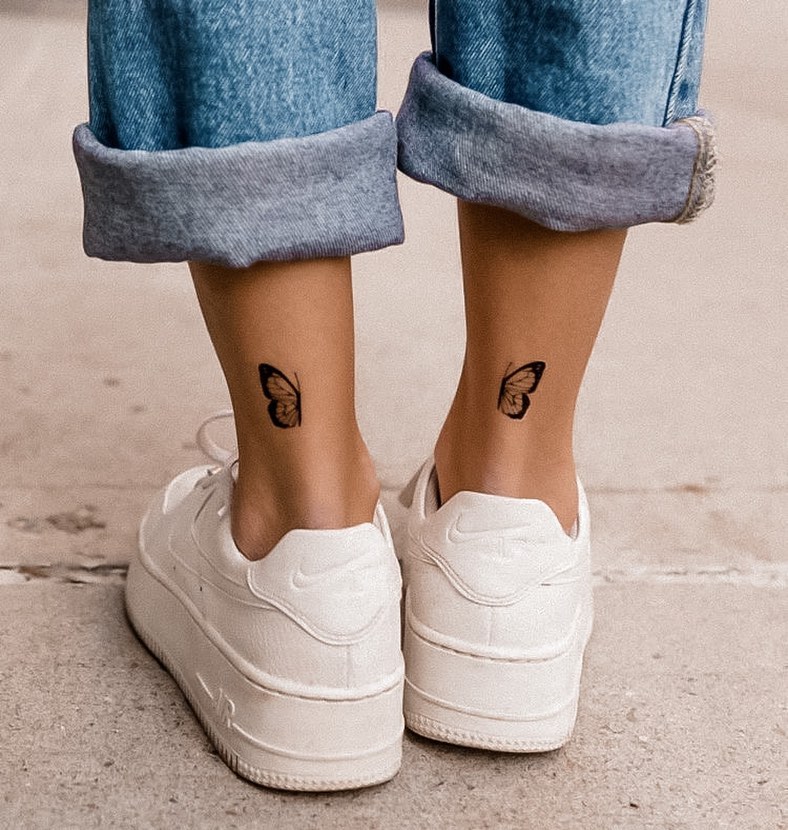 A cute color butterfly tattoo is a universal option for most ladies. You can choose any shades you like and create a unique design that will stay on your skin for several weeks. We can say that it's an always winning choice of tattoo suiting women of all ages and clothing styles.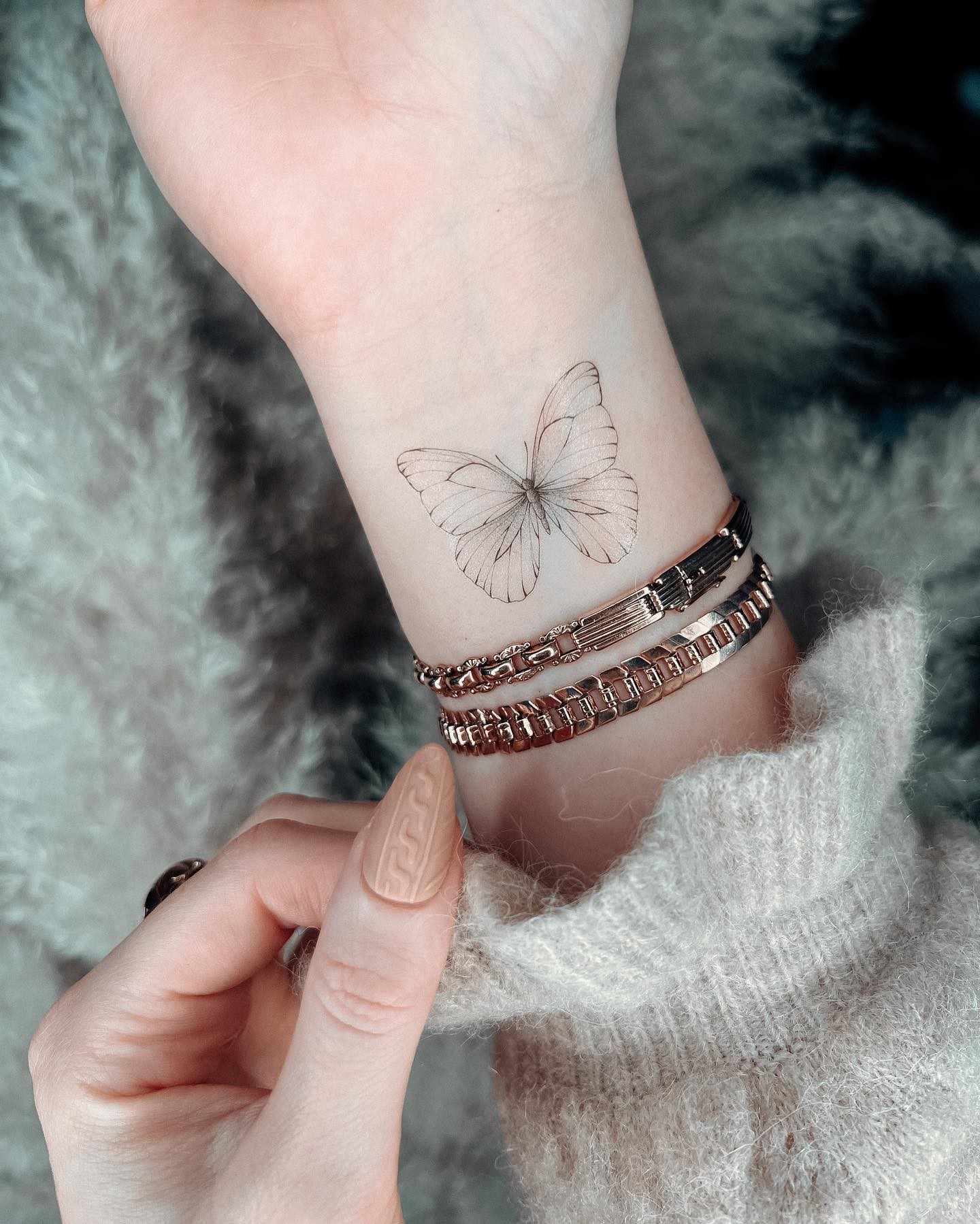 via @bunami.ink
Ink temporary tattoos are a great choice since they will disappear in a couple of weeks, and you won't get tired of them. Moreover, they are known to be skin safe, so that they won't cause any harm to your body.
Best Ideas with Gold Foil Body Art
Bright designs are on the rise nowadays, and numerous ladies prefer using silver and gold foil to create unique patterns on their bodies. Of course, temporary tattoos will not last more than several weeks, but they are a great way to experiment and add an exciting accent to your appearance.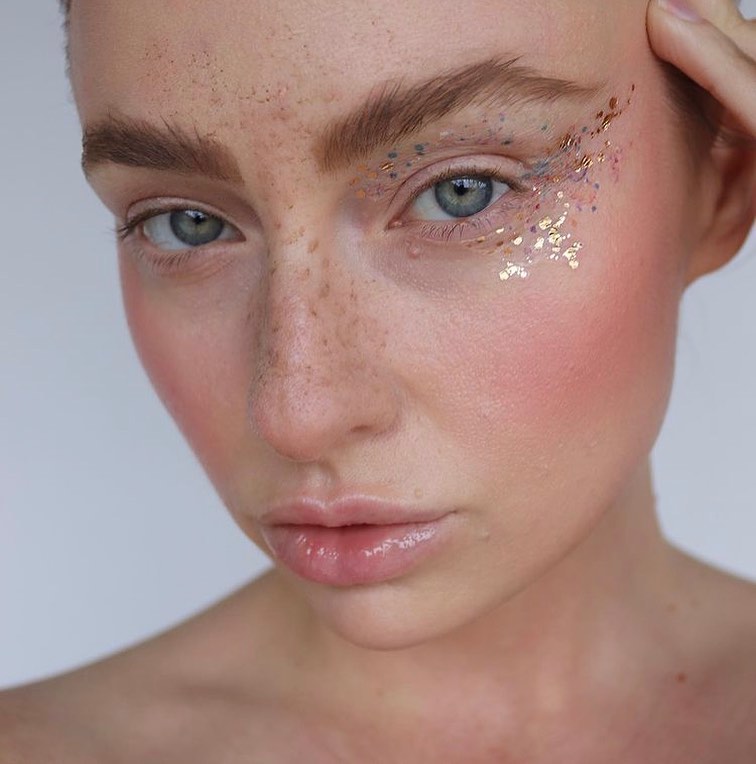 via @paperself
A gold foil tattoo can be done in all shapes and patterns, but the most common option is geometric designs. Of course, you can come up with a unique picture and apply it to your body to get tons of attention. With such tattoos, a shiny look this summer is guaranteed!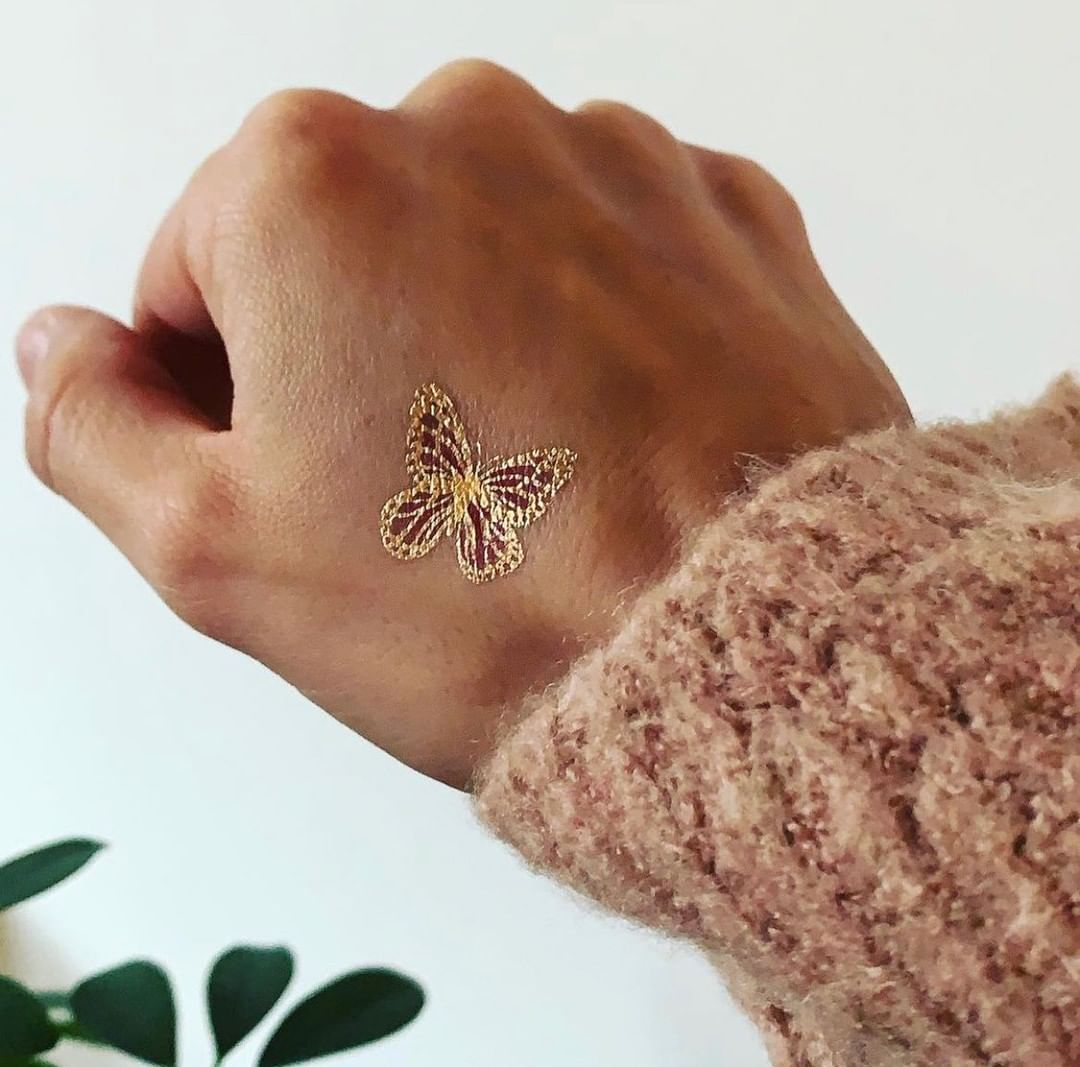 via @sioou
They are easy to apply and are perfect for warm seasons and vacations. In addition, a golden pattern is considered a party tattoo, which is bright and sparkling.
Best 3D Effect on Your Body: Create Your Unique Design
3D patterns are the latest trend in body painting, adored by both men and women. And what to do if you don't want to get a permanent tattoo? Applying temporary patterns of all colors is a cool idea for any occasion! They can make you look unique and add a bright accent even to the most boring dress code.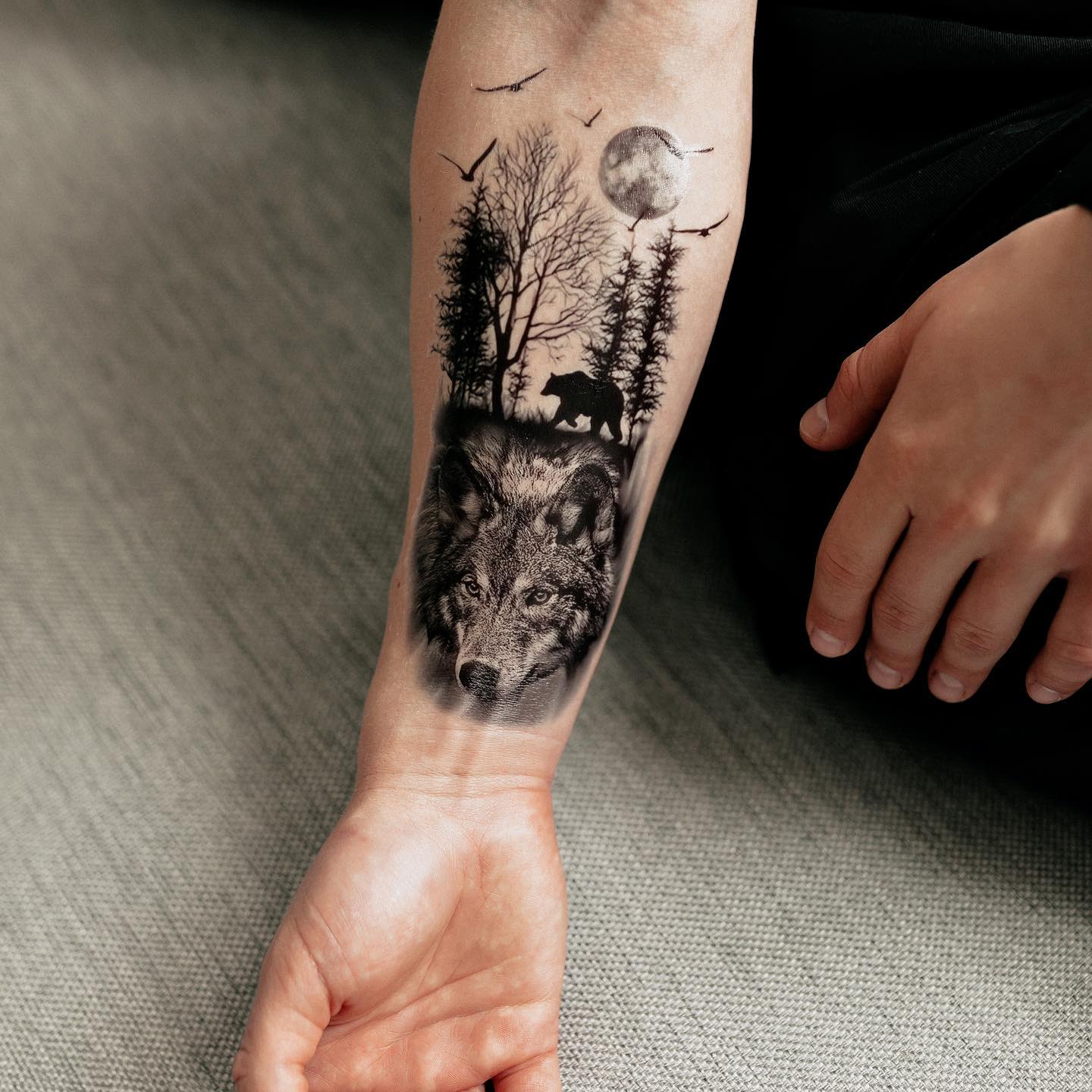 via @tattooshka_ua
3D effect tattoos can contain different drawings – you can proceed with them by yourself or use some ready-made solutions. And it's up to you to decide the design. You can choose from some fun-looking tattoos to world masterpieces of painting. It all depends on your imagination!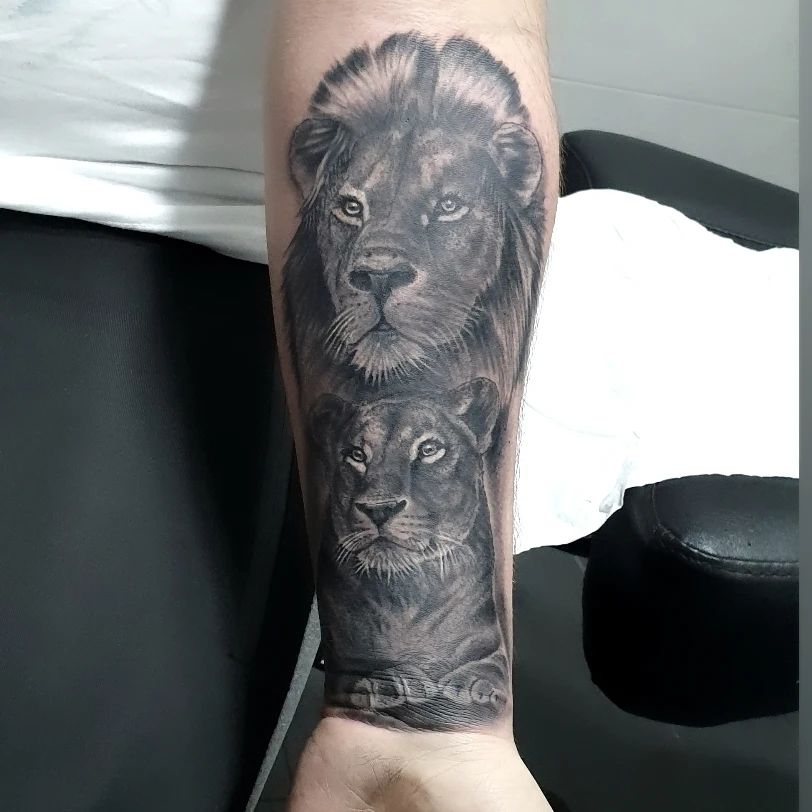 via @projecttattoo
Search for inspiration among other people having patterns on their bodies or search for trendy tattoos this summer to select the most attractive ones. The procedure of ​​applying temporary pictures is quite simple, and even a kid can easily cope with this task.
Tiny Heart Temporary Tattoos
Making a minimalistic tiny heart is a charming tattoo idea that can show your love to someone or just be a nice accent. If you still haven't decided whether you would like to make a permanent tattoo for your whole life, consider temporary patterns and try them first. Such body art is nice and will help you conclude whether you want a real tattoo.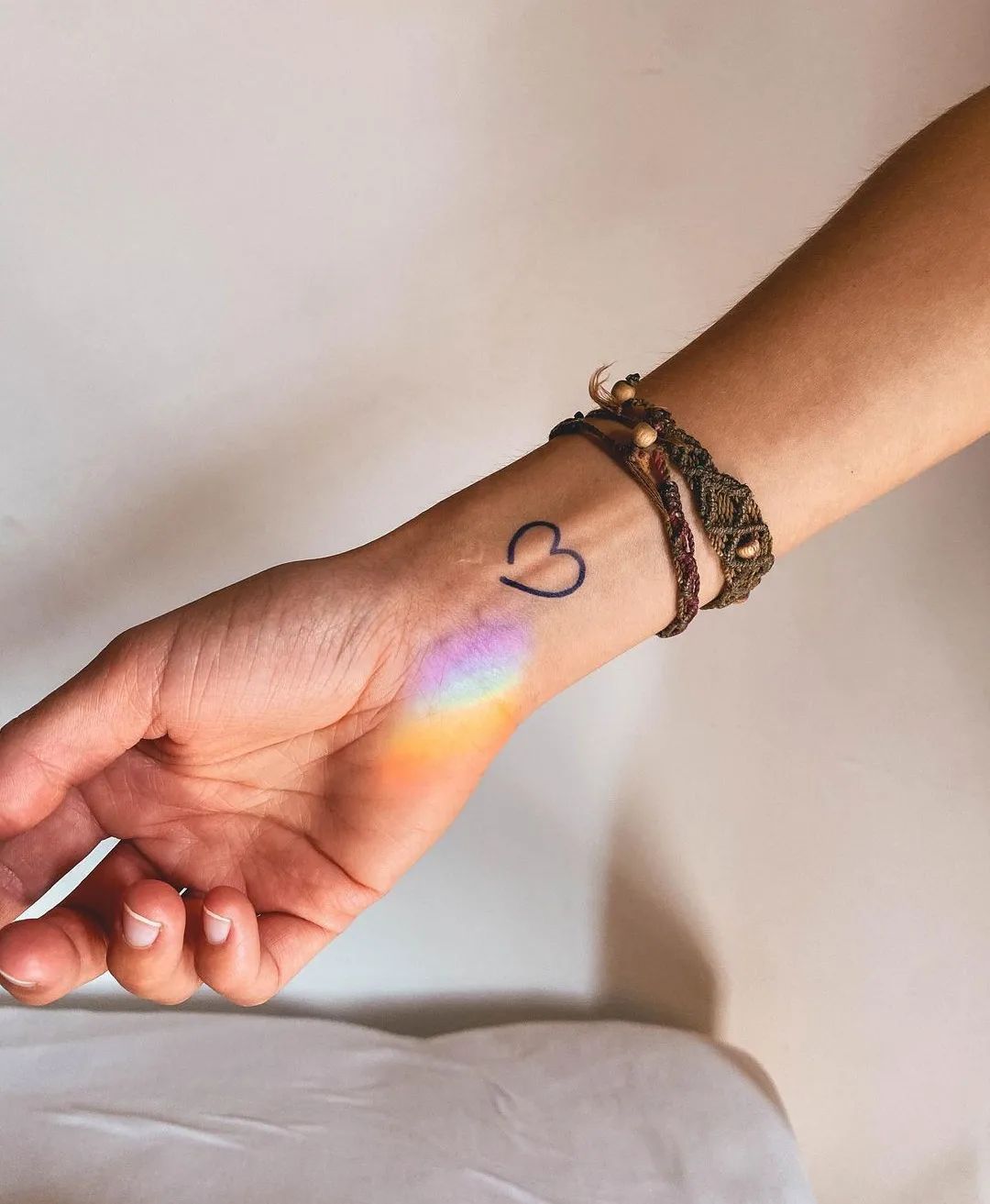 via @inkster
Such little details to express yourself matter. The style is not only about your wardrobe and makeup since it's hidden in such small things. Tiny minimalistic body art is a fantastic decision for tender and elegant ladies who want to add an exciting detail to their appearance. Pick your designs with a temporary tattoo option and enjoy them for several weeks or even longer.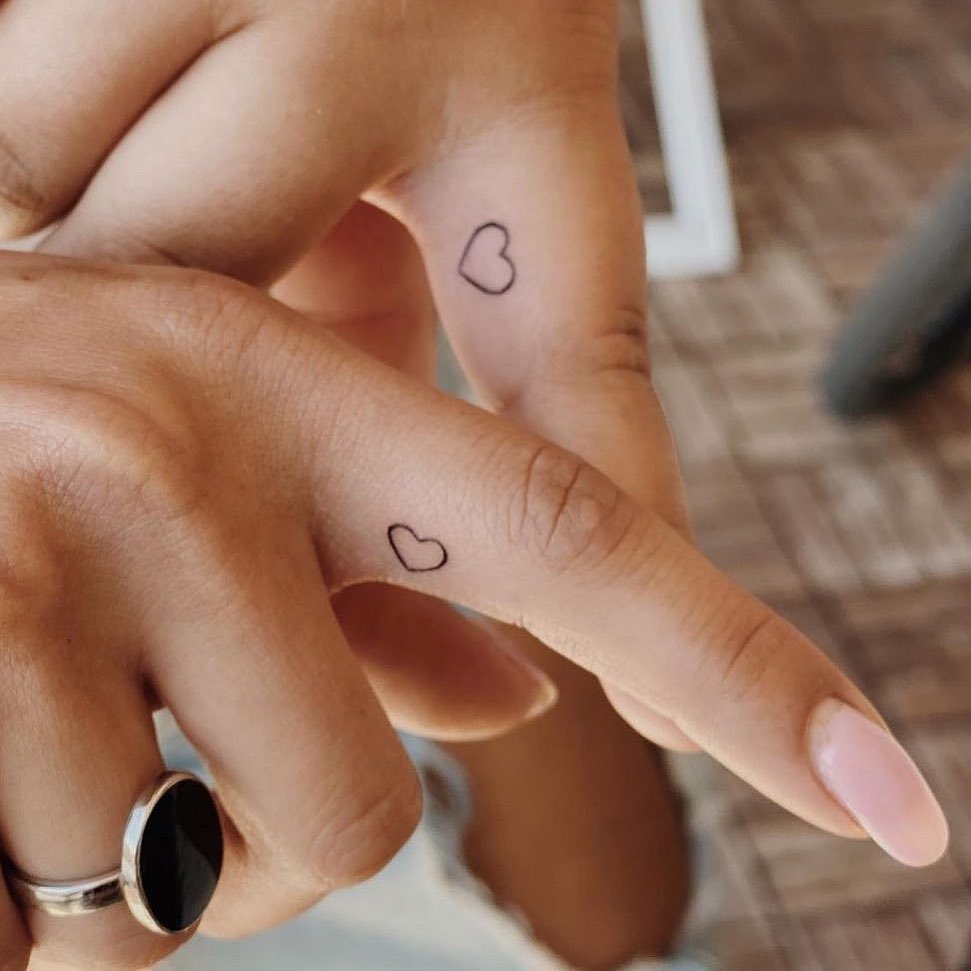 via @tinytattooinc
Top Space Tattoo Designs for Every Day
Nowadays, you can find body art for any taste, and cosmic tattoos are a selection of many people. They look minimalistic and laconic, so ladies often prefer them to other designs. A moon tattoo is suitable for every woman, providing her with an unusual accent on her body.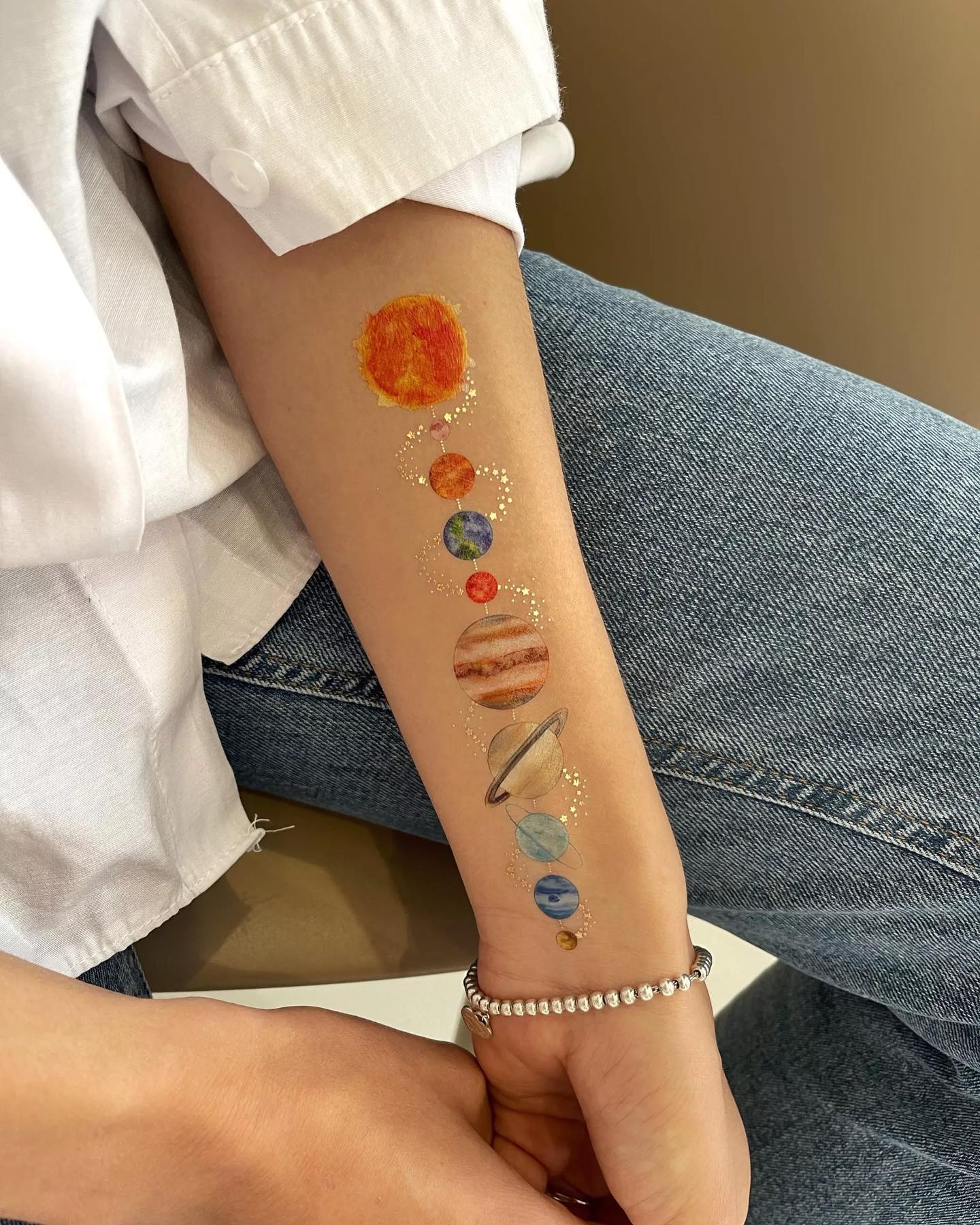 via @arleysign
The most common colors used in such tattoos are deep blue and yellow. However, it's quite common to make them black and white or draw just the outlines of planets, the Sun, or the Moon. A color tattoo is the best idea in this case, but it's up to your imagination! You can find multiple stickers in specialized shops or proceed with your design and get realistic temporary tattoos in minutes.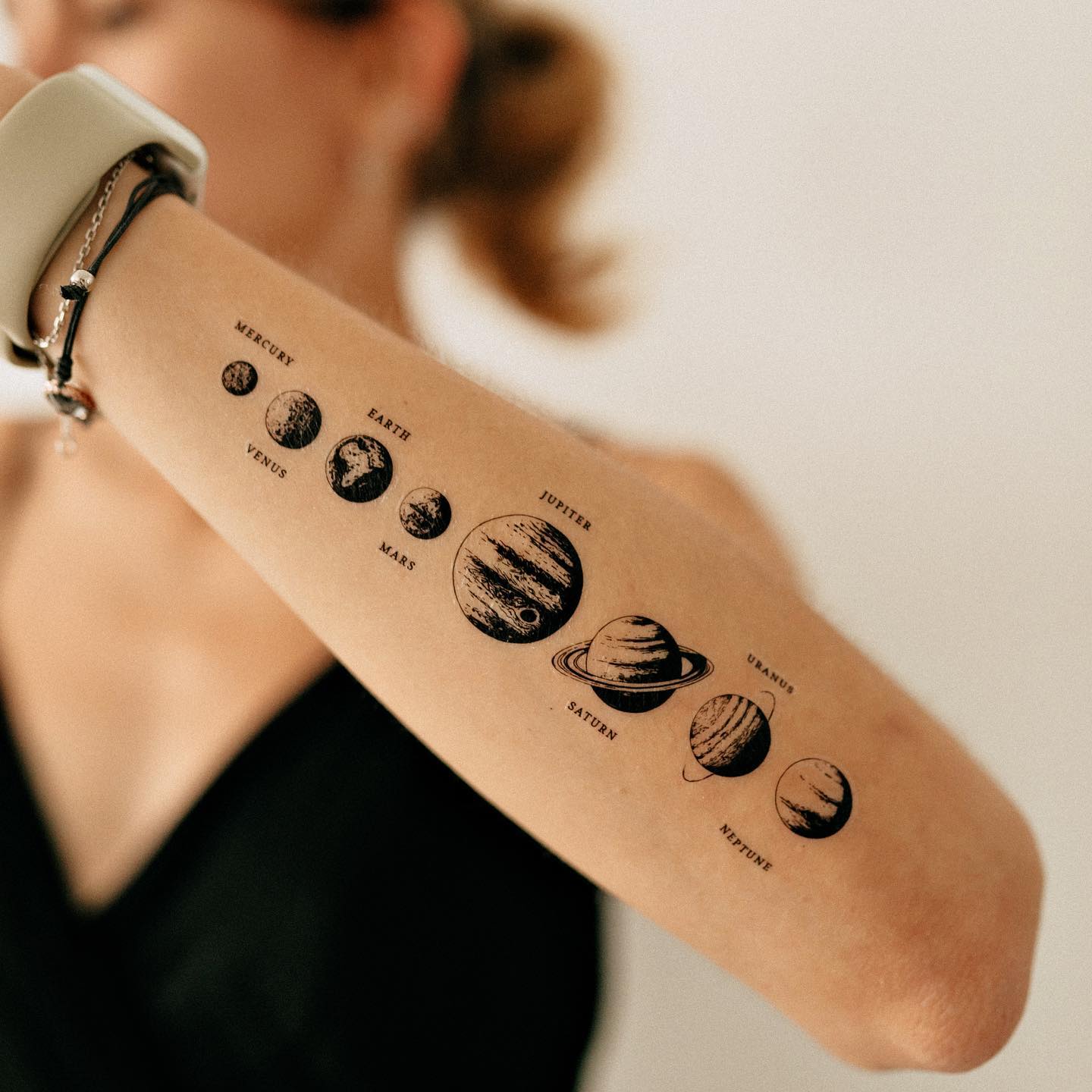 via @tattooshka_ua
Feather Tattoos and the Most Laconic Trend
Feathers are also a design frequently chosen by multiple ladies. This element demonstrates tenderness and femininity, allowing women to feel more elegant and nicer. Black and white tattoos are the most common option in this case. And if you want to make the pattern brighter, adding some silver and gold foil is also a perfect idea.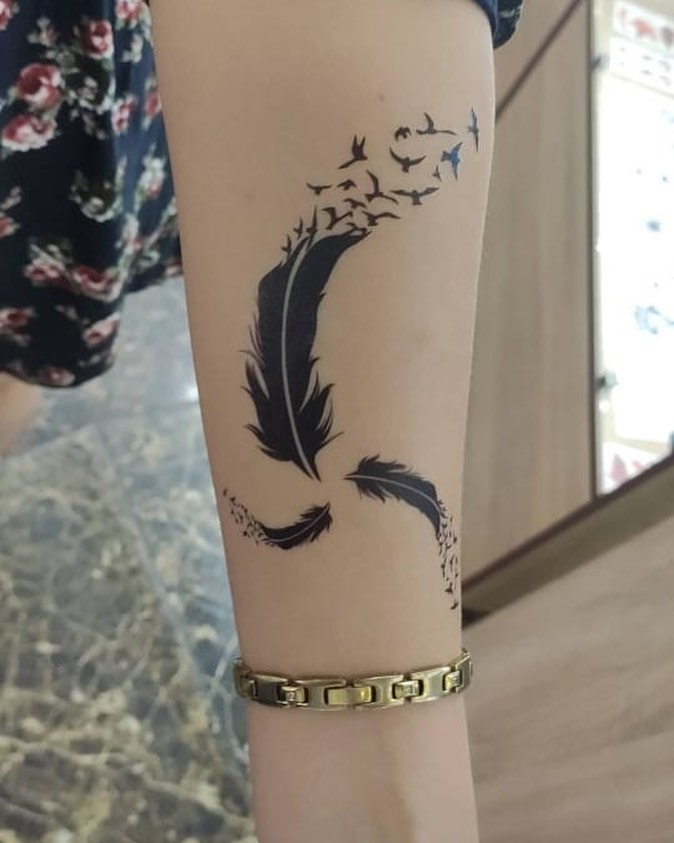 Tattoo stickers are a great alternative for those who don't want to make permanent pictures on their body but are in the mood to experiment and get bright accents to their bodies. A feather tattoo is a perfect option for those with no idea about what picture to add since it's truly universal. Overall, the choice of temporary patterns is truly insane, and any shape tattoos are nowadays available.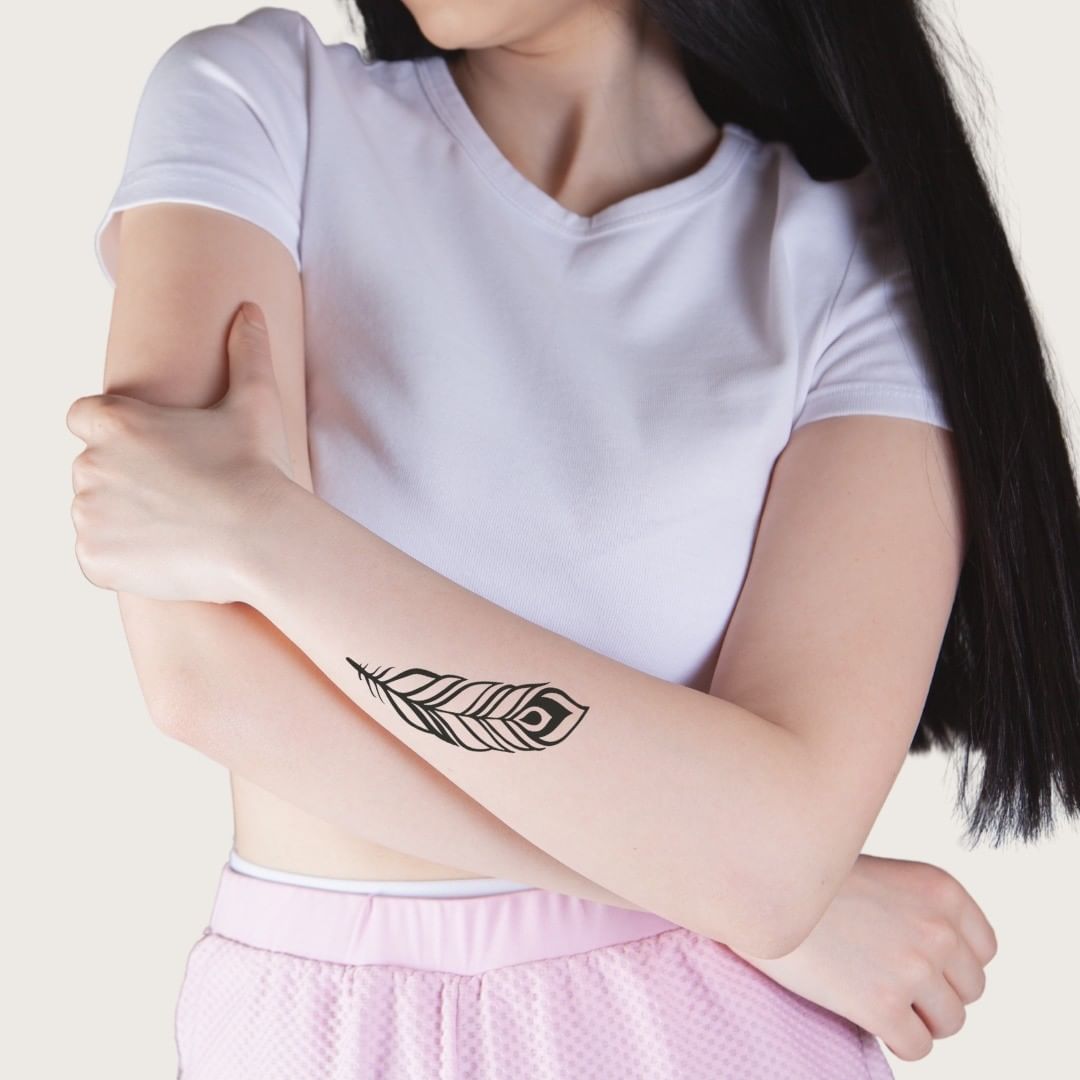 via @flawntstore
Glitter Tattoo Ideas to Try This Summer
Temporary tattoos are always a good idea if you would like to change something in your style or add some bright details to diversify your daily looks. For instance, a glitter temporary tattoo is a great option for a vacation on the seaside, where everybody will see the amazing patterns on your body. As a rule, such waterproof tattoos last for two weeks or longer, allowing you to enjoy your new style and get tons of compliments.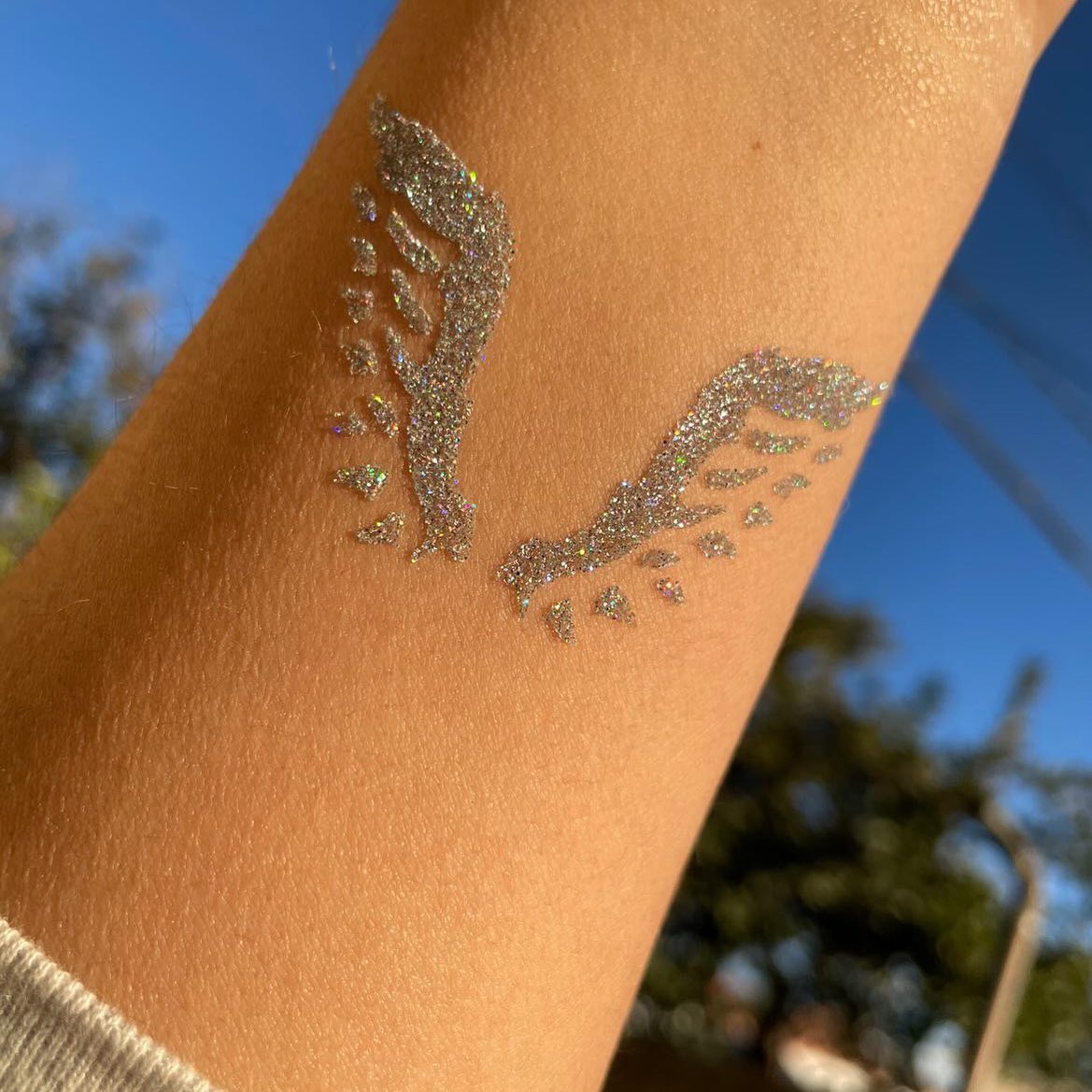 via @funtasticpaint
Moreover, such pictures can be a cute addition to your party look – just make sure to choose the colors matching your overall image. And you can change the patterns weekly so that none of them will make you feel bored. Temporary body art can also help you understand if you really would like to have a permanent tattoo.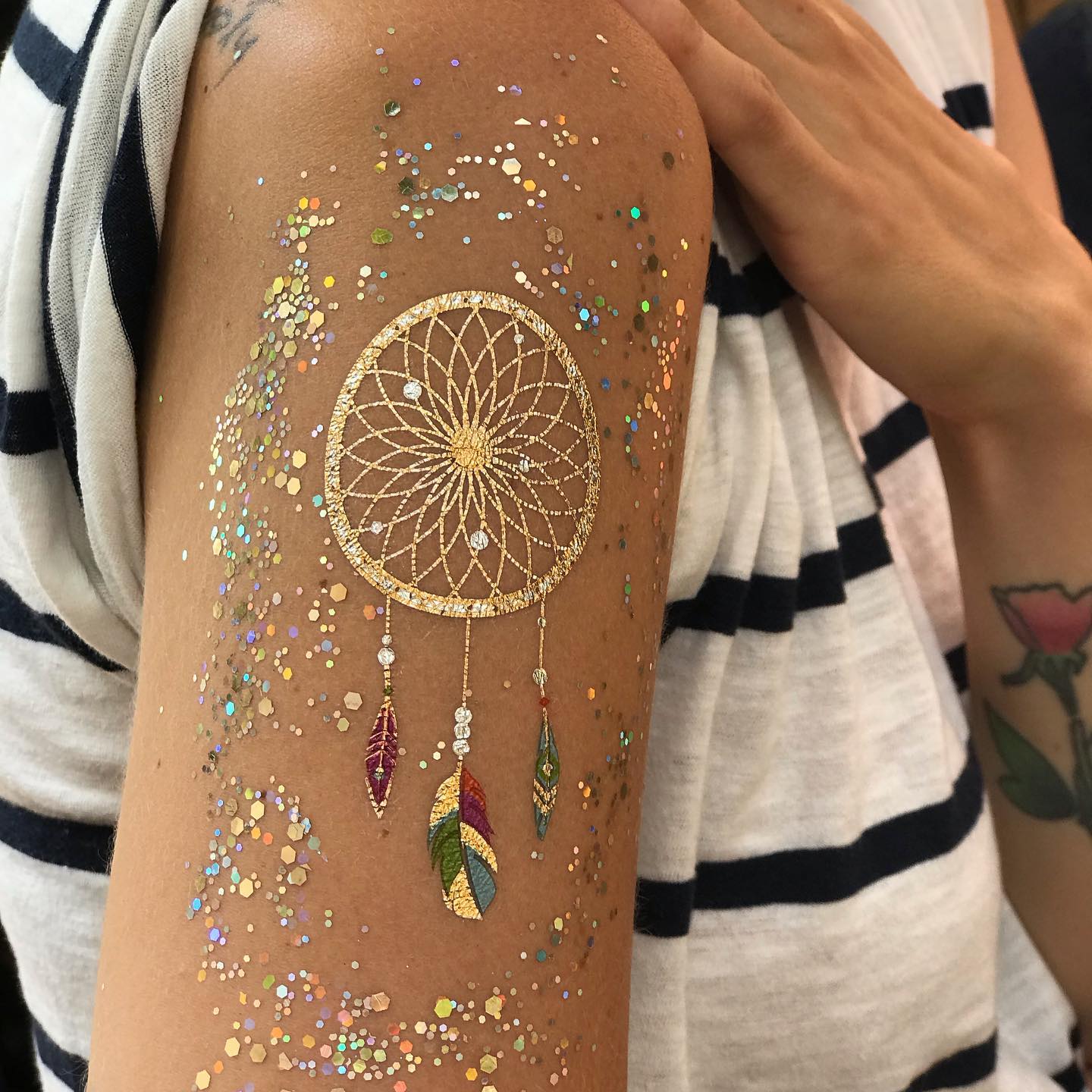 Come up with Your Personal Great Tattoo Idea
Tiny personalized tattoos are a perfect idea for tender ladies who would like to highlight their personalities without attracting too much attention. For instance, women often choose to make body art with their children's names, letters, or small items, such as hearts or flowers. Such patterns are often made in black and white shades, but colorful prints are also common.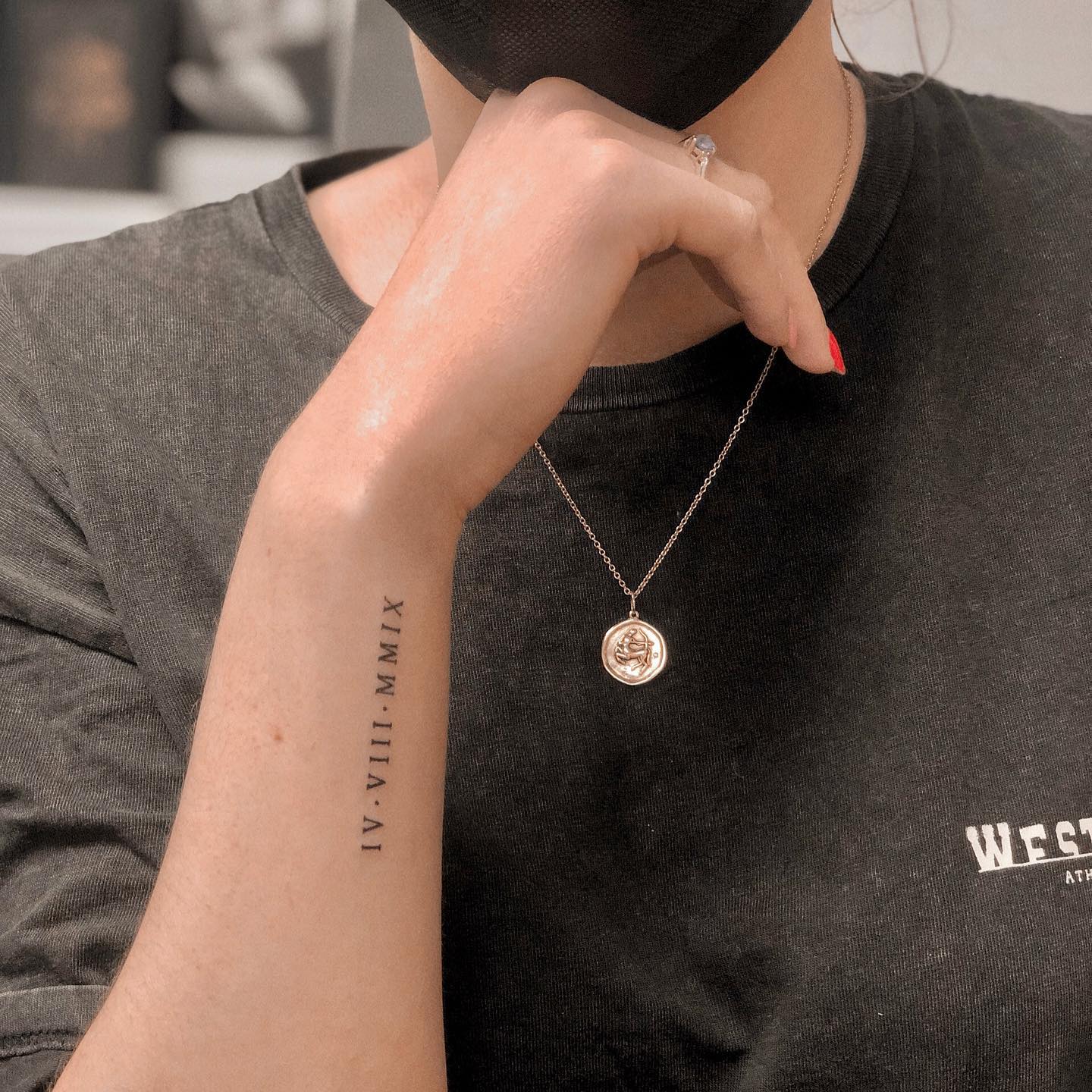 via @kristinevodon
Try such stickers before making real tattoos to experiment and select the most appropriate idea. Create your tattoo design and enjoy it for several weeks before coming up with a conclusion on whether you would like to have such a picture for your whole life.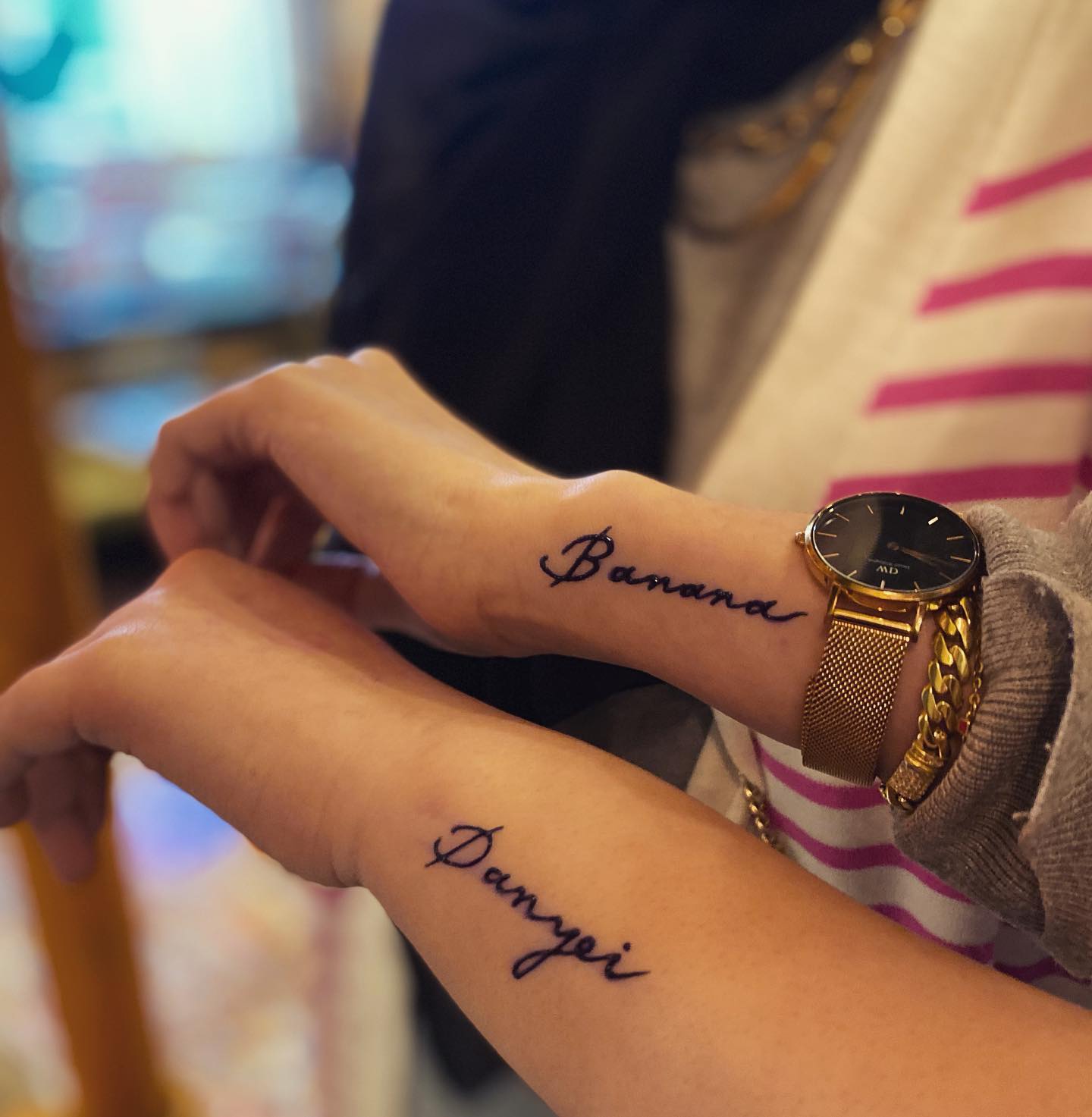 via @rum_arts
Stunning Mini Neck Temporary Tattoos
Applying tattoos on your neck seems unusual for many people, but it's a popular and extremely stylish option. Those who would like to have a minimalistic and inconspicuous drawing should pay attention to mini neck tattoos. You can add tattoo stickers to the area your hair covers or draw behind your ear – and only those close to you will know your little secret.
via @paperself
Mini patterns are a great option for temporary body art, allowing you to bring a unique accent to your image. Try the trendiest alternatives before coming up with a solution for a permanent tattoo.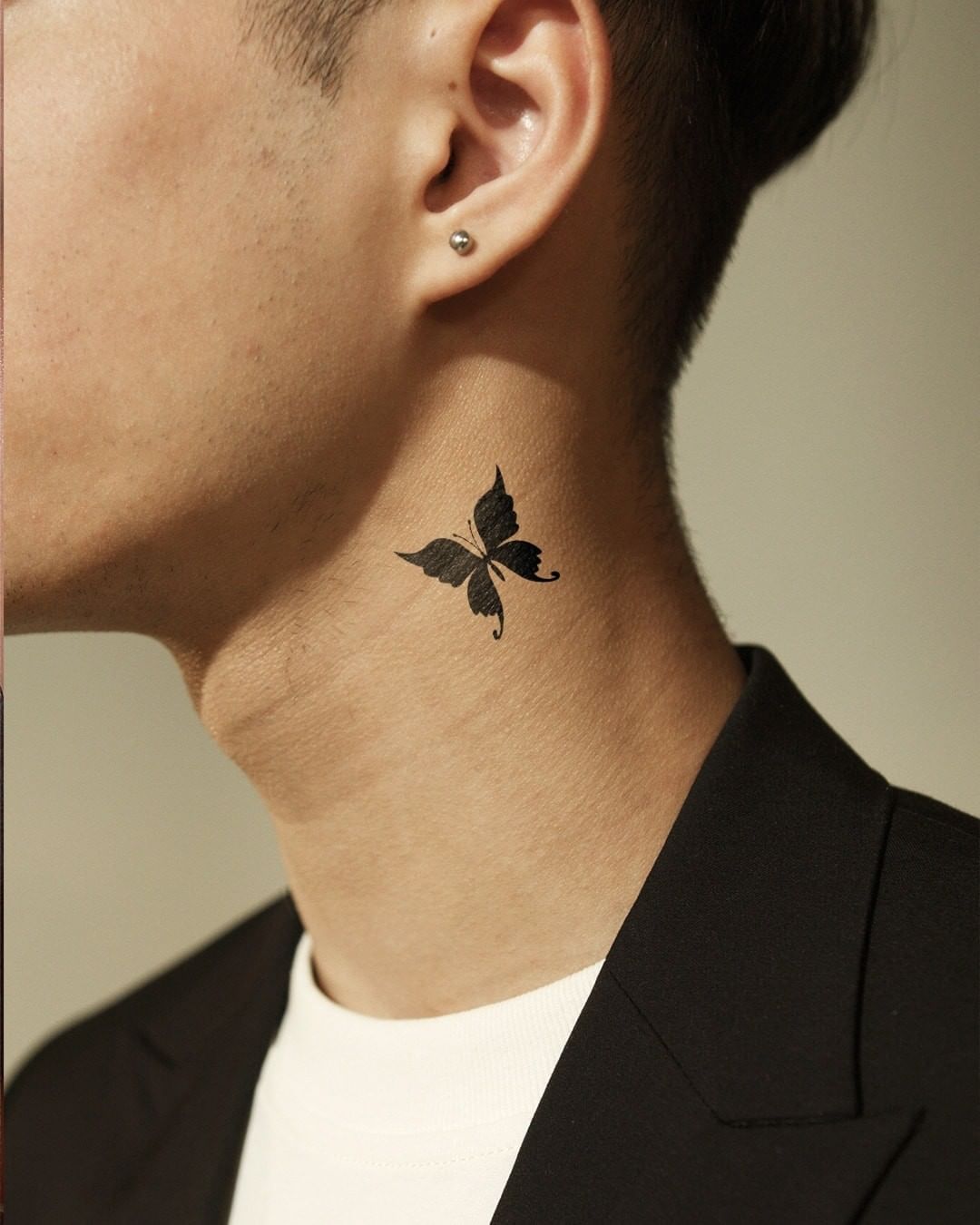 via @leinkaofficial
FAQ
How to Apply a Temporary Tattoo?
Nowadays, there are numerous variations of temporary tattoos, but the most common one is stickers with a decal that leaves a pattern on your skin when contacted with water. Applying them is easy and fast, so it won't take you more than a few minutes. Follow this guide to get a nice picture in several steps:
Remove the membrane from the sticker.
Stick it face down on your skin.
Apply some water with a wet sponge and wait for at least thirty seconds.
Gently peel off the outer paper.
Everything is ready, and you can enjoy your temporary tattoo almost instantly. Remember that it's better not to wet it for at least one hour, which will guarantee that it will stay on your skin longer. Most stickers are waterproof, but keeping the pattern dry will help it better stick to the skin.
How Long Do Waterproof Temporary Tattoos Last?
We cannot answer with a 100% guarantee since it depends on several factors. Of course, the first and the most significant one is the quality of your permanent tattoo. Some last for 3-5 days, while some may stay on your skin for several weeks or even a month.
Moreover, the duration depends on your lifestyle. For instance, if you are on your vacation at the seaside, the tattoo may last less than if you were in the office. Environmental factors such as water and the sun also have an impact on your temporary patterns.
However, even if the tattoo does not last as long as you expected – do not be discouraged! After all, this is a great reason to have a new one.