Hair highlights profoundly affect how you look because they enhance the inherent beauty of your natural hair color. Highlights are areas of your hair that are lighter than normal shade. Partial highlights enhance your appearance in just a few seconds; they involve coloring a few strands of long or short hairstyles a little bit darker or lighter than their original color.
Partial vs Full Highlights
Partial and full highlights are hair coloring techniques that are distinguished from one another primarily by how much of your hair has been highlighted. The difference between partial and full highlights is that in full highlights, all of your hair is covered with highlights; however, for partial highlights, only some strands of your hair that you specify.
Partial Highlights on Brown Hair
Selecting partial blonde highlights for the brown hair that frames the face rather than full-on highlights makes a move easier. Additionally, these highlights come in various tones, from honey to caramel, and may surely give your light brown hair the desired color.
via @pipsyhair_
Dark Hair with Partial Highlights
Adopt partial highlights if you want to give your dark hair a bold look with loads of contrast. Select partial foil highlights that have the same undertones as your base color to make it blend in seamlessly.
Particularly, the dark brown base color option gives a sparkle to your appearance without detracting from your natural-looking color, whether you're attempting to add more depth, go lighter, or inject some color.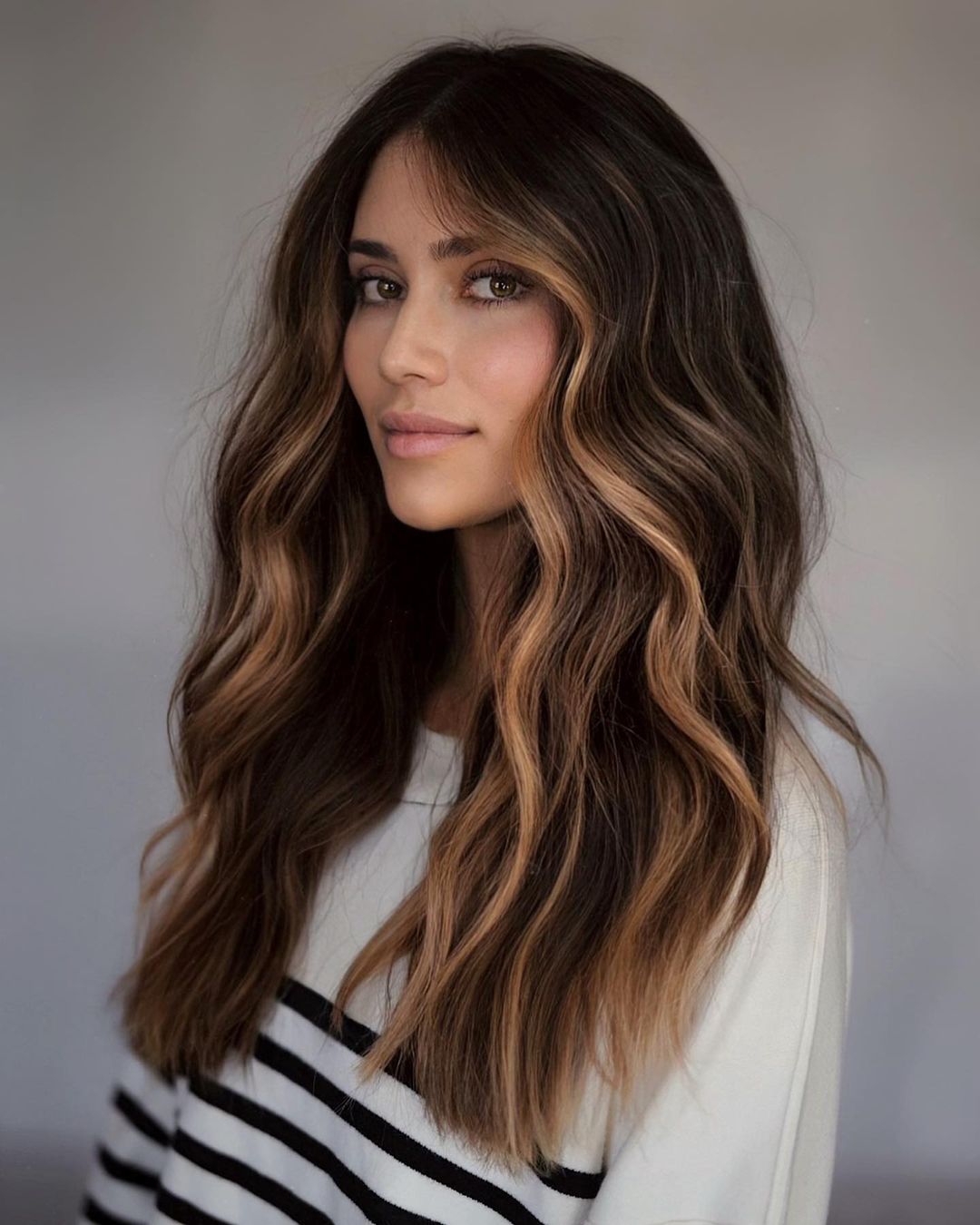 via @hairbymickk
Black Hair with Highlights
The contrasting perfect combination of black hair in caramel and lighter brown colors, but you can modify the color to be warmer or cooler based on your skin tone to find the shade that looks the most appealing to you. Partial highlights on black hair contrast a dark base with lighter tints. Depending on the highlighting technique, the result can be either delicate and natural-looking or striking and distinctive.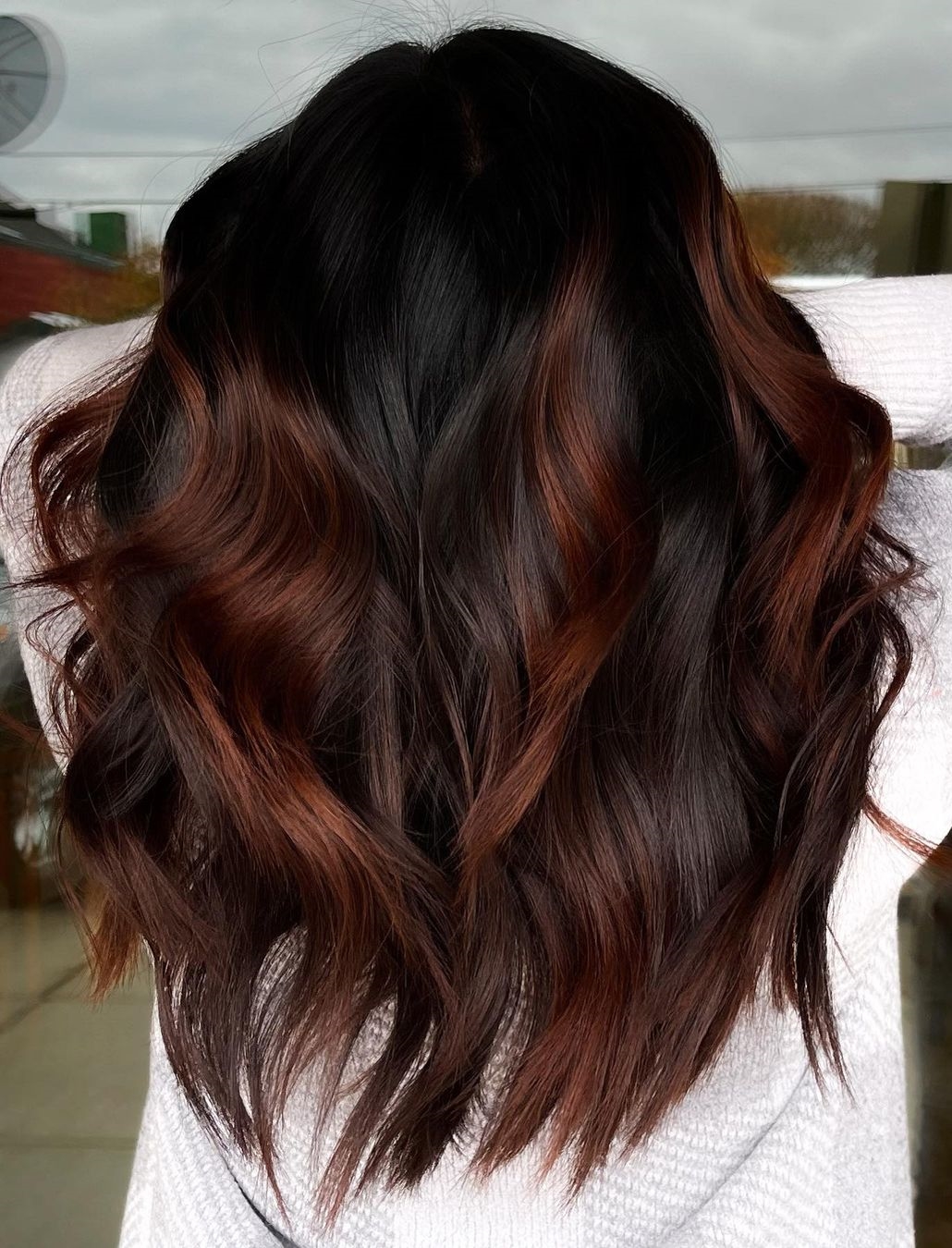 Straight Hair with Copper Highlights
If you desire smooth and even transitions adding honey and bronze highlights for brunettes is the best way. Foiled highlights are a beautiful and popular color choice. You can get these flattering shades quickly done because of their vibrance and intense pigmentation.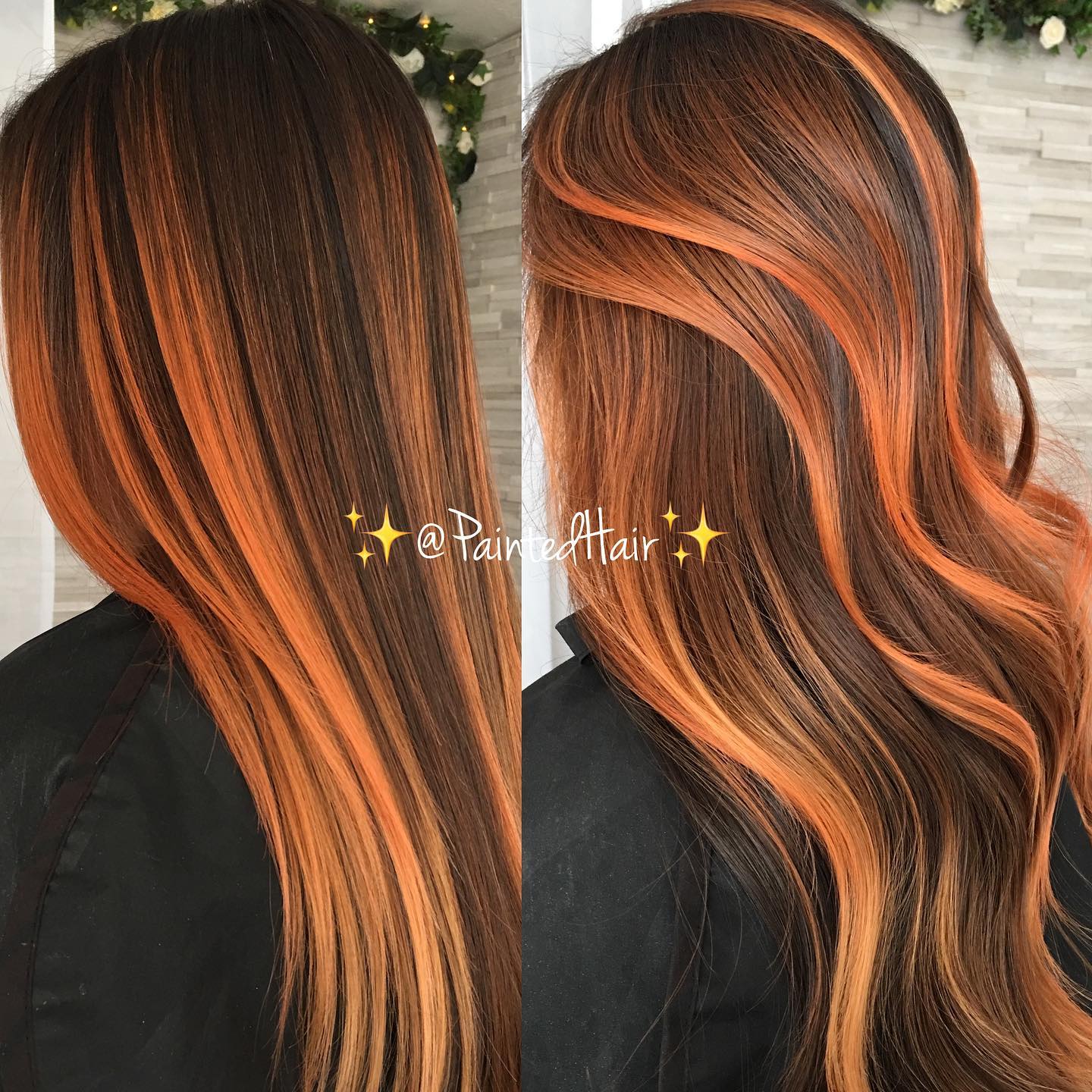 via @paintedhair
Partial Caramel Highlights
The caramel highlights give an amazingly natural look and warm tone to dark brown hair. Add partial highlights to your new hairstyle with a dark golden color that has warm undertones and looks great against the skin.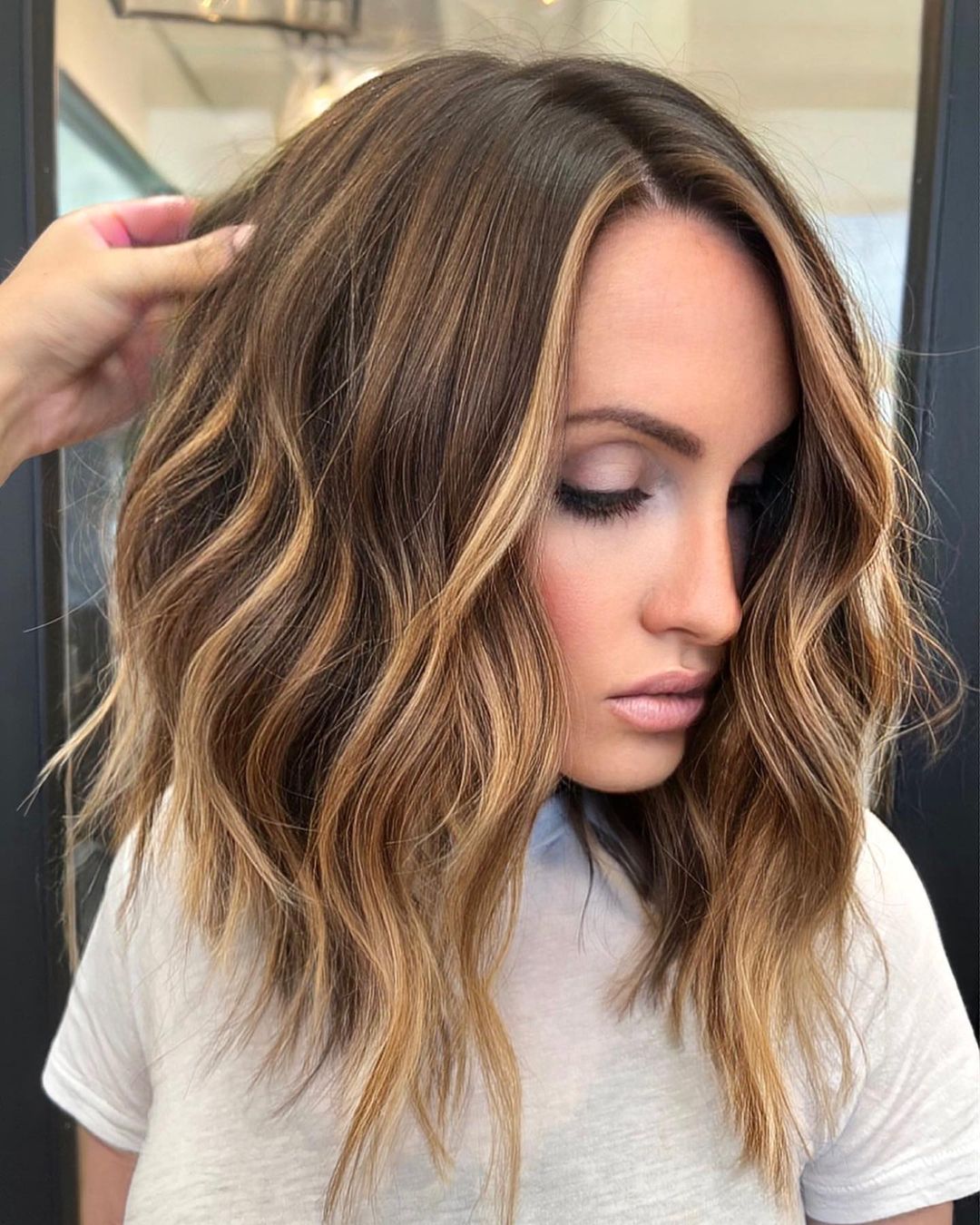 via @_hairbypaula
Partial Highlights on Curls
The framing effect of your curls may be heightened in highlights for any hair type. Many women take pleasure in donning colors of soft waves with highlights that go with their current mood. For instance, red denotes passion, whereas blue represents power.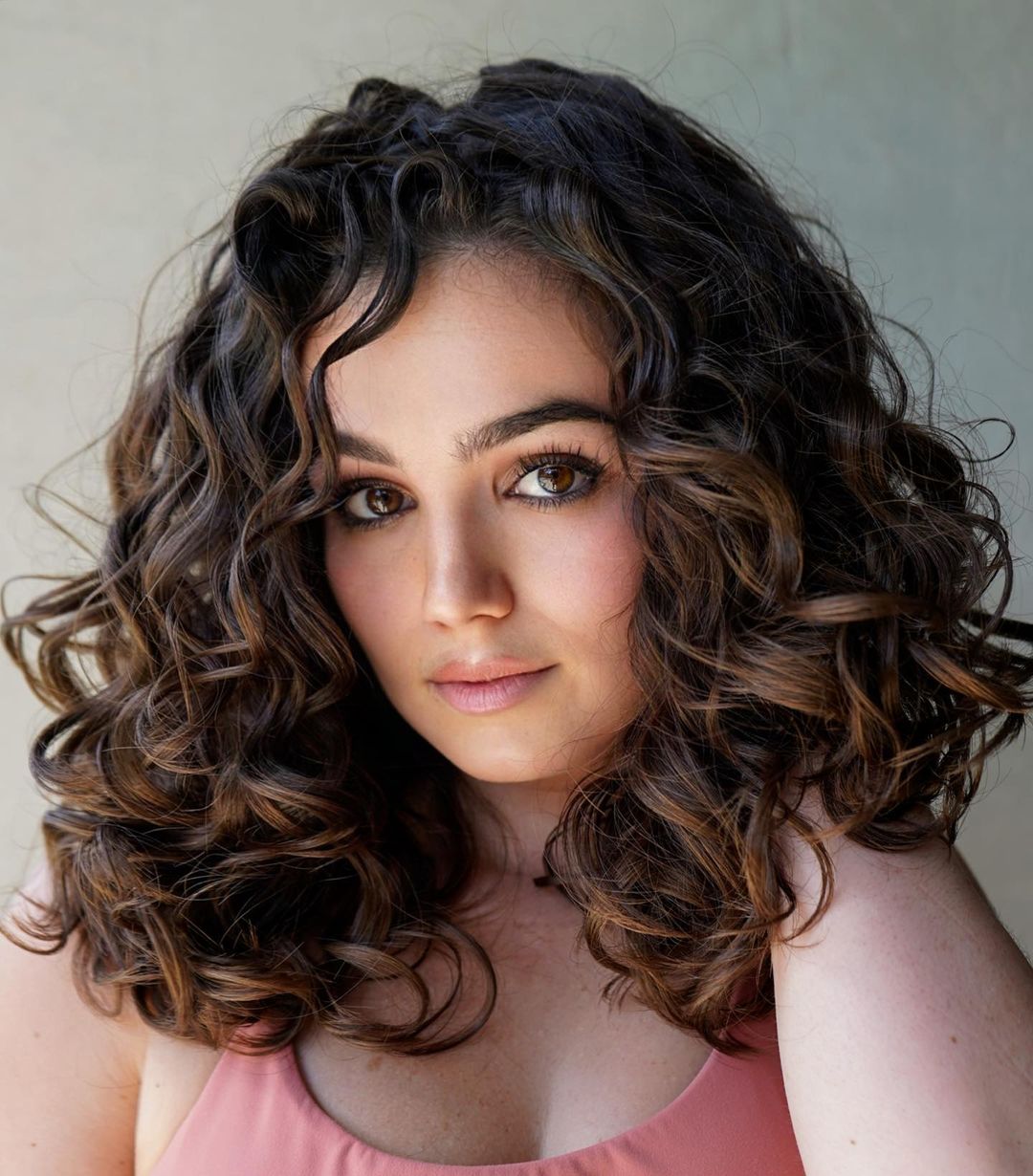 Partial Red Balayage
Accentuating your hair with red highlights on dark brown hair gives you a vibrant look. By hand-painting or applying partial foil highlights, you may give black hair a splash of color that is both intriguing and stylish. Face-framing highlights enable you to play with new colors without inflicting too much damage on your hair.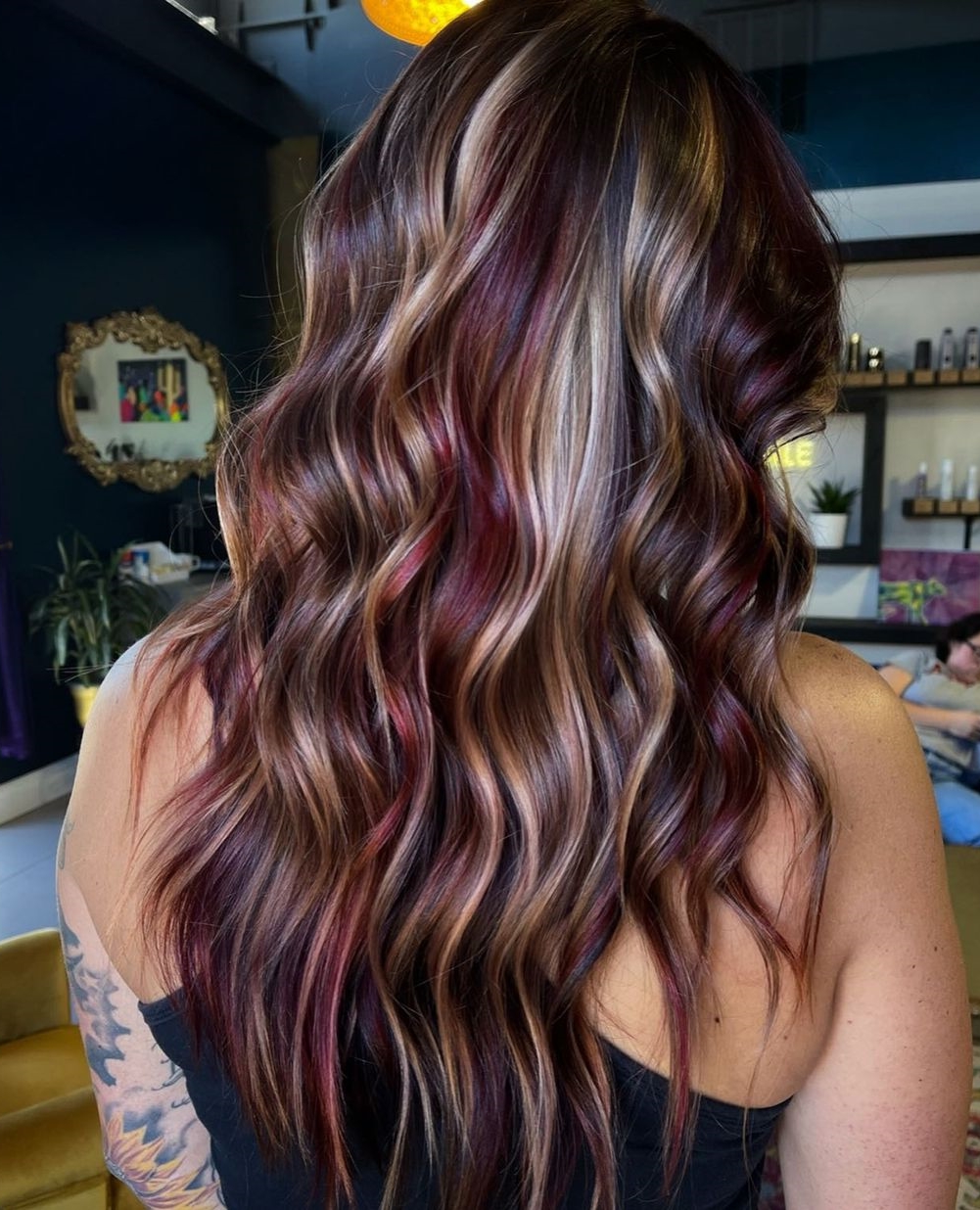 via @samihairmagic
Subtle Blonde Highlights
Blonde subtle highlights perfectly illuminate the face and complement loose, textured long bob cuts, beachy curls, or waves. The flattering shade gives a terrific way to give your hair some drama without dominating it or detracting from your best features.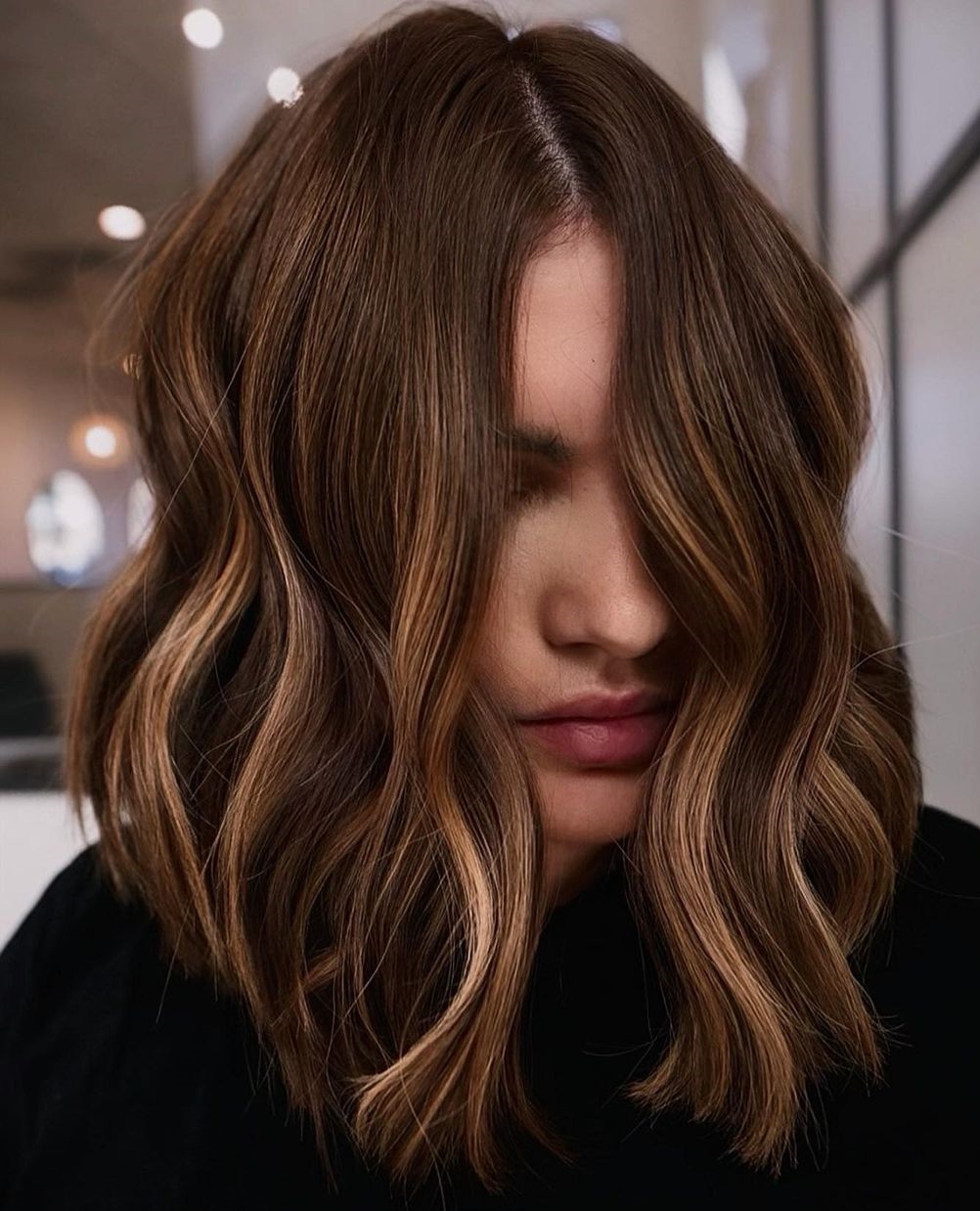 via @themaneartistry
Blonde Highlights on Light Brown Hair
You don't have to break your heart if you have brown hair and want blonde highlights with natural shade. Using dark brown hair with light brown hair allows you to achieve plenty of depth in your dark hair without adding as much contrast. This is the way to go if you want to subdue naturally appearing brunette strands on dark skin or fair skin complexion.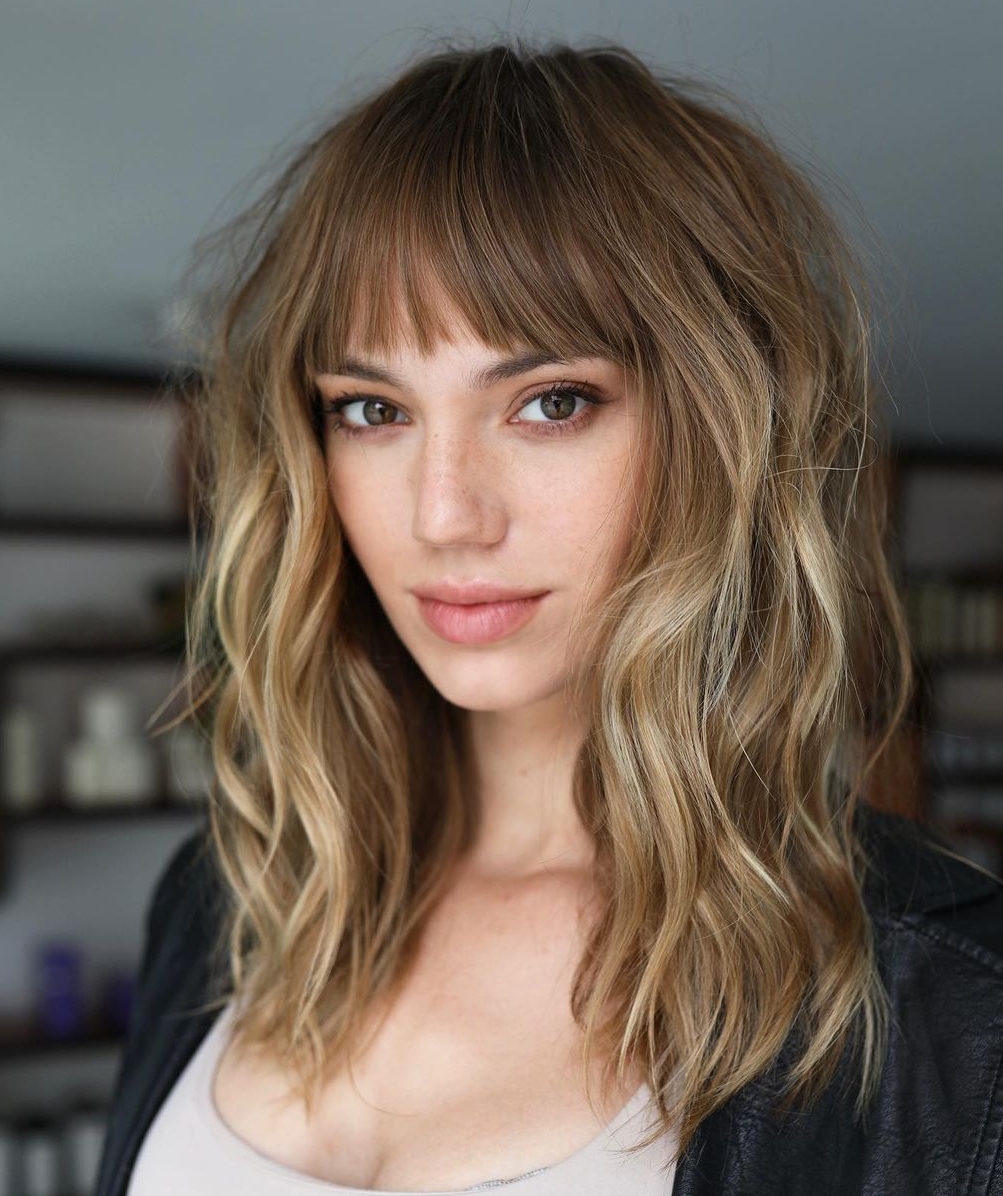 via @hirohair
Partial Highlights on Short Hair
Neck-length blunt cuts with lighter shades define your bold personality. Brick red and copper tones are the newest hair color trends, and short-haired ladies may easily flaunt bold highlights on your low-maintenance hairstyle.
via @shmoakin_hair
Partial Platinum Blonde on Dark Hair
Black and platinum blonde highlights are combined in a classy yet modern way. Your dramatic color change gains a natural appearance from the contrast as well as the vibrancy of the dramatic platinum highlights. For a uniform dimensional look, spread them over your straight natural hair. It's an ideal choice to bring out your warm or tanned skin.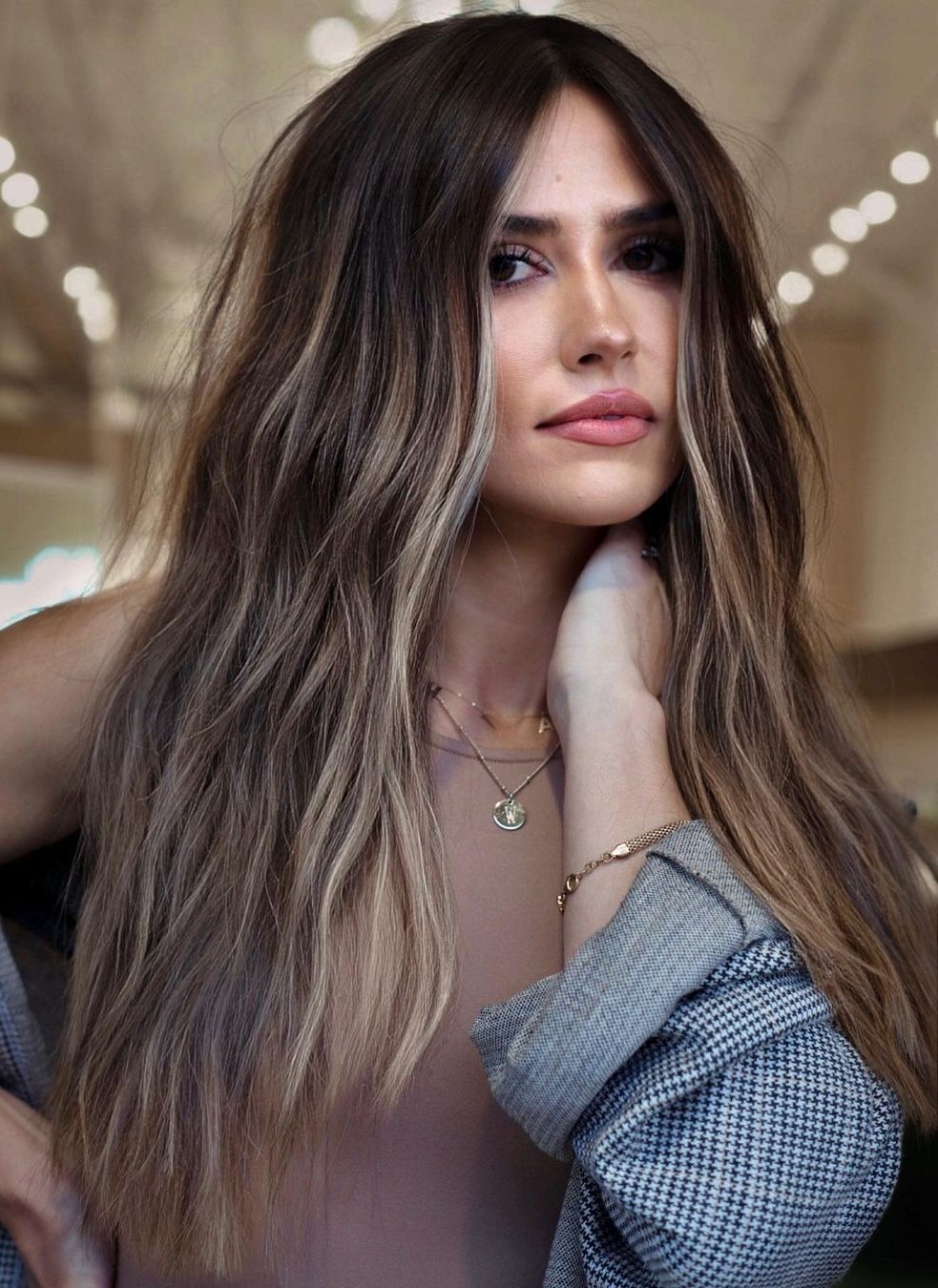 via @colorbymaddie
Ash Blonde Partial Highlights
Unlike richer golden blonde tones, ash blonde highlights have a chilly undertone. You can try root shadows, tint, and partial highlights on dark hair to get the ashy blonde hair color, which includes several tones of gray, silver, etc.
via @glamourbycee
Mocha Highlights
You can highlight dark brown hair with a cosy mocha brown tint for a coffee-toned appearance. Straighten your hair to show off how seamlessly the warm tones merge in their beauty. The chocolate-melted hair looks good in darker colors with face-framing highlights.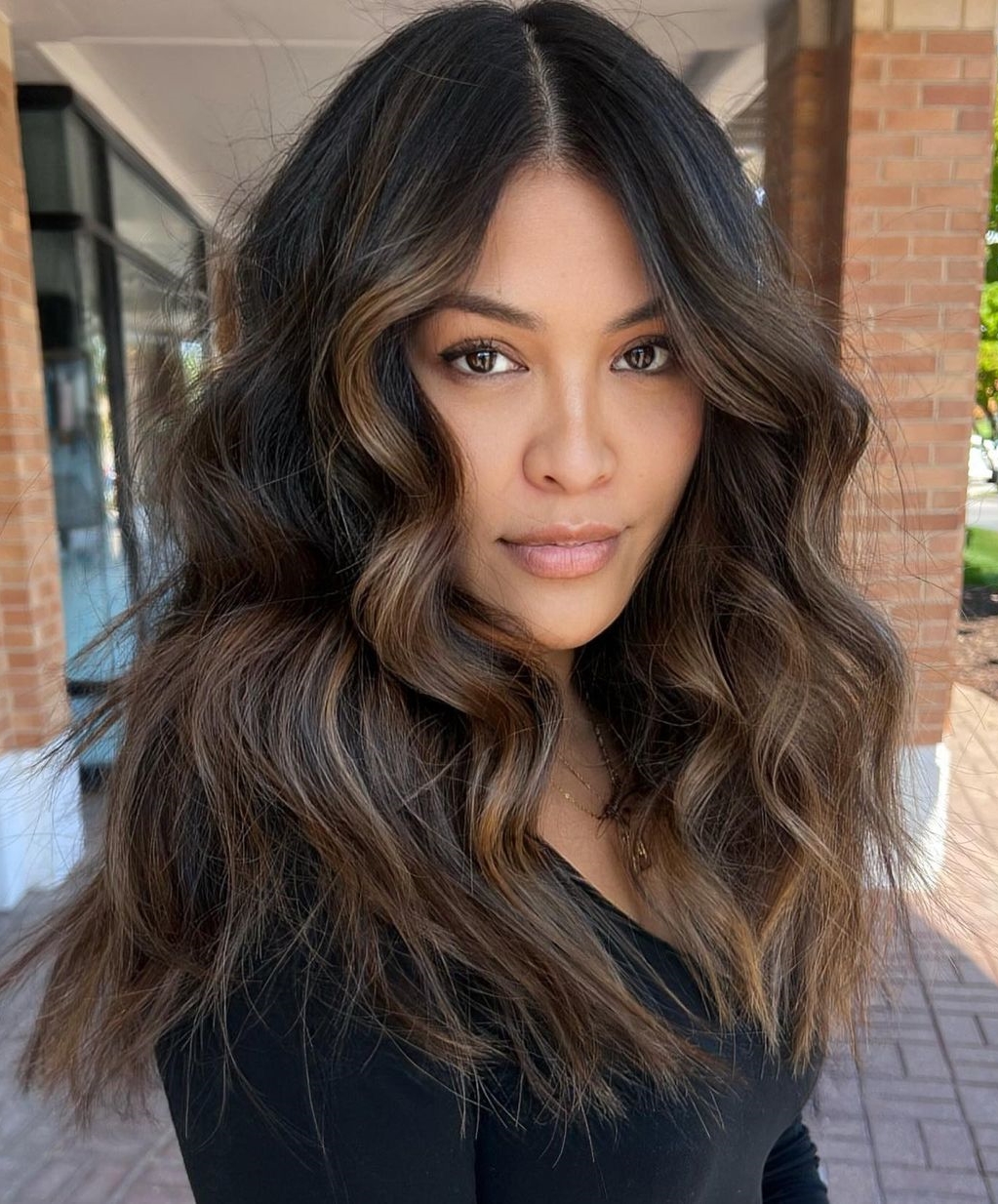 Purple Highlights
Partial purple highlights for blondes or brunettes are cool, modern ways to instantly freshen up any punk princess' image! You'll surely take pleasure in the dramatic dimension of applying vibrant, ultraviolet tones to give your appearance a trendy flow.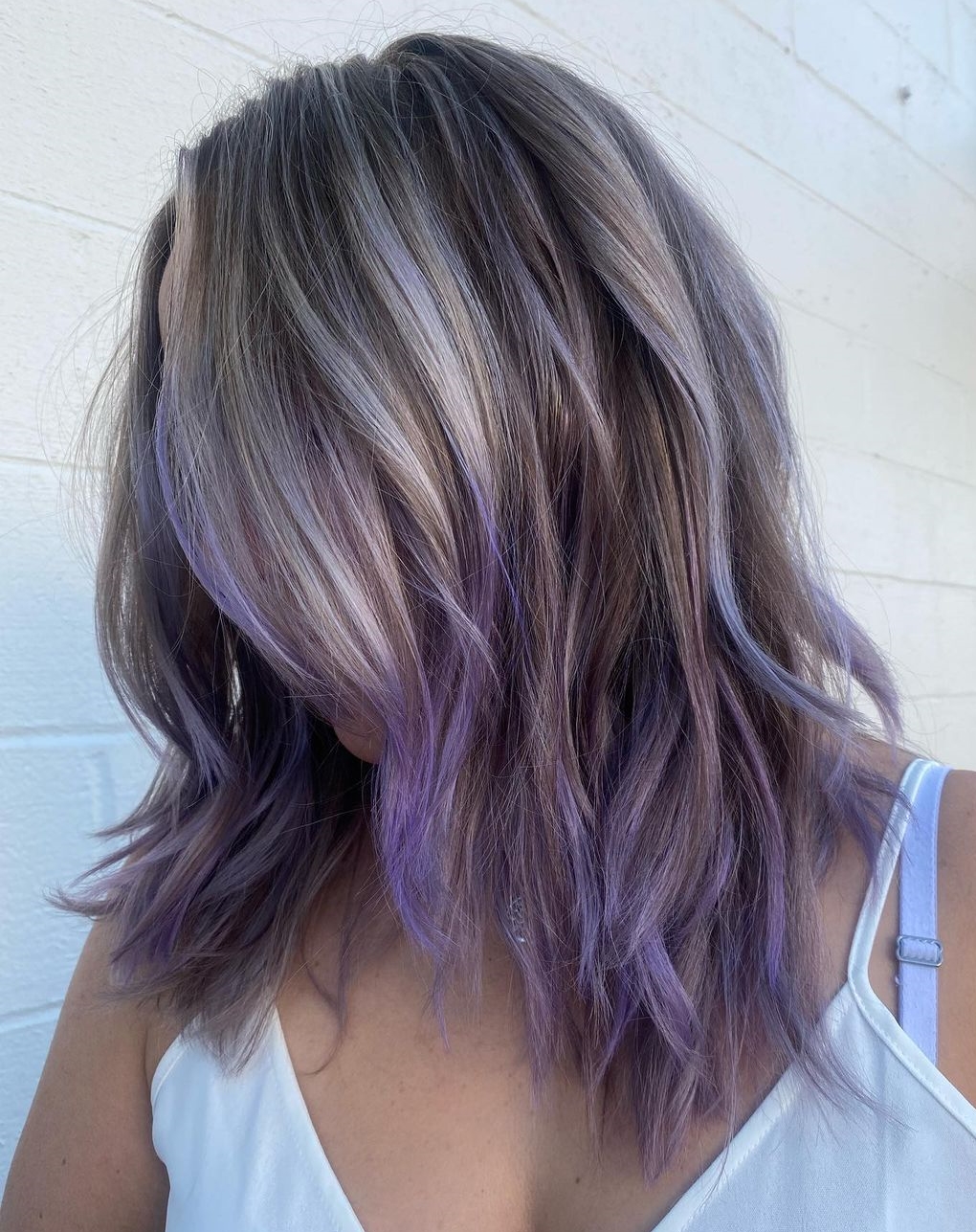 via @hairbymacks
Silver Partial Highlights
Silver partial hair highlights with dark natural hair are such a beautiful way to change your look. Silver is frequently matched with other cool colors because of its neutral shades, but a temperature contrast can be a fun experiment.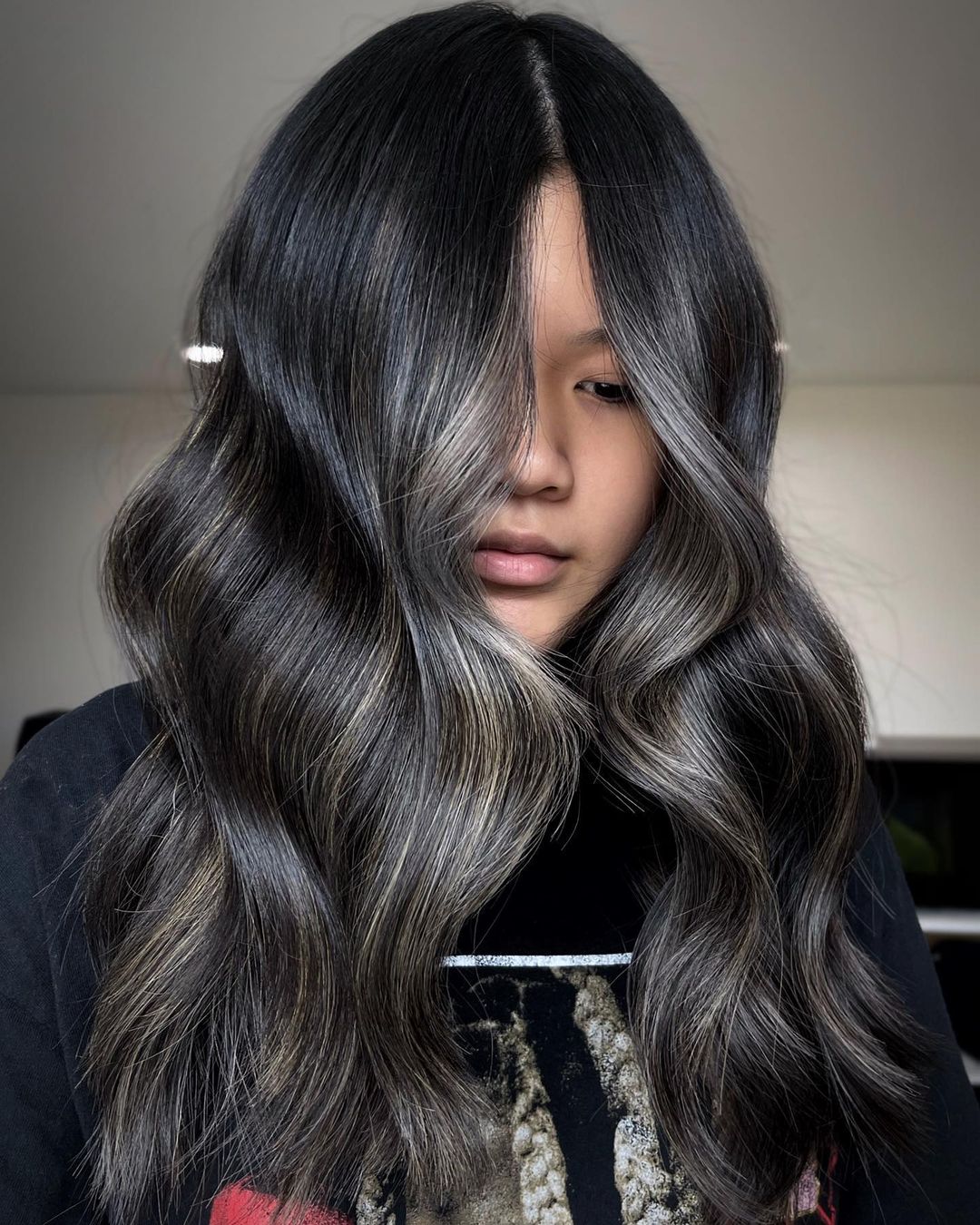 via @manesocietyokc
FAQ
Pros and Cons of Partial Highlights
Pros: Less bleached hair means there is less chance for damage. They are less expensive than getting full highlights. Wearing these will make you seem attractive wherever you go.
Cons: Most of the colour is hidden when you wear your hair up. You cannot go "full blonde" with only partial highlights or drastically modify your color.