Bob hairstyles are popular worldwide. It is one of those haircut styles that suits just about anyone. And there are different styles to try. The face-framing style looks best on round faces.
Bob hairstyles are popular worldwide. It is one of those haircut styles that suits just about anyone. And there are different styles to try. The face-framing style looks best on round faces.
Any hair texture, thin, medium, or regular, looks good in this hairstyle. It can be cut and styled in any hair length and layer. The best part is that it creates a well-groomed voluminous look.
Cuteness Overloaded With Blunt Bob Cut
A short hair bob cut makes you look like an absolute go-getter. The blunt bob looks like the Chinese bob cut. It is short in height, with the ends aligned in a straight line.
The zero-layer style is known for its timeless beauty, highlighting the jaw area. It looks incredible on round, heart-shaped, and oval faces and gives the appearance of thick hair. It suits tresses of all kinds and textures. These are versatile because the hair stylist can customize the style.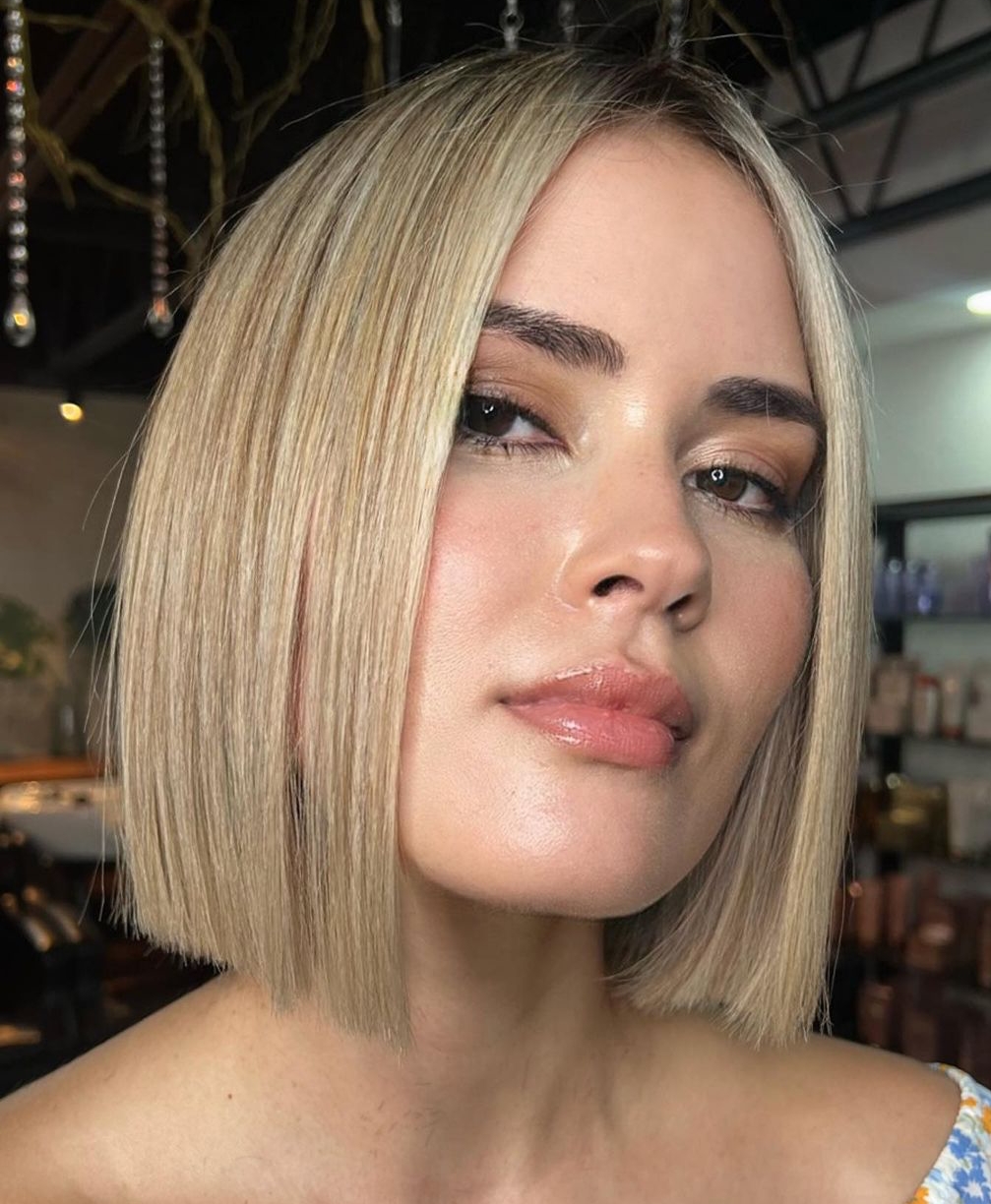 via @angeliagutie
A Trendsetter: Short Bob Cut
For short hair ideas, a bob cut is a stunning choice. The best part is that your hair can be given different cuts – angled, asymmetrical, inverted, graduated, and more.
It is a preferred style for women with thin hair, especially elderly women. Easy to care for, this is one of the many bob hairstyles that hugs your jawline with minimal layering, making it easy to style. The texture is just perfect to have movement at the ends.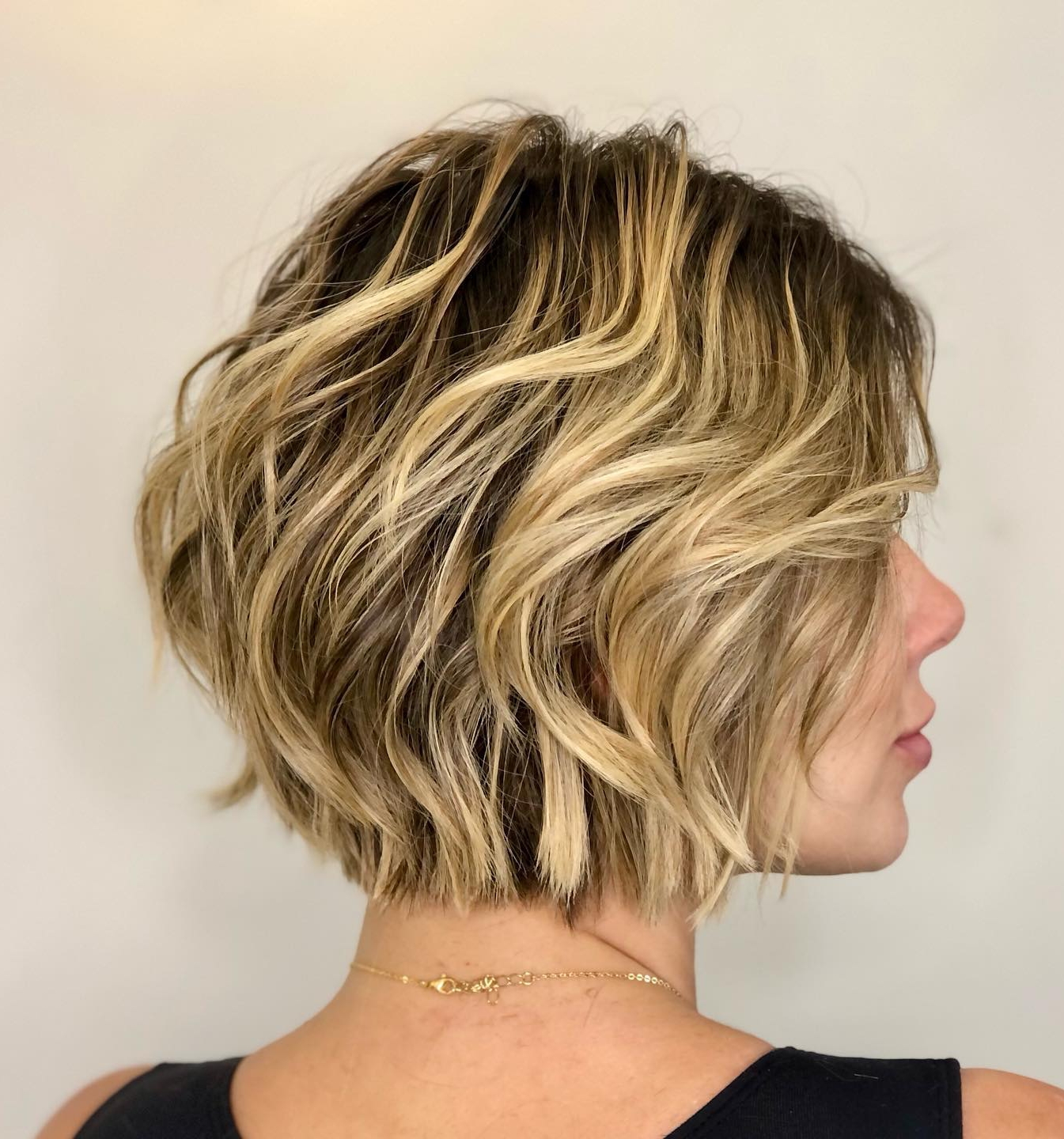 via @dansaggioro
Flawless Bob Cut with Bangs
Go in for bangs if you want to keep your bob short. Try wispy bangs or give the ends an inward wave to get a face-framed effect. This bob cut is a stunner for straight hair.
This modified take on the classic a-line bob looks great on girls with oval faces. Thankfully, there are different types of bangs for different hair types. Bangs look equally beautiful on a curly bob. You can have the parting of your hair in the middle for a curtain effect.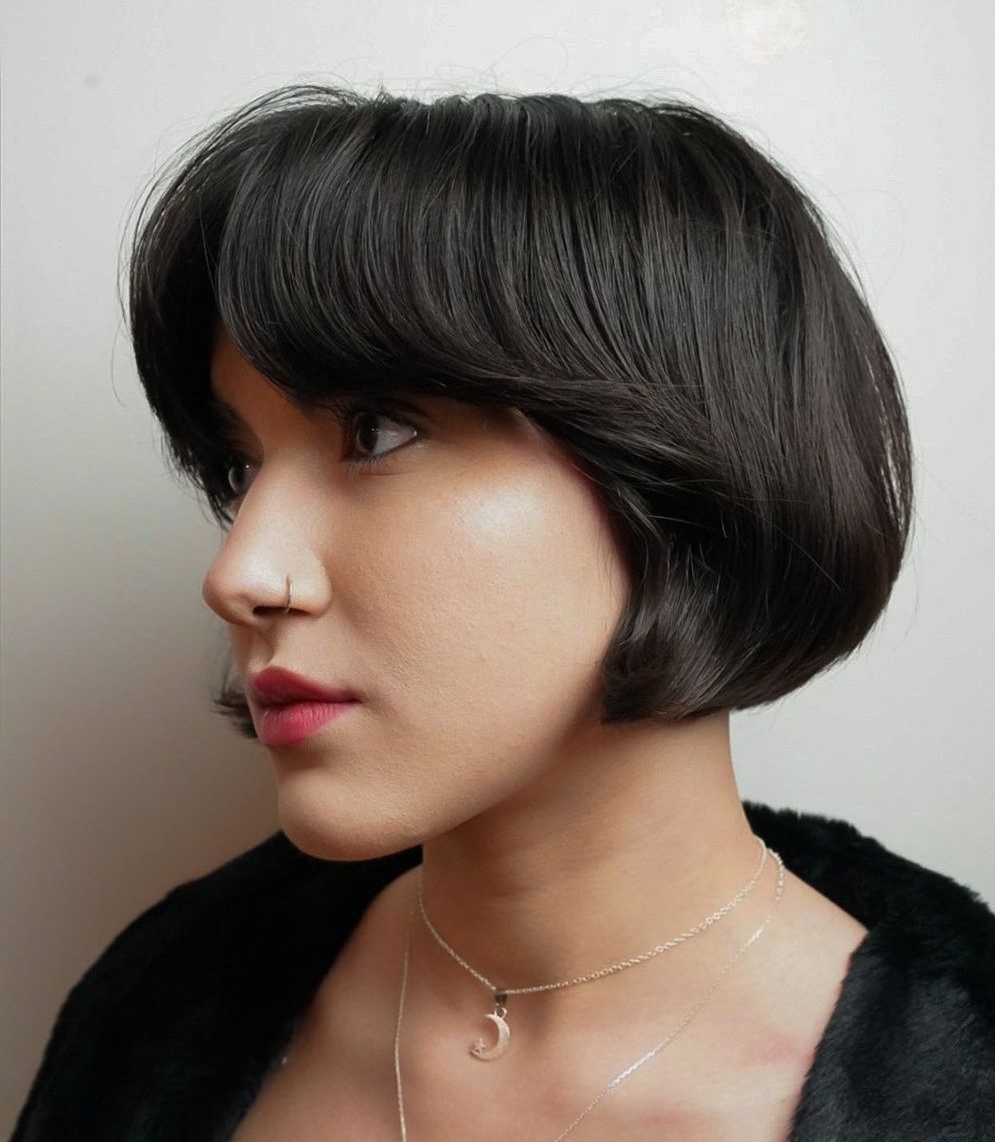 via @joeprofita
Pixie Bob Cut for a Strong Girl
A shaggy pixie bob haircut means razored layering across your mane. It is a professional take on the shag cut and is a fine hair idea. A short haircut style and is a brilliant cut for girls who want a crop.
A blonde pixie bob cut looks lovely with side bangs or full fringe at the front. Keep hairs at the crown short of adding volume. A monthly trim is what you need in terms of maintenance.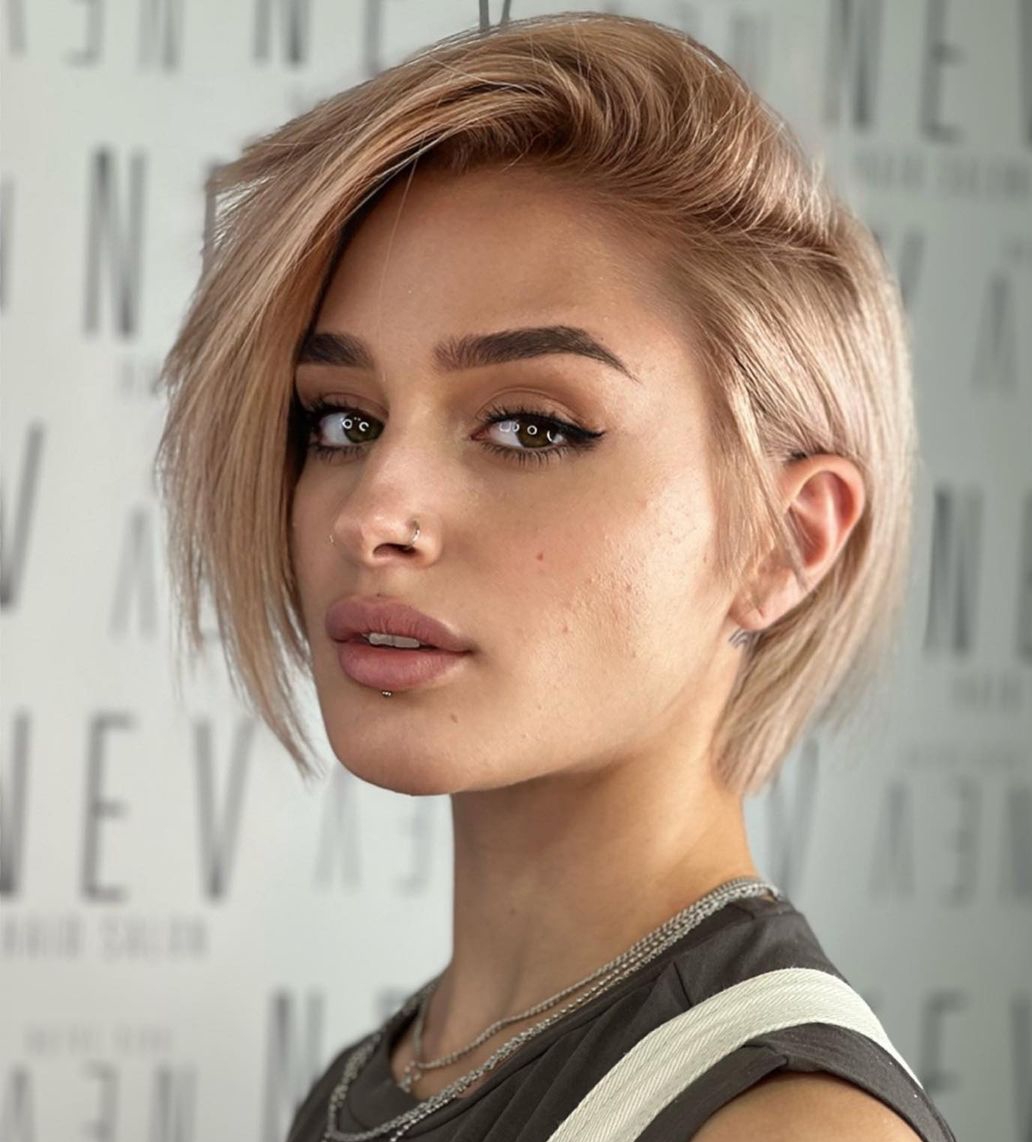 Medium Length Bob Cut for a Fuller Look
Get a fuller look with this shoulder-length bob cut. If you have fine, straight hair, this is your style. To top it off, if your face is oval or round, this is one of the cute bob haircuts that will suit your face.
Ask your hairstylist to keep the front below the chin. If your face shape is square or heart-shaped, have the front stop at the chin. The layered look of the cut will give your hair a voluminous look.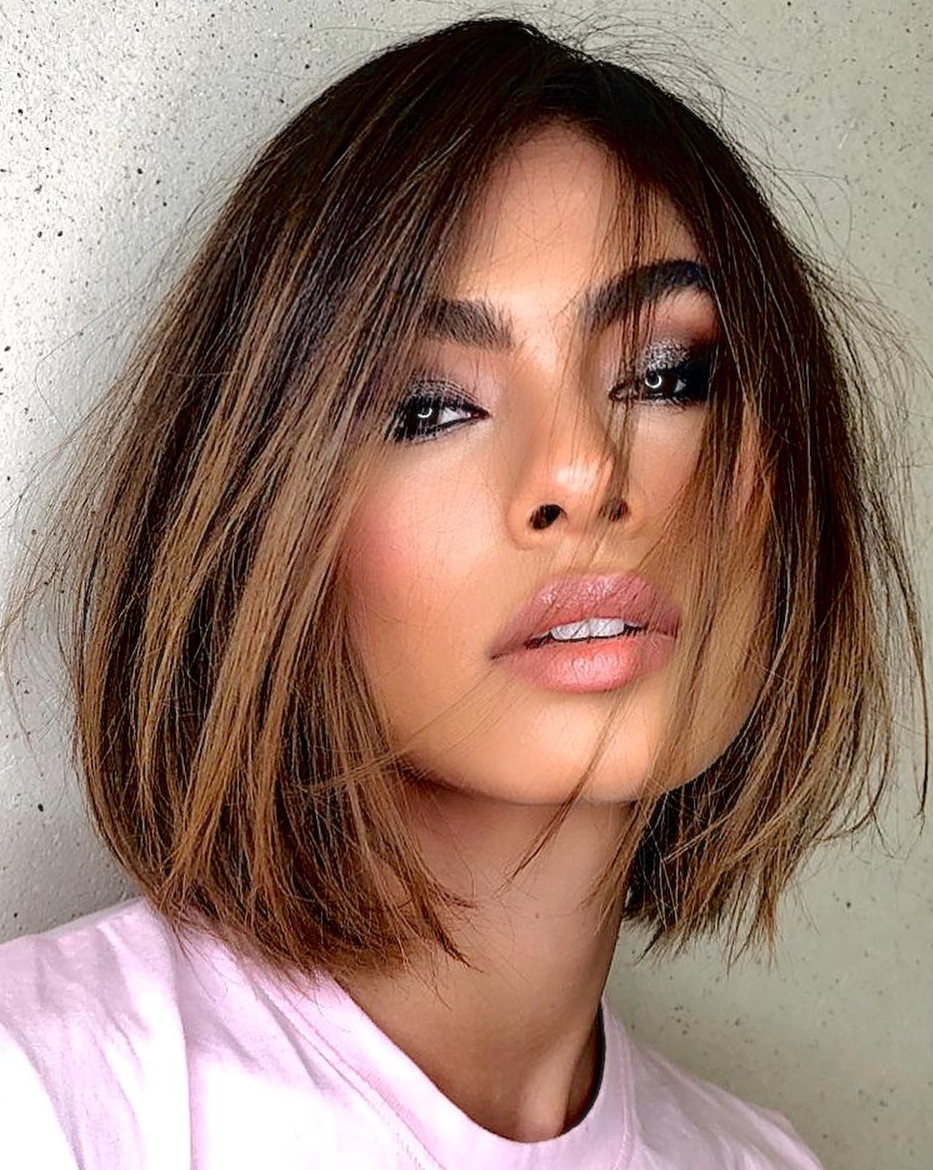 A Face-Flattering Long Lob Cut
One of the classical bob haircut styles is the lob or long bob cut. Since it is longer than the regular traditional bob cut, it is called the lob. The length should be anywhere between the collarbone and your chin.
It is a go-to cut for girls with an oval face shape though the silhouette flatters all kinds of face shapes. In addition, the cut makes your mane look thicker, drawing attention to the bone structure of your face.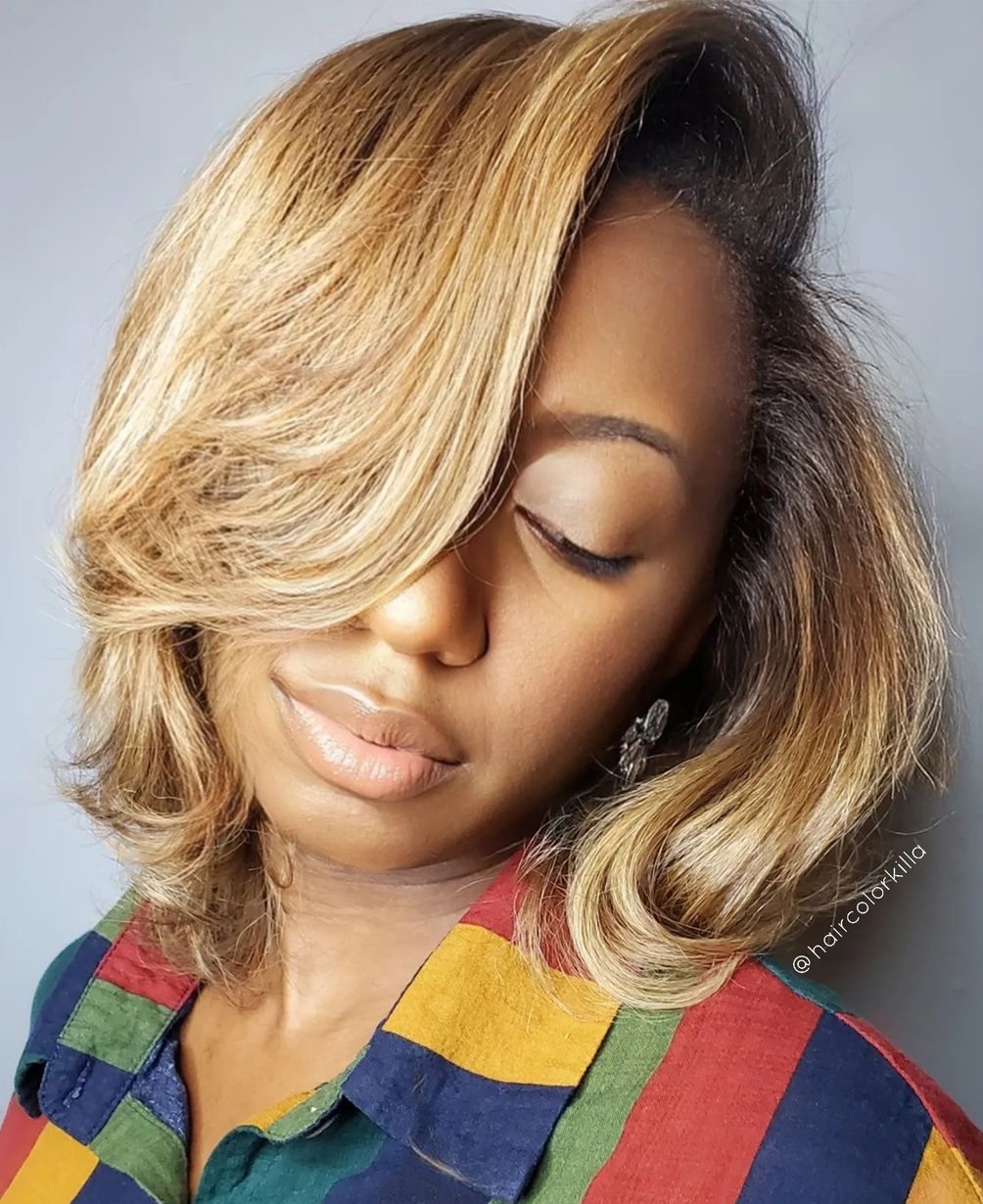 via @haircolorkilla
Versatile Possibilities with Layered Bob Haircuts
A rounded bob haircut with layers gives a tousled look adding texture and volume to your mane. Whether your hair is straight or curly, you can get a loving bounce with short layered bob haircuts. The length of your cut will be between the jawline and the shoulders creating hair textures, lift, and movement. It is a beautiful masterpiece when done professionally by an expert hairstylist.
Layered bob cuts can be customized to enhance the natural texture of your tresses.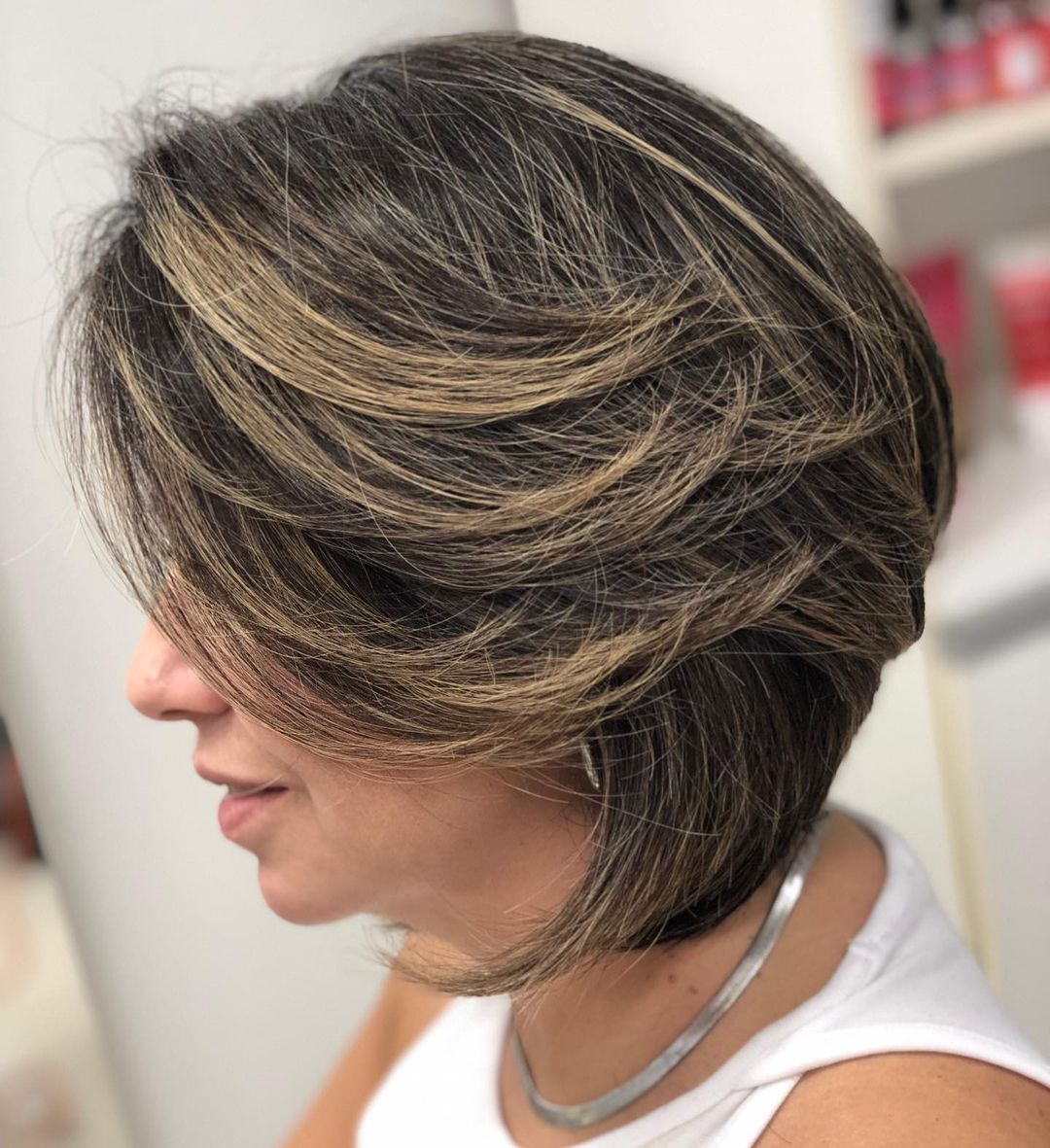 Blunt Cut Middle Part Bob for an Elegant Look
A middle part sleek bob cut can range from short to medium lengths. The style helps frame the face better and is flattering for most face shapes. It is a good option for straight black hair, helping conceal and highlight your desired features.
The precision of the haircut is way more impactful with a blunt cut. You can keep the parting slightly off-center to draw attention to the asymmetry of your oval face shape.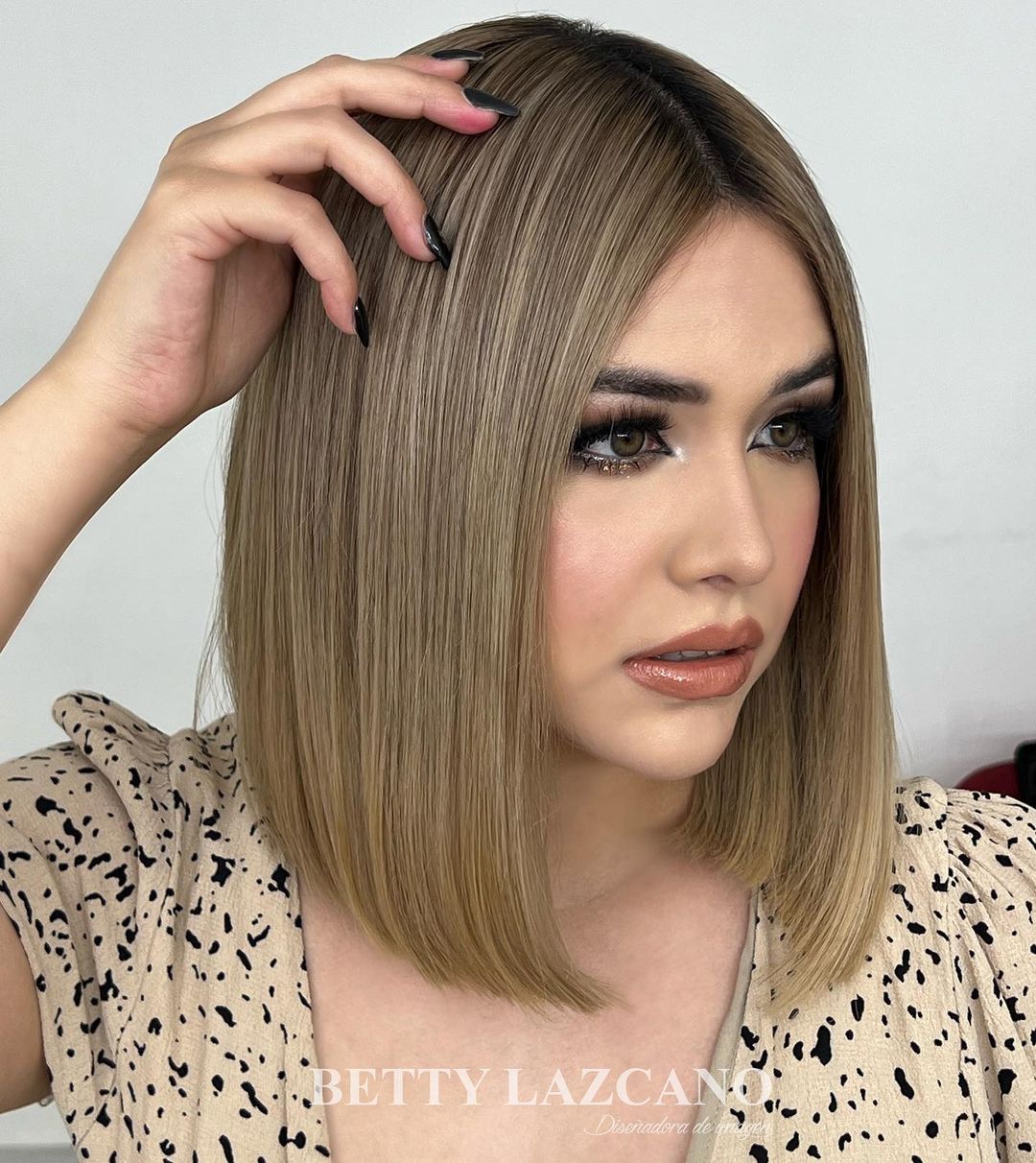 via @paulinalazcanohaircolorist
Look Younger with a Side Part Bob Cut
A side-part bob has side-swept bangs and parting to one side. It can be a slight parting with blunt bobs with a sew-in as a closure.
A short bob haircut with a parting on the side creates focus on one side and can be paired with undercuts, braids, and more.
Get ready for a fresh look with this style that suits ladies with different hair types, face shapes, and ages. This is perfect for ladies who lead an active lifestyle.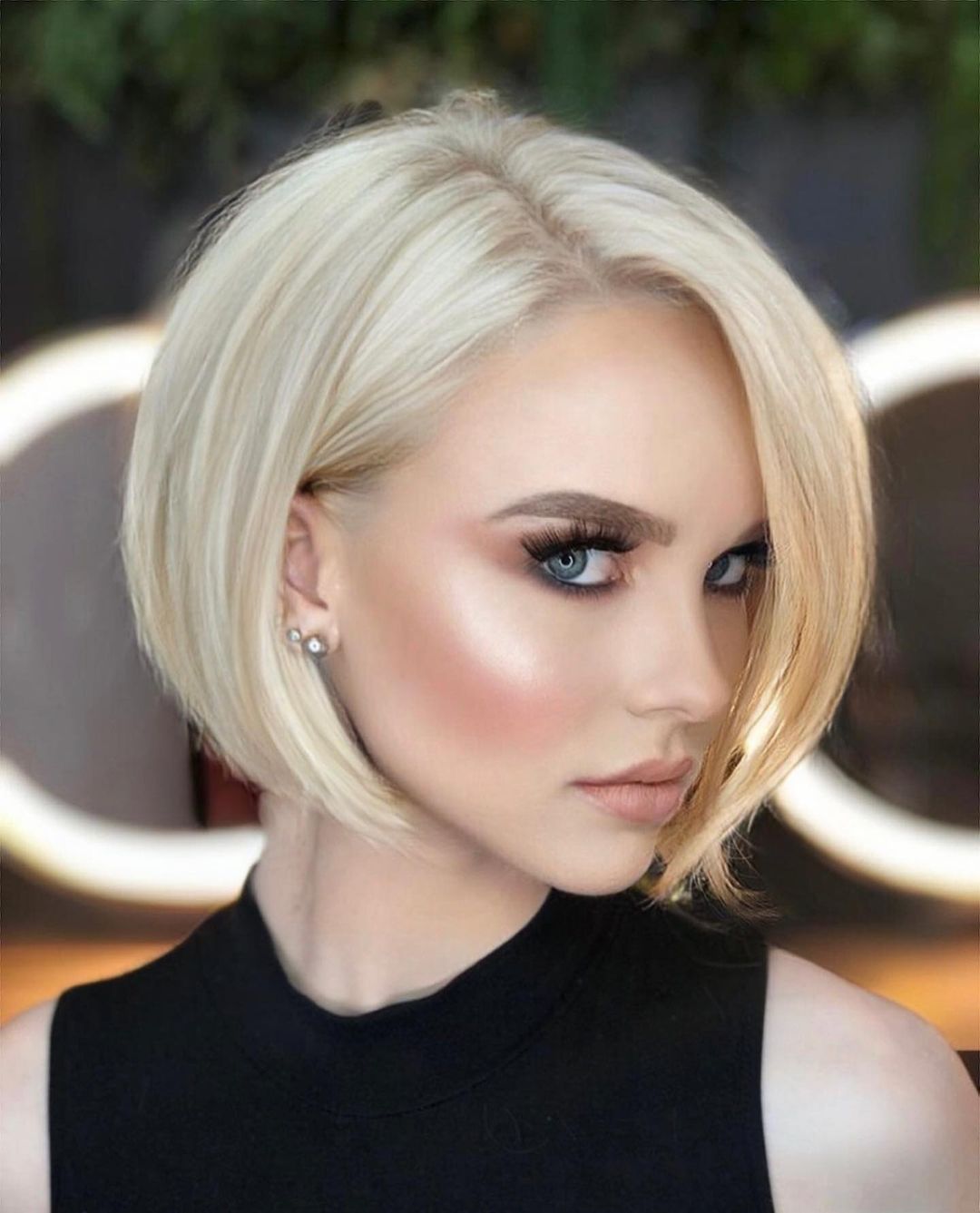 Sensual Asymmetrical Bob Haircuts
This style is recommended for ladies with round face shapes. Your hairstylist will render the cut based on the width of your face. For example, a chin-length bob cut asymmetrically will draw attention to your chin while offering layers to your hair.
The style will draw or divert attention from your facial features depending on the asymmetrical bob cut line. Layers will give a fuller appearance to your mane, while you can choose a face-framing style. If you have curls, scrunch them for a sexier look.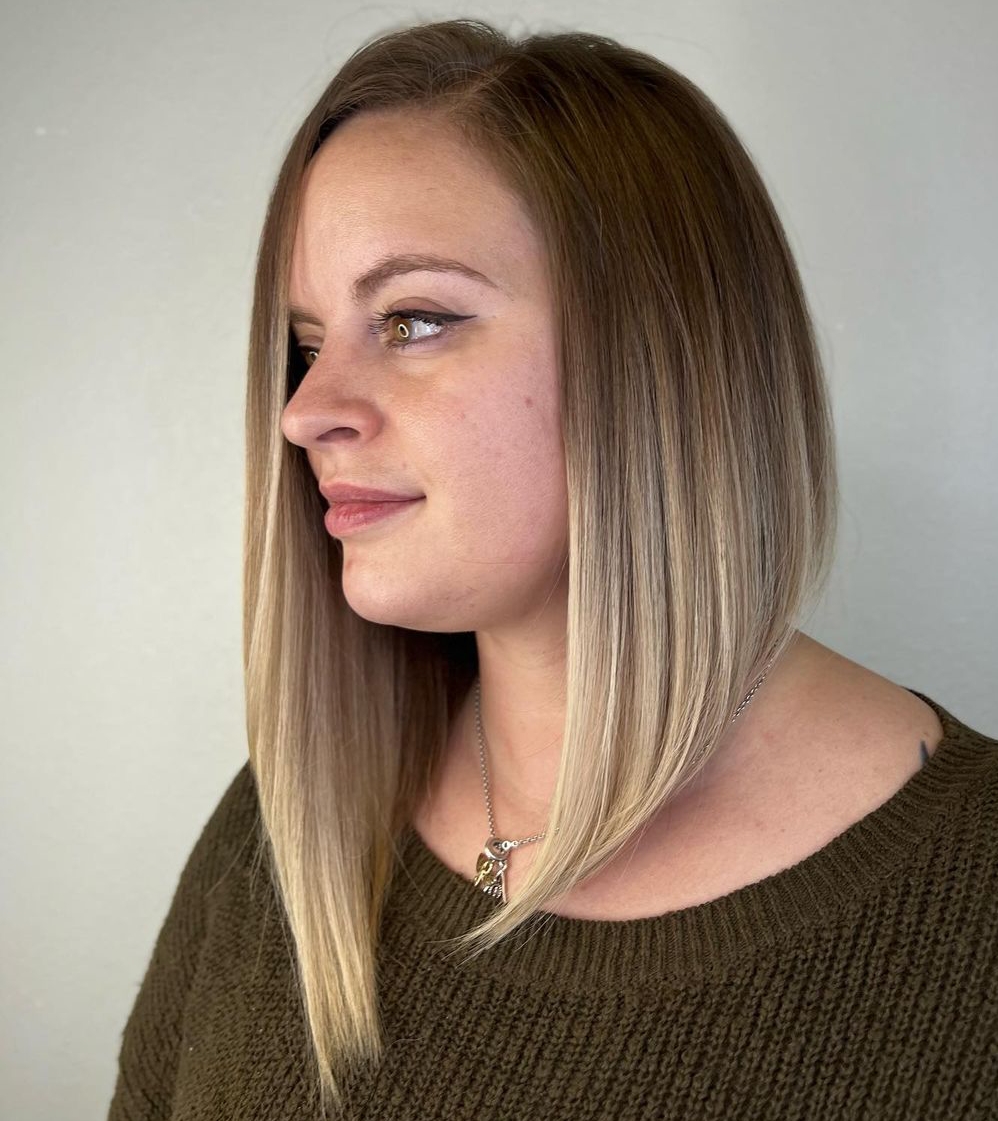 Feminine Rounded Curly Bob
A curly chin-length bob is one of the best styles for women with natural curls. If you have straight hair and wish to add curls, a rounded curly bob cut gives the right shape to your curls.
The rounded bob on brunettes looks pleasing for all styles, including A-line, inverted, graduated, angled, stacked, and more. In addition, the style of a rounded bob for different face shapes makes it easy to style and look playful.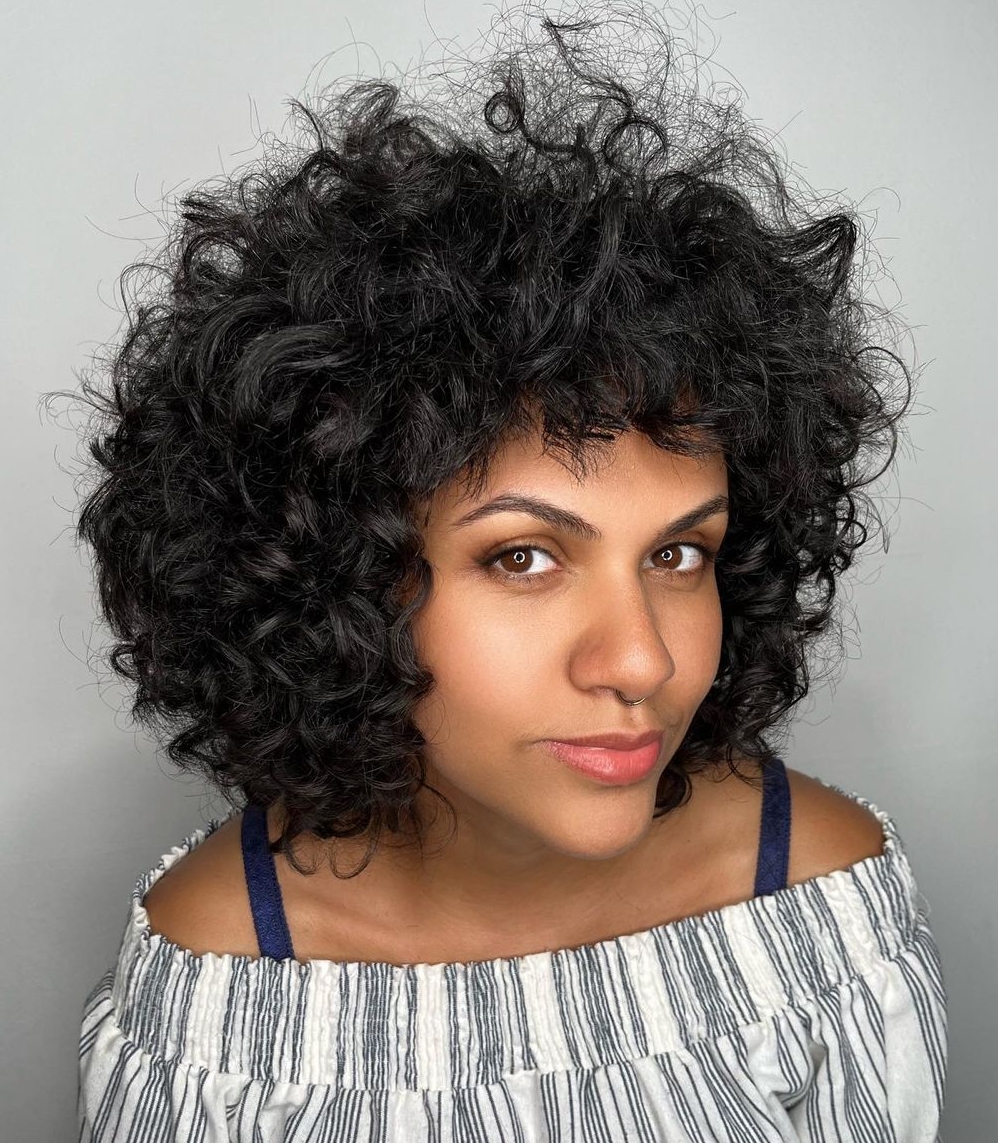 via @sabrayna_
Edgy & Sophisticated Curly Bob Hairstyles
If you have naturally wavy hair, this style is for you. You can choose the classic bob cut with curls or add dimension with a wavy texture. You can try a wavy bob with strawberry balayage for your curly bobs.
Some other options are a spiralled cut, a short stacked bob, choppy and curly inverted bob. The hair length can be short, medium, or long. Looks great even with frizzy curls! You can weave and curl with a water wave curl pattern.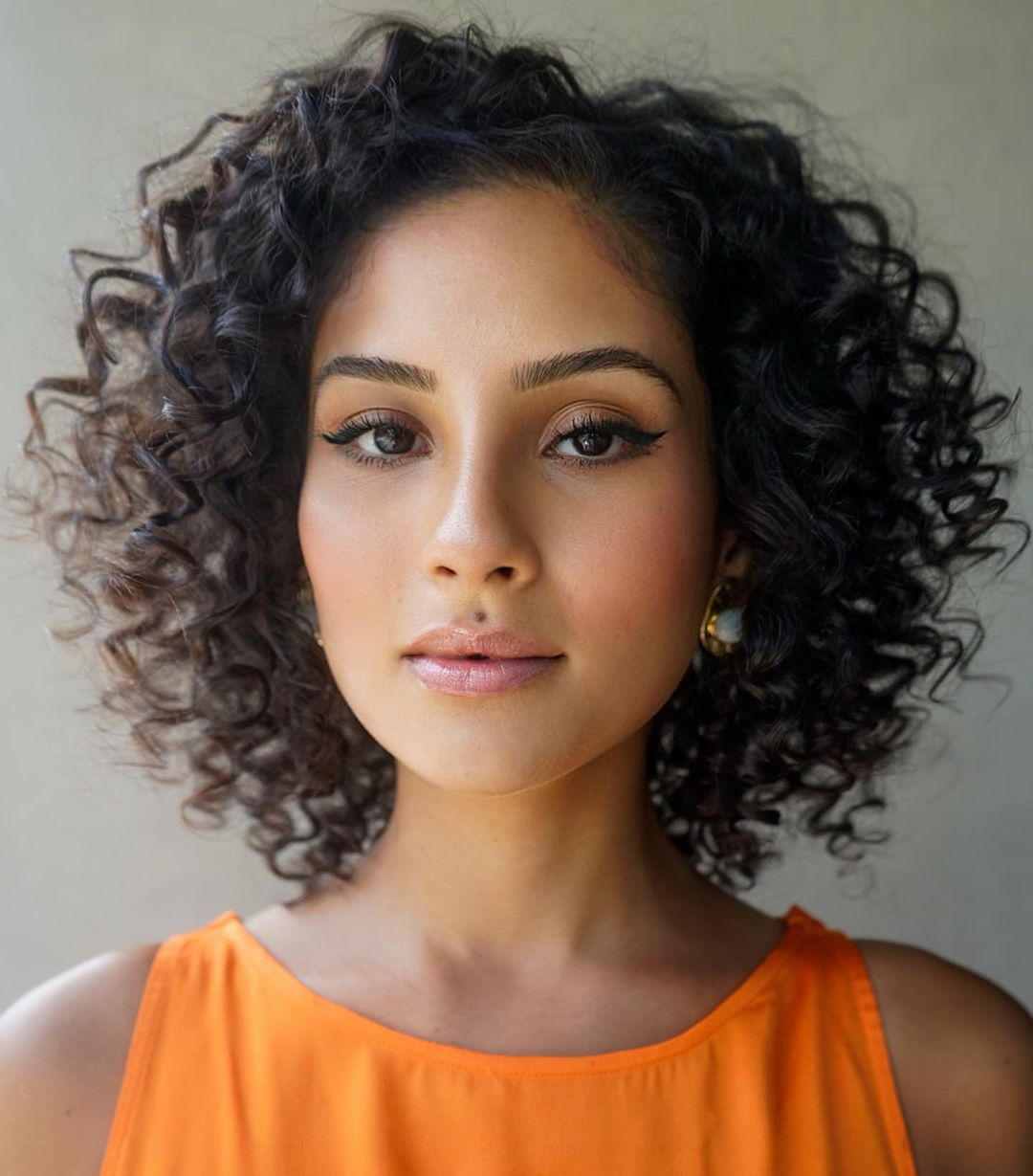 Angled Bob Haircut Looks Impressive
A fantastic way to highlight the natural texture of your mane is to go in for the angled bob haircut. The best thing about the classic angled bob cut is that it frames the face, perfectly hugging the contour.
Highlighting the entire facial structure are the long front bangs. The successive layers help create the impression of thick hair, making it one of the best thick hair ideas.
The cut looks good on a short haircut. The hair is shorter at the back when cut at an angle. The variations are inverted, stacked, A-line, and graduated.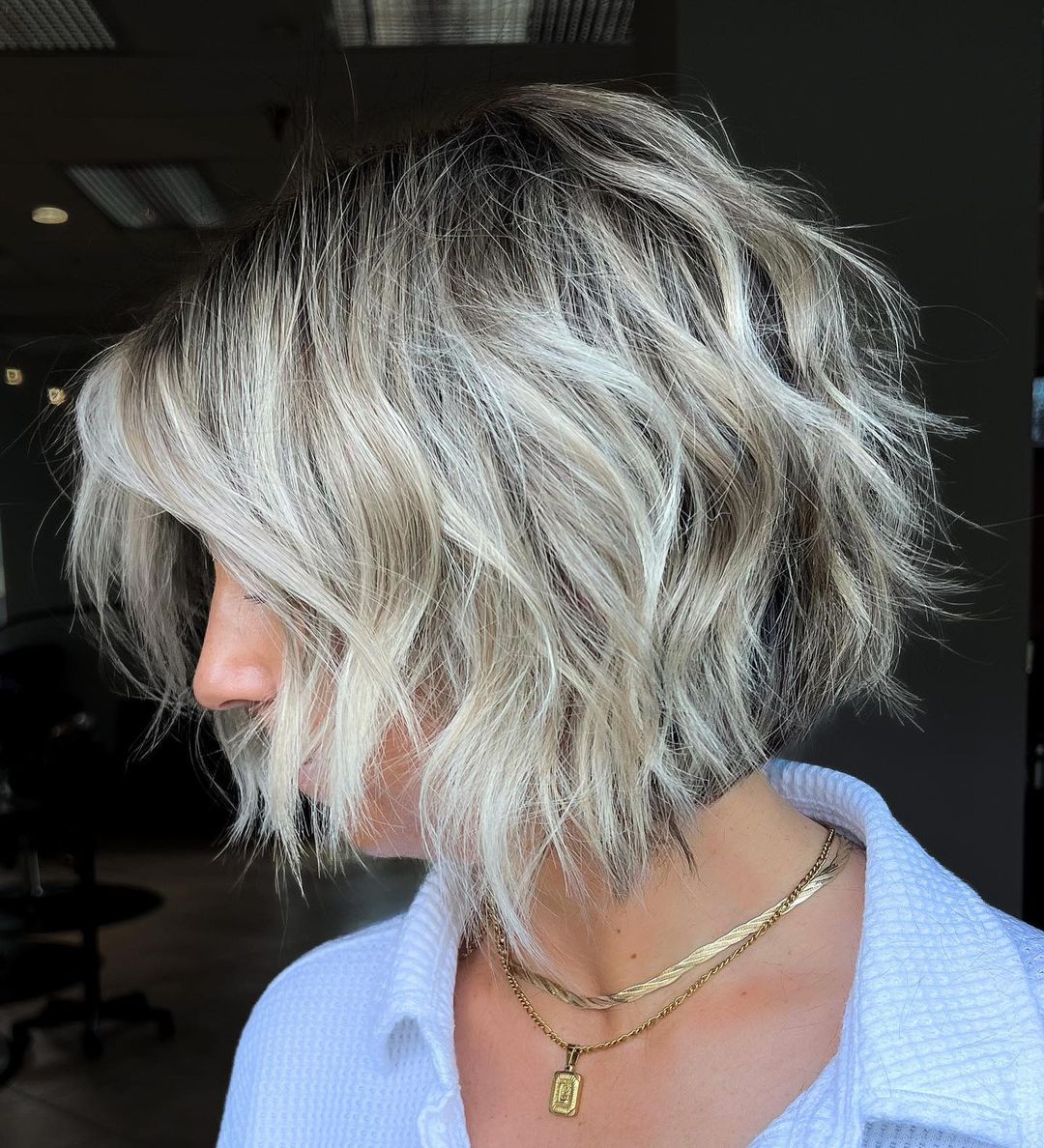 Be a Charmer with Shaggy Bob Haircuts
A shaggy bob is one of the best for curly hair. The best look is achieved when the length is short for a thick hair texture. Go for bangs with loose curls that give a messy look.
If your hair is thin, fine, and straight, let your stylist give layers for a wavy effect at the ends. It is a popular and trending damp hairstyle, a contemporary and softer version of the classic bob cut.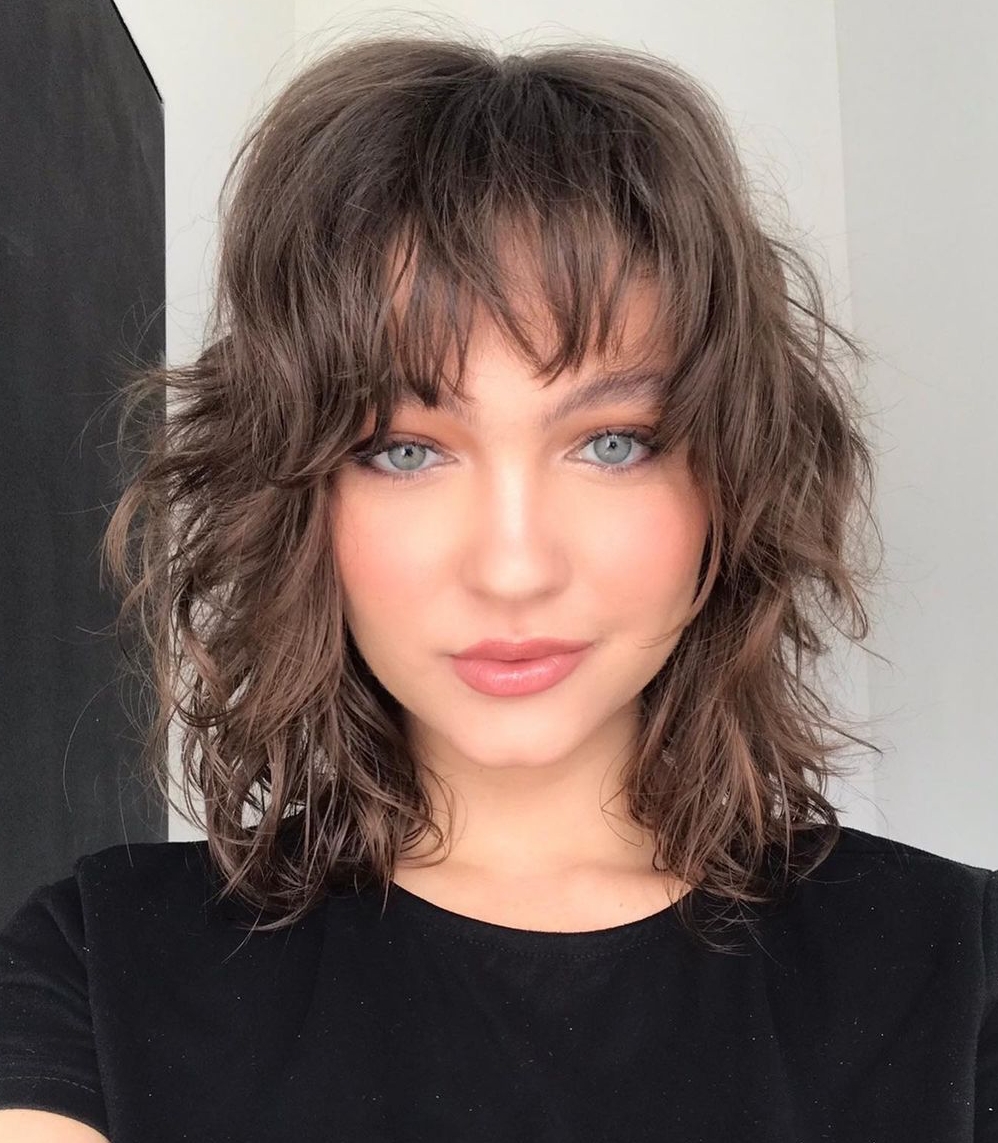 via @ruteboazhair
Inverted Bob Haircuts for Extra Manageability
An inverted bob with blunt bangs is for those women who want to make a bold statement. It is the classic bob shorted at the back and is a good option for ladies with straight black thick hair. You will need to use anti-freeze polishing creams or milk to settle the flyaways.
A curly inverted bob is an angled haircut with longer pieces at the front. It takes off the weight of your curls from the back.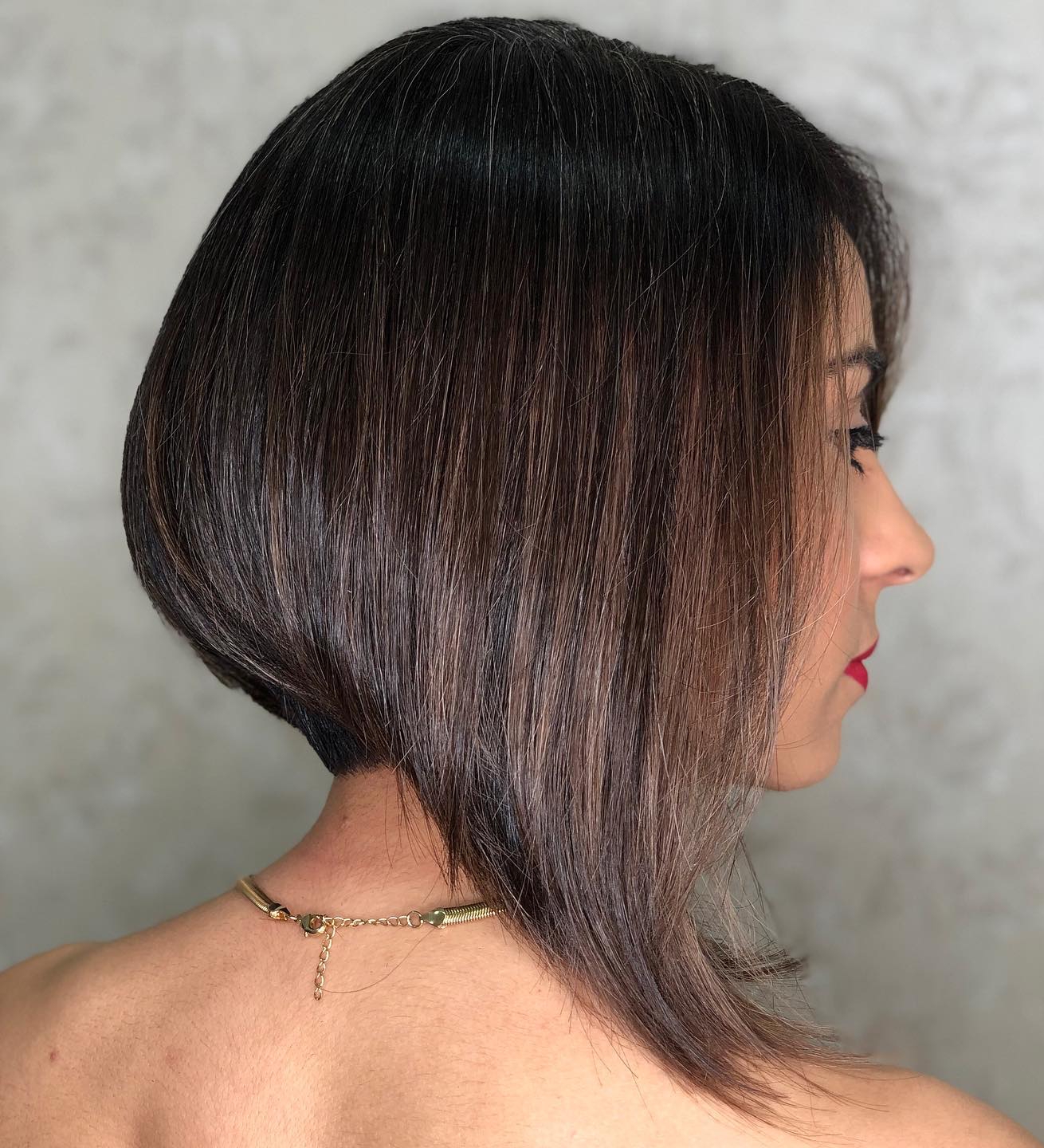 Bold and Trendy Box-Braid Bob
A braided bob cut can have different lengths of braids, like long braids on one day and short styles on the other. This is easy to wear and chic, and you can wear it during summer and winter.
Try the classic bob box braids; the hair curls can be close to your chin or on the collarbone. This versatile style looks good irrespective of short or long lob. You can try knotless Bohemian braids too. Or, a chic bob cut can also be experimented with. These braids that suit any face type are trendy styles you must try.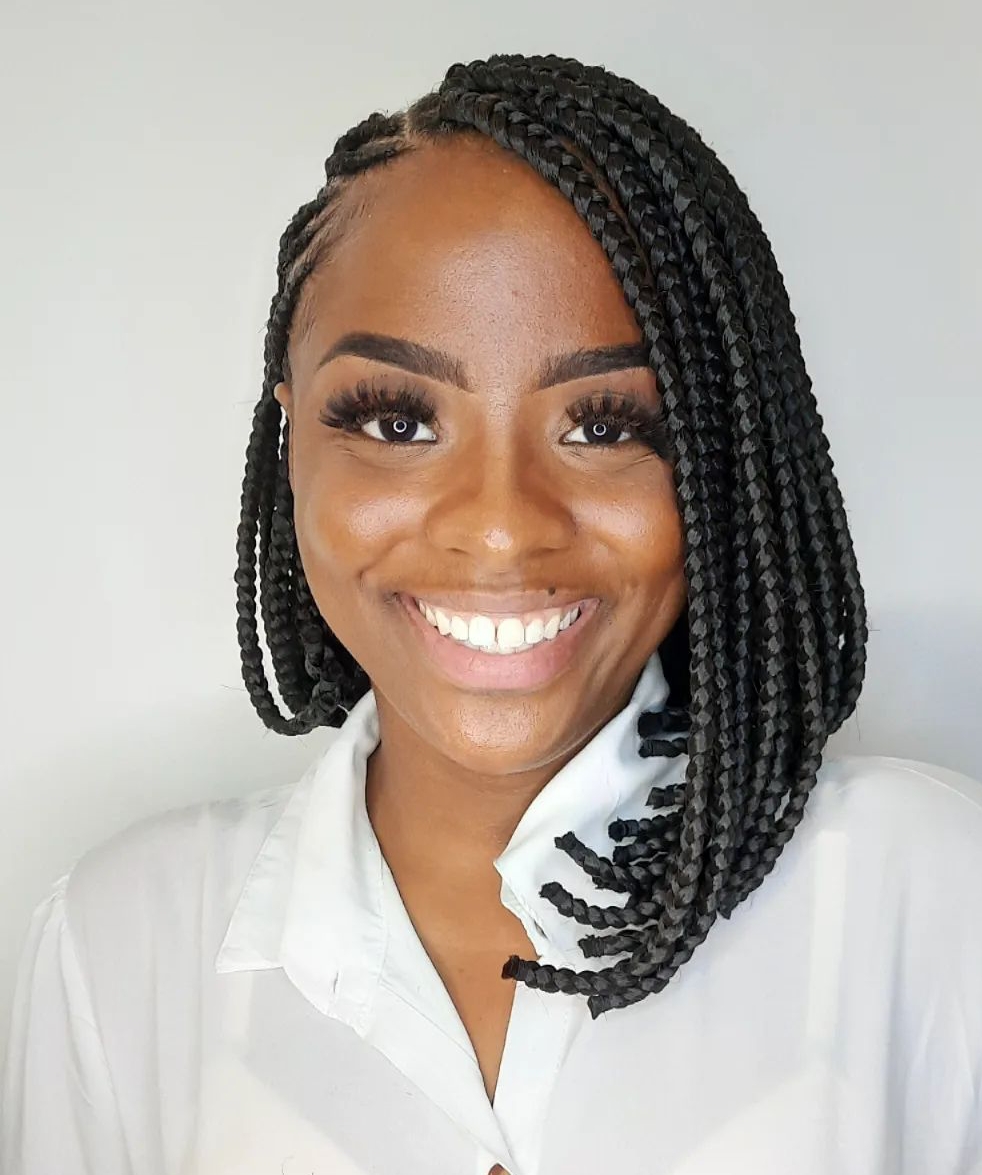 via @trancanago
Bob Cut with Undercut Is Cool & Chic
The undercut hairstyle is best suited for ladies with thick hair. The undercut is meant to remove the bulky appearance of your short thick hair. Some styling for shorter bobs and textured hair makes them look cool and chic.
Go for this razor bob cut during the summer season, as it keeps your nape hair free. The side swept bob with undercut is a variation that has long hair at the crown and shorter hair on the side and back. The hair at the top is kept longer, and the underside is cut short, razored, or shaved.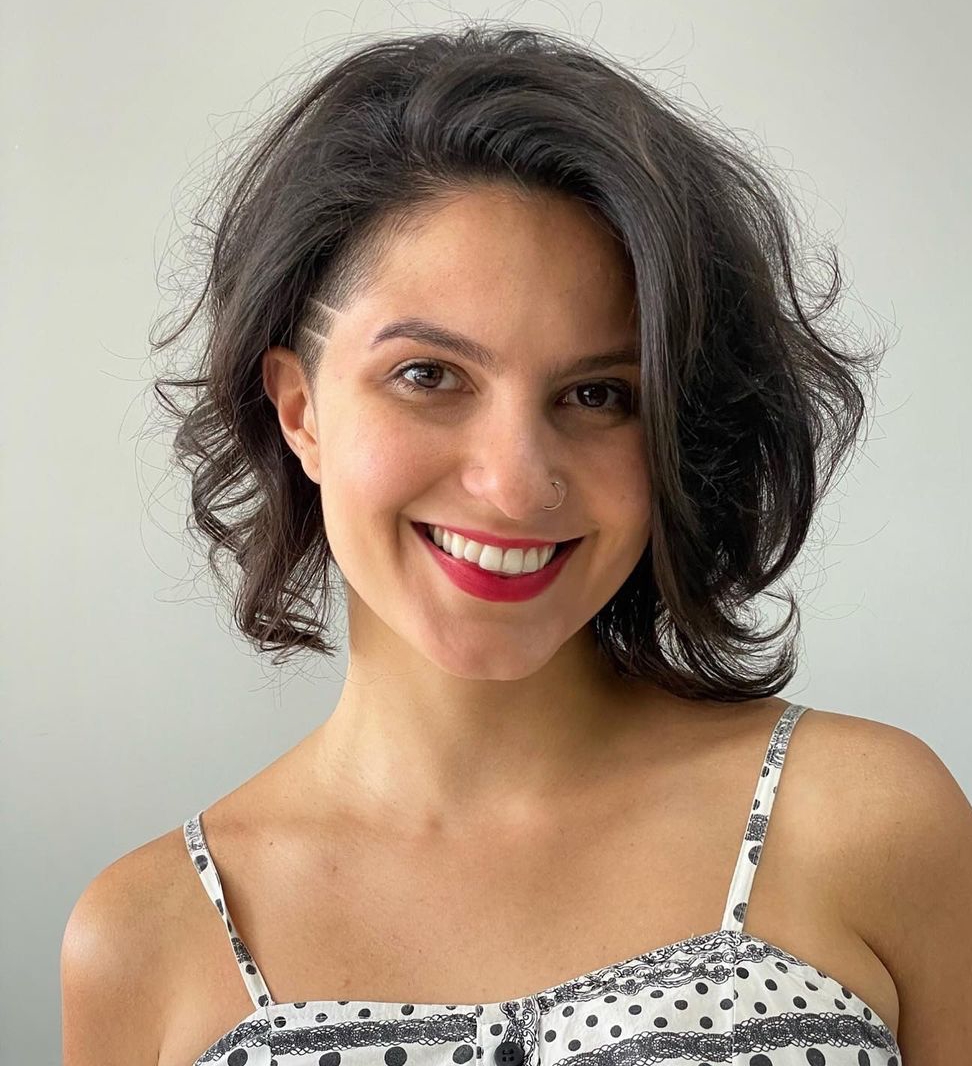 via @se_augusto
The Wash-and-Go Look With Messy Bob Haircut
This is a version of the shaggy bob with a tousled look. It is, in fact, a pixie bob hairstyle with bouncy and messy curls that prevents your hair from looking too triangular. Have thick hair, then this is one of the must-try messy wavy Bob cut ideas.
If you have thin hair, keep it short for a gorgeous interpretation. This is a chic style for women with curly hair, especially with subtle bangs.
via @hirohair
Be a Part of the Bob Fever with Rainbow Bob
Dye your bob in multiple colors – rainbow hues for a mesmerizing effect. The multi-colored lob cut with pink and purple highlights, and you are ready to take on the world.
Of all the bob styles mentioned here, this is the one with the colors of your choice, a perfect blend of art and science. This style can be adapted for all short, medium, and long lengths. It is suitable for curly, wavy, and straight hair.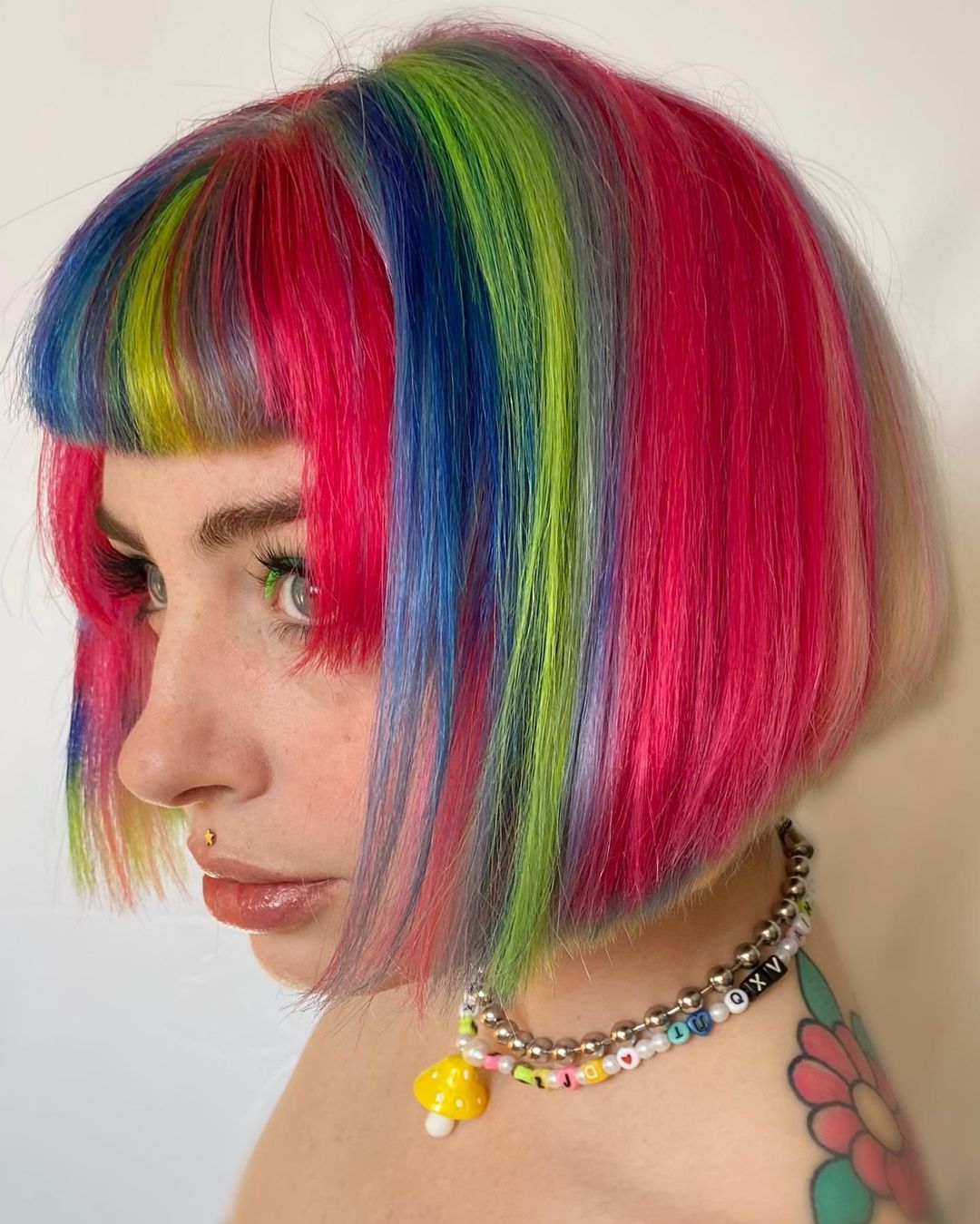 Face-Framing Bob Cuts for a Modernised Transition
A classic bob for round and oval face shapes is this style. Keep the ends below the chin to give an elongated feel. For classical face-framing highlights, make a deep side part. This will highlight your face shape even better. But, again, this is a haircut that suits blondes and brunettes the most.
You can also try the asymmetrical face framing bob if you have a square face shape, softening a sharper jawline.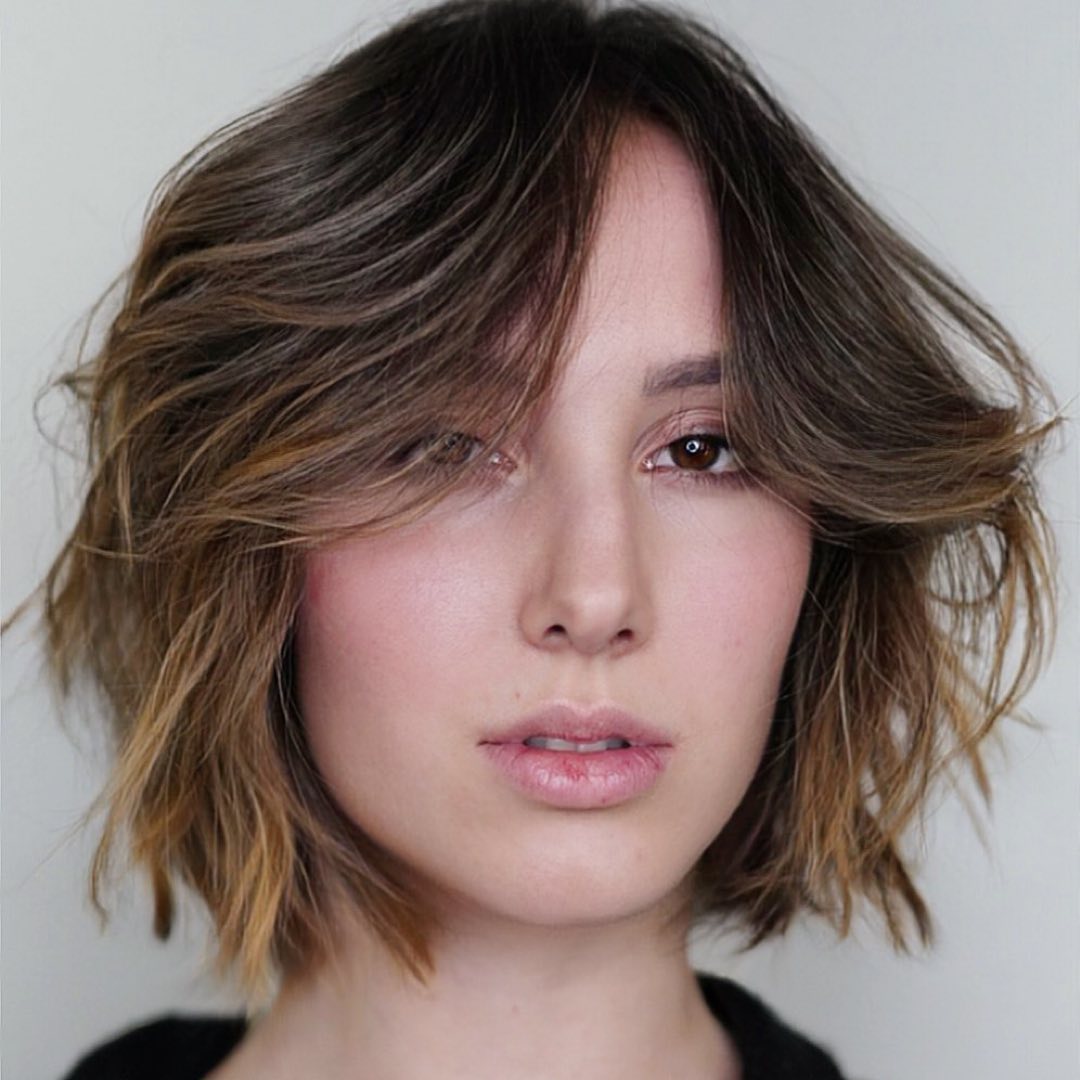 via @hakstol
FAQ
What are the most popular bob cuts?
The pixie bob is a famous bob that looks incredibly chic and graceful. Longer bangs and shorter hair on the sides and back characterize the hairstyle. The other popular bob styles are blunt bob cut, face-framing bob cut, inverted bob, rounded curly bob, bob cuts with bangs, and more.
What bob length is the most flattering?
Bob cut is the most suitable hairstyle for women with a round, square, oval, or heart-shaped face. Different styles of bob suit different shapes. It can range from short bob cut to medium or long. For example, a long bob or pin-straight lob suits a round shape. Similarly, a chin-length bob or flipped-under bob looks suitable for an oval shape face.