Vibrancy has recently become the new fashion theme. As a result, vibrant hair colors are becoming increasingly popular. Many people opt for these unconventional and bold hair colors to express themselves. And the green has emerged as the first choice of the majority.
Vibrancy has recently become the new fashion theme. As a result, vibrant hair colors are becoming increasingly popular. Many people opt for these unconventional and bold hair colors to express themselves. And the green has emerged as the first choice of the majority.
From mint to forest green, there are so many shades of green hair color, and none fails to impress. One can even take it a step further and combine these shades of green with other colors, such as red, blue, or yellow.
Hence, create your own funky and eye-catching style statement with a green hair color combination! With green, the possibilities are endless.
Stand Out with Dark Green Hair Color
You don't have to be challenging to stand out; go dark green with your hair. To make a bold and edgy style statement, choose dark green tones. One of the most popular ways to blend a dark green color into your hair is with black and green hair.
Another trend is black roots with green highlights, making you and your hair stand out.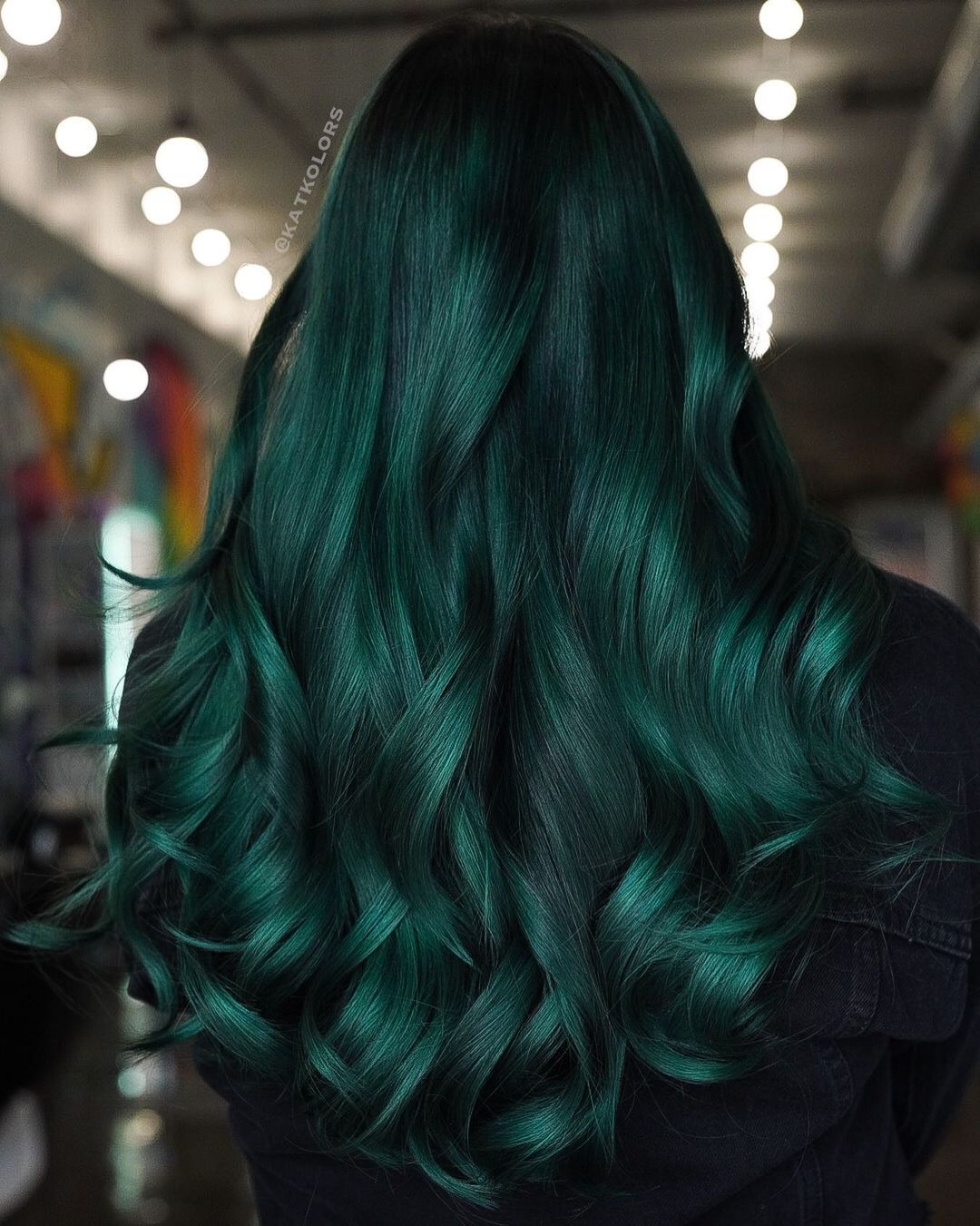 via @katkolors
Trendy Emerald Green Hair
Emerald green hair has become a trendy hair color because it never fails to turn heads. One of its most significant advantages is the variety of dark green shades you can achieve depending on your preferences and skin tone. Even if you go all the way with emerald green permanent hair dye, you will never be sorry.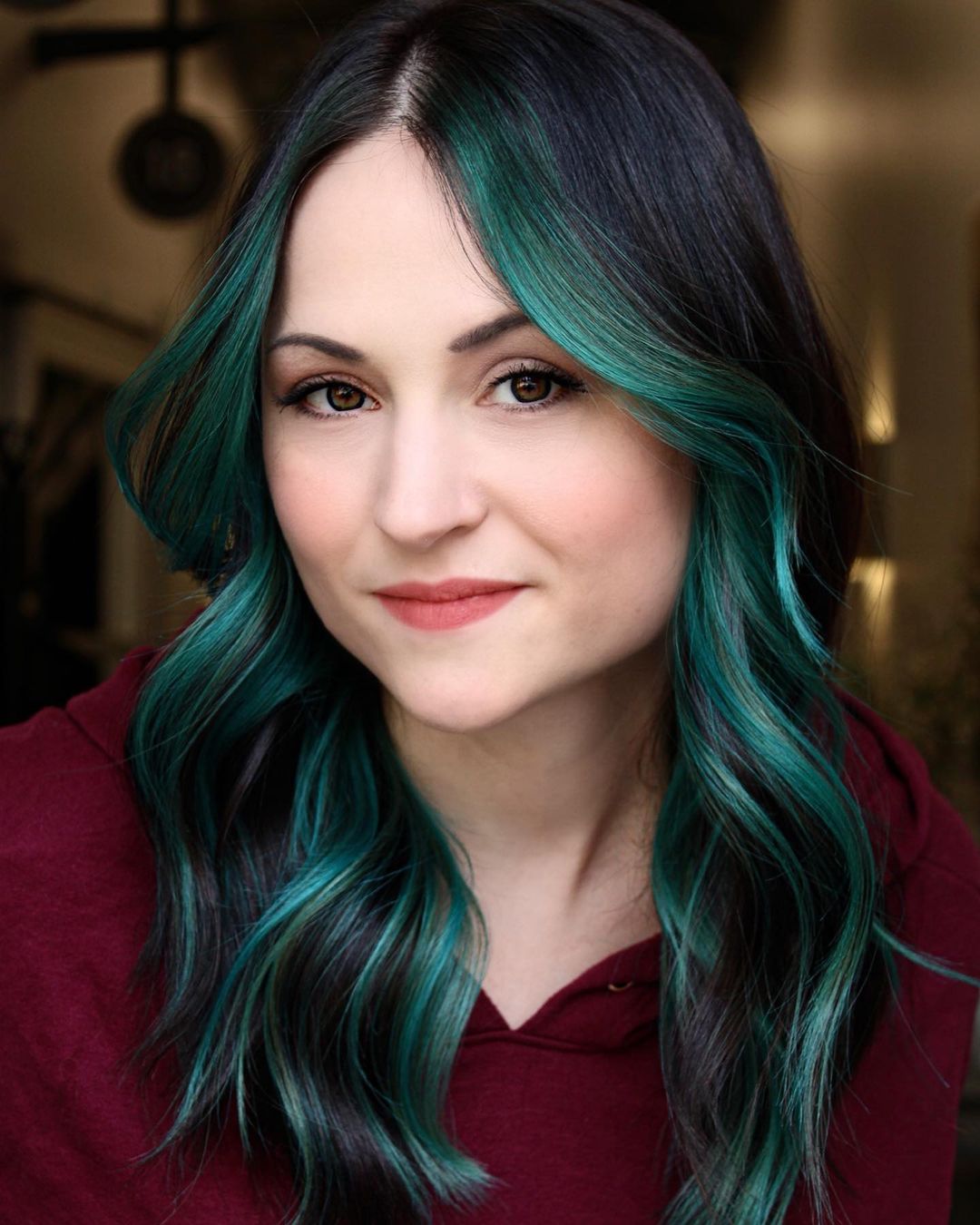 via @createdbyami
Mint Green Hair Color is Refreshing
It's just as refreshing as mint—the mint green hair color. It is a stunning hair color that complements all hair types and personalities.
To incorporate mint green on dark hair, it is best to first bleach the hair to a lighter tone for a better and longer-lasting result. To achieve mint green on long hair, ensure that the color is applied evenly throughout your hair. It is a one-of-a-kind and trendy hair color for those who want to take their look to the next level.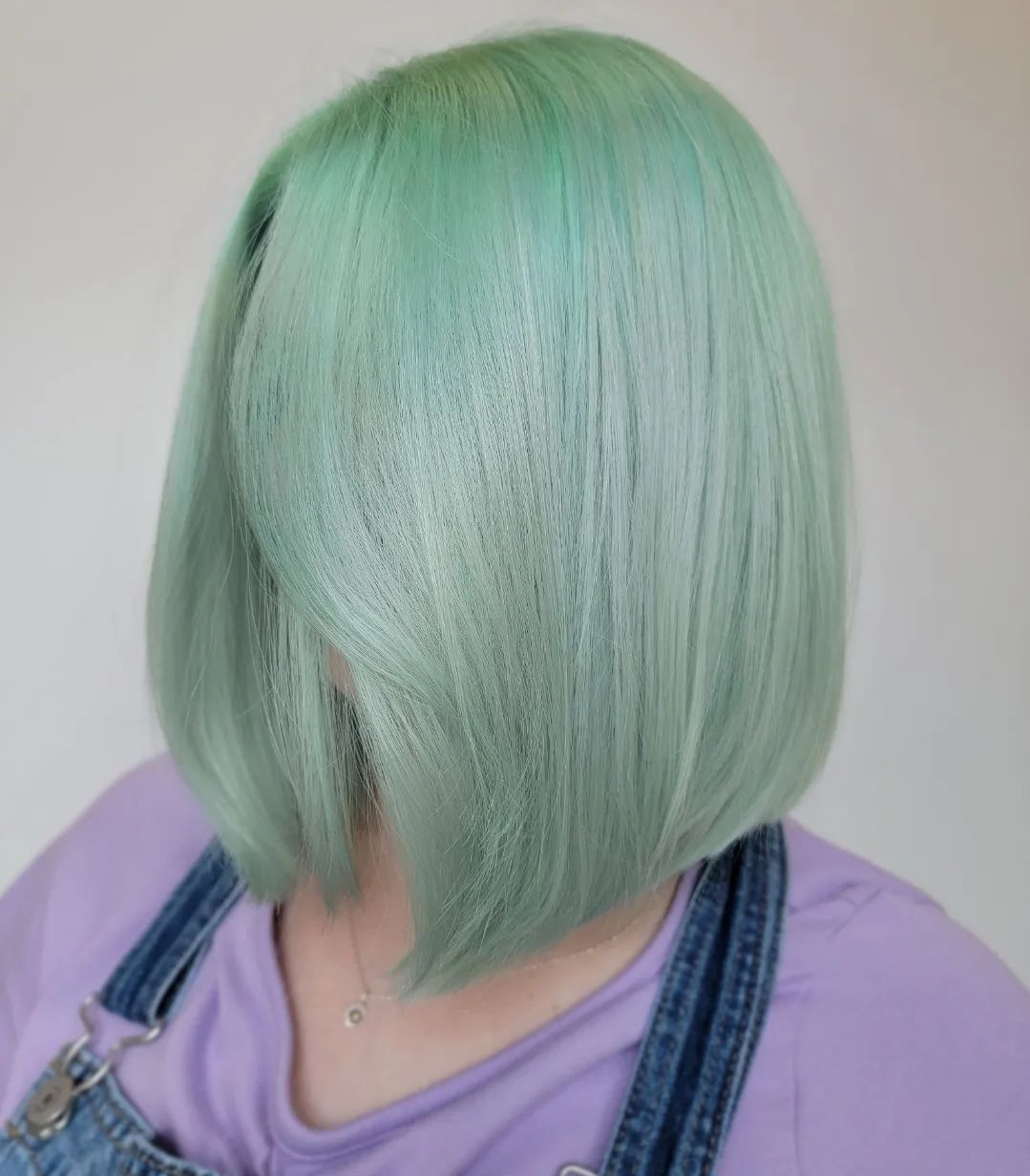 via @lillian__welch
Dive Deep with Blue Green Hair Color
Consider a blue-green hair color for unique, vibrant, and enjoyable looks. There are numerous beautiful and popular ways to embrace green and blue hair color patterns to style your hair.
One of the best is achieved by combining deep blue and green highlights for a unique twist. For this, color your hair blue or green, then add highlights of the opposite color. Similarly, you can experiment with various green ombre ideas to be more creative.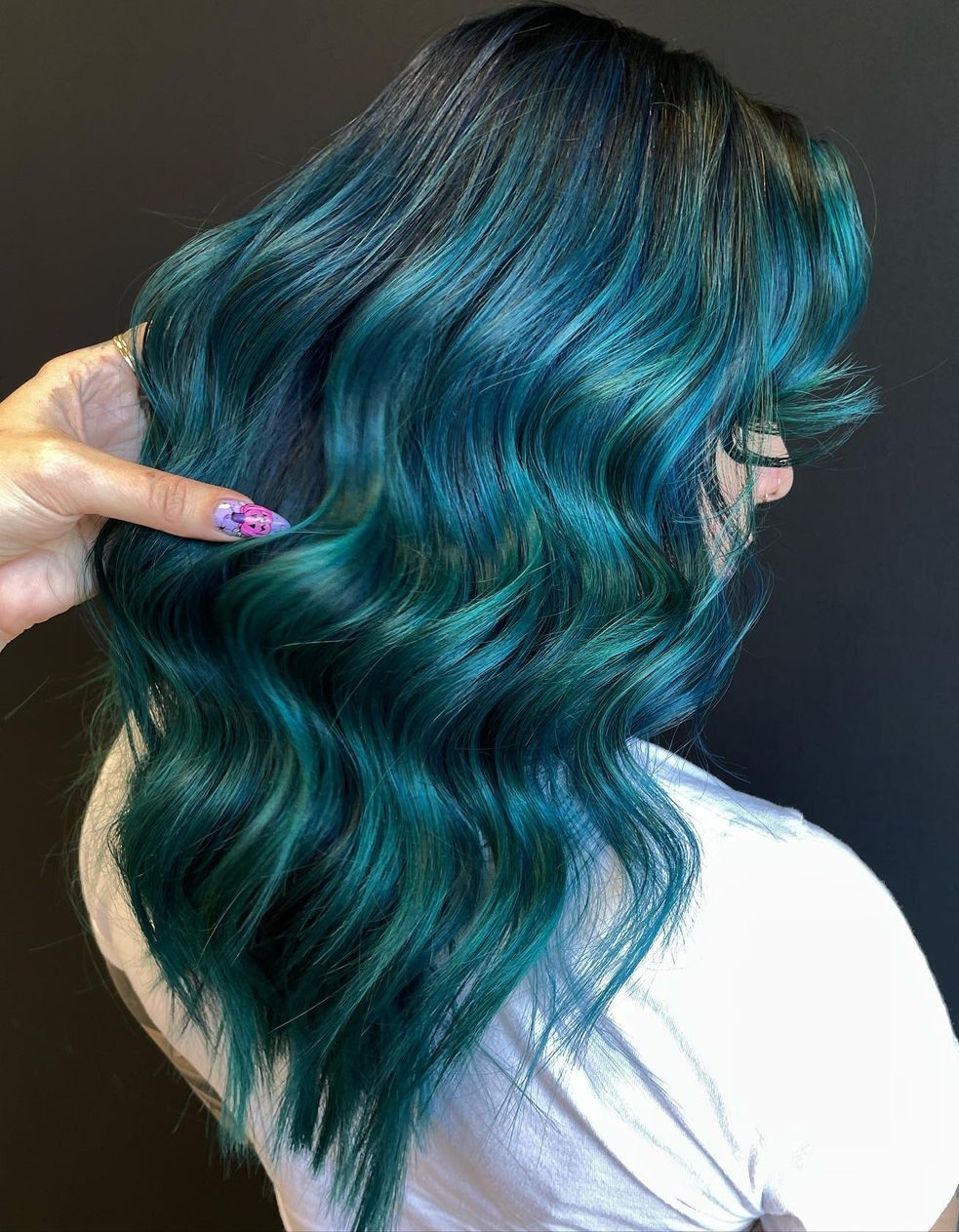 via @hair_by_love
Lead with Forest Green Hair Color
Consider a forest green color if you want a unique hair color idea for a warm skin tone. This genuine shade of nature is all you need to add a vibrant touch of the forest to your hair and look alive among the crowd. Long or short hair, it doesn't matter; this color works well with both.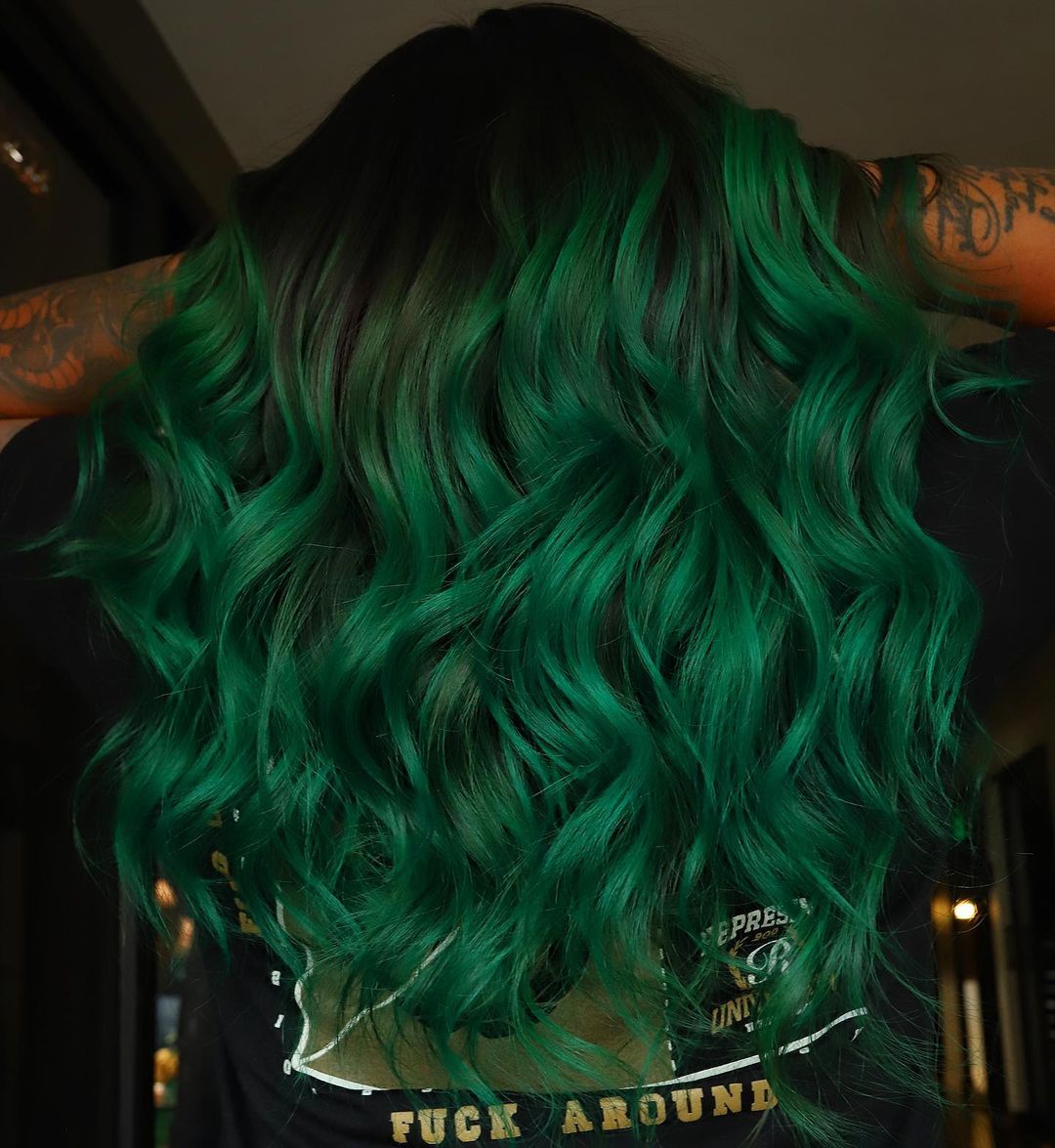 via @makeupbyfrances
Neon Green Hair Color for Thrill
Neon green hair color signifies thrill, and who doesn't want it in their lives? Just dye your hair neon green and bring the delight in.
Choose among a few trending styles, such as experimenting with various neon green tones on hair. Or try black hair with neon green highlights to dazzle everyone at once. Or, flaunt your full-head neon green hair on a pixie cut to catch instant attention. Although, always consider high-quality hair dye and proper maintenance.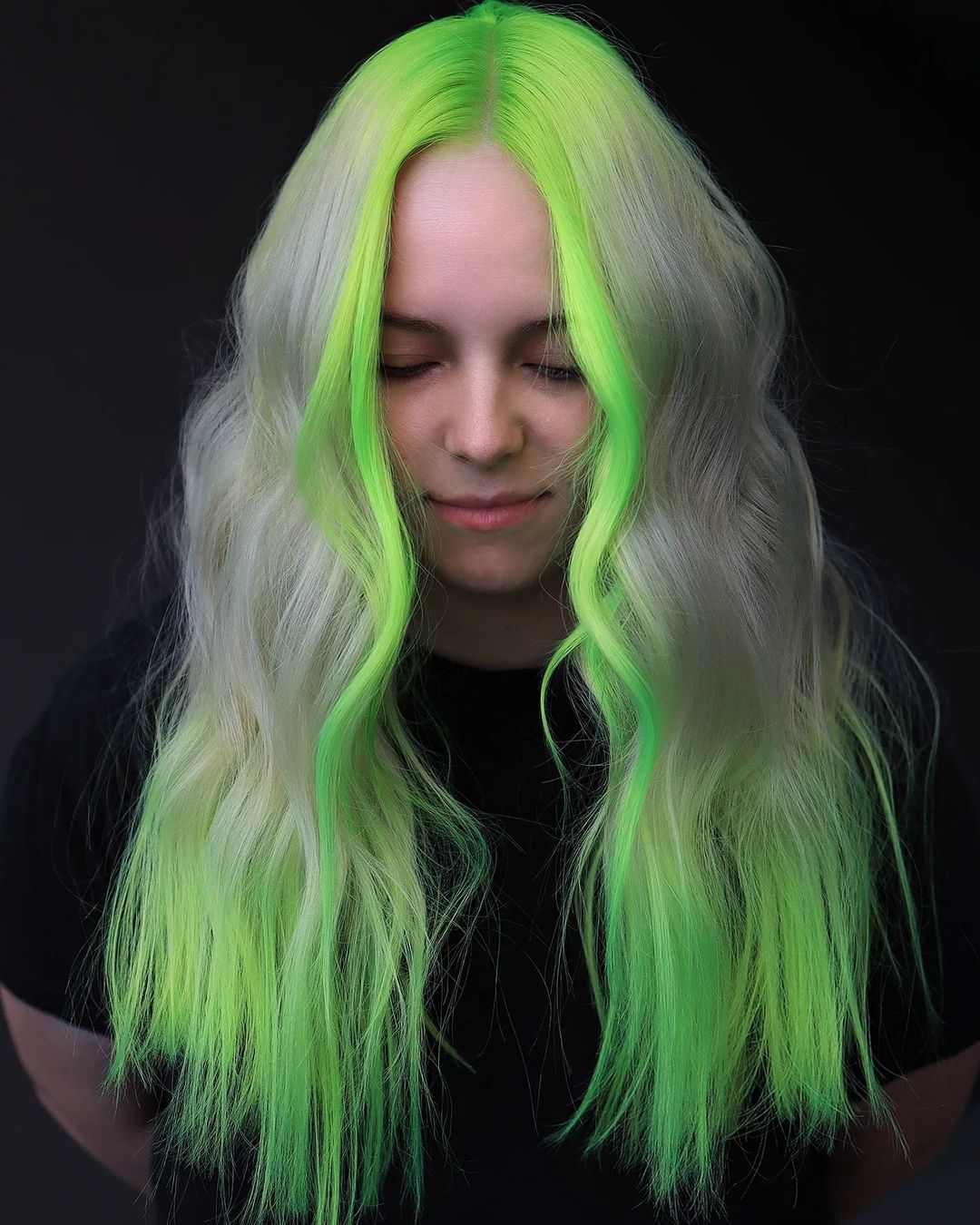 via @mo_raven
Create an Aura with Green Ombre Hair
You should go for green ombre with dark roots if you want green ombre hair. Outside, the vibrant ombre hue and the dark roots leading into the depths make you create an intense aura around you.
You can always choose from forest green to light green hair color while highlighting. And only have it done by a professional colorist.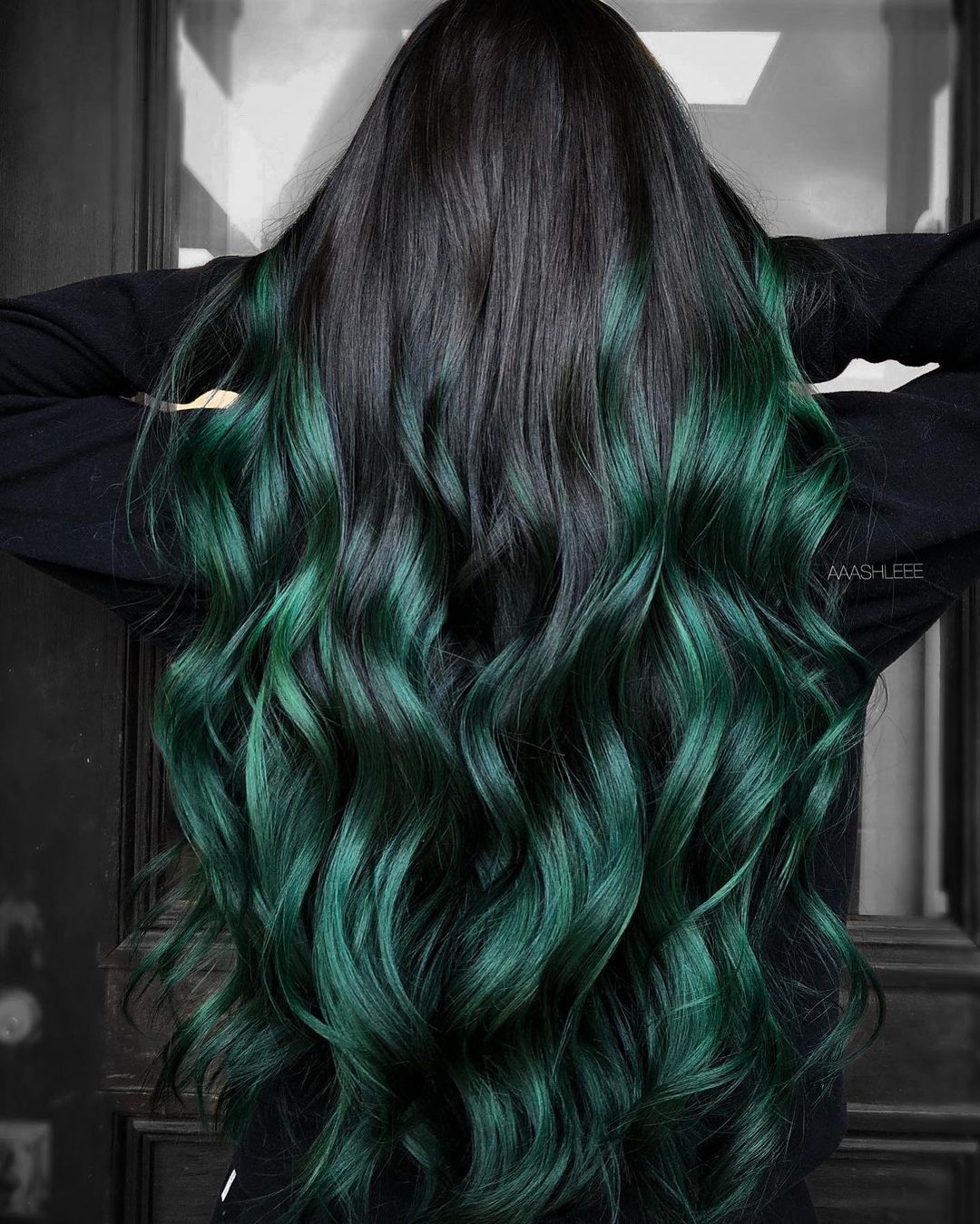 via @aaashleee
Lime Green Hair for a Daring Look
Neon green hair dye can be used to achieve lime green hair. Lime green may be the right color for those who want to present their daring and rare personalities to the world.
The vibrant green hair for brown eye color is a big YES. You can also mix the lime green with your natural hair color to create a subtle green ombre shade.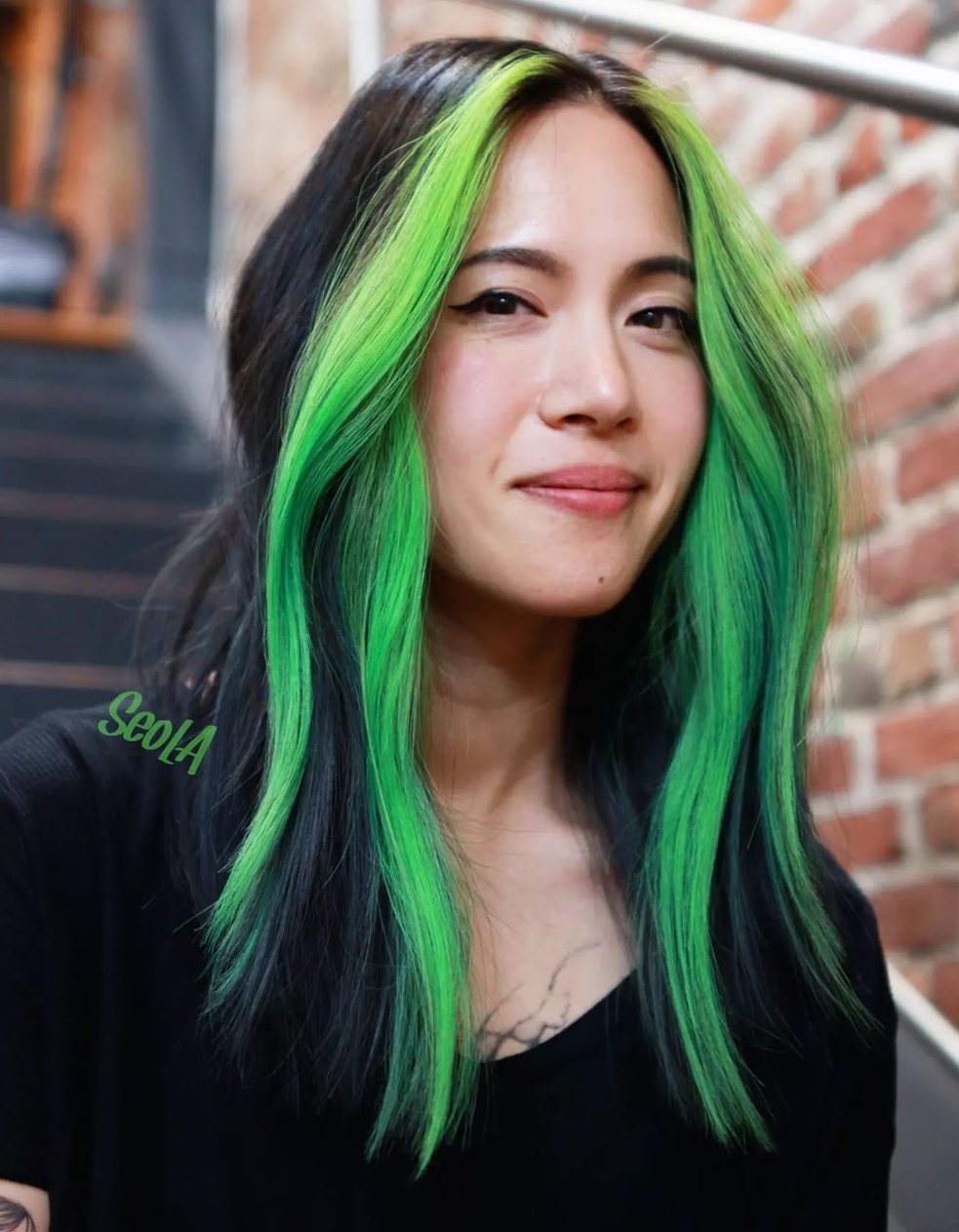 via @seolahair
Olive Green Hair Color is Ravishing
Olive green is a gorgeous color most suited to a mullet haircut or braids. Olive green on a mullet haircut and green color on braids, both with natural dark roots, give an exquisite contrast.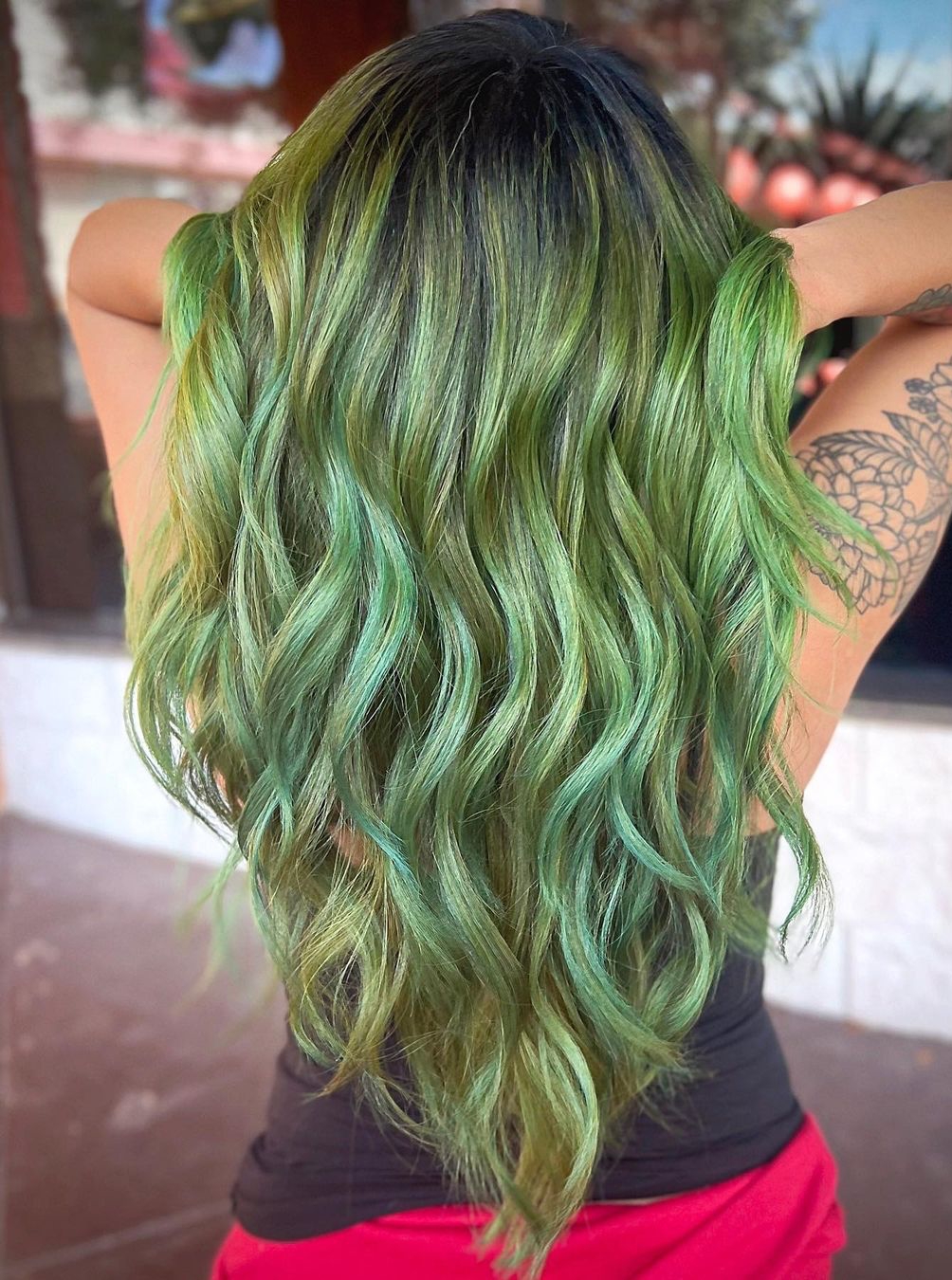 Cool & Lovely Light Green Hair
An excellent hair idea for hazel eye color is light green hair. It enhances the green and gold tones in the iris. Light green hair can easily be produced with green hair dye.
Even you can upgrade your bob cut with light green shades and stand out from the rest. This color style is intense and poised at the same time.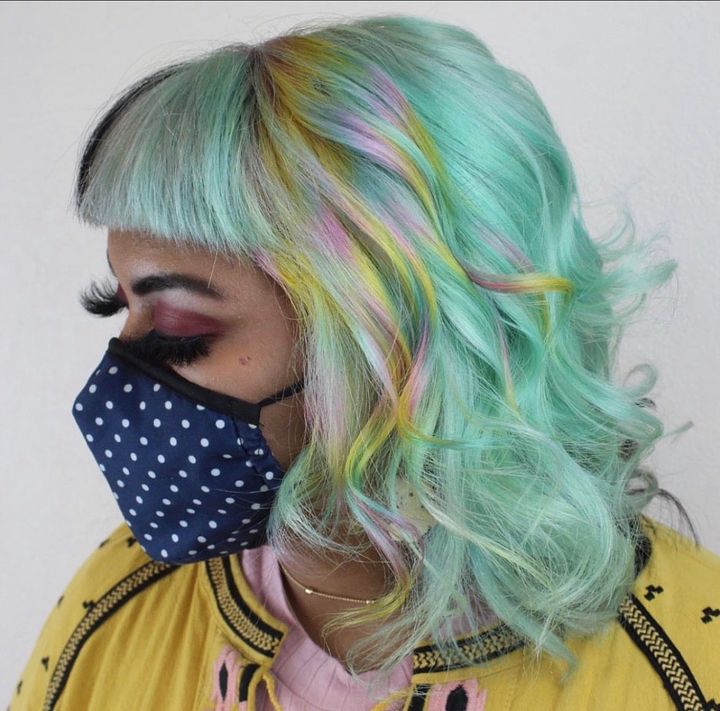 via @ziabyrd
Go Edgy with Dark Green Box Braids
Dark green box braids is one edgy look that will make you the center of attraction. These are long dark green box braids.
However, to look edgy, you can always play with other braid color ideas, like yellow, blue, or red, combined with dark green. If you keep this look, you must take good care of your braids.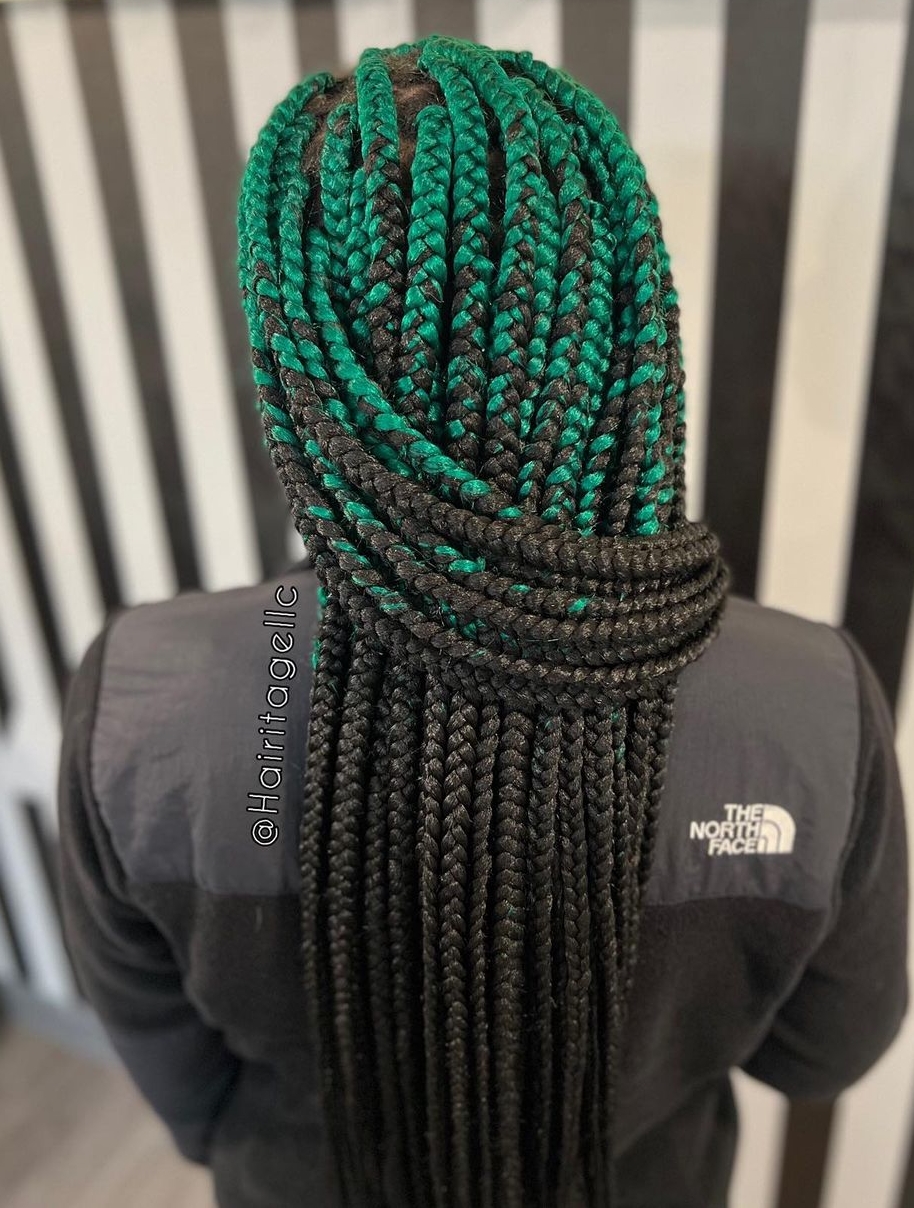 via @hairitagellc
Get the Best of the Both Worlds with Dark Green Teal Hair
This dark green teal hair color is an extraordinary and compelling mixture of a deep green tone with a pop of bright teal. It makes you look a mix of both classy and peppy. That's why this mermaid hair color is fast becoming a highly recommended green tone.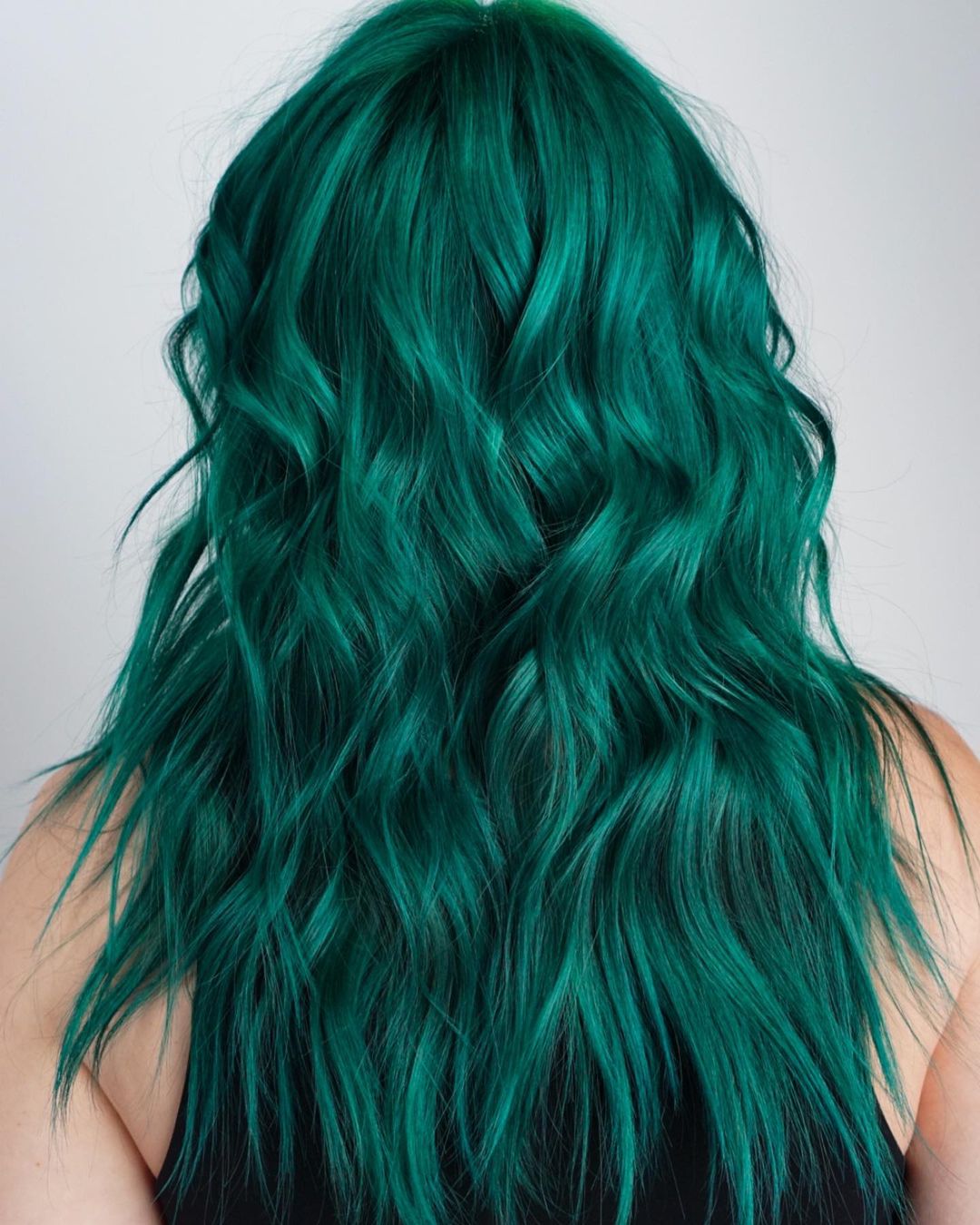 via @samihairmagic
Green Jade Waves like An Emerald Stone
Green Jade Waves is a stunning style for those who love to play with unconventional colors. The green wavy color is achieved with green hair dye. The overall wavy texture makes the green tone look more graceful, vibrant, and eye-catching.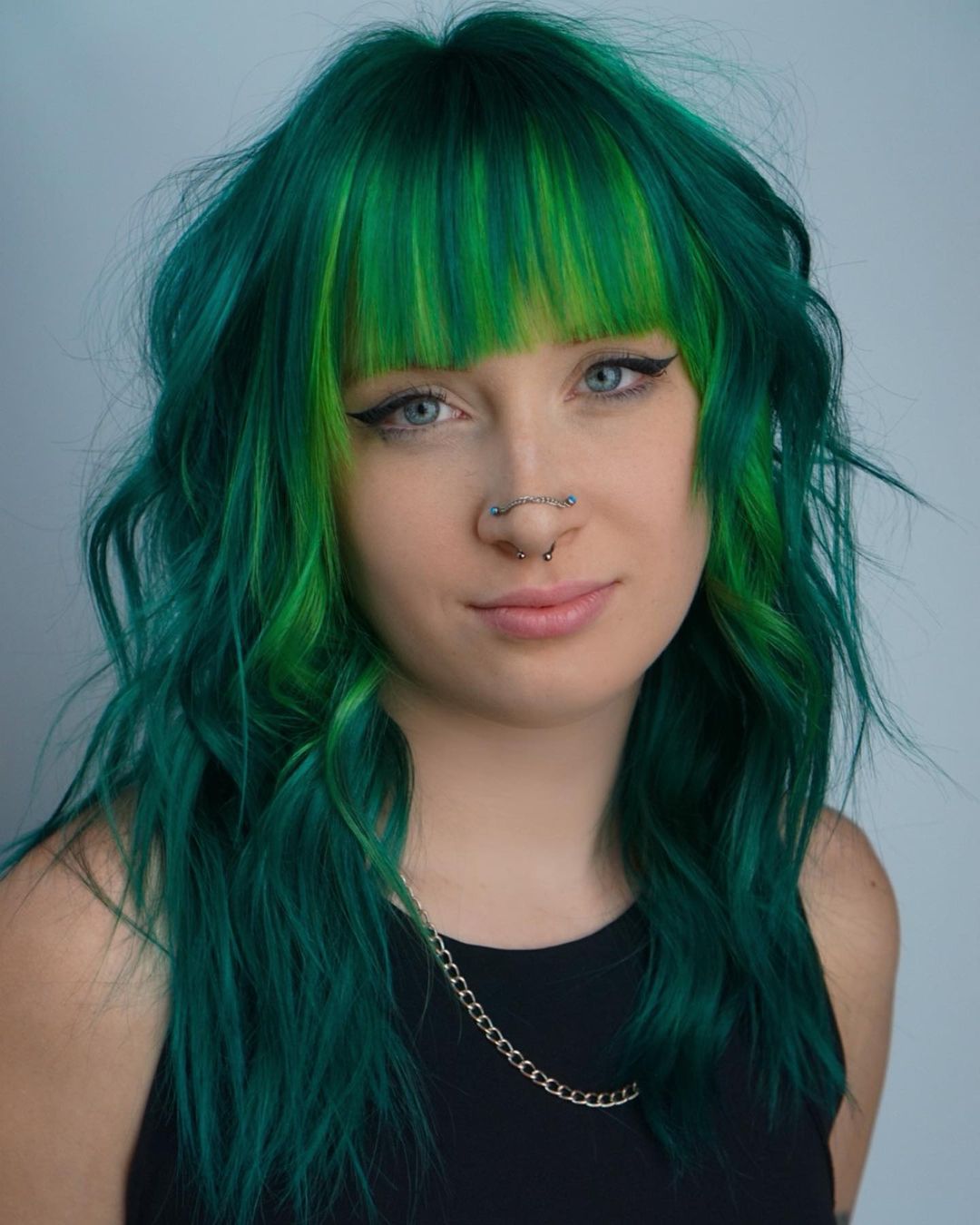 via @samihairmagic
Vivid with Green and Yellow Balayage
If you want to draw attention wherever you go, green and yellow balayage is the color combination for you.
The green and yellow hair combo is a beautiful blend of two vivid colors to ensure you don't go unnoticed. Neon green hair in a balayage style with a bright yellow hue can result in an intriguing and unique look.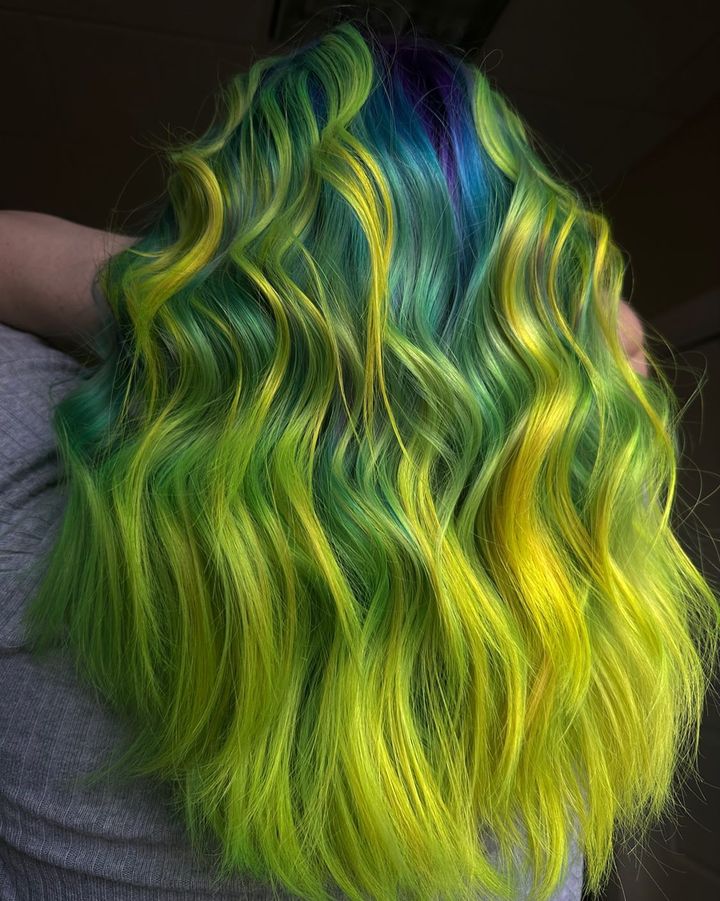 Rocking Green Hair with Dark Roots
If you are looking for a low-maintenance hairstyle that is still rocking and popular, green hair with dark roots is a choice worth making.
Dark green hair enhances your overall personality, while black roots produce a natural contrast.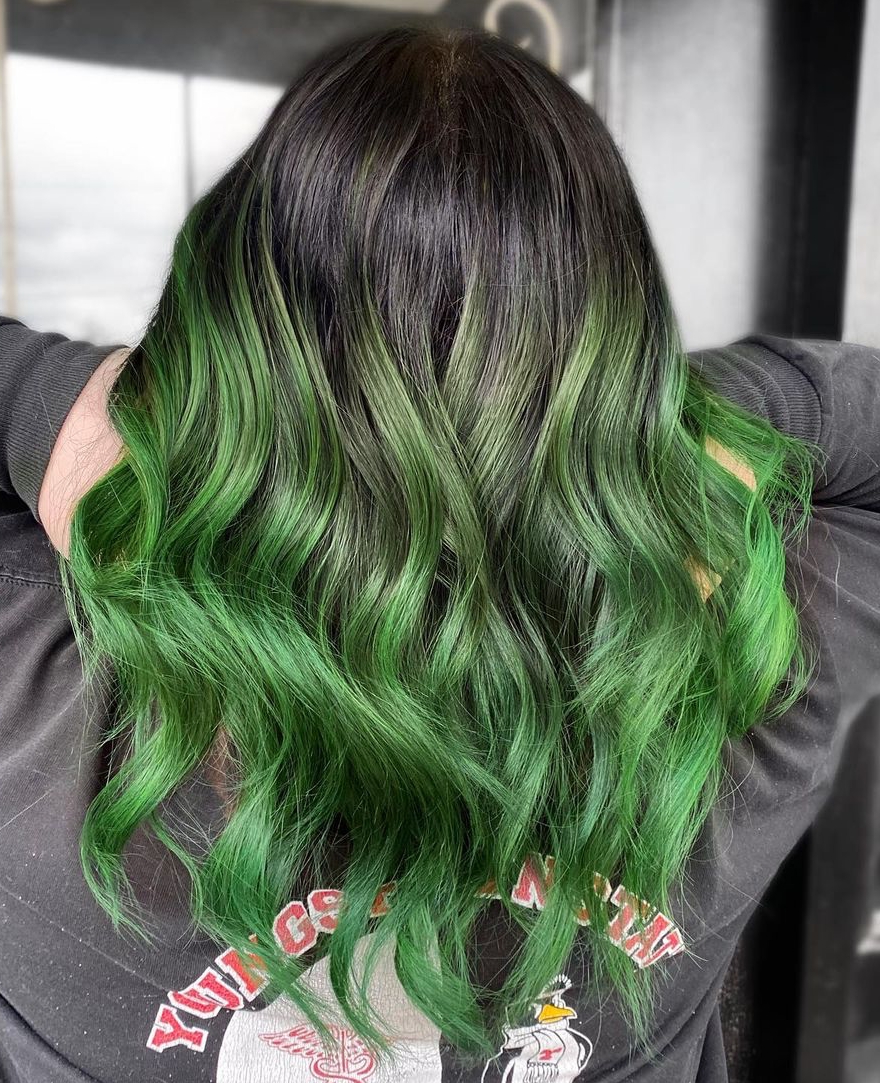 via @emcolorshair
FAQ
Is green hair hard to maintain?
Green hair can be challenging to keep because it fades quickly. The level of maintenance also depends on the color of the natural hair and the shade of green.
However, by doing regular touch-ups, using the right products, and protecting your hair from damage, you can keep your hair green for longer and alleviate your concerns.