Nail art is a timeless way to make any look unique. Now, with glowing nail designs being one of the top trends this season, there is no better way to stand out in the crowd at your next party. From subtle glowing accents to full neon designs, take your manicure to dazzling new heights with glowing nails.
Get creative by layering glow-in-the-dark polish over your regular nail polish for a dramatic effect. No matter your design or color, glowing nails will surely bring your mood into celebration mode!
Here are the top 20 glow-in-the-dark nail ideas for a party mood this new season.
Level up Your Nail Look with Acrylic Glow-in-the-dark Nails
Acrylic glow-in-the-dark nails are going to level up your nail art game! Forget about boring acrylic nail designs – it's time to customize your manicure for special events like theme parties and festivals.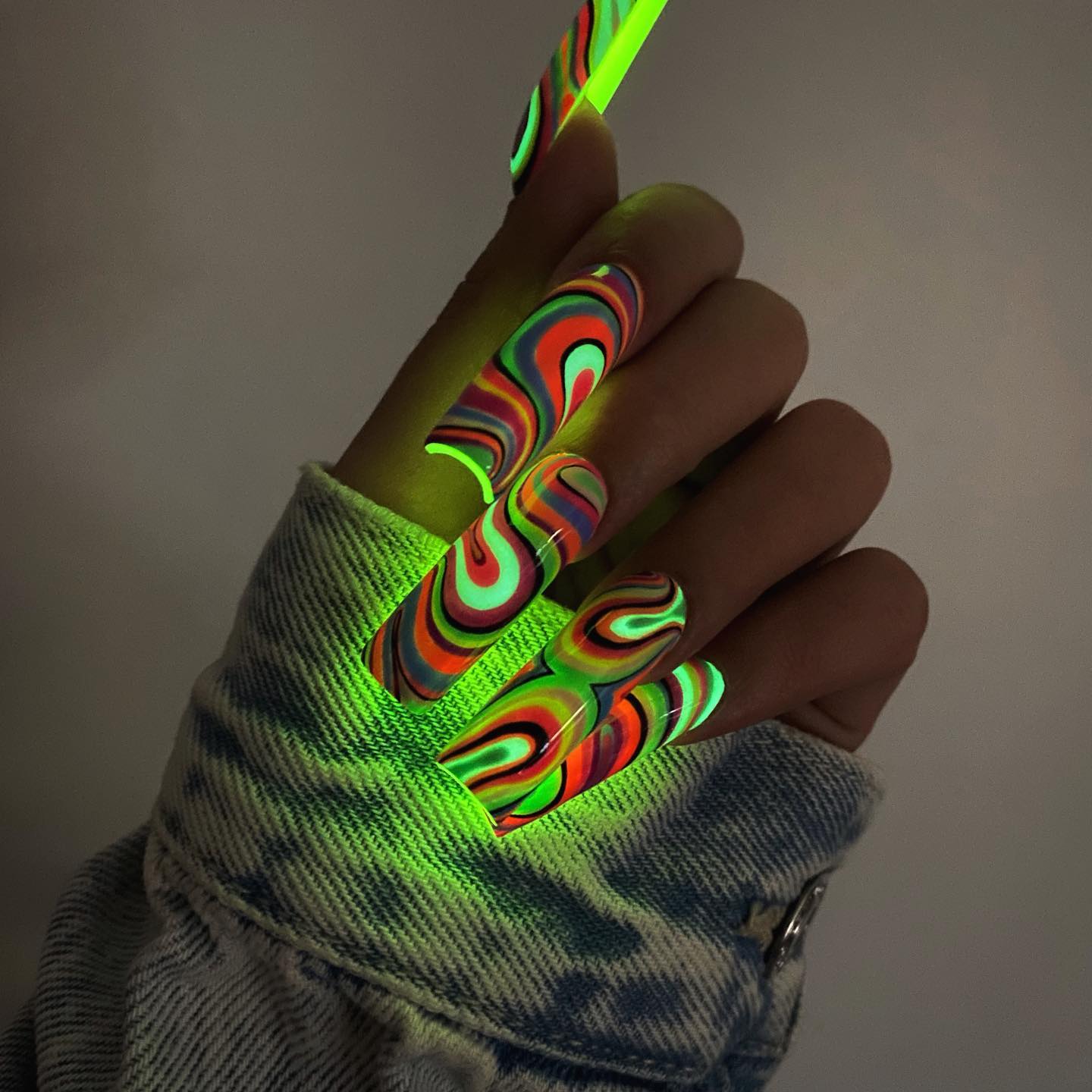 via @nailz_by_arabia
Play around with black lights and have a top coat of fun with acrylic glow-in-the-dark nails. They'll last for at least two weeks, so show off your fingernails every chance you get. Get glowing!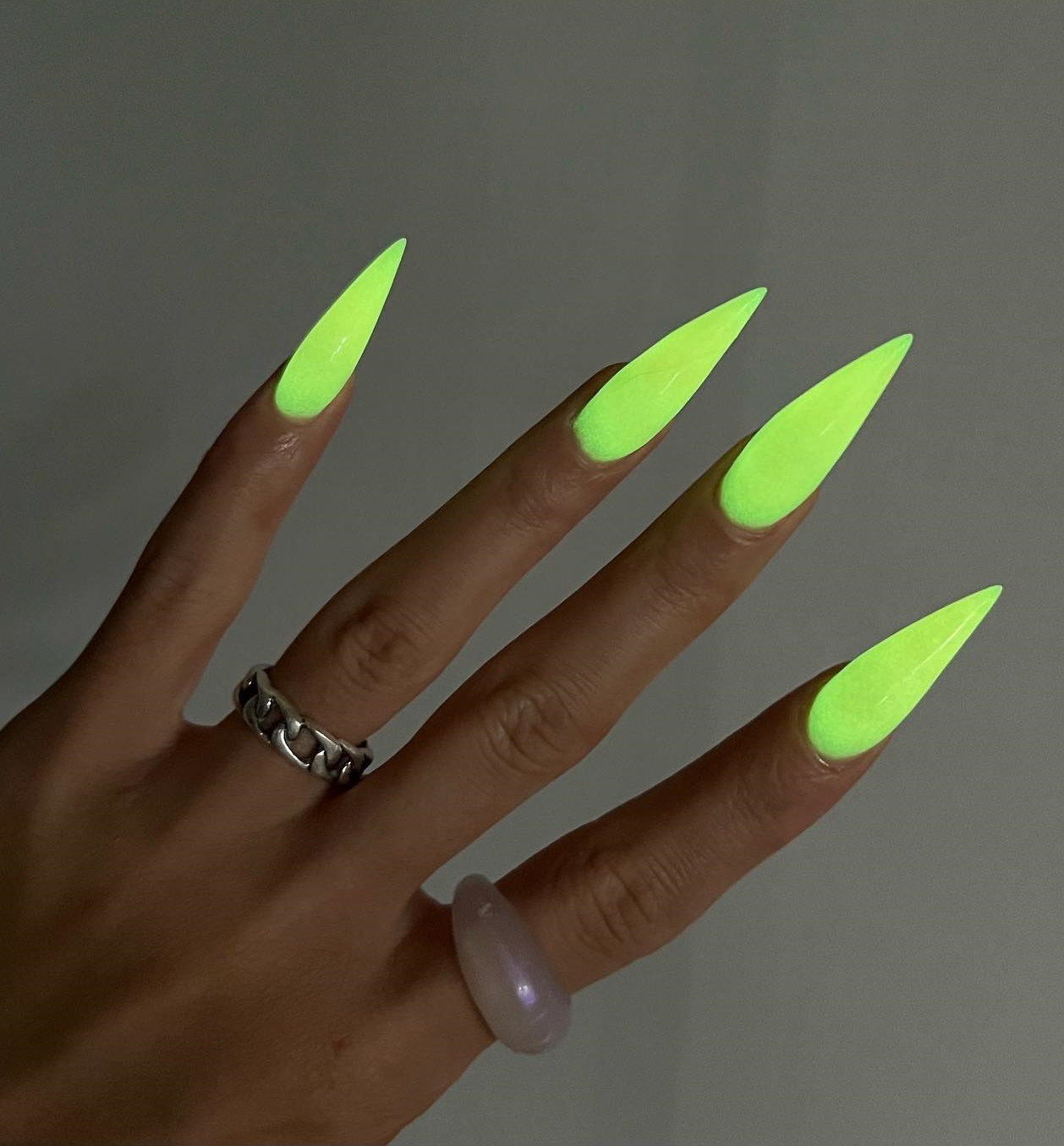 via @baebae__nail
Glitter Glow-in-the-Dark Nail Design Gives you Extra Sparkle for Late Night Events
For a look that sparkles on even the darkest night, glitter glow-in-the-dark nail design is the way to go. This creative nail art involves using long stiletto nails as a sparkly canvas for an unforgettable look. To achieve this statement style, select from a range of glow-in-the-dark sparkly nail colors, then use a delicate brush or art tools to bring shapes and patterns alive against a backdrop of dark acrylic nail polish.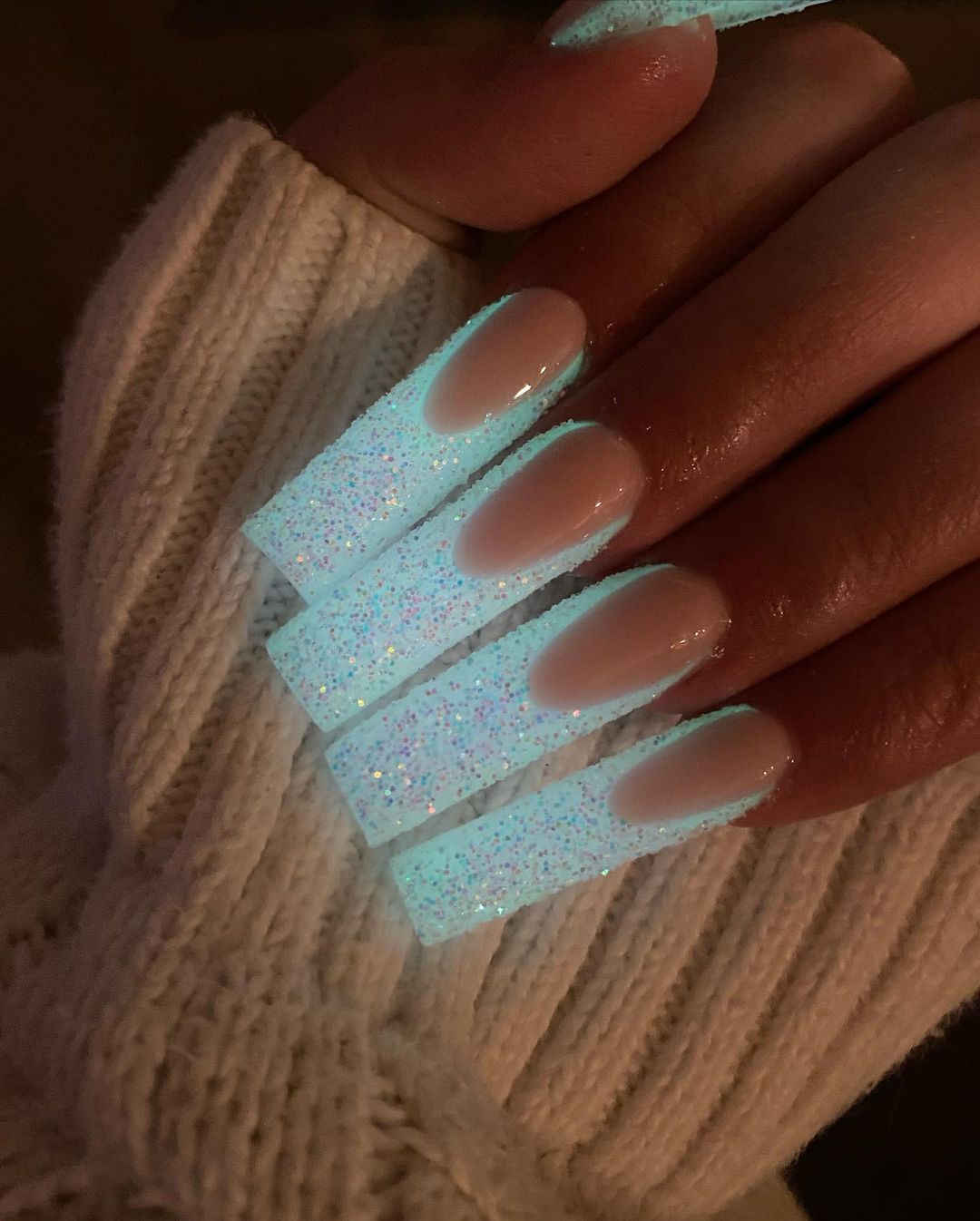 via @miaakayyy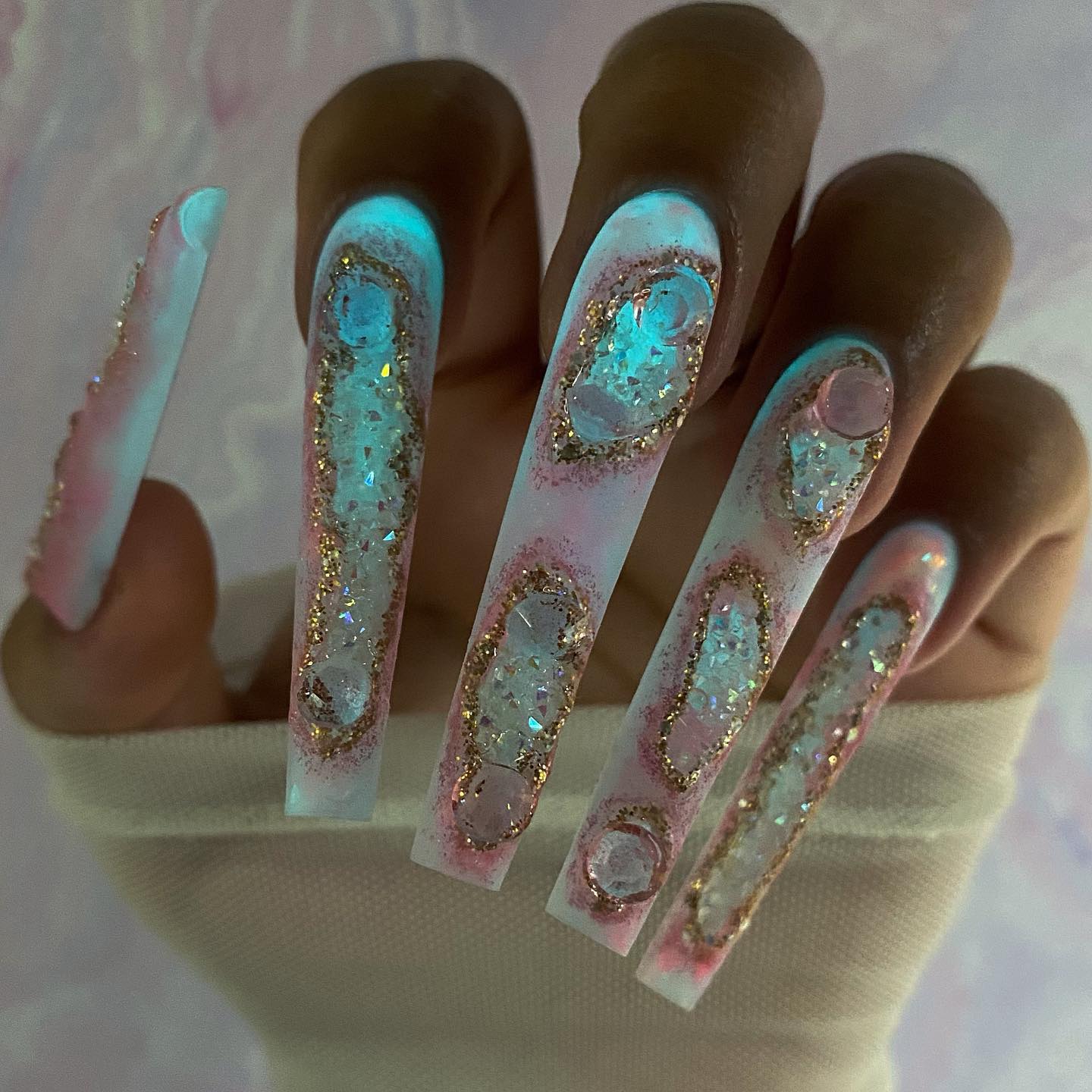 via @maria.bello.13
Get Ready to Turn Heads with Red Glowing Nails
Red nail designs are always a statement for the fashion crowd! From bold red to subtle red, with red-glowing nails, it's time to get creative and have some fun.
via @manisbydesiree
Whether you wear red on all your nails or only one red accent nail, this cute mani experiment will ensure that you stand out! You can choose from different shades of classy red nails for a night out.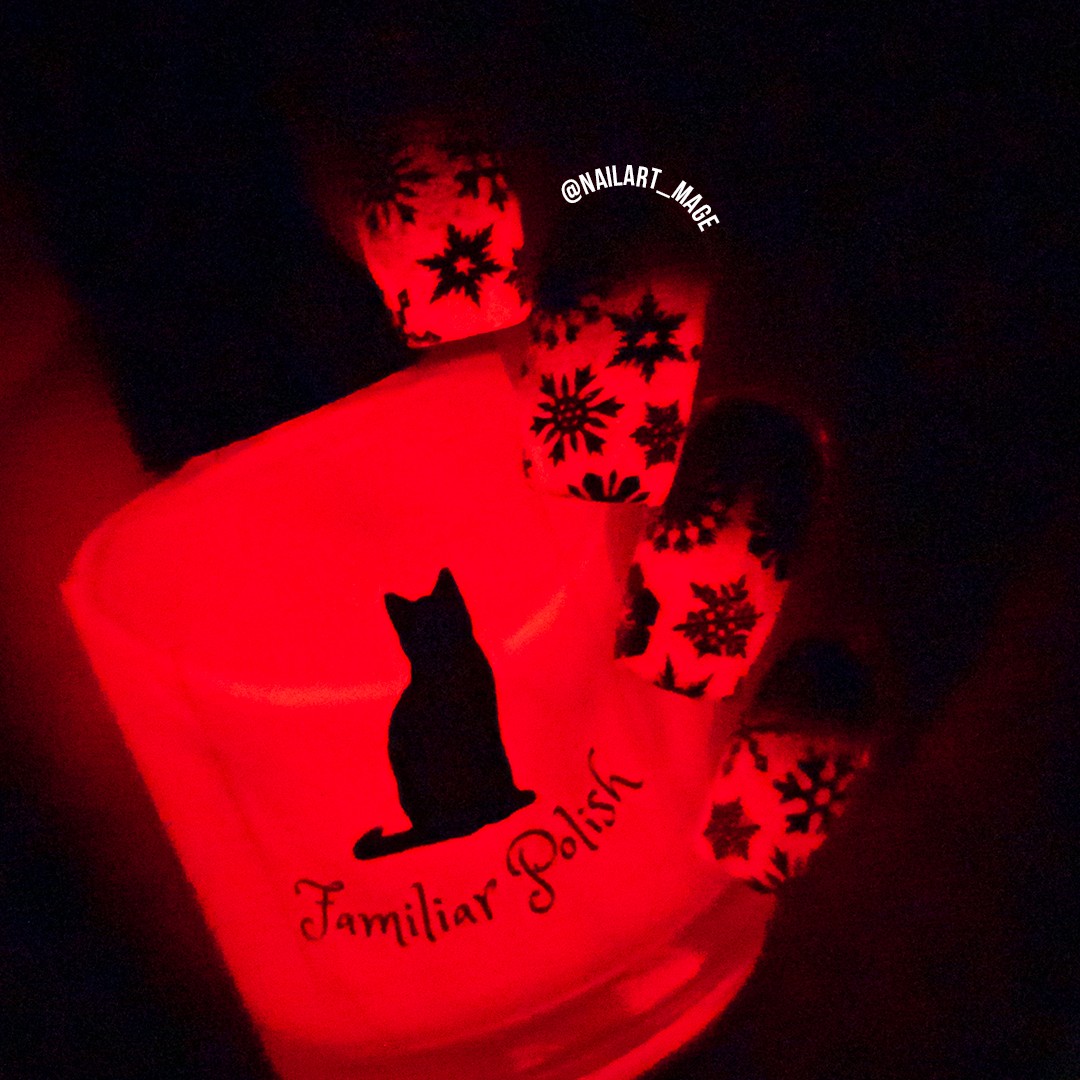 via @nailart_mage
Get Creative with Ombre Glow-in-the-Dark Nails
Ombre glow-in-the-dark nails are a new and exciting way to apply ombre nail designs. Highlight your almond nail shape with a subtle gradient of colors. For example, pastel pink at one end and deep blue at the other are painted with specially formulated glowing nail polish. This creates an especially eye-catching effect that is an easy yet unique way for manicure lovers to get creative with their nail design ideas.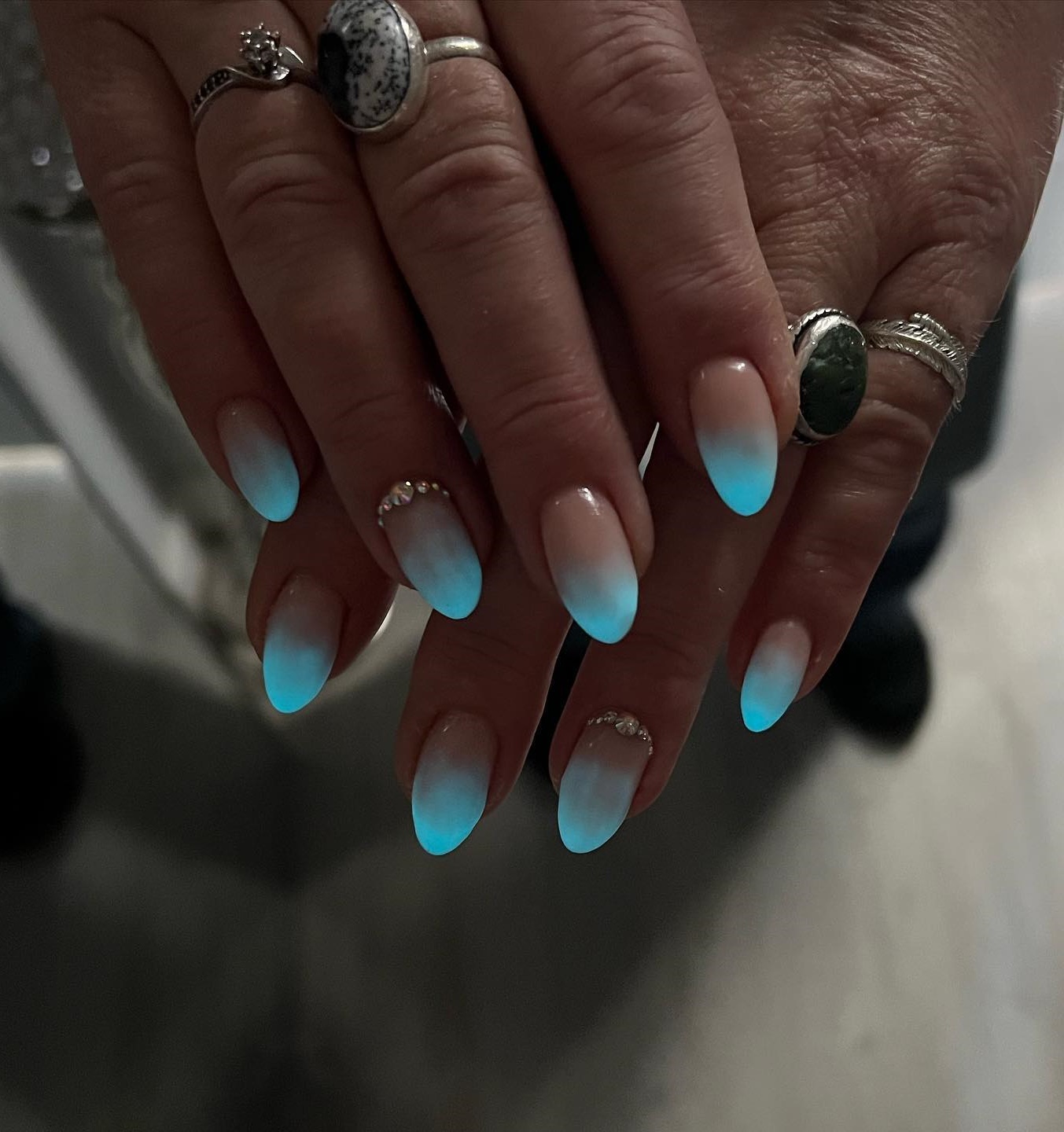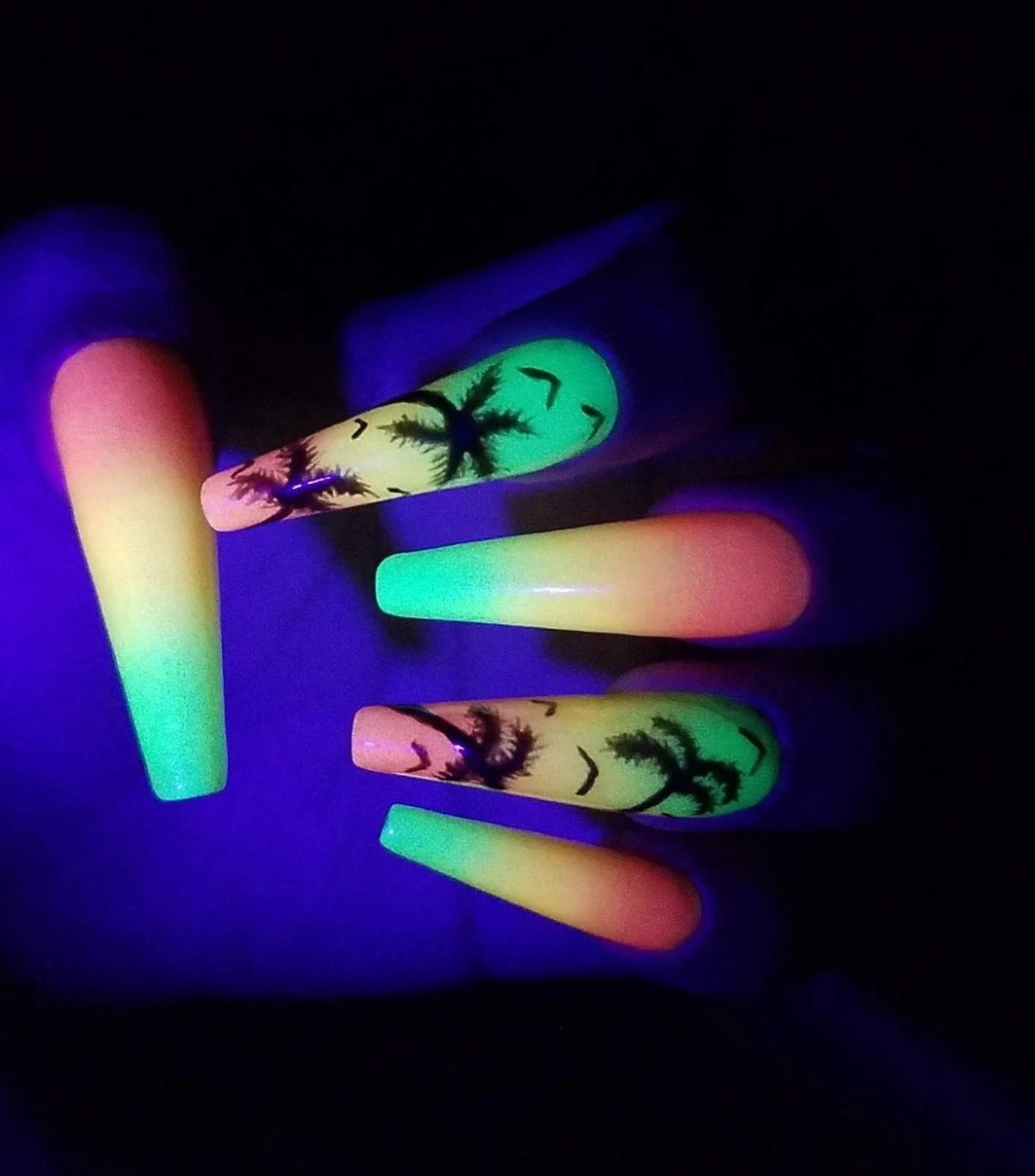 via @sc3_extra.nails
Coffin Nails that Glow-in-the-Dark Are Always Fascinating
Coffin nail designs often make a statement, and coffin nails that glow in the dark are no exception. This unique form of coffin nail art is achieved using glow powder with dark nail polish, then applied to each coffin-shaped nail.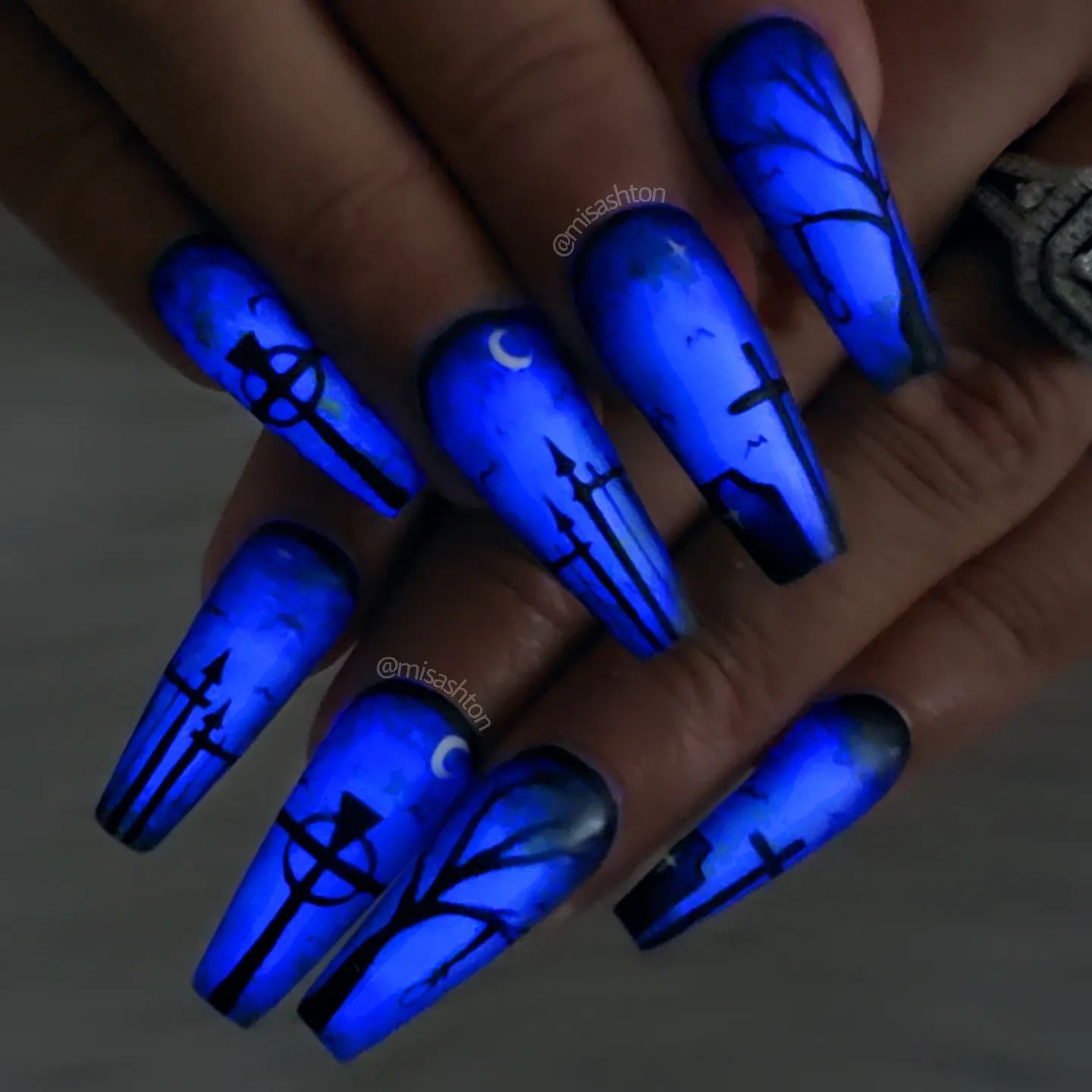 via @misashton
After exposure to UV light for 15 minutes, these nails will remain glowing for up to 1-2 hours, and when the lights are on, you'll have coffin nails that brighten up any room. It's a truly creative way to make your coffin nail design shine in more ways than one!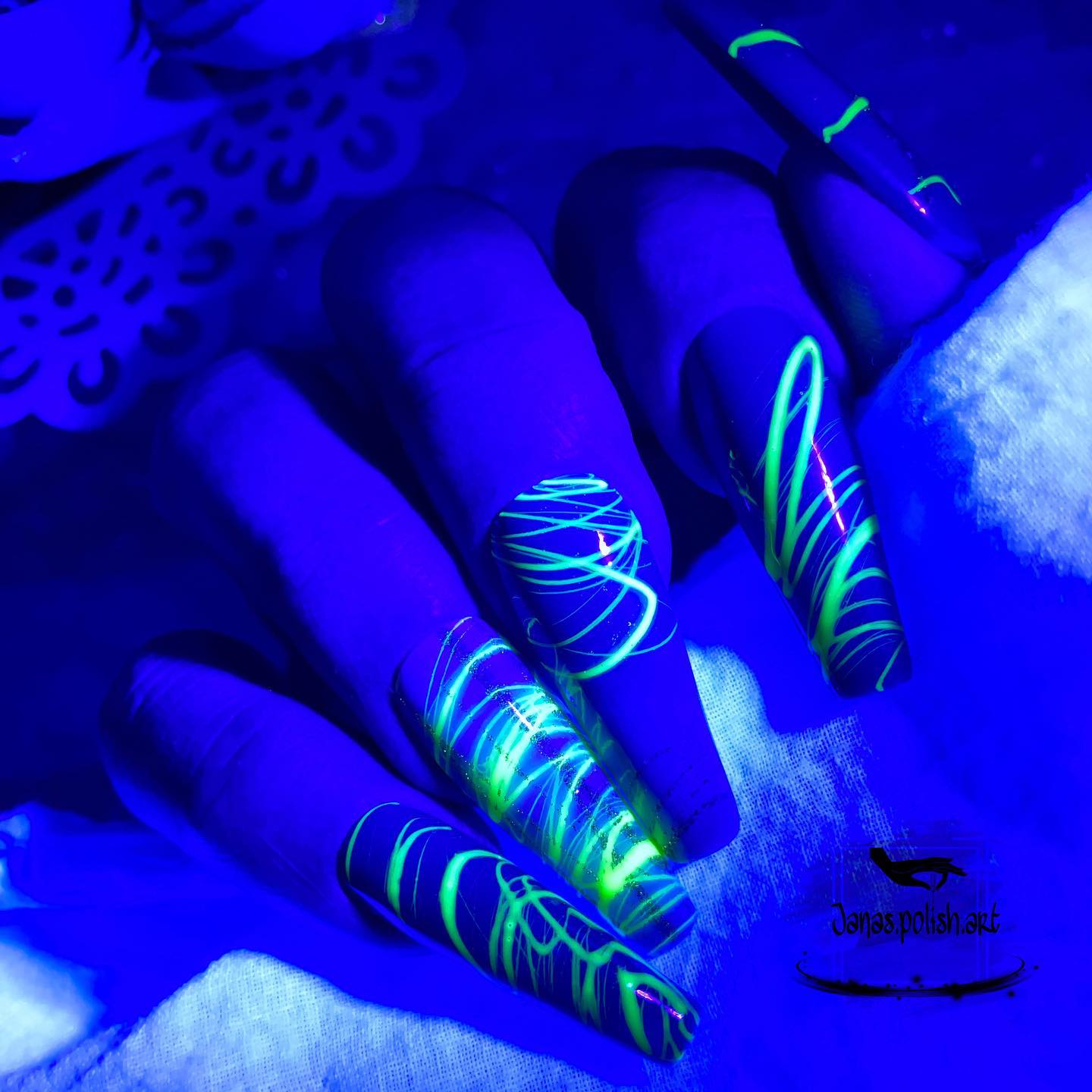 Pink Glowing Nails for a Luminating You
A hot trend for manicures this season is hot pink nails that glow in the dark. This cool, party nail art can be easily achieved with a few simple steps. First, paint on hot pink polish and let your nails dry thoroughly. Next, add a glowing top coat. This will give you long-lasting color with an enchanting luminescence that can light up any nighttime occasion.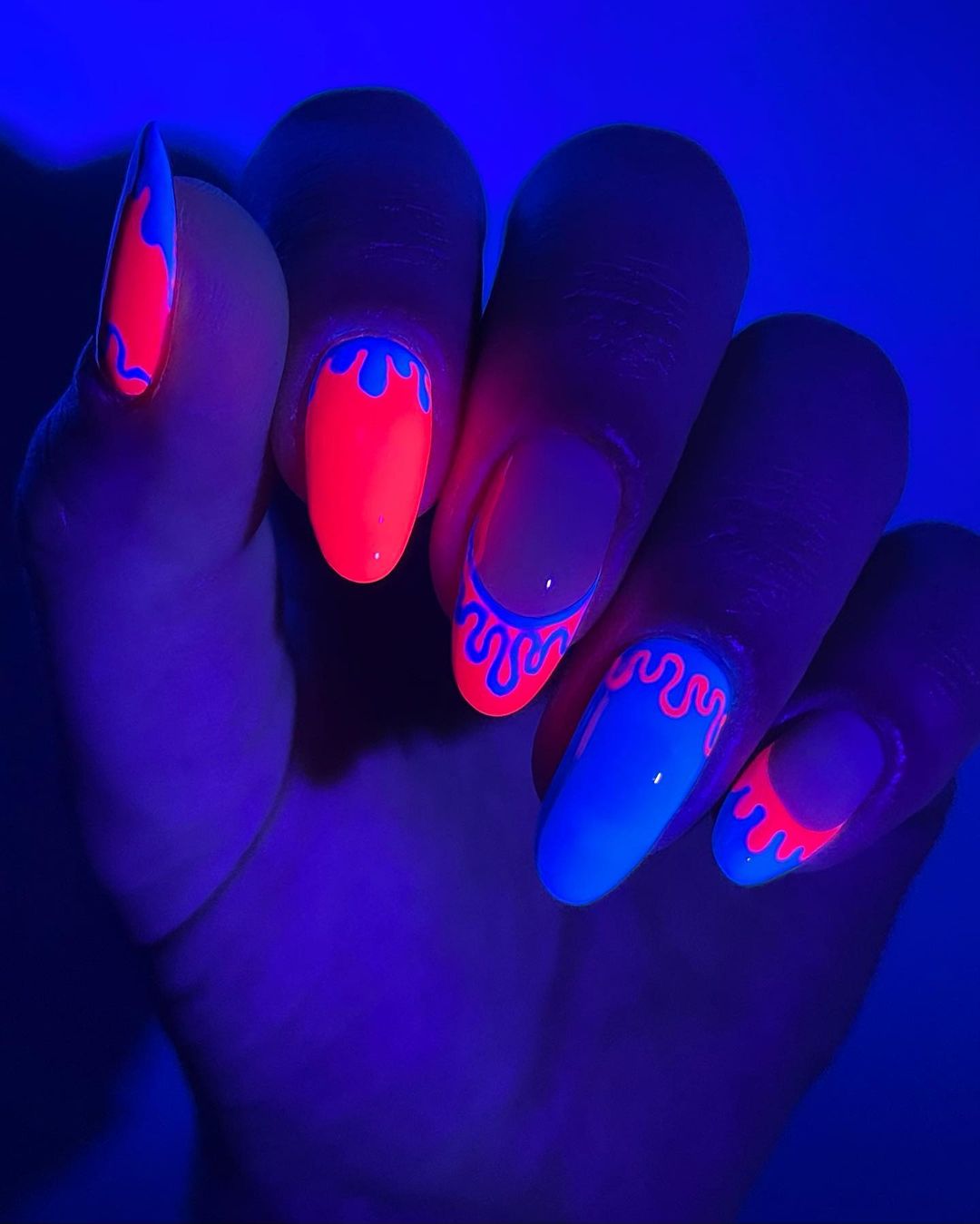 via @bugnails
Go wild and be daring with your hot pink assortment for an eye-catching finish everyone will admire.
French Manicure – If You're Looking for Sophistication
A French manicure is a timeless classic, especially for short square nails, that involves painting nails with a neutral color, such as pale pink or beige, and applying white paint to the nail tips.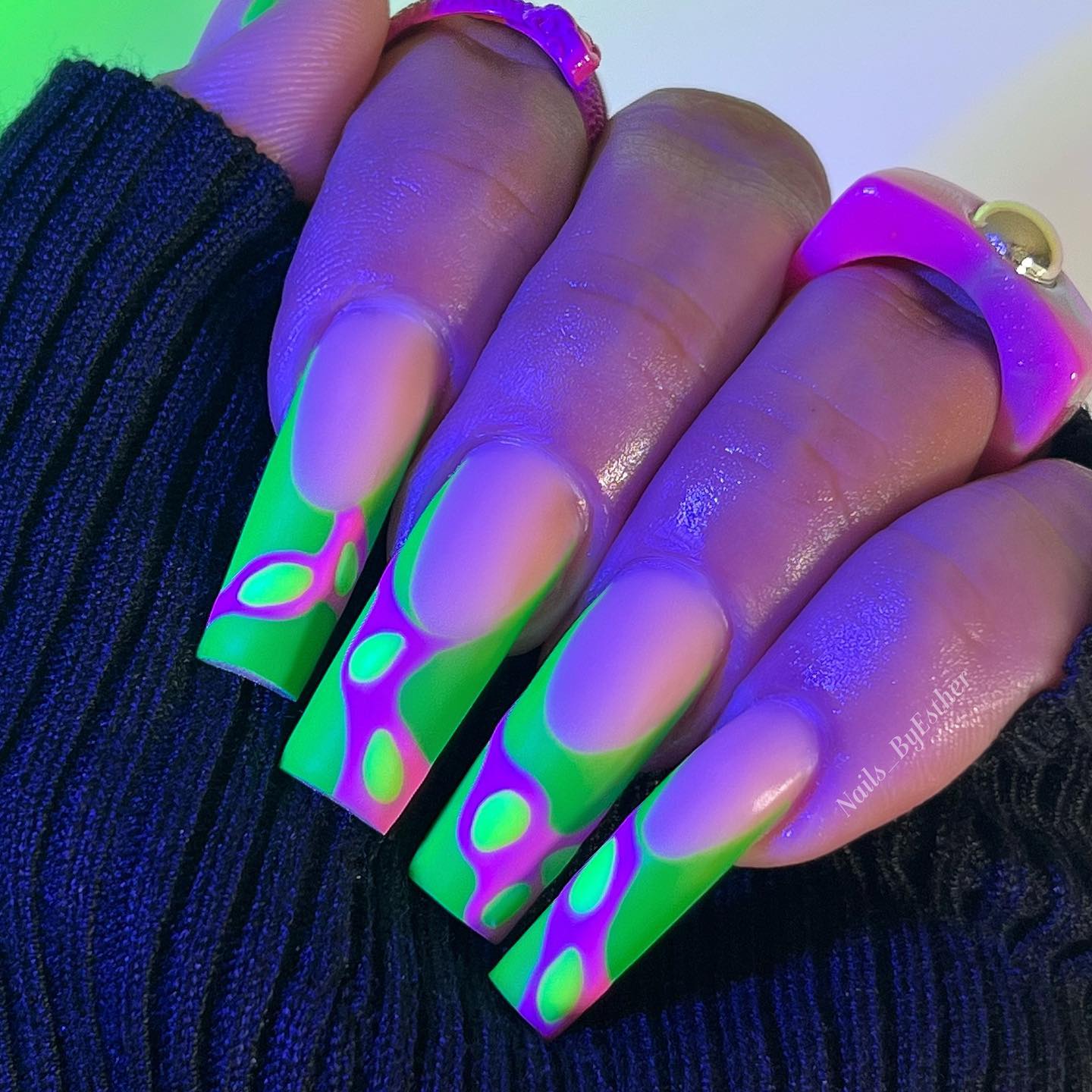 via @nails_byesther
It's a low-key look that adds sophistication without taking over your entire outfit. Those who want to add a bit of pizazz to the traditional French style can get glow-in-the-dark French tips.
Whether you choose the original French Manicure design or an updated version with different colors on the fingernail tips, you can't go wrong when it comes to feeling classy and stylish.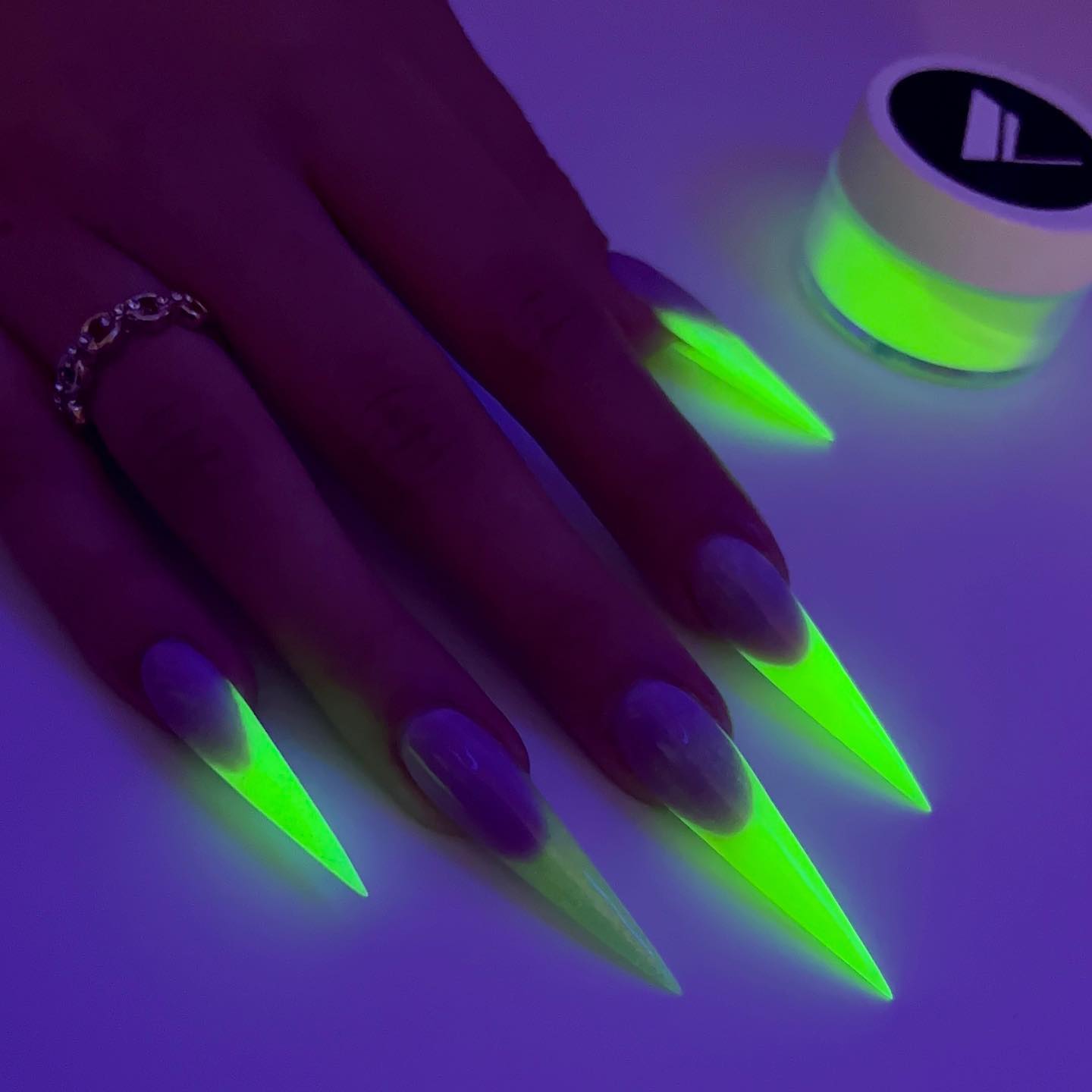 via @nailsbyalma_
Short Glow in the Dark Nails Add Pizzaz to Your Overall Look
With short nails, neat nail designs can take a lot of work. Thankfully, an easy solution like glowing nail polish is now available. It is one of the best short manicure ideas for any event.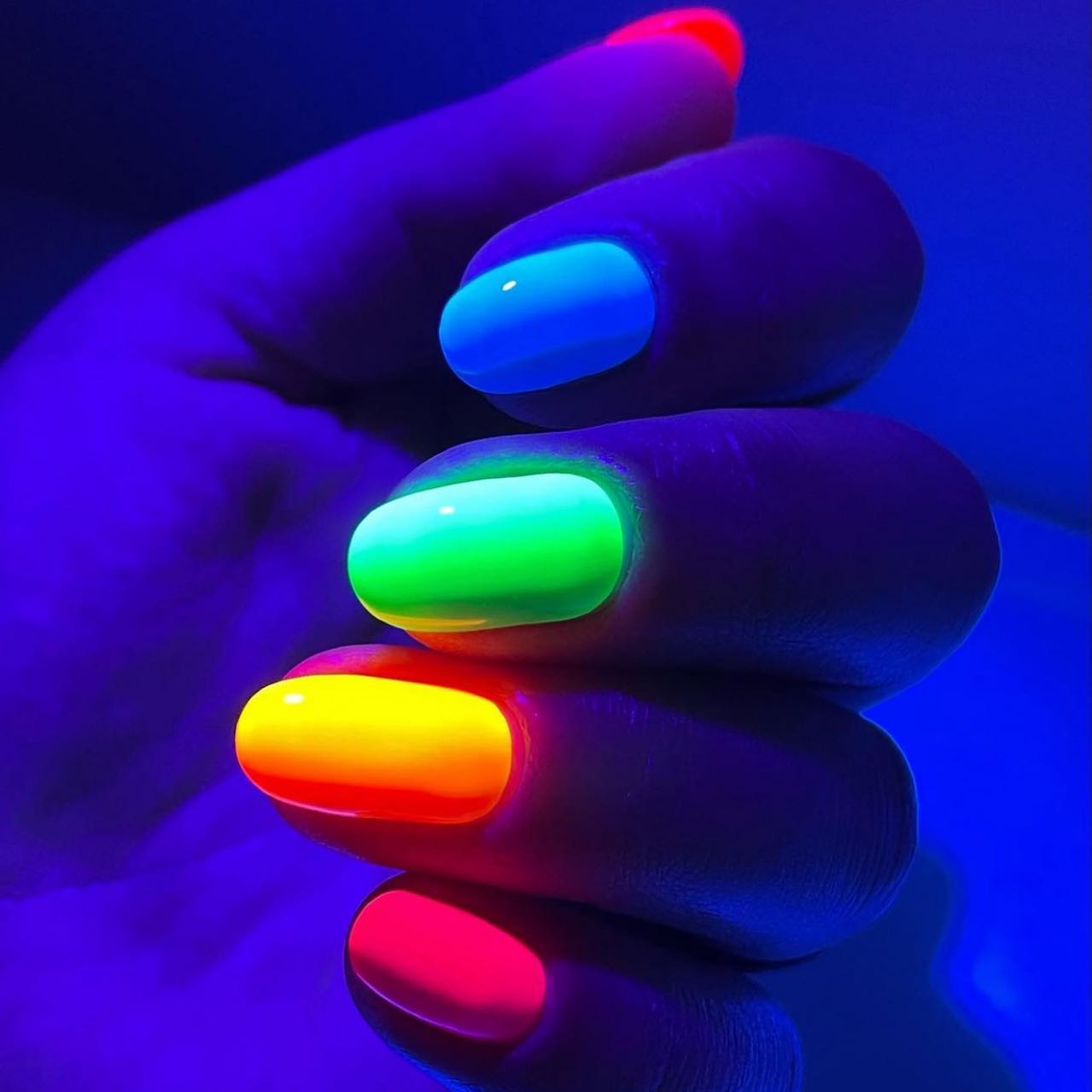 Using glowing nail polish on its own or with stickers, you can create a neat and creative design that looks fascinating. Although there is an initial effort to prepare the base needed for the effect of glowing nails, investing time into this trend can pay off with a long-lasting, striking effect.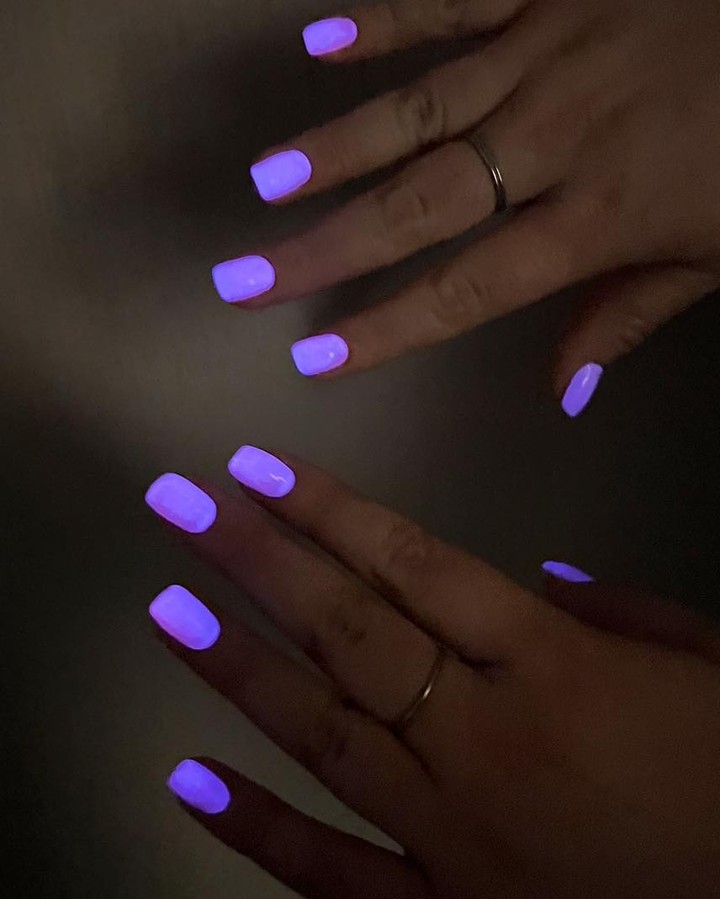 Blue Glowing Nails Are Electrifying
Blue glowing nails have become increasingly popular in recent years. This type of manicure gives off a long-lasting blue glow and has become edgy for people with any nail shape and length to express their personality. Achieving this nail look is easy- mix glow-in-the-dark blue pigment with clear nail polish and apply two coats on your nails for an electrifying effect.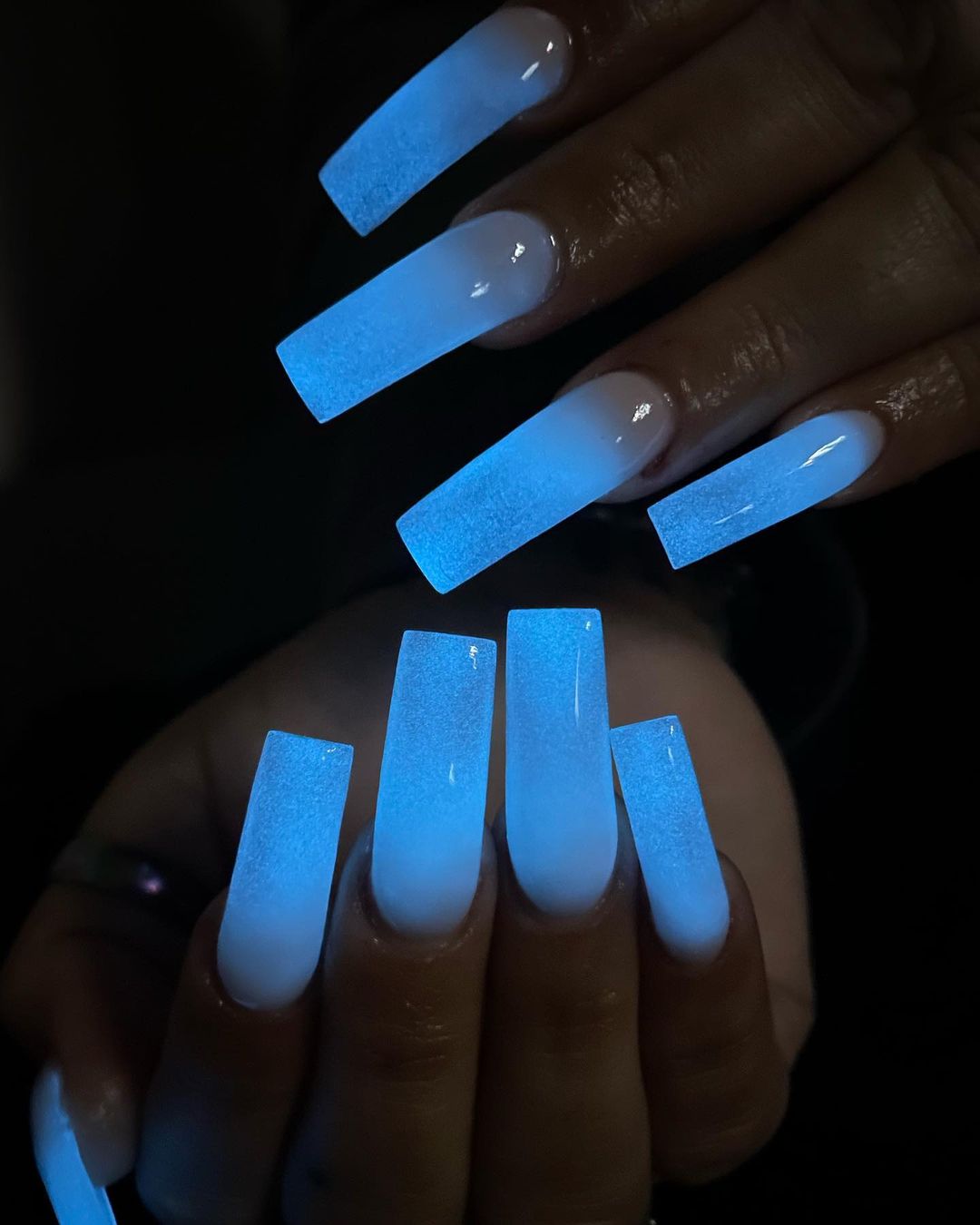 via @nailslayandfacebeat_bykennya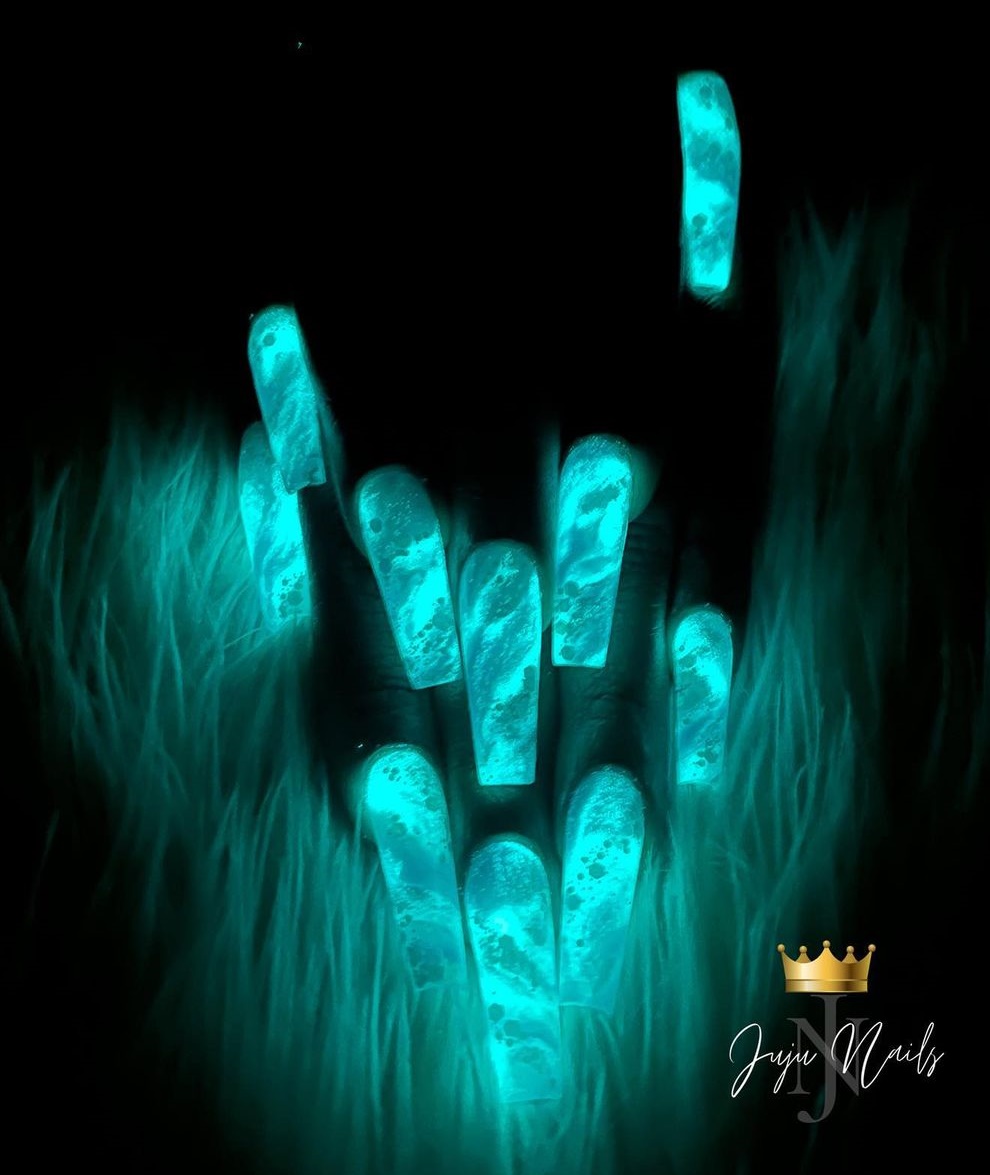 via @jujunails217
Get Soft White Glow with White Glow in the Dark Nails
White glow-in-the-dark nails are the new trend in nail art. To create this look, the nail artist will apply white nail polish on your nails and then lock this layer with a glow-in-the-dark topcoat.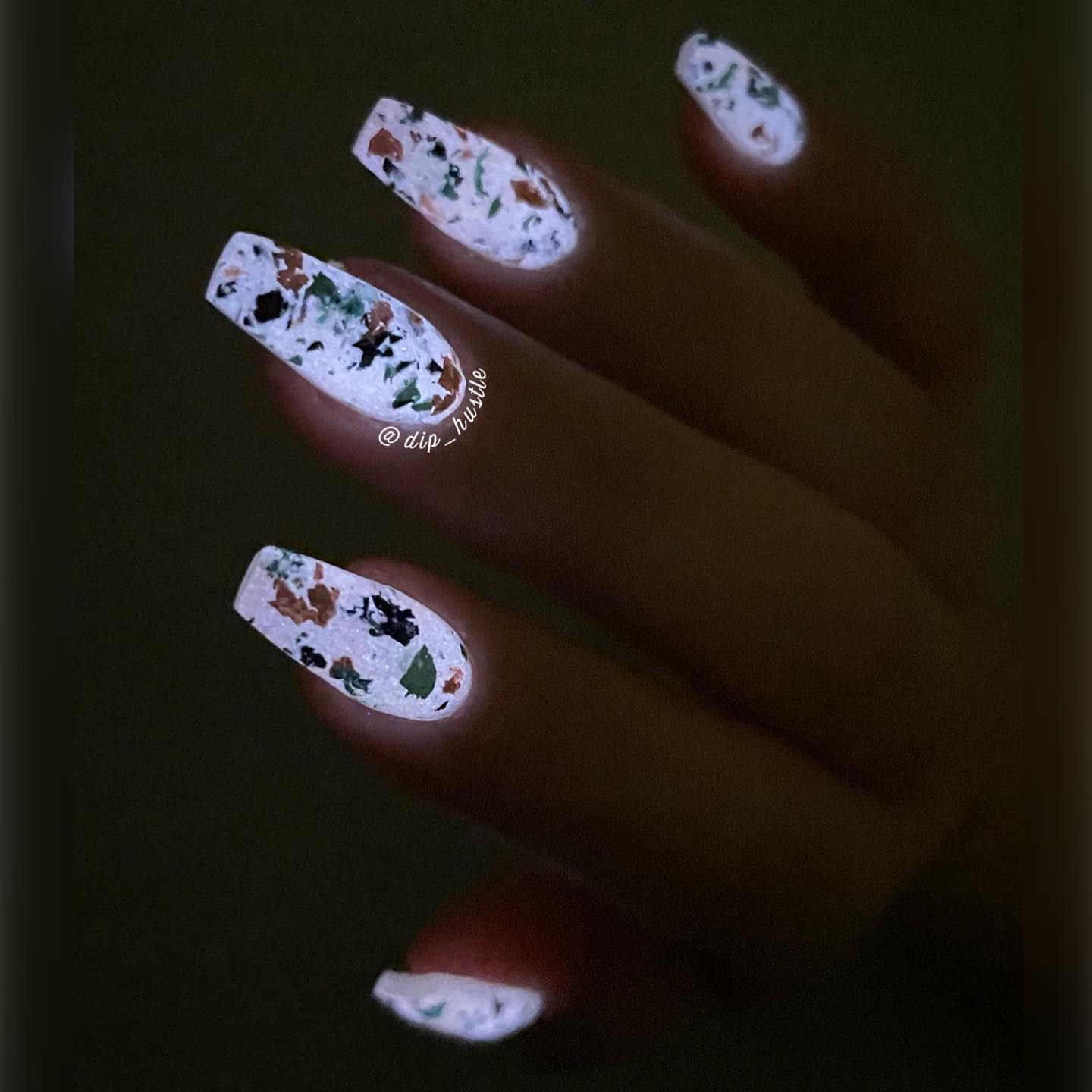 via @dip_hustle
Alternatively, they can use a mixture of glow-in-the-dark white pigment and clear nail polish to give your nails a soft white glow. You can enhance your white nail designs with rhinestones and get that unique effect!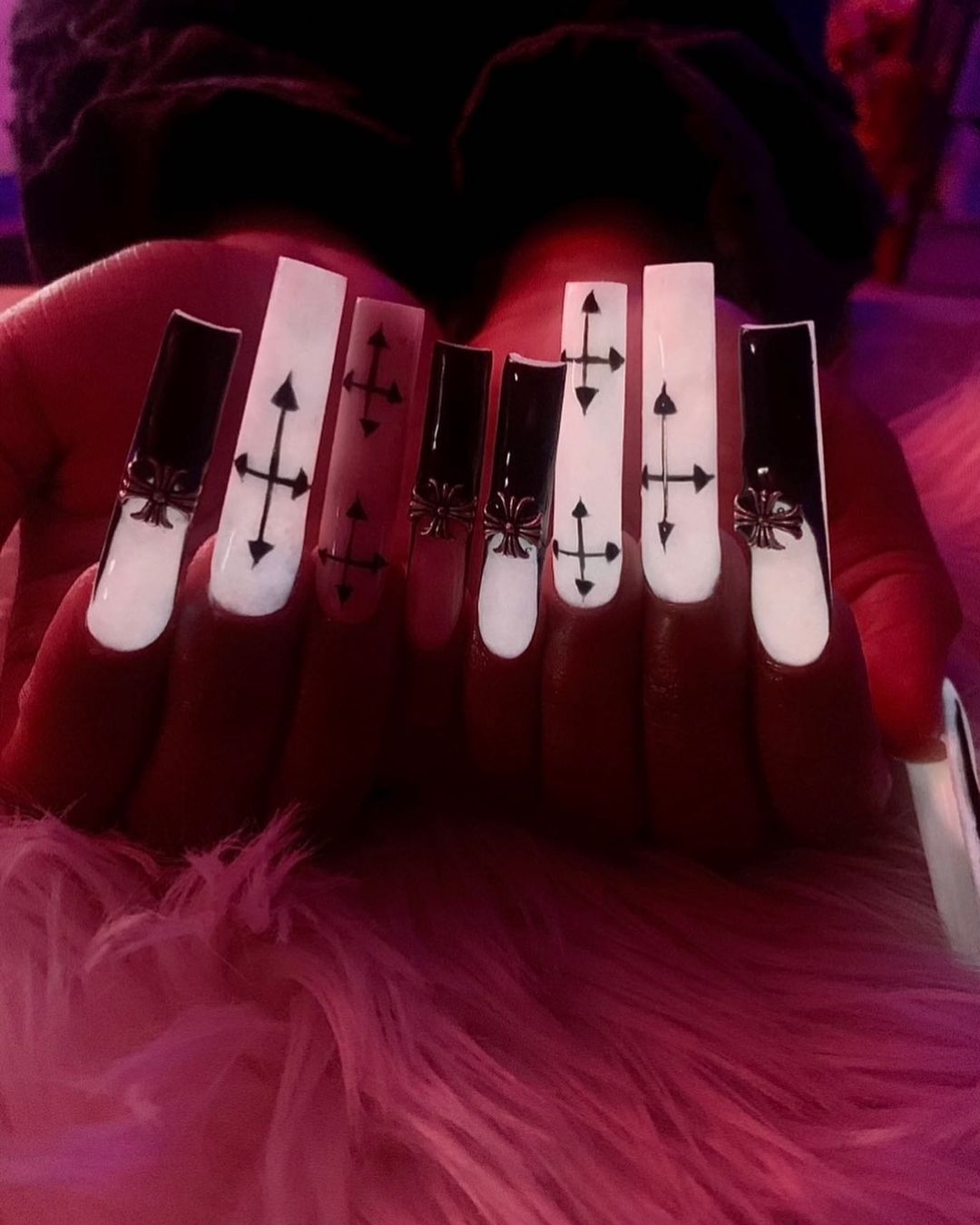 via @lileynails
FAQ
How long do glow-in-the-dark nails last?
You can flaunt your glow-in-the-dark nails for at least two weeks, depending on the quality of nail polish you use and how well you maintain them.