Are you bored with your everyday nail look? If yes, then add butterflies to your nail art! The lovely butterfly nails evoke happiness and always keep you revived.
There are numerous color options available for butterfly short or long nail designs. The butterfly manicure is perfect for casual days and even for special occasions. Unlike many other nail art designs, you can get it easily and quickly.
Check out these beautiful butterfly nails to make you trendy this season:
Fun & Feisty Butterfly Acrylic Nails
If you're looking for the perfect butterfly nails to set the trend, look no further than acrylic coffin butterfly nails! These fun and feisty nails will have everyone asking where you got them.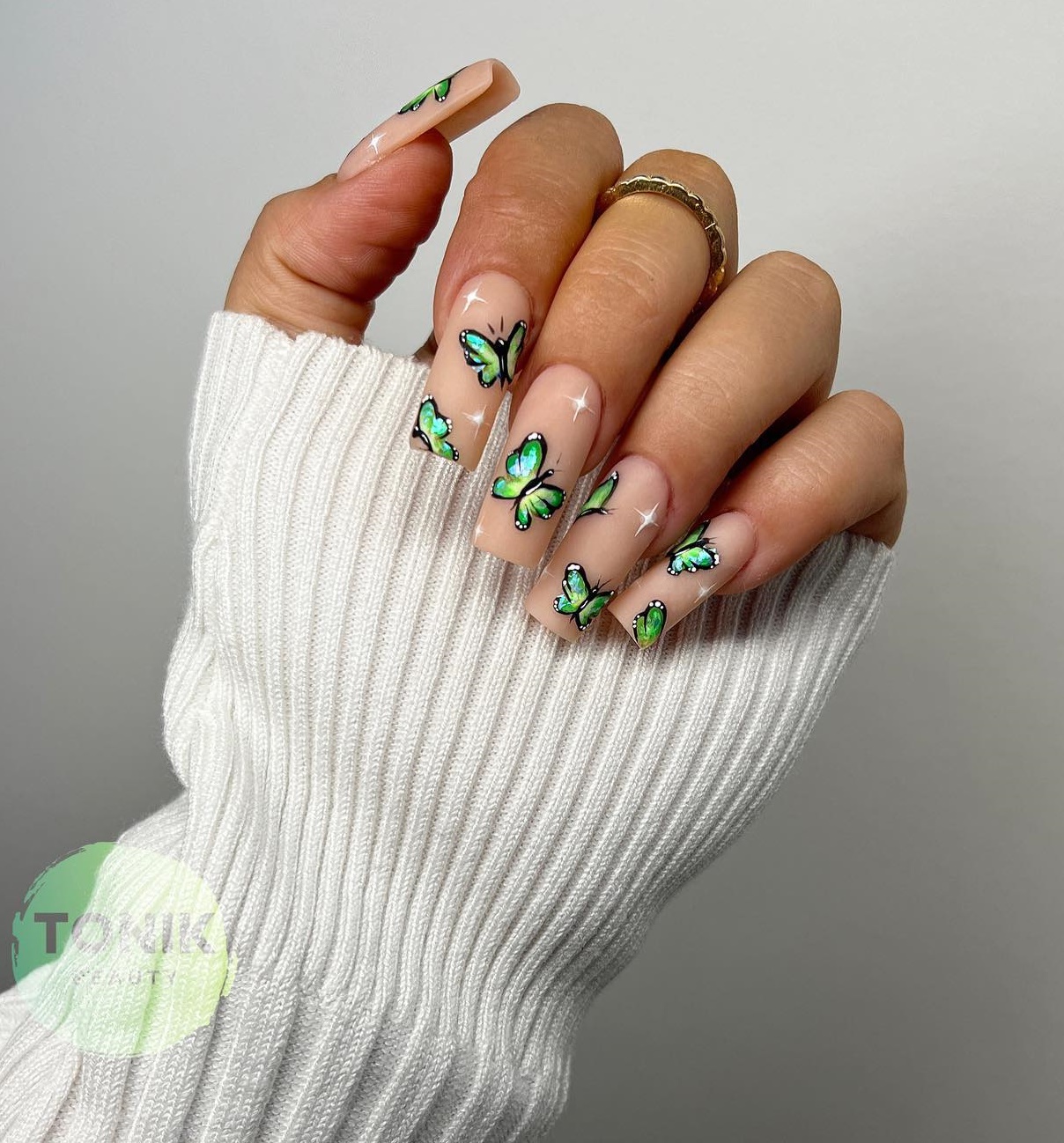 via @_tonikbeauty_
The acrylic base of the coffin nail has been shaped to resemble a butterfly with intricate details and unique patterns, making them an effortless conversation starter. Whether you choose glittery or pastel nail designs, these acrylics will make your butterfly wings take flight!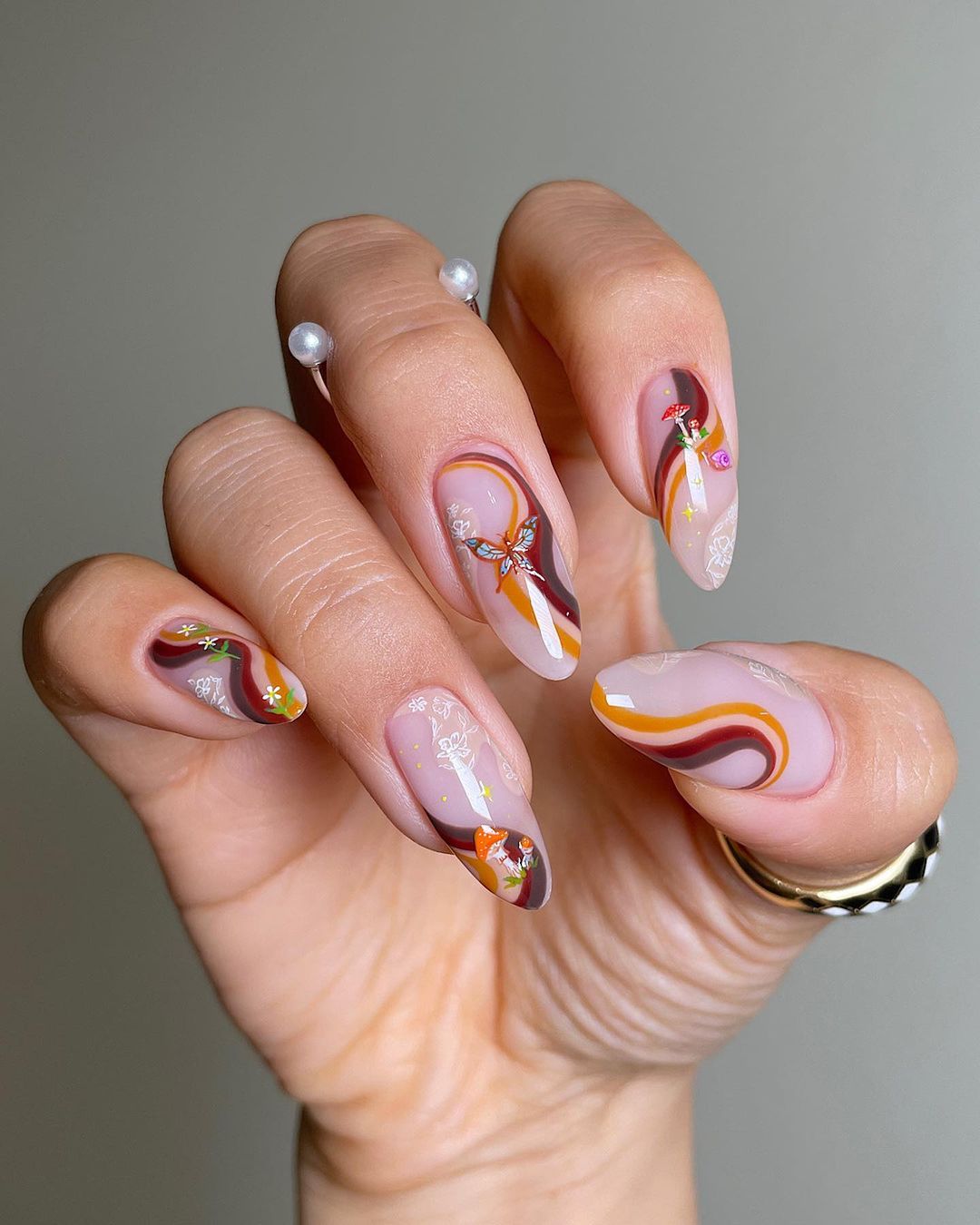 via @sansungnails
Short Butterfly Nails Are Dainty & Graceful
Butterfly short nails are the perfect way to dress up any look. With butterfly wings in a full flutter, you can paint on a touch of sophistication with blue butterflies on your nails. Every nail move will be dainty and graceful, like a butterfly flitting through the garden flowers in the summertime. Whether heading out to a party or running errands, leave a sparkle of butterfly beauty behind.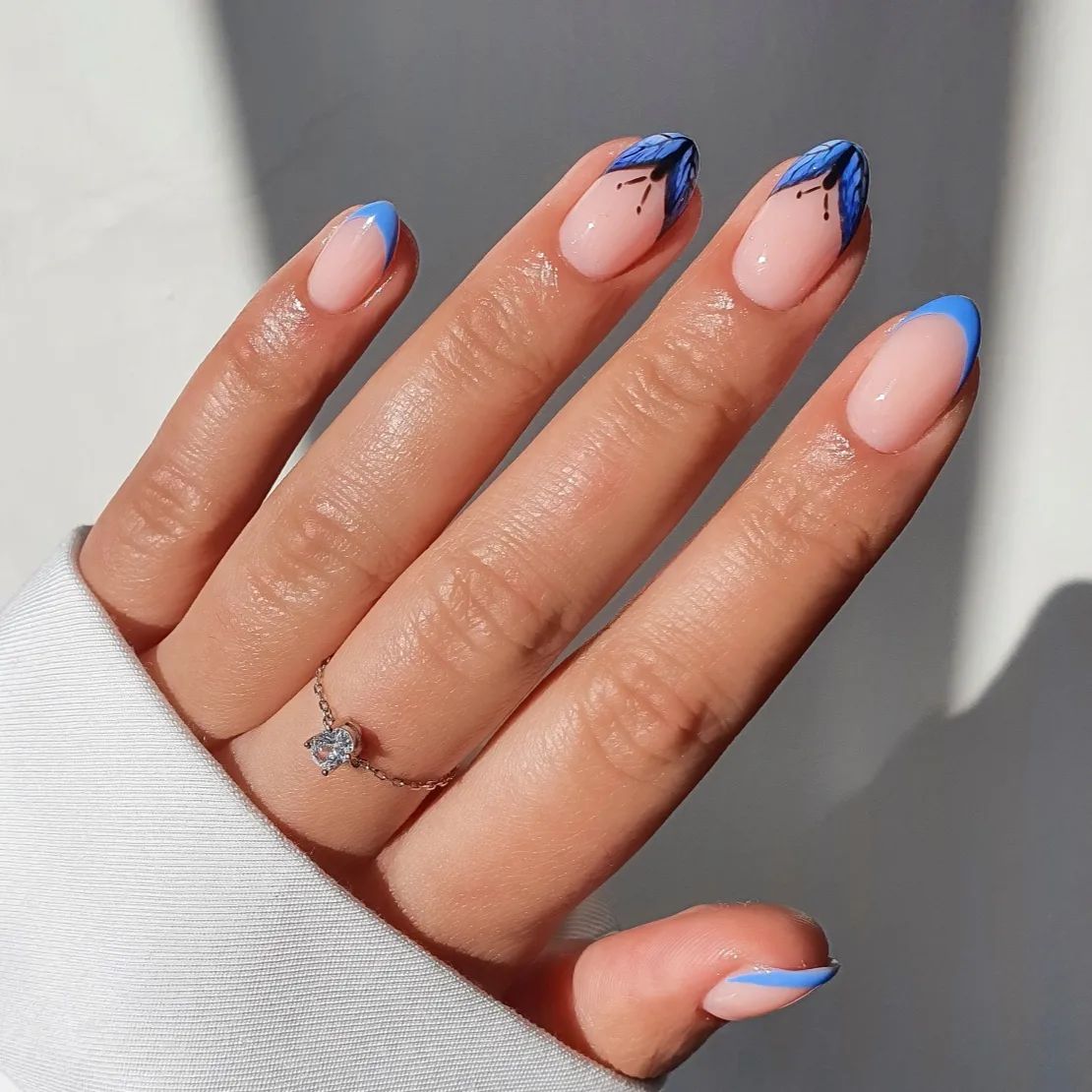 via @nailsbyravi_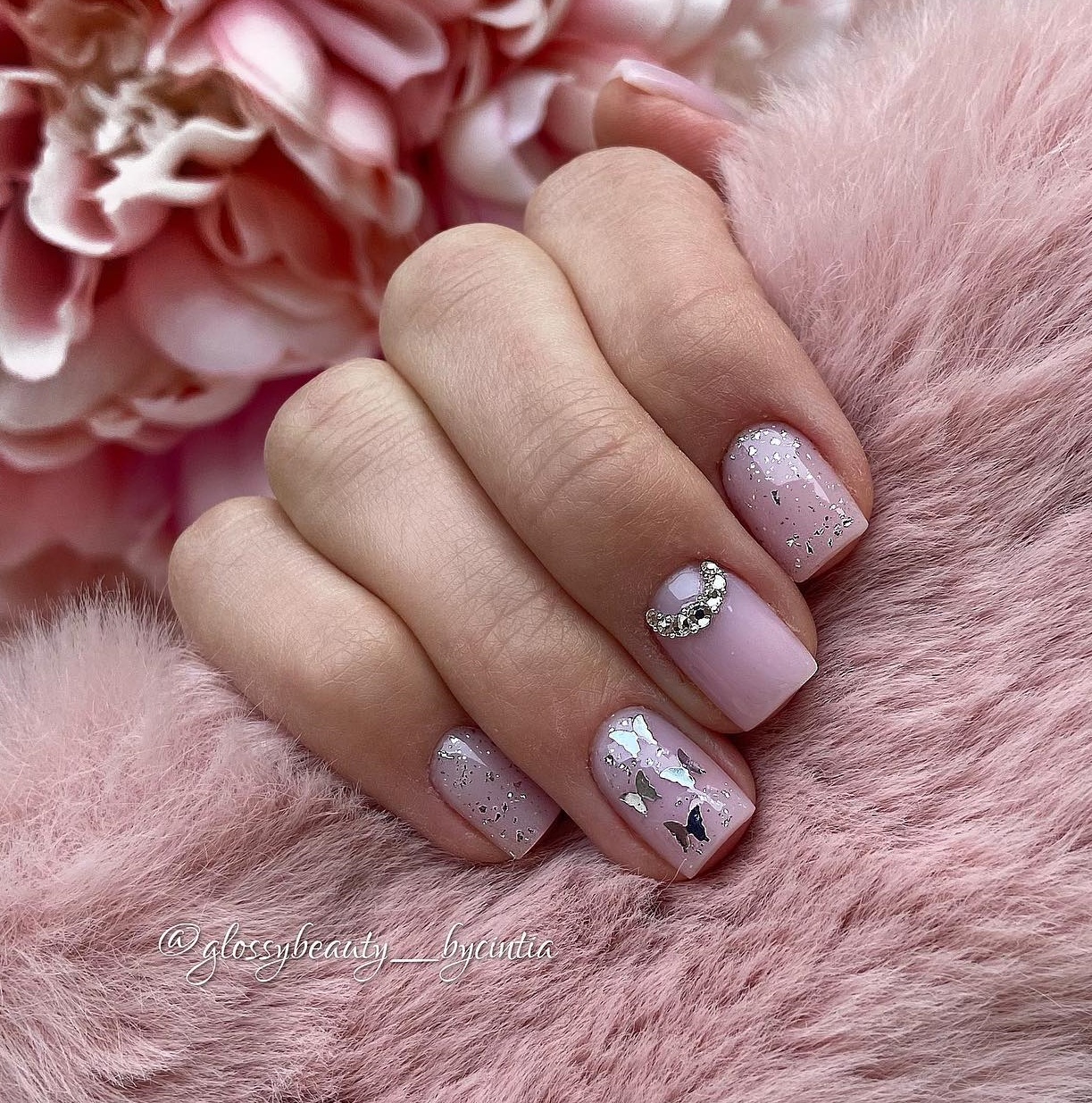 Find Your Style with Long Butterfly Nail Designs
If you are looking for inspiration for your next nail appointment, you should look no further than long white butterfly nails! It is one of those long-nail ideas that can be dressed up or down, perfect for any occasion. Plus, with so many creative patterns and colors to choose from, you can find the ideal design to show off your style.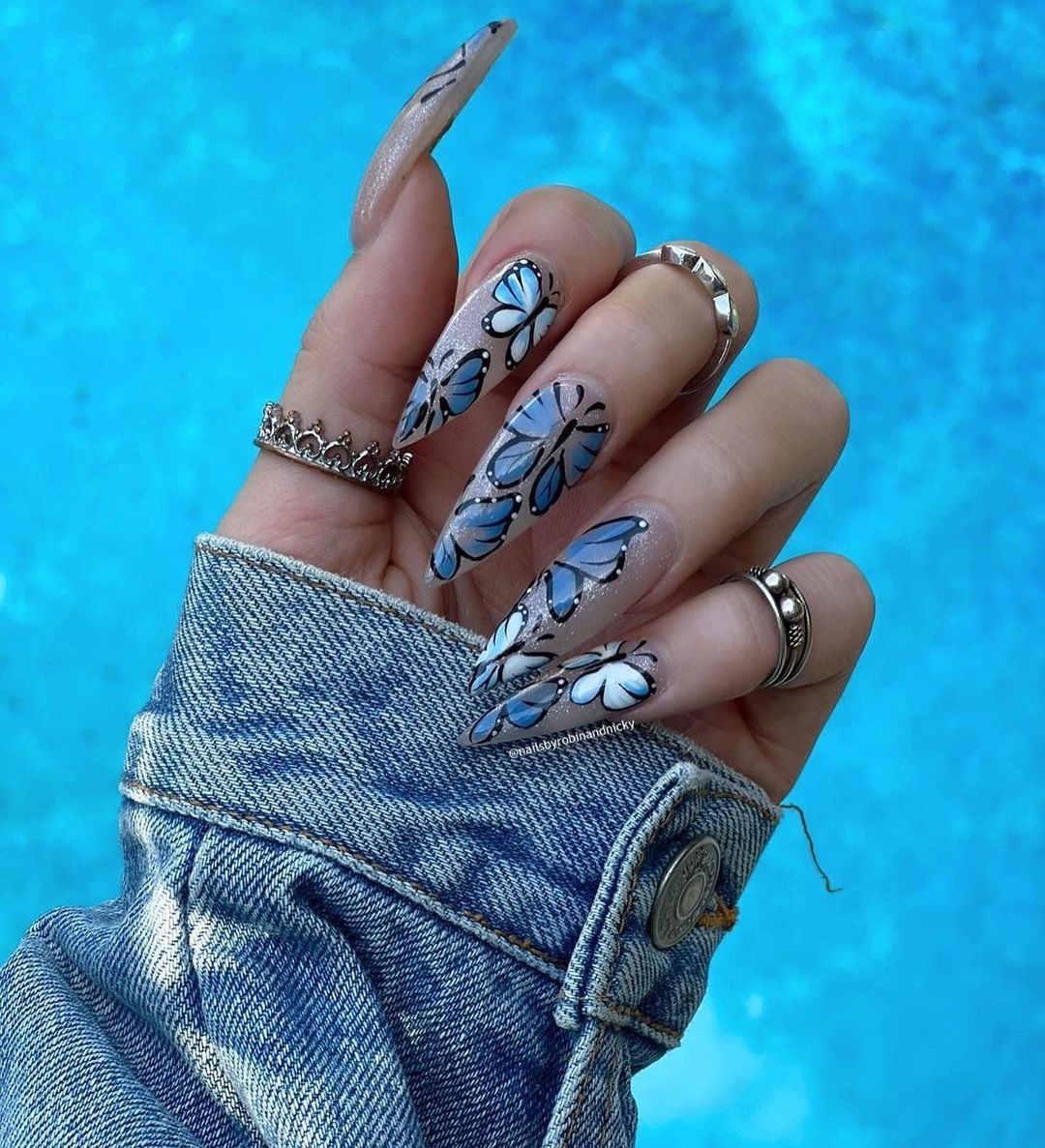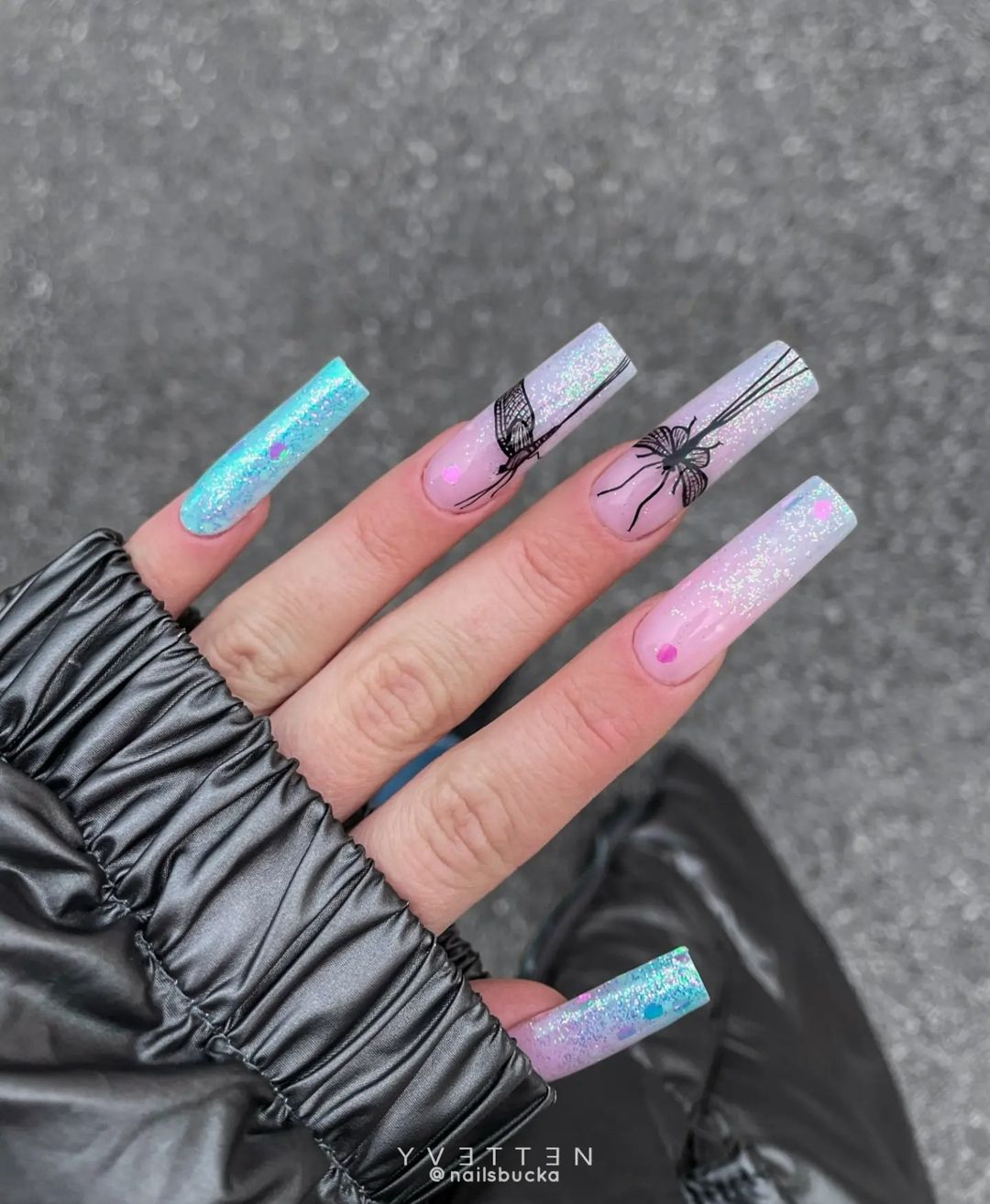 via @nailsbucka
Go as Creative as You Can With Coffin Butterfly Nails
If you love coffin-shaped nail designs, you should try butterfly nail art this time.
via @minea.nails
The coffin nail shape gives plenty of room to play around with the design and provides a perfect backdrop for adding any number of intricate touches. You can go for pink butterfly nails with a cream accent nail. Add in some glitter or tiny jewels for an amplified effect, and you'll be sure to turn heads wherever you go with your new long nail art!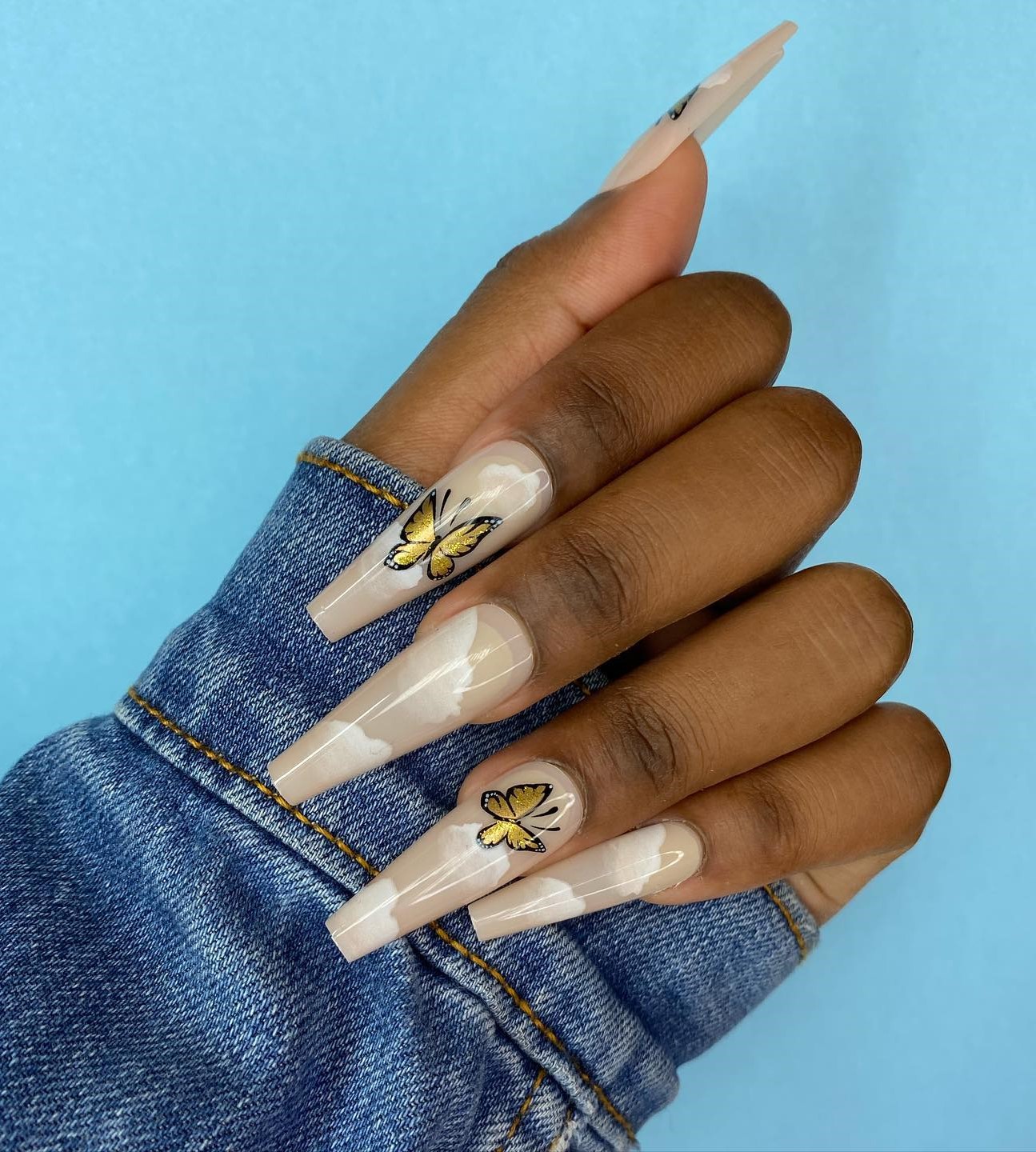 via @naildrip.africa
Almond Butterfly Nails Output Feminine Vibes
An almond nail shape provides an elegant twist to natural nails by adding a vertical almond-like tip giving it a gentle and feminine look. To make almond butterfly nails stand out, you can get creative with colors, such as adorning them with your favorite shade of blue and adding exquisite butterflies or floral-themed artwork for an extra special touch. Once completed, these almond-shaped blue butterfly nails will make you feel like a diva!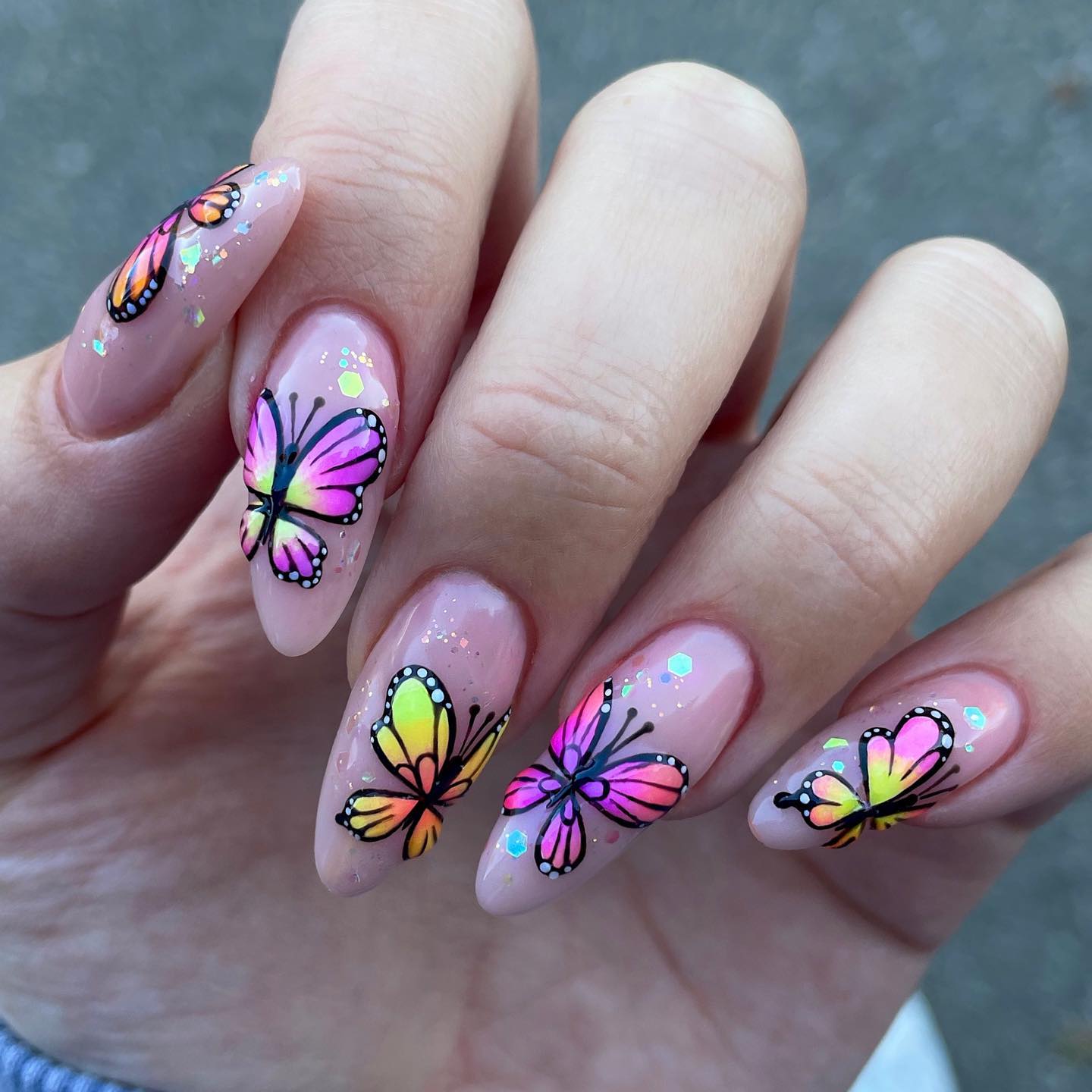 via @cdanails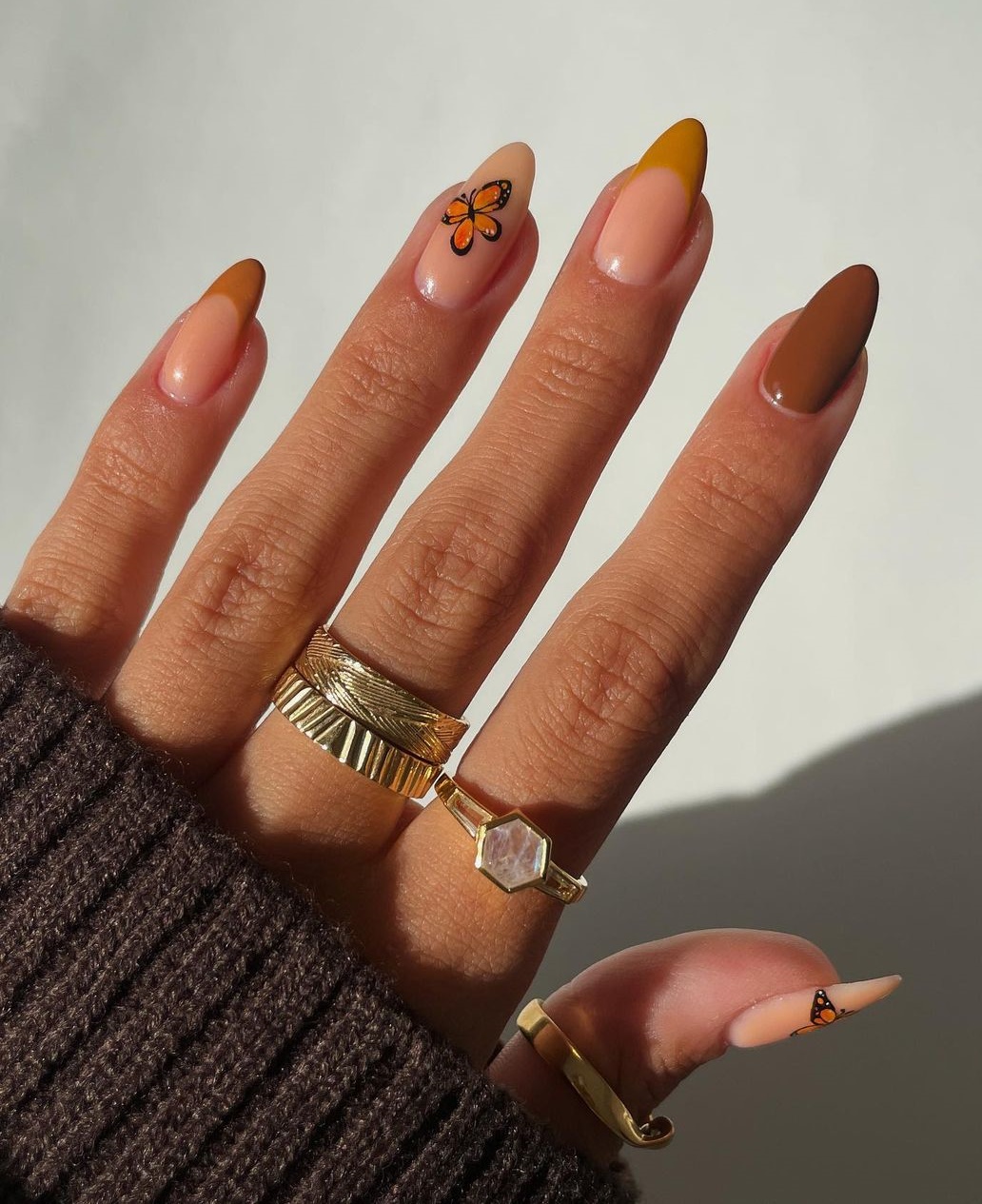 Square Butterfly Nails Are Always Enviable
Let your cute short square nails show off their beauty with a butterfly nail design. They look so fresh and flirty. Get creative with this trendy nail style and paint tiny little butterflies across all 10 of your nails to make them look as cute and summery as ever.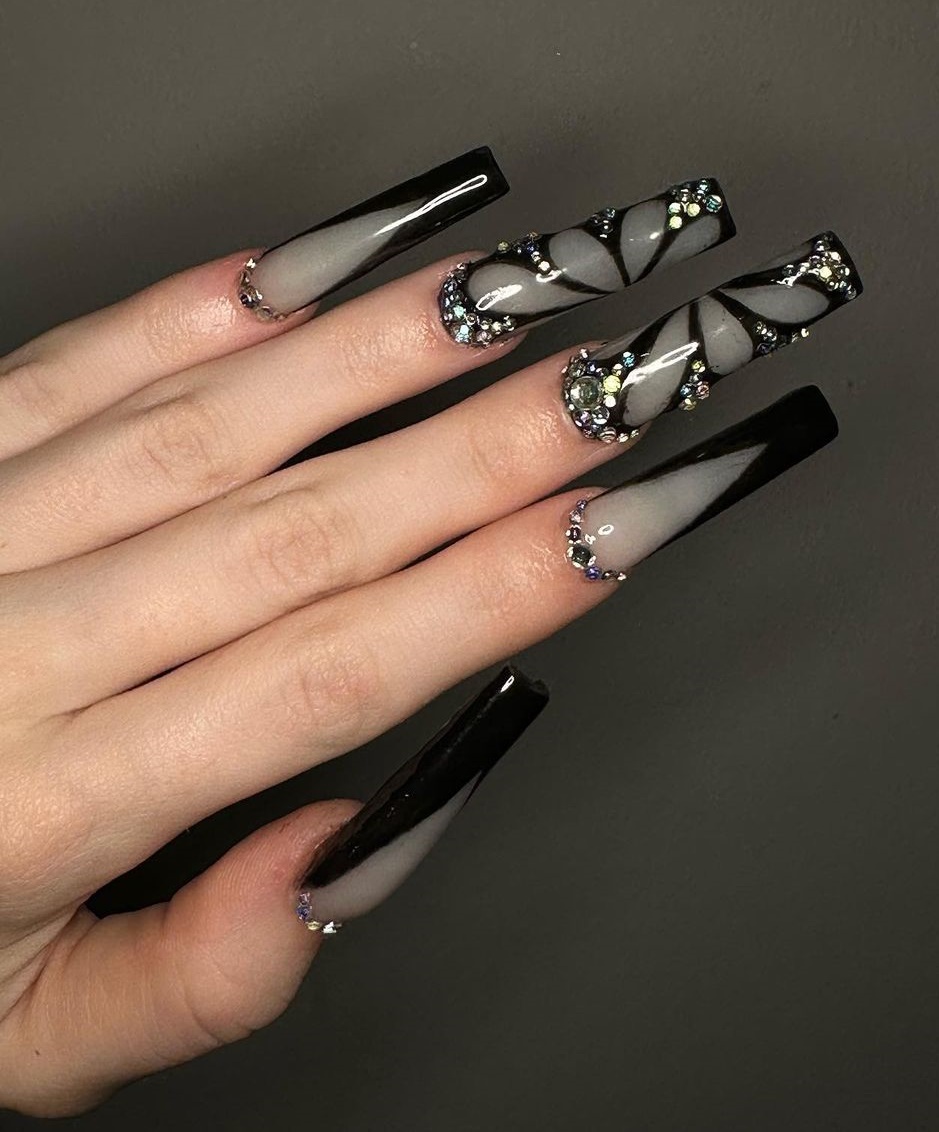 via @dreysculpted
Just imagine how cute this summer nail design could look with glitter accents on top – you'll be a trendsetter wherever you go with those enviable nails!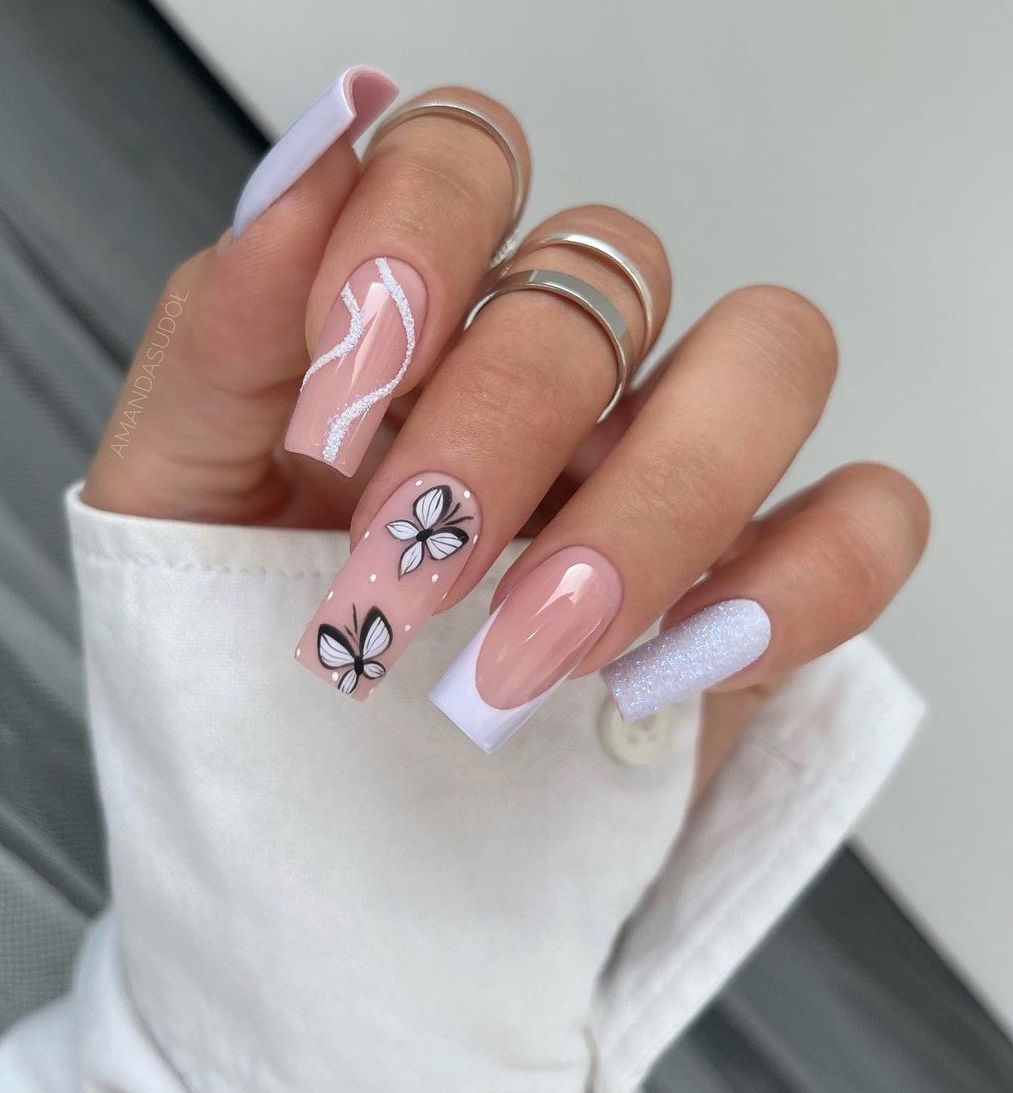 via @amanda.sudolll
Shine with Clear Butterfly Nails
If you want to make a bold statement, then accent nails with glossy finish butterfly nail art are your perfect fit. Show off your creativity when you pair a subtle accent nail with vibrant, three-dimensional nail art butterflies that add a special sparkle to any outfit.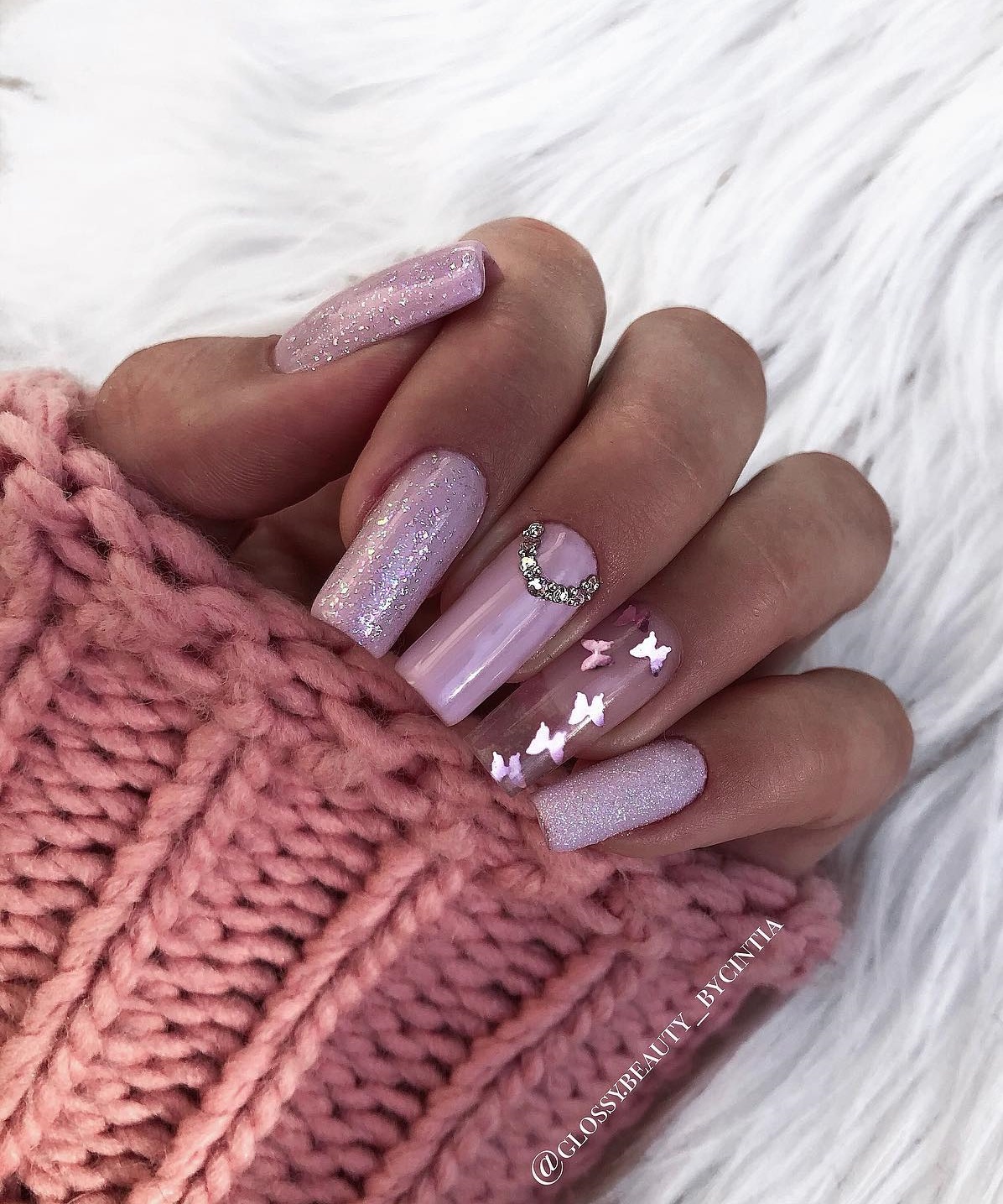 With so many design possibilities, the sky's the limit for creating the perfect manicure that pops!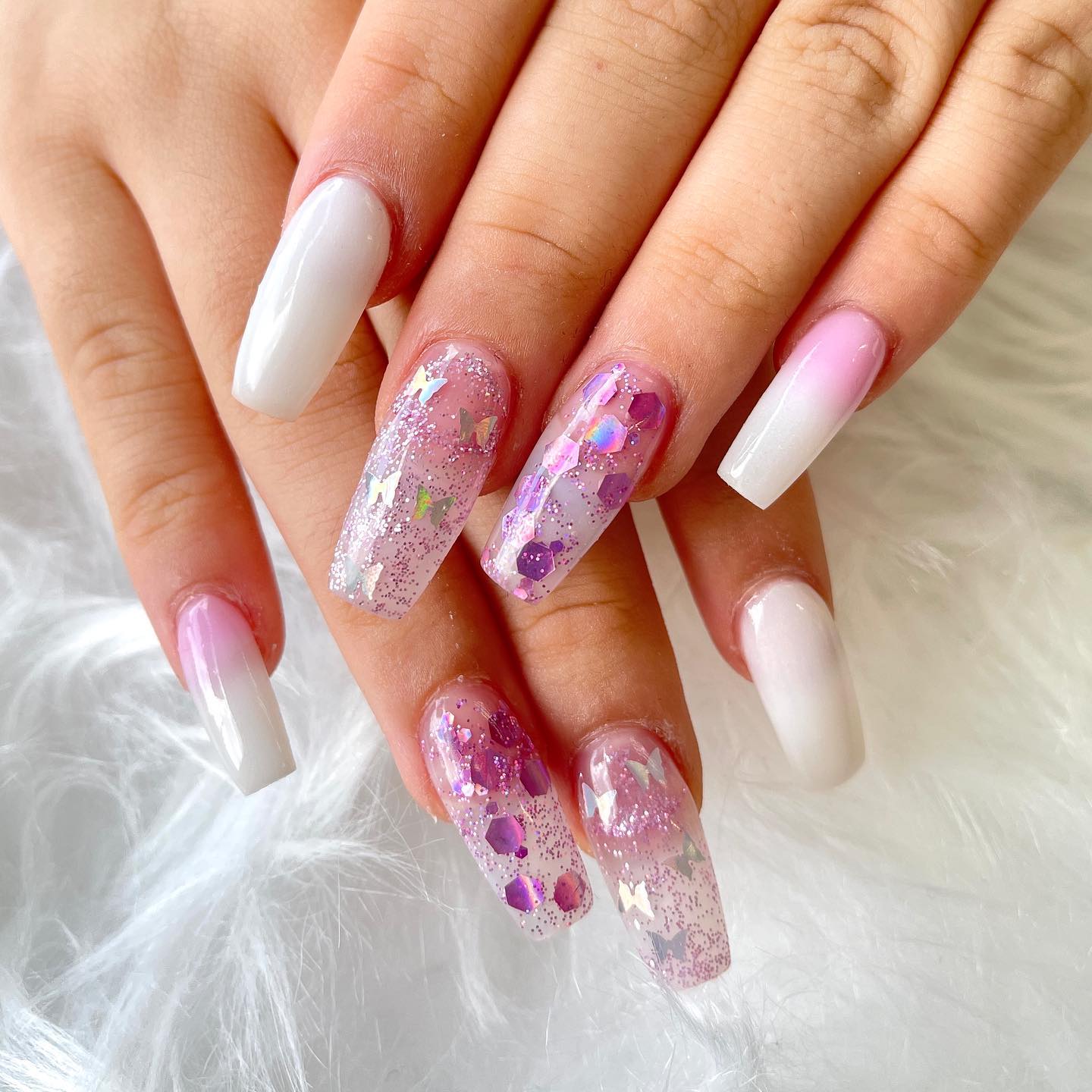 via @sunmoon_nailss
Stiletto Nails with Butterflies Look So Chic
Show off your stiletto-shaped nails uniquely and creatively by going for a purple butterfly design. You can use beautiful purple glitter with soft white feathers to create a butterfly's wings.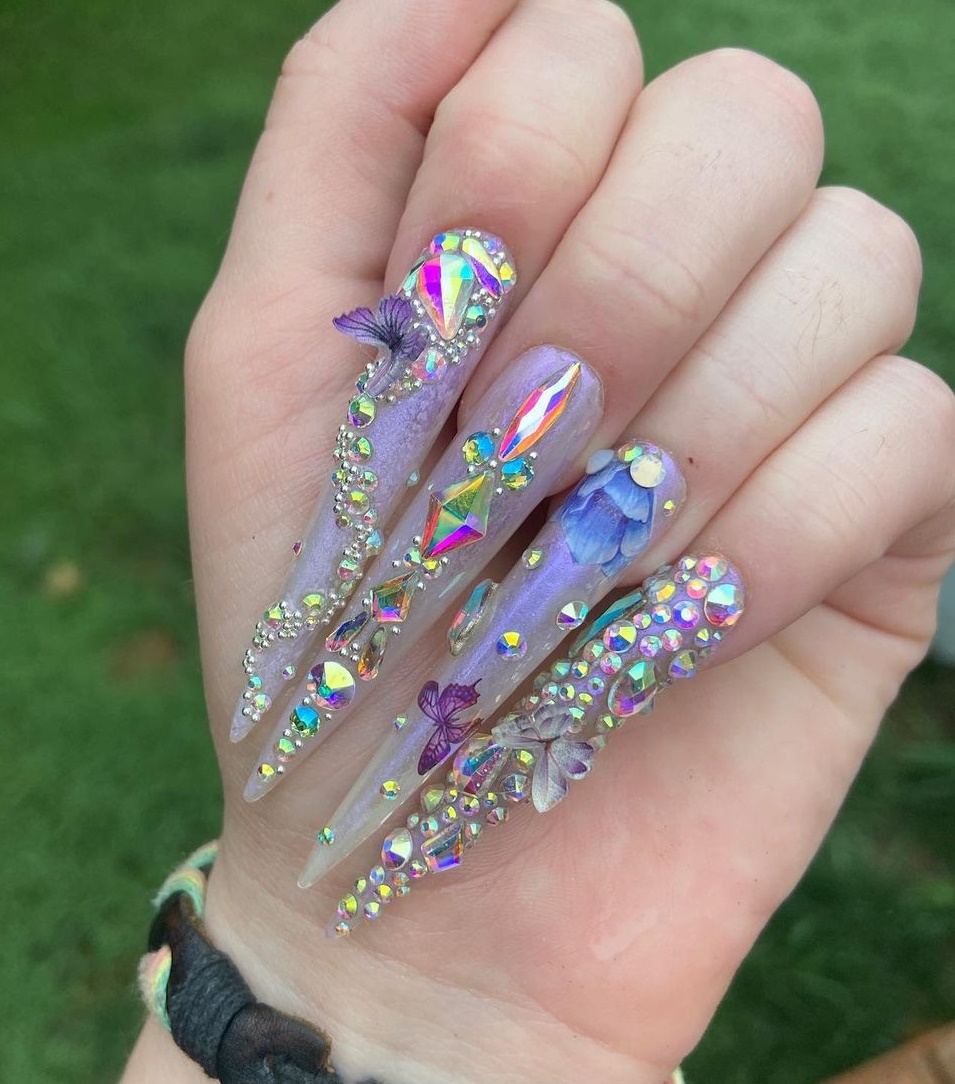 A butterfly on an accent nail can highlight the nail art in full scale and will surely get you compliments! Not only is the stiletto nail shape combined with this summer style incredibly gorgeous, but it's also perfect for any time of year. So if you're searching for an eye-catching and chic style, stiletto purple butterfly nails are definitely the way to go.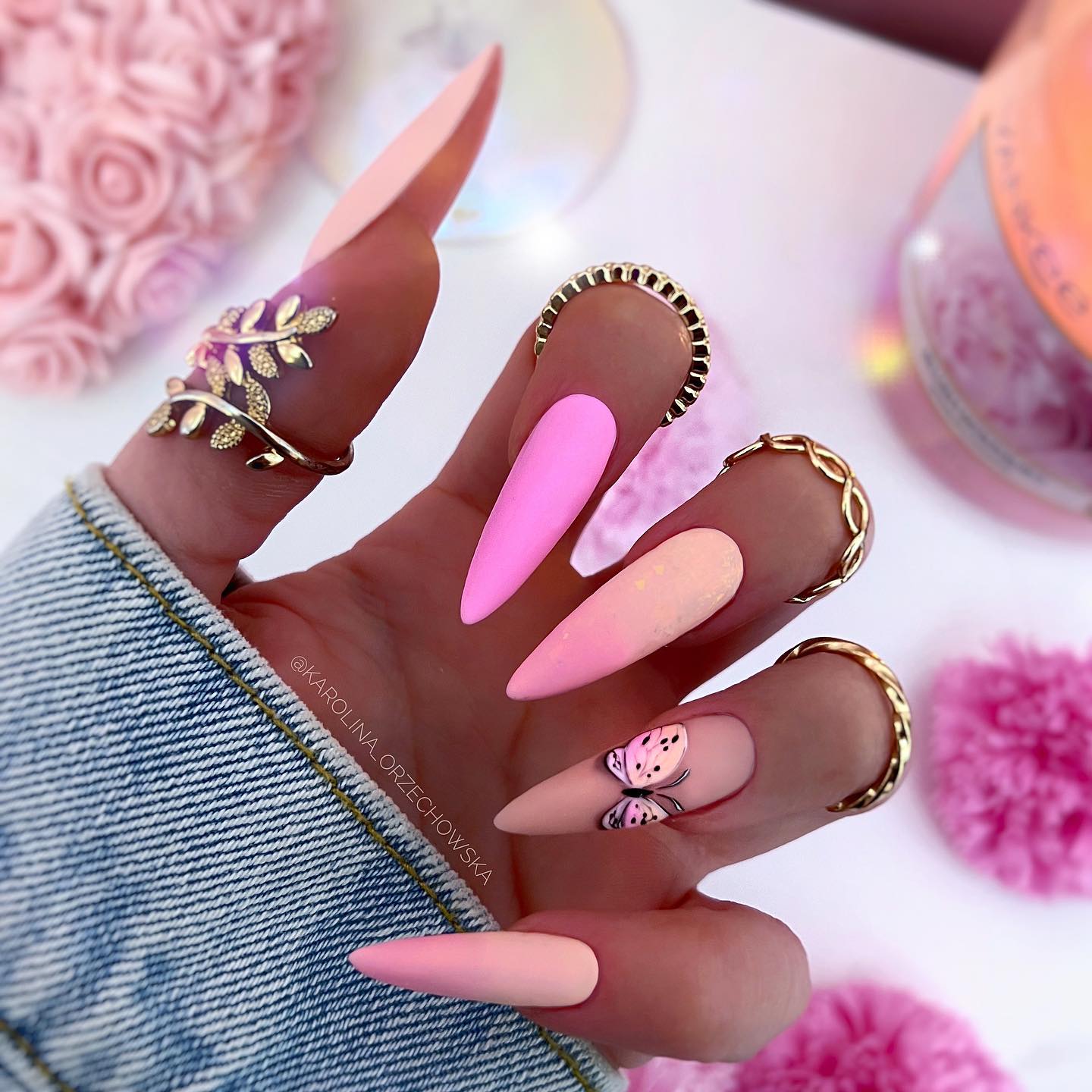 Long Oval Butterfly Nails Exude Subtleness and Creativity
Cute manicure ideas like long oval butterfly nails perfectly combine subtlety and creativity. These nails are characterized by an oval nail shape and matte nail finish, giving them an elegant yet soft edge. Whether it's a casual outing, festival, or just a regular office day, they will make you look super stylish.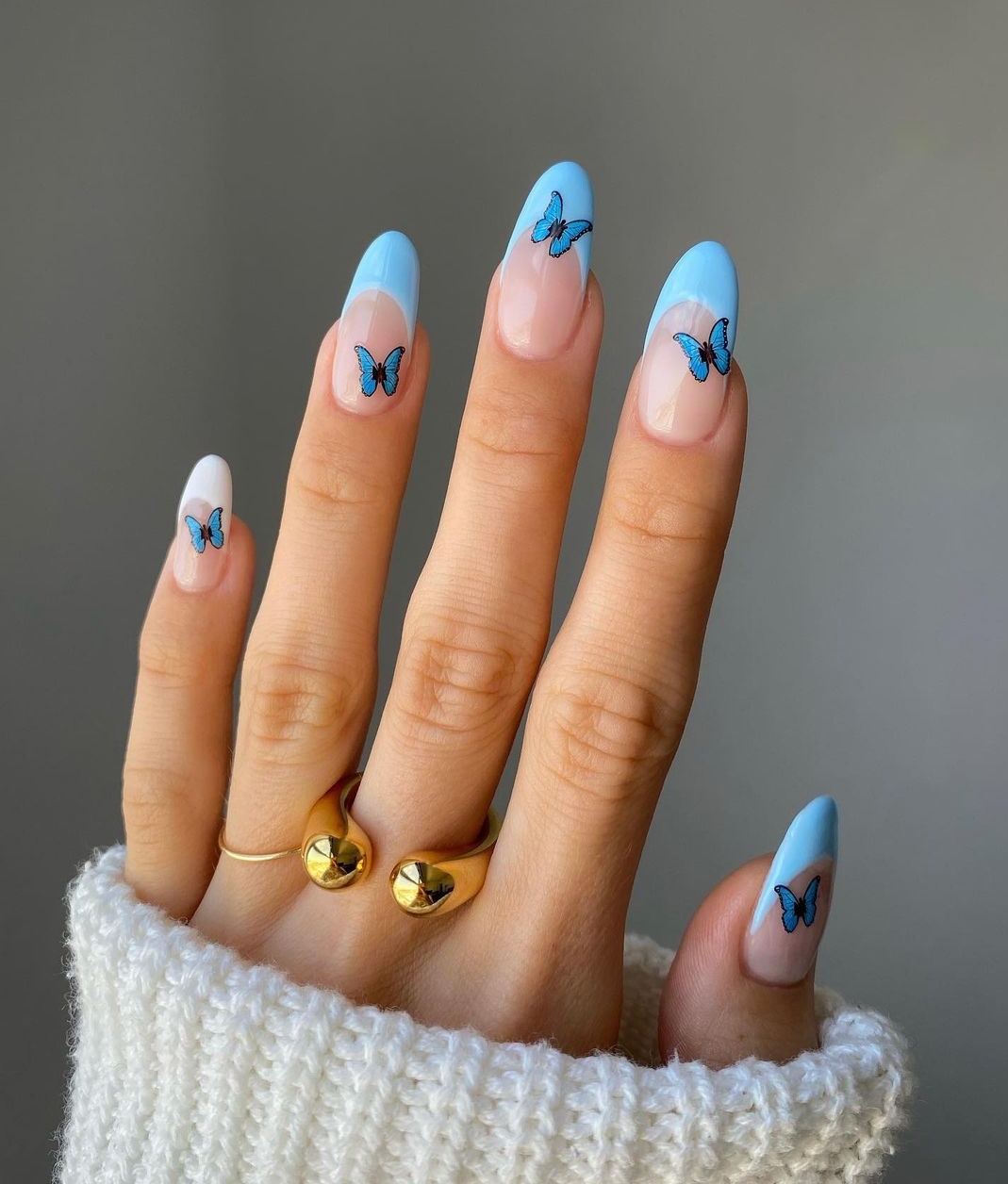 via @nailsbysmf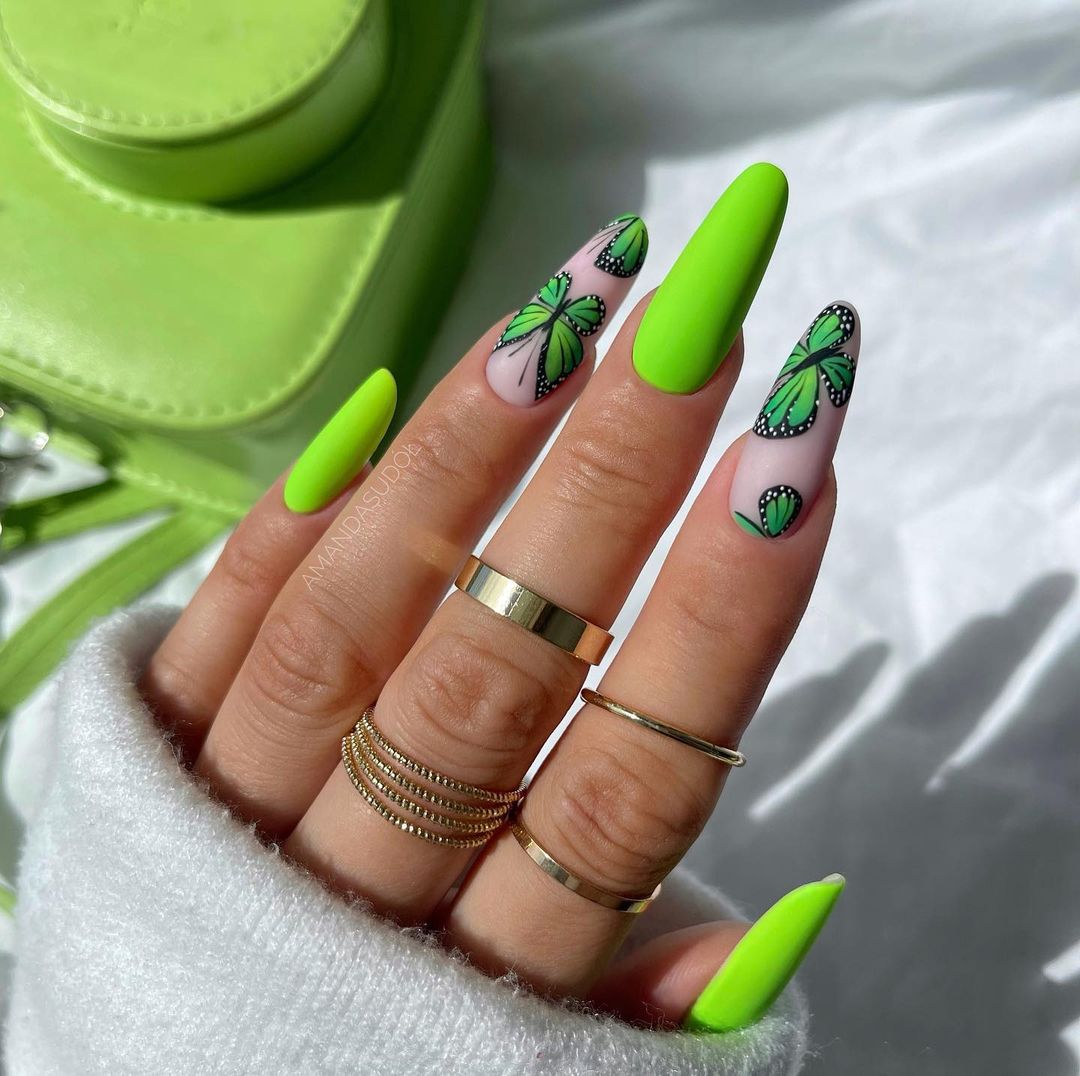 via @amanda.sudolll
Add Glitz to Your Appearance with Glitter Butterfly Nails
Glitter nail designs with butterfly patterns are a terrific alternative when seeking the ideal hand art. You can pick up pink butterfly nails with a touch of glitter to glam up your appearance, and they look so alluring and feminine.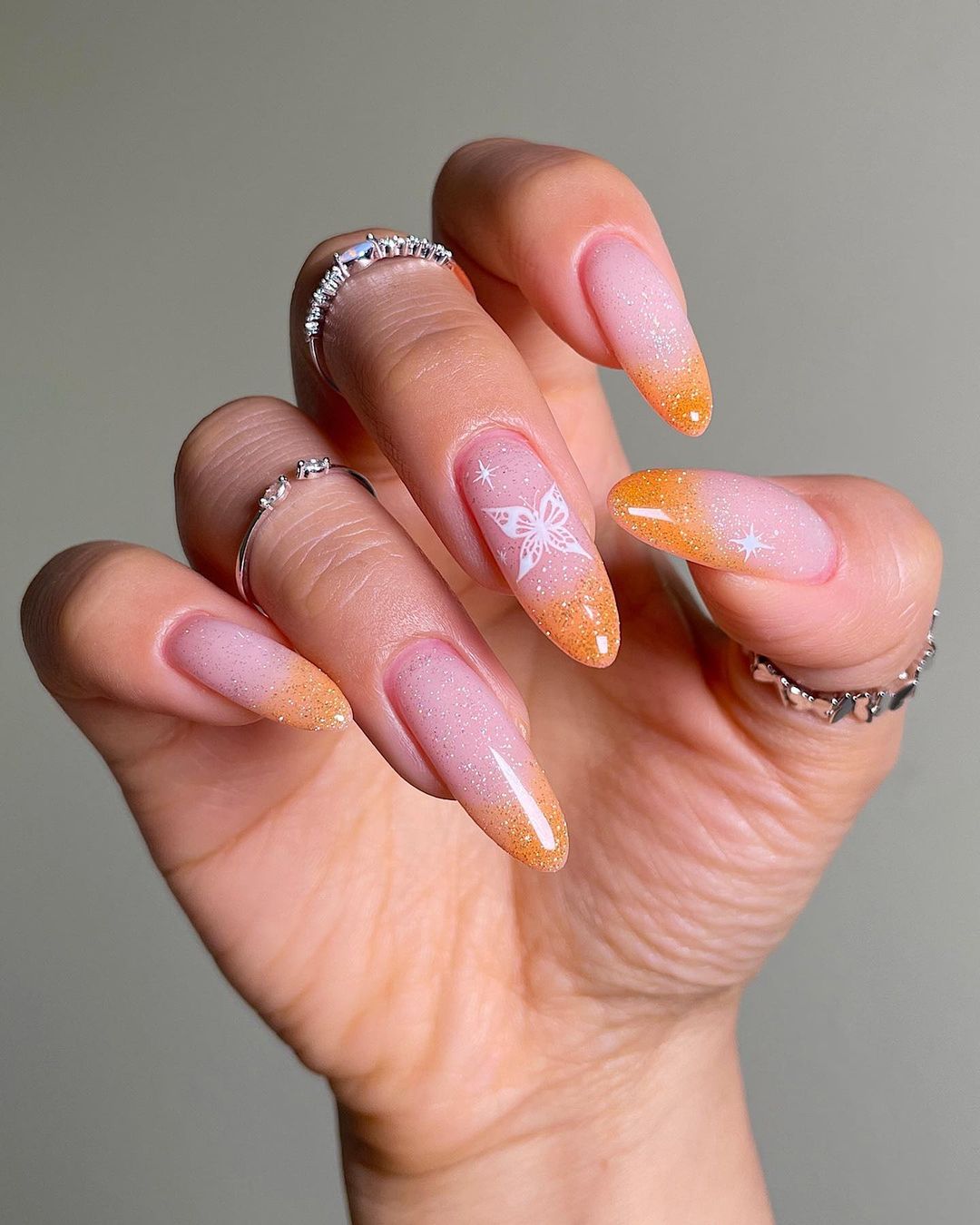 via @sansungnails
If you want sober glitter nails, ask your nail artist for white nails with butterflies; it will give some glitz and harmony to your outward image.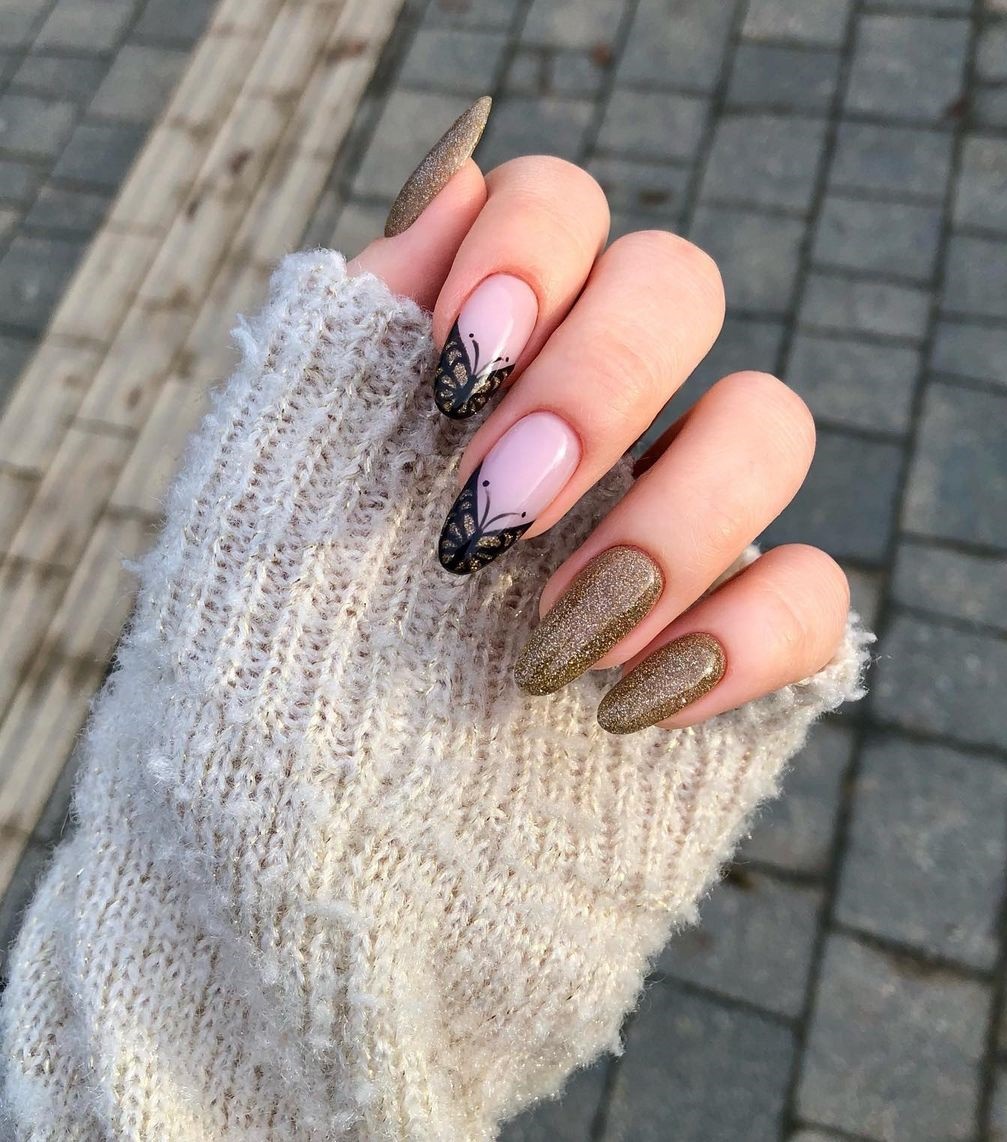 via @nailsbypaular
Ombre Nails with Butterflies Are For Those Who Love Gradient Effect
Do you want to get noticed by everyone? Go for butterfly wings on nails. For a statement style, you can get blue butterfly nails with an ombre effect. The blue color is so perfect for any time of the year. Alternatively, you can try cute nude ombre nails for an ultra-fine nail look.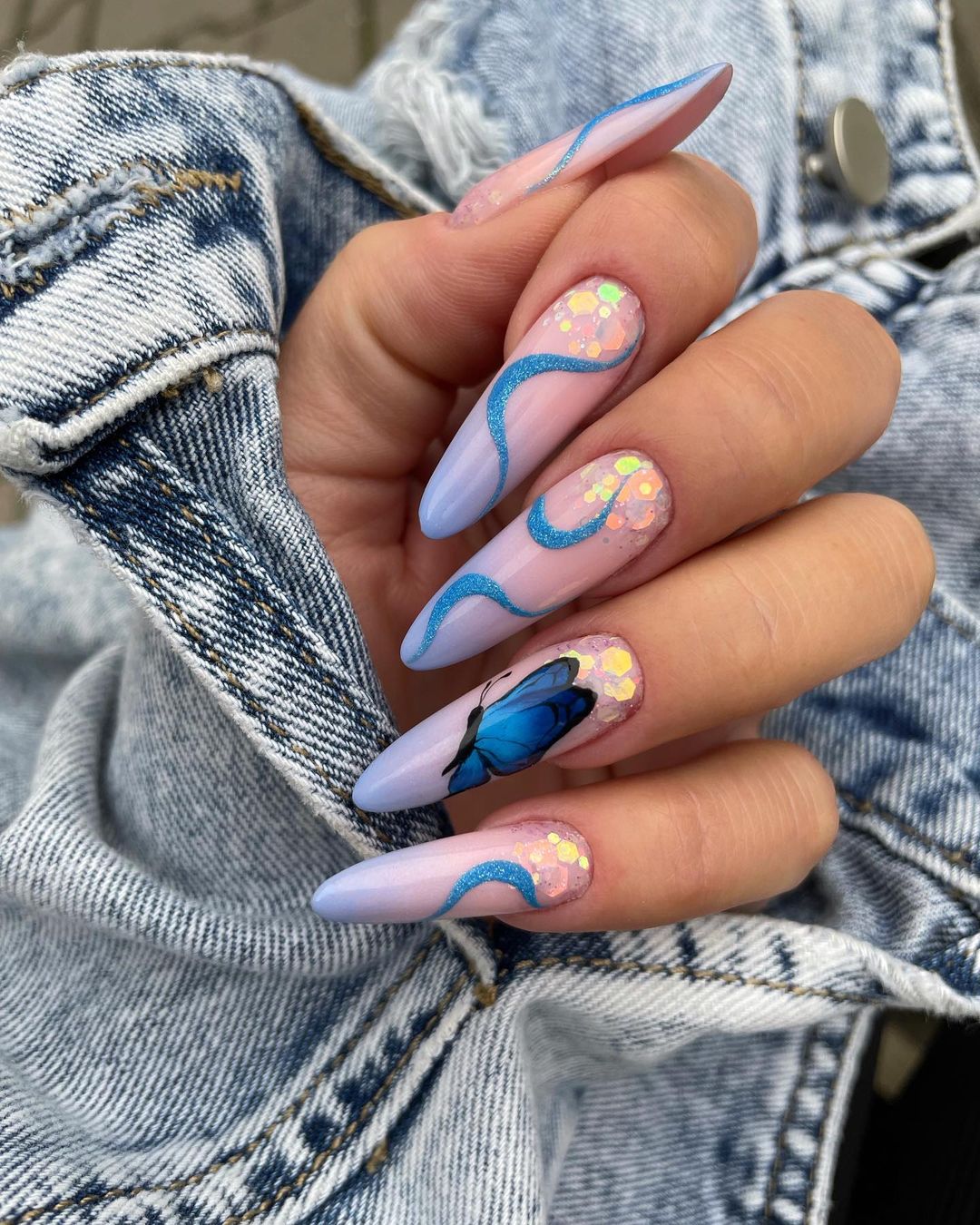 via @black_pazy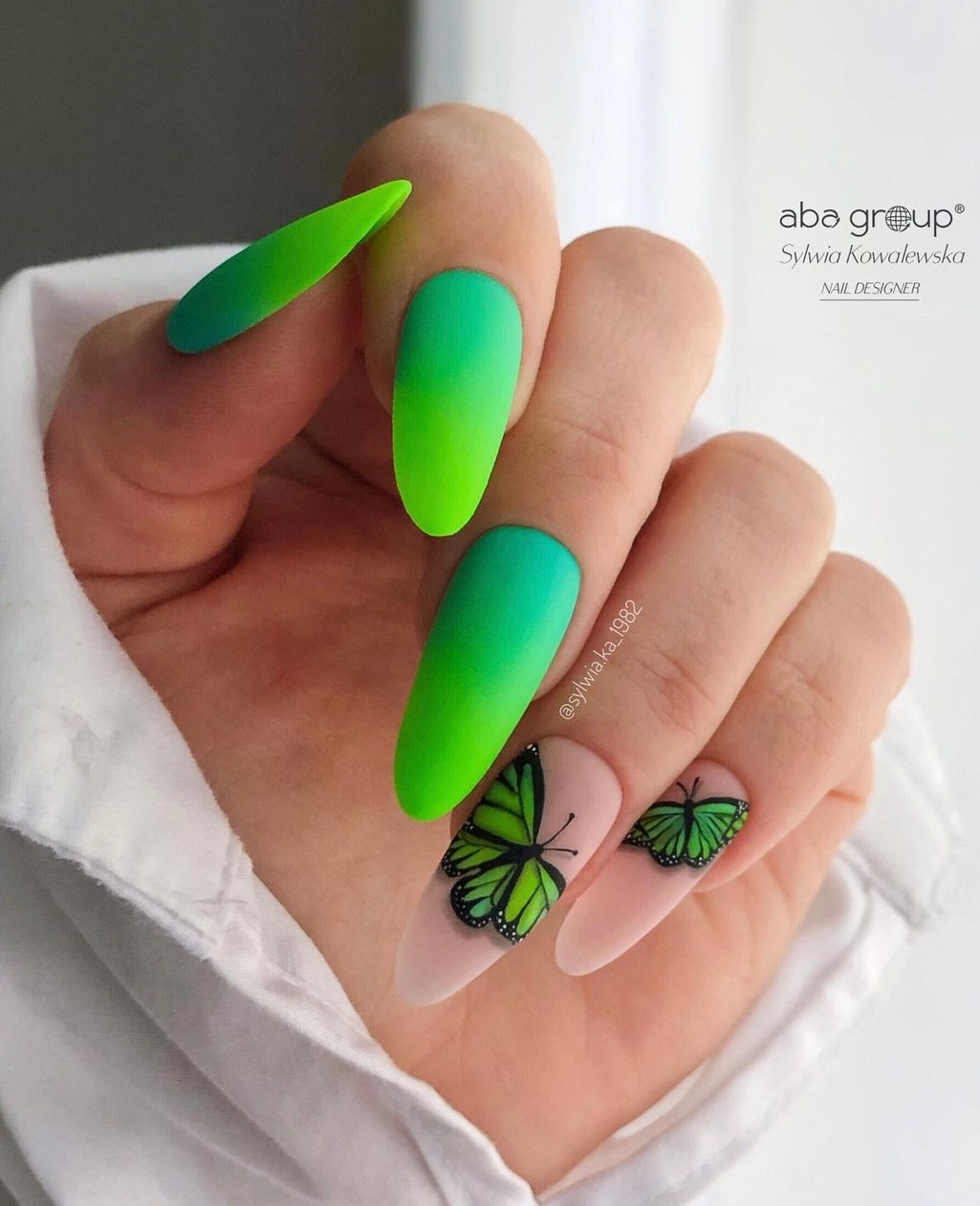 via @sylwia.ka_1982
Classy French Nails with Butterfly Design
A french mani is the height of sophistication, and with the addition of a beautiful butterfly design, you can make them even more luxurious. Create classy french nail tips in any color you like, but red butterfly nails work incredibly well to create that eye-catching effect.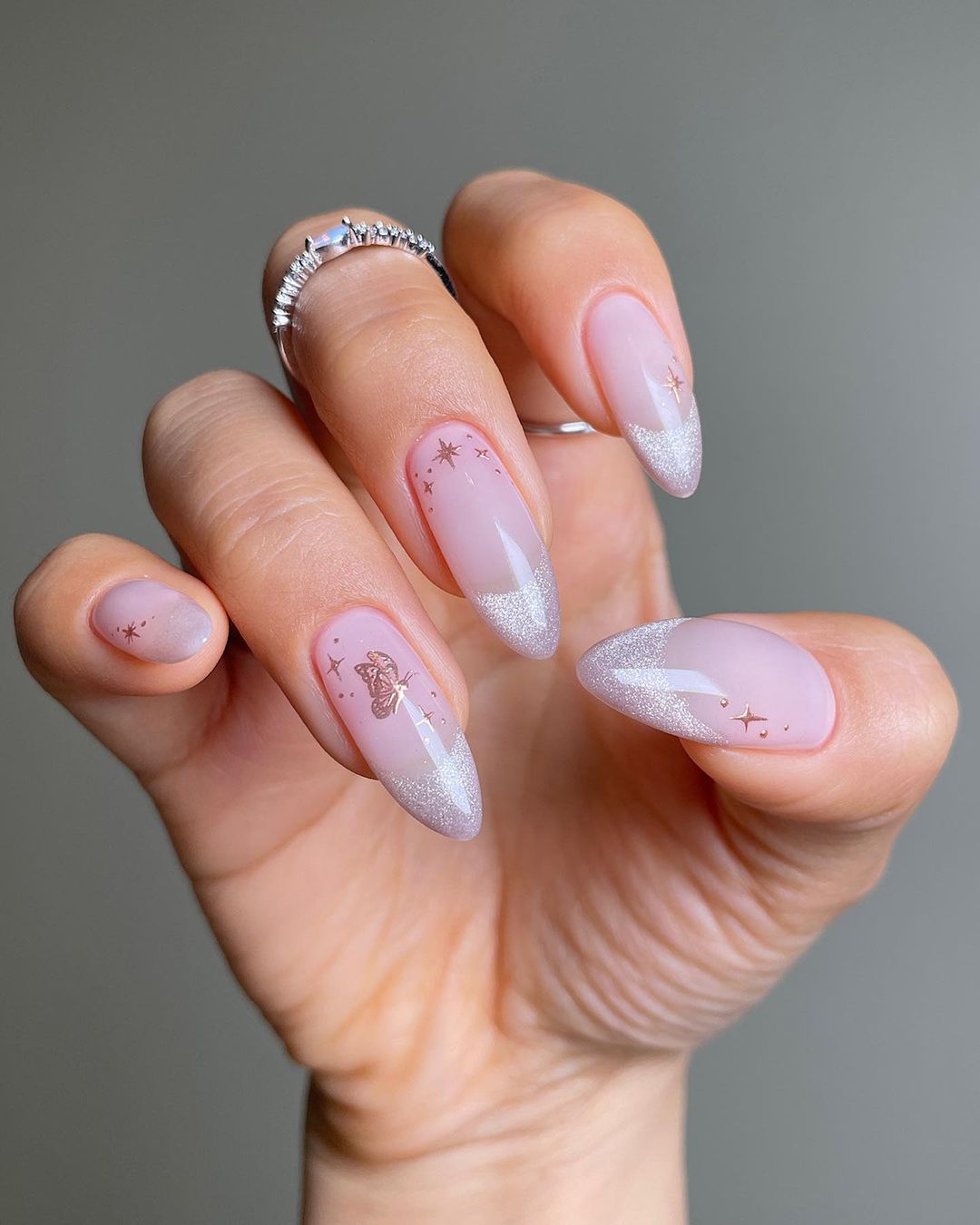 via @sansungnails
Alternatively, try using a soft pink shade as the base color and add a black outline to the butterflies for an extra elegant finish. These are some of the french mani ideas that will make you look different from others!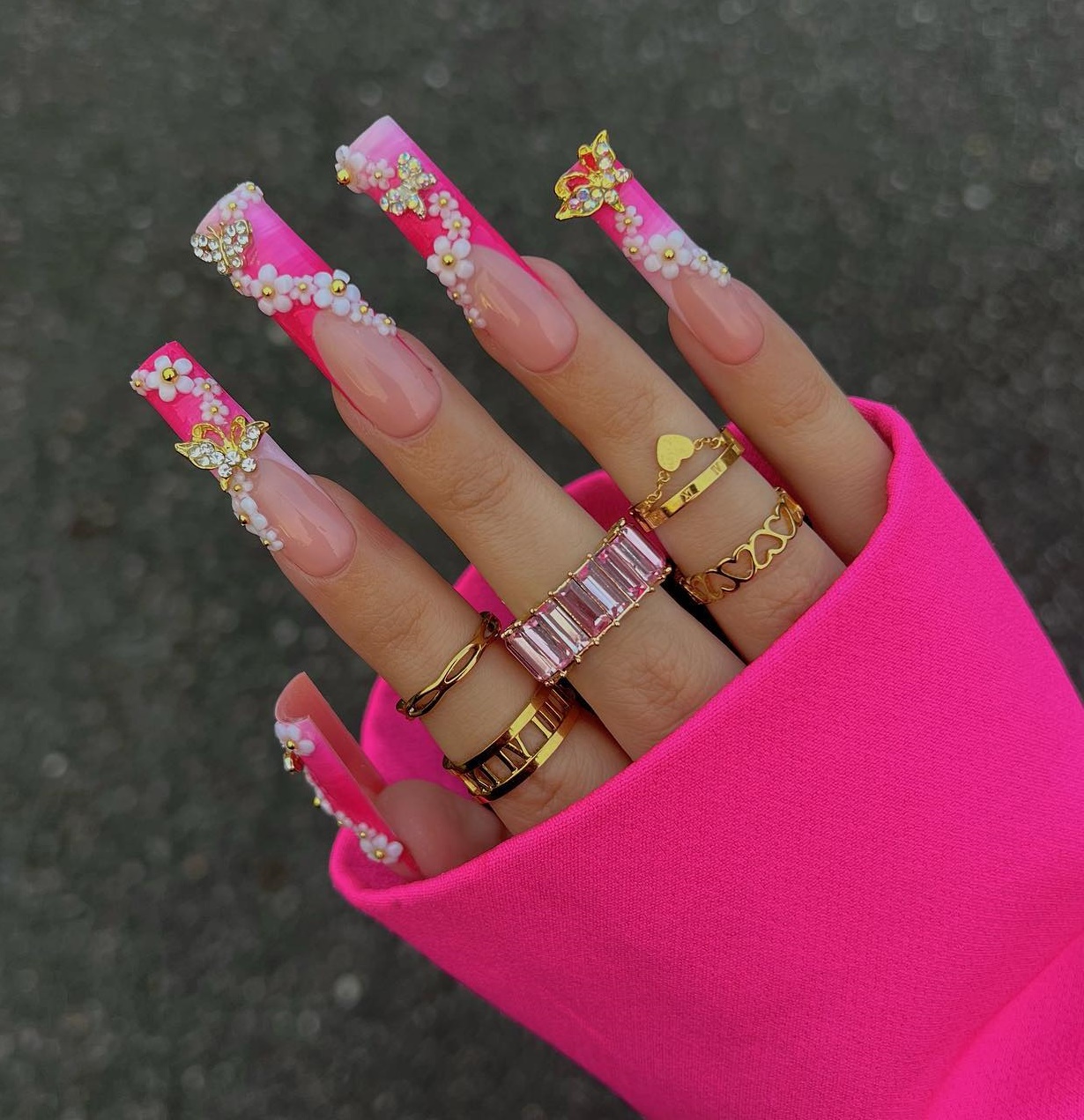 via @_beautbybee
Dramatic And Dazzling Matte Butterfly Nail Art
If you want a gorgeous and ultra-feminine manicure, then matte nails are perfect. The matte top coat enhances the look of every nail shape, be it soft square or almond.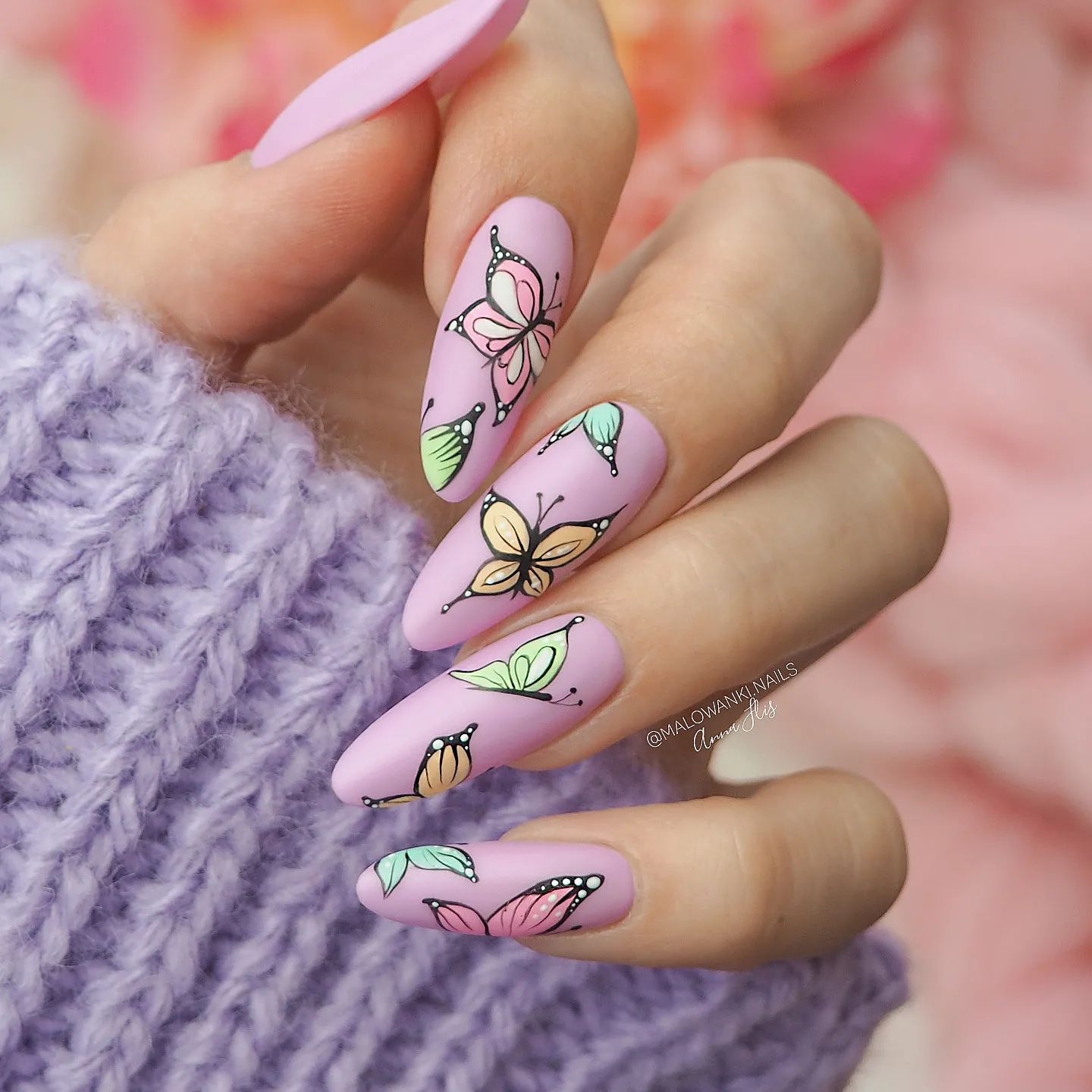 via @malowanki.nails
Getting black butterfly nails is perfect for your next manicure to add something unique and fascinating to your style and appearance.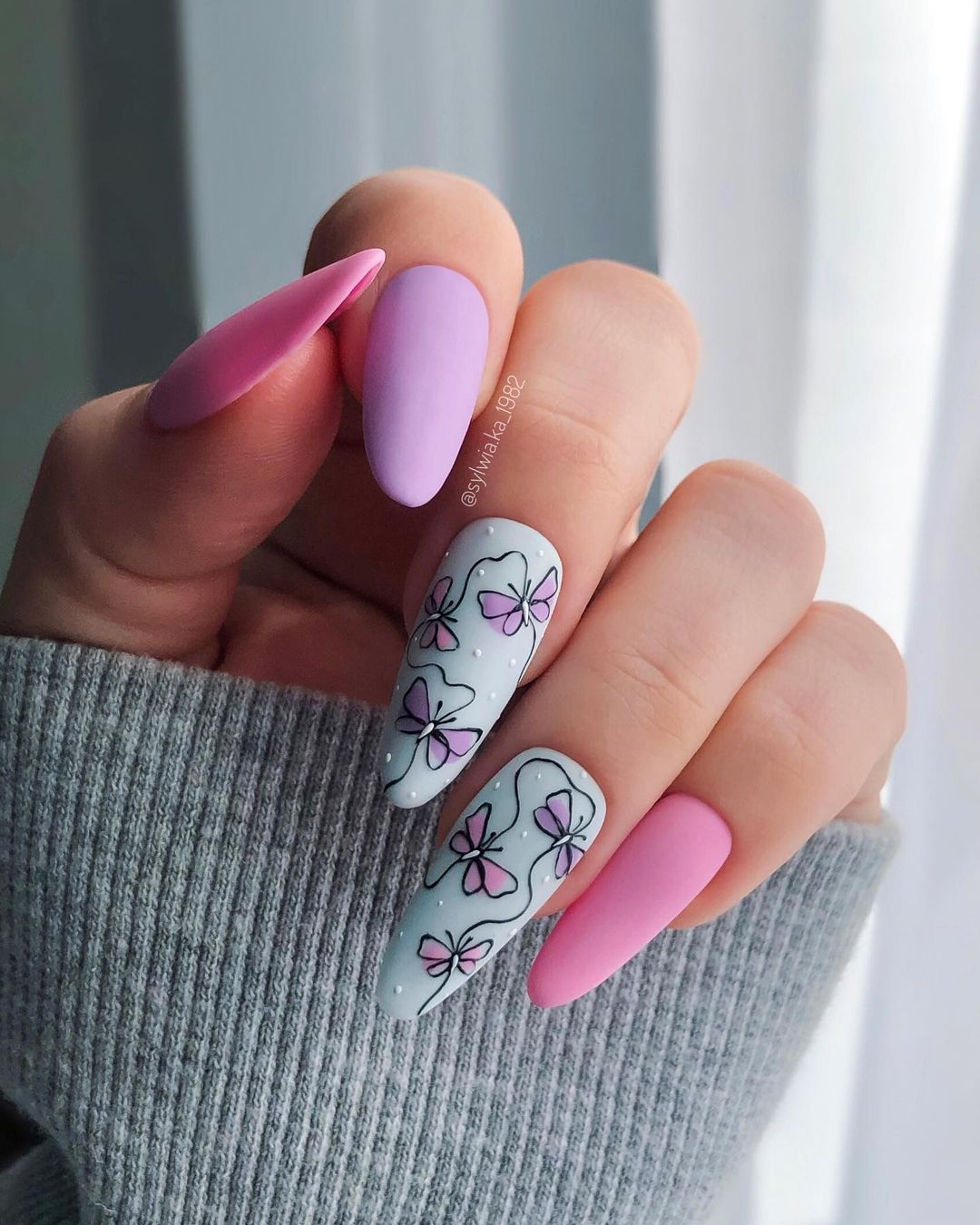 via @sylwia.ka_1982
Diamond Nails with Butterfly Design For a Luxurious Look
You cannot stop loving your shiny diamond nails. Try butterfly wings on the accent nails for a classier look. This high-end nail design is so much in these days as it suits any nail length and shape.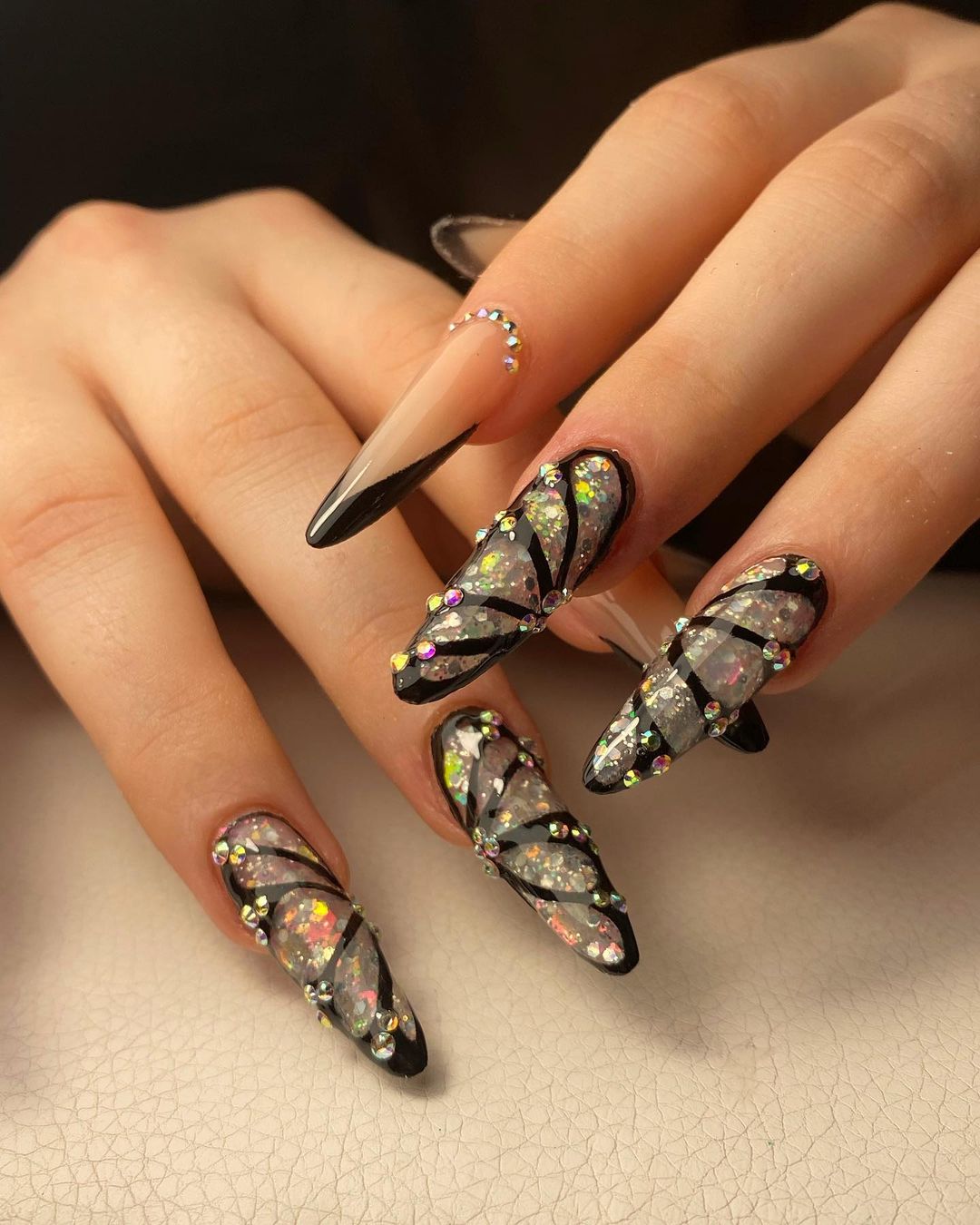 via @dolls.nailsfr
Your nail artist can help you achieve a good and fancy nail look, especially with butterfly designs.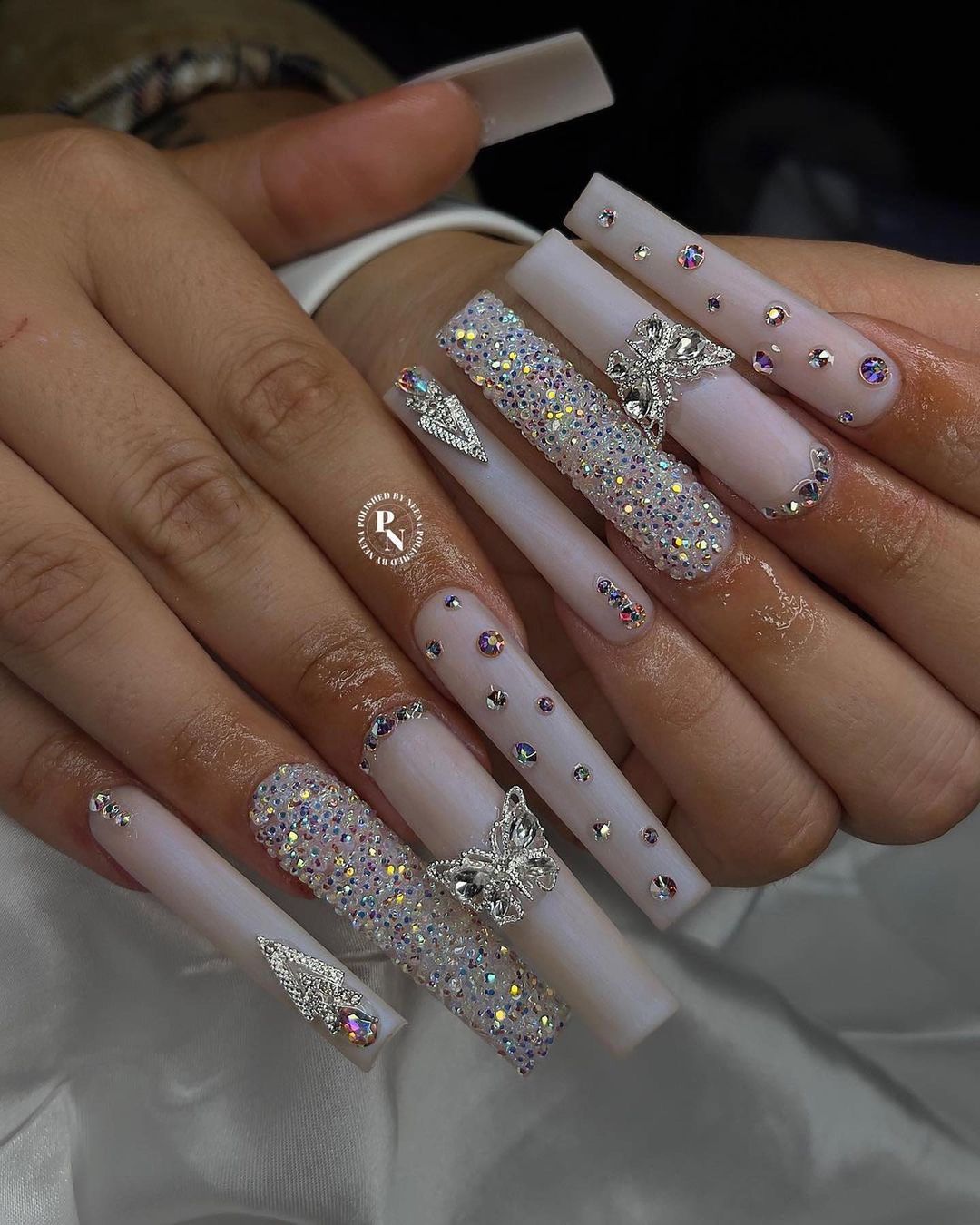 via @daily_charme
FAQ
How can I naturally hydrate my nails?
The necessity for hydration is one similarity between skincare and nail care. Hydration is the first step in taking the most basic maintenance of dry nails. You can prevent brittle nails by moisturizing them at least once daily. Moisturize with vitamin E, shea butter, coconut, jojoba, avocado, and olive oils, as well as essential oils such as sweet almond and almond oils.