In the world of manicures, chrome nails have been one of the most popular and striking options lately. They're not just glamorous and expensive looking but require very little maintenance!
Chrome nails are for those who enjoy a little bling in their life. Chrome is the ultimate accessory, making any look pop with its edgy, flashy touch. From French tips to extra glam designs – there's no wrong way (or finger) to do them!
Care to try it? Read on for some inspiration.
White Chrome Nails
A white chrome nail trend is the epitome of impeccable aesthetics. This design is filled with a minimalist vibe and is versatile.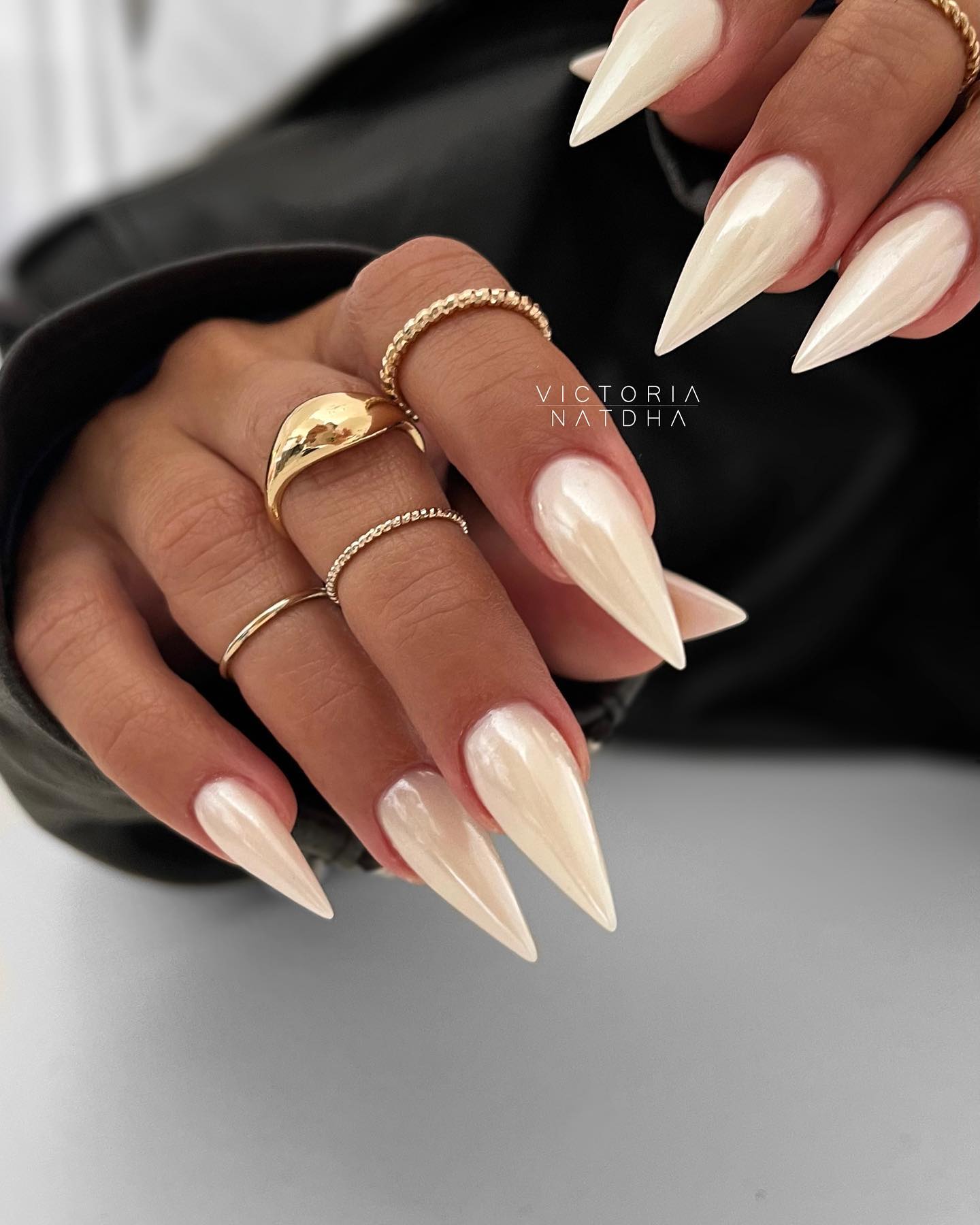 via @victorianatdha
However, white chrome powder does not allow it to get lost against the background of brighter manicures!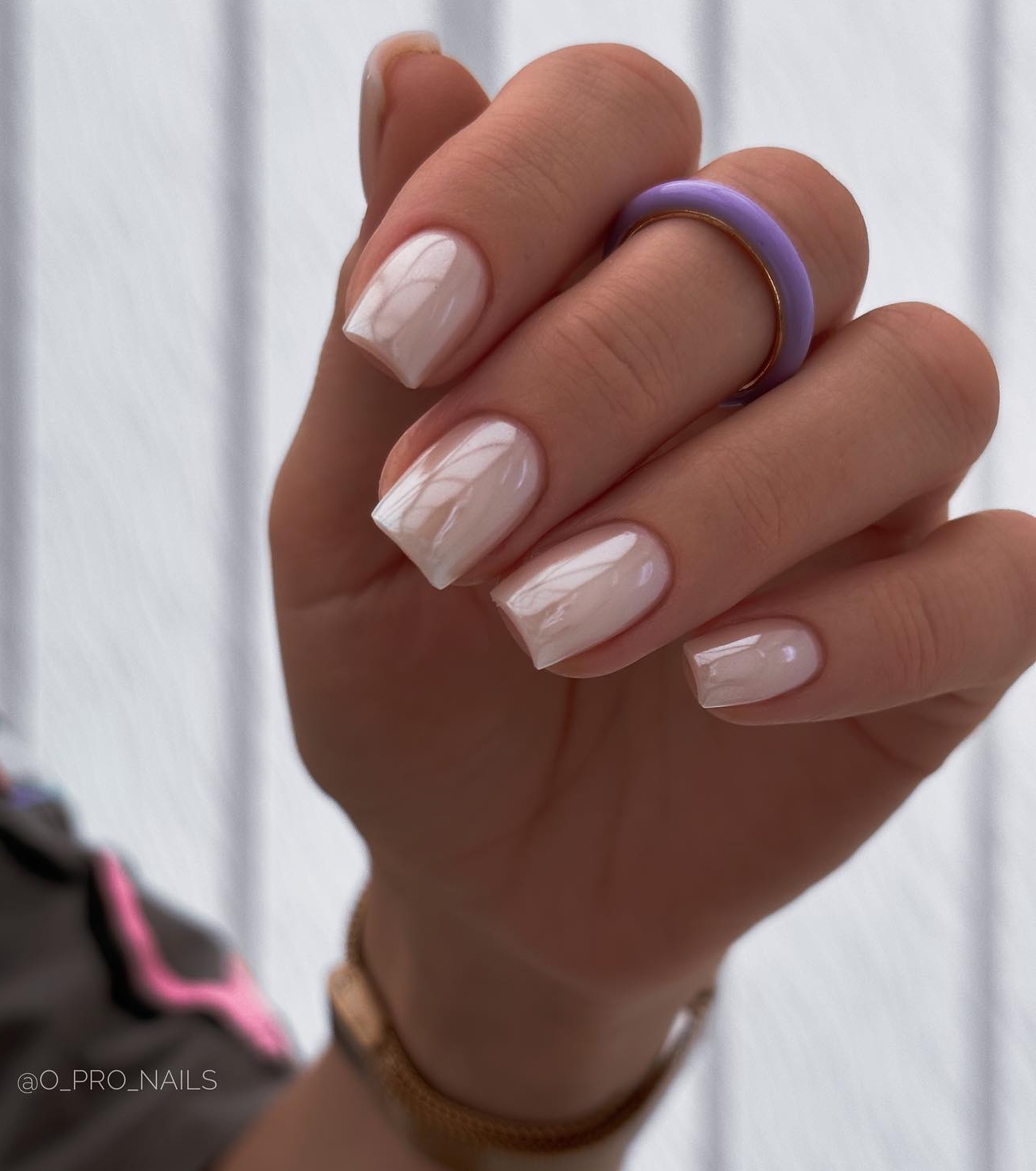 via @o_pro_nails
Almond-shaped Black Chrome Nails
Black chrome nails are always a go-to statement look when you can't choose the perfect color or design. Why not try chrome to spice things up? You could suggest this at your nail salon or do a stunning nail look yourself!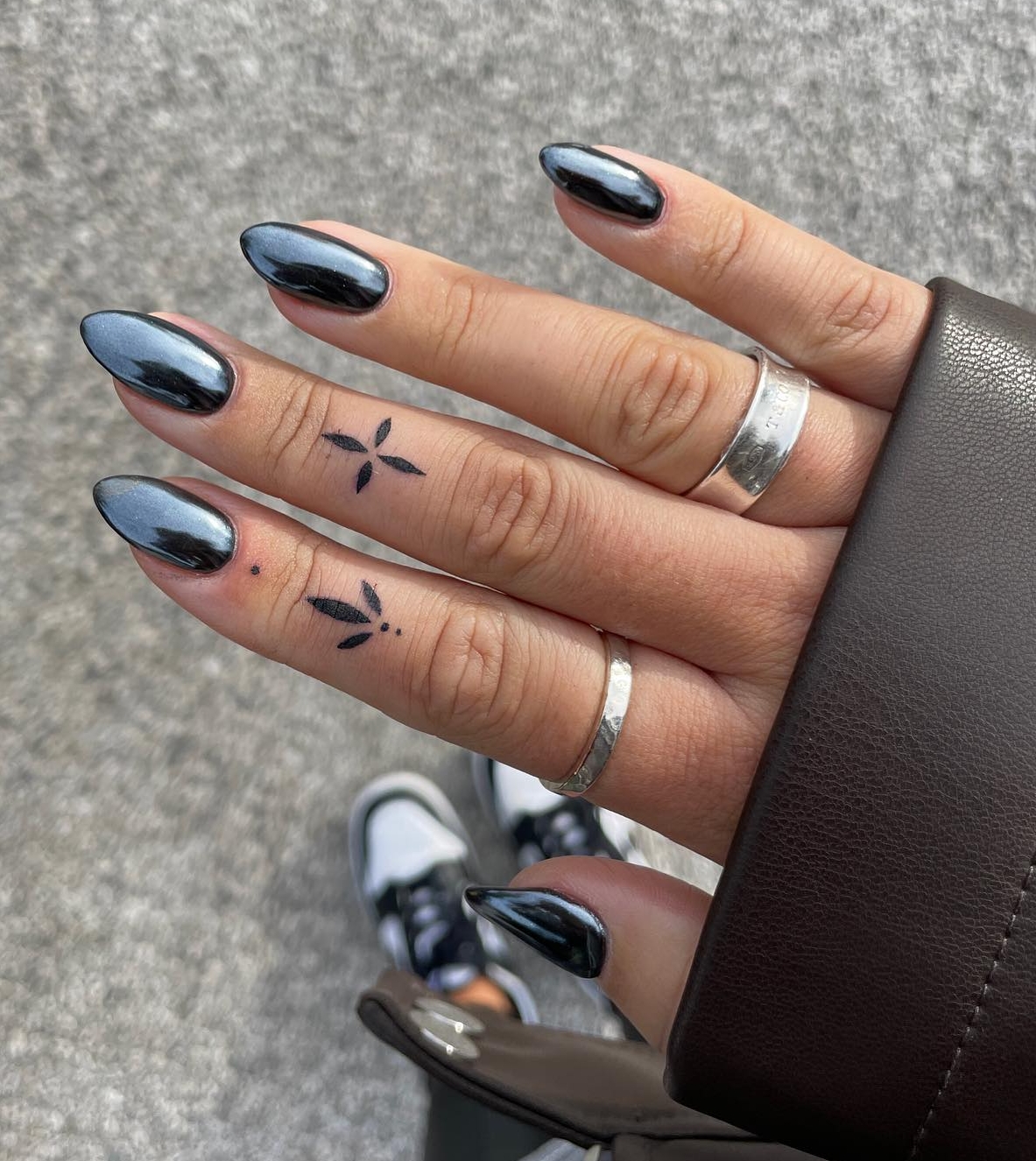 via @bysadiedaisy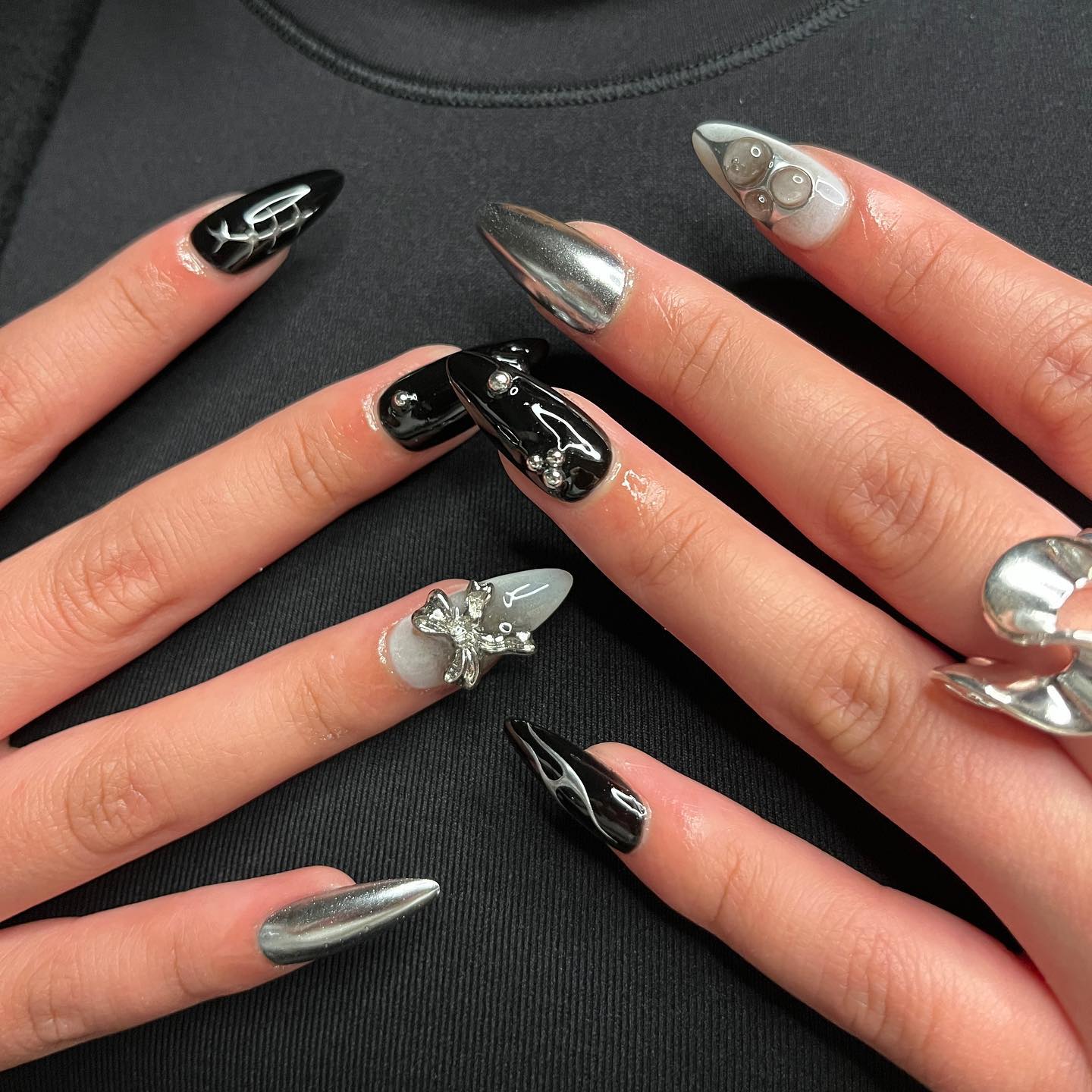 via @alicianailedit
Holographic Ballerina Chrome Nails
Ballerina chrome nails captivate with their captivating and multi-dimensional design. This combination of futurism and glamor deserves your attention.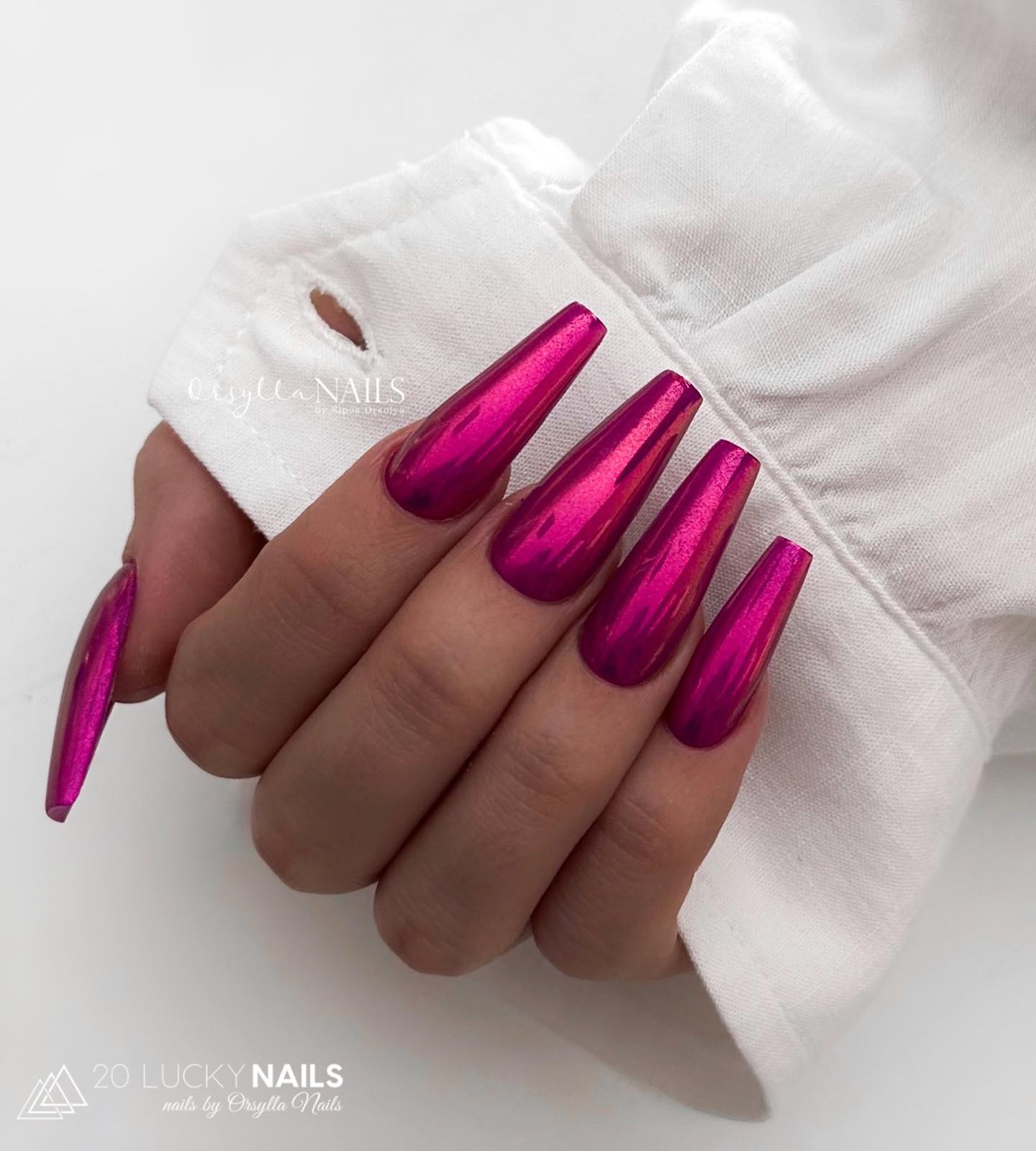 via @orsylla_nails
Elegant holographic nails highlight the play of colors and reflections. It's time to see for yourself!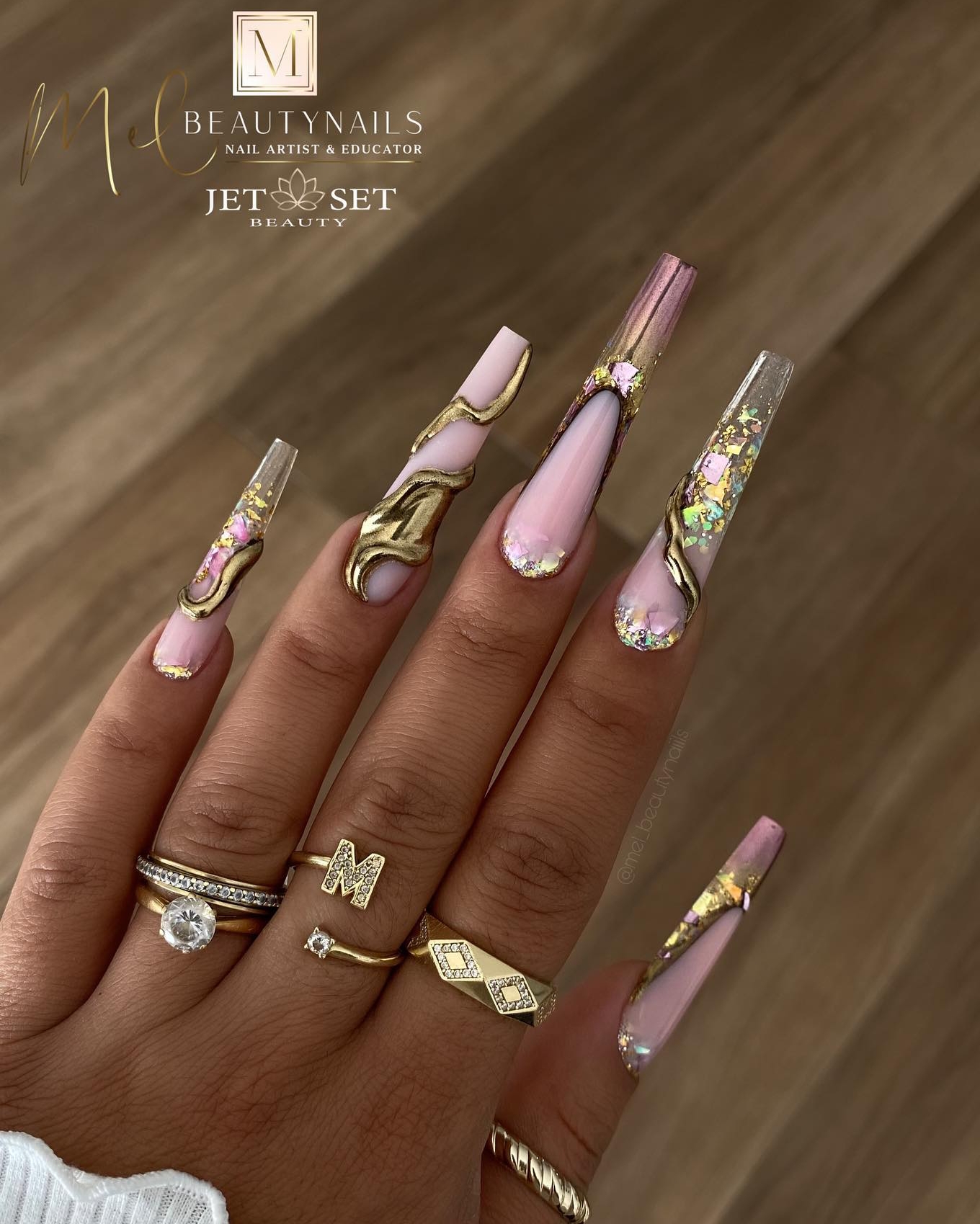 Stunning Red Chrome Nails
If you want extra flair, why not try the chrome effect? Ask your nail technician at any salon, and they can give you red chrome powder that will knock everyone's eyes out. Set popular nail designs with this twist on red, and soon, all your friends will want to copy the look.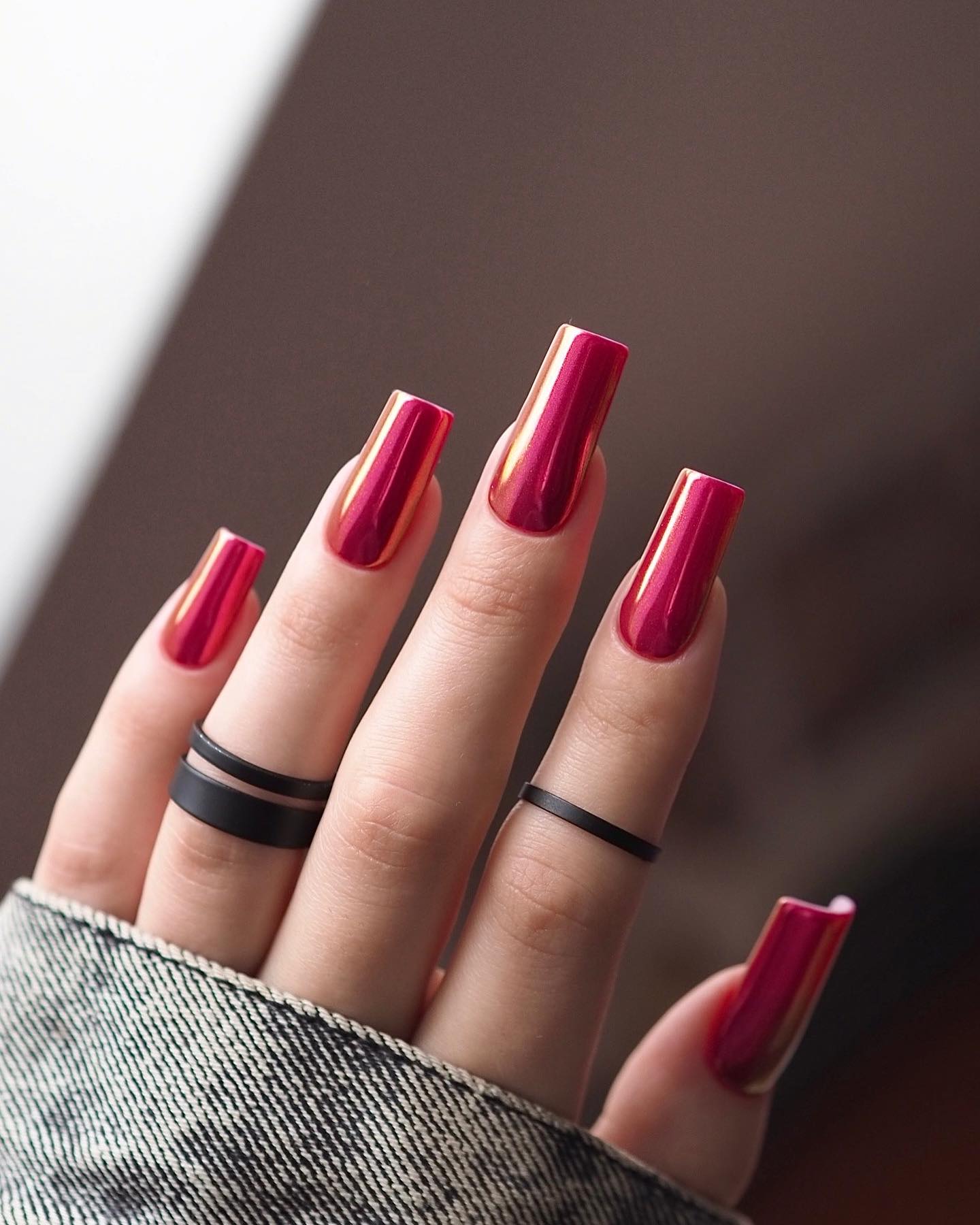 via @napaznokciach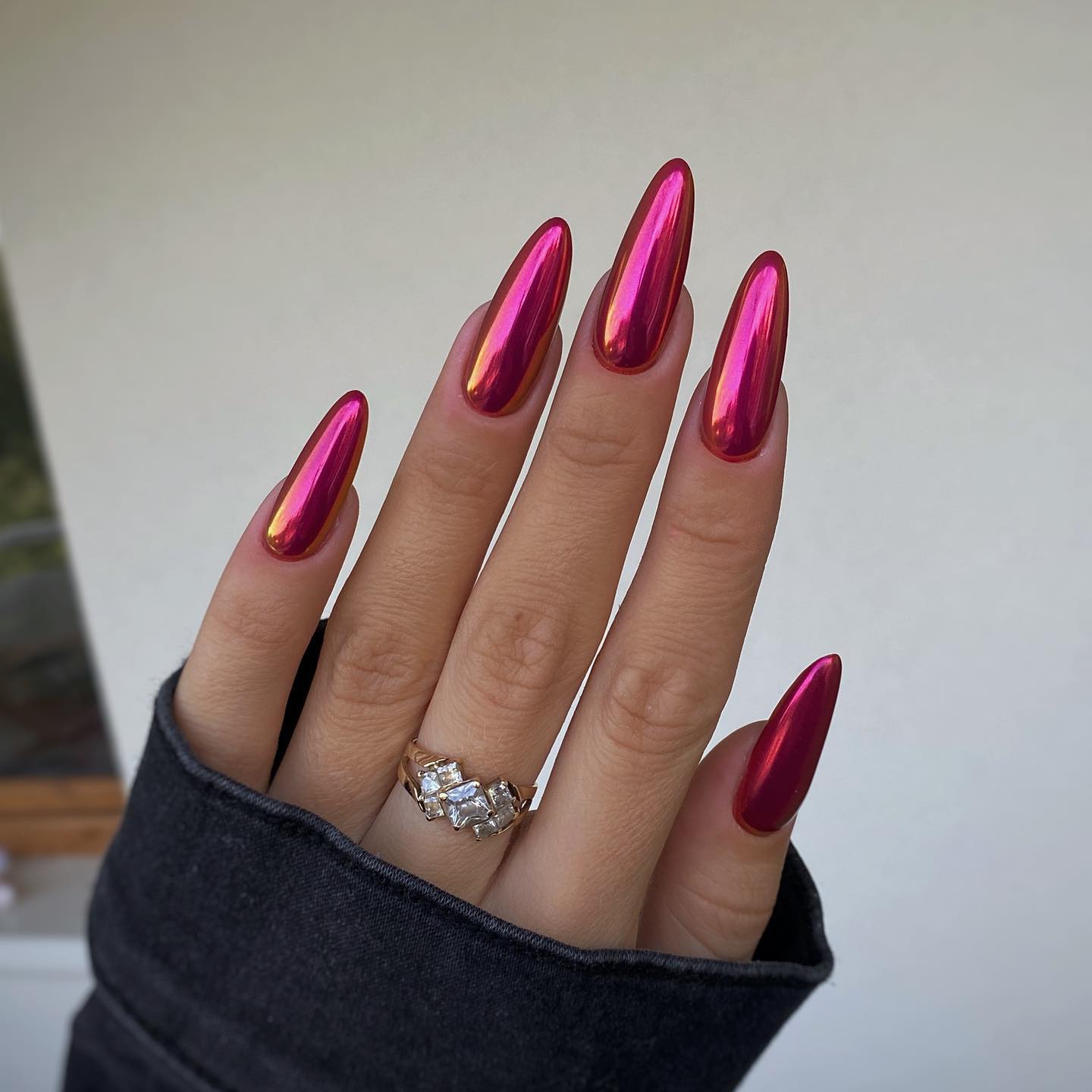 via @pegi_nails
Subtle Oval Rose Gold Chrome Nails
The best thing about a rose gold French manicure is that everyone can wear it. Whether you're in the mood for a bolder look or want some extra femininity, this color will work with any style!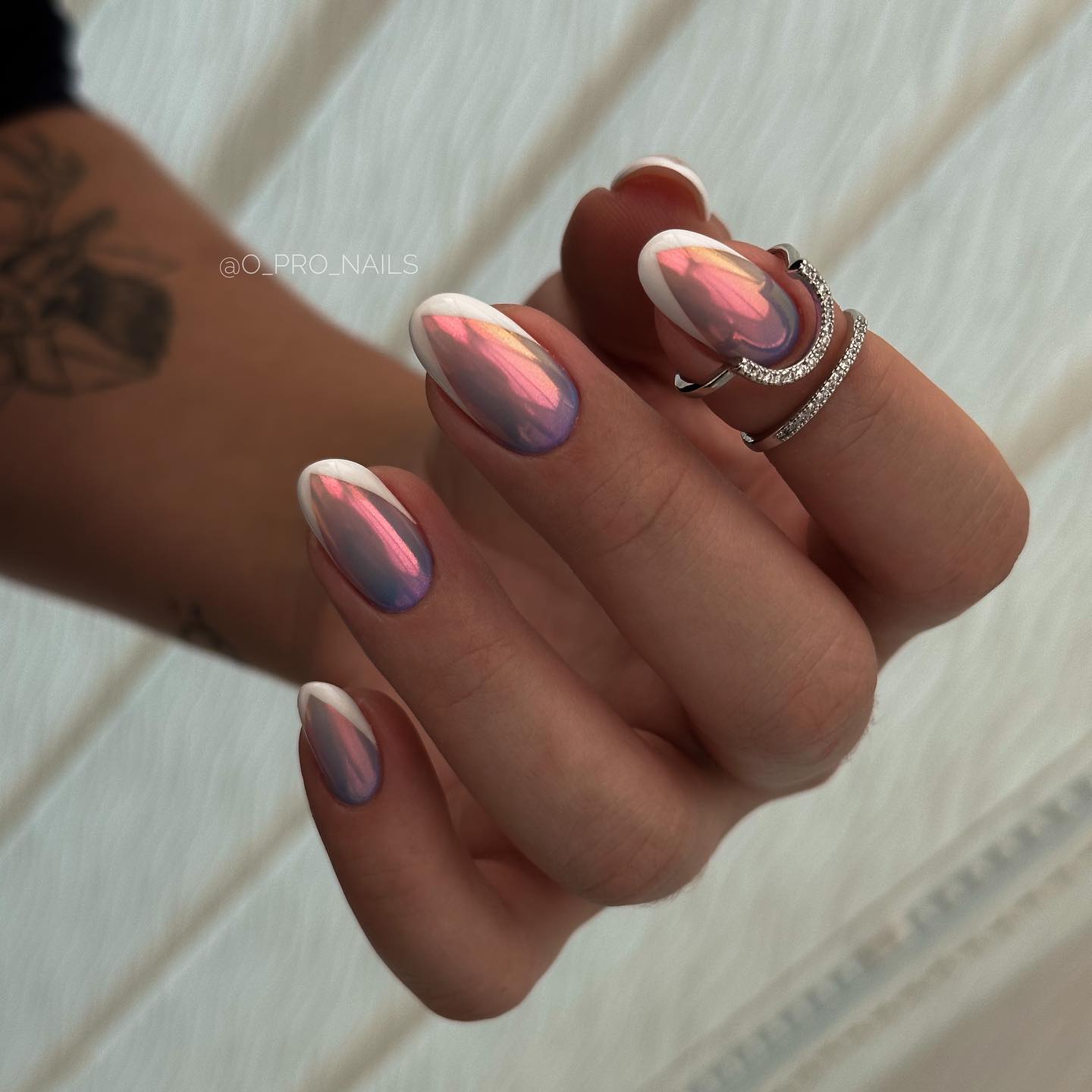 via @o_pro_nails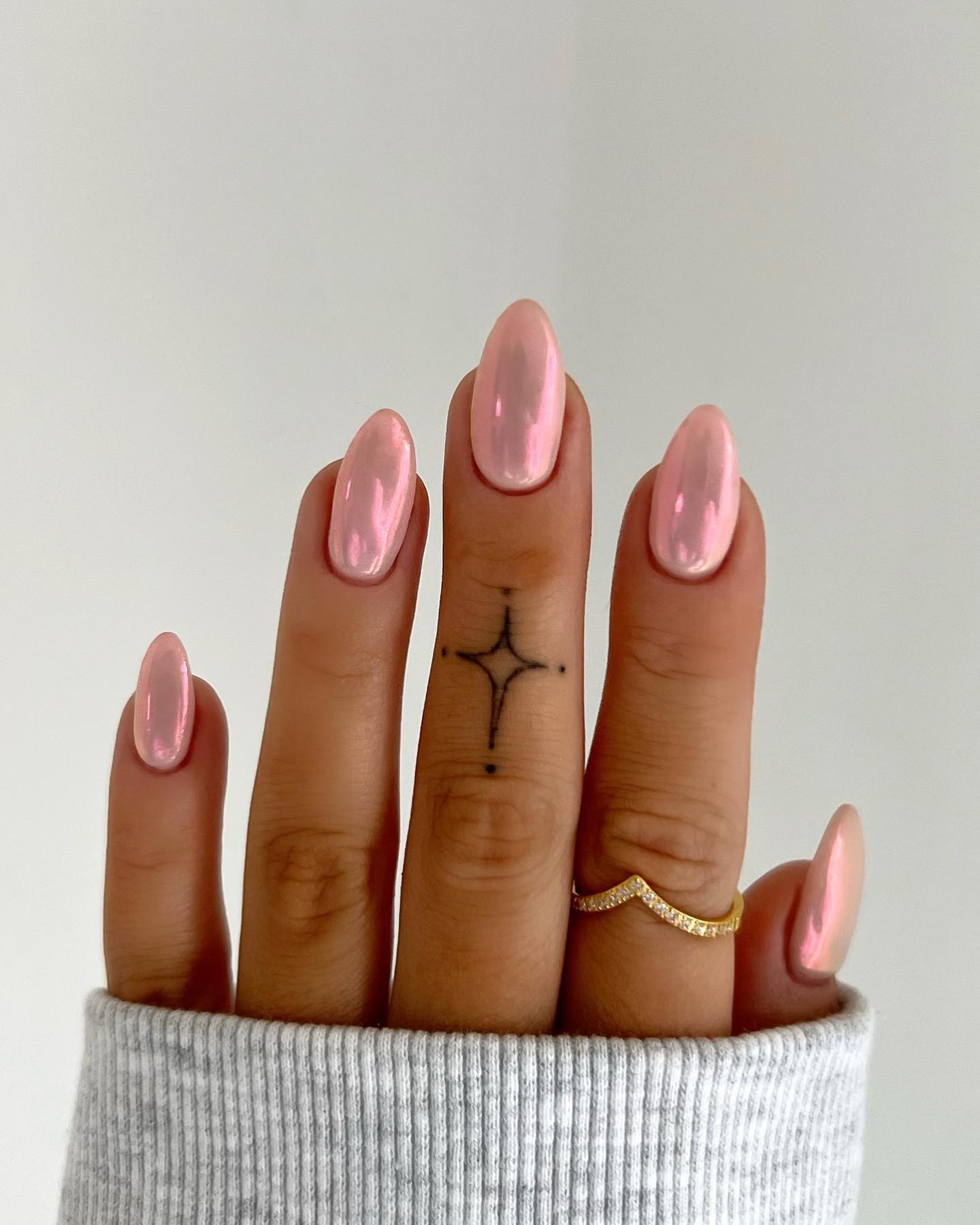 via @charsgelnails_
Futuristic Electric Blue Chrome Nails
With bold blue undertones on accent nails like this, it's all about freedom. The electric blue chrome nail look is a fun and groovy way to step up your fashion game. This shade works best with most outfits, making you stand out from the rest of the crowd at any night party!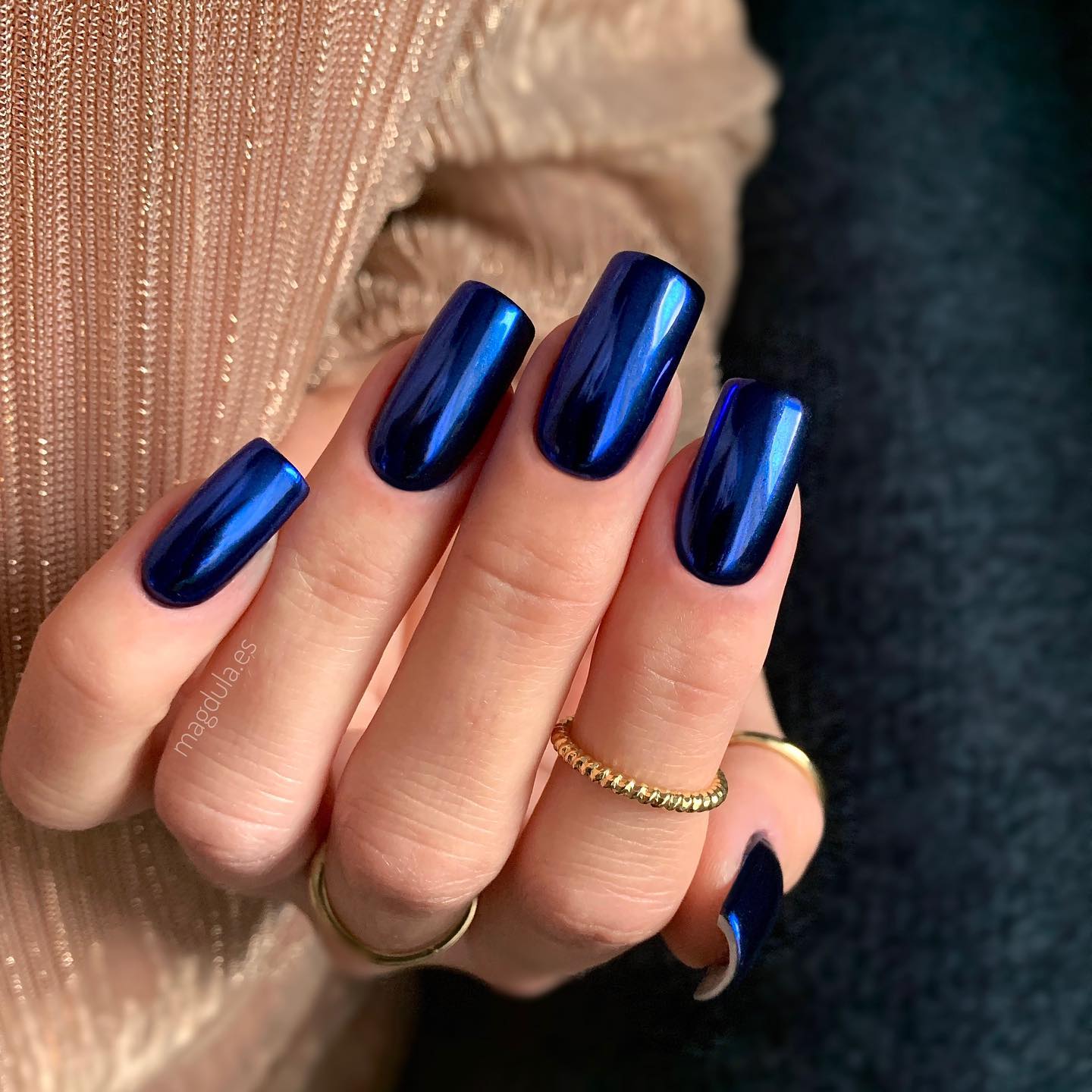 via @magdula.es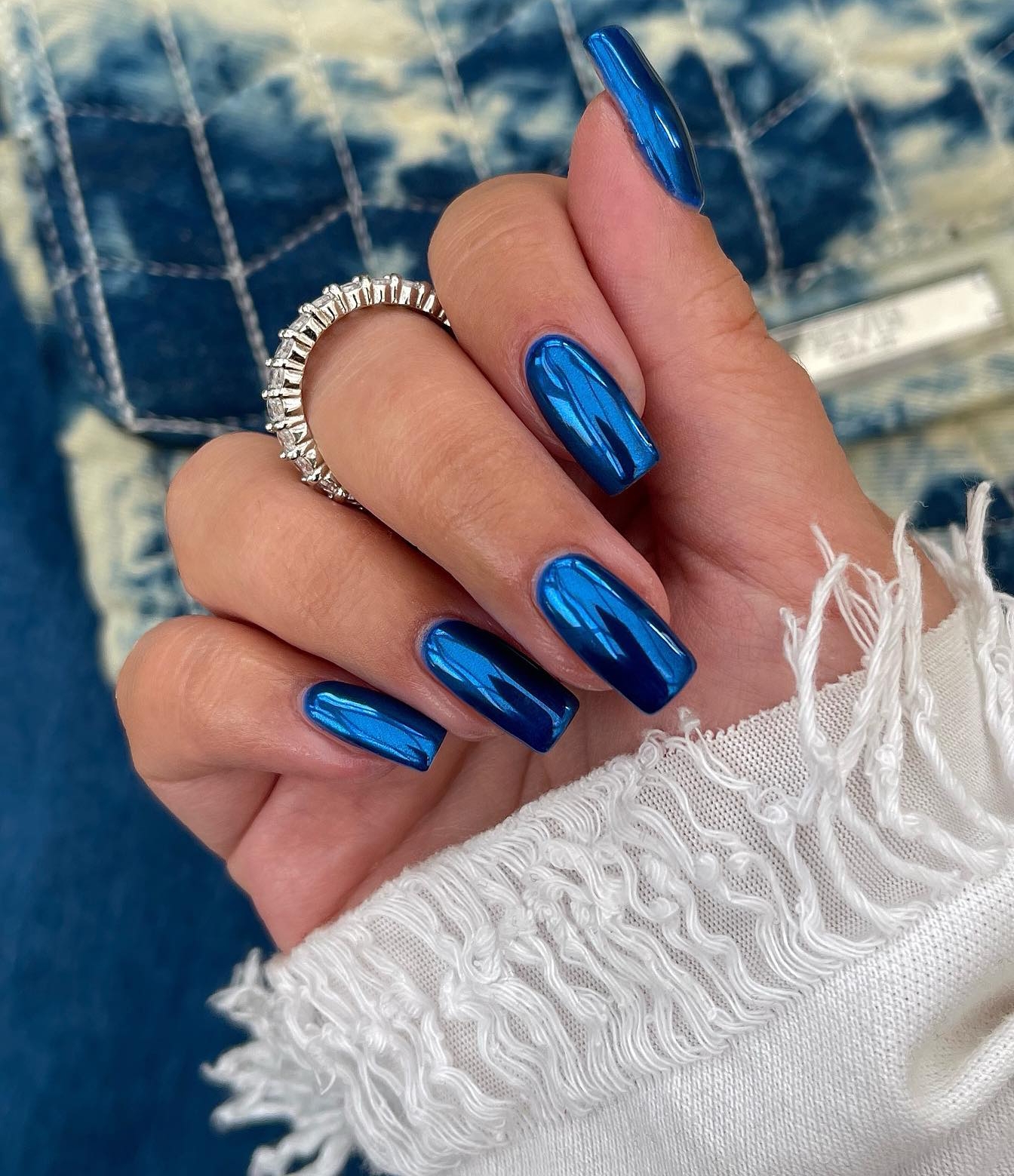 Classic Gold Chrome Nails with a Twist
Add a touch of the disco ball to your look with bright and shiny gold chrome tips. This effect of chrome twist is created through powder applied on a base yellow or white color. It shimmers under the light when you press down slightly more for extra shine!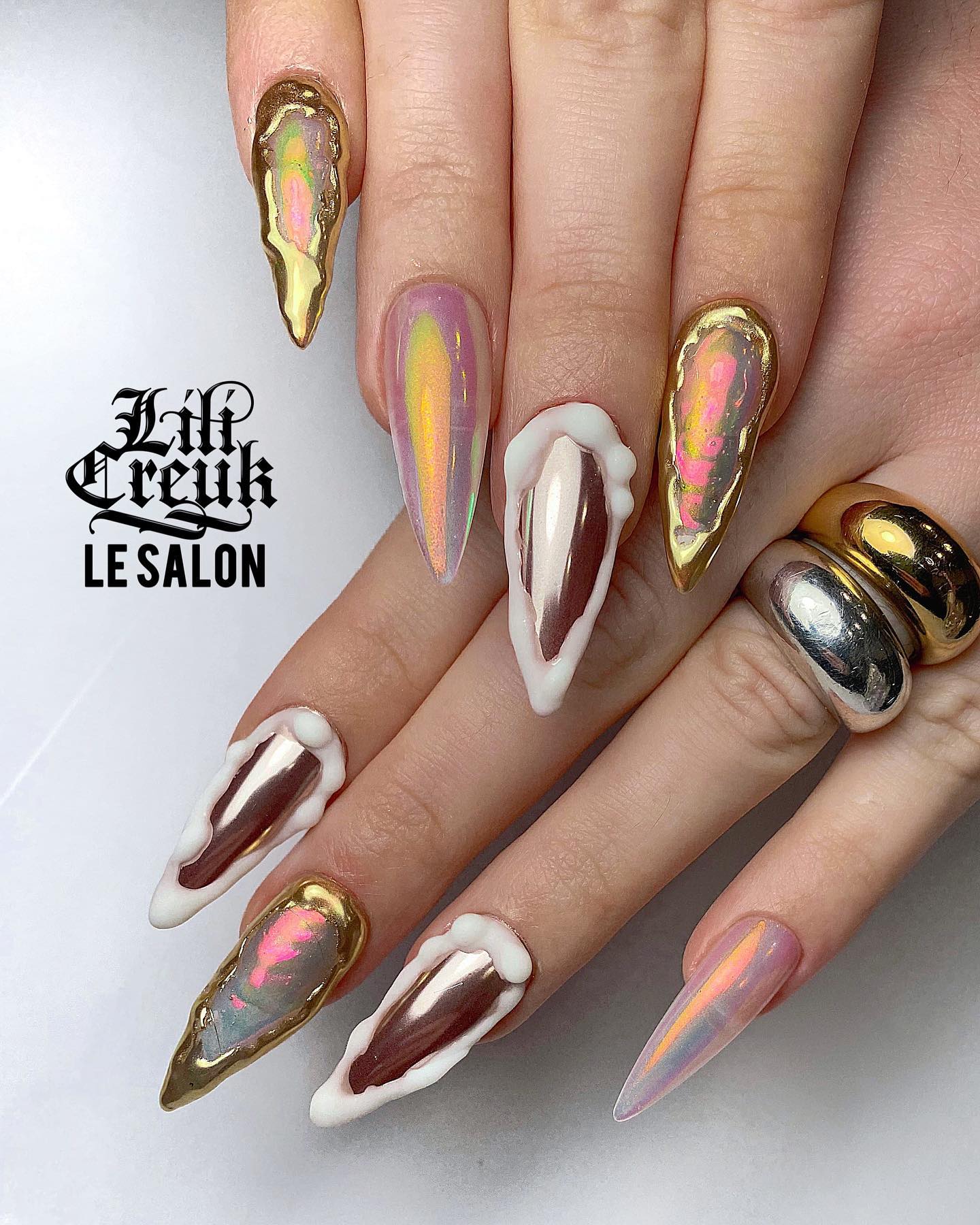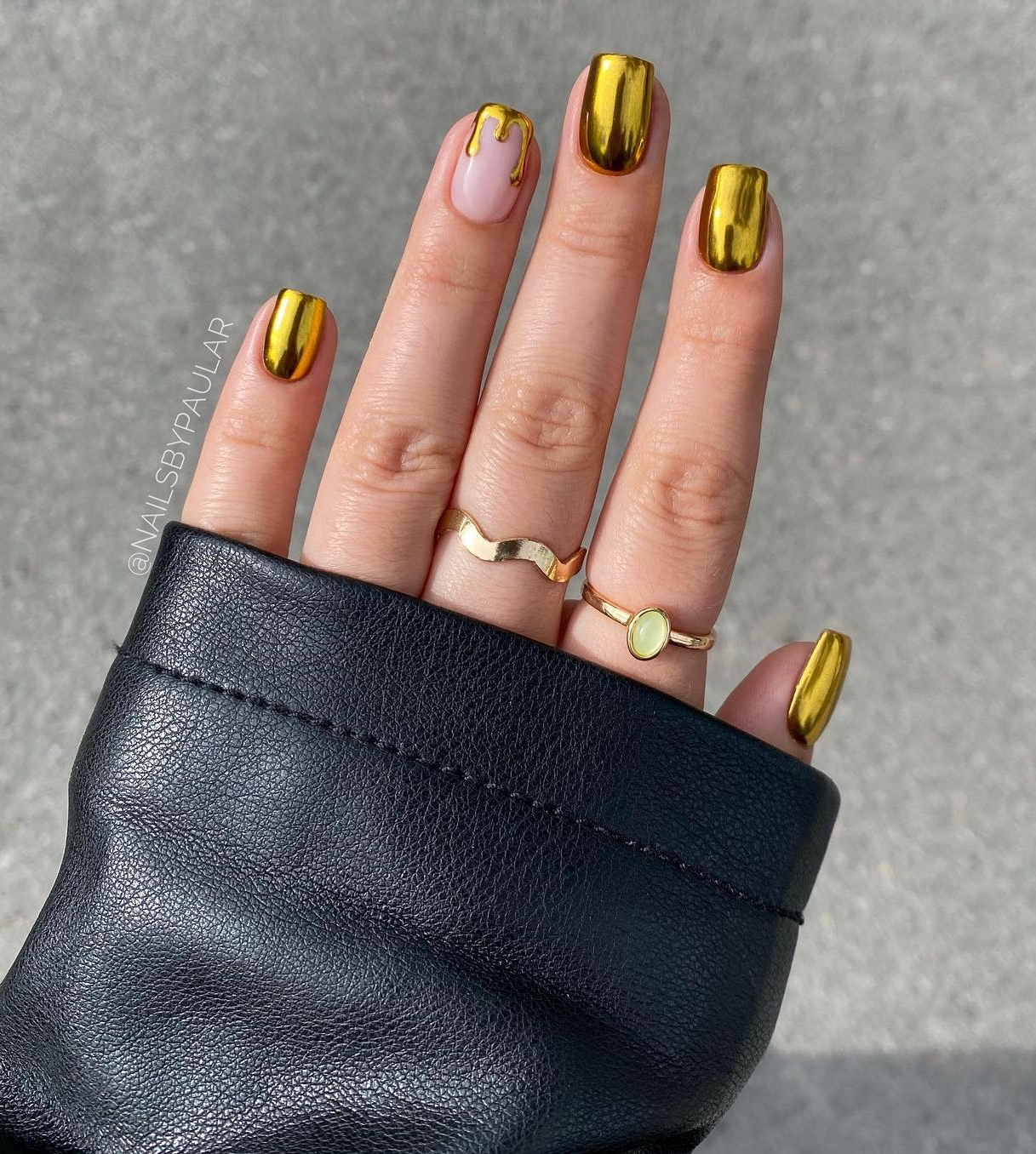 via @nailsbypaular
Versatile Chrome Acrylic Nails
Acrylic nails can give you a colorful manicure without the commitment of regular nail polish. They have been around for quite some time and come in many different shapes, sizes (including long nails), colors — even chrome!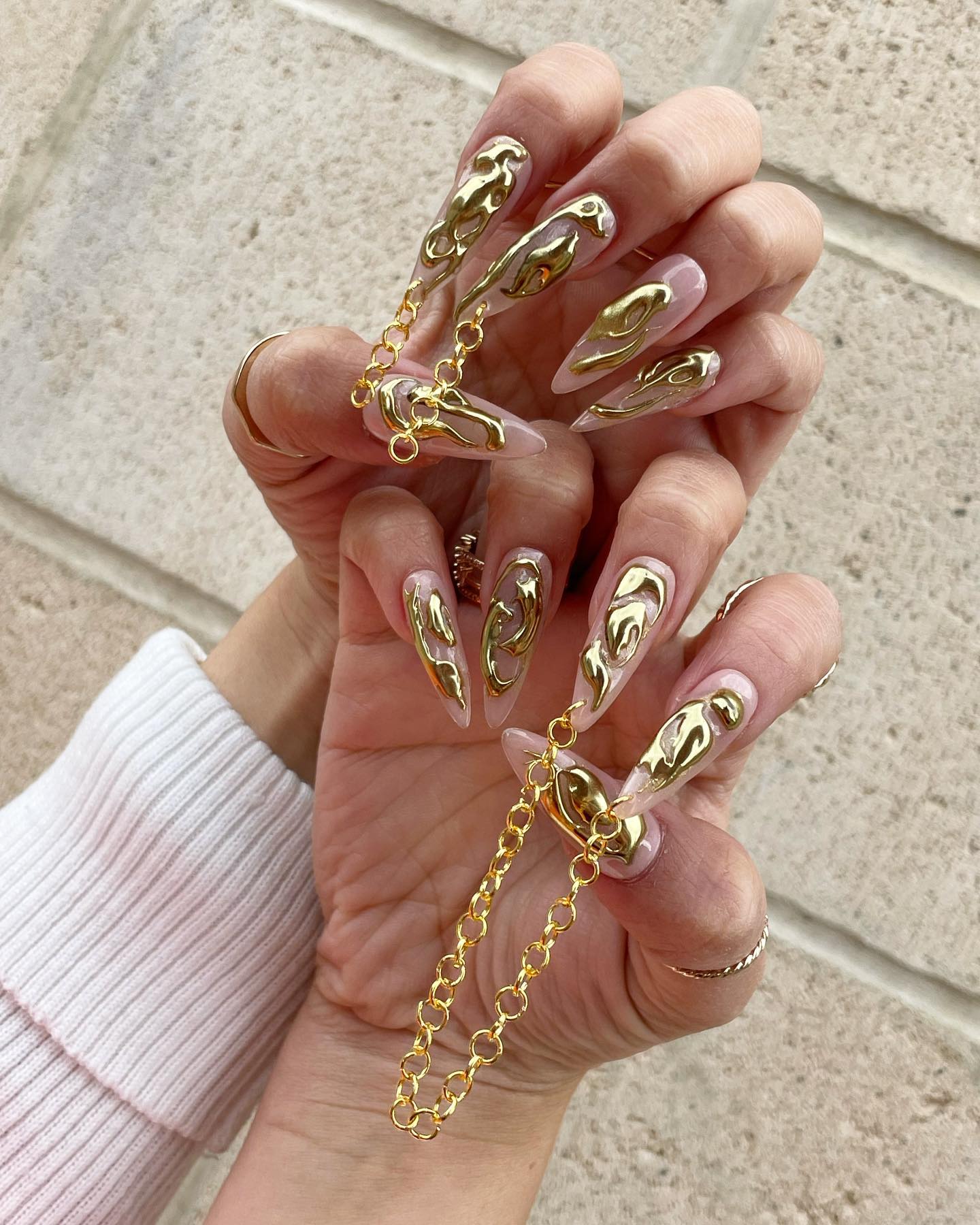 via @ten.by.jen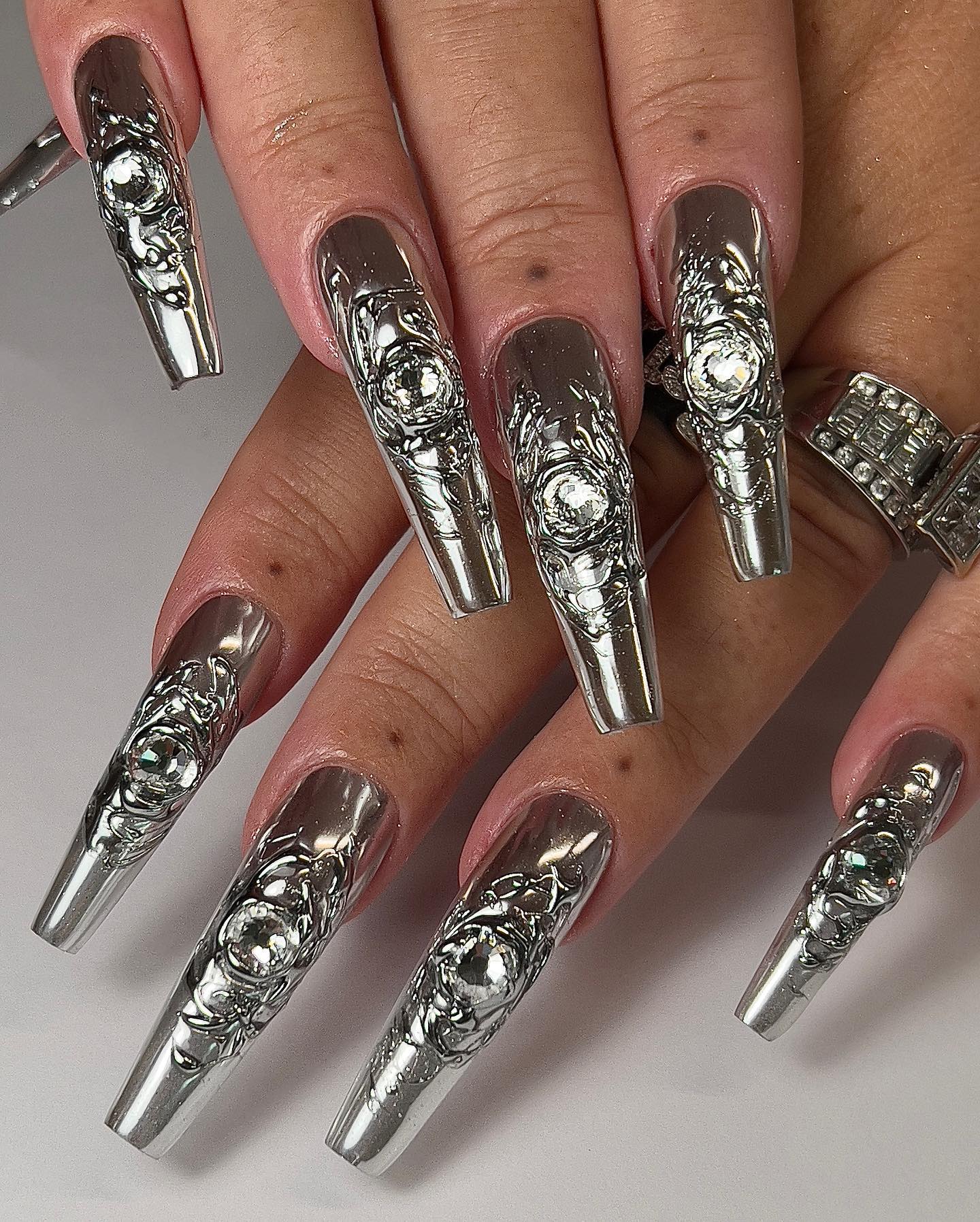 via @nailsbypadena
Gentle Chrome Ombre Nails
Delicate chrome ombre nails offer a soft gradient and incredible shine. This trendy nail art suits different styles and occasions.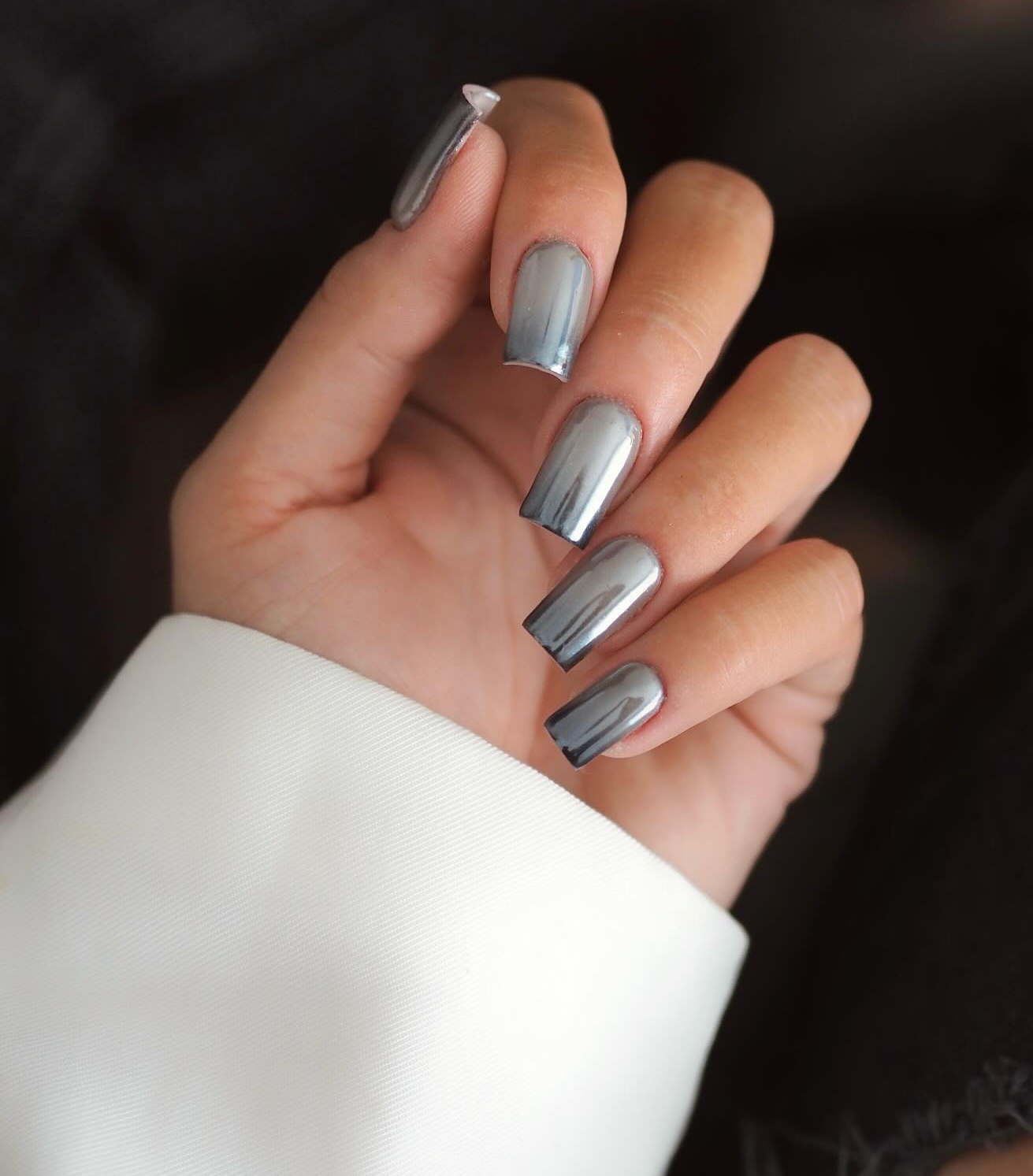 via @magdula.es
Please note that this is more than just a clear base. This design is refined and has a subtle shine, making it versatile.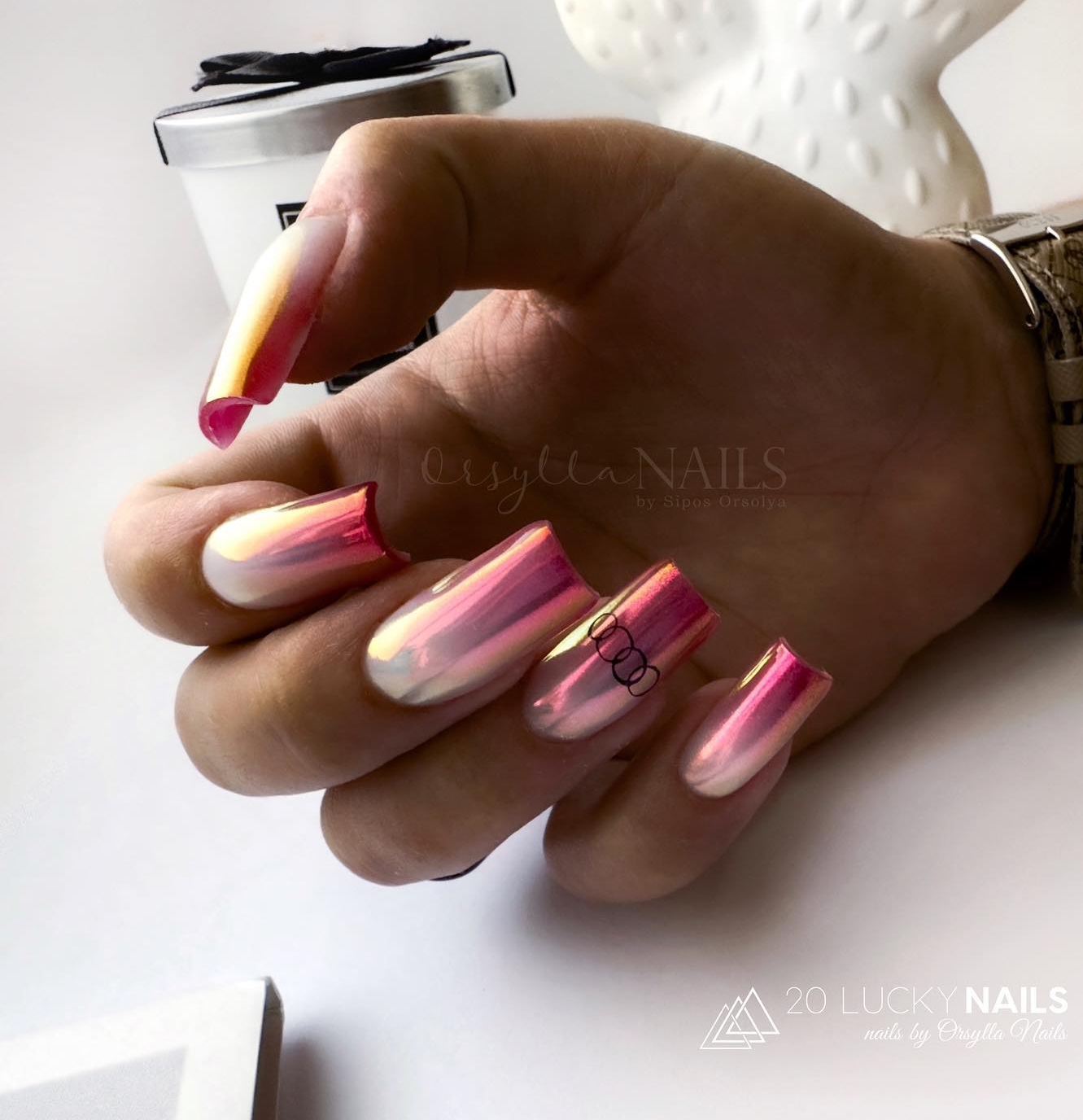 via @orsylla_nails
Charming Purple Chrome Nails
Impressive purple chrome nails with a reflective finish are the choice of fashionistas who want to complete an intriguing look.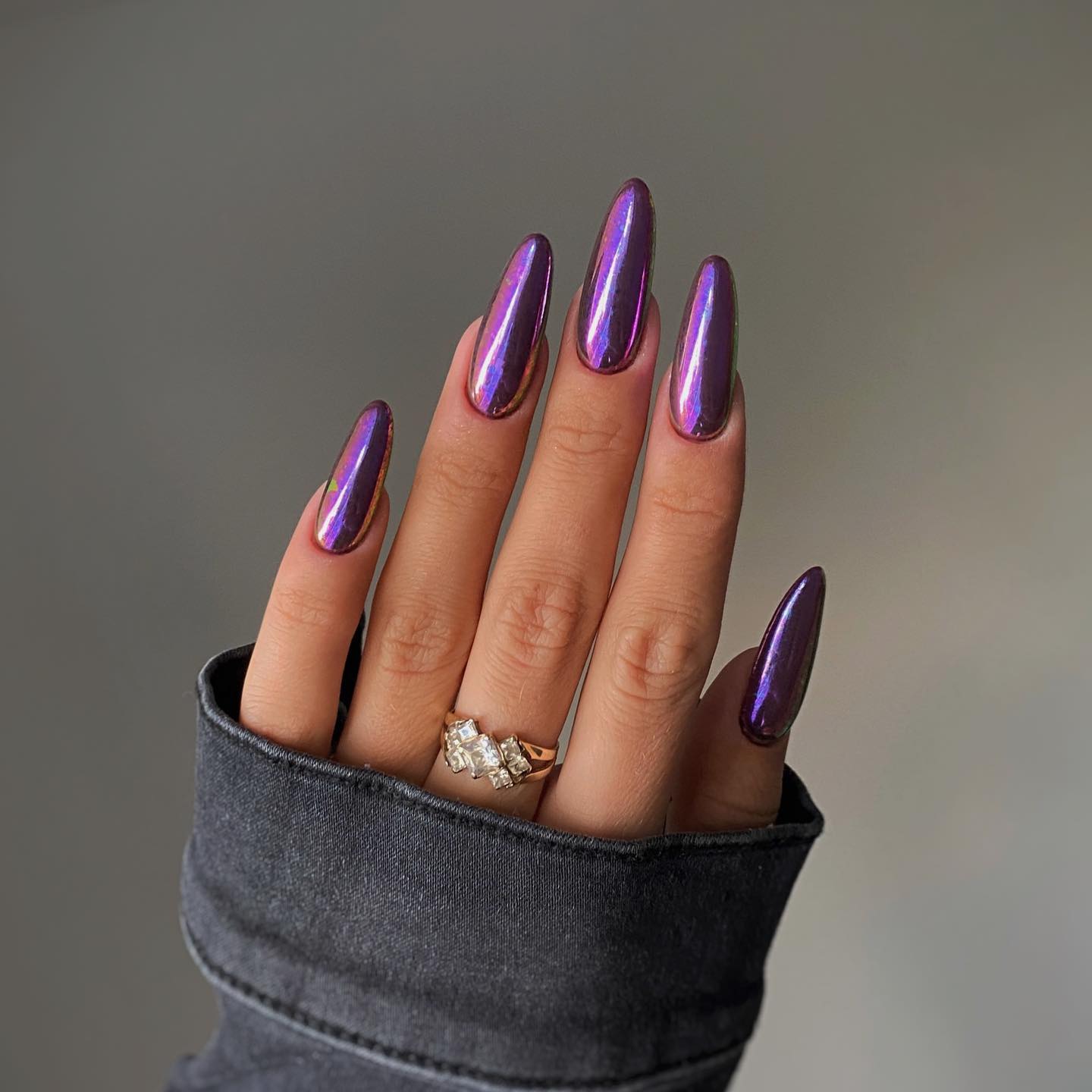 via @pegi_nails
Are you going to a party? Long purple nails will highlight your individuality in the best way!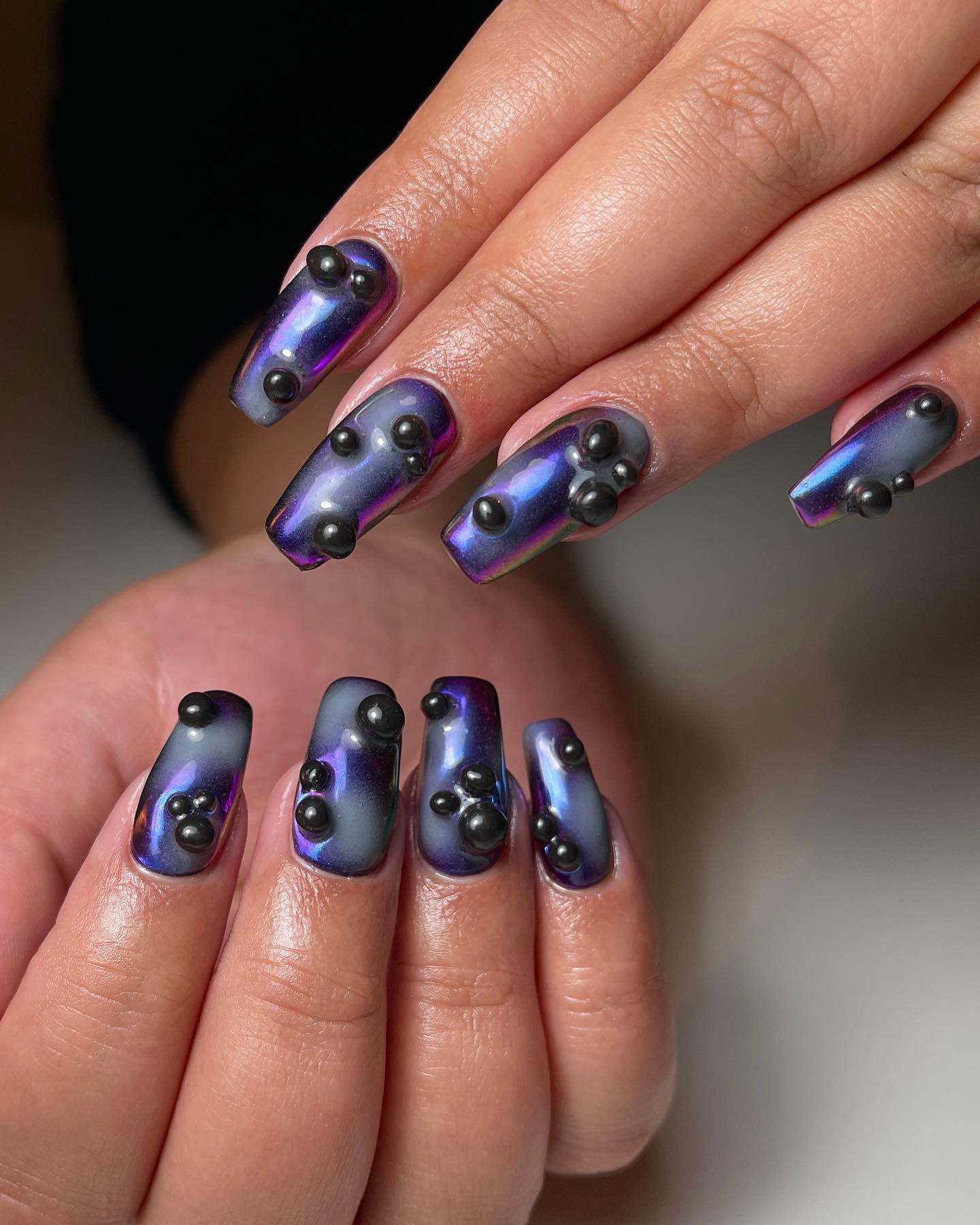 Long Oval Silver Chrome Nails
There's a reason why so many people have been going for the silver chrome manicure. It can create an illuminating, trendy look to make your oval nails stand out in this sea of sameness! You could go all-in with silver or do one particular finger.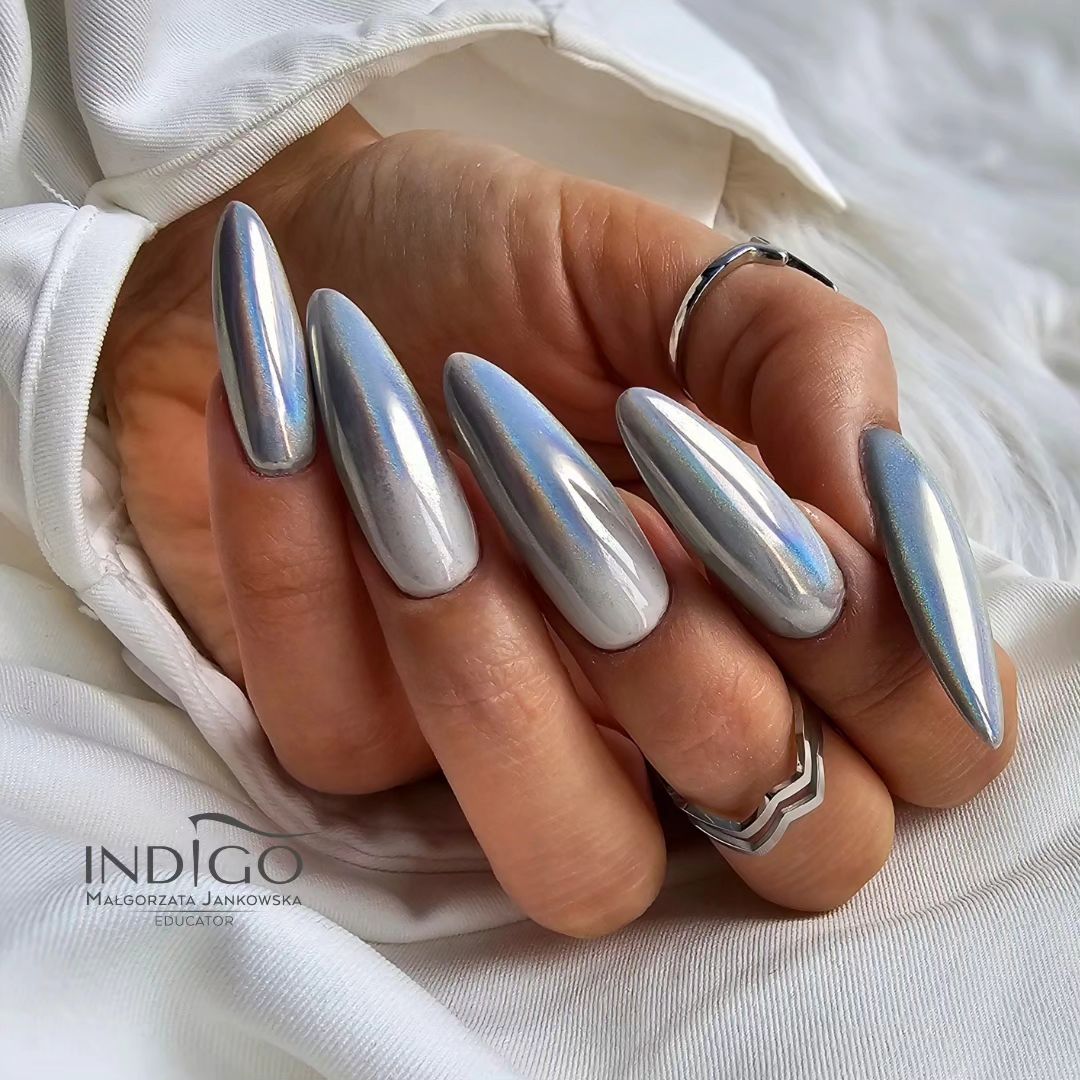 via @malgorzata_jankowska_indigo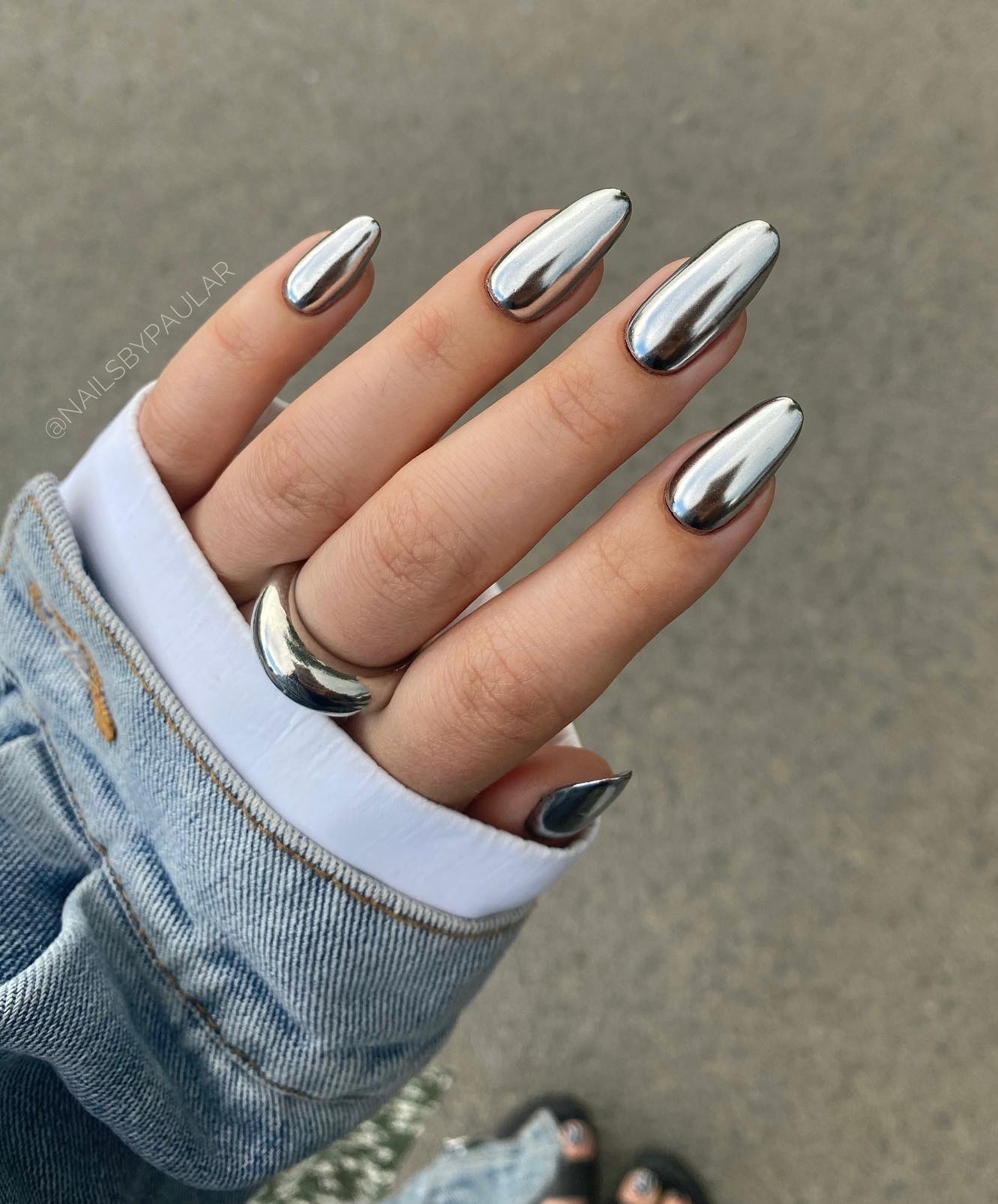 via @nailsbypaular
Dreamy Unicorn Chrome Nails
There is nothing more romantic than pastel colors like pink and violet. Youthful and fun, these inventive holographic chrome nails with swirls resemble fairytale unicorns. Ensure you add some sparkle, too, because what girl doesn't love glitter?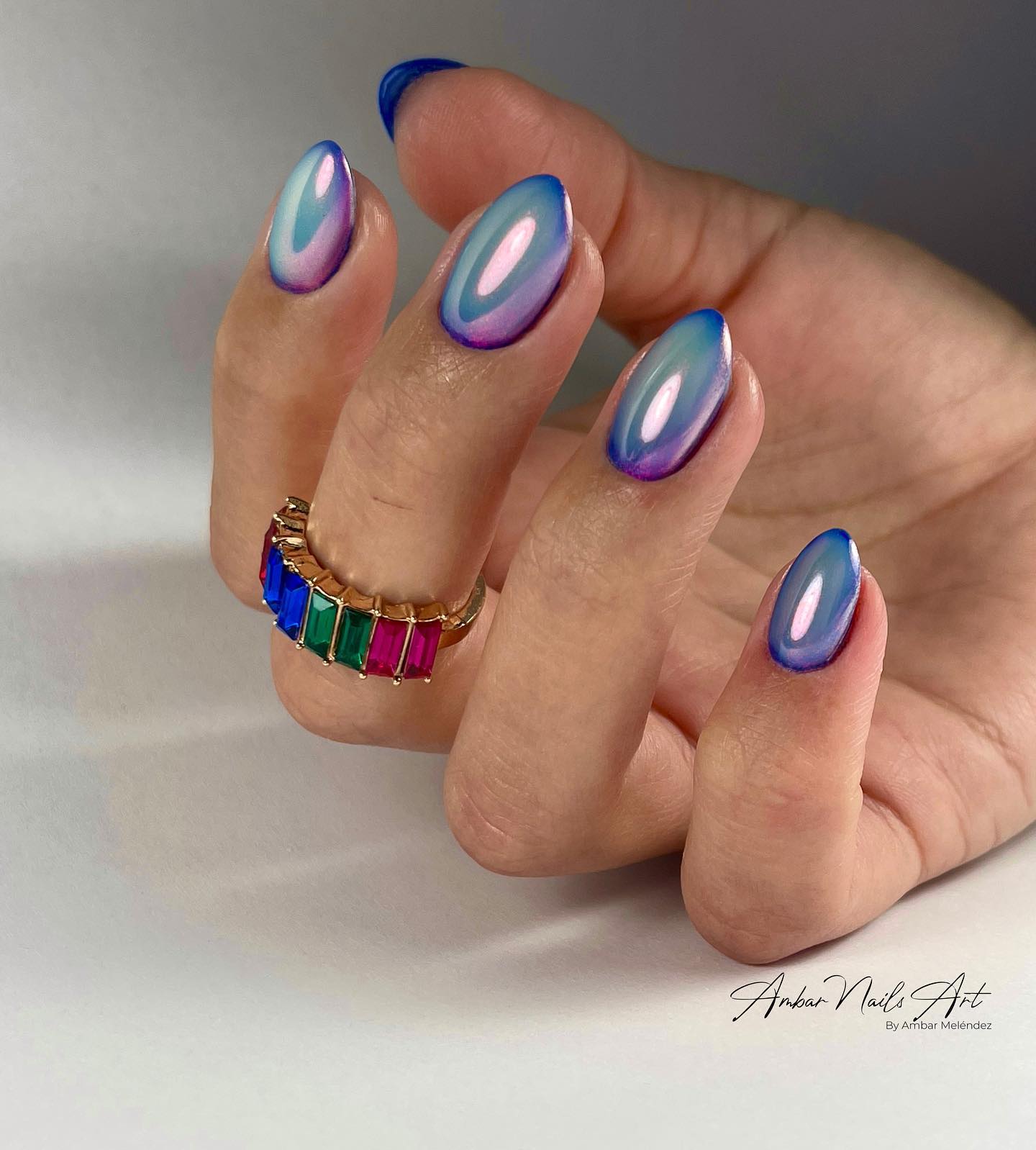 via @ambar.nailsart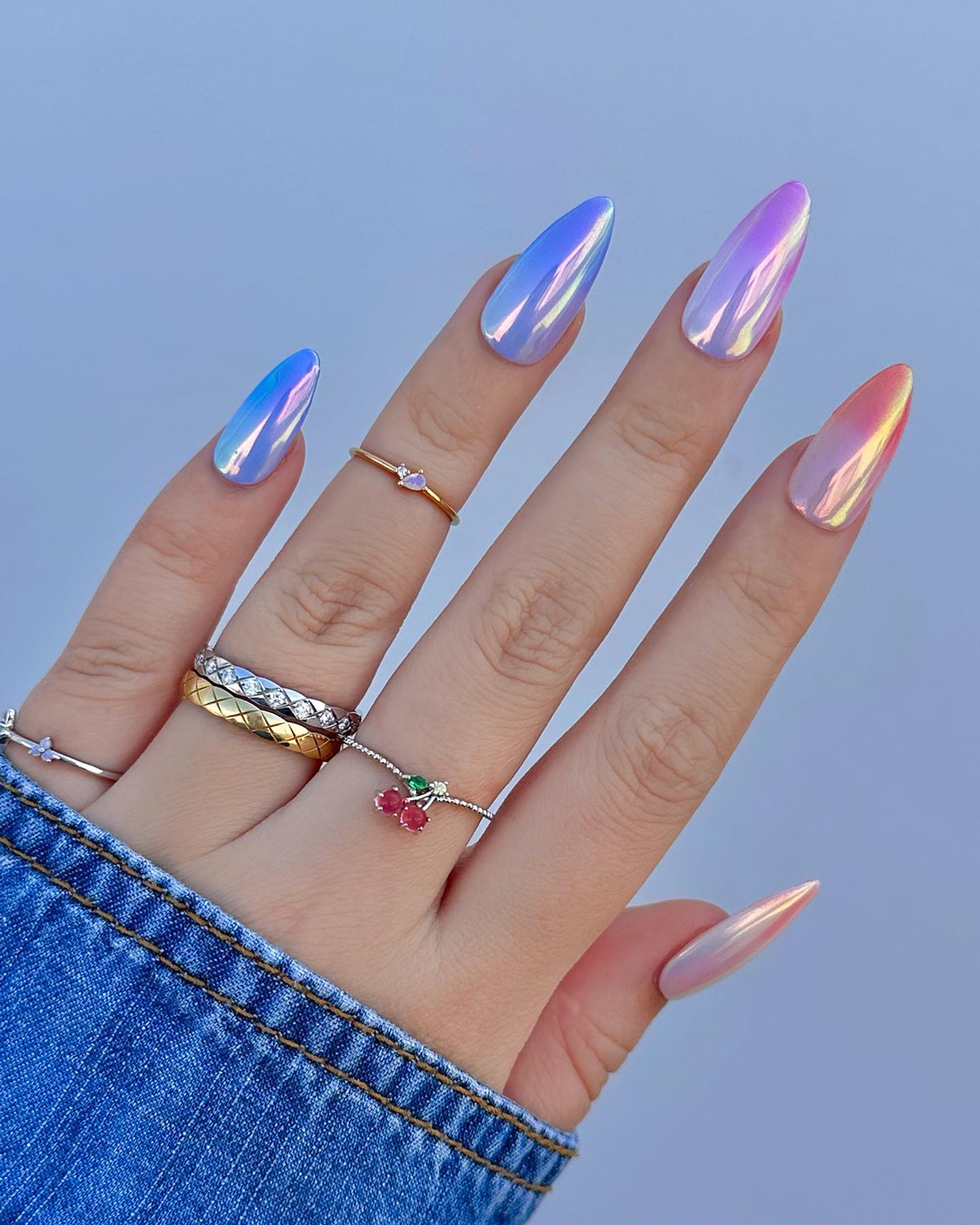 via @daily_charme
Square-tipped Baby Blue Chrome Nails
For all romantic ladies, baby blue nails are a must-have color for chrome manicure types. This gel polish can be used to accentuate any accessory you have in your closet, from rings to fur coats — it's simply stunning!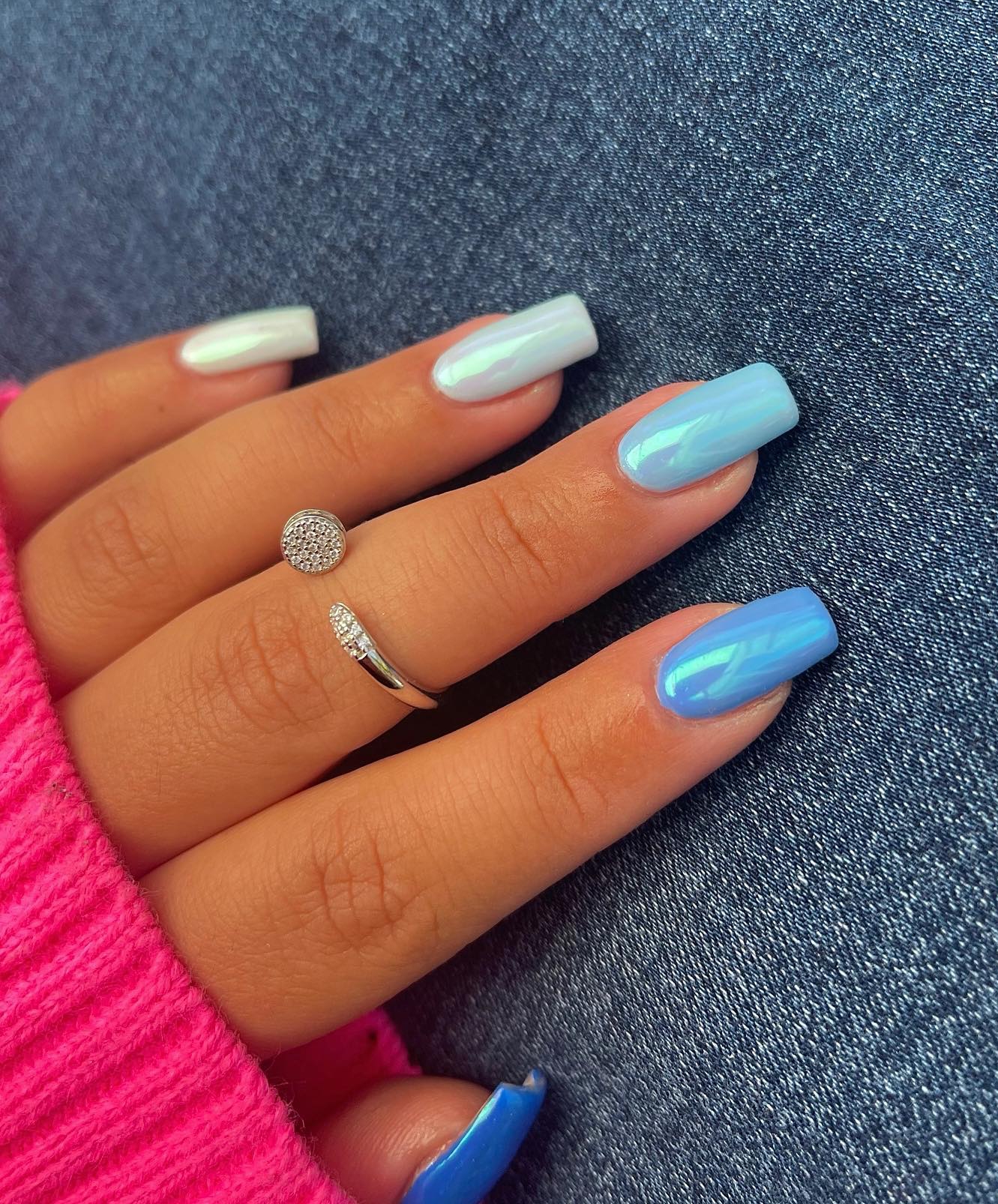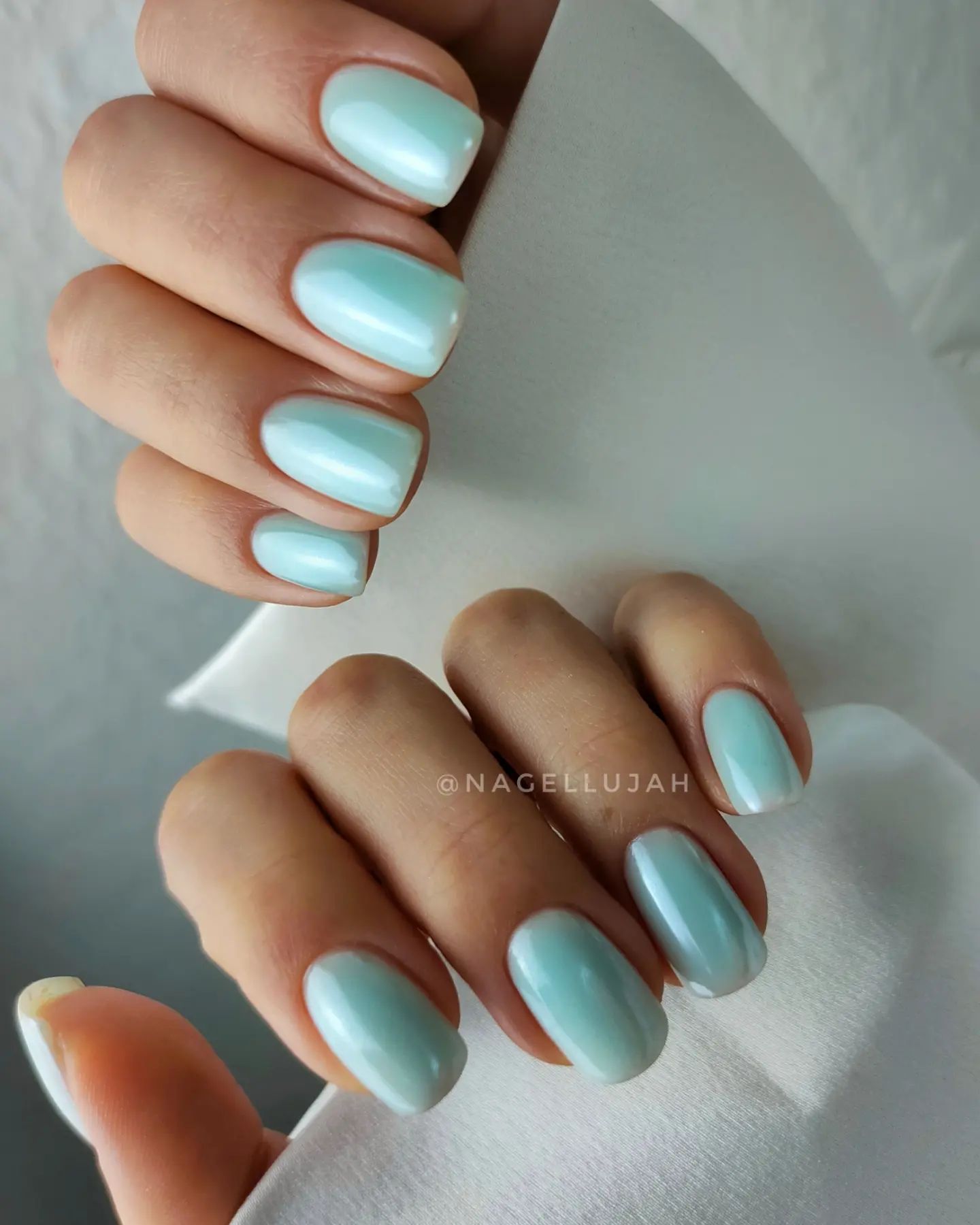 via @nagellujah
Green Chrome Nails
Extra-long ballerina green nails are the perfect manicure for those who love the vivid color! They're daring but perfectly feminine at the same time. And if you want an even more mature look, just a chrome nail trend such as basic black or silver will be enough.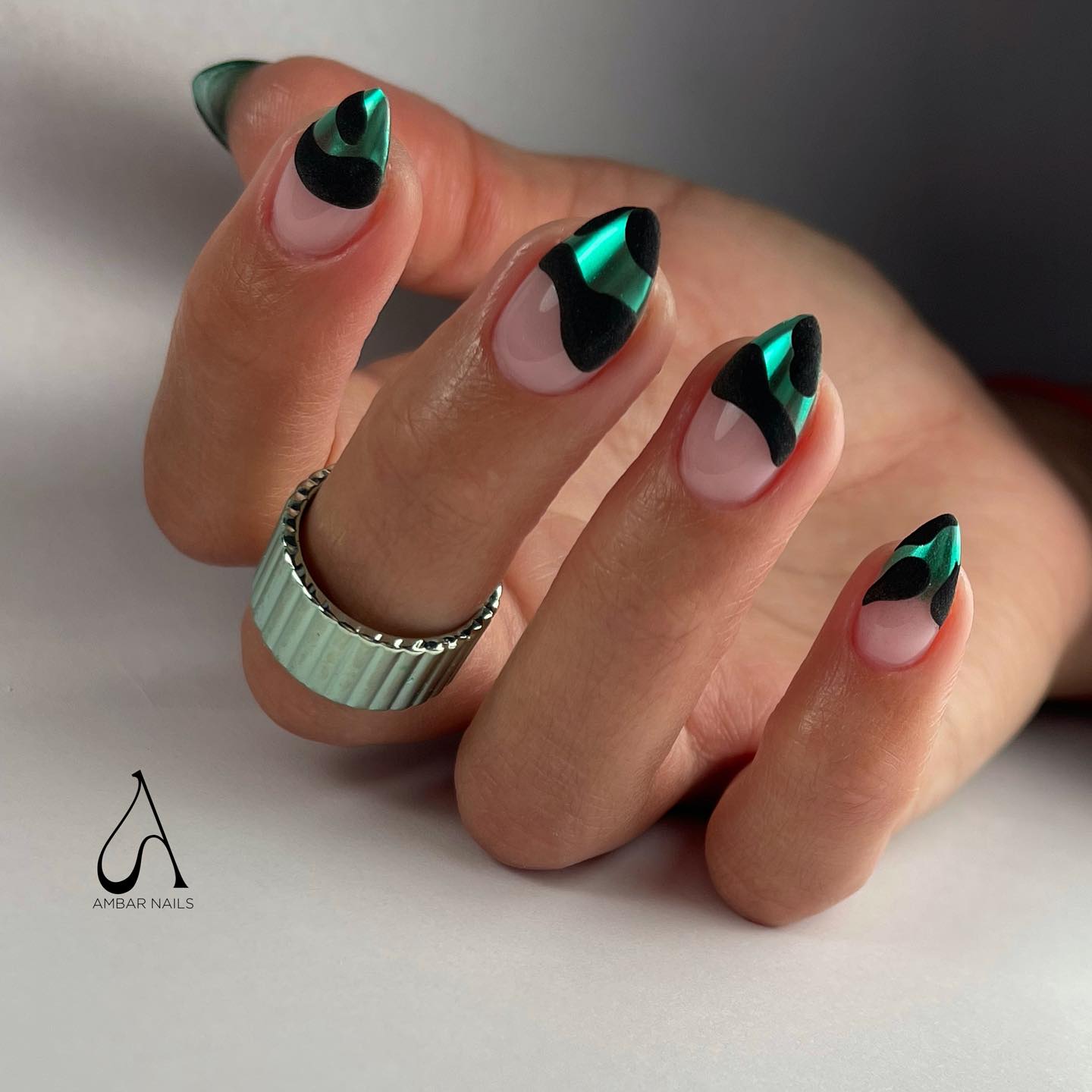 via @ambar.nailsart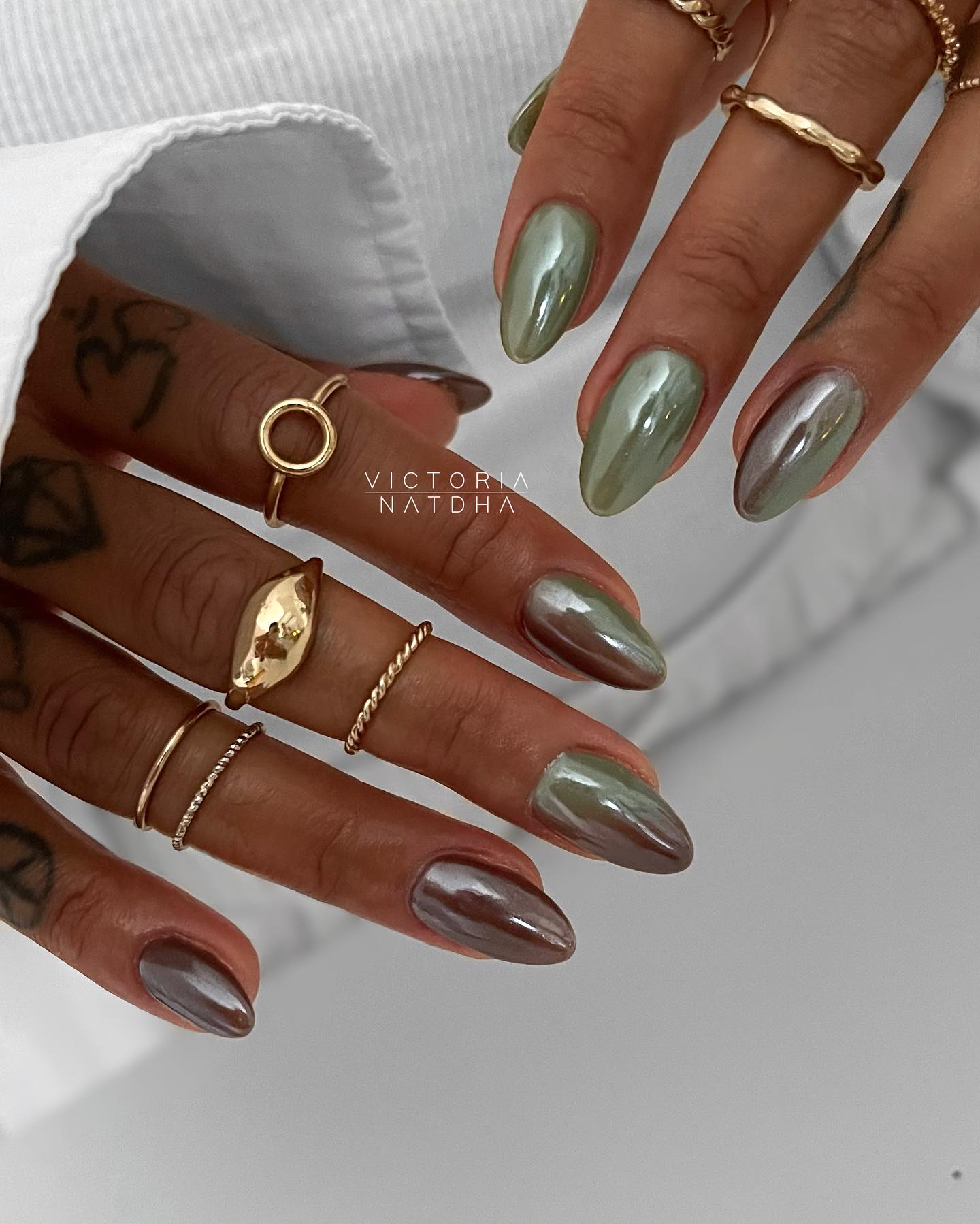 via @victorianatdha
Stylish Chrome Coffin Nails
The best way to make your coffin nail ideas look sophisticated and chic is with the classic color of nude chrome. It's a subtle yet utterly stylish design with chrome powder, which makes it an excellent choice for any occasion!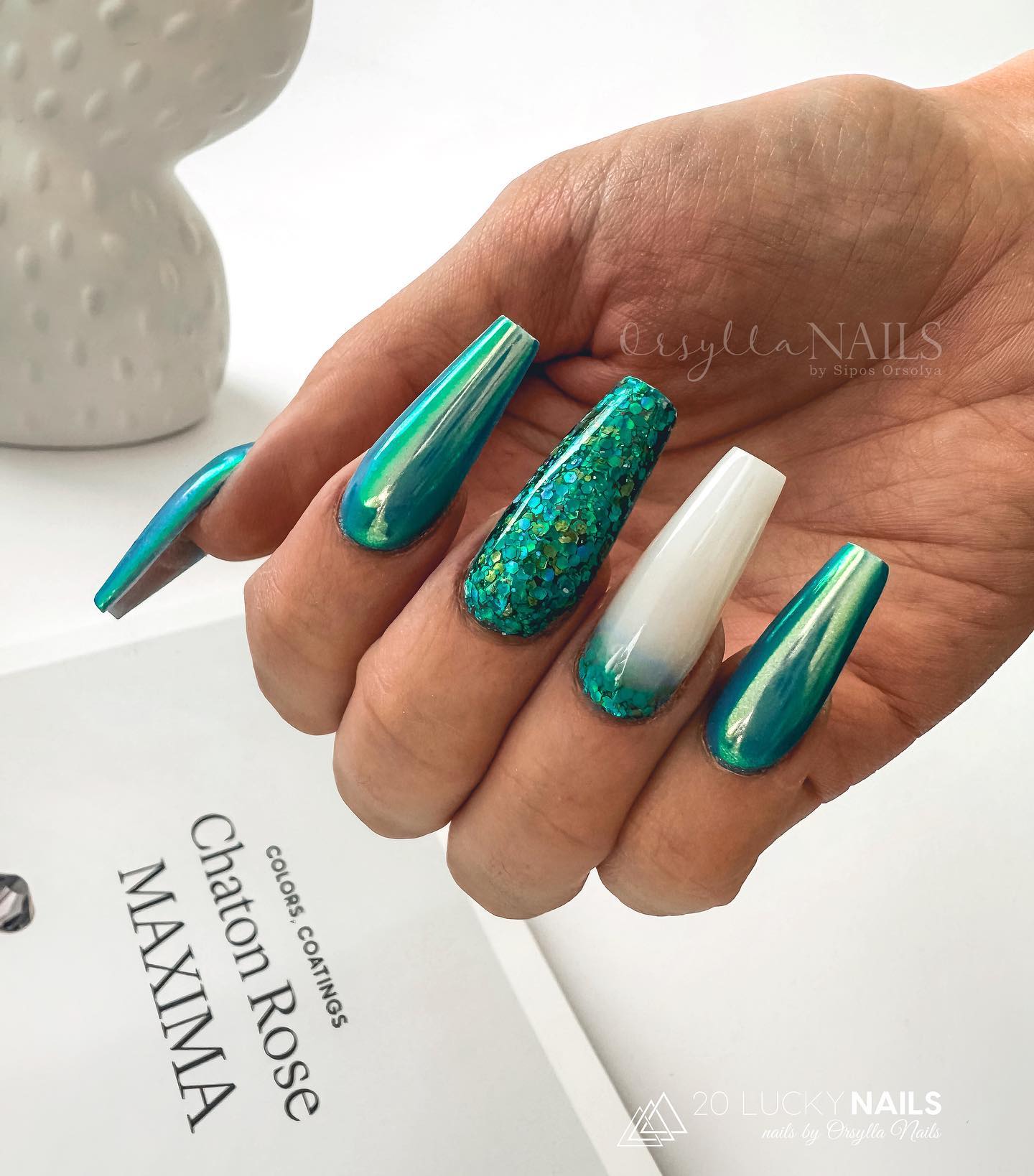 via @orsylla_nails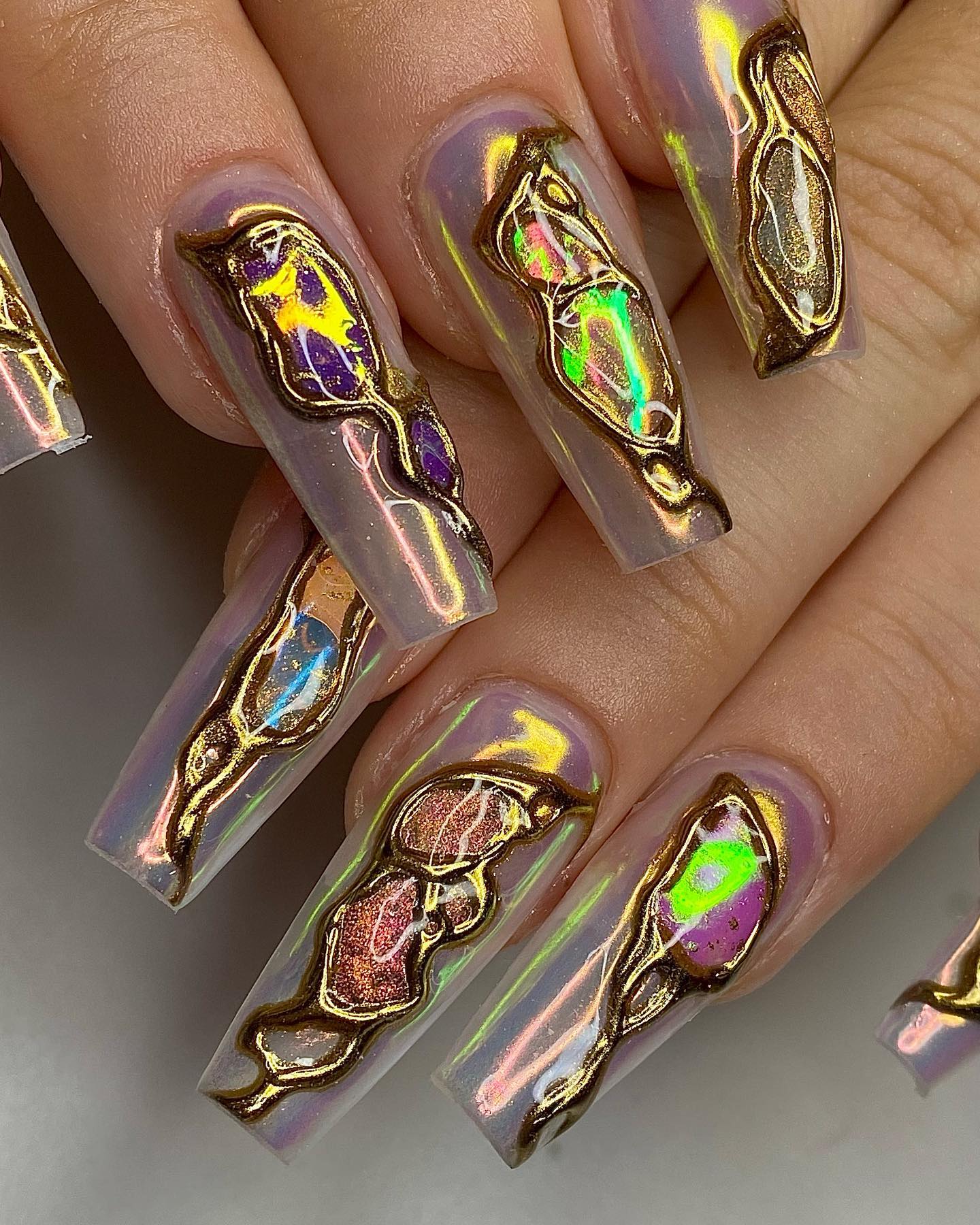 via @orsylla_nails
Elegant Chrome French Tip Nails
Would you rather have a classic nail than something new every time? Then, the chrome nail trend might be the one for you. Neutral nails with chrome French manicures are currently trending in fashion circles, but that doesn't mean they have to stay boring! Add some extra shine to your fingers using chrome-powders.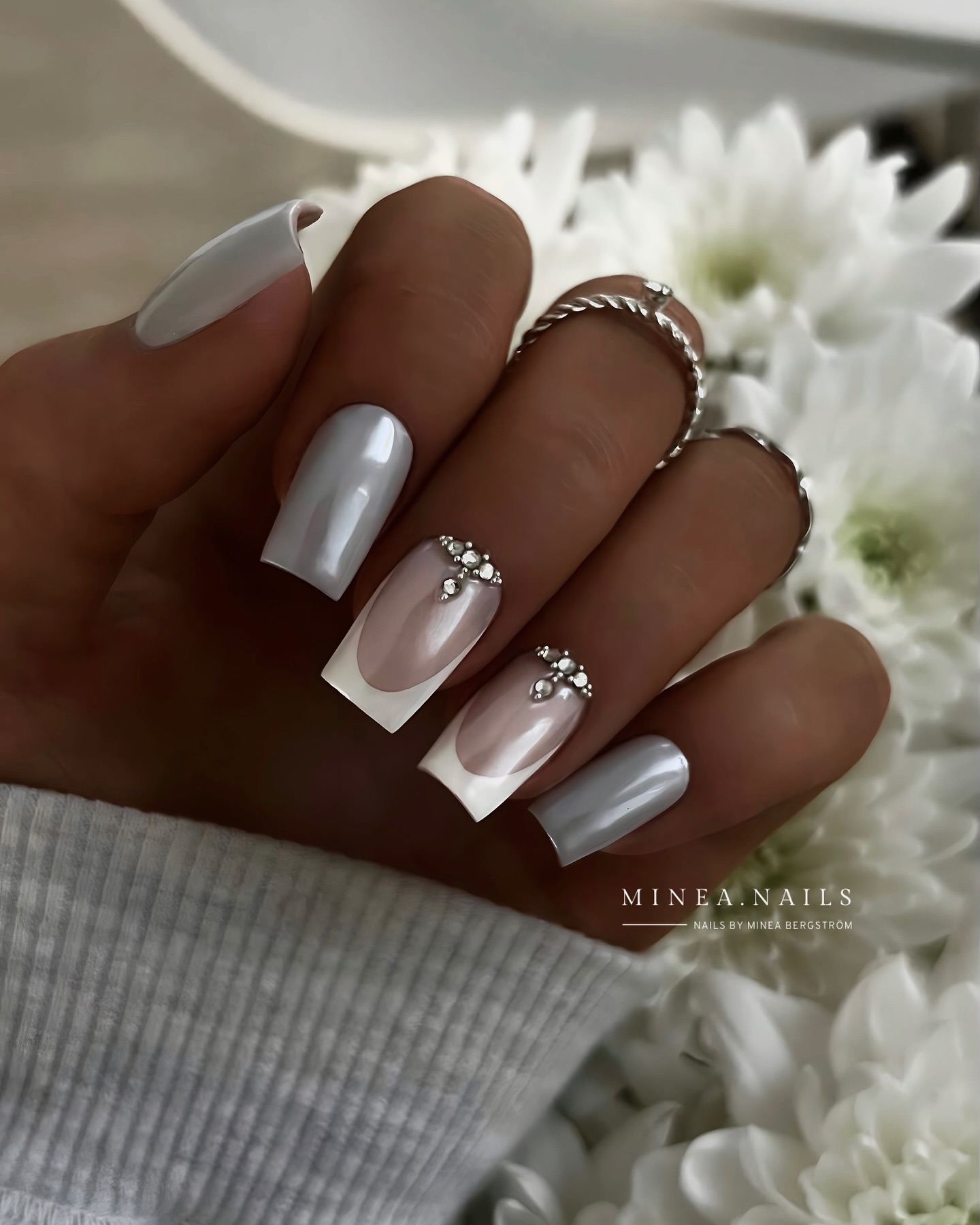 via @minea.nails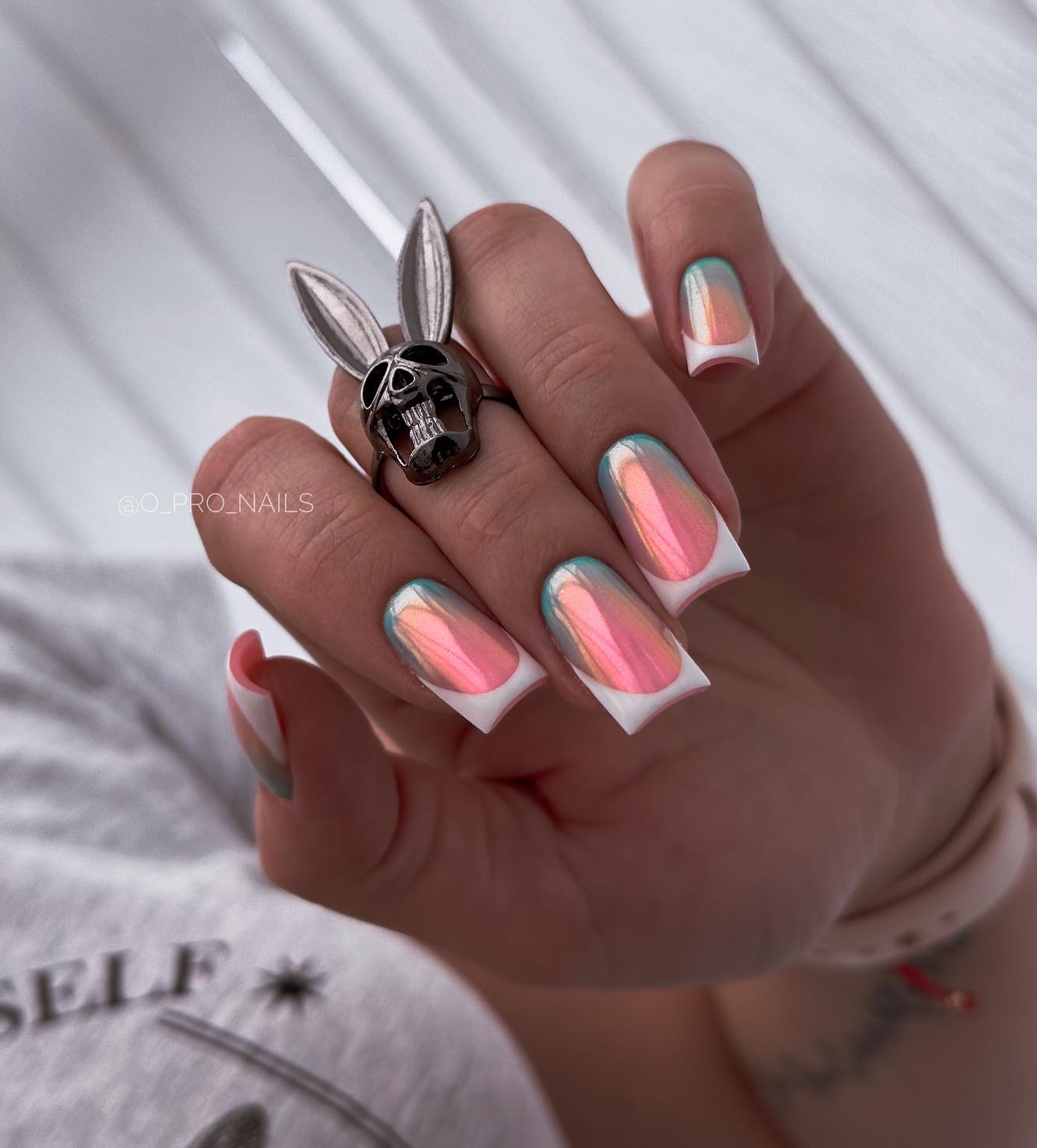 via @lenavitch.nailz
Mountain Peak Rainbow Chrome Nails
You can have a variety of colors in your nails, but if you want to go for something different from the usual bright scheme, chrome rainbow shades are perfect. The subtlety and gradients make them more attractive than traditional ones without being harsh on eyesight!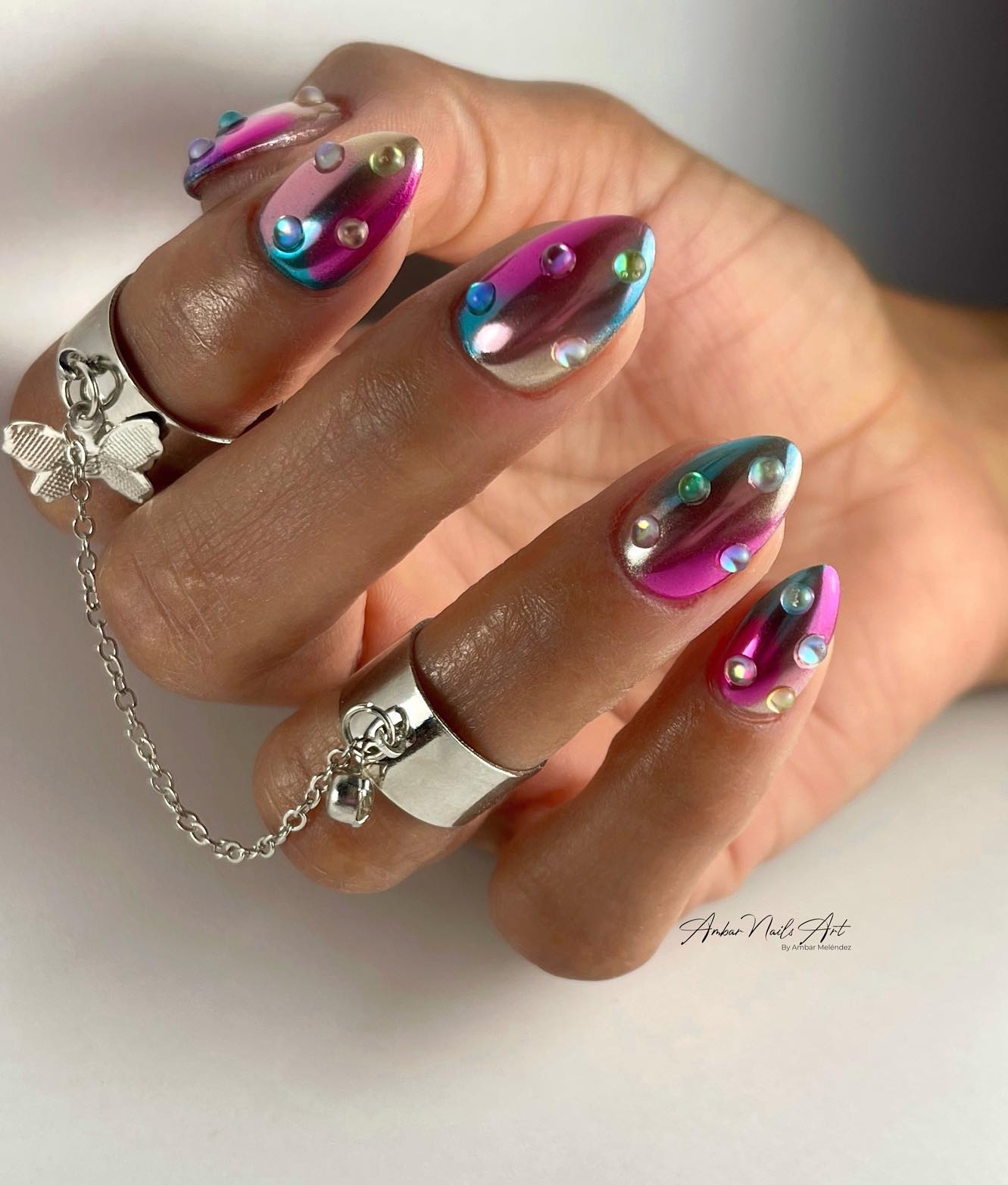 via @ambar.nailsart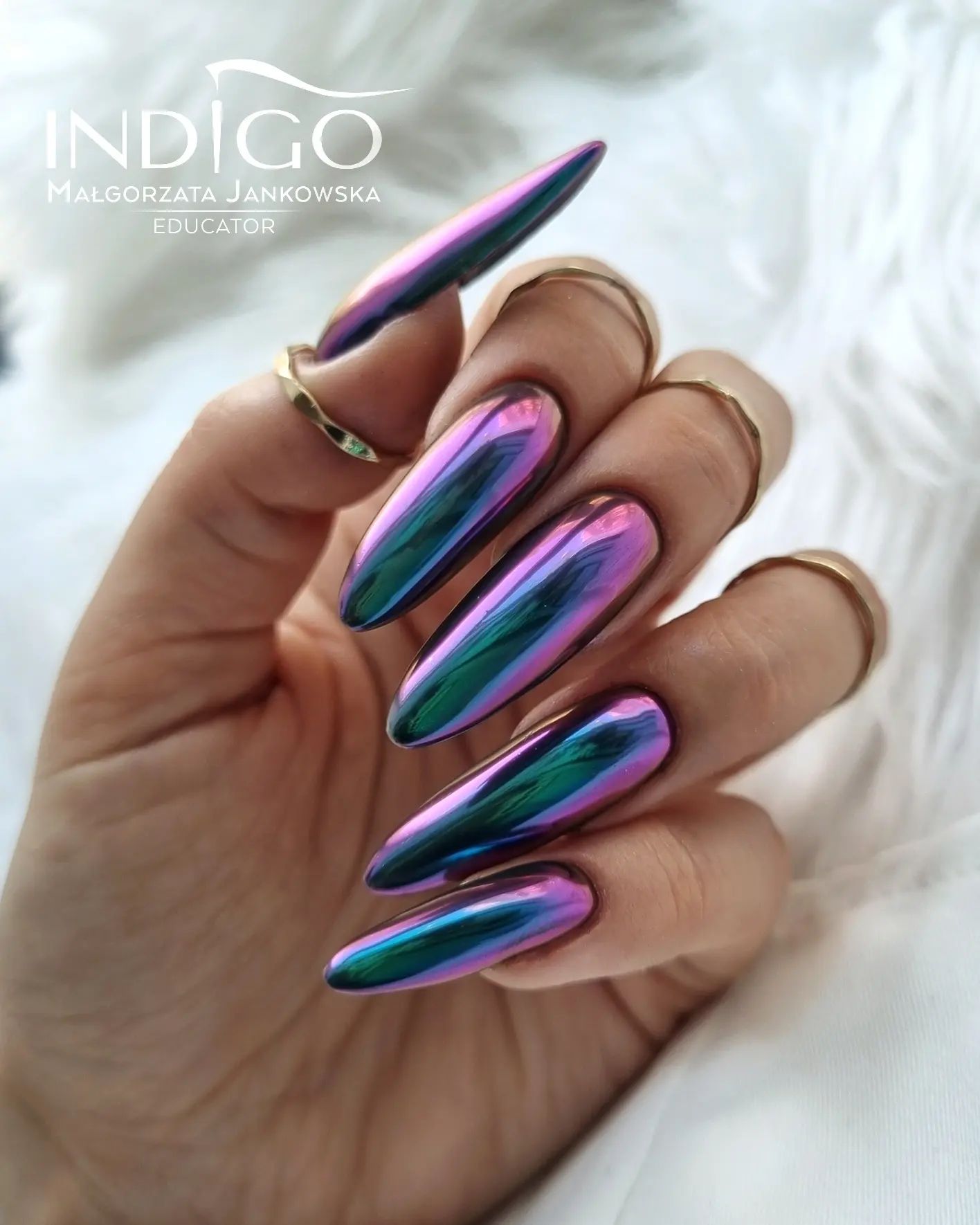 via @malgorzata_jankowska_indigo
Chrome Nails with Hearts
If you want to spice up your nail design game, consider the fun and creative ways by mixing neutral shades with contrasting reds or adding a few cute designs, such as chrome heart nails, that can help give them an innovative, fresh-faced feminine twist.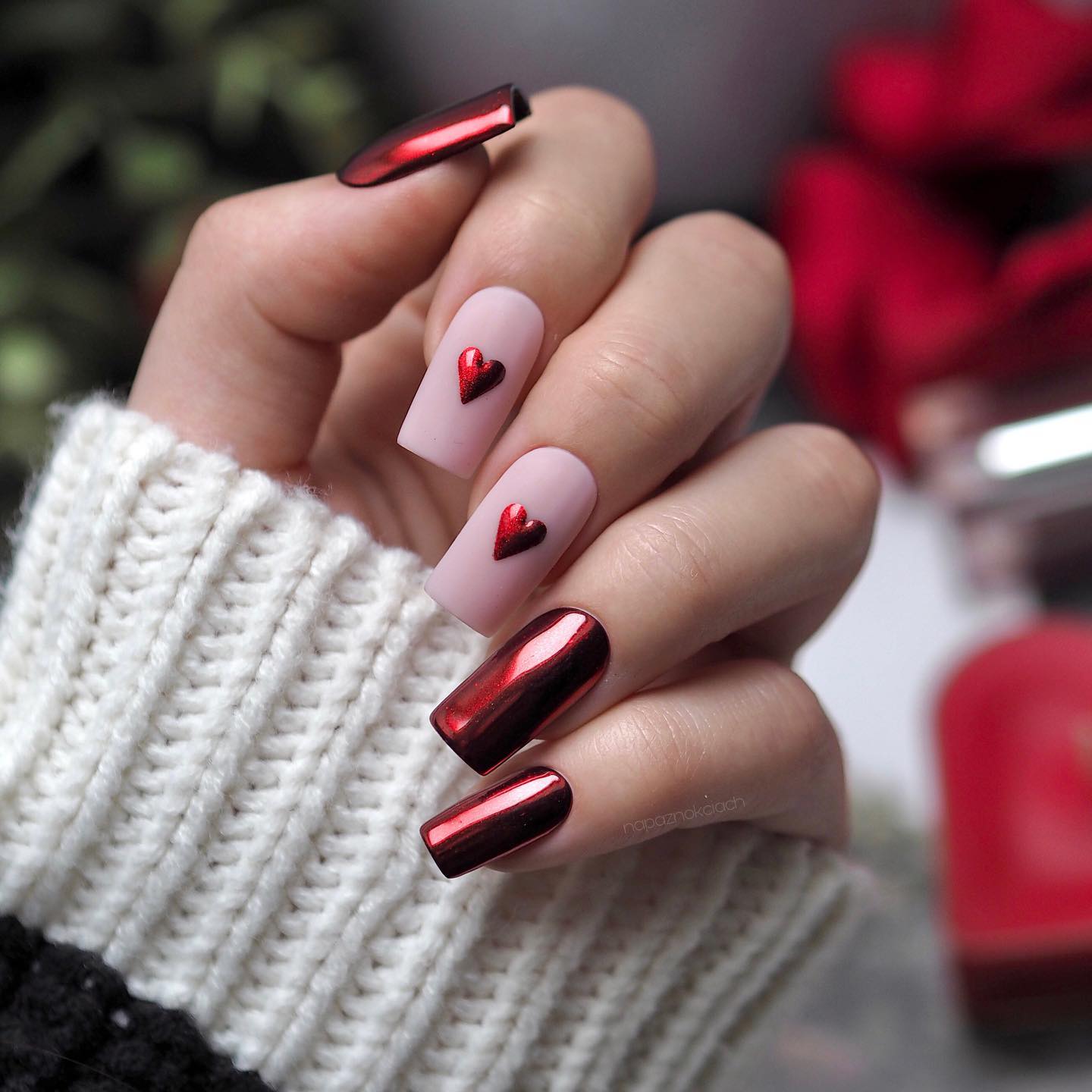 via @napaznokciach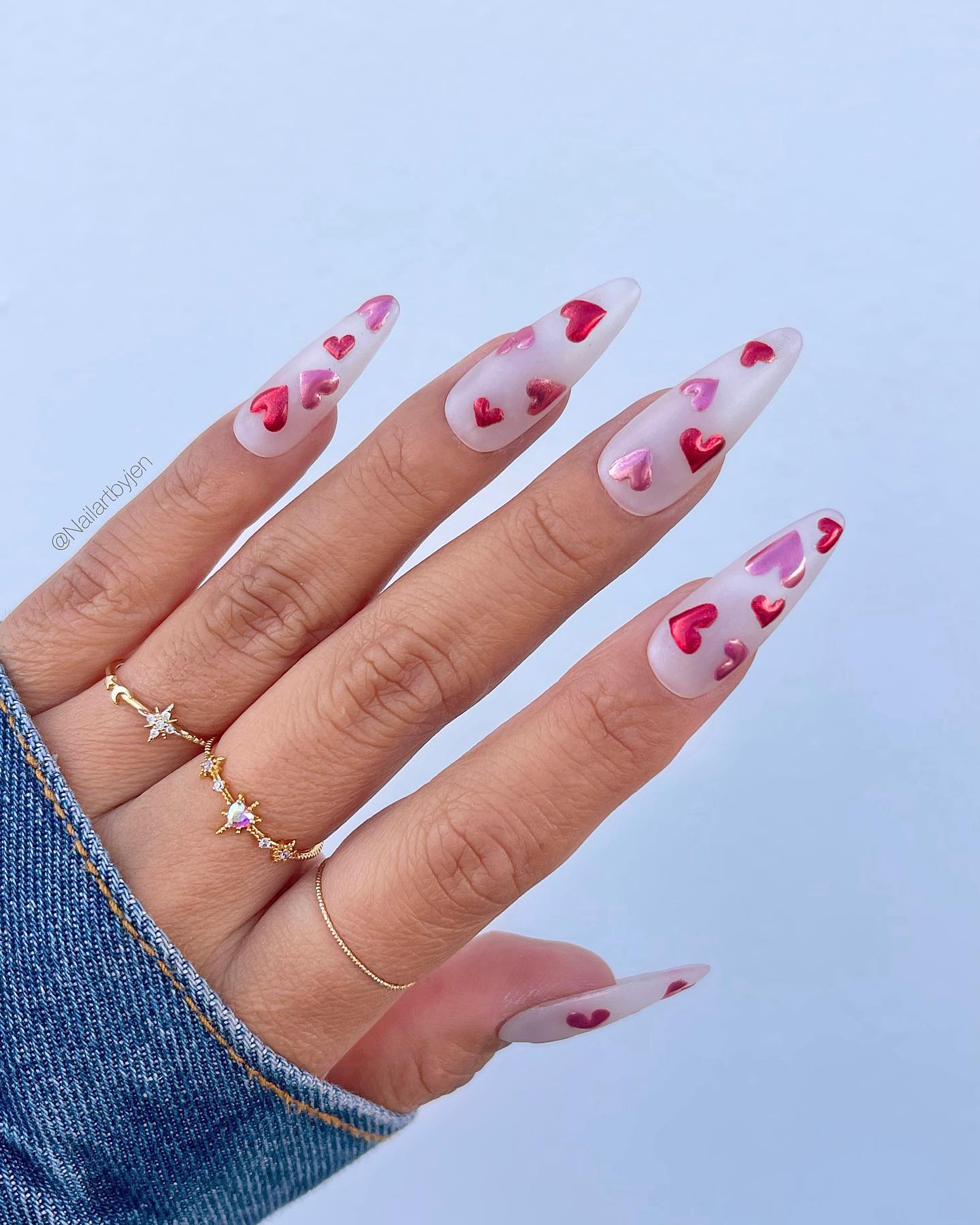 via @nailartbyjen
Cute Orange Chrome Nails
Chrome oval nails are a great way to express individuality and help you stand out. Orange chrome nails are one of our favorite designs for this very reason — it's vibrant but not overwhelming.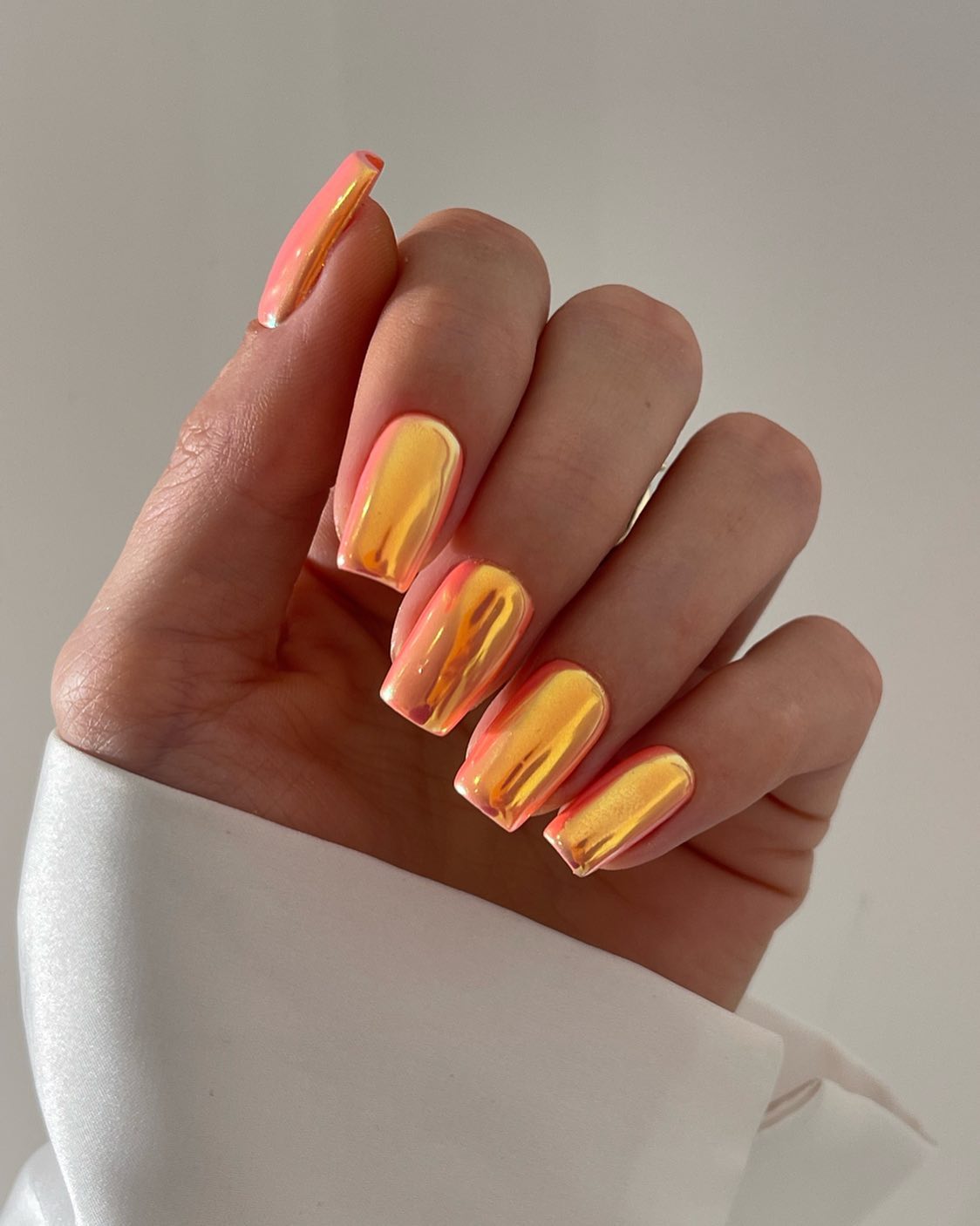 via @gelsbybry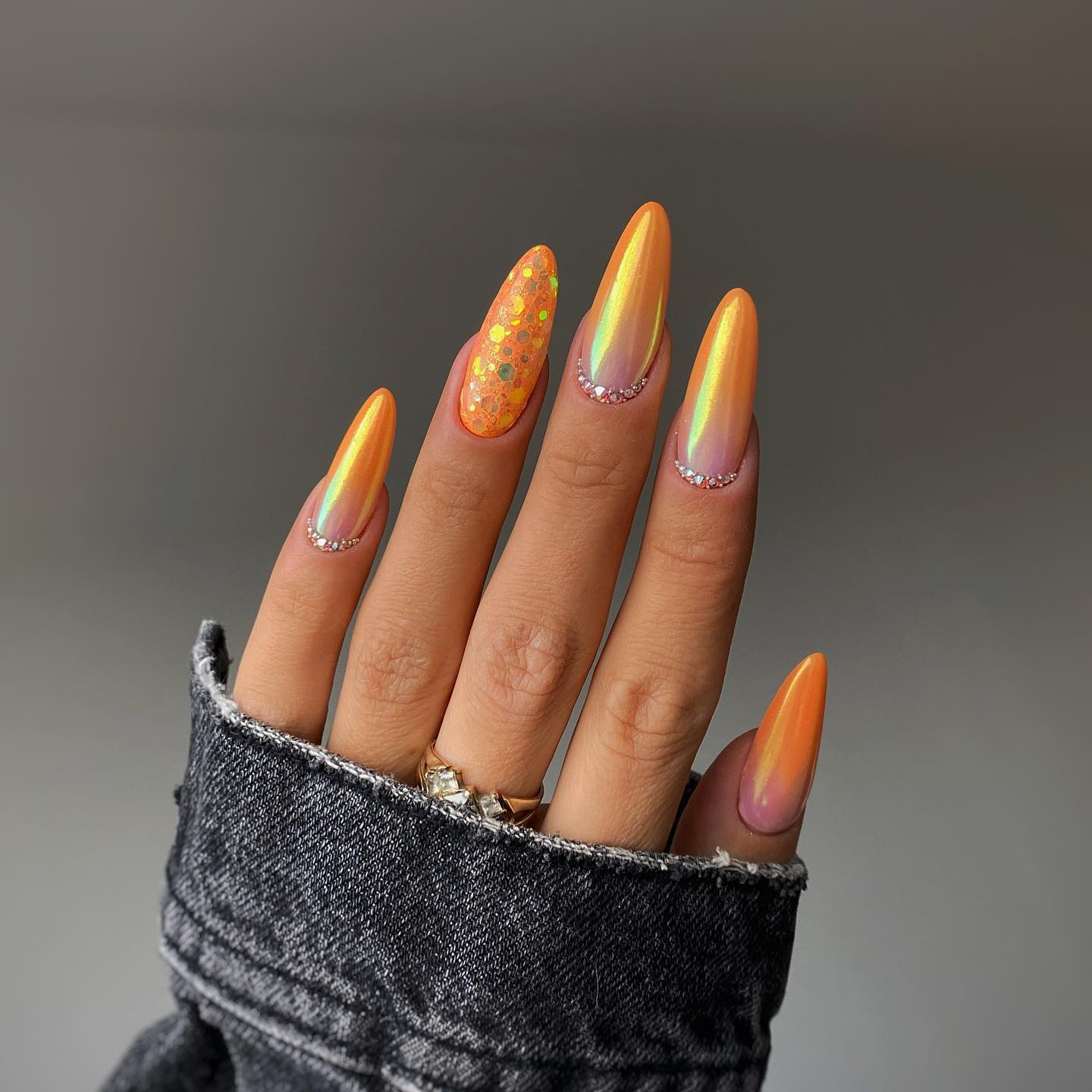 via @pegi_nails
Dazzling Yellow Chrome Nails
If you're looking for something eye-catching, bright chrome nail colors should be on your list. This chrome manicure will look stunning in copper-gold or even yellow. It'll stand out against dark skin tones, too.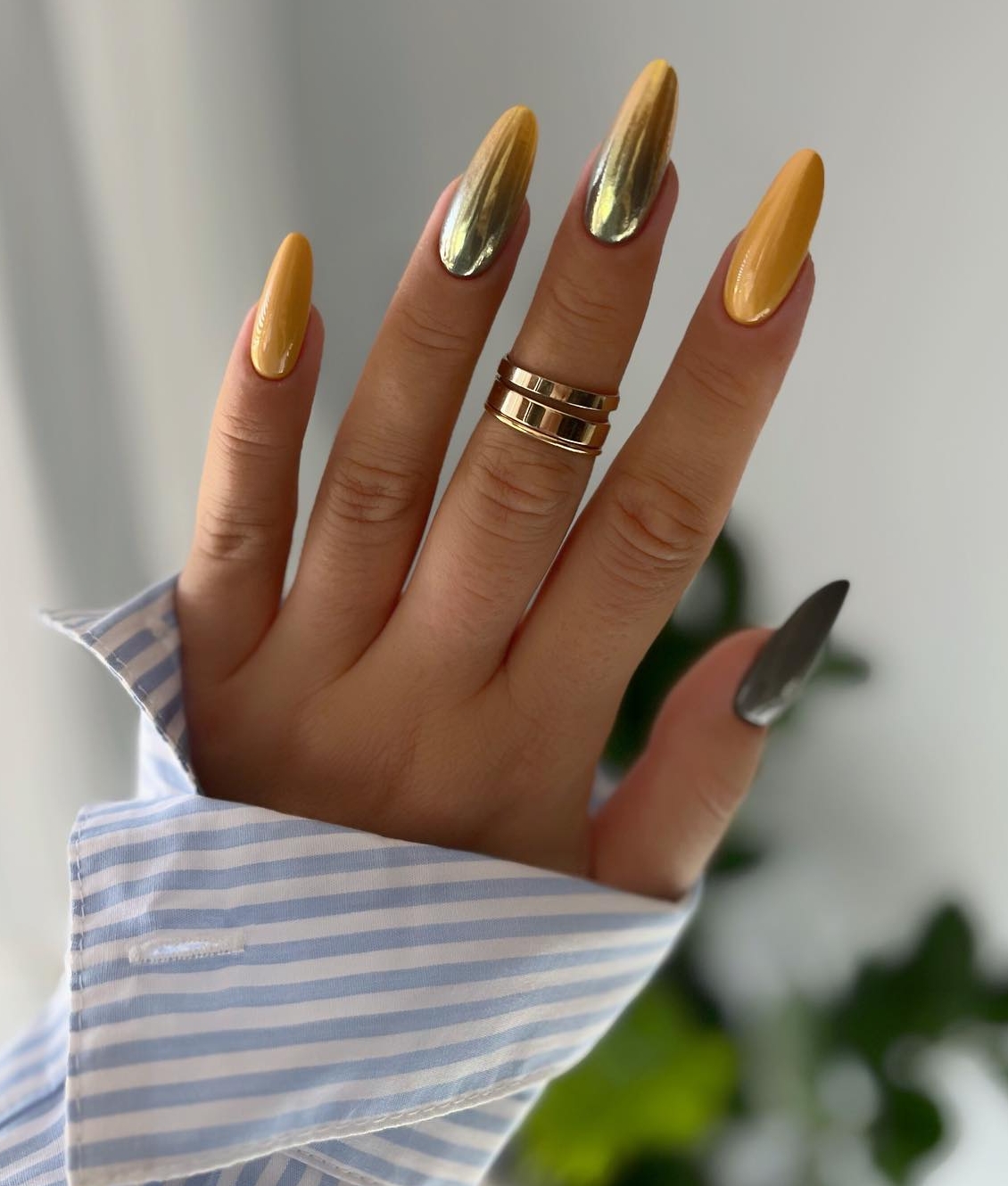 via @iwannadonails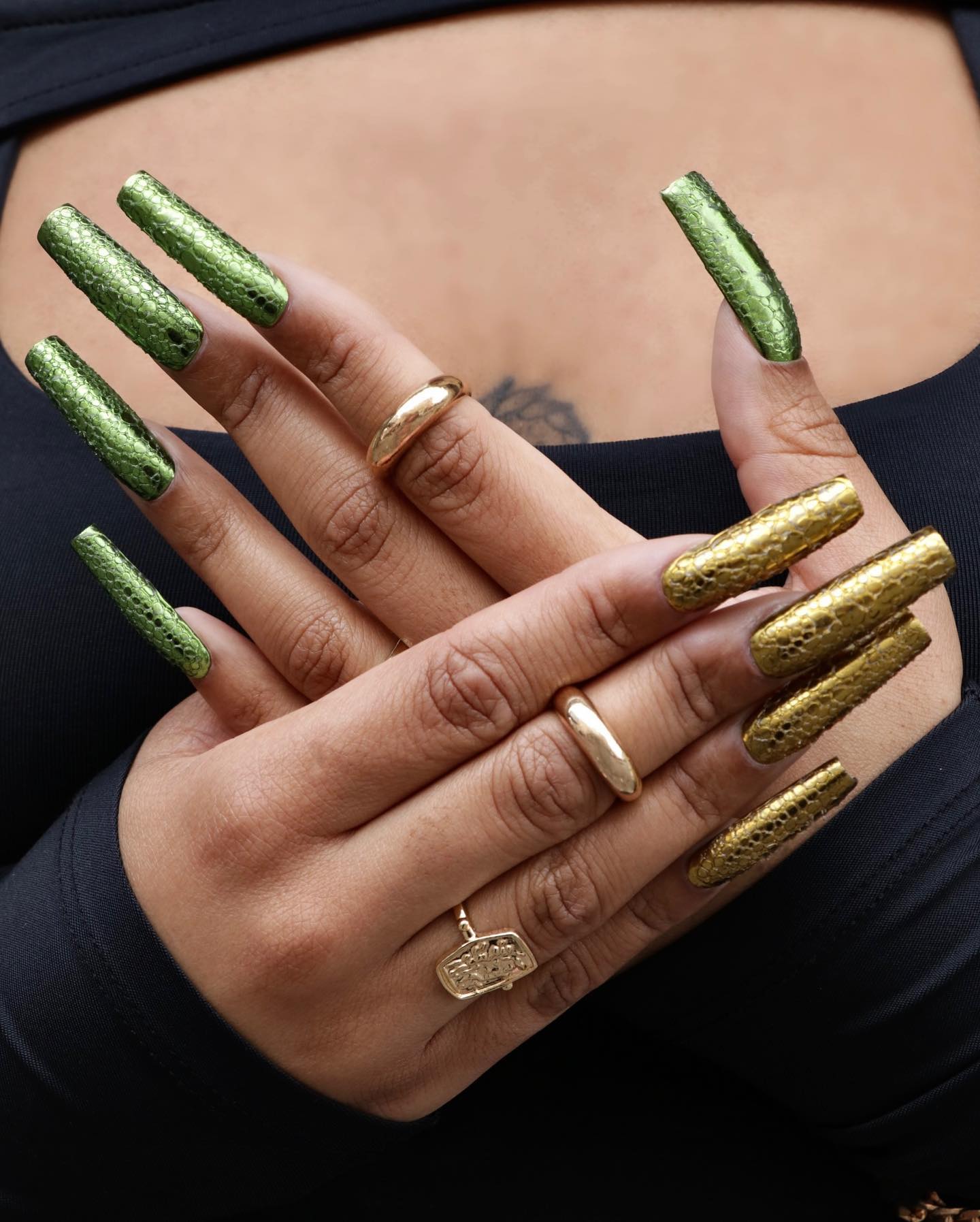 via @soaddict_nails
Out-of-this-world Chrome Stiletto Nails
Wow! The stiletto nail ideas with pointy ends will make your manicure stand against other people's boring fingers. And this bright chrome effect will surely attract even more eyes towards you.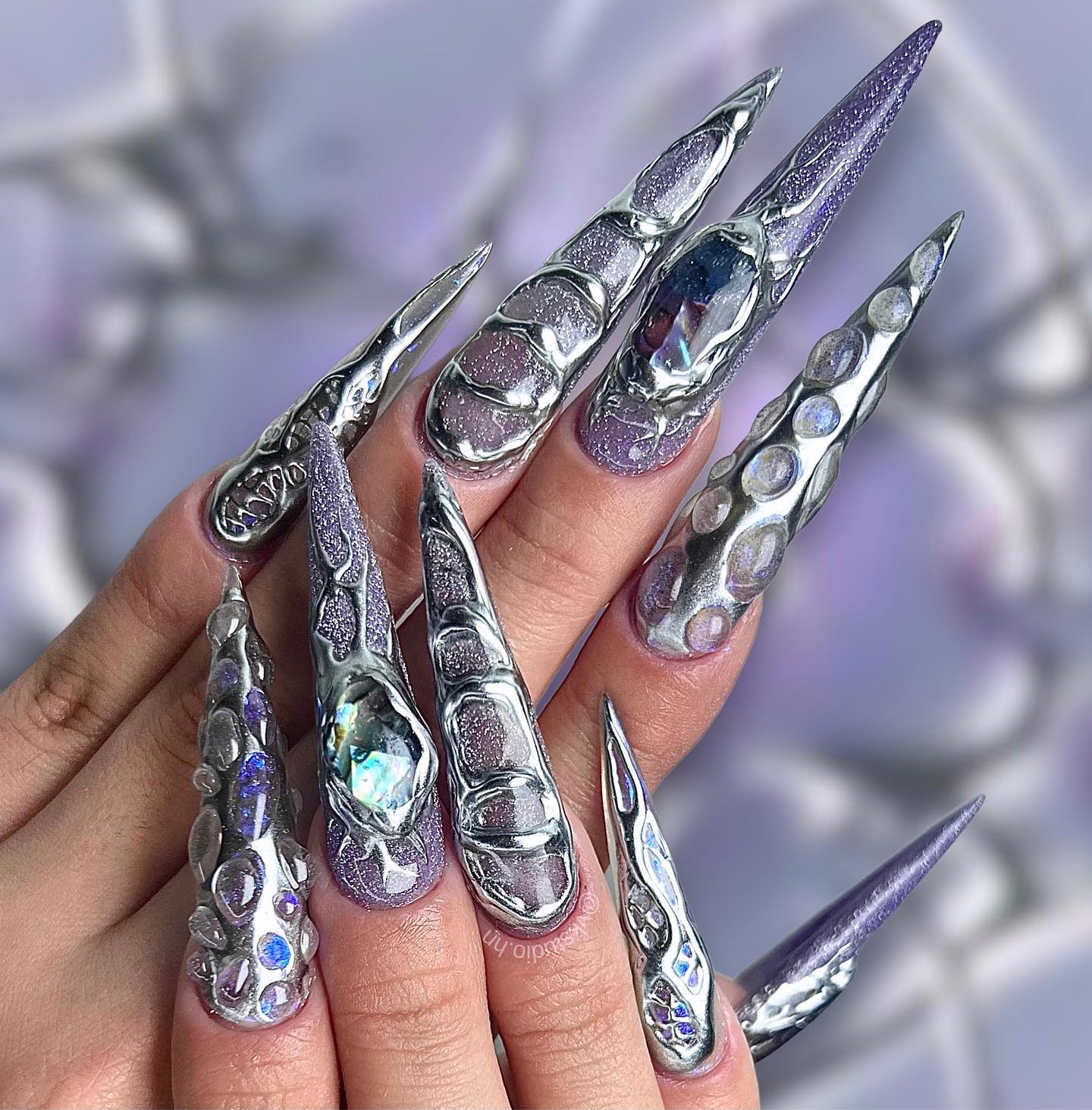 via @vkstudio.hn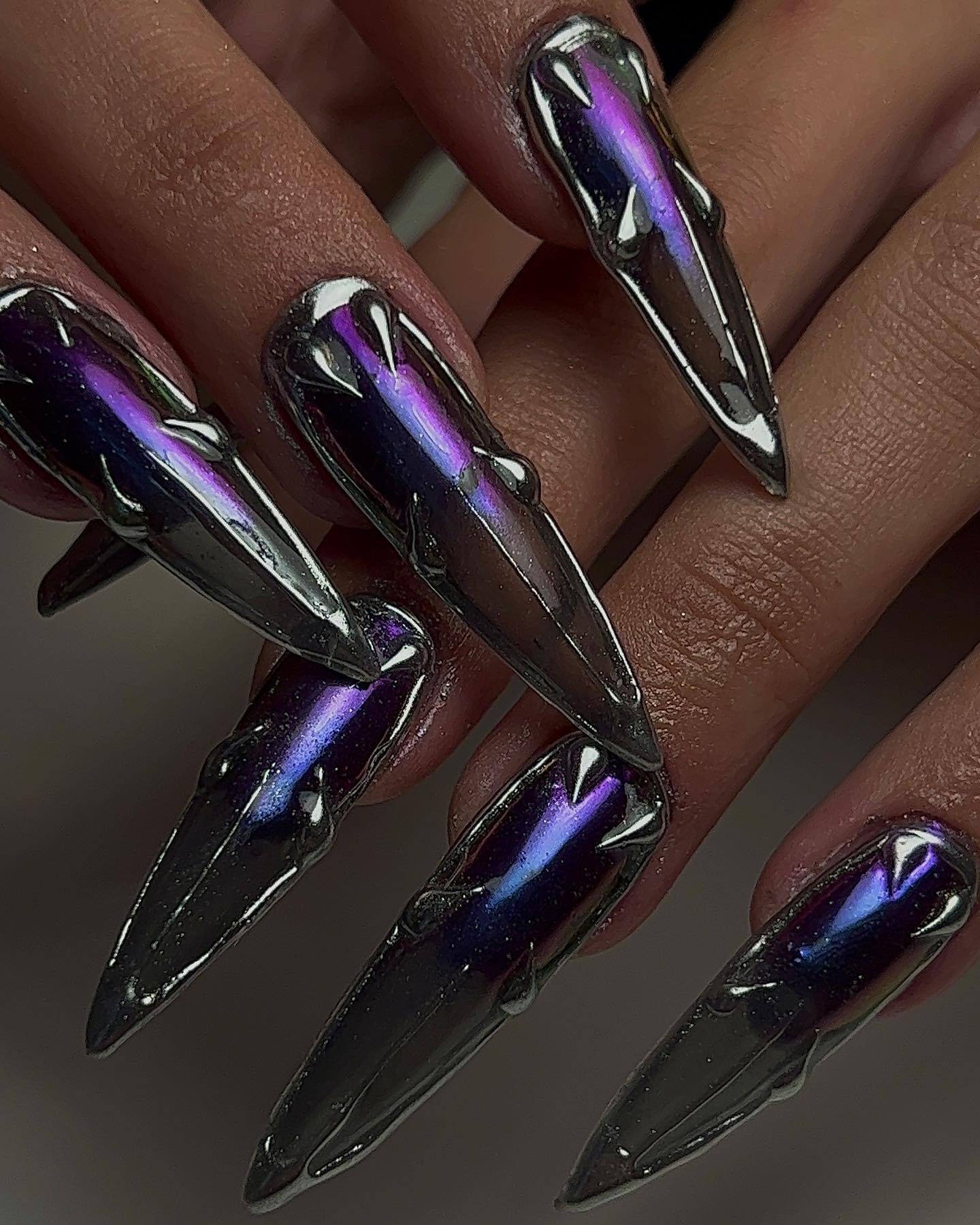 via @adlu.nails
Hot Pink Chrome Nails
One of the most popular chrome nail trends is the hot pink chrome mani, which deserves special attention. Energy, glamour, sparkle — it has everything to win the heart of every girl!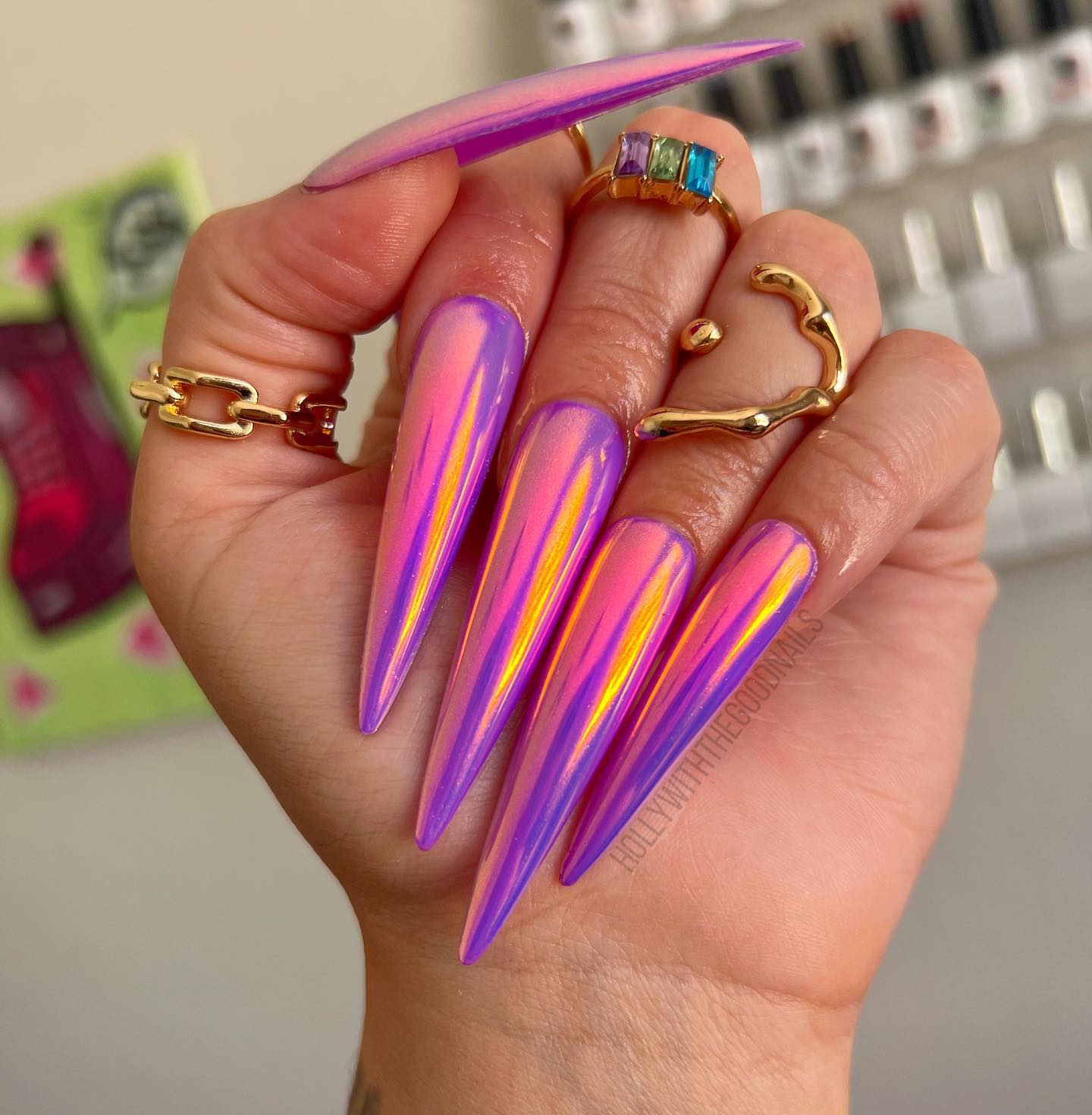 If you want a stunning party or vacation look that combines aesthetics and playfulness, don't hesitate to choose light pink chrome nails!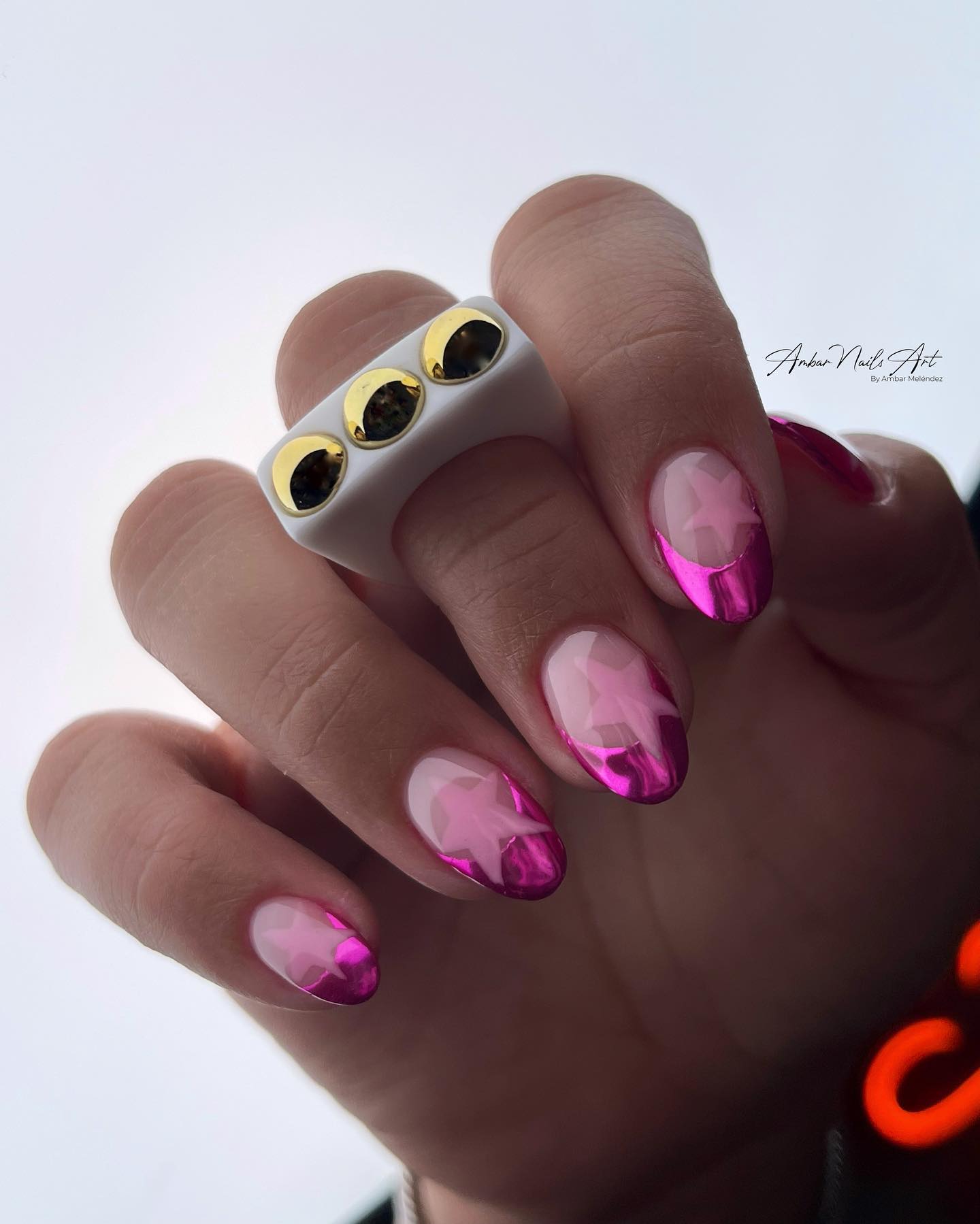 via @ambar.nailsart
Vanilla Chrome Nails
The understated appeal of vanilla chrome nails perfectly complements any look, from casual to formal to formal. The smooth top coat shimmers effectively, creating a timeless manicure.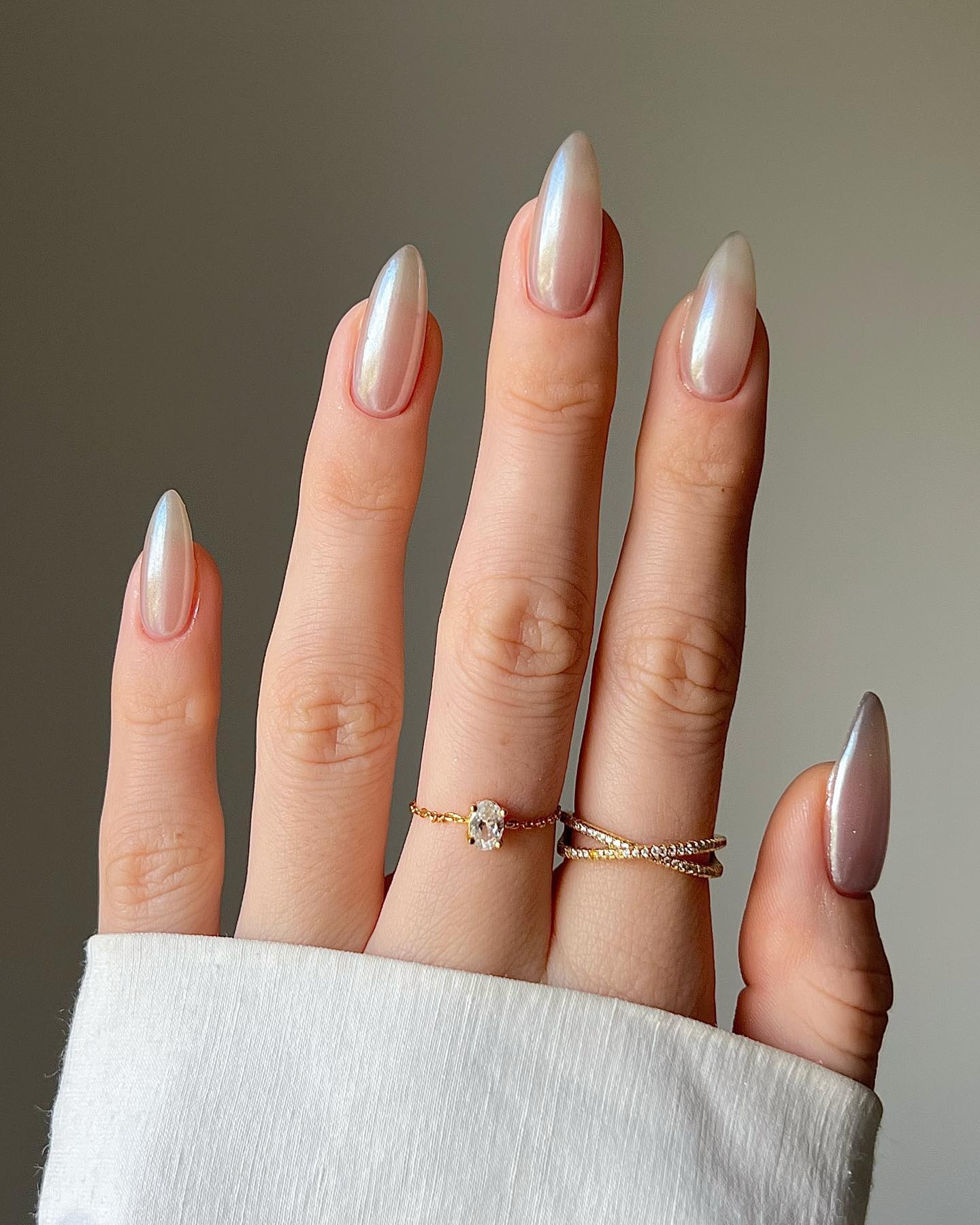 via @thehotblend
If you value aesthetic and sophisticated designs, unobtrusive chrome accents will become your faithful companions.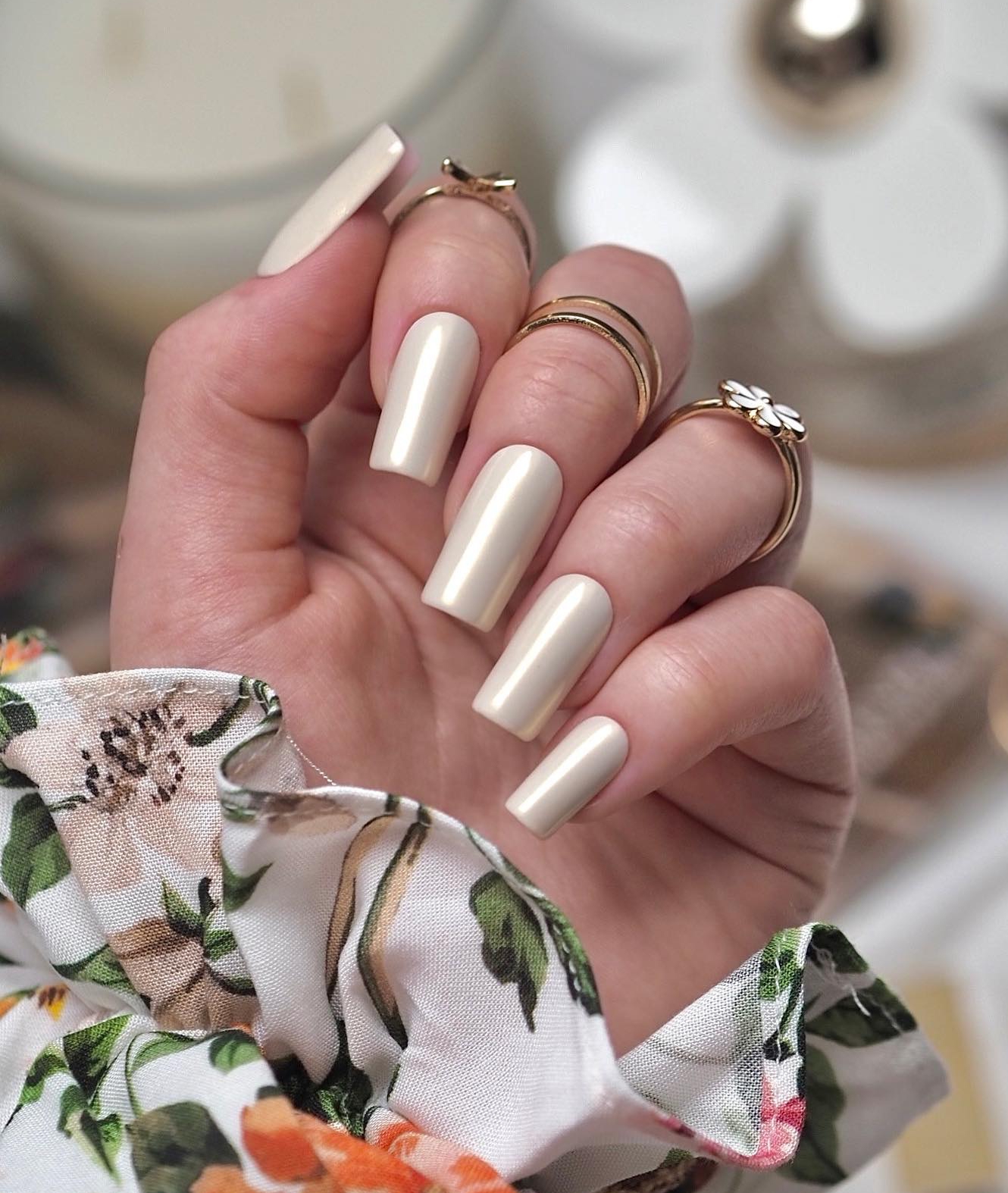 via @napaznokciach
Graceful Nude Chrome Nails
Nude chrome mani is the newest nail trend that's been taking over. With this simple and elegant design, they can blend seamlessly into any outfit while also being versatile! Add a little sparkle to the neutral base with the chrome polish for extra glamour.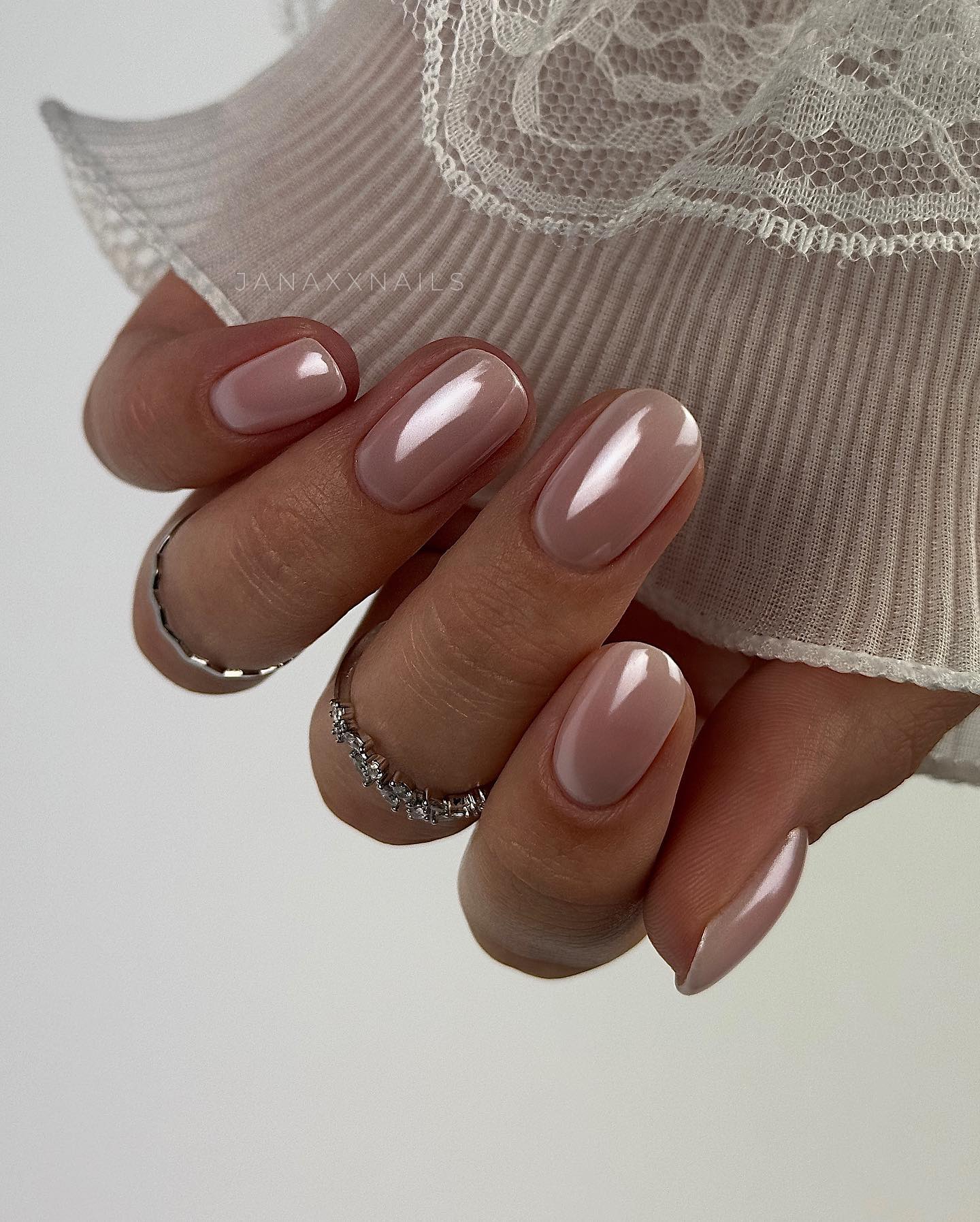 via @janaxxnails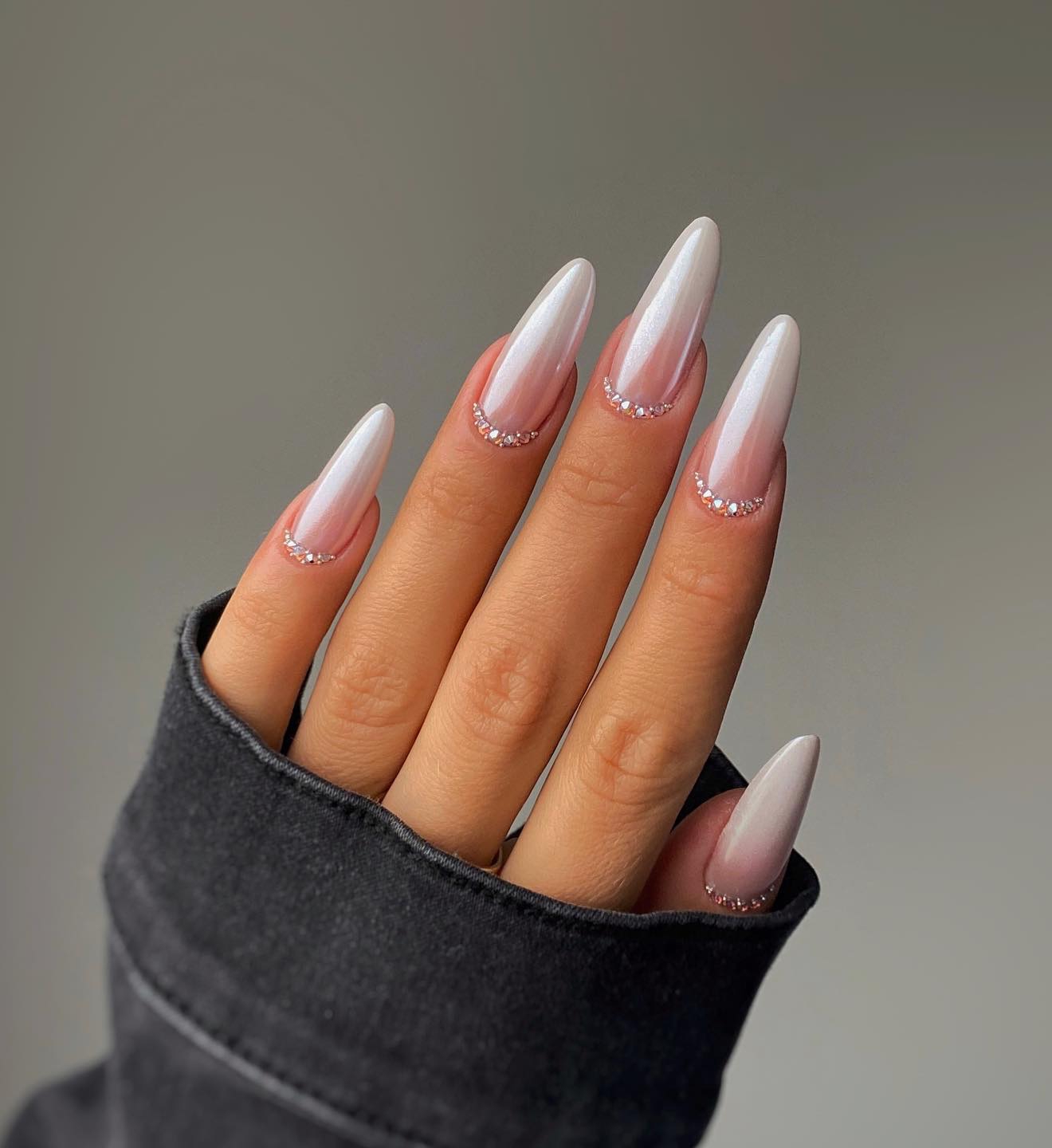 via @pegi_nails
Black and Silver Ombre Nails
You can never go wrong with sparkle. There is a black ombre here, but the colors are finished with silver tips that pop perfectly! These fade into each other, creating an artistic effect you won't find anywhere else.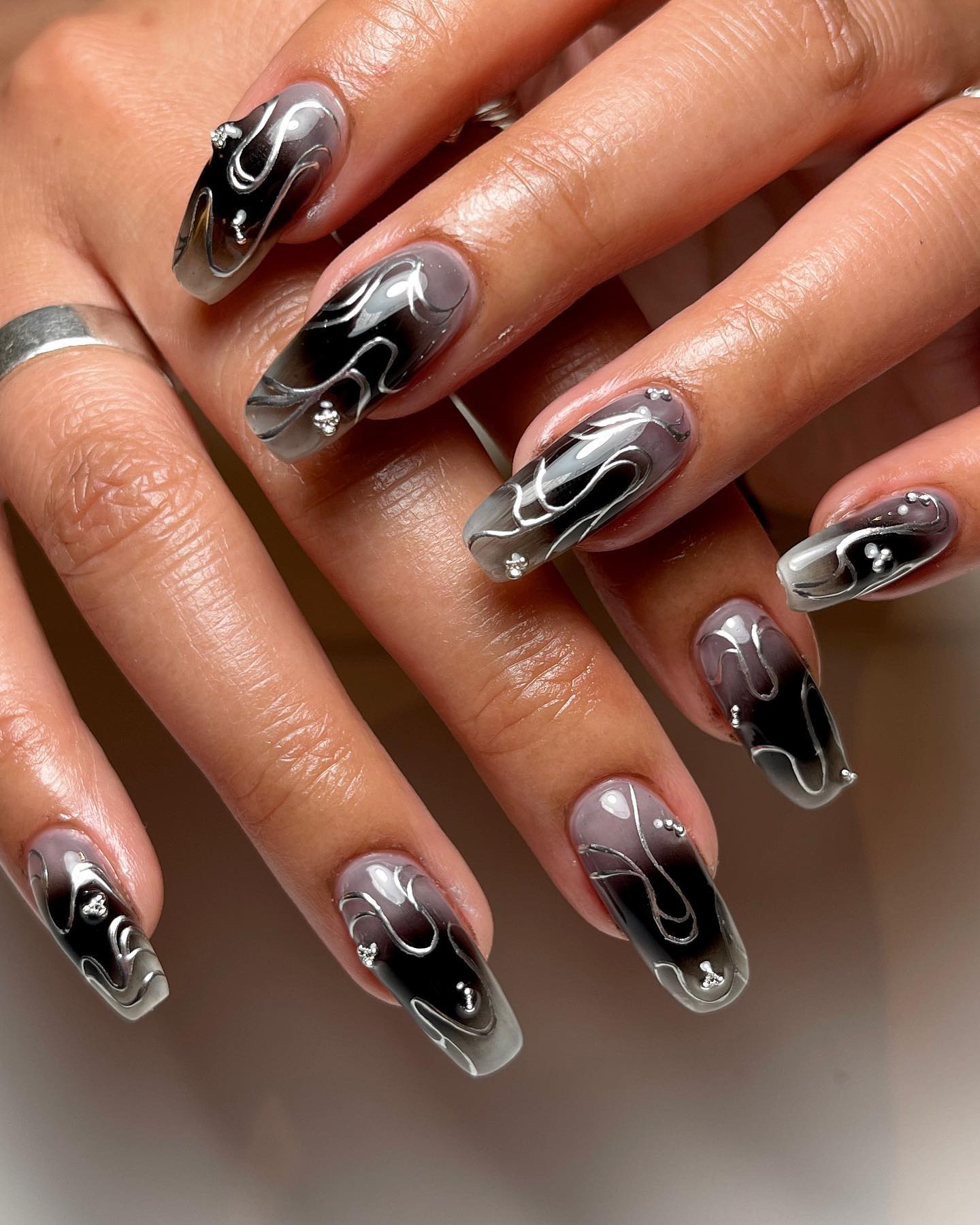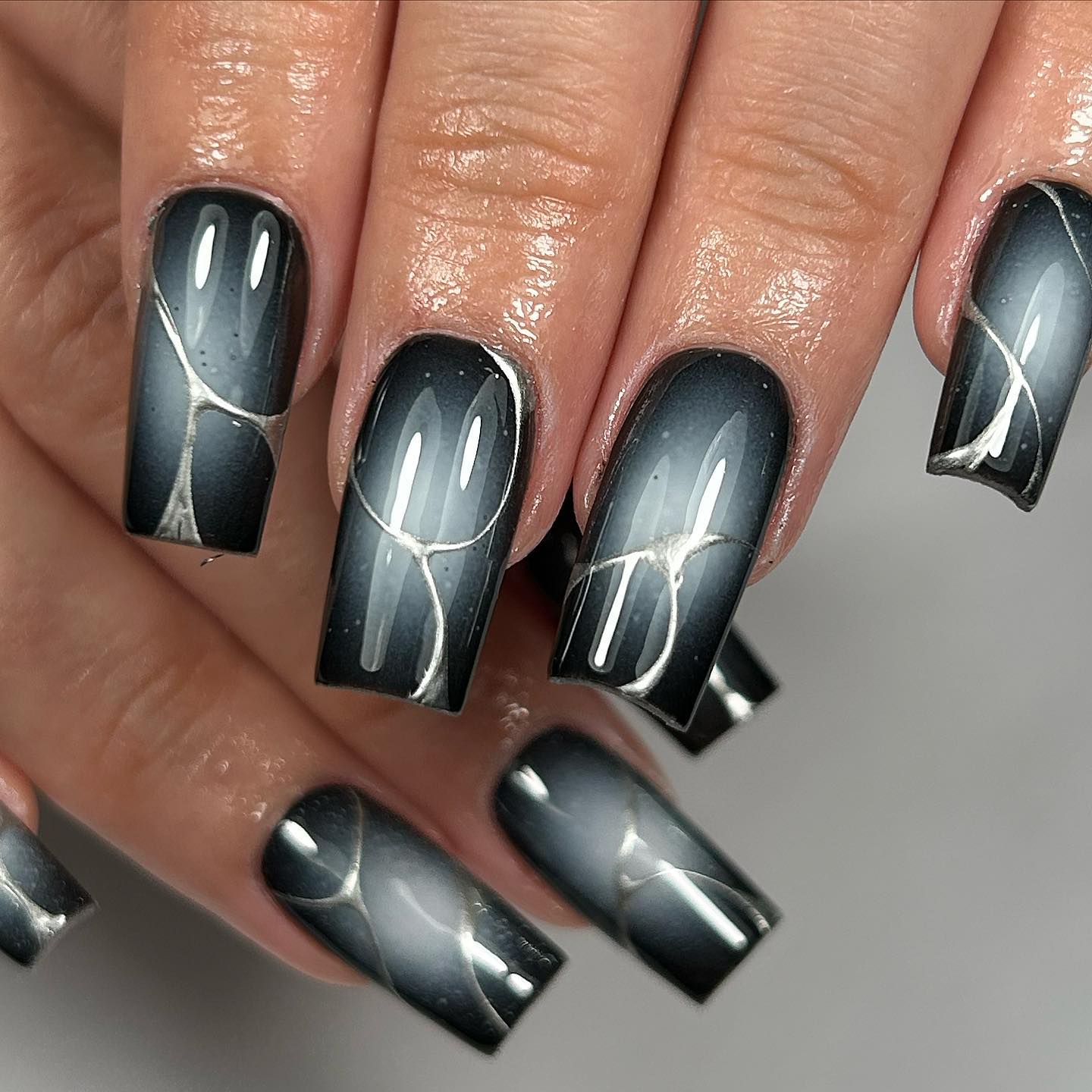 via @nailsbyhayat
Girly Light Pink Chrome Nails
If you want something chic and artistic, these nails with chrome powder and metal shine will make a fantastic choice. They have a youthful feel with their pastel colors of light pink to give off the perfect amount of romance!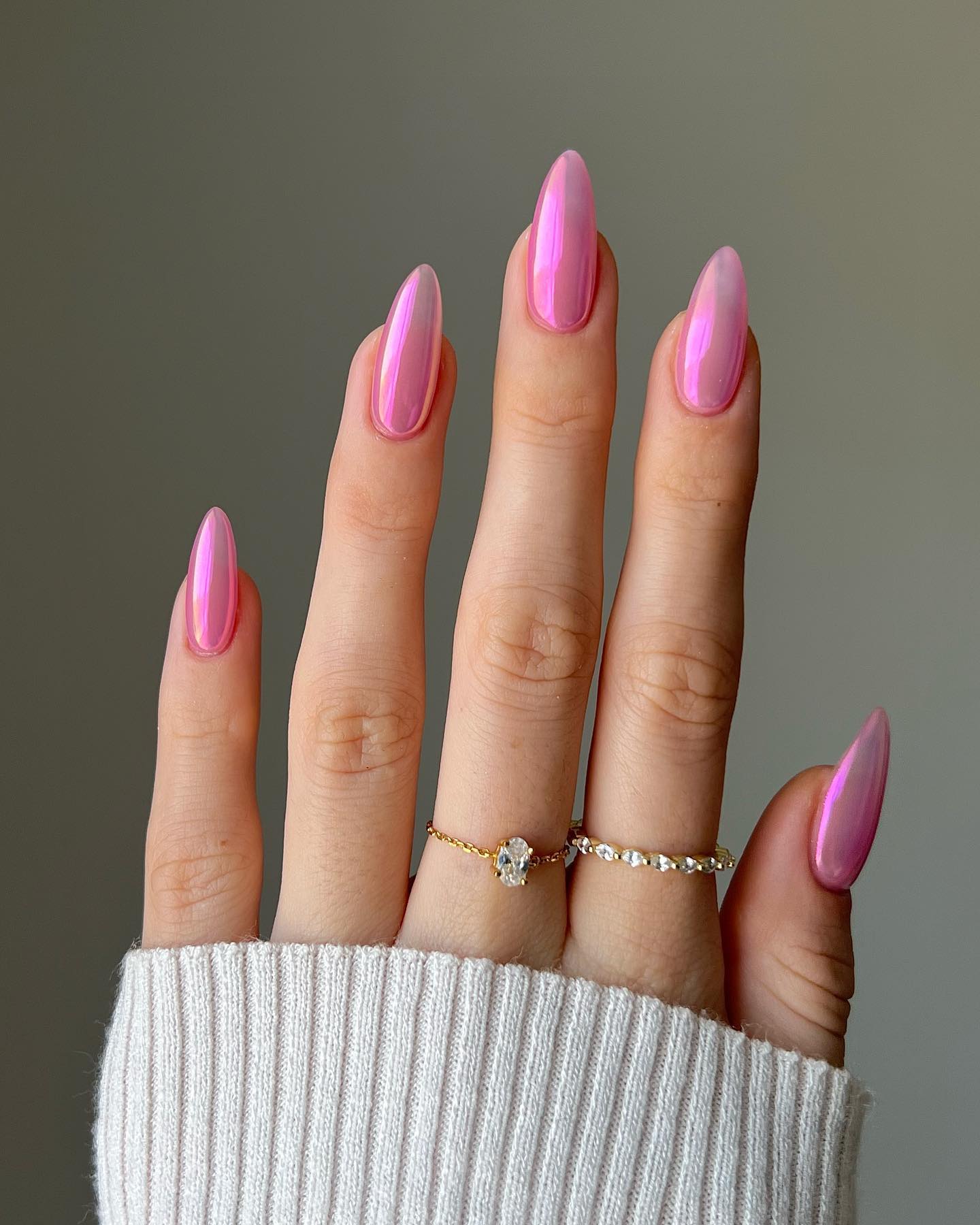 via @thehotblend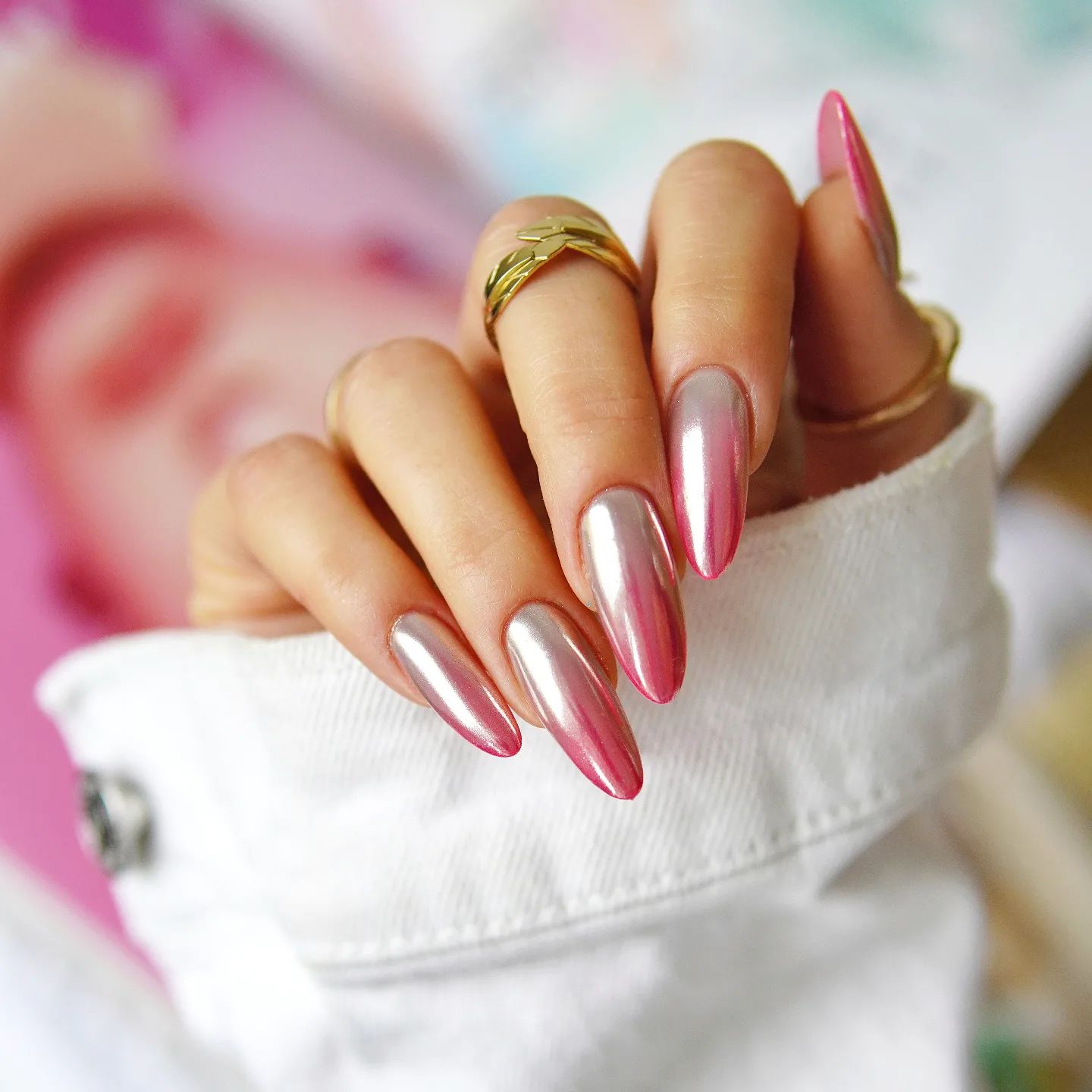 via @kamjaw_indigo
Refined Lavender Chrome Nails
This lovely design is a perfect fit for those who prefer subtle and short fingernails. Chrome nails don't have to be flashy or overdone. These lavender chrome nails look natural and pretty with just enough charm!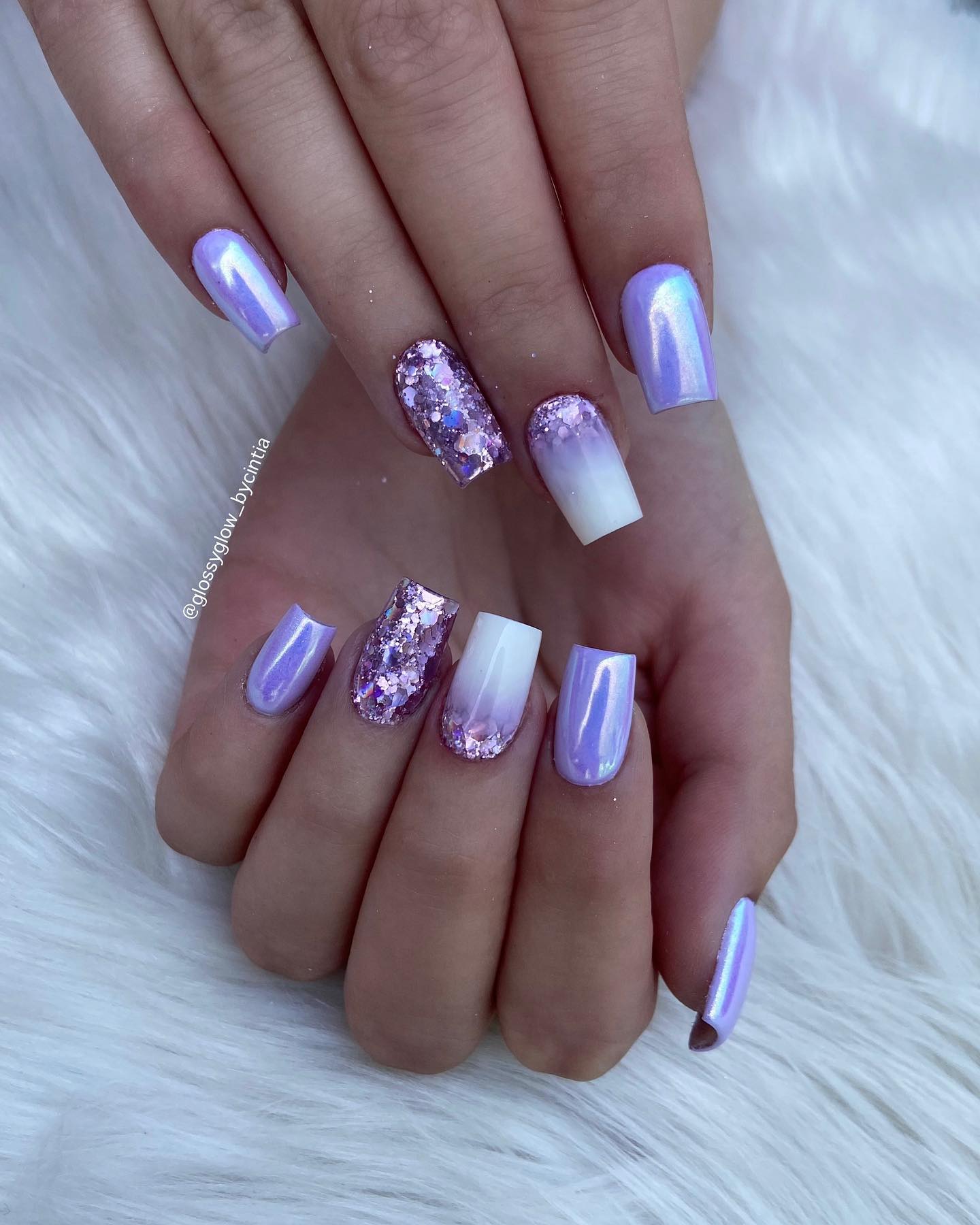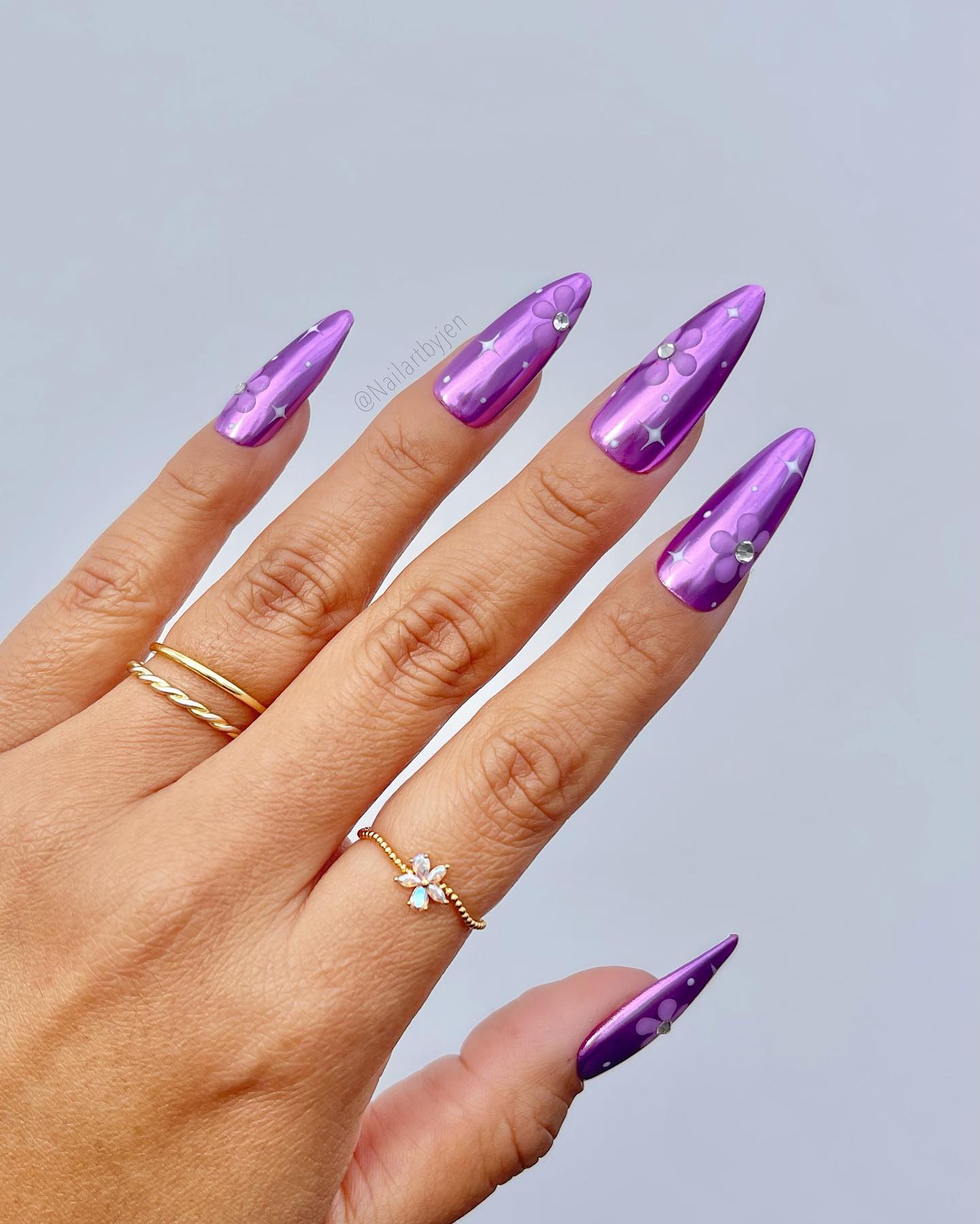 via @nailartbyjen
Metallic Chrome Nail Polish on the Square-tipped Shape
This feminine and beautiful color of chrome polish for square nails will complement your look beautifully. Go for it on those big days or when you need something more special than usual to make an impression, like during that upcoming event planning session where everyone is going, "Wow, we can't wait."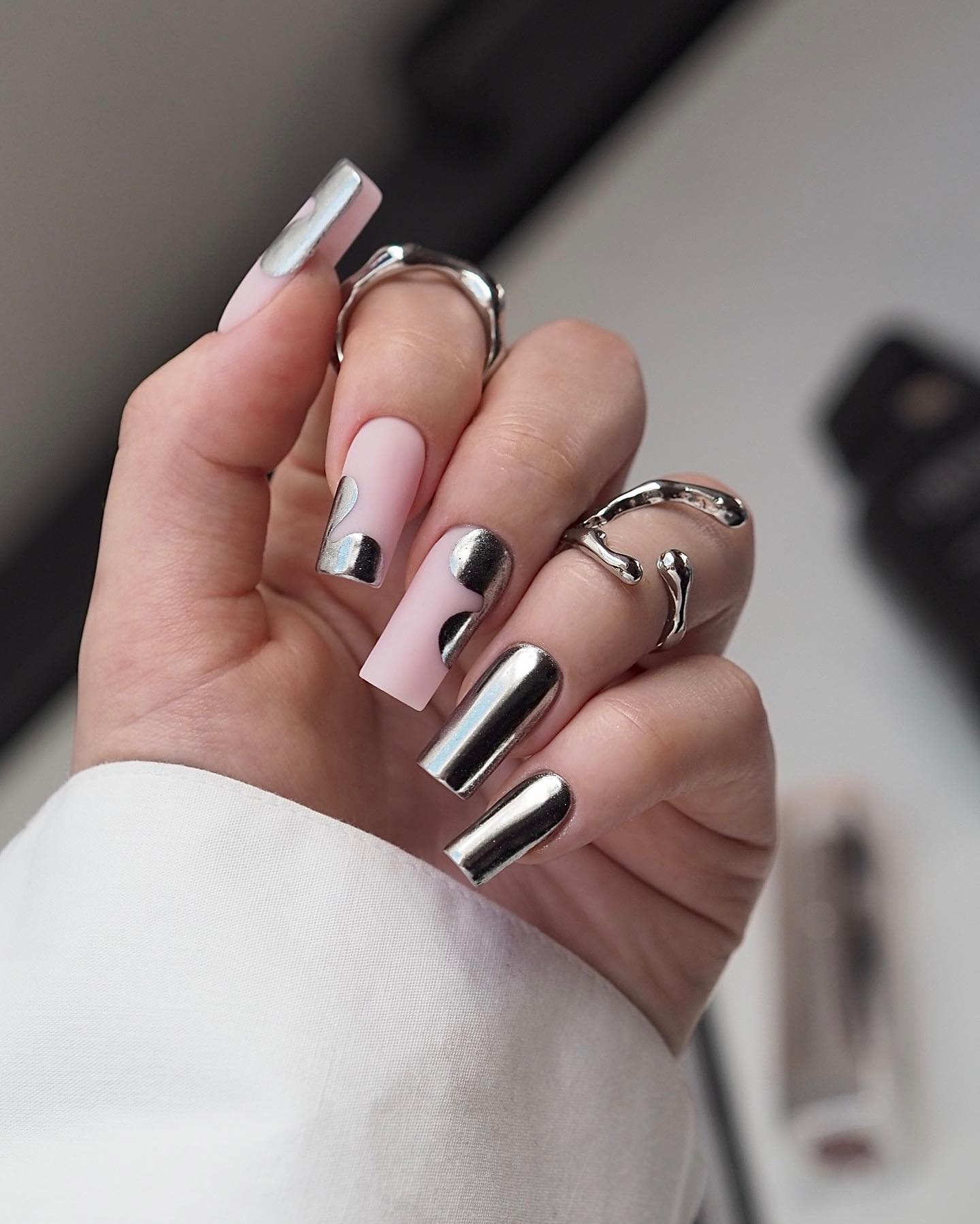 via @napaznokciach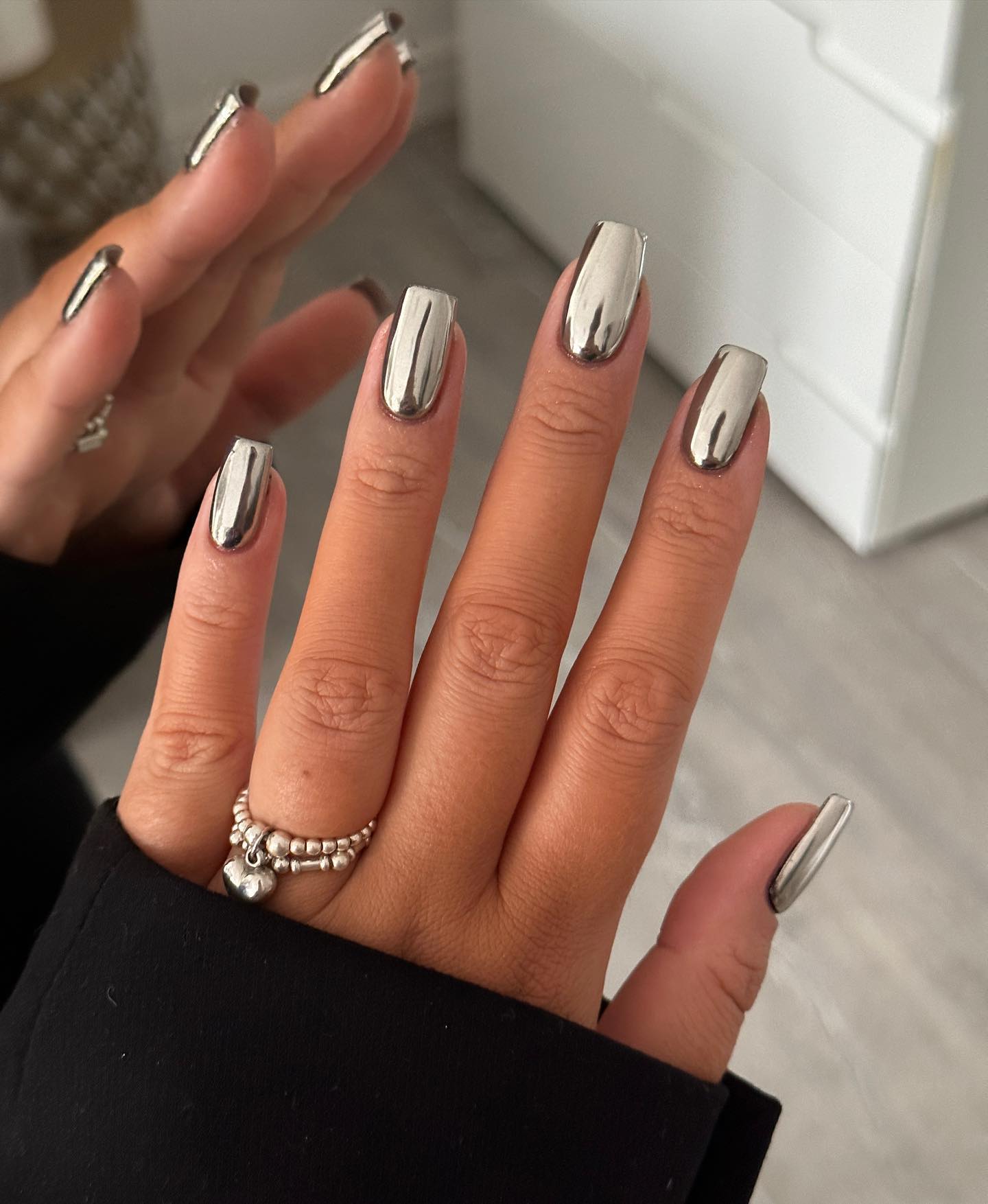 Extra Cool Stiletto Chrome Bronze Nails
If you want to feel confident and sassy, a chrome nail in bronze is perfect for your look. Pointed tips give off an extra playful vibe that everyone needs from time to time! It will have you looking ready with all sorts of fun things up your sleeve, no matter who sees it on social media.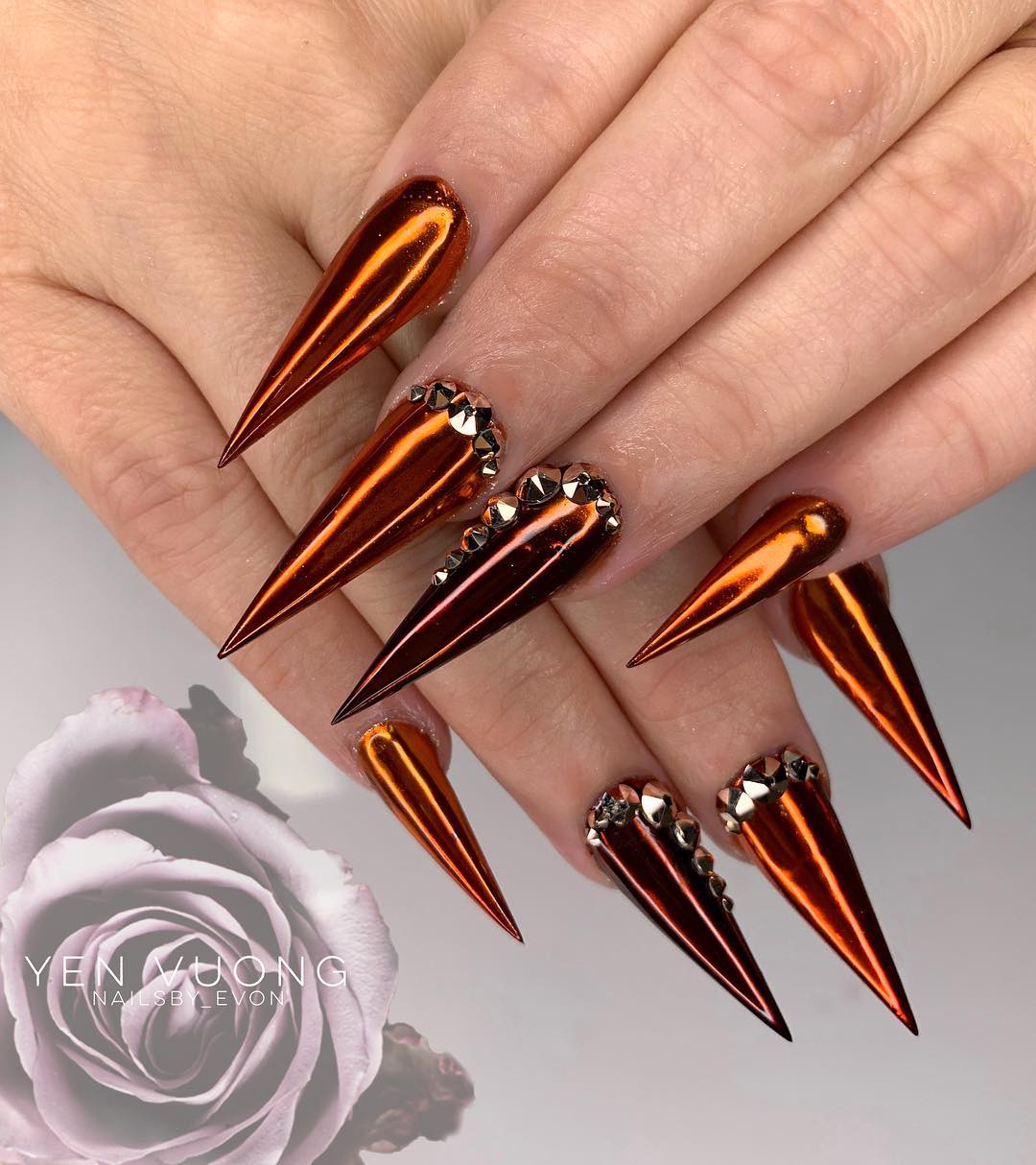 via @nailsby_evon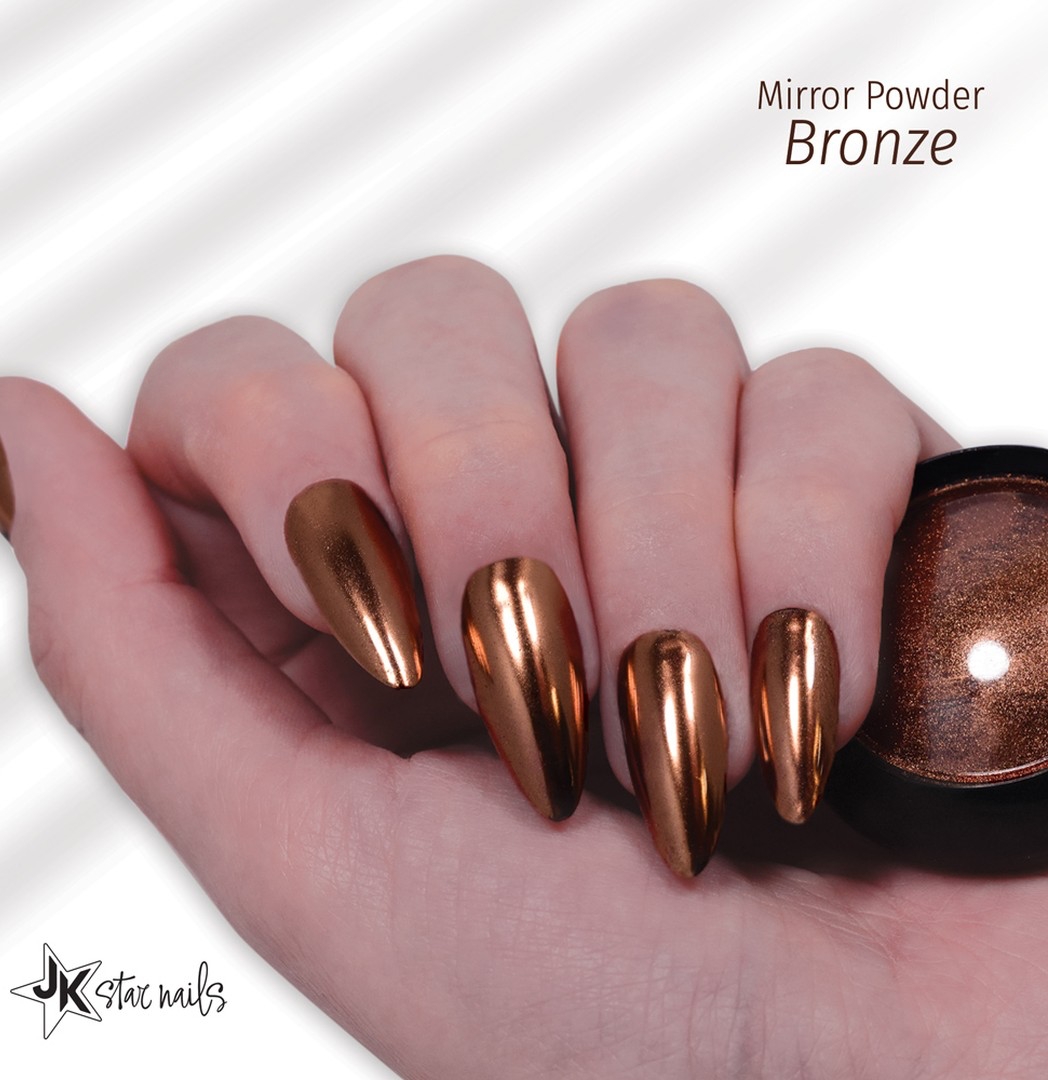 via @jkstarnails
Frosty Chrome Glitter Nails
With this chrome nail design, you'll discover simplicity and ease. Chrome glitter nails are a fun way to show your love for fashion. With solid colors or patterns, you can look like long fingers without any extra effort!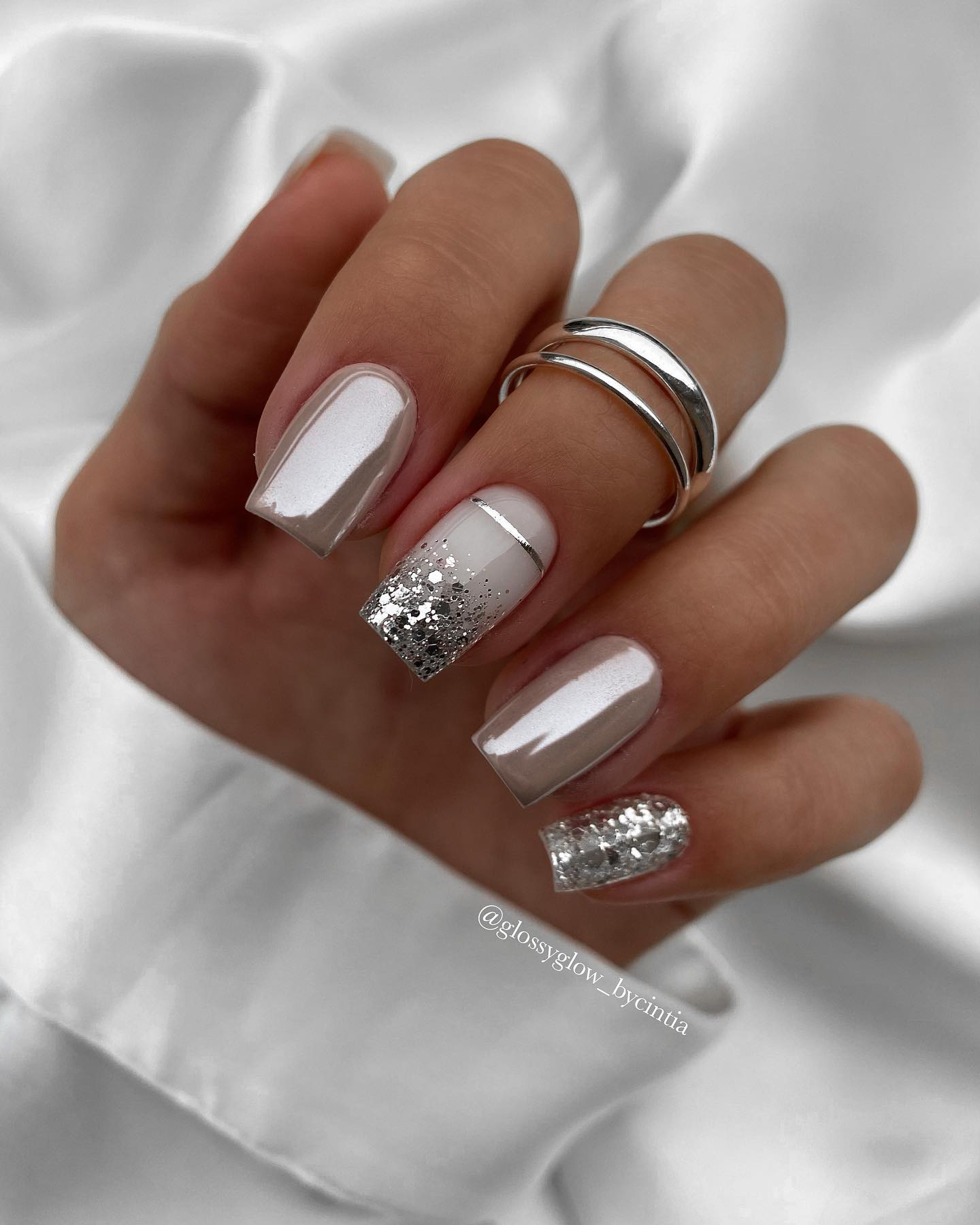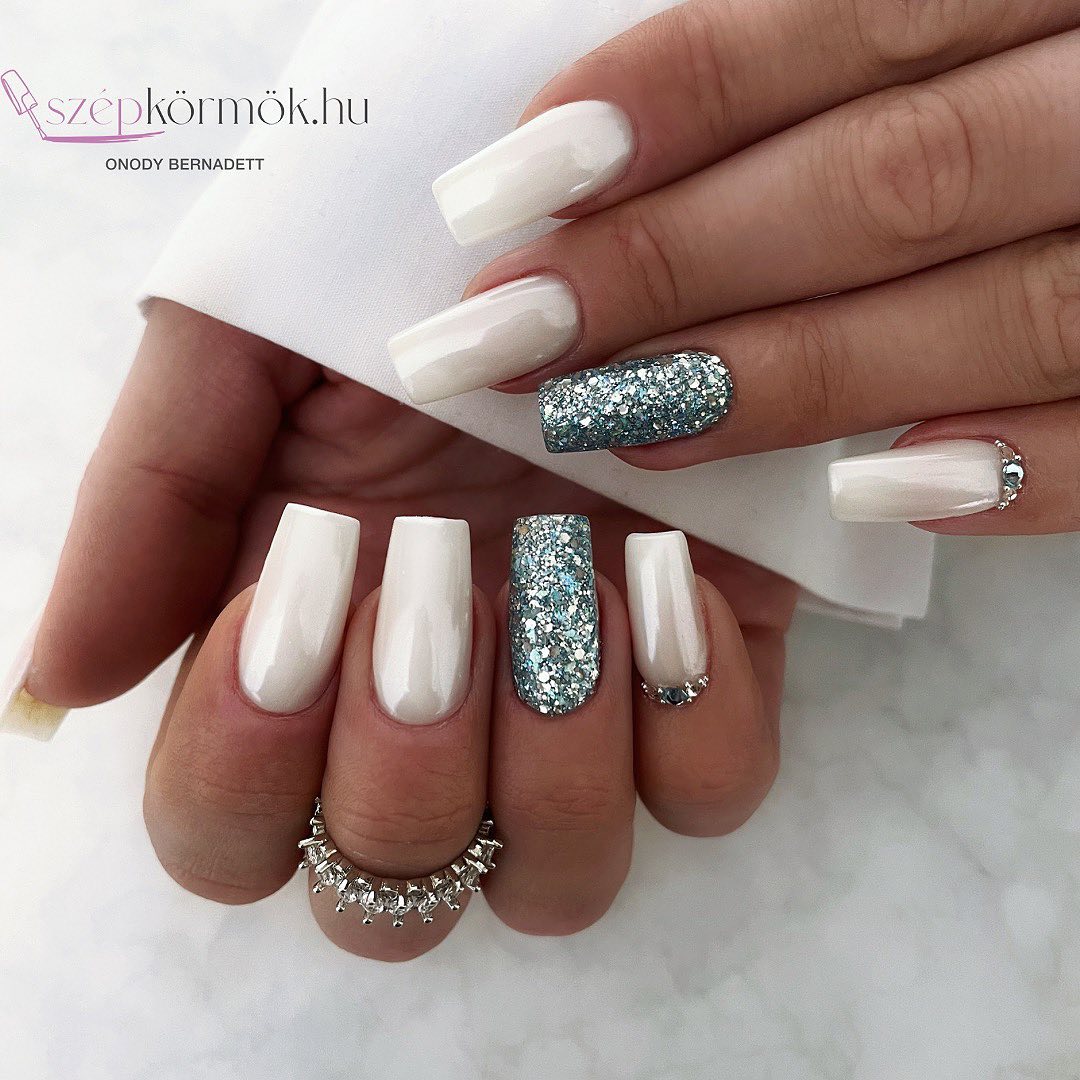 via @_bettynails_
Matte Chrome Nails
If something is awe-inspiring, it is the combination of matte nails and chrome mani.
via @solinsnaglar
This non-standard design will 100% leave you with compliments. Exquisite and controversial nails with mirror effect are more than just an ordinary manicure!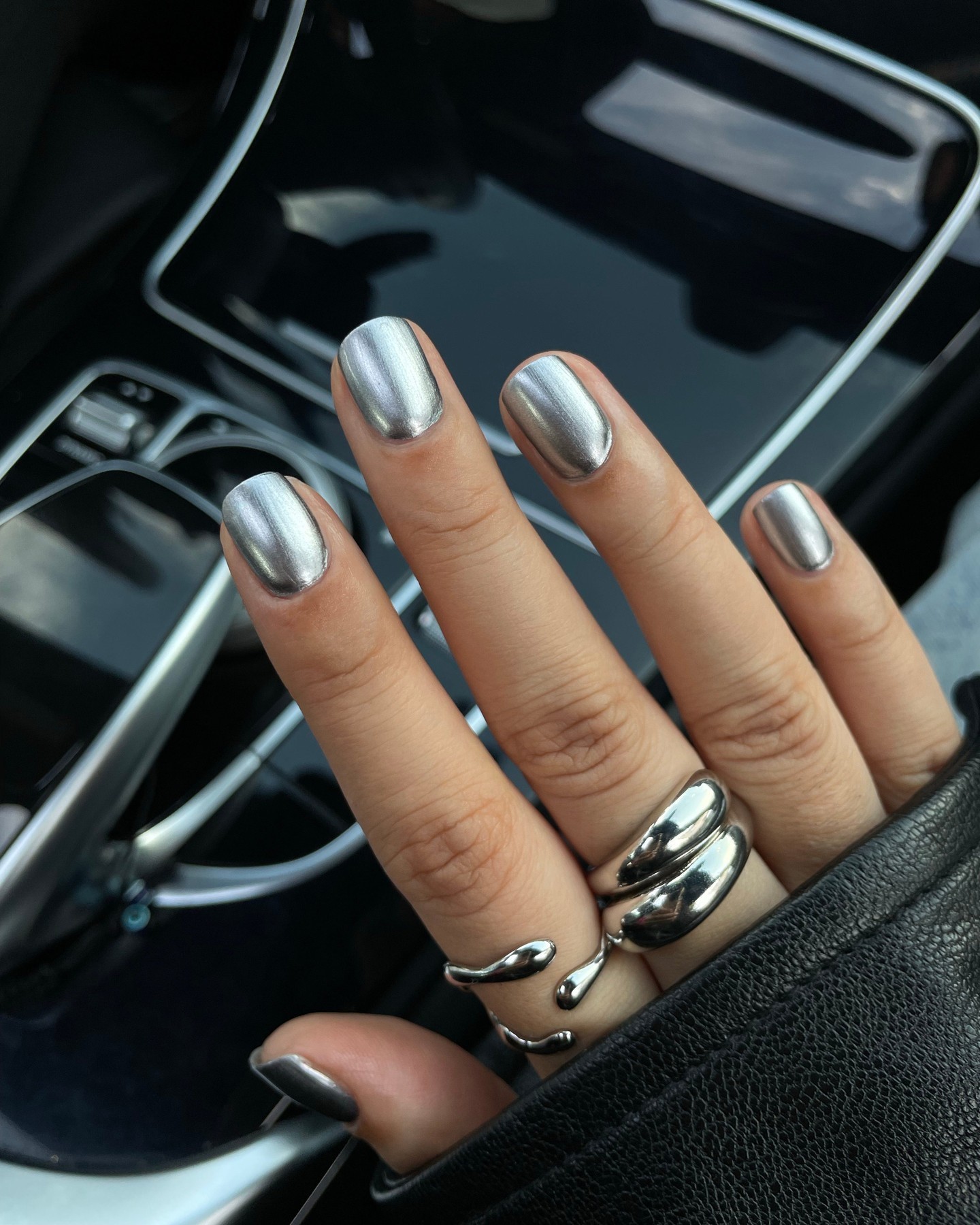 via @lightslacquer
White Chrome Nails with Glitter
Chrome to glitter is like stripes to the starred flag. They go so well together, adding some much-needed shine without much effort! Accenting your nails with random nail polish is a creative way of dazzling all your friends while still making sure they get their dose of style eyeball candy every time you step out in public.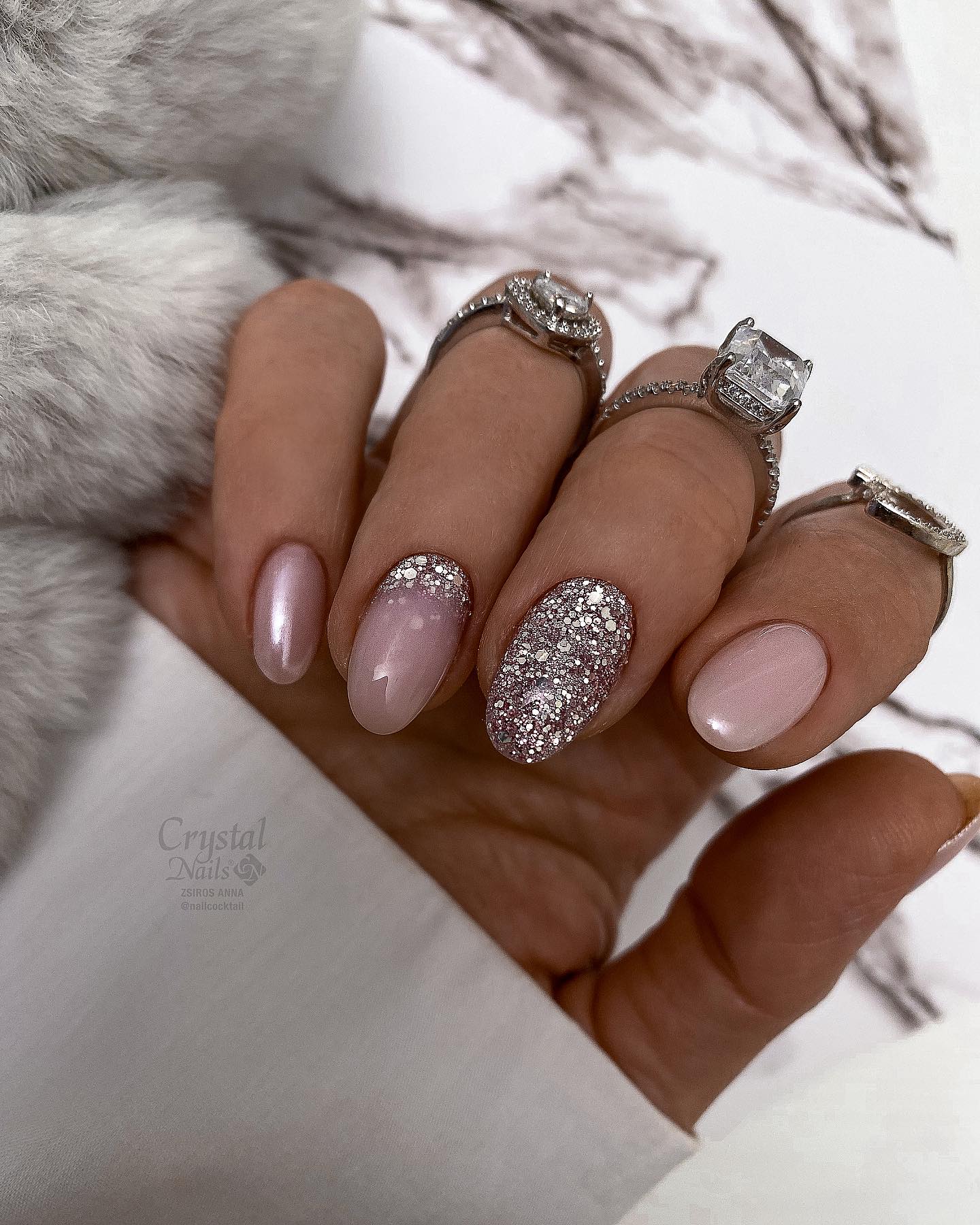 via @nailcocktail
via @minea.nails
Short and Sweet Brown Chrome Nails
You don't necessarily need a dramatic color to make your nails stand out. If you prefer things not too flashy, keep your short nails and coat them in darker browns with chrome powder. There isn't quite the same starkness or intimidating feel as black, but they are slightly more mature than bright blue.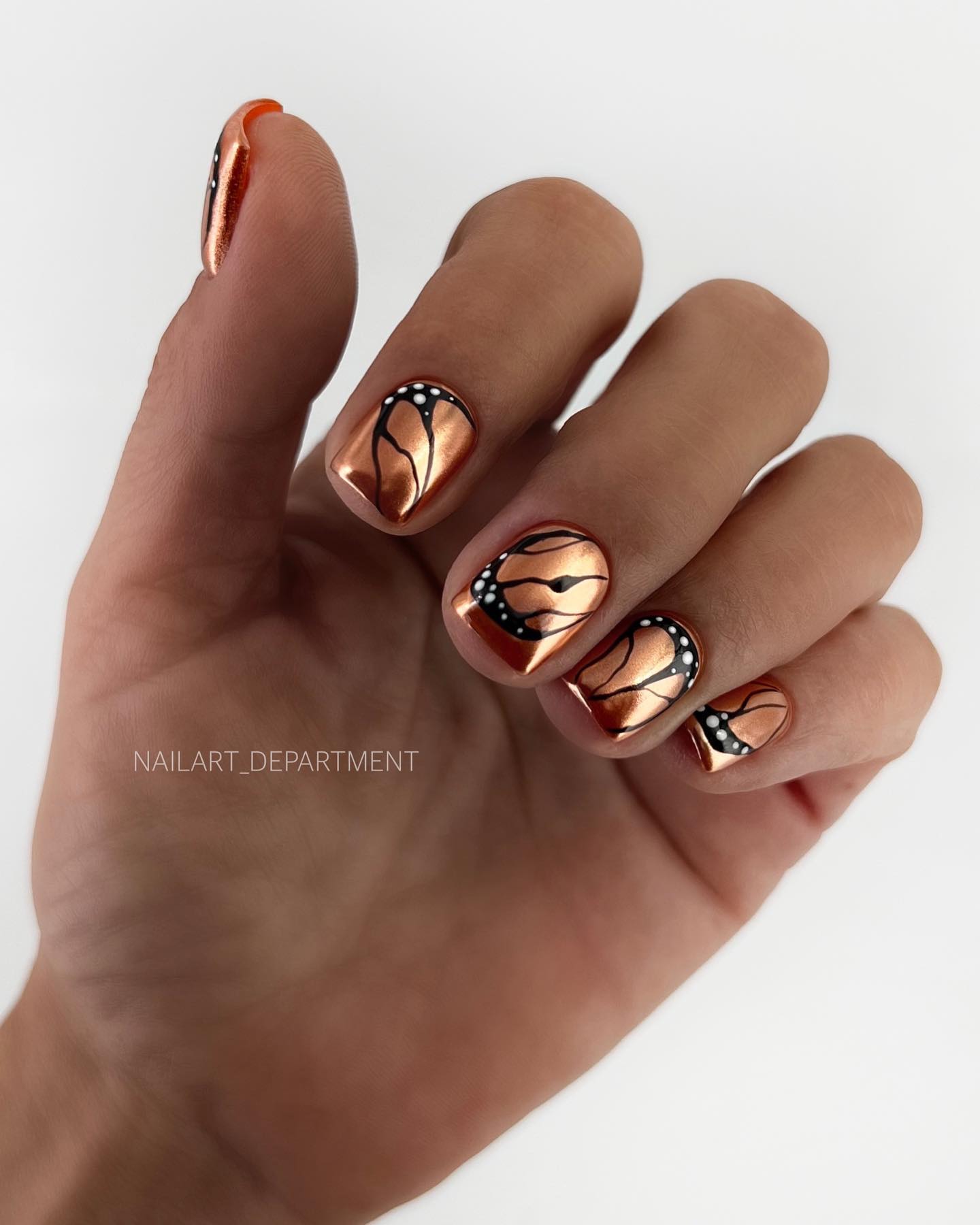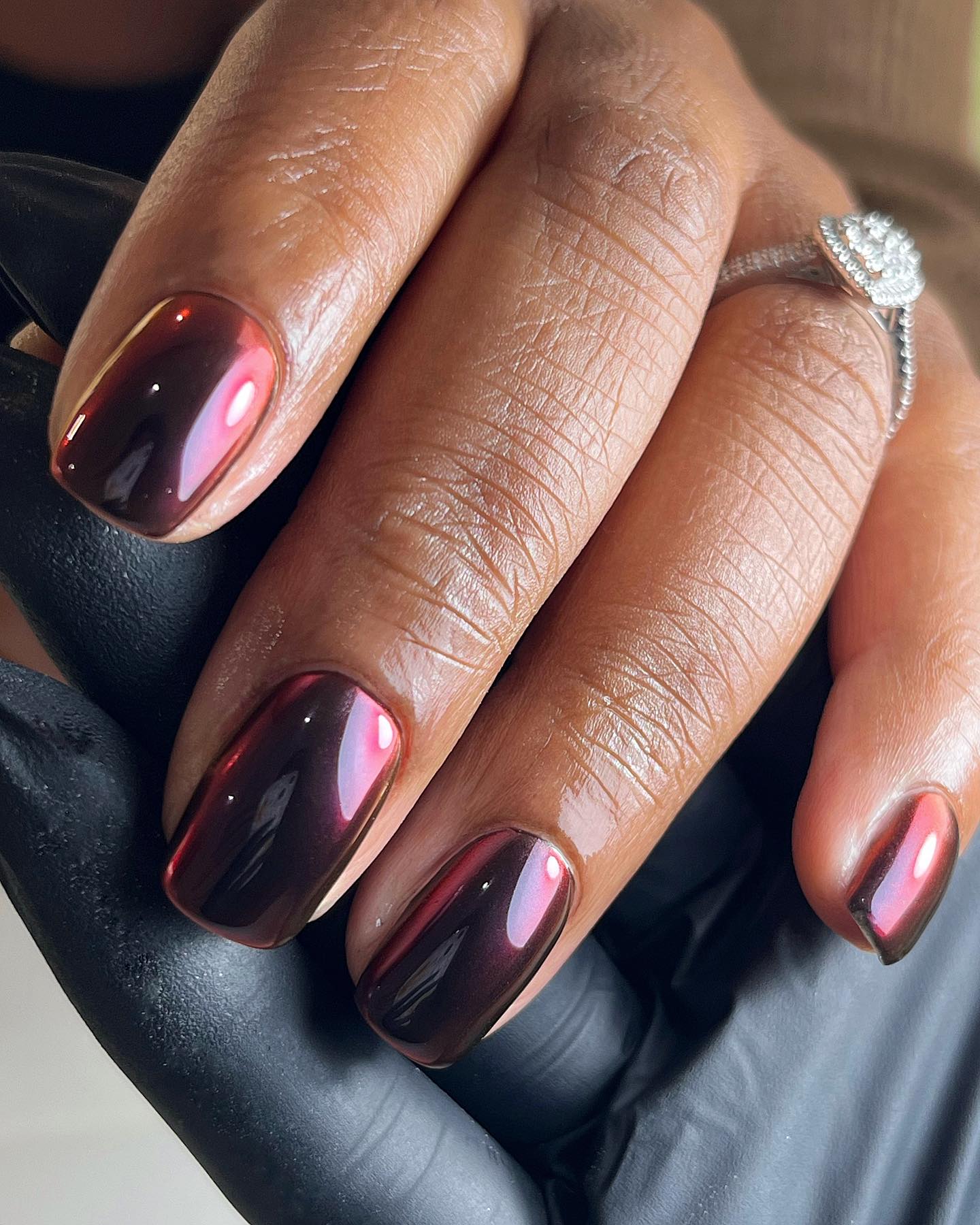 Dignified Burgundy Chrome Nails
With a long nail design, try something extra creative. For example, foil over monochrome nails in burgundy and pink with chrome polish for the ultimate statement look! It makes the manicure pop out, so you can't go wrong with these types of shades coming together as well as they do here.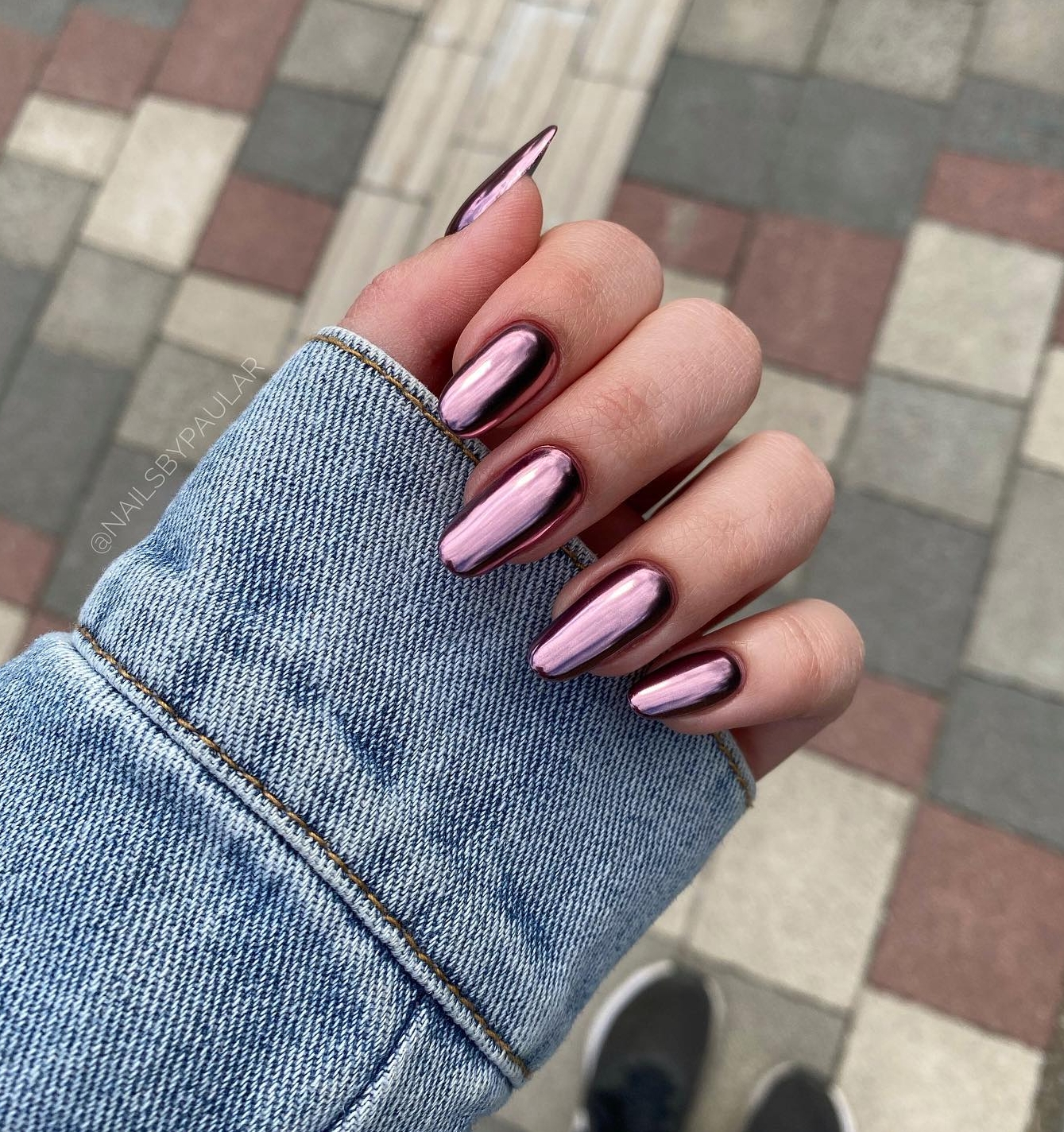 via @nailsbypaular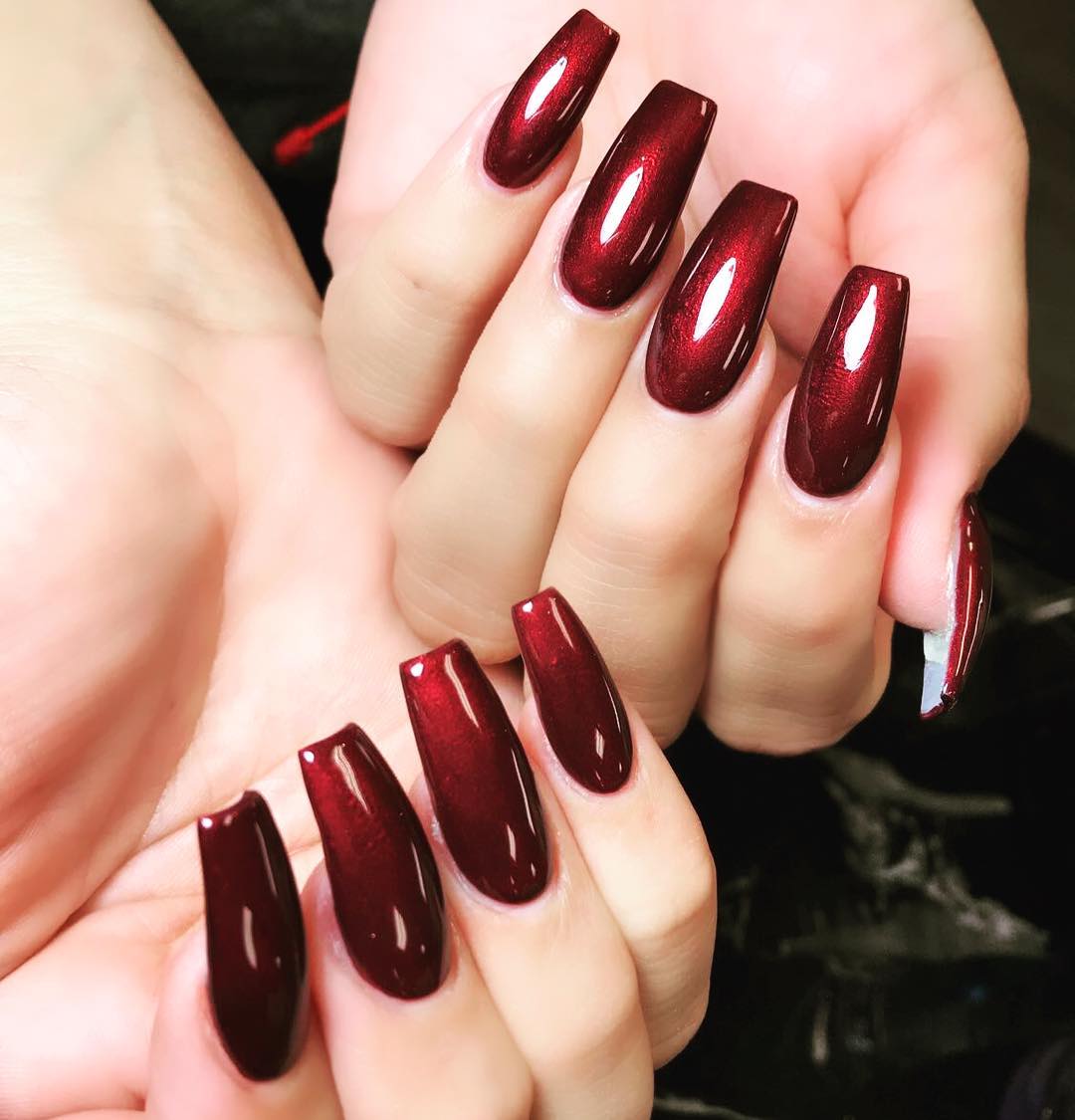 via @nailsbykarly