Clear nail designs are trending and fast catching up with women of all ages. One of the simple nail ideas is a transparent look and finish that's chic and classy. This nail design makes your hands the center of attraction in no time.
For your next manicure, opt for natural-looking nails and top it up with nail art designs ranging from lovely florals to cute butterflies or stunning abstract designs. You and the nail artist can get as creative as possible to make the manicure look smart and trendy.
All set to try? Here are some clear nail designs for inspiration.
Clear Acrylic Nails: A Long-Lasting Manicure
Acrylic nails are in vogue. Long, shining, cute clear acrylic nails are fashion statements for your hands. The secret behind the beauty is that neutral clear nails look like your natural nails. Clear gel nails are available in varied sizes, shapes, designs, and ornamental elements. Take the help of a nail technician for finesse.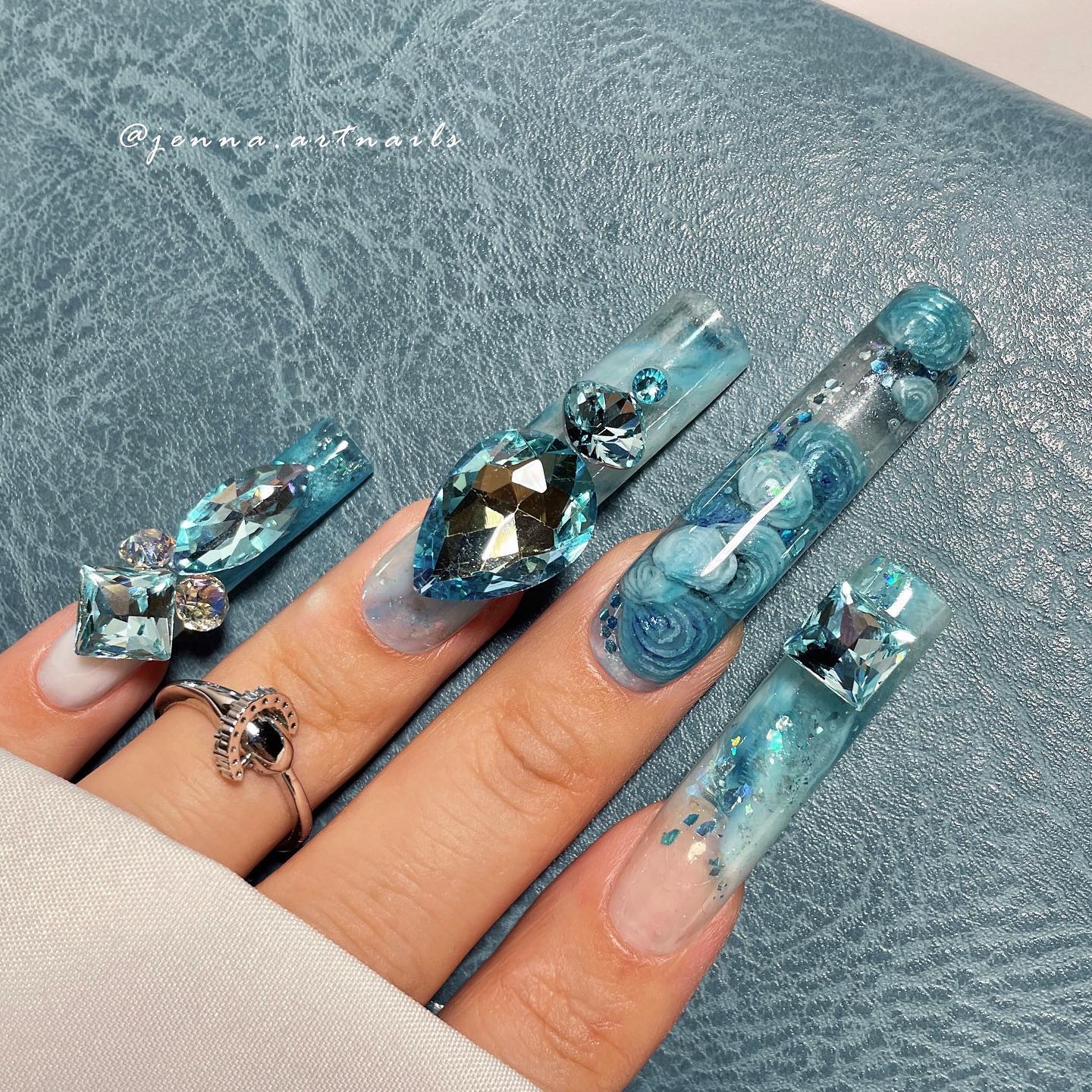 via @jenna.artnails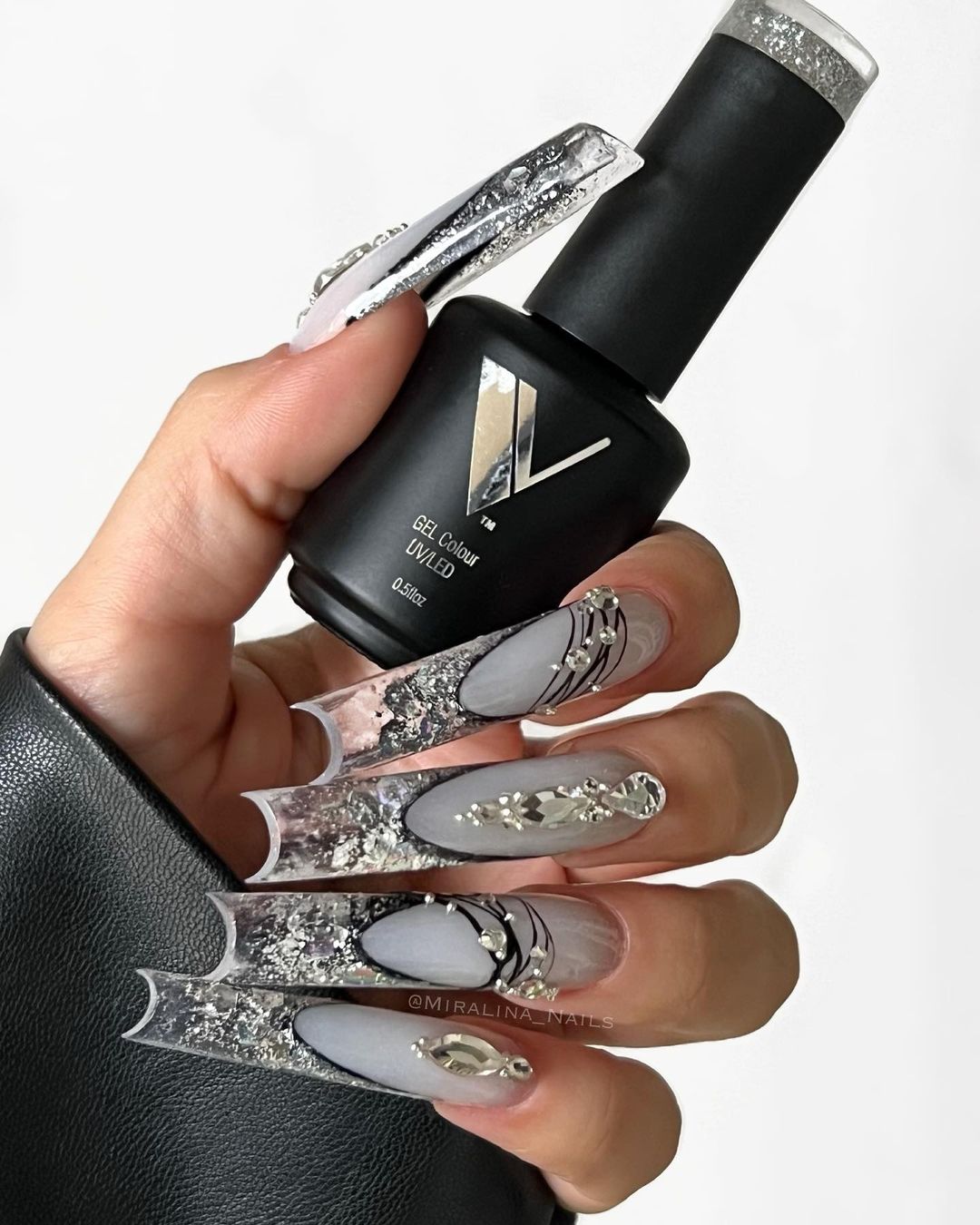 via @miralina_nails
Clear Pink Nails for A Feminine Touch
Pink clear nails are absolute stunners, thanks to ubiquitously flattering blushing tone. Light pink nails have an innate girlish appeal, while the hot pink color is for the woman who dares to live on her terms. With the help of a clear gel nail polish, you can create innumerable looks, complementing your nail length and shape.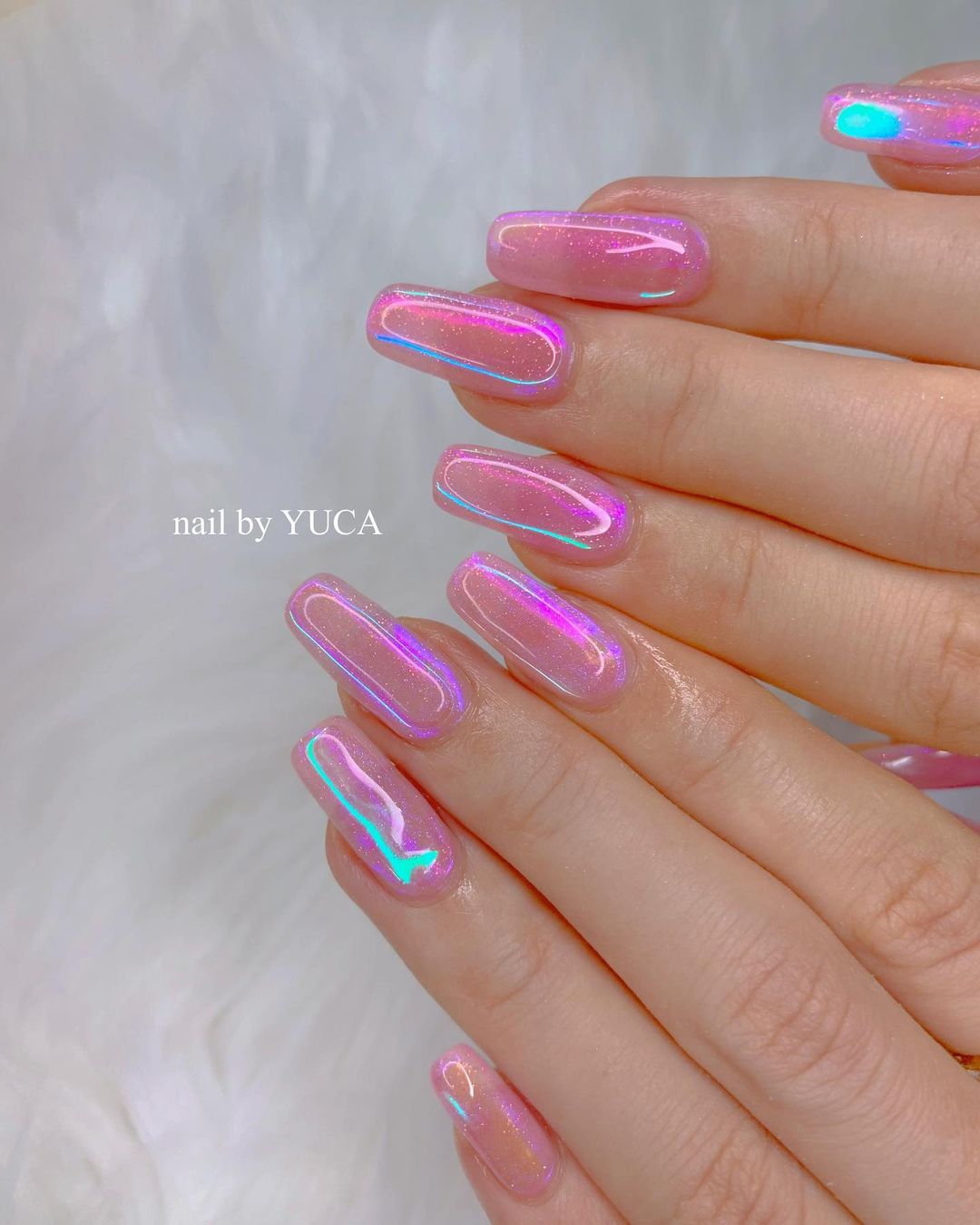 via @yuca_814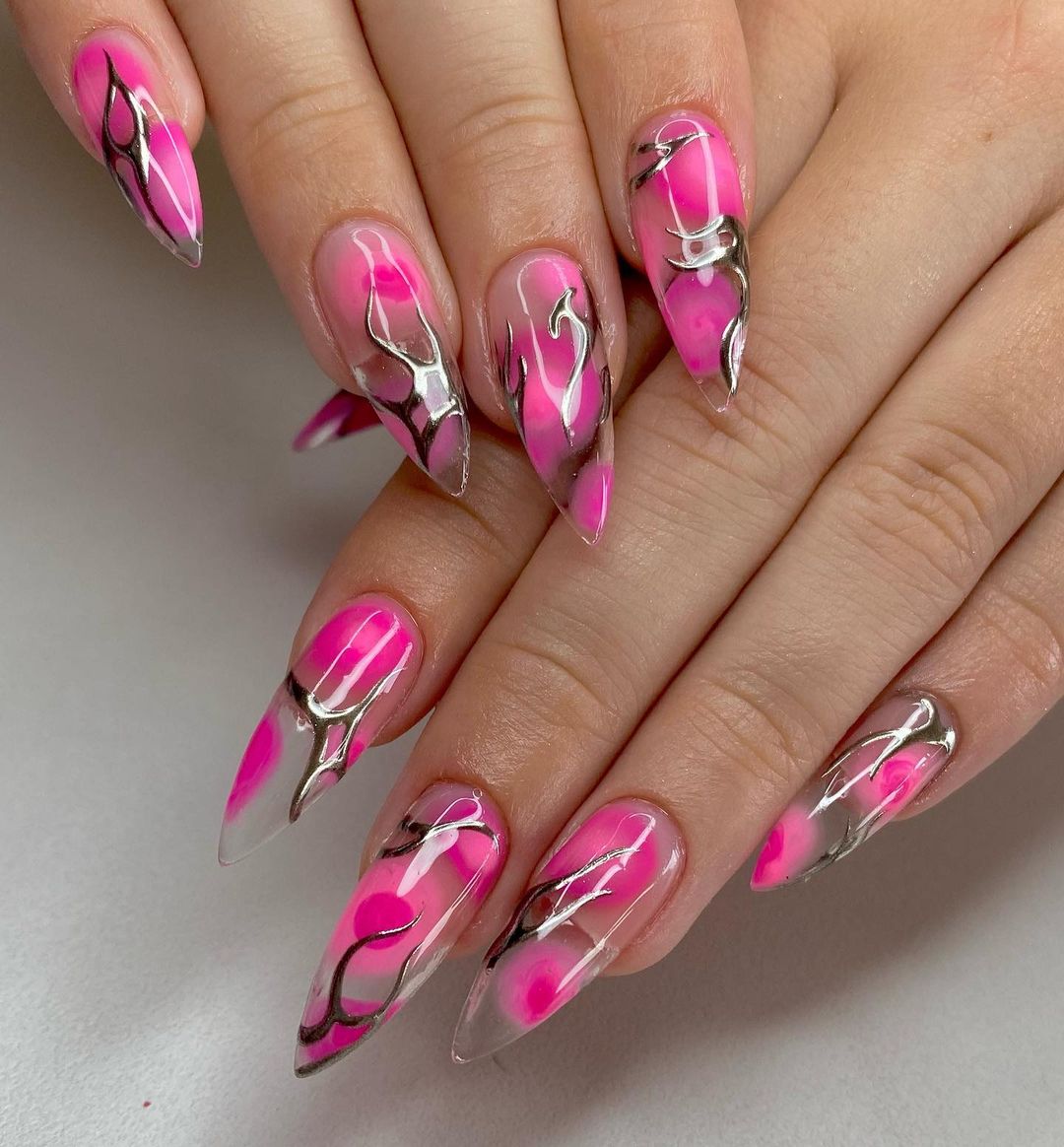 via @lenavitch.nailz
Get Noticed From a Distance With Clear Glitter Nails
Glitters are a woman's best friend. Translucent glitter nails have a shine that's difficult to miss noticing. They are fun because you can apply glitters anywhere on your nail, the tip or the base.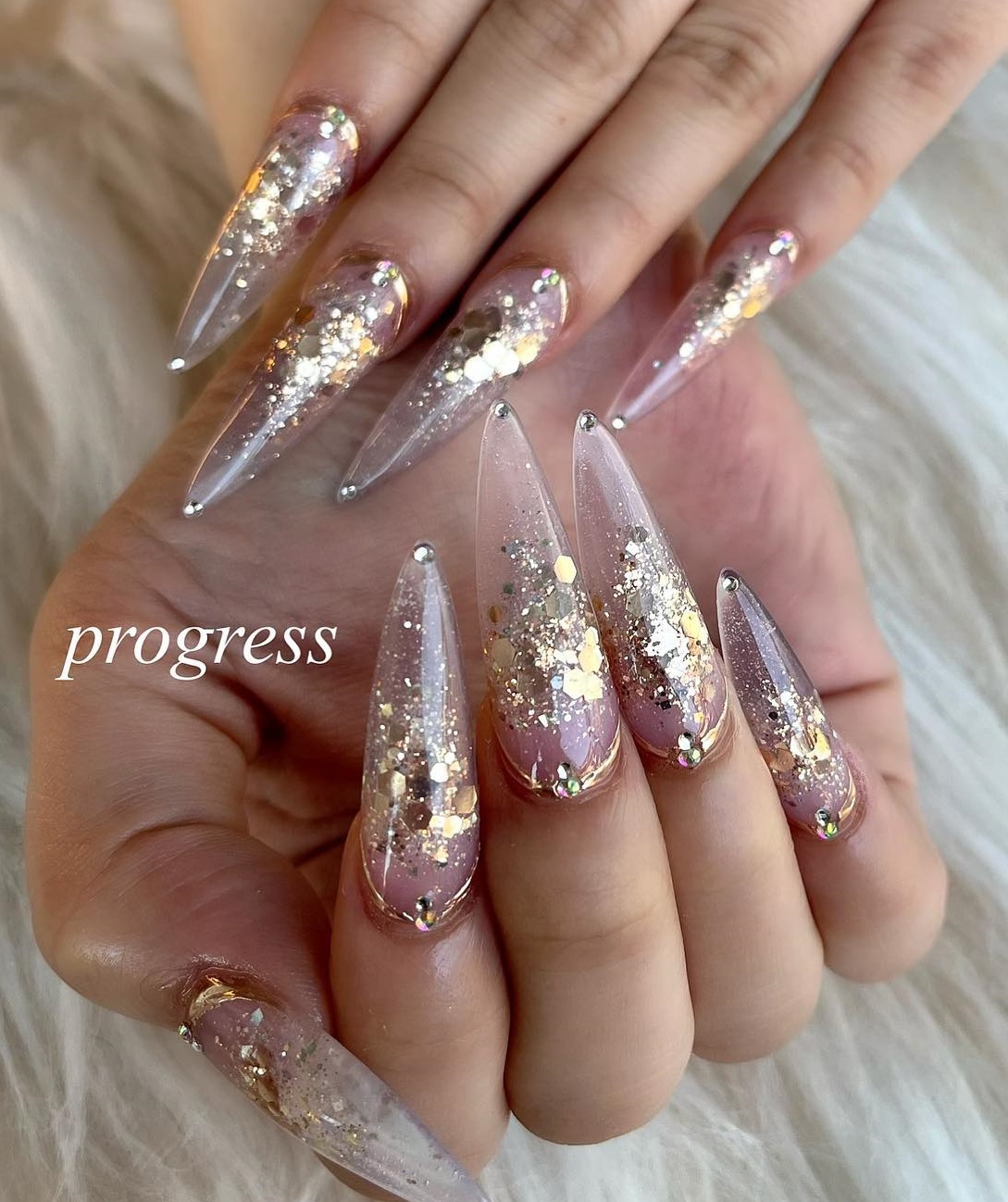 via @maaai_920
With its versatile essence, your clear accent nail is a beautiful manicure work. This nail design has the power to enhance any nail length.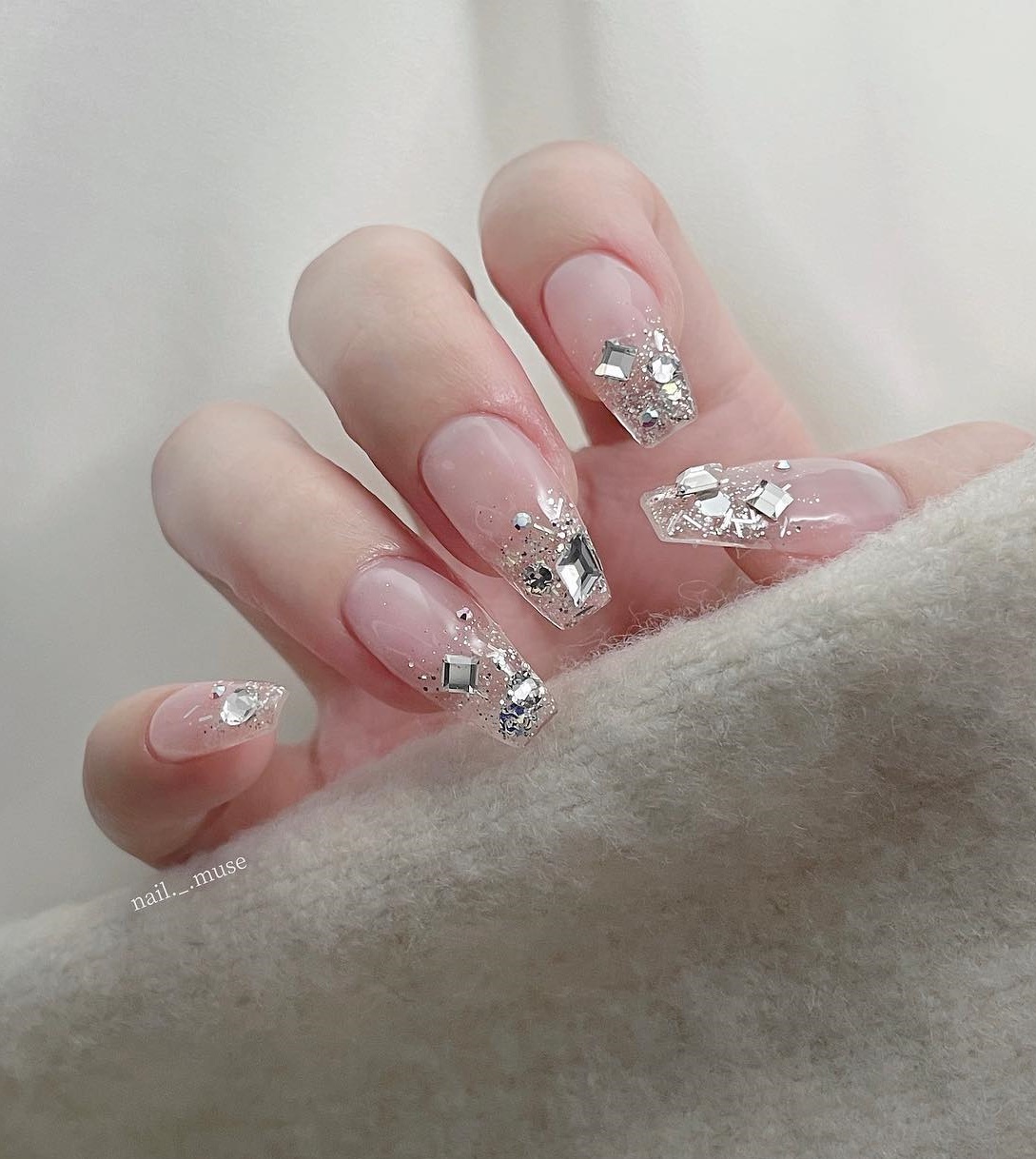 via @nail._.muse
Clear White Nails for a Summerish Look
Interestingly, you can experiment with several looks and styles. You can paint alternate nails white and use lovely white nail art of different designs on the rest. This clear nail trend is appropriate for different nail shapes.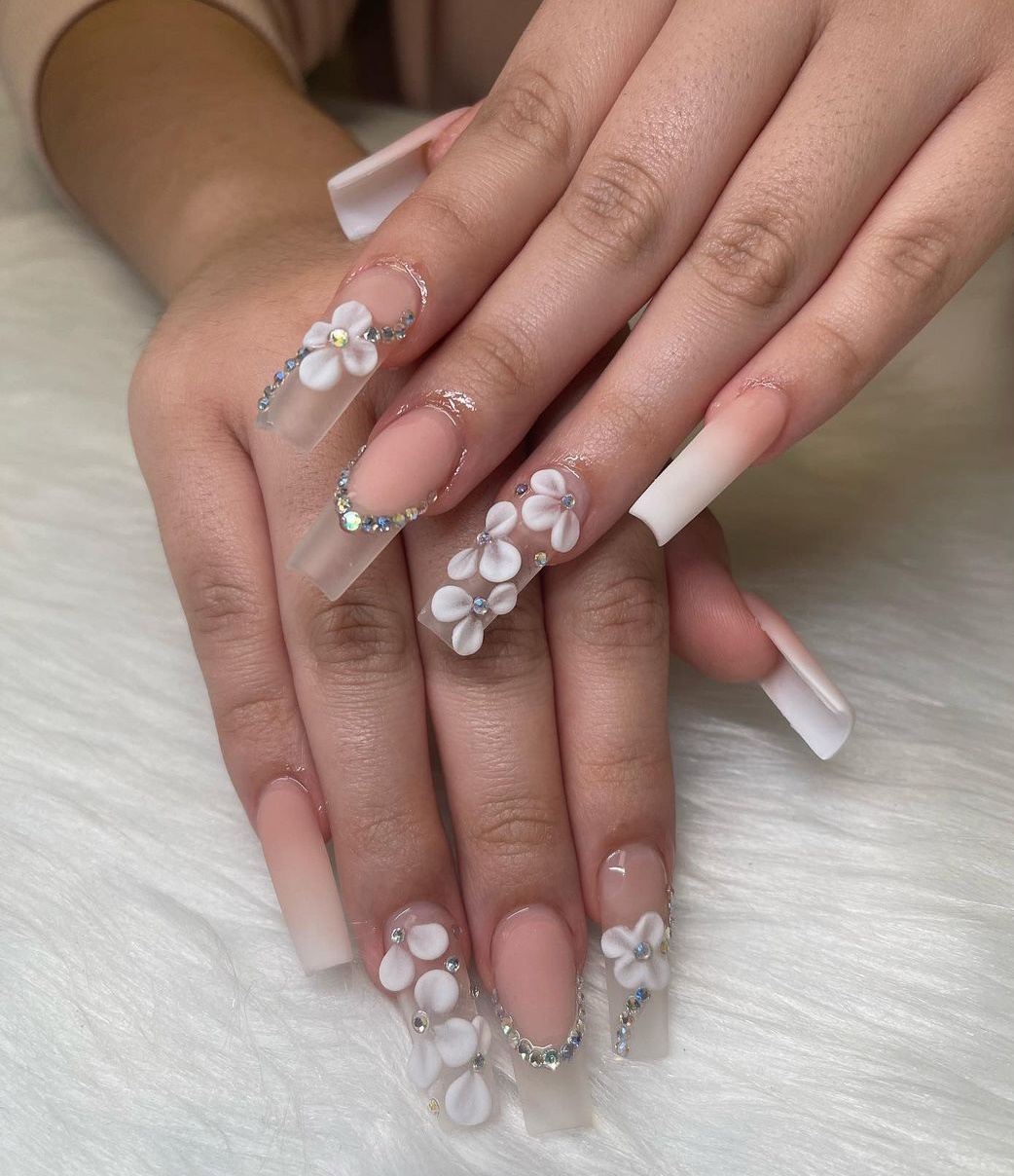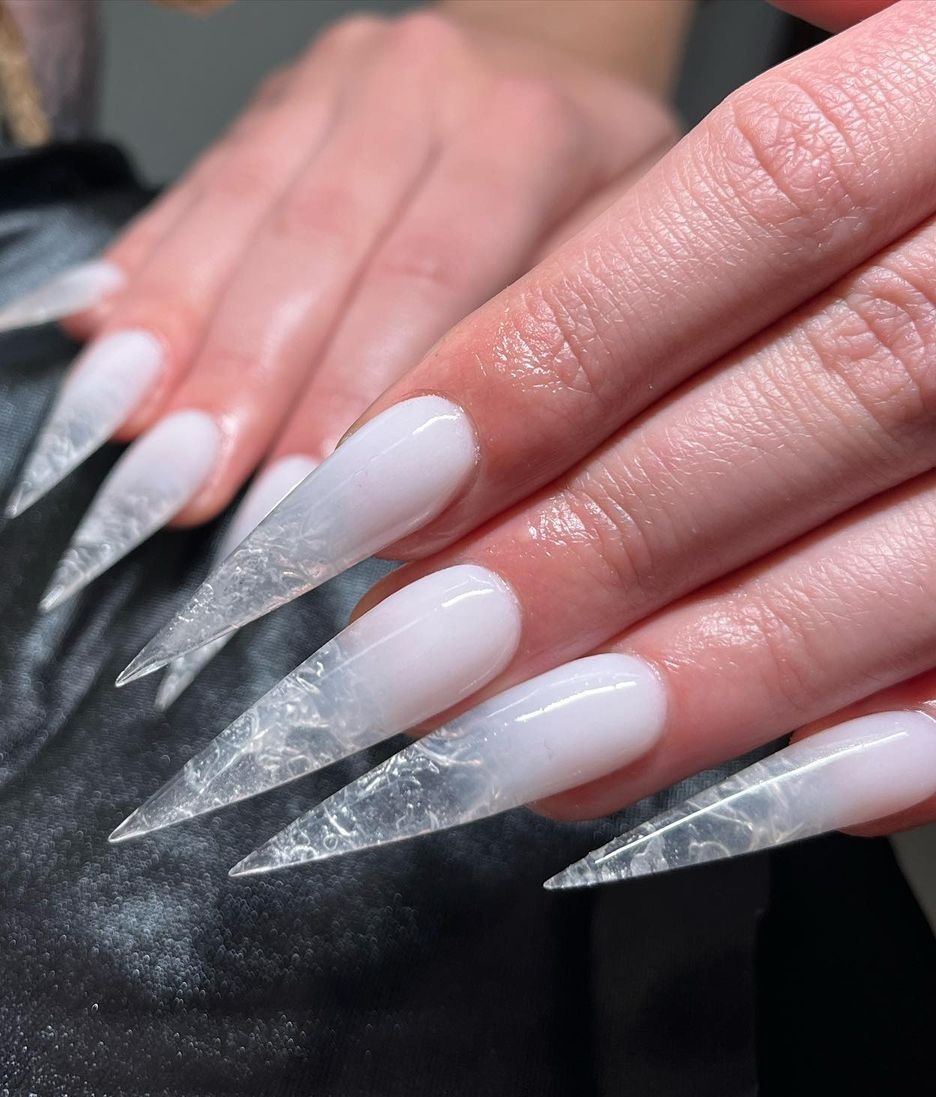 via @_nails.by.lyss
Clear Press-on Nails: Simple & Convenient
The advantage of press-on nails is that you can DIY them, at home, at your convenience. And there are plenty of choices of gorgeous clear acrylic nails.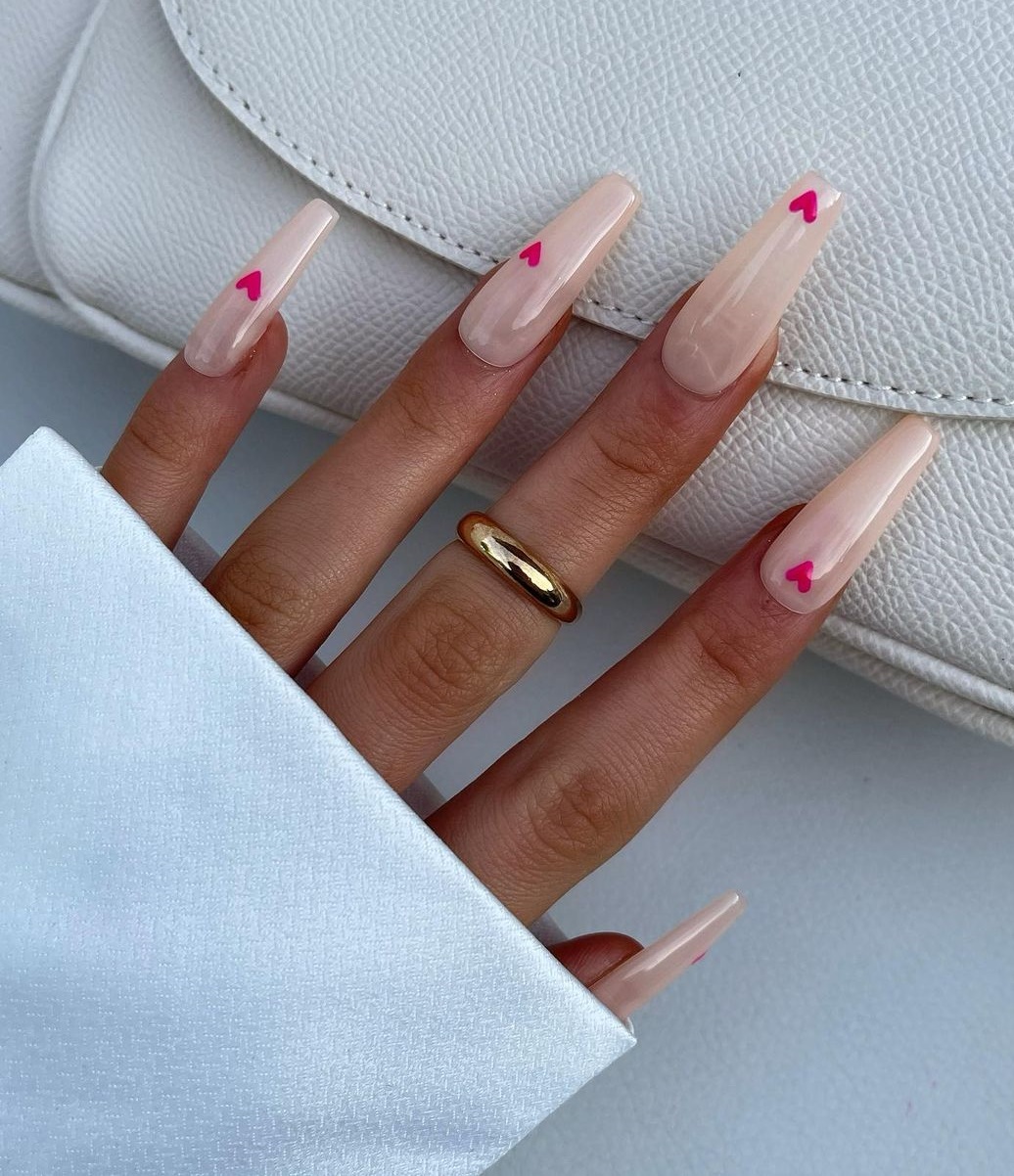 via @pressedbyellie_
You can find perfect press-on nails for you in a multitude of colors and designs for different nail types and shapes. Try almond press-on nails to catch everyone's attention if you have short nails.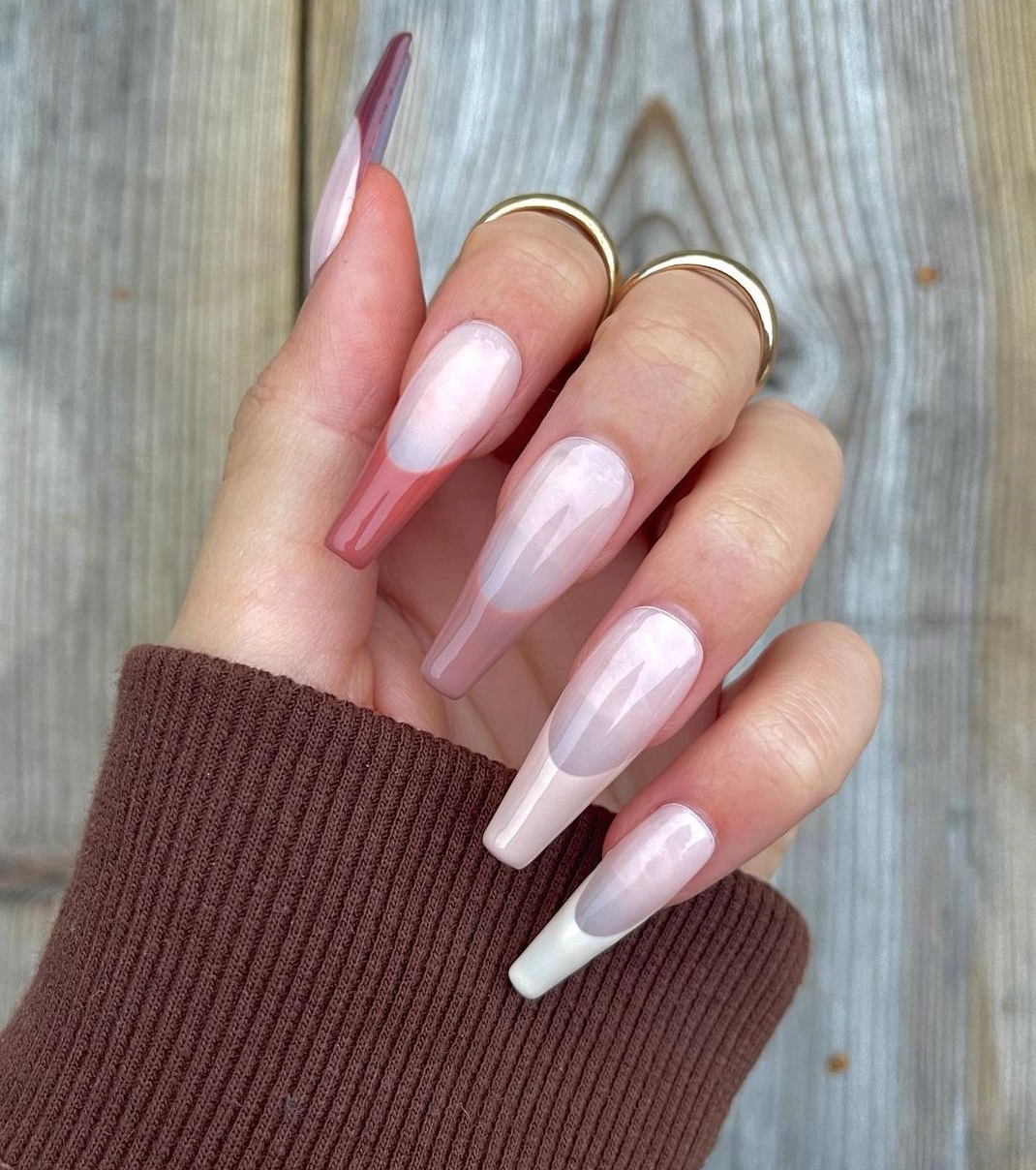 via @pressedbyellie_
Flattering & Admirable Clear Coffin Nails
The most admired clear nail designs are the clear coffin nails. It is attractive and attracts the complete focus on your hands and the coffin nail shape. Straight tip and tapering sides, just like a coffin and hence the name. Long or short, tailed or straightforward, elaborate the design with glitter nails for a chic statement.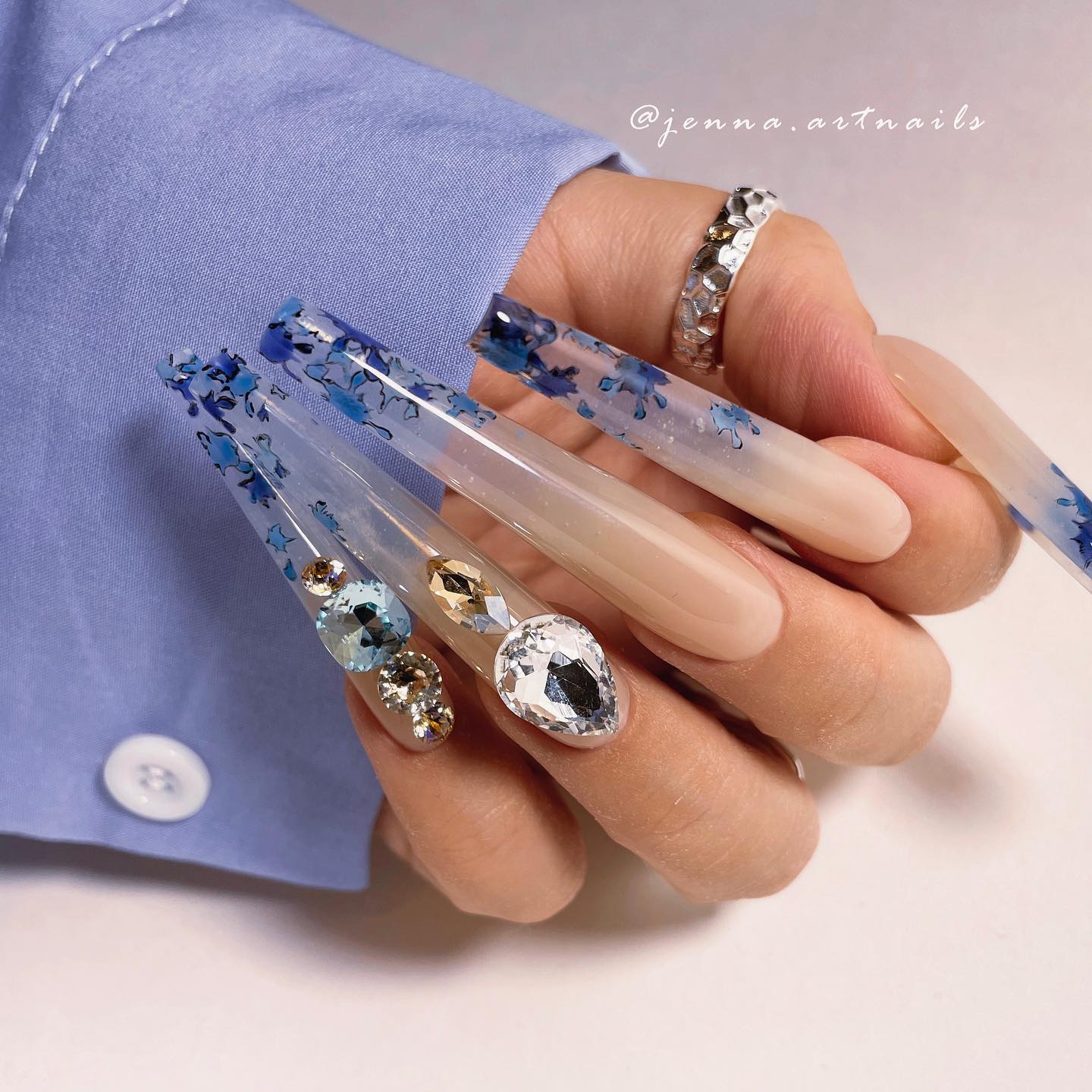 via @enna.artnails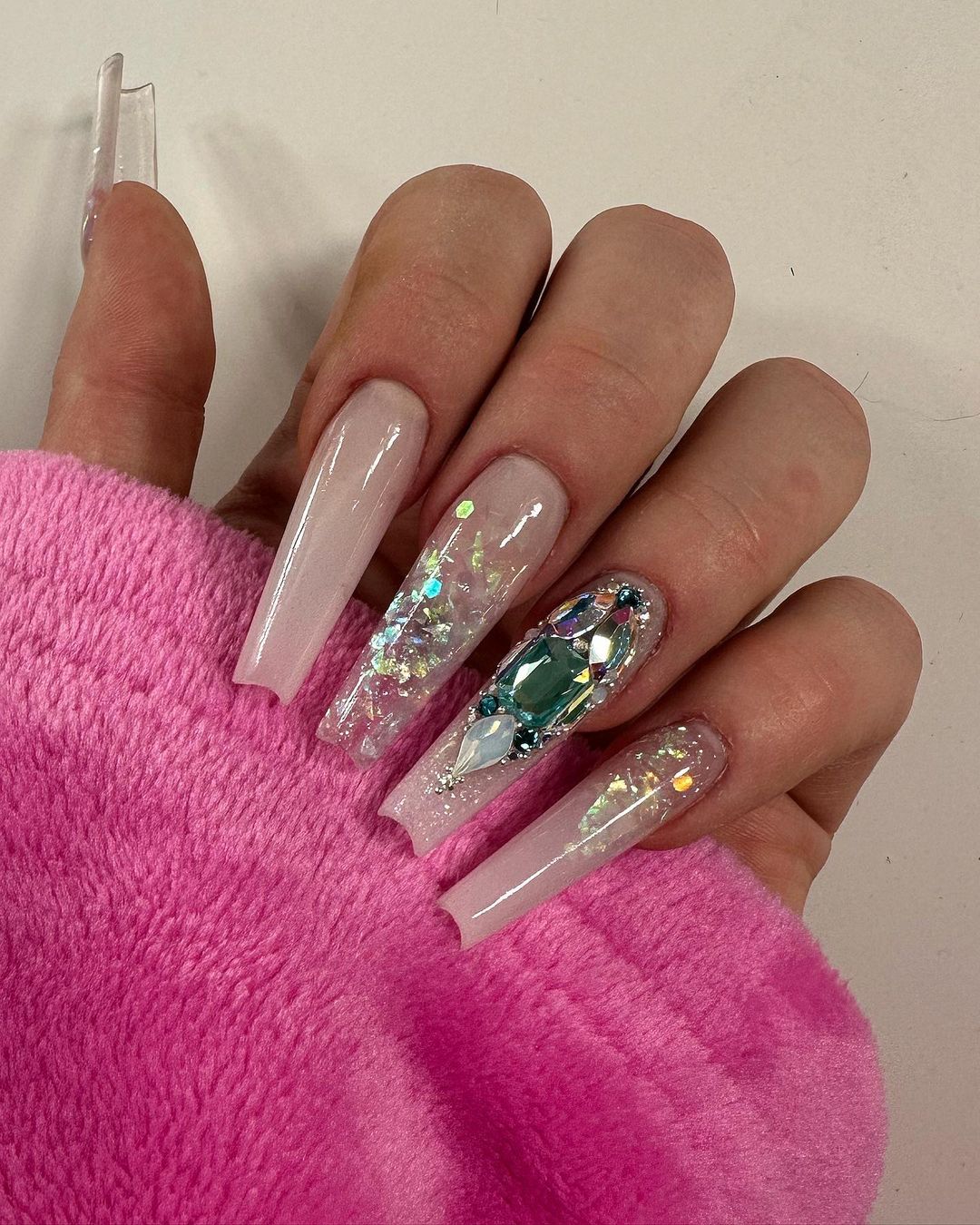 via @nailsbywend
Clear Nude Nails Complementing Your Skin
Nude nail ideas are simple, graceful, and sophisticated. Go for this neat manicure for a smart look without any second thought.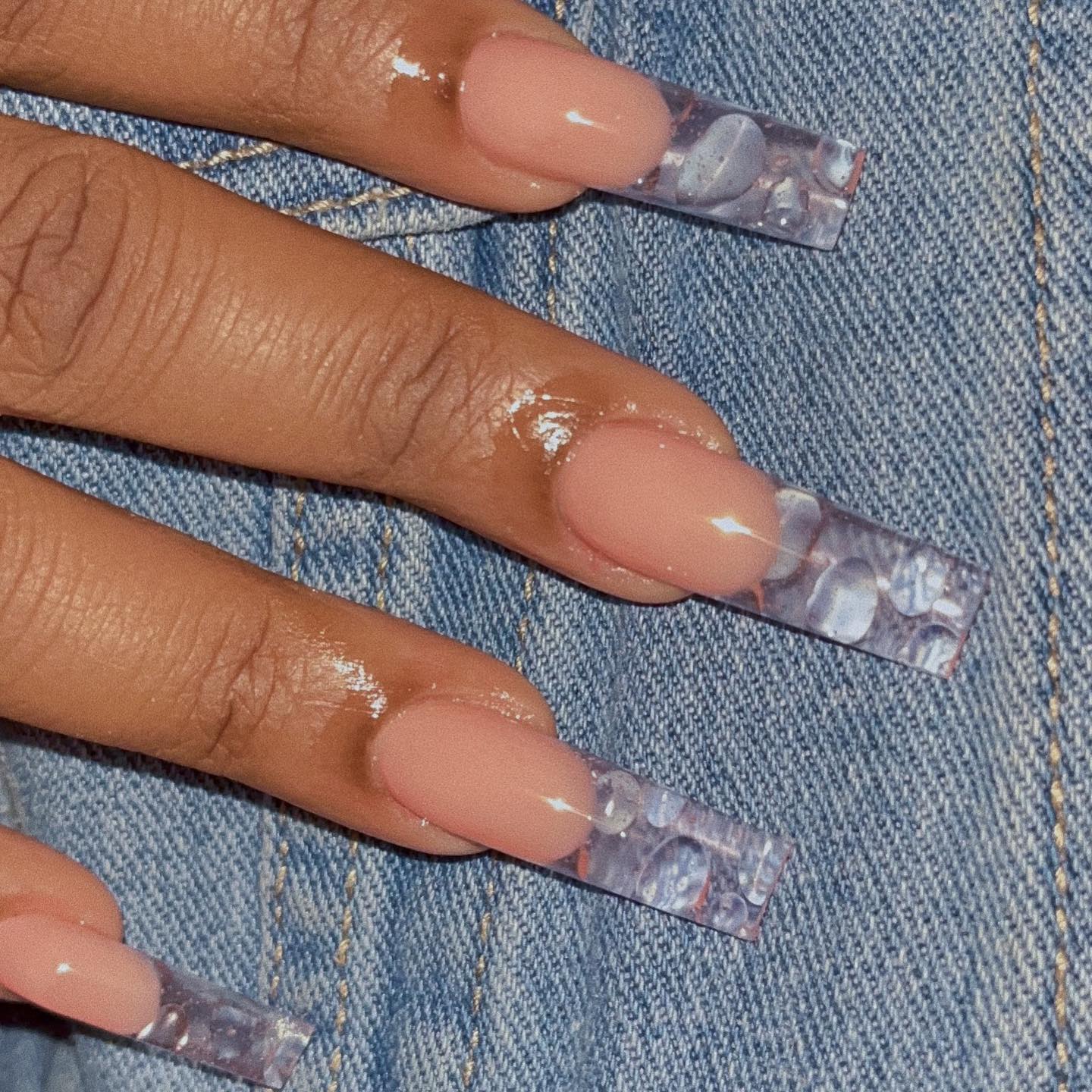 via @nailchicmadi
The good thing is that clear nude nails are available in all shades of natural skin tones. The nude essence of natural-looking nails goes well with all dresses for all occasions and is available in varied shapes and sizes.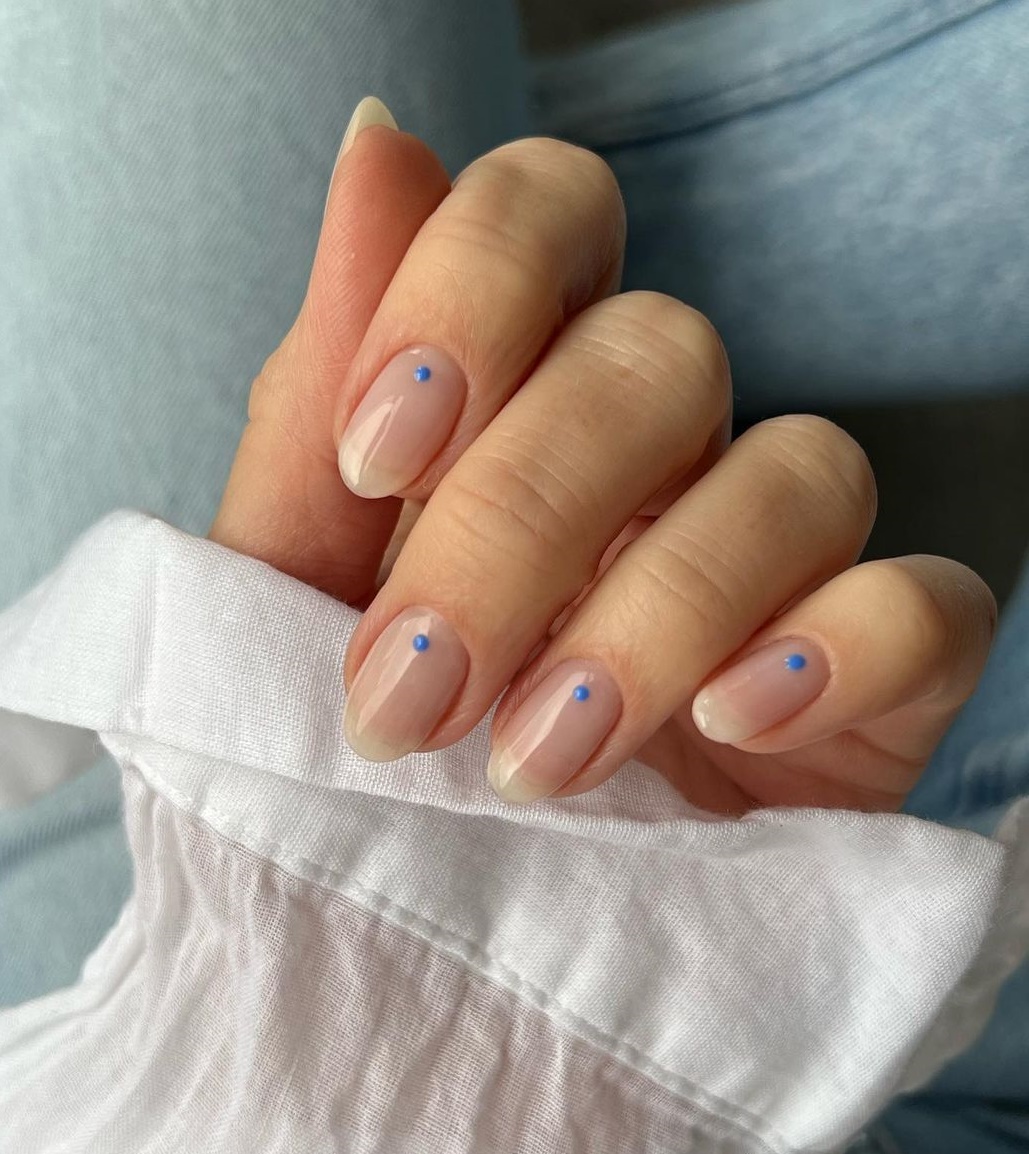 via @baraandbeauty
Pristine Beauty of Clear Butterfly Nails
Of all transparent nail designs, butterfly acrylic nails are one of the most visually pleasing and soulfully satisfying designs. Since butterflies are naturally colorful, they look cute on your nails. Your nail artist can do clear butterfly nails in a range of colors. You can take the combination of clear nail polish and butterfly nail art to another level with sequins or rhinestones.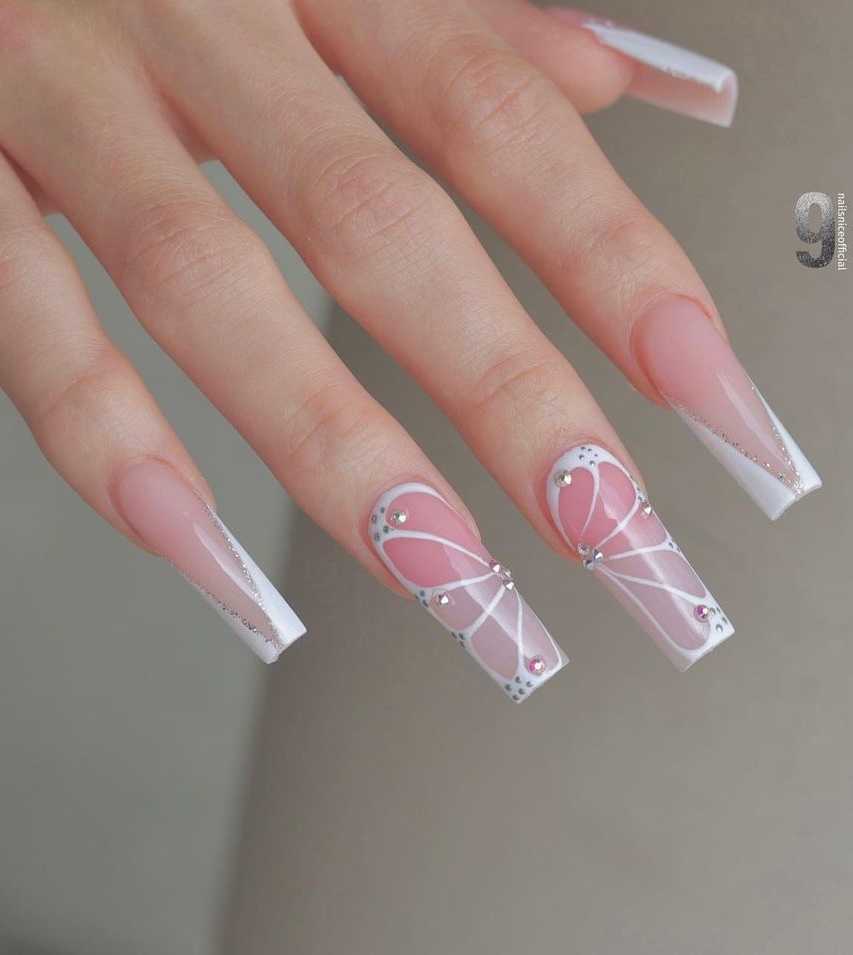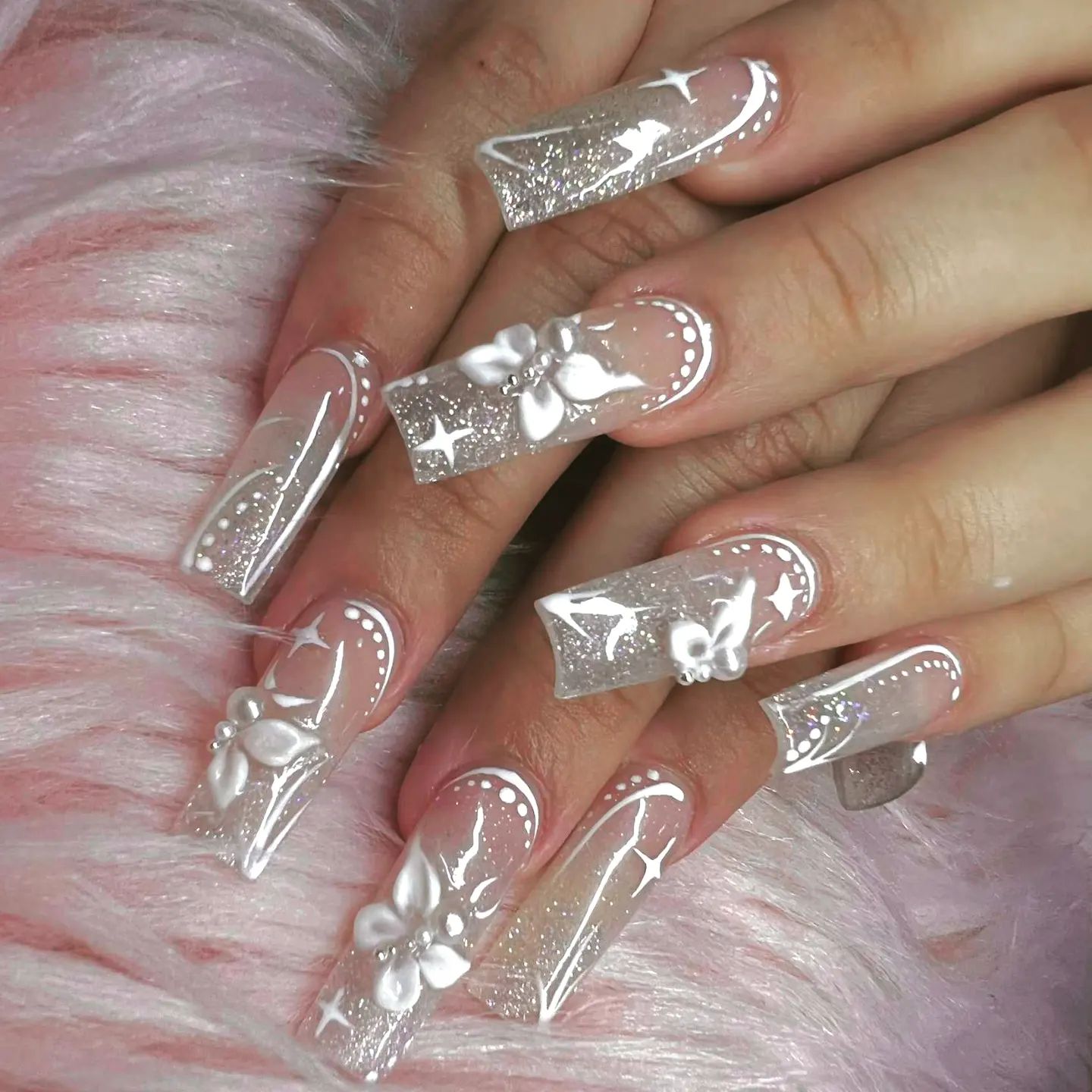 via @she_didthat0718
Playfully Versatile Clear Ombre Nails
Nude ombre nails look elegant since ombre is all about blending colors for an aesthetic effect. For example, the black to clear ombre nails is classical.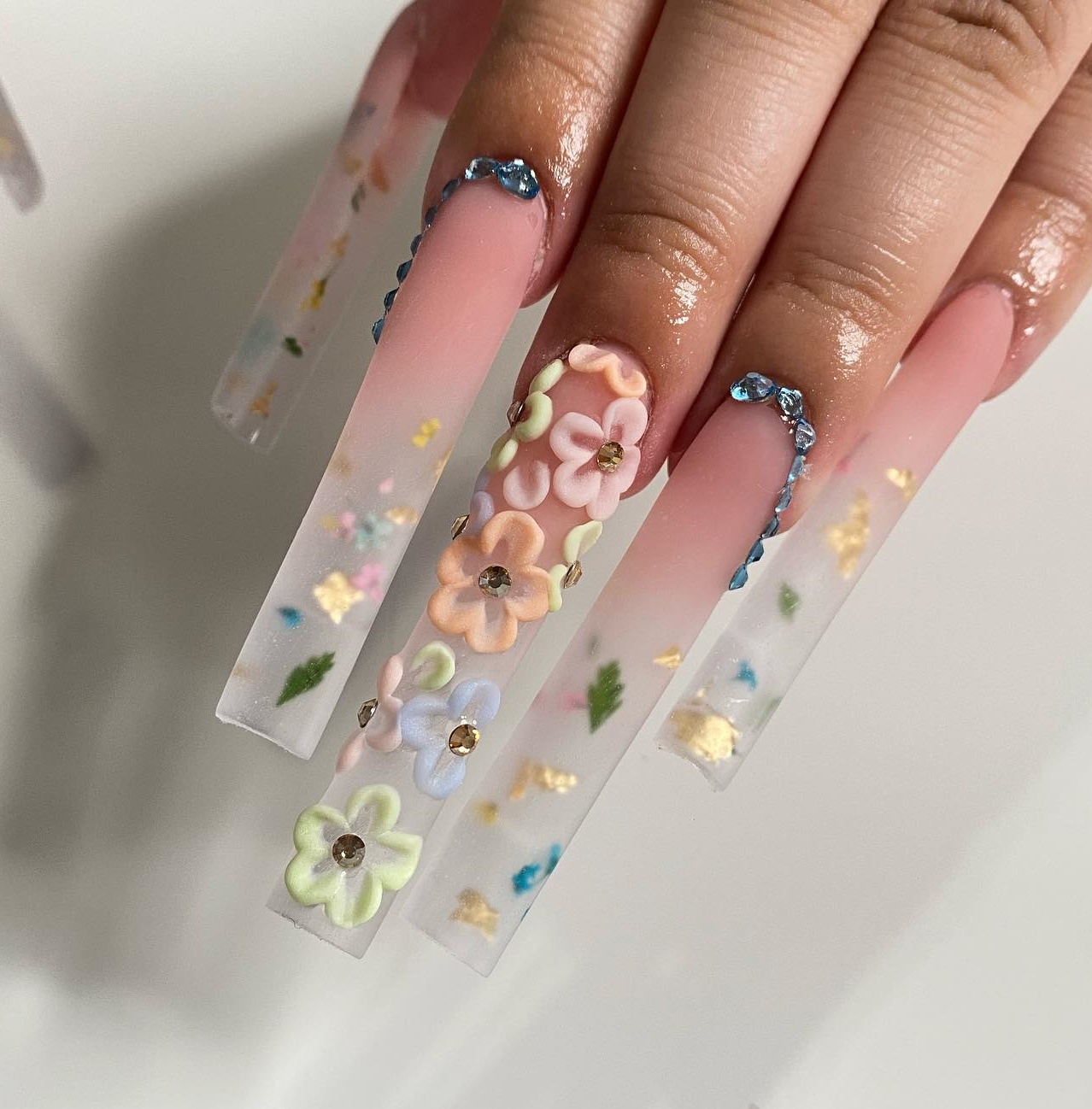 via @_glambyjulia
Choose colors that complement one another. Keep the base transparent for clear glitter ombre nails, and use glitter on the tip.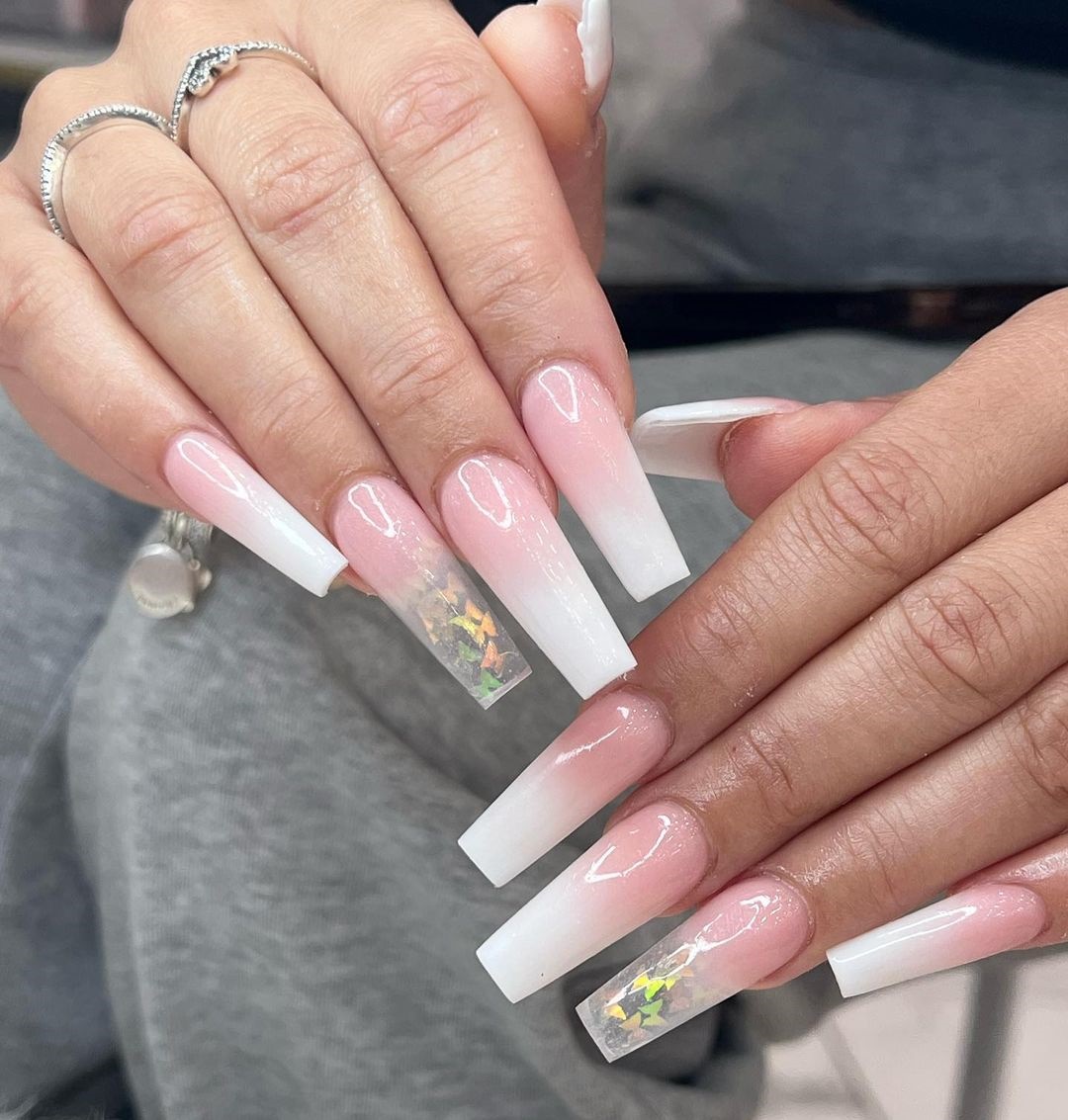 Stimulate Your Natural Look With Clear French Tip Nails
French manicure is a global nail trend. Clear manicures with french tips are the latest add-on to this style that can always stay in fashion. It is the best expression of a neutral and natural look.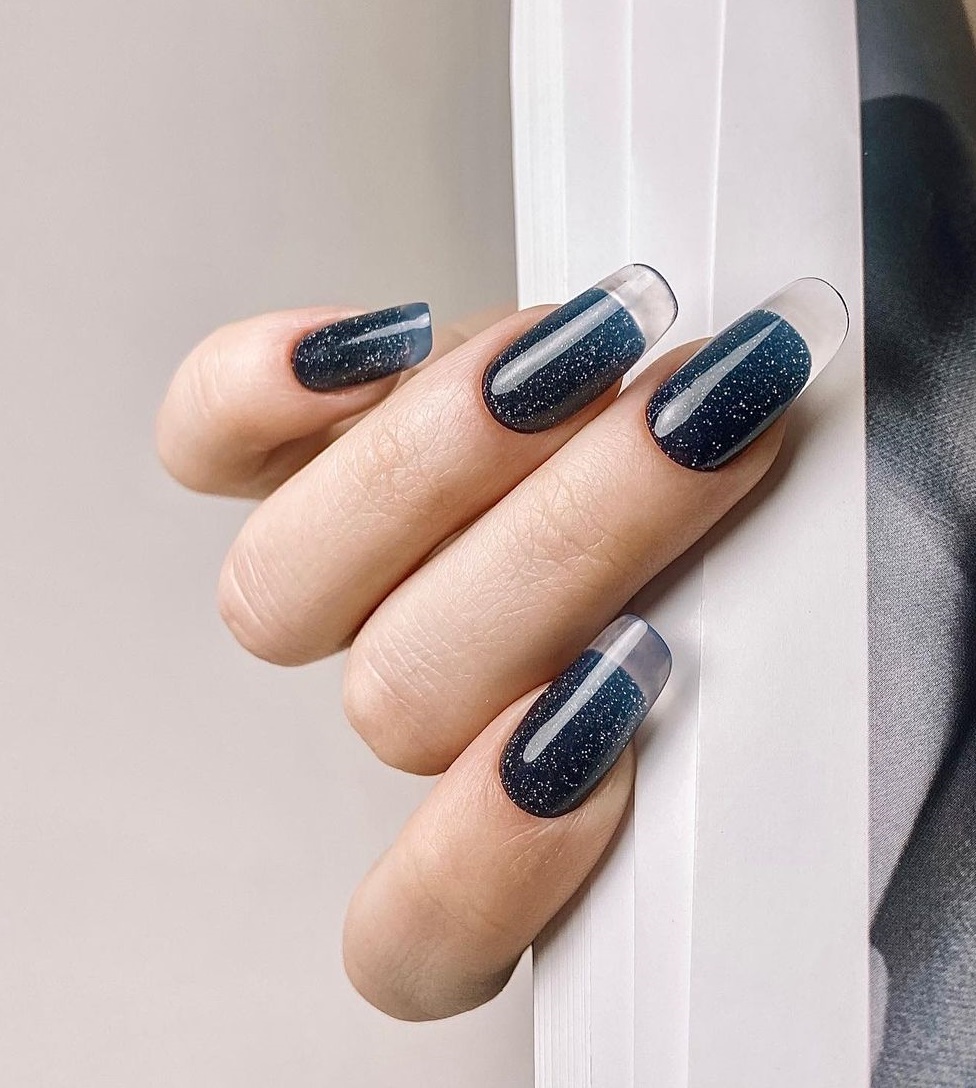 via @trutaroxana
A clear base with white tips is elegant and complements all your attire. Clear almond nails look fantastic and are universally stylish.
via @amberjhnails
Clear Nails with Gold Foil For a Glamorous and Luxurious Look
Gold is a brilliant hue and transitions your nail art into a stunner on your clear natural nails. From gold glitter to flakes, there are many experiments you can do.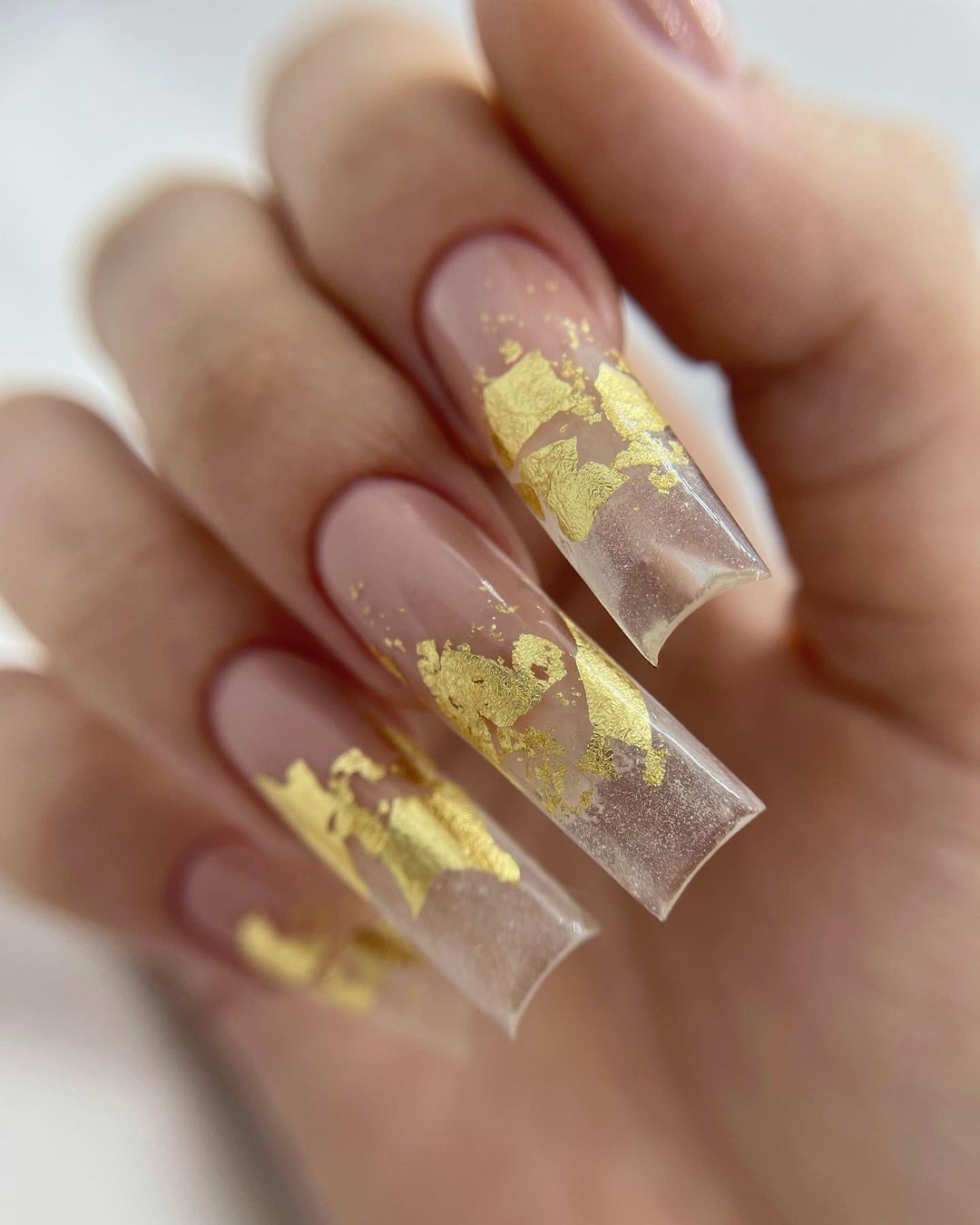 via @coranailart
Gold foil nail designs are an excellent design choice on a transparent base. Wear cute nail ideas with glitter to a date or a special event.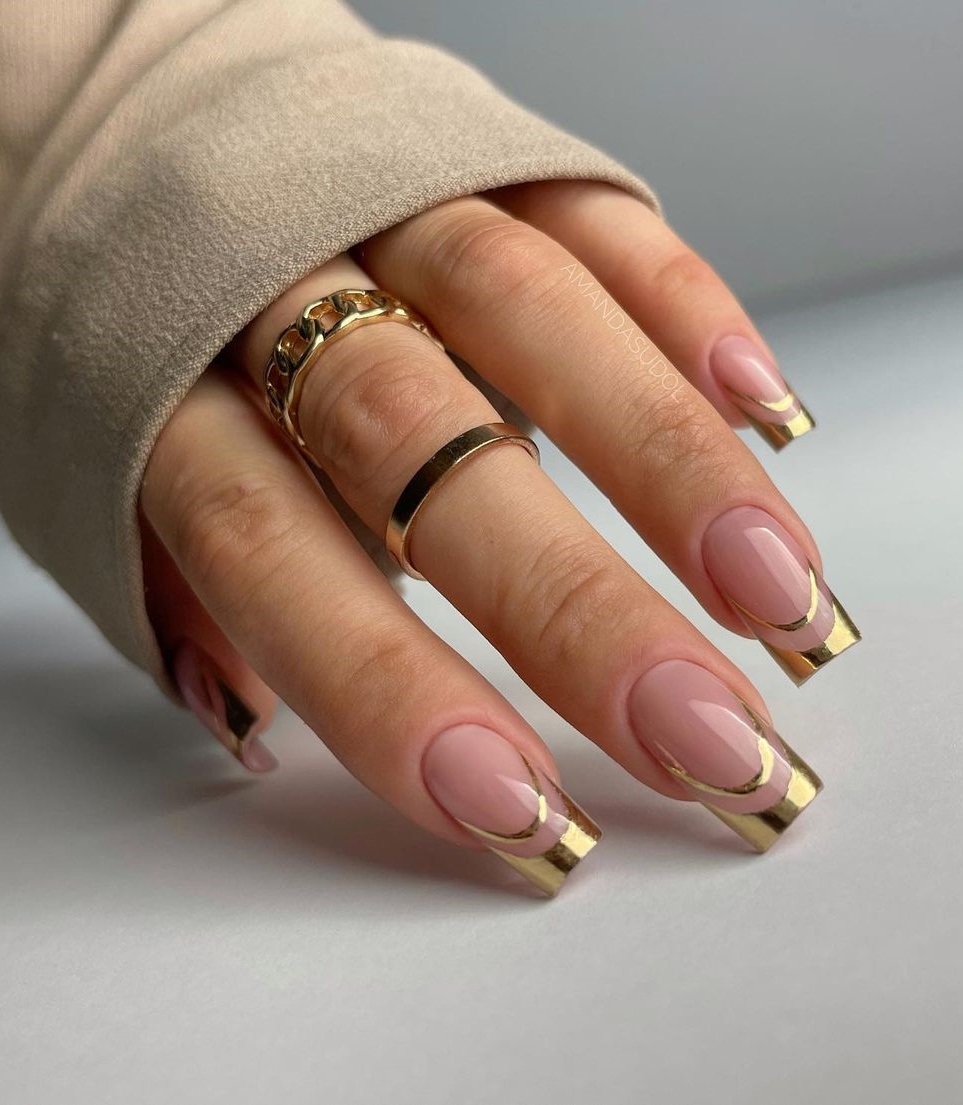 via @amanda.sudolll
Embrace Sassy Clear Nails with Flame Design
Stiletto nails are bold and cool with a characteristic pointy end and tapering shape. On long stilettos, flame nail art is a vibrant add-on. It is a perfect way to accessorize statement nails.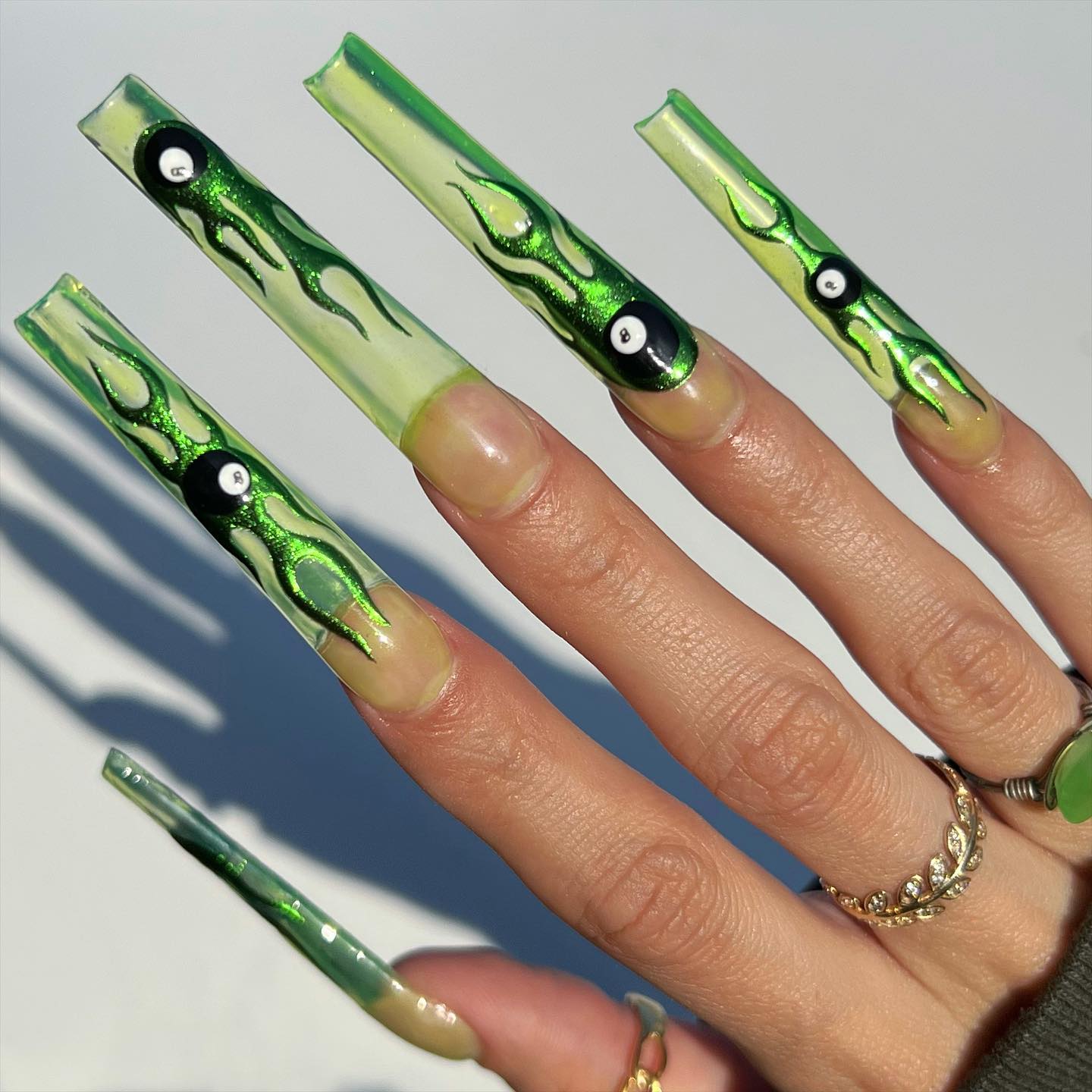 via @nailsbysenia_
On a clear and transparent base, orange flames on the nails give a very realistic appearance. Use the ombre effect for an inspirational transformation.
via @bycheznails
Clear Marble Nails for Simplicity Lovers
Clear marble nail designs are enthralling as the simplicity of the pattern catches immediate attention.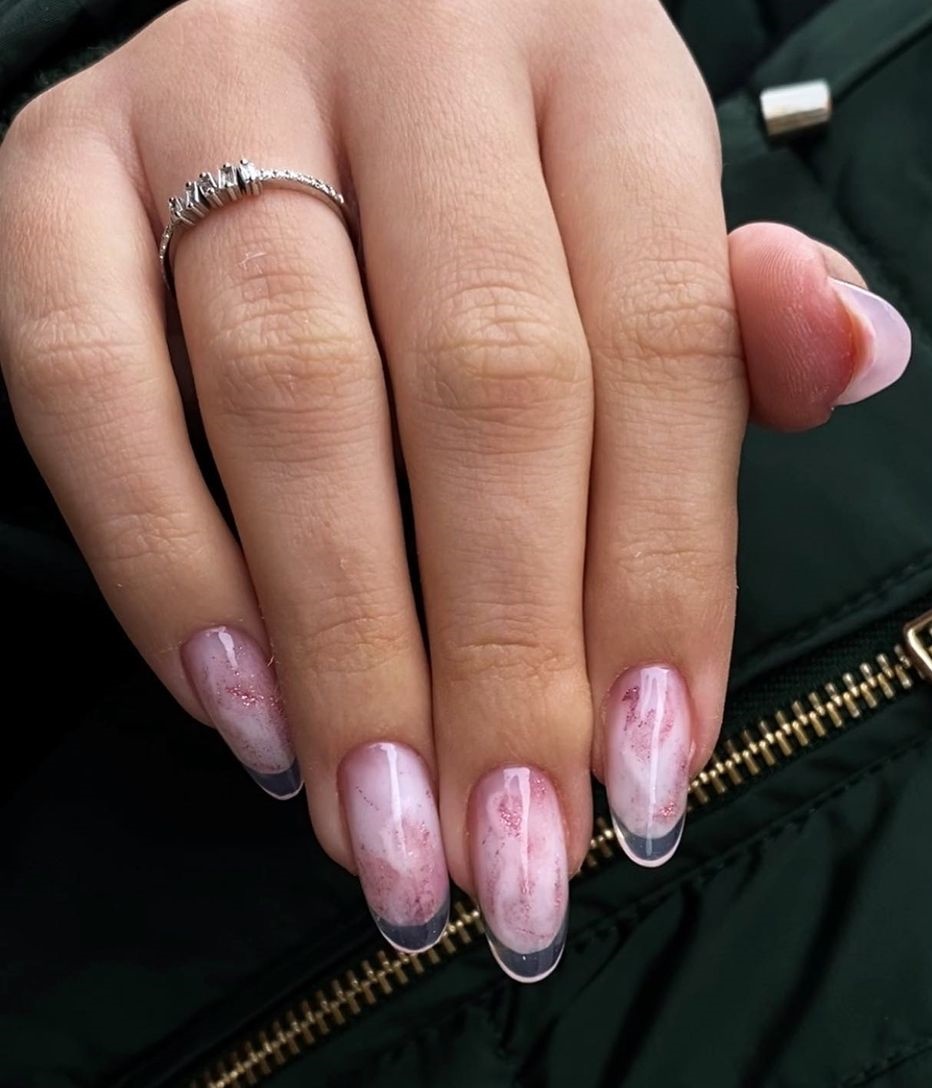 via @themanilab_
This design is highly recommended for longer nails of any shape. On a clear nude base, use white color to achieve the look. You can also style alternate two nails with marble design and the rest in total white.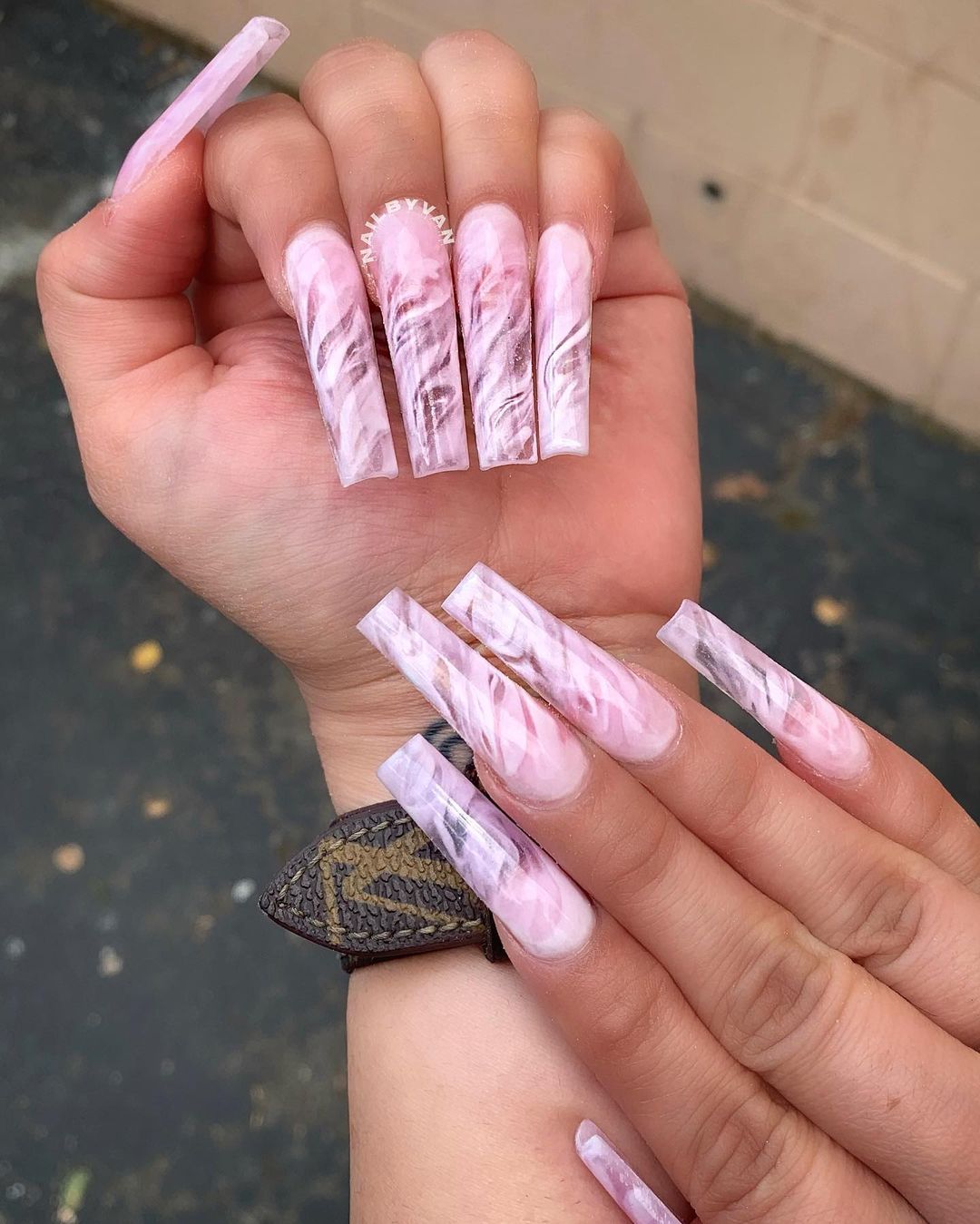 via @nailbyvan82
Clear Nails with Flowers For Dainty-Looking Nails
Clear floral nail designs look delicate and lovely. You can create a mesmerizing look on your fingers with different designs and multiple shades.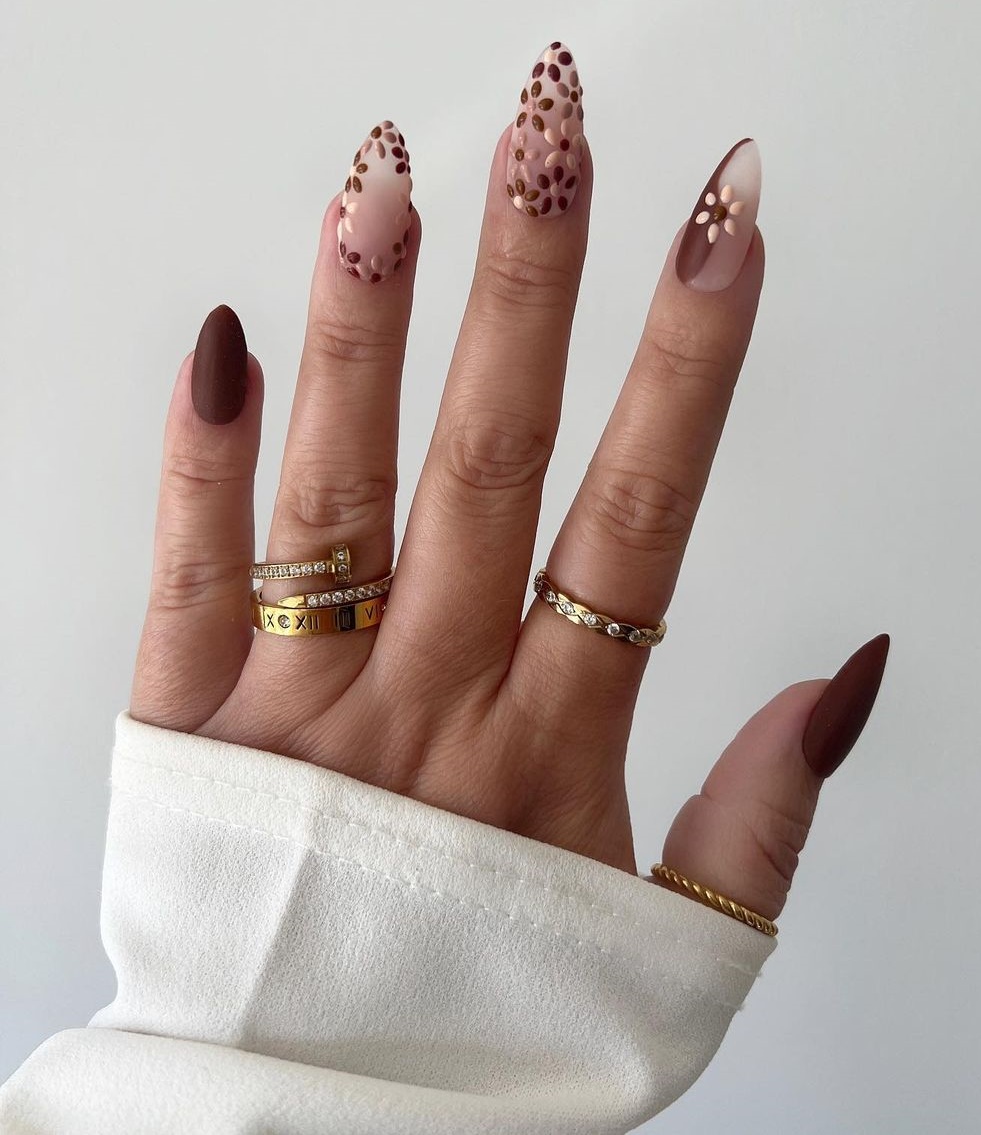 via @nolas.nails
Floral designs are all about positivity and upbeat things in life. A matte finish of the floral artwork brings more charm than usual to your beautiful nails.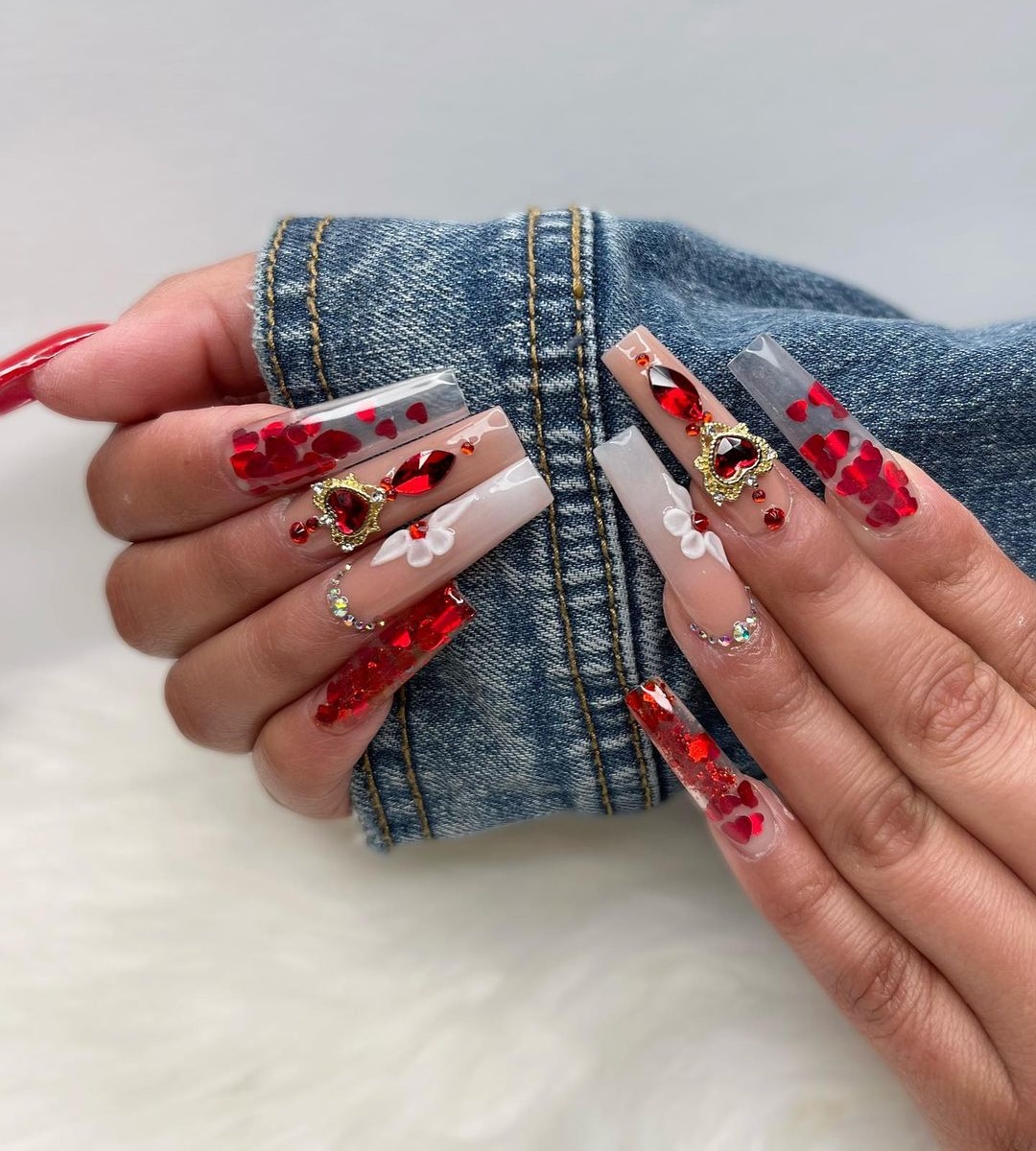 via @mg_nailbar1
Clear Blue Nails to Depict the Calmer You
Blue acrylic nails are another trendy design for your clear nails. If you love the color of the sky or the sea, take the help of a nail technician to get a clear mani in blue. Ensure that it looks good on your skin tone, especially the color you choose since many clear blue nail shades are available.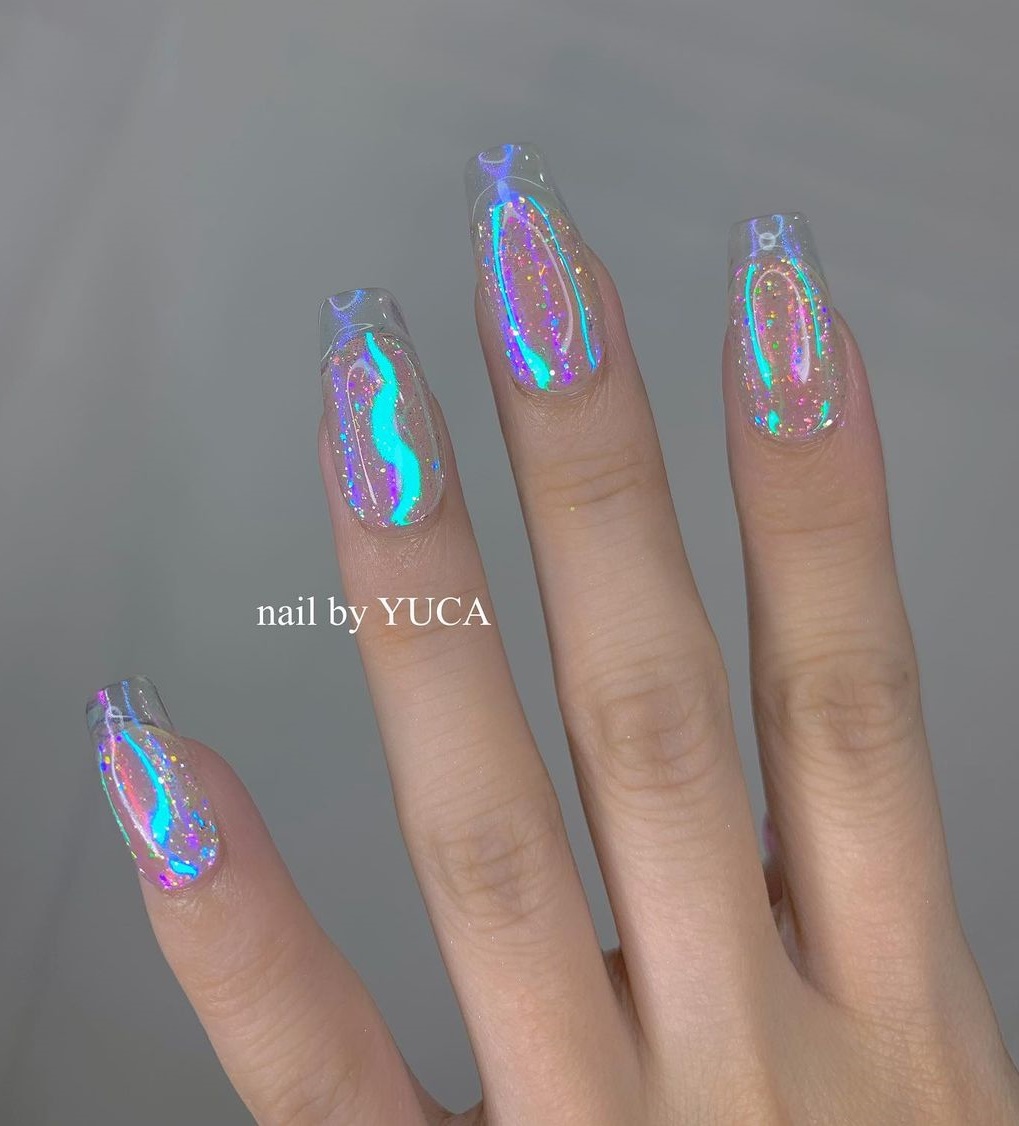 via @yuca_814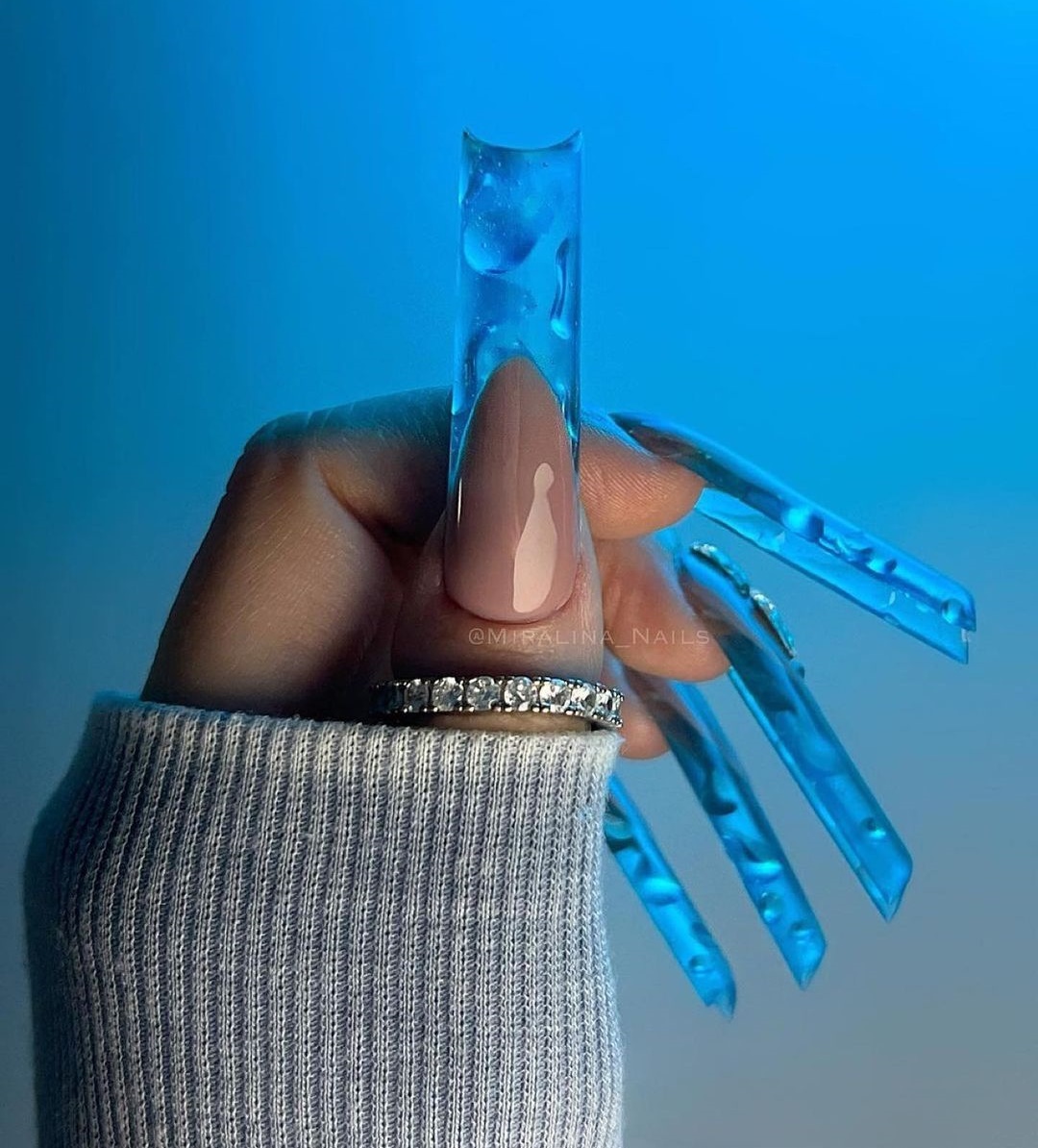 via @miralina_nails
Experiment Using Clear Nails with Abstract Designs
If you want to experiment with clear nail designs, go for abstract swirls on nails. It looks ultra-cool. Your nail artist can try various colors, angles, and techniques ranging from thick splashes to thin lines. This is an impressively unique look for a square or oval nail shape.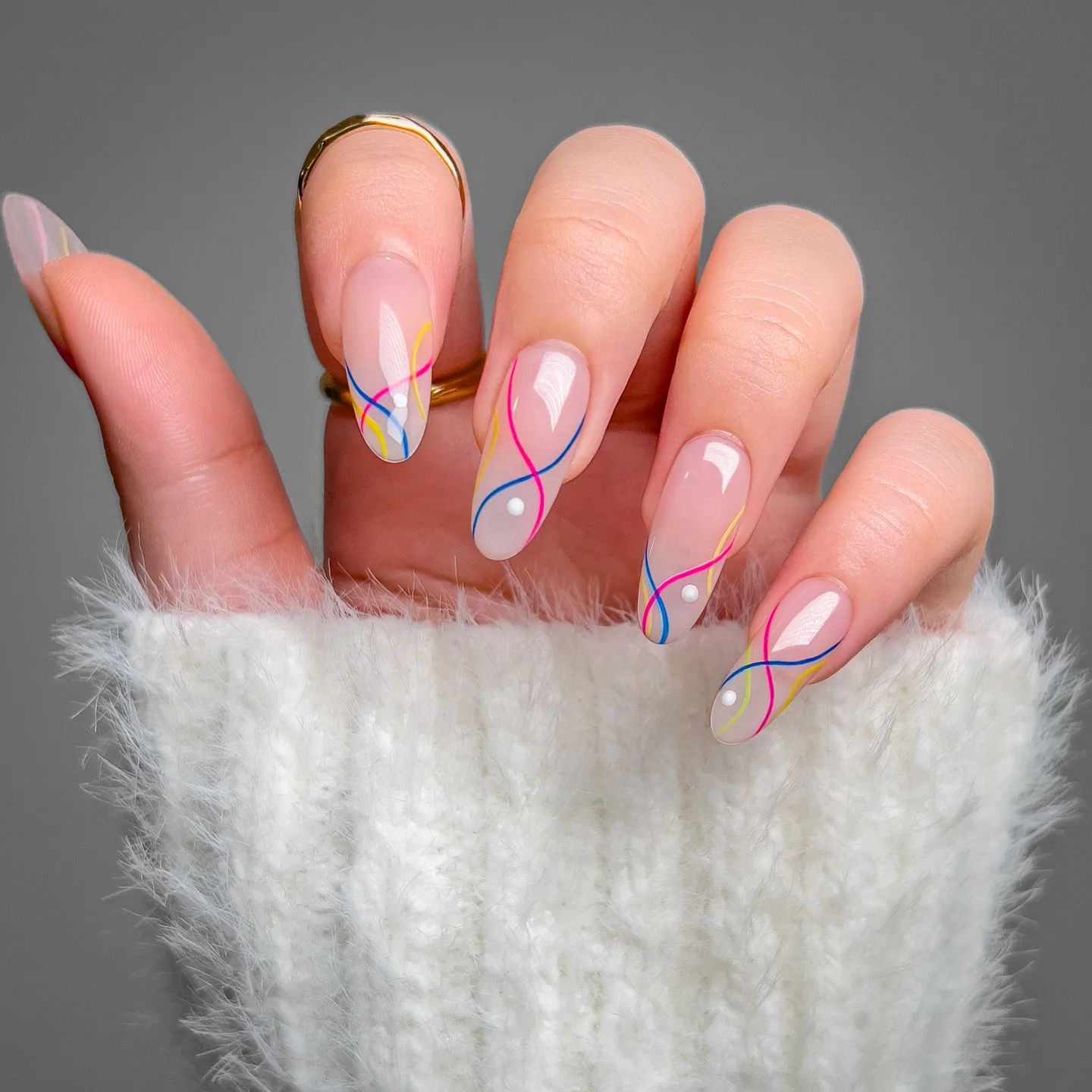 via @nail.art.by.tea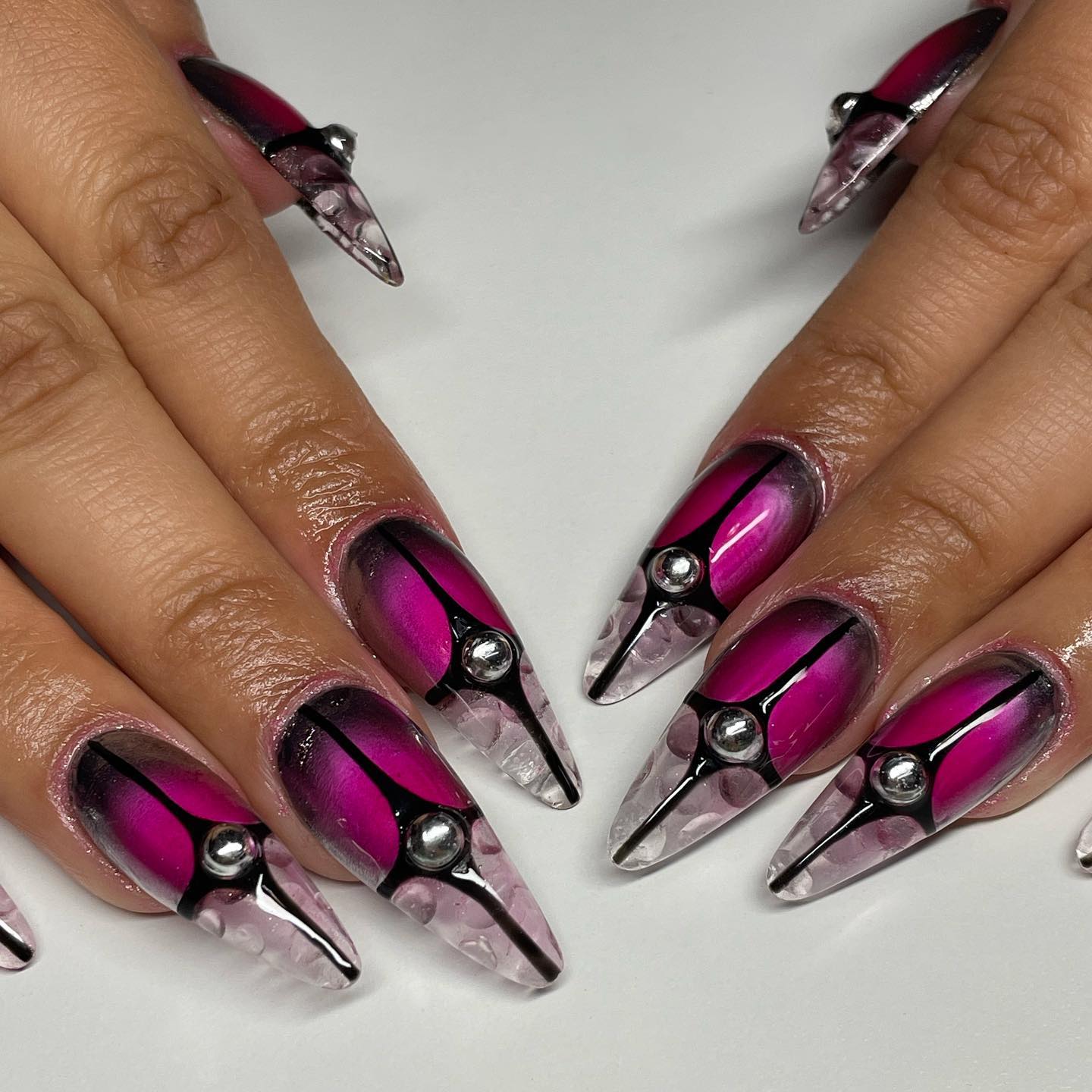 via @nissanailedit
Show off Your Clear Nails with Star Design
Clear nail design with stars gives a heavenly feel to your fingers. Plus, stars are easy to make. You can try different shapes, sizes, and colors on a clear nude base. Try contrasting on clear nail tips or the base. This one is an excellent choice if you are looking for fun nails for the festive season.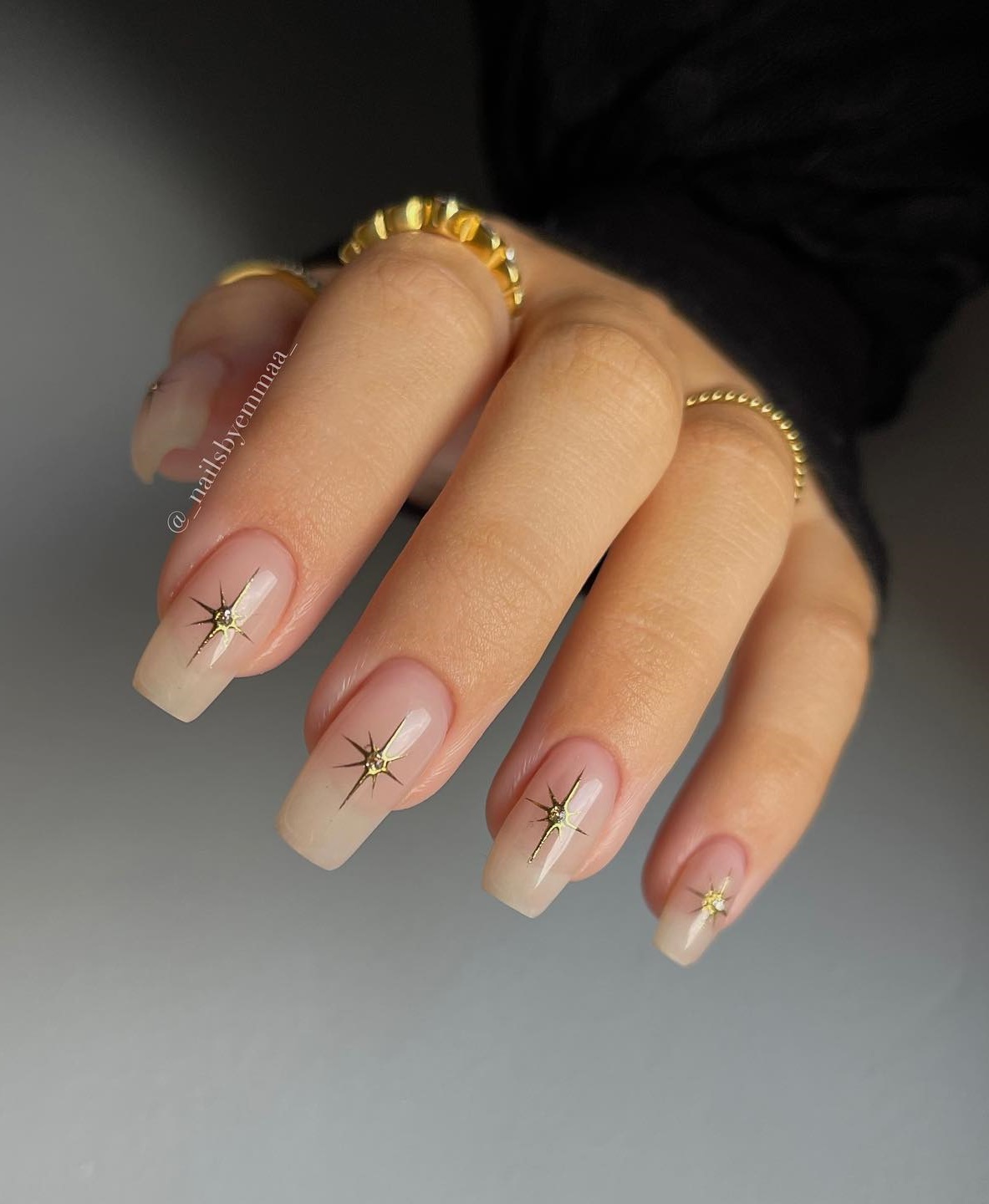 via @_nailsbyemmaa_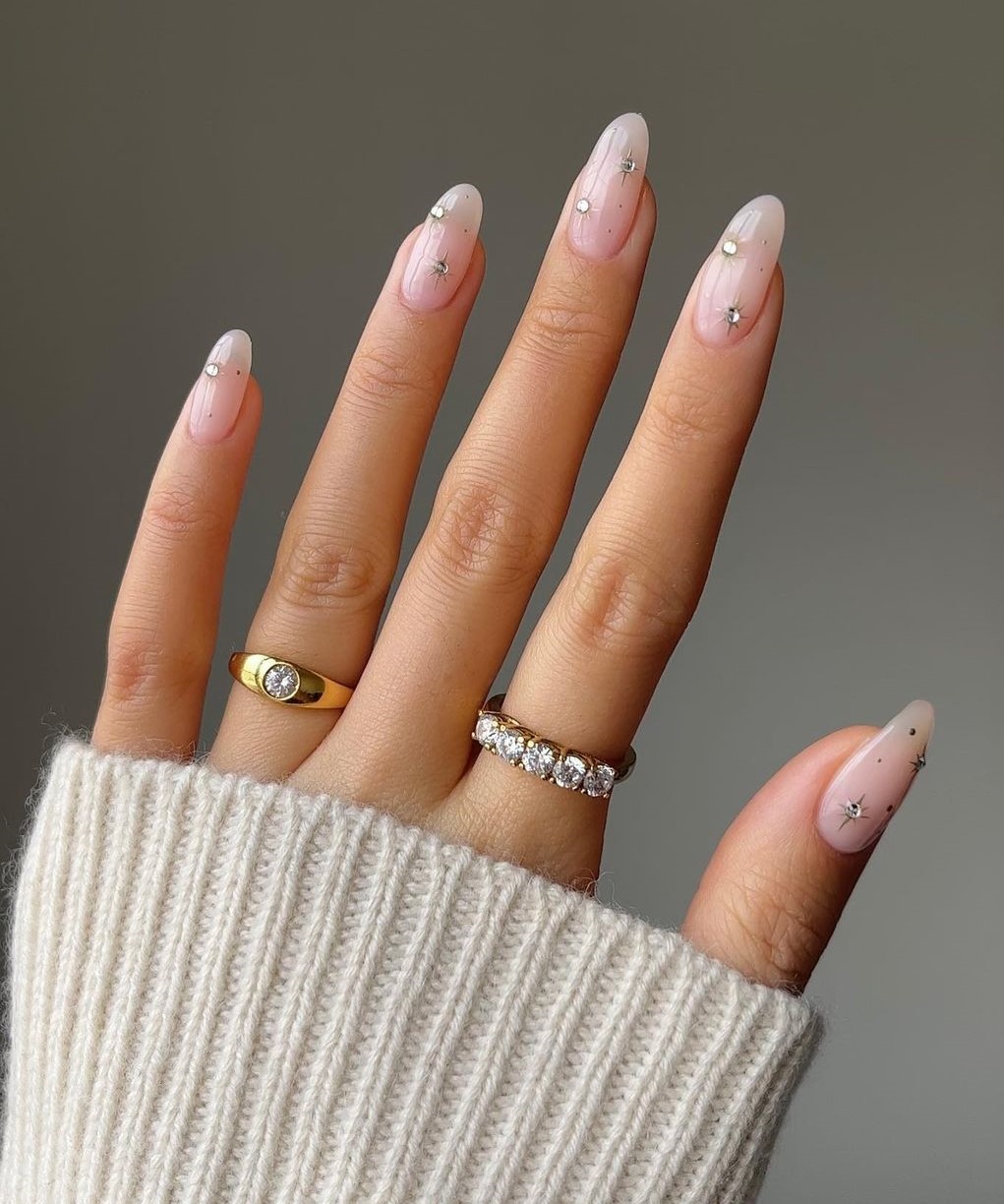 via @nailsbyalsn
Clear 3D Nails Gives A Youthful Look
This is a super trendy nail art option. Not only does it give a bolder finish, but it also allows you to create your style statement. You can coat your acrylic nails with a clear base and design three-dimensional flowers, hearts, stars, jewels, smileys, and many other patterns for an attractive look. The nail artist can draw them out in the size and shape you want.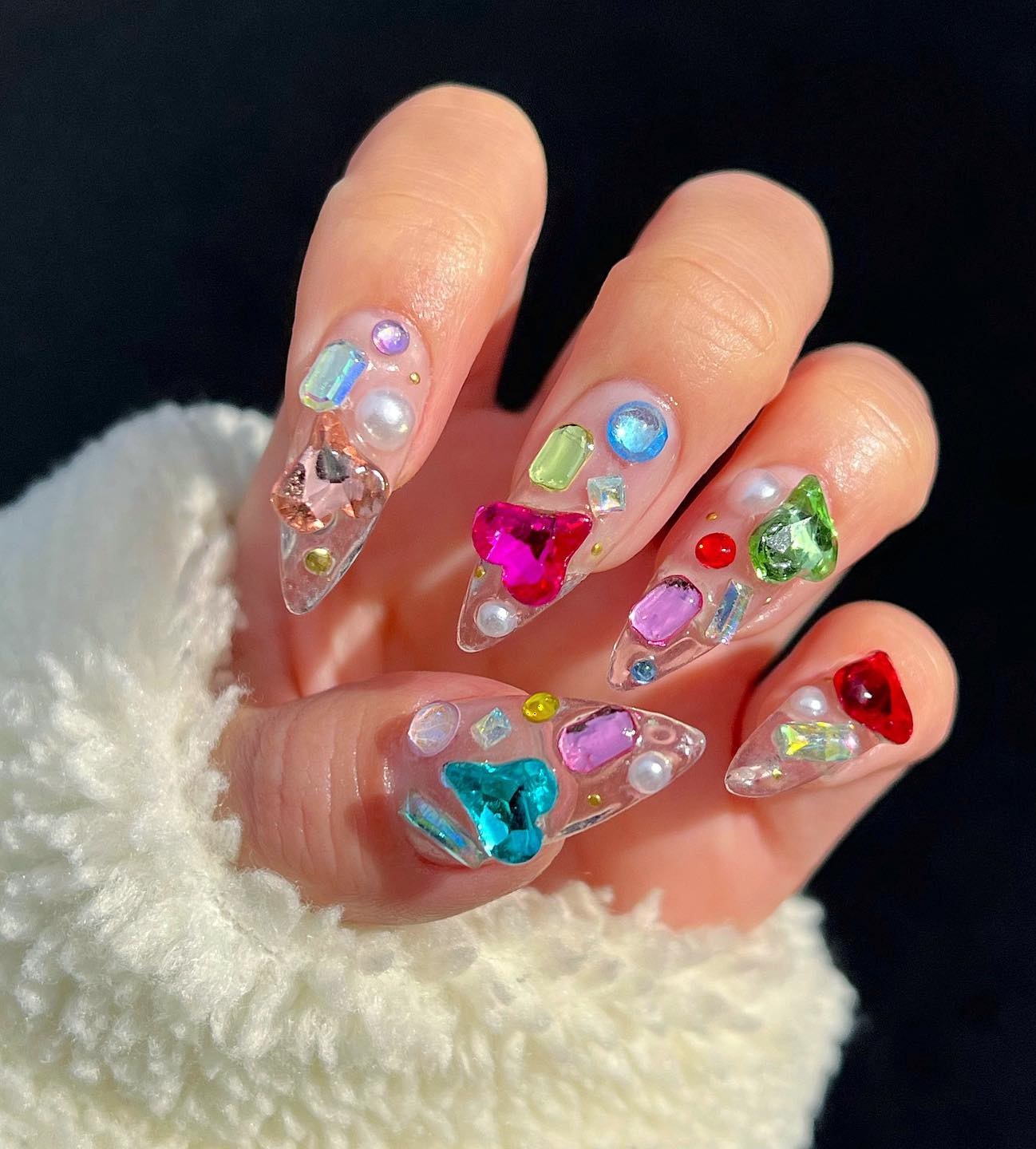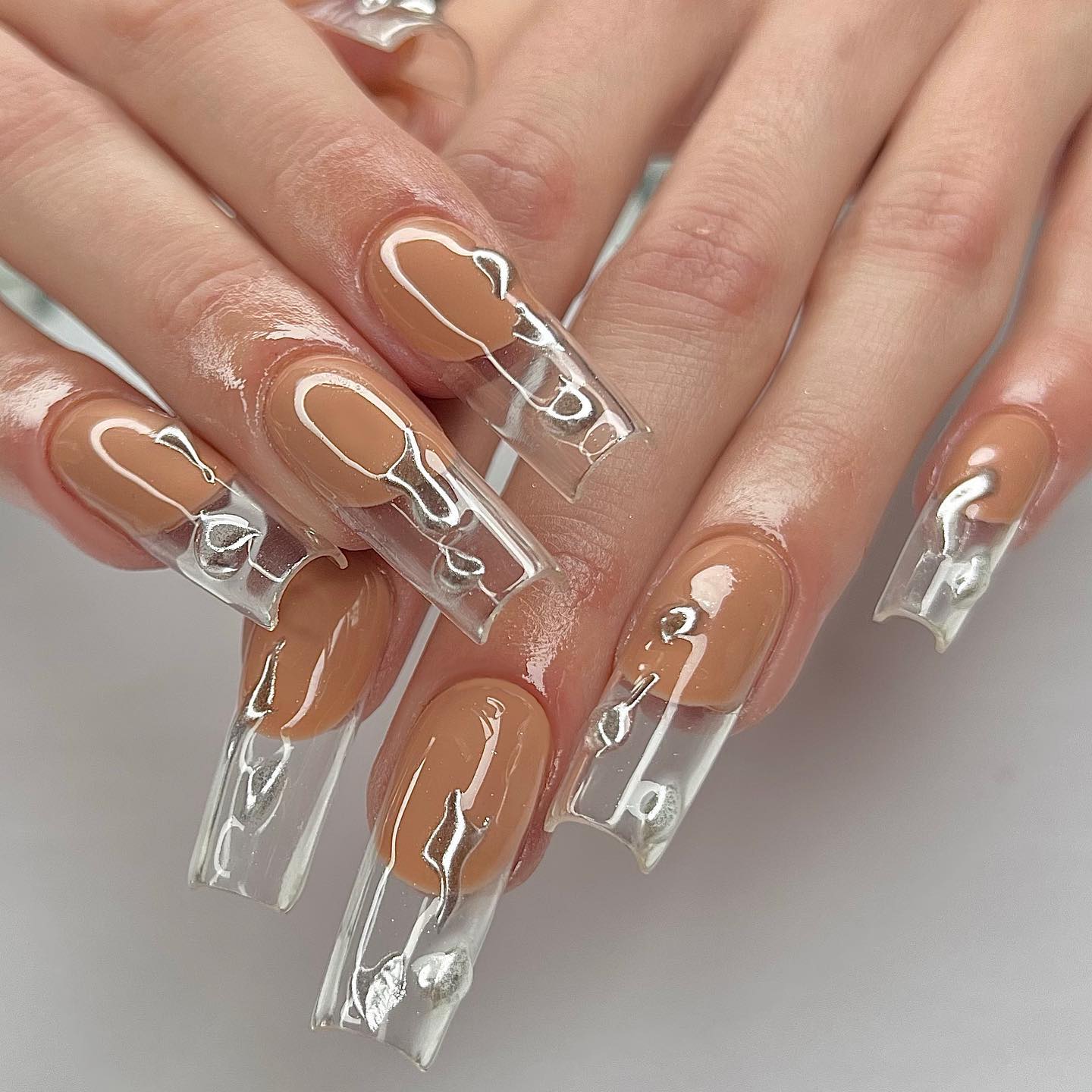 Creative & Chic Clear Matte Nails
Get your fingers a textured look with clear nails with a matte finish. The matte polish gives a unique contrast and texture to the clear transparent base.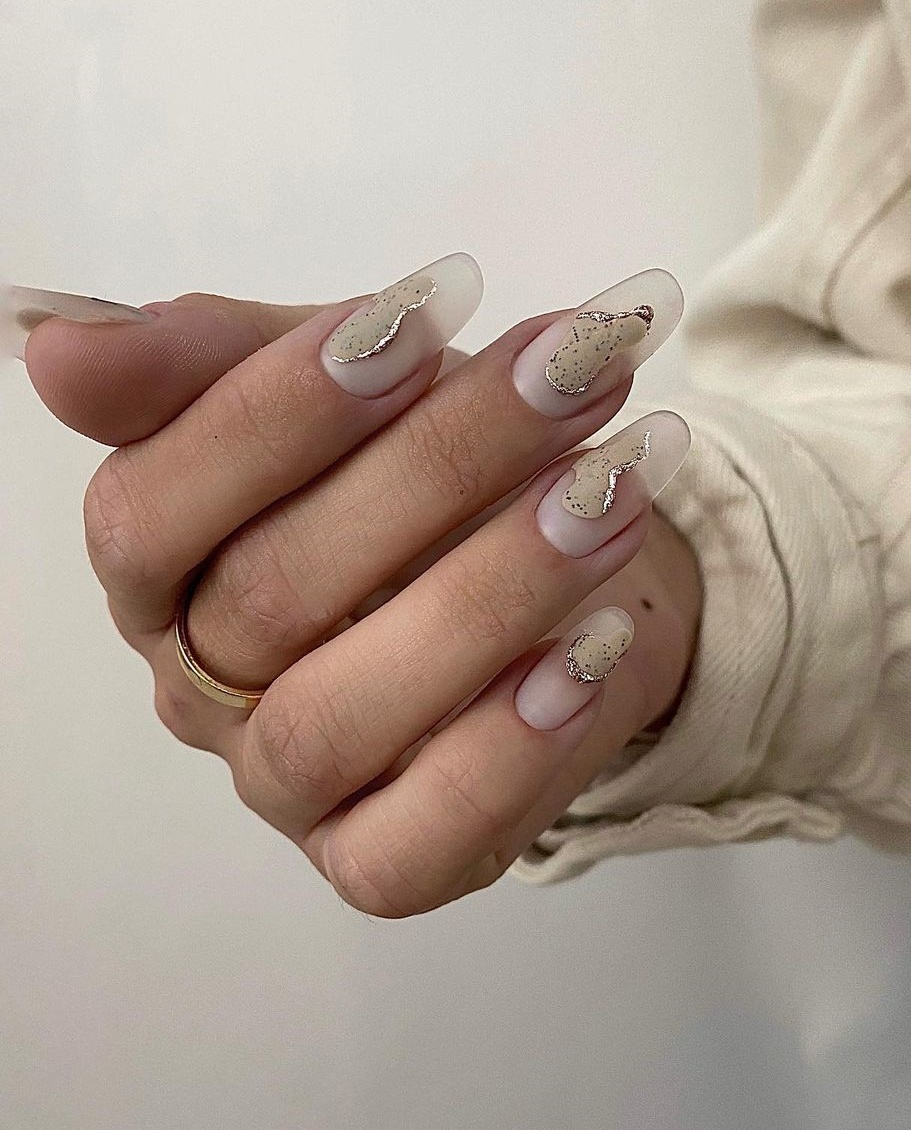 via @trutaroxana
It's a creative nail job since the lacquer with a matte finish has a textured touch. You can choose any design or pattern as per your preference. However, you can try rainbow nail tips to look gorgeous.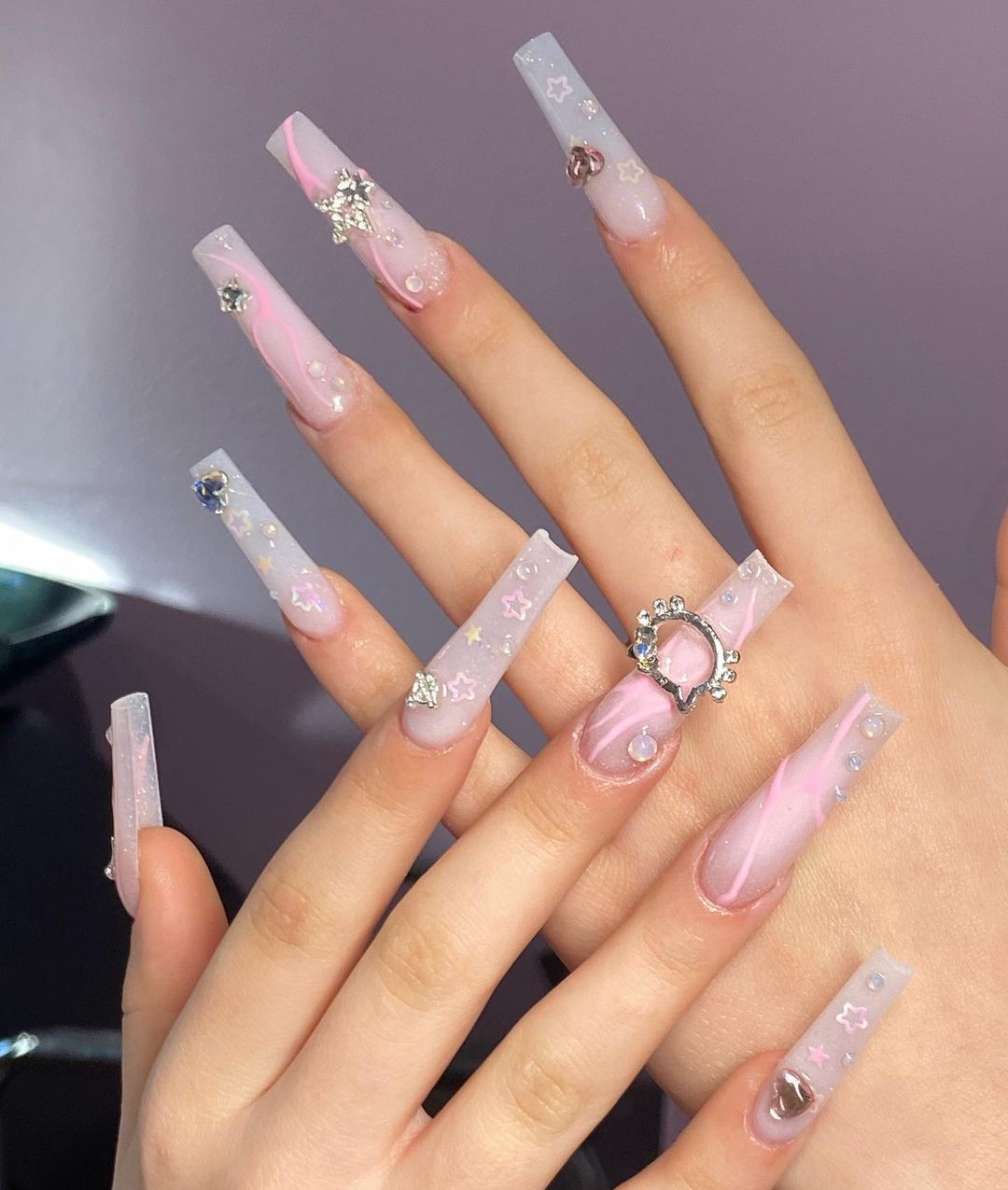 With Clear Pearl Nails, You Are All Set to Steal the Show
Clear pearl nail designs are an excellent manicure idea for a special occasion. The shine of the miniature pearls gets beautifully reflected by the nude base of the nail paint.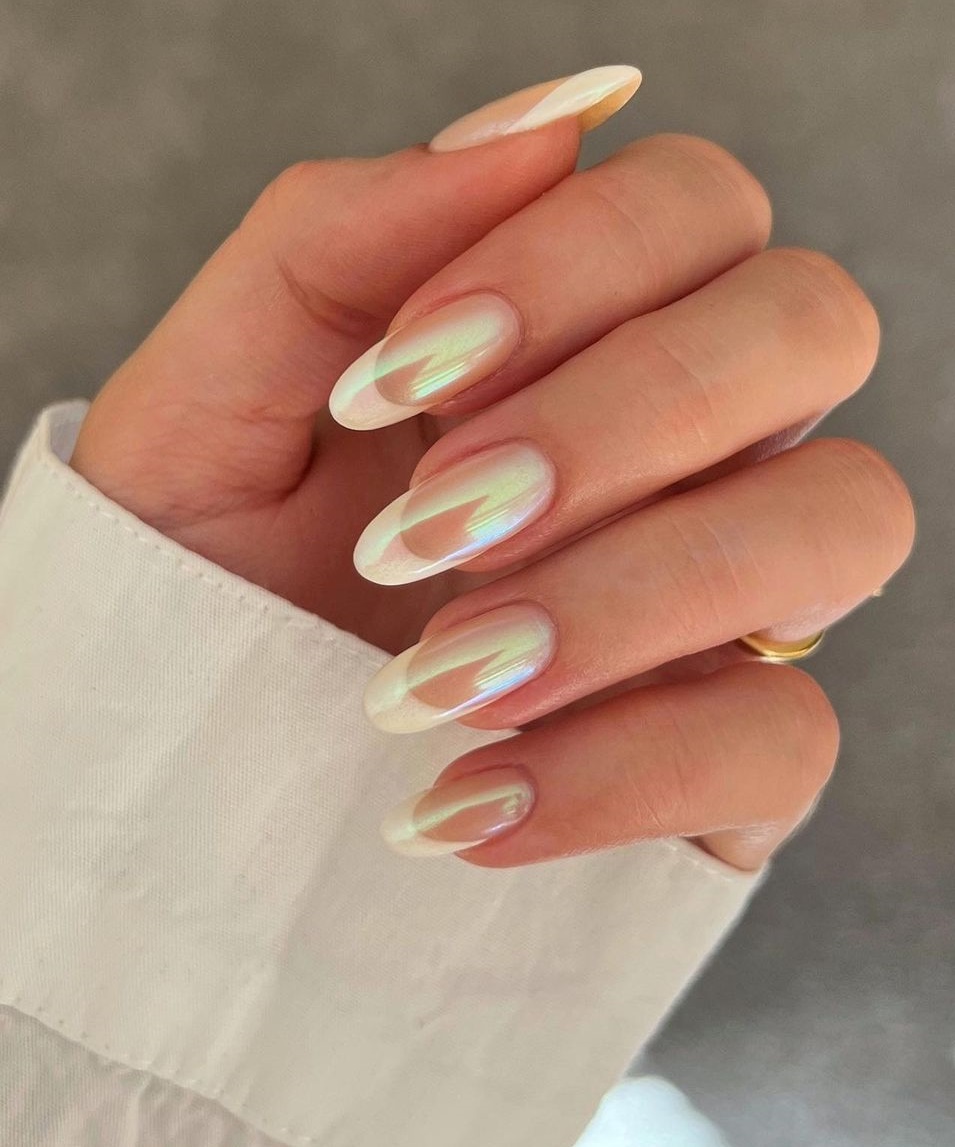 via @amberjhnails
The opaline beauty of the pearls is a show-stealer all the way. Whatever attire you are wearing, this nail design is sure to accentuate the look.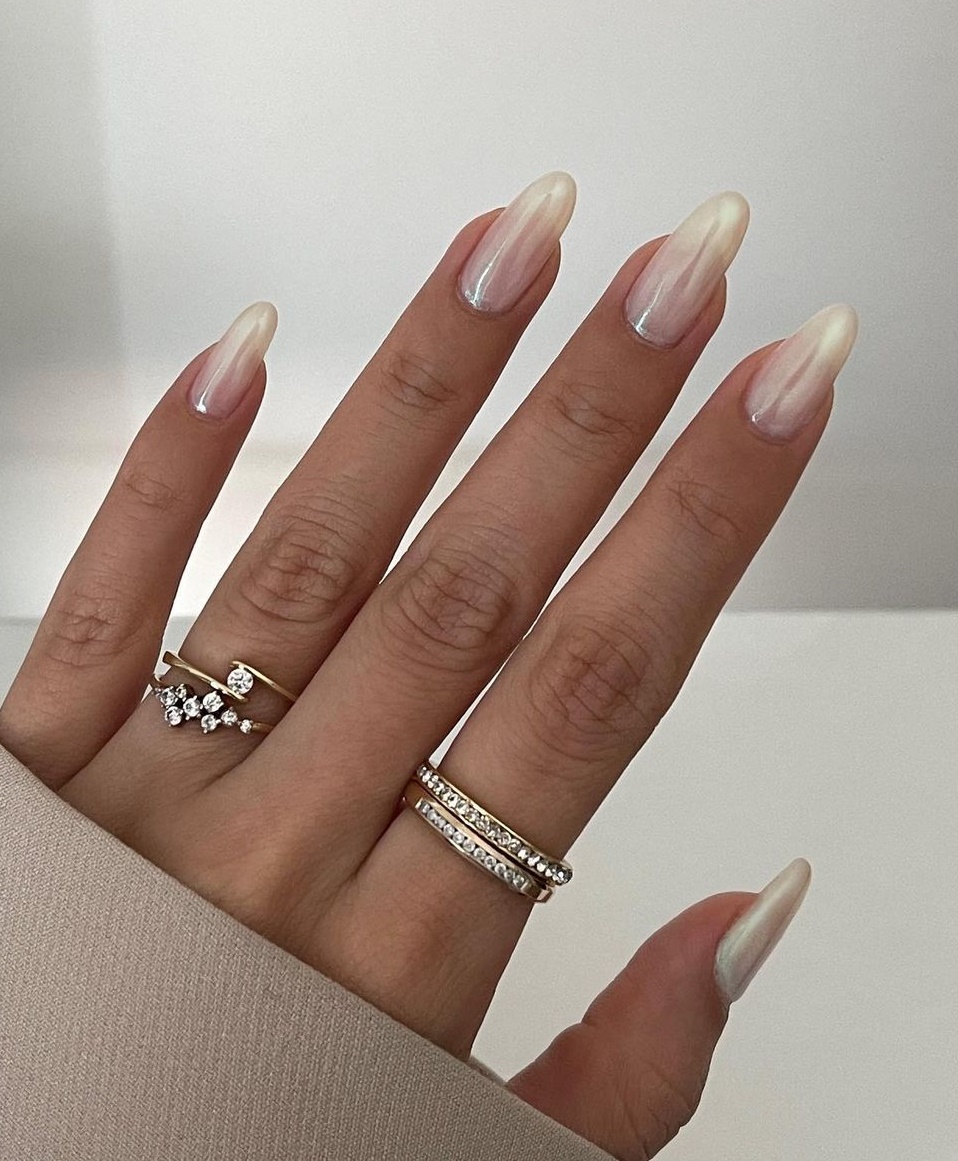 via @trulymonae
FAQ
How long do press-on nails last?
Press-on nails are typical of two types. In the first type, adhesive glue is used to stick the press-on nails — this last for usually for a week.
The other type is the one that comes with a sticker. Such press-on nails last anywhere between three to five days.